For Egon Walesch, this lakeside renovation was a balancing act between modernising the place and conserving childhood memories.
In this article Egon covers:
Renovating a lakeside timber frame, chalet style house
Interior choices with cost saving tips
Why he was told to knock down the house
How he persisted and managed to find the right builder for the job
Details of internal design to make the house more space efficient
Details of planning-exempt extension
Details of reroofing work
Details of log stove with back boiler for radiators
Tadelakt waterproof plaster details
Managing the projects from abroad
Full before & after floor plans
Overview
House size before: 71 sqm
House size after: 82 sqm
Plot size: 0.2 hectares (0.5 acres)
What's the story behind this lakeside renovation project?
It was a house built in the 1960s as a holiday home for an English couple. Guessing from the fact that the wall and floor sections are all the same size I think it came in a kit form. It must have arrived on a lorry but I suspect it came from a local builder's yard because it wasn't factory made. It's clear everything was handcut.
When the English couple decided to sell, they sold it to my parents who had built a number of chalets next door, and my father rented it out. He was German and had an affinity for this style. I inherited the house when he died in 2010.
What state was the house in?
The house needed updating. There was no insulation at all apart from a bit of fibreglass in the loft that my father had put in. I always remember it smelling musty, which isn't surprising because the house is by the lake and surrounded by trees. There's oak, beech and hazel; we also have a lot of ivy and holly.
'Work out what it is that you like and marry that to the site/ building that you've got.'

Egon
When did you renovate?
The bulk of the work was done in 2013, with the finishing touches in 2014. We interviewed quite a few builders once we had a clear idea of what we hoped to achieve; most of them told us to knock the house down and rebuild it from scratch. We finally found our builder through a family recommendation.
My sister-in-law's brother is very discerning and this was the only guy he'd recommend so we knew we could rely on him. We're very lucky we had such a good builder because our main base is in London and we needed someone we could trust and who would call us if there were decisions to be made.
How did you go about renovating it?
I work as an interior designer and my partner Richard is an architect so it was really second nature to us. The starting point was that I didn't want to change the external appearance much, because of the childhood memories and because it blends in so well with the landscape. It's a simple, unassuming shape and the dark stained wood finish blends in very well with the surrounding trees.
The wood cladding was in brilliant condition considering how old it is. All we had to do was renew the woodstain.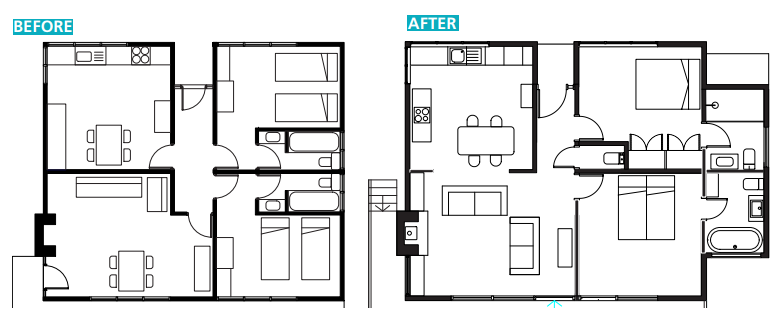 We did however change the inside a lot and ended up extending to one side; this was only a small addition and therefore didn't require planning permission.
The original floor plan wasn't laid out in the most efficient way. To make the most of the compact footprint, we made the hallway smaller and open plan and we also opened up the ceiling to expose the rafters – it used to have a low ceiling – which makes it so much more airy.
We took off the roof tiles, added quite a lot of insulation and refitted tiles above. The two-bedroom layout was awkward with the bathrooms within the bedrooms so we added ensuite bathrooms in the extension.
We replaced the plasterboard throughout and used tongue and groove boards with masses of foam insulation. The rafters, original floorboards and the tongue and groove woodwork have been painted in chalky shades, and in fact we have used just two colours throughout on the walls and ceiling joists. The windows were very small with a poor view of the lake, so we upgraded them as well and added floor to ceiling triple-glazed windows to give a fantastic panoramic view.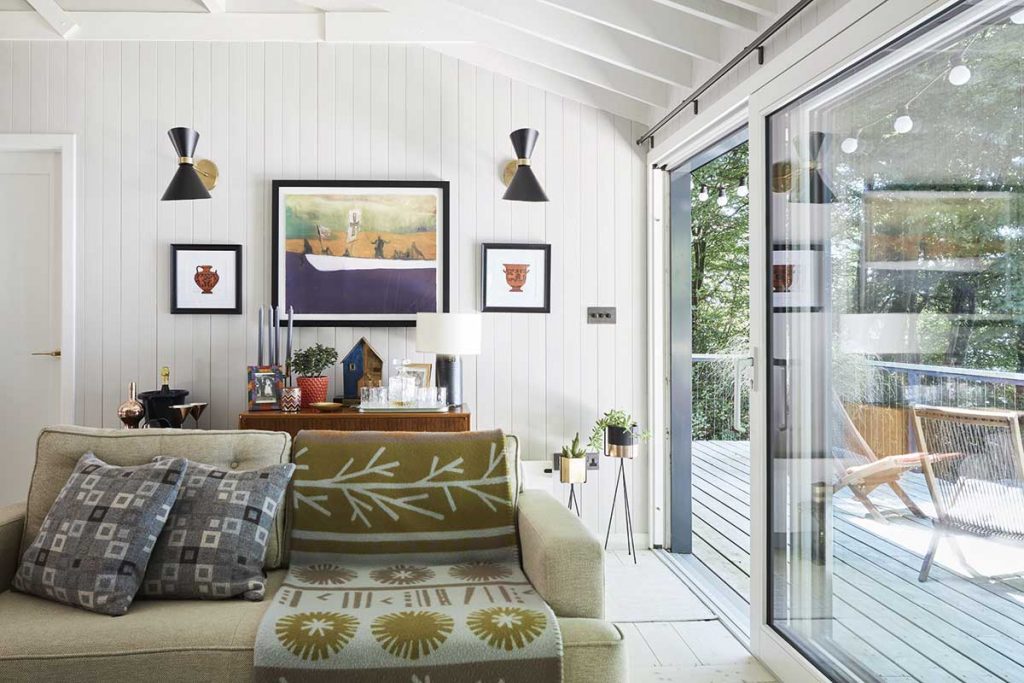 Did you upgrade the heating, hot water and ventilation?
First thing to go in the refurb was the big gas tank by the front door. We installed a log stove with a back boiler to heat the radiators, and back-up slim electric panels which are individually controlled by a remote app. To keep the air fresh and reduce heat escape we built in a heat recovery ventilation system.
What advice would you give people renovating?
Spend a lot of time thinking about the project; try out different scenarios. Think through your options and don't rush in. Above all, work out what it is that you like and marry that to the site/building that you've got. If it's something you really love, don't compromise.
For us that meant going a bit further afield than we expected; we had to get specialist plasterers down from Derry to apply the waterproof plaster for the walk in shower in one of the bathrooms. They were the closest supplier we could find that did this specialist plasterwork; it's applied on the walls and floor and it's made up of ground up stone and marble.
Images © Unique Home Stays
uniquehomestays.com
+44 (0) 1637 881183
This retreat is available to rent on uniquehomestays.com from £1,150 per week, £895 per short break. Unique Homes Stays takes care of the bookings, handing over of keys and enquiries.