Tony Casey always loved going down to the waterway at the end of his garden, so when retirement loomed he decided to build his dream art deco house beside it.
In this article sasoned self-builder Tony covers:
How the Art Deco design came about
Optimal room sizes and ceiling heights
Minimising noise in open plan living space
How he found a reasonably priced builder and why he didn't go with a fixed price contract
How the project was managed to keep on top of the budget and schedule
Mortgage free design on limited budget with budget saving tips
Full details of the heat pump that uses the stream as its heat source including depth of wells and flow temperature
Insulating Concrete Formwork construction method and reasons for choosing it
Lighting design specification including LEDs and pendant lights
Full floor plans, specification and supplier list
Art deco house overview
House size: 3,000 sqft
Plot size: 1/2 acres
Build cost including fees: around €500k
Building method: ICF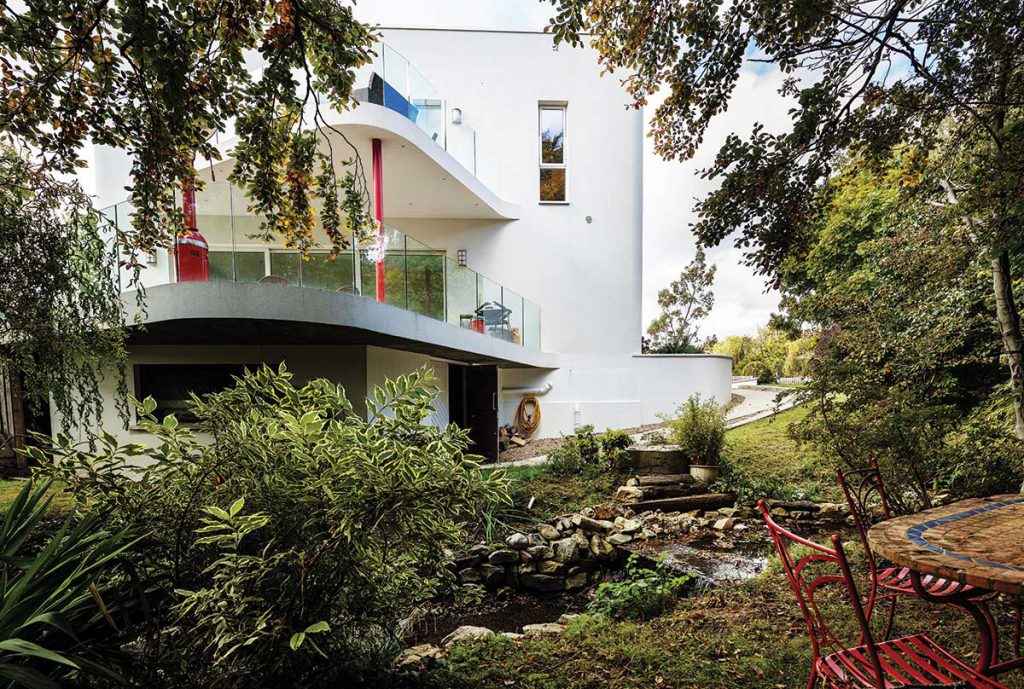 "We bought a one acre site in 1999 on which we built a timber frame house," says Tony. "As we approached retirement a few years ago, we decided to build ourselves a mortgage-free, low maintenance house."
"Because we liked where we lived, we decided to split the site in two, build in the back garden and sell the original house."
Their first self-build informed many of their decisions. "Back in the early 2000s we acted as project manager and it was quite difficult organising the trades as we were in the midst of a property boom. I was on site every day dealing with all aspects."
"I knew that with this retirement home, a hands-on self-build would be too much of a strain. We both had day jobs and couldn't commit." adds Tony. The couple got planning permission for what they refer to as a 'standard' house. "We're lucky to be near mains sewage so percolation wasn't an issue, and planning permission was relatively easy to secure."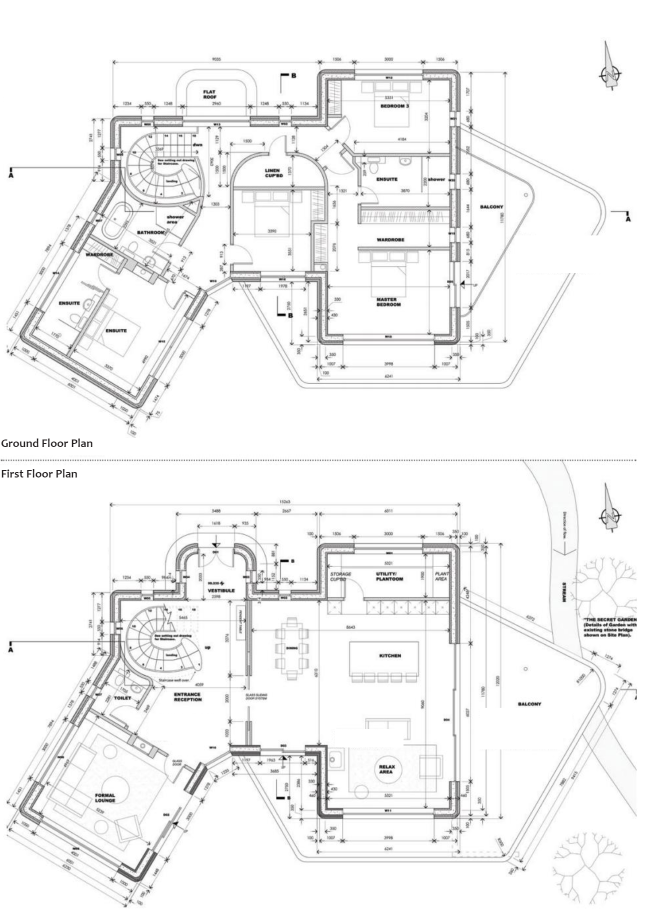 "The irony is we built an even bigger house than we had before, but we wanted a home in which we could happily spend our retirement, without feeling like we had to add or change anything." The house makes the most of the stream views; the four bedrooms are upstairs, one of which is a study, and there's a balcony off the master bedroom.
It's only when they got the okay that their architect suggested tweaking the plans to achieve something special. "The children had all left the house so we didn't feel a need for a traditional farmhouse layout with sitting room and dining room. We really wanted something different, yet a modern style," continues Tony.
Art deco house
"We've always liked the idea of simple lines and have an affinity for Art Deco. We decided it would be best to wait to get the design right."
"It took us two months to agree on the new plans – what our designer came up with we immediately fell in love with and we decided to go with it."
"Our designer advised us to hire the services of a quantity surveyor, to get an idea of cost and what we could afford," adds Tony. "This helped us navigate through the tendering stage."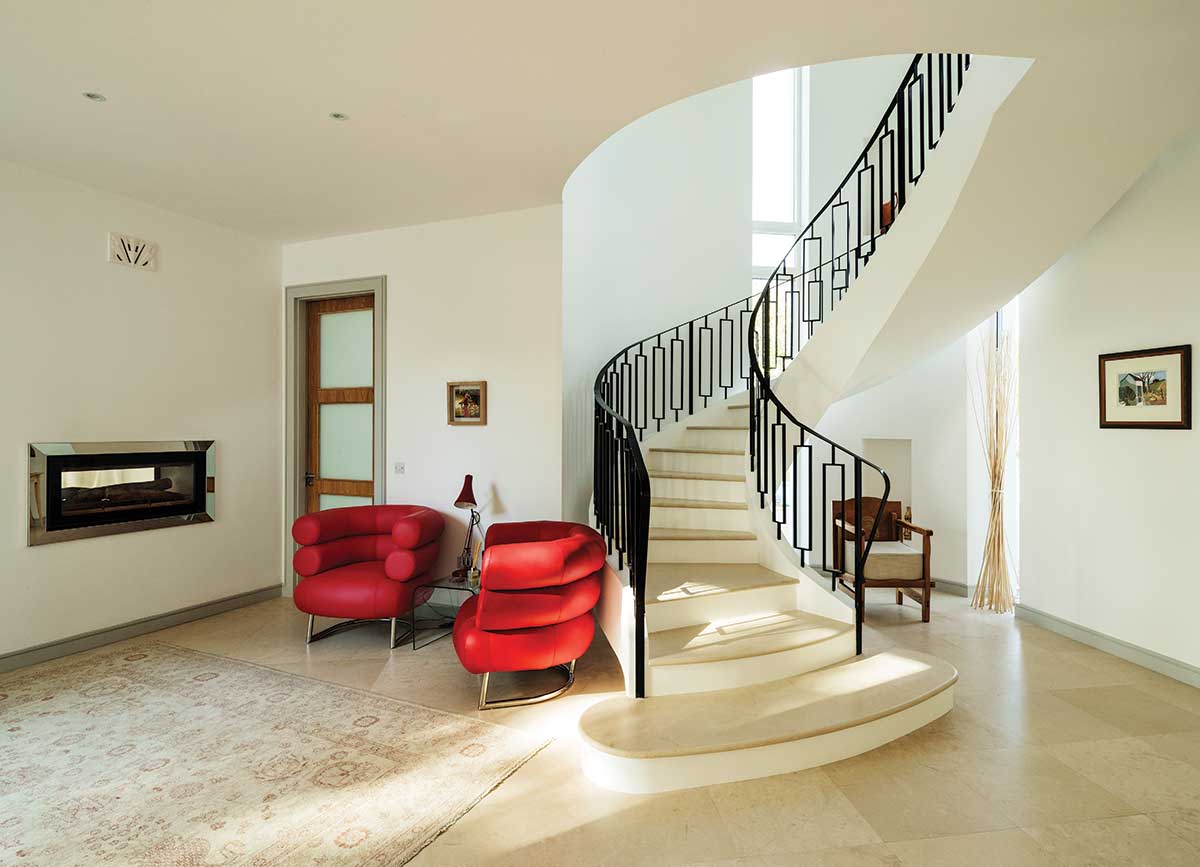 "We priced the contract out to a few building companies but that turned out to be way too expensive so we hired a project manager. Having someone to be there, organise the trades and monitor progress, is vital. It made the build so simple to have him on board, nothing went wrong."
"Even though our budget was limited we spent money where it mattered most to us. The QS had given us a guide and we used that to direct our spend."
"In terms of tradesmen, we had some recommendations from our son, who'd just completed a self-build, but even at that it was just so much easier to have the project manager negotiate terms and prices with these companies. It's so much less stressful to be removed from that process yet still be involved."
On stream: the heat pump
A priority was to make sure the people who bought their original home would remain good neighbours so a lot of thought was given to privacy. "The windows facing the neighbours' house are all high level, so while we do get light we can't see out," says Tony. The large expanses of glazing face the private side with the stream, a water course which provides heating and hot water for the house through a heat pump.
The heat collector consists of an underground concrete holding tank; a 3m deep well was dug to get to a minimum temperature of 8degC. (Water from the well is also connected to the garden hose to prevent using mains water.)
Stream water collected in the tank then enters the heat pump through the heat exchanger; this allows the heat to be extracted and disbursed throughout the house via underfloor heating pipes both upstairs and down. The used water is dumped back into the stream without contamination.
"There are no real fluctuations in the heat we can generate in summer and winter," adds Tony. The system can also require boosting at night for hot water. "The only real problem we have is when friends visit from America, they expect a blast of heat in the house but with underfloor heating you just get a nice ambient temperature."
Their only utility bill in their art deco house is electricity including heating, cooking and appliances, and it comes in at roughly €160 per month. There's a wood burning stove with sealed exit point (logs are lit in winter for cosiness) and a heat recovery system. "There's no real maintenance to the place," comments Tony.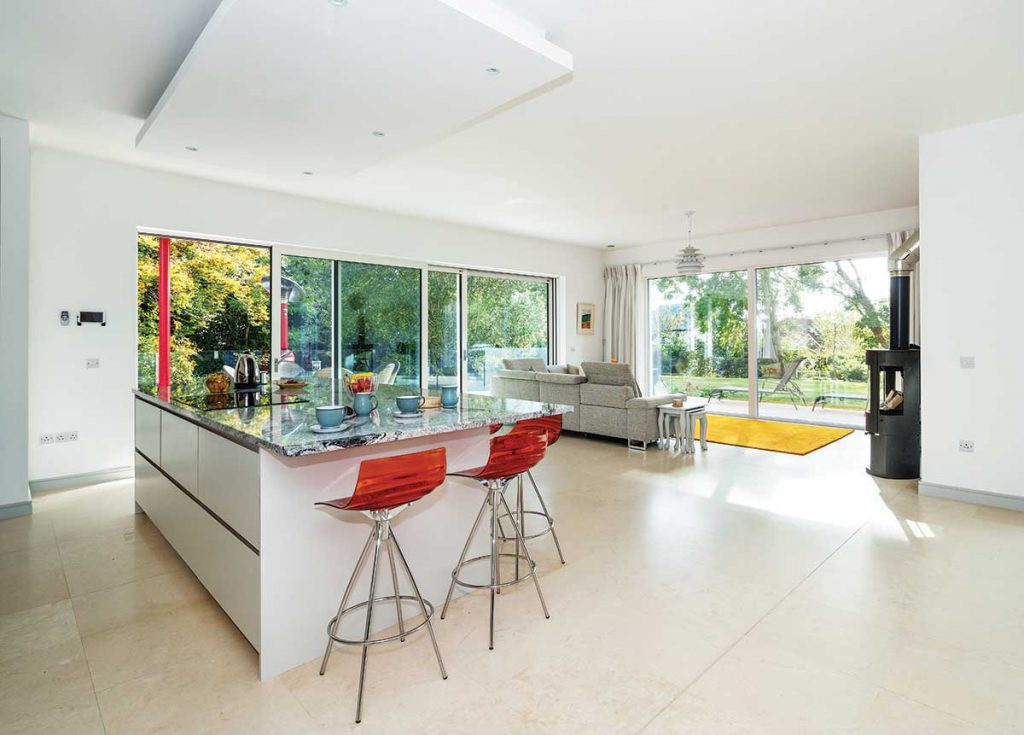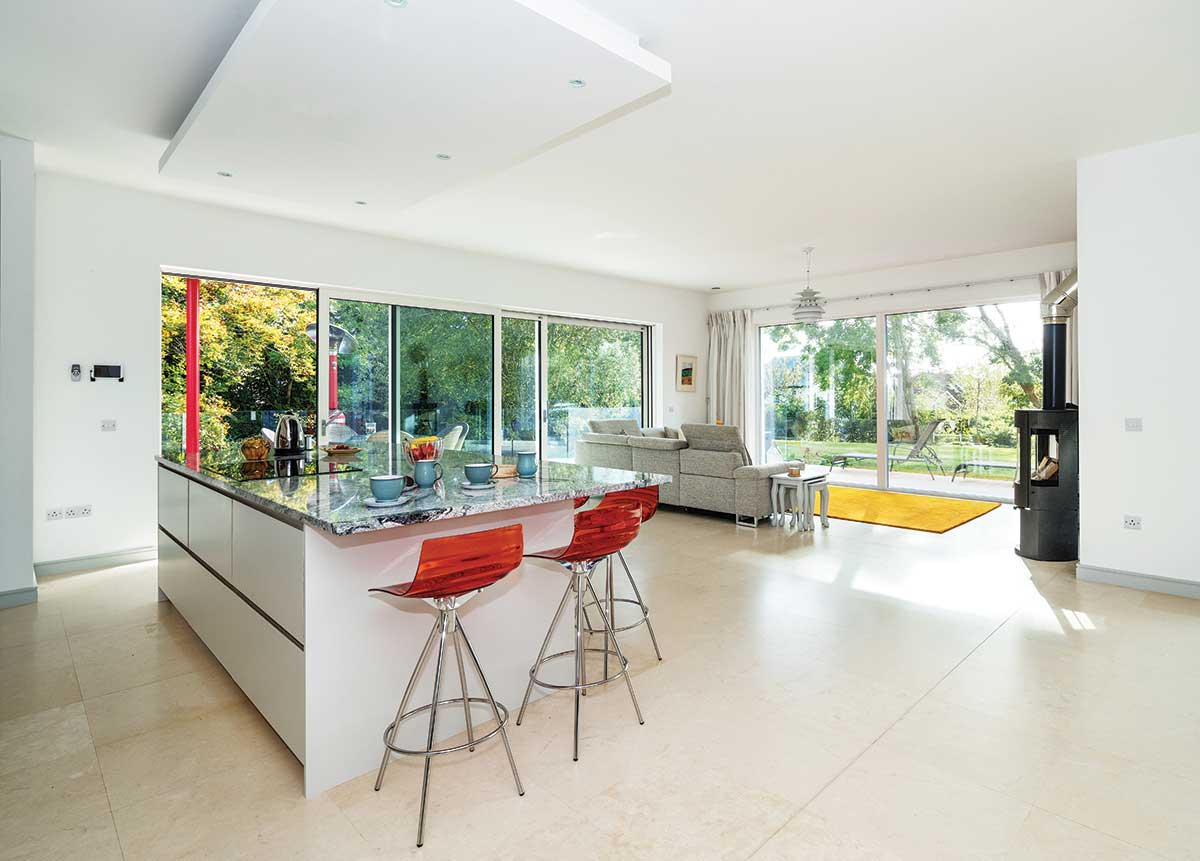 In terms of landscaping they were presented with an ideal situation; the garden was mature and the immediate area around the stream, having always held a special place in Tony's heart, had been cared for. Within a couple of weeks, the building site was a distant memory.
"I just love the garden and pottering about in it," says Tony. The house is well above stream level to avoid the possibility of flooding. One change during the build which proved to be a very practical one was to move the plant room to underneath the ground level balcony. "There were no plans for this space, it was going to be left open, and since it really made sense to put all the noisy stuff away from the house we just added a room down there. It had the added concrete.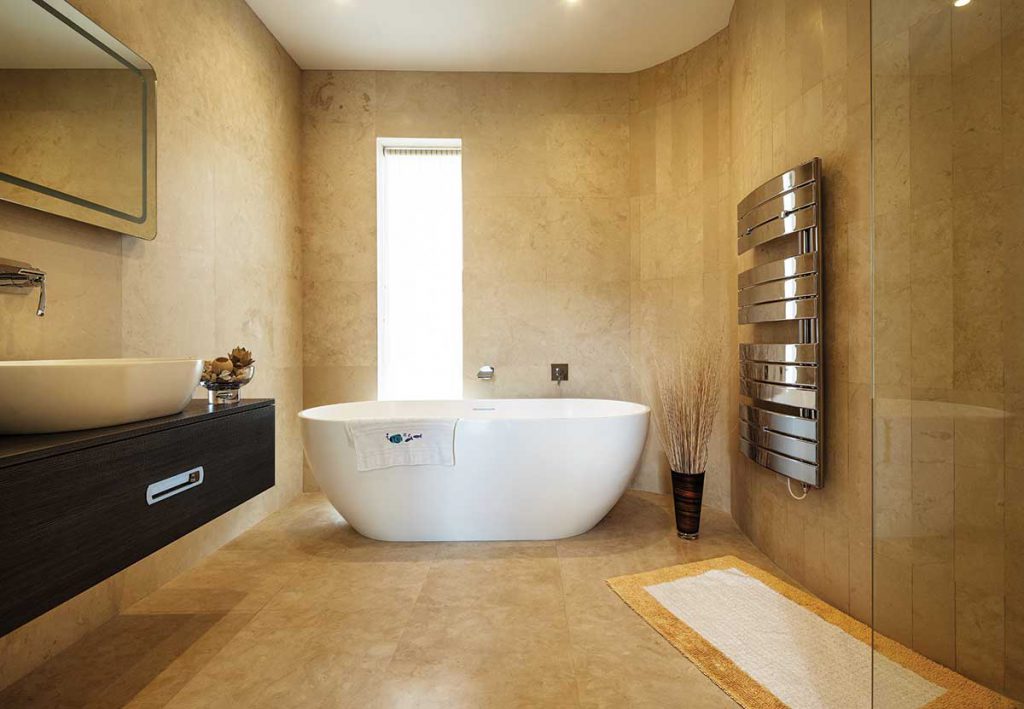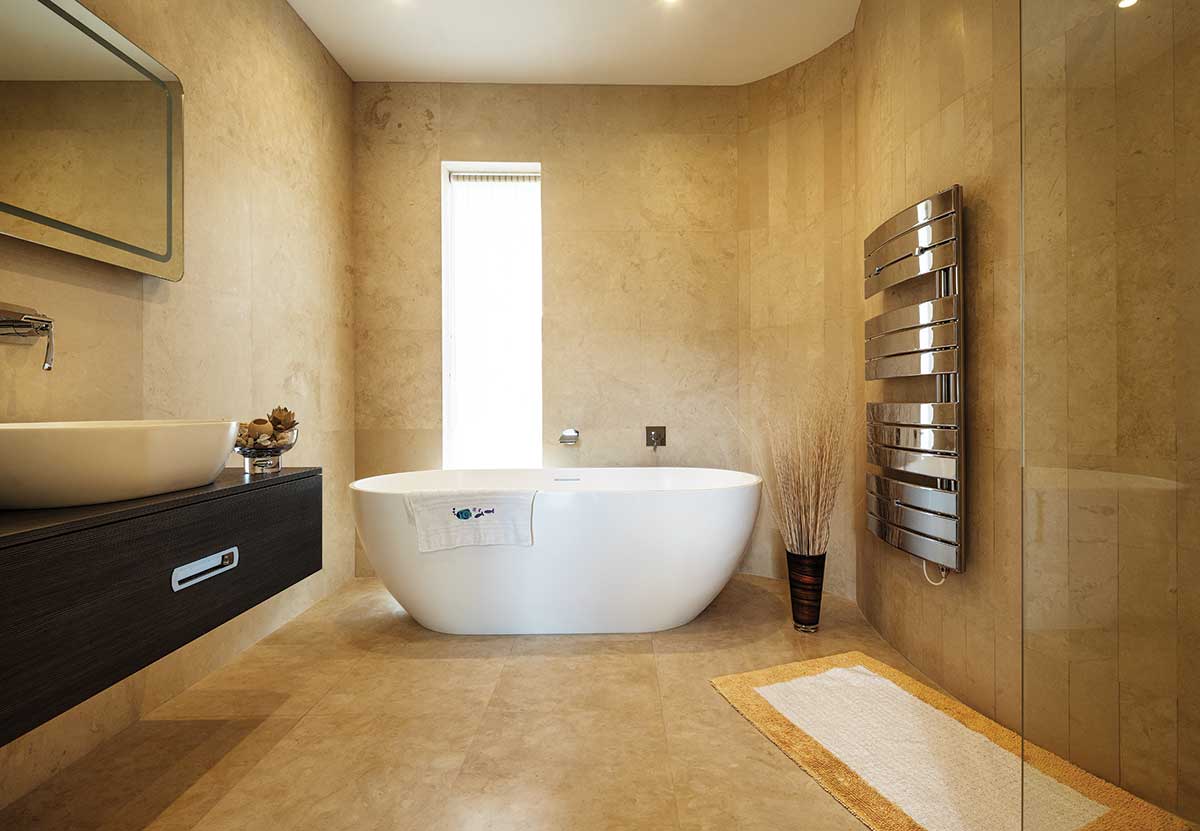 "I was more nervous building this house than the timber frame one but it all went like clockwork," enthuses Tony. "Another plus when it comes to building with concrete as opposed to timber is the upper storey – noise doesn't travel between floors."
The complications of simplicity
The art deco style of the house dictated some of the finishes. "The rooms are 10ft tall downstairs, upstairs 8ft, and you've got this line in the hall going straight to the roof so we had to put in a statement pendant light to fill the space."
To achieve the minimalist look of an art deco house, the couple gave thought to colour – white walls, grey skirting boards – and hiding not only services but clutter too. The entire living room, kitchen and dining area is open plan with access to the balcony where they have their breakfast, weather permitting, above the stream running its course below.
With so much going on in one space it's hard to keep on top of things, as Tony explains. "Our utility room is hidden from view, accessible from the kitchen through a sliding door that looks like a cupboard. When guests come around, we throw everything in there out of sight, and the mess just disappears…"
One benefit of having moved the heating and hot water equipment to the area beneath the ground floor balcony was saving space in the utility room. "The utility is also where all internet and other wired controls lead to, and it doubles up as a wine cellar – I enjoy a good bottle of red and I'm lucky to get them as presents. Then there's the laundry area. It's a good thing we didn't have to put much more in there!" In the kitchen all appliances are concealed, and for the extractor they went with a periscopic wall mount.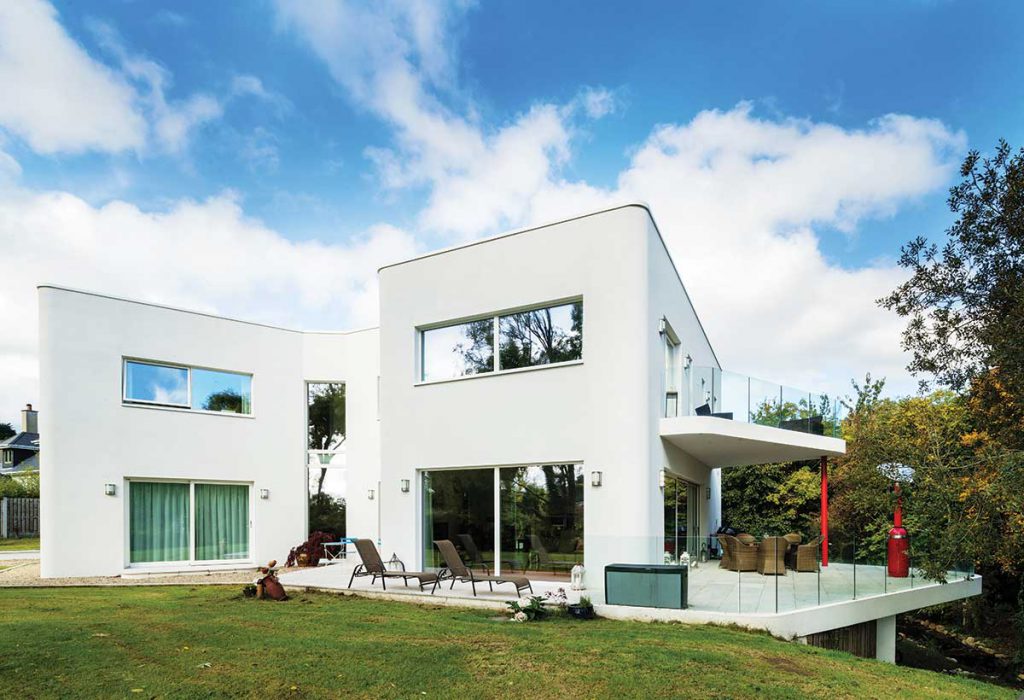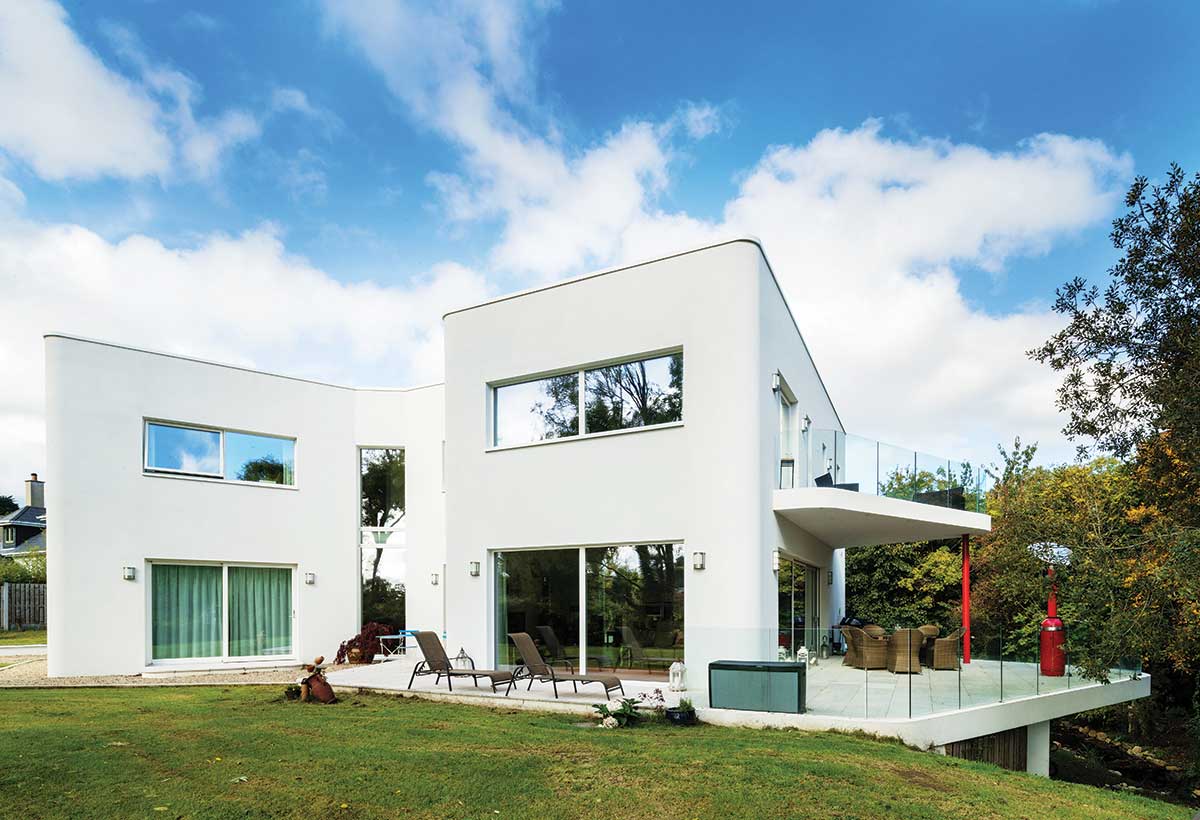 "The extractor drops down about a foot when we're cooking; to avoid hearing the fan we installed it in the utility. It's controlled with a remote – the only problem with that set up is we can forget to turn it off." The heat recovery ventilation system, meanwhile, was concealed within the building ceilings and connected to a heat exchanger unit located on the first floor. The lighting in the open plan was also given a lot of thought; when cooking, the area can be flooded with light thanks to spots and recessed lighting. There is no pendant light at the extractor to avoid casting shadows.
LED strips were set up under the units to allow for different colour variations. "We wanted ambiance as the minimalist style can tend to have a clinical look. Adding colour with lighting does help provide warmth. We have a few strategic spots to help with this, and architectural features, pendant lights in the living area and one above the dining table."
In the bathroom the sense of calm is achieved by their choice of using the same tile on the floor and walls. "We cut the colours down to keep the palette to a minimum. The furniture provided the opportunity to add more homeliness," says Tony. "Many of the lights are of Danish design – we went online to get ideas, and found reproductions of 1920s models." To echo the curves in the house downstairs the hallway was shaped in a similar fashion but built with standard partition walls and good plastering.
Art deco house: Lessons Learned
Tony's advice for a stress-free build is to get a good project manager with an eye for detail who can supervise the trades and who will insist on the highest standards. "Ours kept the build costs down and still made sure there were no shortcuts. The quantity surveyor's guide price also helped us identify cost savings and overruns as we went along," he says, thankful his self-build experience was such an enjoyable one.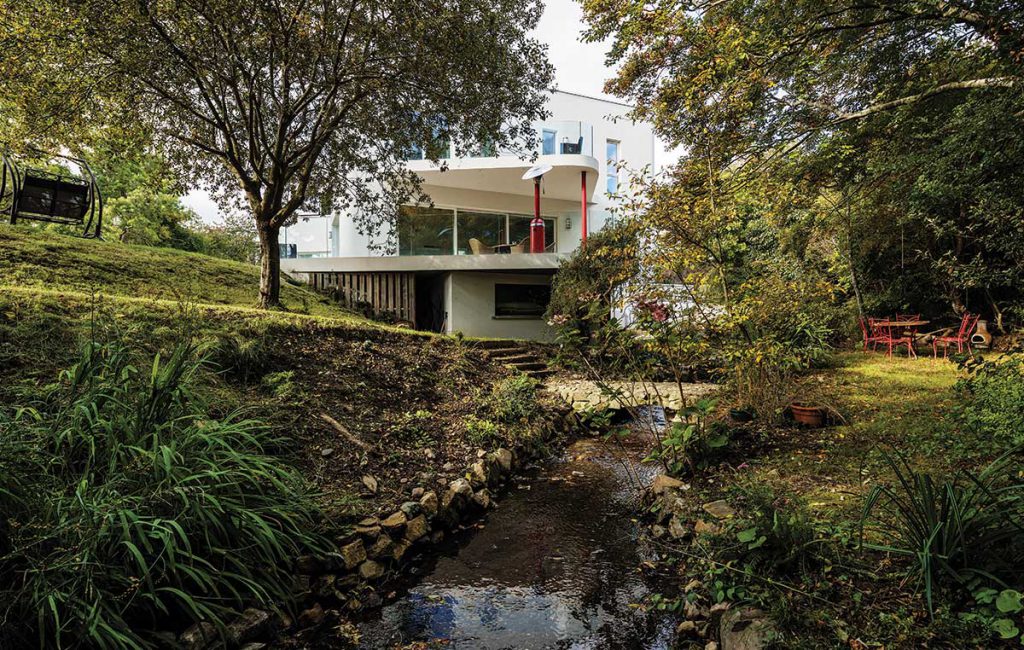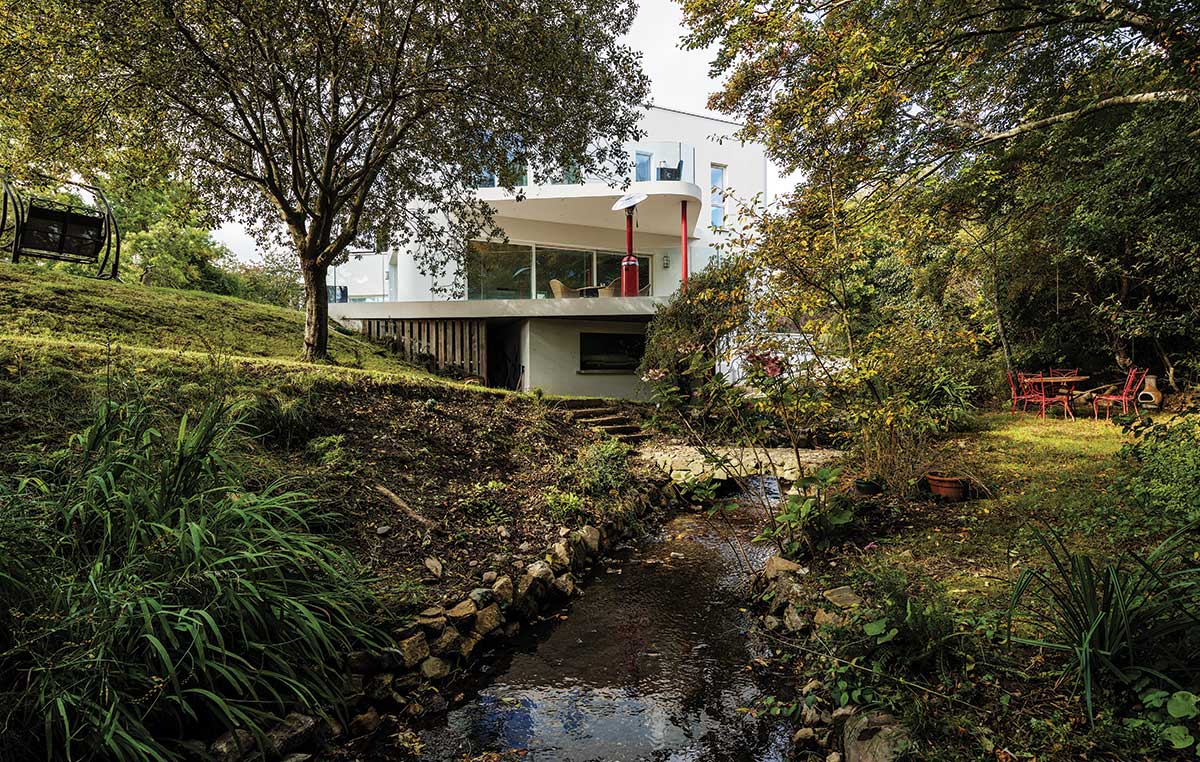 "During the construction process changes were discussed and their impact considered in relation to the budget. We had no surprises and so were able to keep the costs in line, whereas a fixed price contract would have resulted in expensive overruns for changes made during construction," opines Tony.
"As good as our suppliers were, having a professional there to back you and to fight your corner made the difference for us. We know that if we ever want to sell – if the house becomes too big to maintain and we want to get an apartment – we know that it will be easy to do, which provides peace of mind, and flexibility."
The house was completed a year ago and already Tony is getting excited by another self-build. "My son just finished building his own timber frame house and my daughter is now looking for a site in Australia. I'm eagerly waiting to hear more." Whether or not she follows through, what's clear is Tony seems to have passed on the self-build bug to his children.
Specification for Art Deco house
Walls: monolithic ICF concrete super structure (ICF expanded polystyrene block filled with reinforcing bars and concrete) supported on solid blockwork on traditional concrete strip foundations and mini piles taken down to adequate load bearing strata. Internally gypsum plasterboard covering EPS fixed directly to integral recycled plastic webs; externally additional 100mm layer of EPS and finished in through coloured glass fibre mesh reinforced white polymer resin coating. U-value 0.16W/sqmK.
Windows: triple glazed, composite pine and aluminium with factory applied internal finish, soft coat low-e, argon gas with special noise reduction. U-value 0.82W/sqmK.
Floor: reinforced ground floor concrete slab covered in 200mm EPS linked to EPS walling blocks and finished with a 100mm reinforced screed containing the underfloor heating. Subfloor radon soil gas control system comprising of membrane, sump, and external ventilation pipe capable of future fan installation. Polished Italian marble floor finish.
Roof: warm roof system comprises of a reinforced roof concrete slab with waterproof additive, covered in 200mm to 300mm tapered PIR insulation boards to perimeter roof outlets and PVC waterproof membrane – single ply roofing membrane taken up and over parapets with patent capping trim installed.
Airtightness: air permeability rating of 2cum/(h.sqm). The complete building envelope is thermally designed approximately 25% above the minimum Building Regulations.
Suppliers for Art Deco house
Architectural services: Mark Davies MCIAT, Arc Design, Delgany, Co Wicklow, tel. 01201 0377, www.arcdesign.ie
Engineer: Rene McNally & Associates
Project Management: Laurian Nasaudeanu, www.ldecobuilding.ie
ICF: Amvic www.amvicireland.com
Windows & Doors: Nordan Aluclad Triple Glazing from Carroll Door Depot, Dublin 12, www.doordepot.ie
Heating & Plumbing: Open loop water source heat pump by Water Furnace Envision, heat recovery ventilation by Vent Axia supplied and fitted by Andrew Firman & Co Ltd, Latimerstown, Co Wexford, www.firmanplumbing.ie
Tiles: Thala limestone for walls and floors from Fergus McCabe of Tuscan Stone & Bathrooms, www.tuscanstonebathrooms.com
Kitchen Design Supply & Fit: Philip Patrick of The Design Yard, www.thedesignyard.com
Electrician: Paul Kennedy, Kenmac Electrical, Bray, Co Wicklow, mobile 0879791332, email paul@kenmac.ie
Roof: PVC membrane: Sika -Trocal; PIR insulation: Kingspan TT46
Photography: Dermot Byrne Photography Brookhaven, Herbert Road, Bray, Co. Wicklow tel. 01 282 9560 www.dermotbyrnephoto.ie