Highly glazed, well proportioned, angular designs have some very exciting qualities, lending homes a truly contemporary feel. But living in a house like this can take some getting used to, as Craig and Clare Adair of Co Antrim found out.
In this article we cover:
Decision to rebuild their house versus extending it
How the house was designed to maximise the views
Choice of a timber frame build
Choosing a builder and how the build was overseen and managed
What the day to day was like on site
Issues for overheating and reasons for it
How they manage the heat in summer
How low their utlity bills are
Full specification and supplier list
House size: 206 sqm
Site size: 512 sqm
EPC: 82 (B)
"We'd always dreamed of living in an open plan house, but never got a chance to experience it. So when our architect suggested we visit a few homes he'd designed, we couldn't wait to see what they would be like," says Craig. "And we weren't disappointed, we loved how bright and airy these spaces felt."
Their existing home was in need of an upgrade – its 900 sqft size was now too small as the family had expanded, and having been built in the 1930s the couple found it hard to heat. "Also the bungalow really didn't make the most of the site; we have a lovely view but couldn't enjoy it unless we went outside."
They first considered extending at the back and above, in parallel with a renovation, but it quickly made more sense to demolish and start from scratch. "Considering the amount of work that would have gone into the renovation, and as new builds are VAT exempt, both from a construction and cost point of view it was easier to build new," adds Craig. "It also removed the headache of having to go through an energy upgrade as we wanted to get a really well insulated house.
"Considering our past experience we didn't want it to cost a lot to run or be difficult to keep warm." Craig and Clare opted for the timber frame route and chose a supplier early on. This company helped them find an architect familiar with this building method. "It was an instant fit, we loved his style," says Craig.
The site is sloping and this dictated part of the design. "It's a 40m long site that's barely 13m wide; and it's on an incline so it was a challenge providing access to construction machinery. We also had to figure out how to make space for parking at the front. Those were the main challenges insofar as I was concerned," adds Craig.
Planning permission was secured without any major conditions and the architect acted as project manager throughout. "I have a friend who went down the direct labour route and I think it cost him more in the long run; it was certainly a coordination nightmare and I didn't want to have to go through this as we'd just had a son and we both work," explains Craig.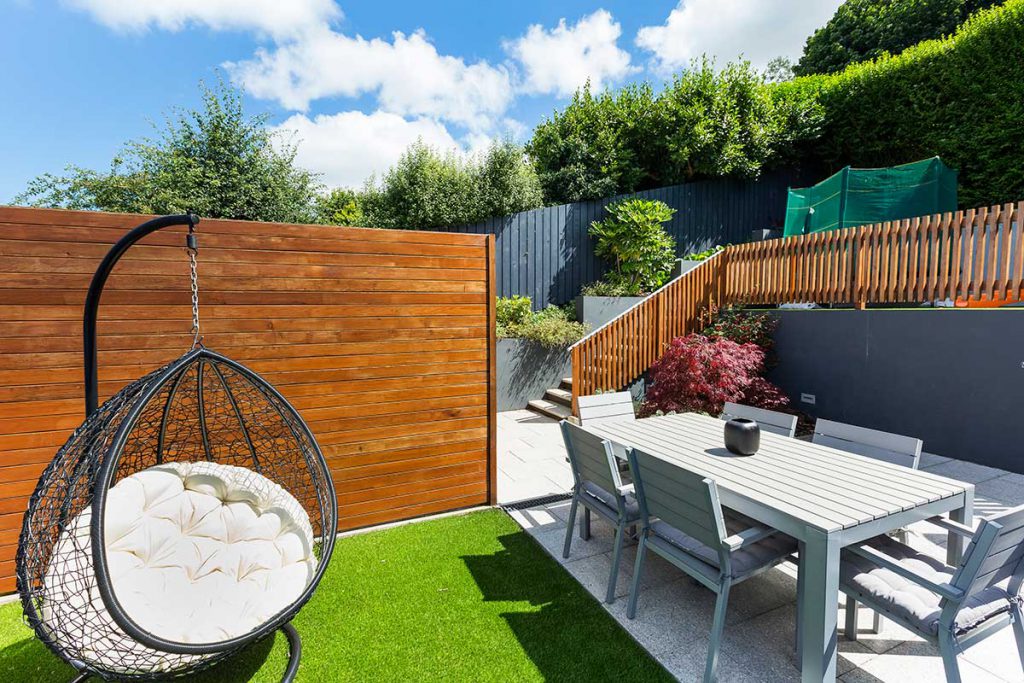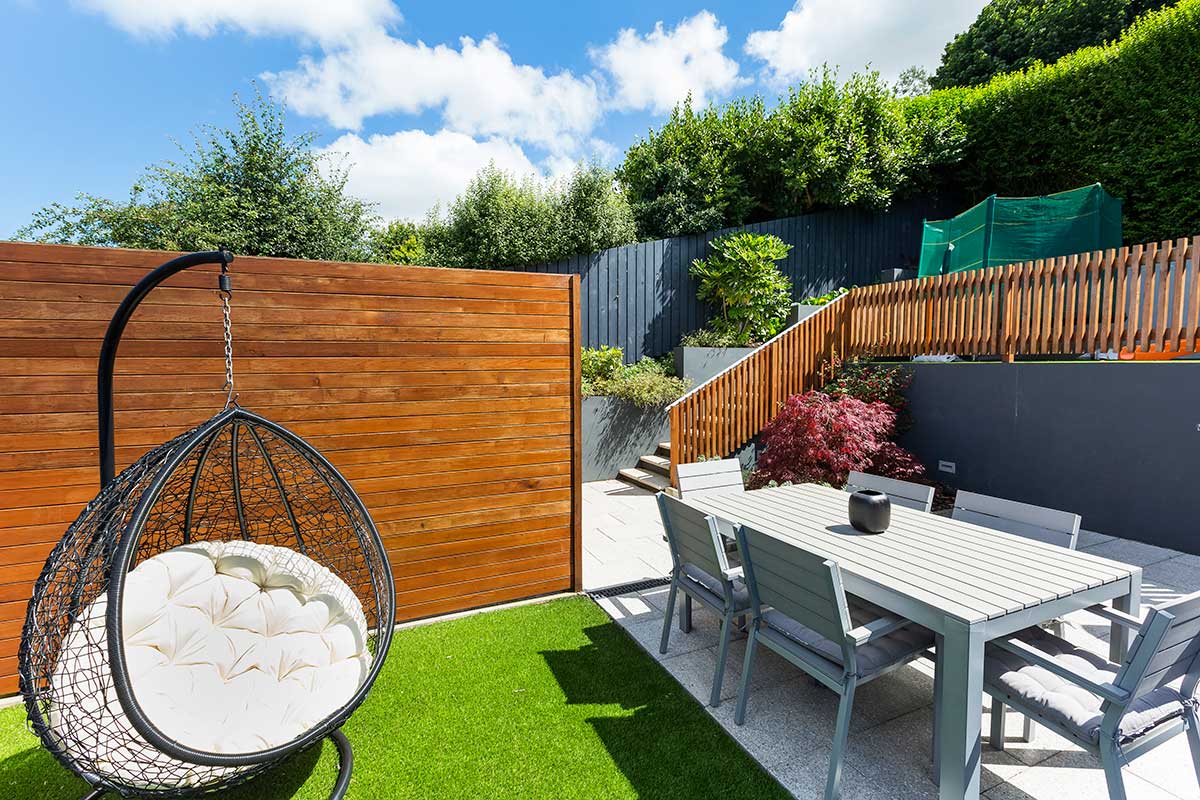 "So for the construction we went to tender and received four bids, we hit it off with the builder we chose and they came in the cheapest. It was an easy decision!"
"We had monthly meetings and from day one the questions came in – where do you want the sockets? What tiles do you want? Each question had a deadline attached to it and this kept the build running smoothly. The builder was happy because we never kept him waiting."
The construction work started in May 2012 and was completed in February 2013, with the couple renting a house nearby while the demolition and rebuilding took place.
Stylistic choices
Being so compatible with family life, the open plan area is where they spend most of their time. "This is also where we get the views which we can finally enjoy," enthuses Craig. "The kitchen designers helped us choose a walnut and cream finish, we also went with a butcher's block, wine cooler, and a sink that all blend into a minimalist finish. We have an induction hob and an American style fridge freezer."
To complete the look they selected a composite stone splashback. Inspiration kept coming from various places. "Our builder found the oak stairs, he recommended we use walls to enclose it instead of balustrades, which makes it feel very modern." To continue in this streamlined style their flooring supplier helped them choose English wooden boards for the upstairs.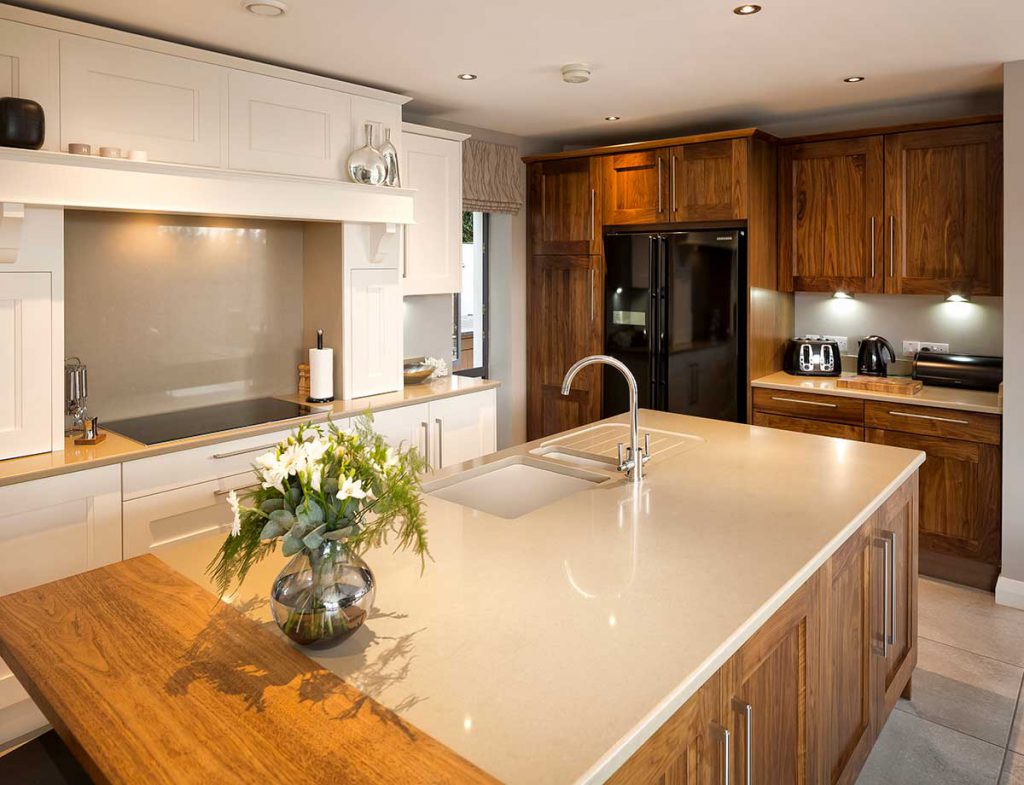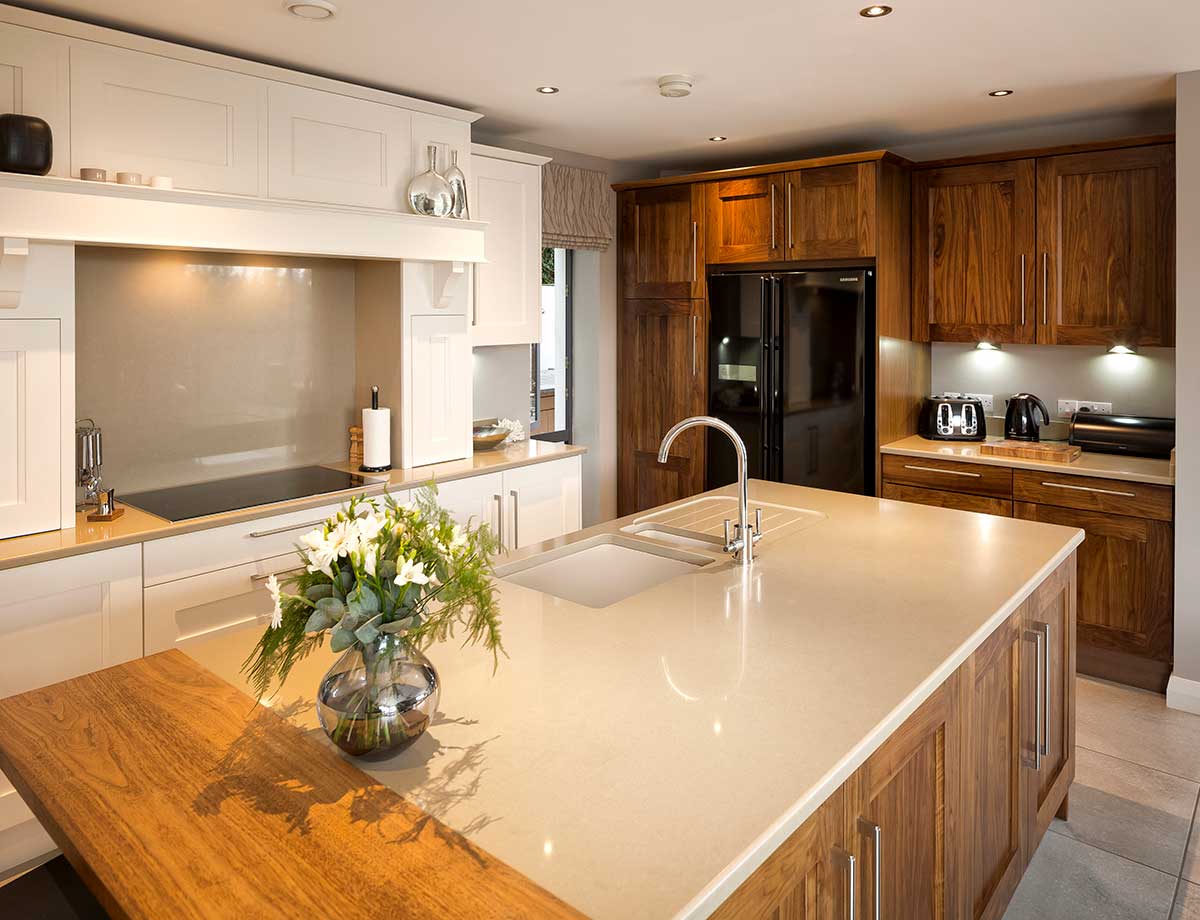 Downstairs they installed the same tiles throughout, with marble in the main bathroom for a touch of luxury. "When we went into this I thought interior designers were just for the rich; I really wish I'd known from the start that you can hire someone to advise you on all the decoration and as long as you buy from them, there is no fee," says Craig. "We originally went for an all-white scheme and it was a bit cold. Something was missing, it just wasn't right and we didn't really know what to do about it. We left quite a few aspects unfinished as we couldn't decide on a style."
The composite stone they chose in the kitchen was reused for the fireplace hearths. "We agreed with the interior designer this was a good choice, not just aesthetically but because it's so handy to clean." Around the fireplaces are wooden units spray painted the same colour as the walls. The interior designer in fact helped them pick out everything from wallpaper to silver paintings, from the mirrors to the light shades. "The home changed overnight! It was amazing.
He got his painter in and his own joiner and electrician, as we not only added table lamps but also fittings. Hiring a designer really isn't a luxury; I'd recommend it to anyone without a clear vision of what the inside of their house will look like."
Overheating
As they say, every house should sit well in its place and time. For Craig and Clare the house provides an ideal environment in which to raise a family, but there are times when they do dream. "It's great having the children in the open plan area to keep an eye on them, but as they grow up we envisage using the living room at the front of the house a lot more as it's very cosy with the gas fire, it's a wonderful place to retreat to."
They tend to turn it on in winter for effect, roughly thirty minutes at a time. An aspect they hadn't factored in was the downside to having very large expanses of glazing without some form of brise soleil (solar shading and shutters) to block out the sun in the summer months. "I didn't realise it could get too warm," says Craig. "Even though we have triple glazing upstairs, due to the weight of the glass the sliding doors downstairs had to be double glazed."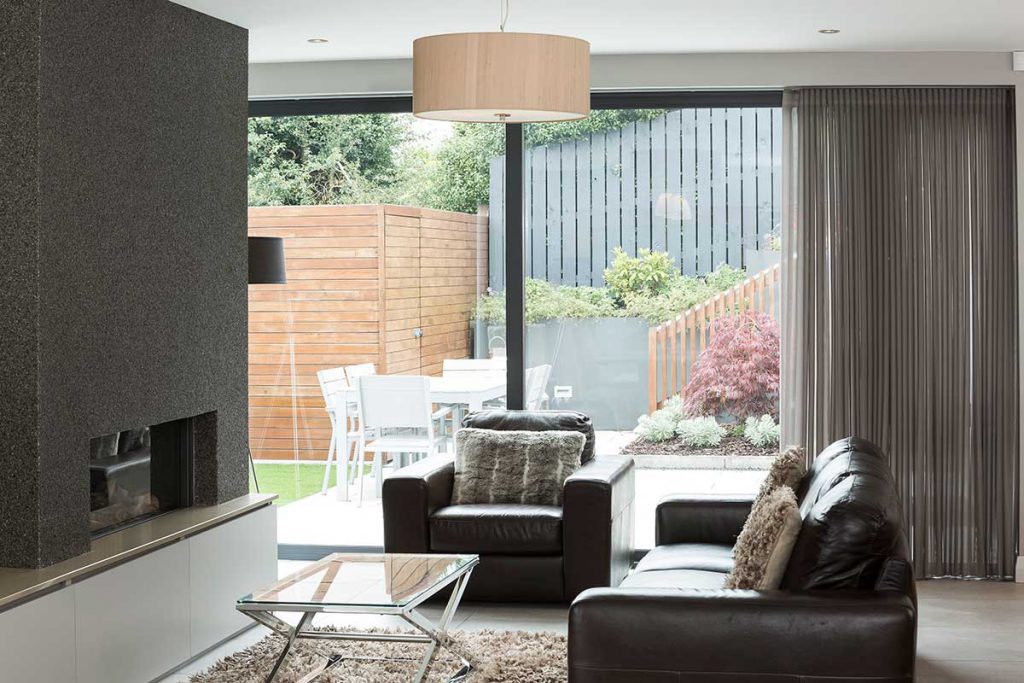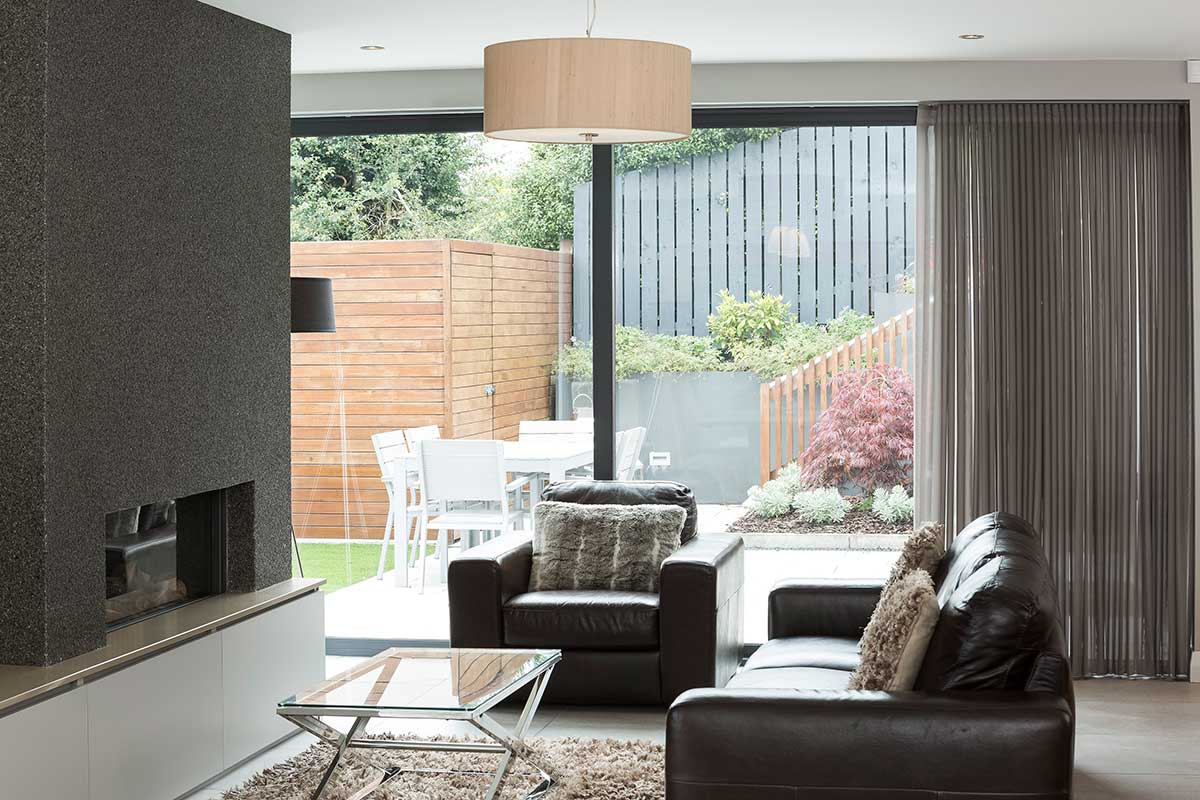 "In the open plan area we can simply slide the doors open and get a nice breeze in to cool the space but as the heat rises, we found that it could get hot upstairs – opening the windows there didn't really seem to help." "In the children's bedroom the temperature could reach 27 degC and even opening the rooflights didn't provide relief. We just couldn't cool the rooms enough so we put in reflective blinds and I eventually got a portable air conditioning unit."
In winter they keep warm downstairs with underfloor heating, which only kicks in for about an hour and a half per day, while upstairs they installed radiators. "We have a total of four zones: one for hot water, two are downstairs and the other is upstairs for the bedrooms. We put in an electric underfloor heating mat in the bathroom upstairs and I'm glad we did; it's great to have when stepping out of the bath."
The thermostats are in the utility, off the front hall and the boiler is gas. "Our bills are now roughly £60 per month for electricity and £40 for gas. We installed solar panels so there is no need for hot water from the boiler up until October. There are three panels and they supply all of our needs; we also get a grant payment for seven years, which is helping pay for them," explains Craig. The finishing touch Craig couldn't do without is their electric front gate. "We didn't do it at the start but it really helped embed the house in its landscape. It finished off the project, it gave the façade a great lift. We used the same red cedar as in the house's external cladding."
Outside they also love the addition of artificial grass. "No mud, no mess and with the trampoline and slide for the kids, we have an ideal space for them to play in," adds Craig. "The only downside is that even though the brick pavers provide a wonderful surface to walk on, there's still weeding to do. But that beats having to cut the grass on a slope on a weekly basis, as we used to when we lived in the original house." It goes to show, getting a house to be truly maintenance-free is almost impossible to achieve.
Walls: monolithic ICF concrete super structure (ICF expanded polystyrene block filled with reinforcing bars and concrete) supported on solid blockwork on traditional concrete strip foundations and mini piles taken down to adequate load bearing strata. Internally gypsum plasterboard covering EPS fixed directly to integral recycled plastic webs; externally additional 100mm layer of EPS and finished in through coloured glass fibre mesh reinforced white polymer resin coating. U-value 0.16W/sqmK.
Windows: triple glazed, composite pine and aluminium with factory applied internal finish, soft coat low-e, argon gas with special noise reduction. U-value 0.82W/sqmK.
Floor: reinforced ground floor concrete slab covered in 200mm EPS linked to EPS walling blocks and finished with a 100mm reinforced screed containing the underfloor heating. Subfloor radon soil gas control system comprising of membrane, sump, and external ventilation pipe capable of future fan installation. Polished Italian marble floor finish.
Roof: warm roof system comprises of a reinforced roof concrete slab with waterproof additive, covered in 200mm to 300mm tapered PIR insulation boards to perimeter roof outlets and PVC waterproof membrane – single ply roofing membrane taken up and over parapets with patent capping trim installed.
Airtightness: air permeability rating of 2cum/(h.sqm). The complete building envelope is thermally designed approximately 25% above the minimum Building Regulations.
Architect: John Lavery, BGA Architects, Newtownards, Co Down, www.bga-ni.com
Builder: W&R Moore Ltd, Newtownabbey, Co Antrim, www.wrmoore.com
Bathroom: Haldane Fisher, www.haldane-fisher.com
Landscaping: Cameron Landscapes, Belfast, www.cameronlandscapes.com
Artificial grass: Lazylawn, www.lazylawnnorthernireland.co.uk
Screed: RTU, Newtownabbey, Co Antrim, www.rtu.co.uk
Tiles: Terra Firma NI, Belfast, www.terrafirmani.co.uk
Gates: CIM Engineering, Glenarm, Ballymena www.cimengineering.co.uk
Kitchen: John Teuton Design, Belfast, Co Antrim, www.johnteutondesign.com;
Sinquastone composite stone:  sourced from Lamont Stone, Coleraine, L'Derry,  www.lamontstone.com
Insulation Floor: Springvale Platinum Floorshield www.springvale.com; walls: Knauf FrameTherm 35 www.knaufinsulation.co.uk
Boards Plasterboard: Gyproc Duplex www.gyproc.ie,
Wall OSB ply: Smartply www.smartply.com
Membranes DPM: Visqueen www.visqueenbuilding.com; wall breather membrane: Protect TF 200 Thermo www.protectmembranes.com; wall and roof
Vapour control membranes: pro clima Intello Plus www.ecologicalbuildingsystems.ie
Gas boiler: Baxi, www.baxi.co.uk
Photographer: Paul Lindsay at Christopher Hill Photographic, Belfast,  www.scenicireland.com
Windows: Baskil Window Systems, Crumlin, Co Antrim, baskilwindowsystems.co.uk