Having lived in Australia, single level, open plan living was what Anne and Niall Jordan wanted from their Kilkenny renovation and extension project.
In this article we cover:
From renting to buying a doer upper
Working with an architect for a redesign
What they kept and how they extended
SEAI grant to insulate externally
Top tip to reduce costs when insulating
Airtightness tips
Changing the windows with specification
Thrifty tips: when to buy second hand
Lighting design and cost effective flooring options
What they would do differently
Tree protection during the works
Timeline and floor plans
Specification and supplier list
Professional photographs
Anne and Niall had a clear idea of what they wanted for their first family home. Six years of apartment living in Australia had instilled a huge appreciation for single level, open plan living brightly illuminated with plenty of glass to welcome the outside in.
A connected location, close to the buzz of a big town was also confirmed following a brief and isolating rental experience deep in the rural Kilkenny countryside.
"We came home in 2016, intending to settle back into Ireland," says Anne. "At that point, we'd never owned a property. Our daughter had just turned one, and we wanted to buy our family home. Niall is originally from Tipperary and had been to school in Kilkenny, so living here interested us."
From renting to owning
"At first, we moved into a rental property in a rural part of the county but realised that moving from a metropolitan city to the countryside was not the step we wanted to take, and so that cemented our focus on looking for a house in Kilkenny city. It's a beautiful place, great for families and within an hour and a half's drive from Dublin."
A six month search ensued, eventually concluding in the discovery of a tired and dated bungalow, just a few minutes' walk from the city's spectacular castle and sprawling parkland.
"We knew it was for us the first time we saw it," says Anne, "It fulfilled all the criteria we were looking for. We wanted a bungalow, an affordable doer upper so we could put our stamp on it and it had to have a south facing aspect for the main living area. The house ticked all the boxes and so we bought it after one viewing."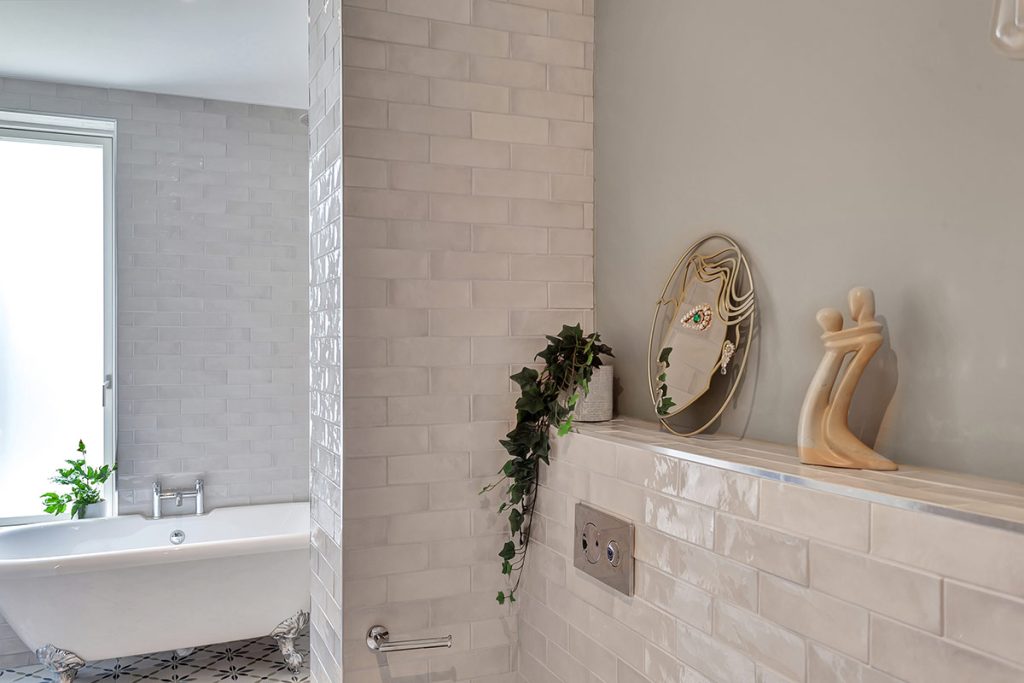 The couple picked up the keys in October 2017, with the plan to carry out cosmetic decorative work and rent it out while they carried on renting and working in Dublin. "We cleaned and painted the house and rented it out until mid 2019, which is when we first moved in here. We'd already engaged an architect in 2018 to design the plans for the house improvements which we finalised and sent in for planning approval in August 2019."
When deciding which architects to work with, Anne and Niall were in no doubt. "The minute we saw photos of their previous designs we just fell in love with their style. Specifically, their use of external canopies to cover outdoor seating areas and the extensive use of glazing. It reminded us a little of the outdoor living style we'd become familiar with in Australia."
Their design brief centred on their desire to live in a warm home with lots of light and open plan living. "Beyond that, we just asked that they focus on the fundamentals, something we could add to as time went on," adds Anne.
The plans were granted two months later, but the Jordans had to wait 12 months for the works to start, thanks to the Covid lockdowns. "At that point, we were both working from home so we moved out into rental accommodation during the renovation programme."
Space invader
They demolished the existing garage to extend into that freed up space. "There was a small bit of reconfiguration in one bedroom, but other than that, the remaining three bedrooms remained unchanged structurally," says Anne.
We replaced the suspended wooden floors with insulation, underfloor heating pipes and screed. "We initially wanted to install a heat pump as it is a more environmentally friendly heat source, but it was one of the things we pulled out when the costs came back. We do plan to eventually retrofit a heat pump and install solar panels that generate electricity."
"The advice we got was to get the breathability of the house right, the things that you can't change retrospectively. And so that was the guiding principle we used when we were looking at how to reduce costs."
"We applied and got the SEAI grant to add external wall insulation as that was the best way to insulate and it wouldn't reduce the internal floor space," says Anne. "We basically had the house wrapped in insulation to make the core of the structure as energy efficient as possible, and given we're south facing, we benefit from the solar gain from the extensive glazing, so it is a very warm home."
"However we believe we might have been eligible for the grant that would have included windows/doors as we were upgrading our home from an E to a A/B rating," she says. "But I received so much conflicting information and at the time, there was also negative press on the timelines and problems with this grant and in the end, we did not go for it. So I probably wouldn't describe the grant
process as great."
In fact the external wall insulation was the most challenging part of the build. "Because the airtight membrane was retrofitted, we were joining the old part of the house with the new," says Niall. "It was a challenge to install the layer above and below the joists. The attic and the downstairs are wrapped as two separate envelopes so any future work that requires going up into the attic will need to be done extremely sensitively to ensure we don't undo all that work by breaking the seal."
"We made sure to invest in our sanitaryware that was a splurge beyond what we originally planned,"
"We also had to make very specific decisions on what type of lighting we could have and where the services would run," says Anne. "So that will add complexity to any future changes we might make."
The building work was managed by the architect and builder. "There was lots of communication between them, with the architect visiting the site numerous times to inspect," says Anne. "But Niall and I made all the decisions on the fixtures and fittings and things like the windows."
"Our architect recommended that we visited a couple of glazing companies which we did, and ended up choosing triple glazed aluclad windows. Although they were a big outlay, they came in a lot cheaper than we anticipated."
In the original plans, a flat roof had been included to incorporate the new overhang for the open plan living area and the building extension. "This was hanged to a sloping roof for insurance reasons, but meant it was a super complex roof to build and took a long time to complete," says Anne.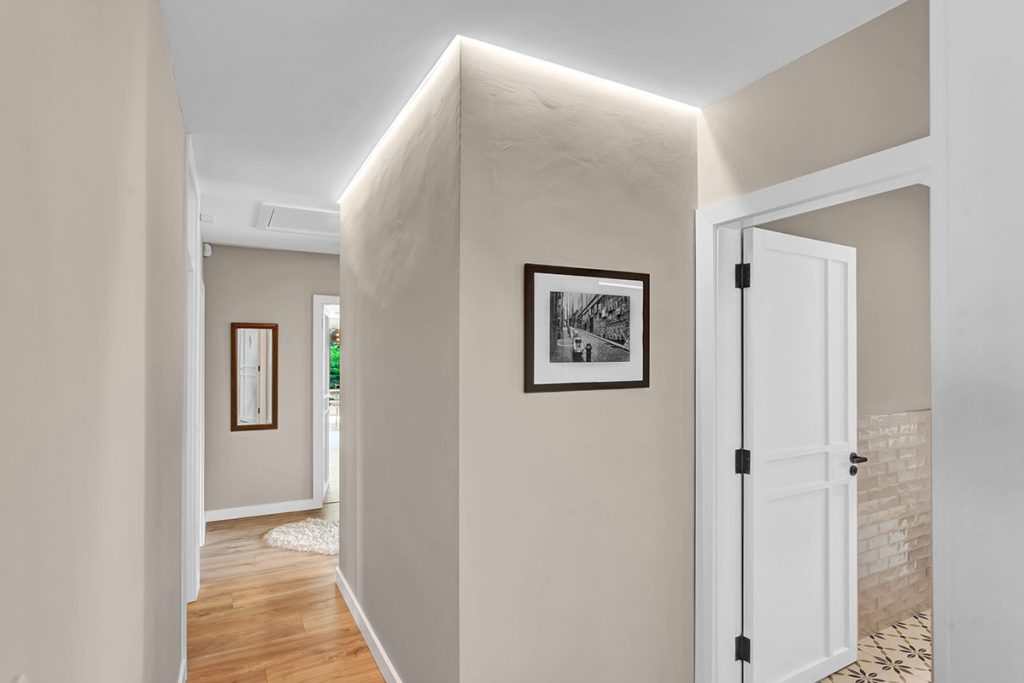 Preloved
The Jordans decided to make further savings by installing a second hand kitchen. "We bought the units for €2,000 a year before we started the build," says Anne. "The kitchen is 20 years old, but was built by a leading German manufacturer, so it's been superbly handmade. We made that saving choice to be able to invest more in the core structure of the house. The plan was to rip out the kitchen after a year and install a new one once we'd learnt how we wanted to use the house. However, we love it and we're keeping it. We've painted it and I think it's going to be here for a long time."
The flooring choice was driven by their two young children. "We were originally considering engineered tiles and engineered wood, but we've gone with laminate because it wouldn't be feasible for us to look after engineered wood with all the wear and tear that it gets from our children."
They installed the same flooring option throughout the living and bedroom areas. "It unites the house and flows from room to room," says Anne. The couple were keen to include a second sitting room. "When the children are teenagers, they'll probably want their own space. With such an open plan living area, you need to have a separate room to retreat to."
The building contract included a PC sum for lighting. Prime Cost sums are ballpark figures of what an element might cost. "We had full control over what we selected," says Anne. "We went to a lighting designer and purchased all the spotlights for the open plan area. We invested in the kitchen light fitting, but for the bedrooms and other areas where the aesthetic isn't quite so important, we sourced cheaper pendants or quality secondhand fittings. Again, we decided to choose cheaper options at the start, which we might replace in the future."
The interior style reflects the couple's previous life down under. "We shipped all of our furniture over from Australia," says Niall. "We had lived in unfurnished rental apartments while living there, so we'd already accumulated a lot of items that we love."
Mature approach
The existing garden with its mature trees and shrubs provided the Jordans with an attractive starting point externally. "We tried to hang on to as many trees as we could, and make sure those were protected during the build," says Anne. A new patio was installed and hard standing areas for the children to run their scooters, and an external electrical point will facilitate future garden lighting.
"Having Kilkenny Castle and its grounds on our doorstep is such a great outdoor resource for the children that we haven't felt the need to develop the garden as a play area," says Anna.
Looking back, time was the biggest challenge facing the Jordans during their home improvement project. "The impact of Covid on the build meant that what was to be a six month programme was stretched to 13 months," says Anne. "We were living in rental accommodation with a one year lease, which was running out so there was a lot of stress towards the end."
The finished house had a lot of expectations to live up to.
Is it what they had hoped for? "I think so," says Anne. "I think the process of trying to juggle two busy jobs, raise two small children and doing the house was tough, and I didn't get that warm, fuzzy feeling when we moved back in. But over this year, as we've added to and bought things specifically for it, the house now feels like a lovely, warm family home."
"It is our first and forever family home. We don't plan on having another."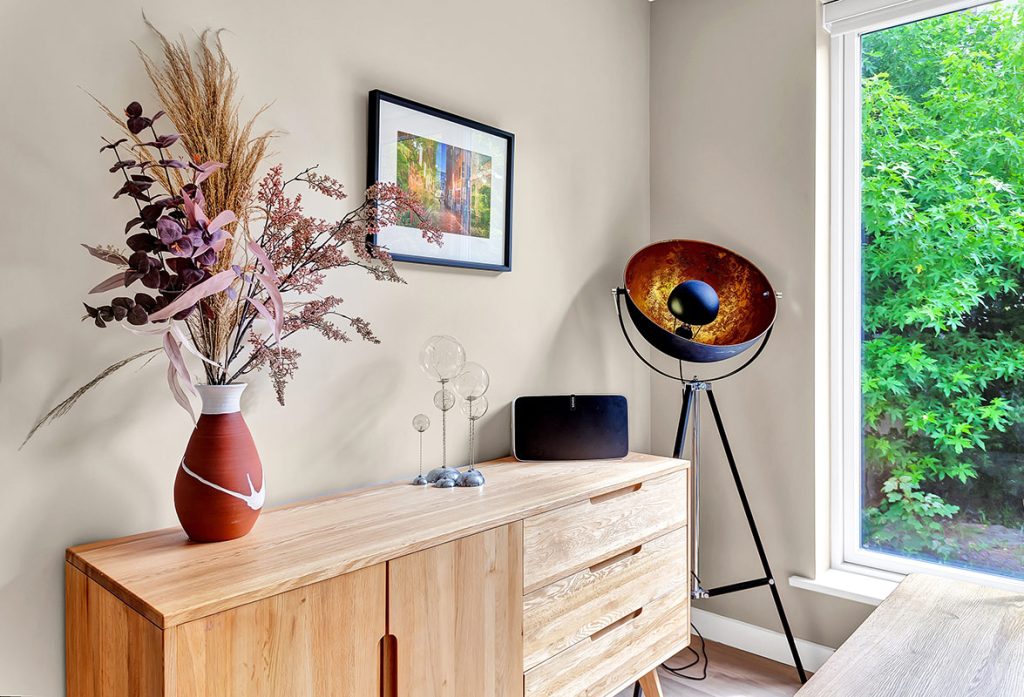 Q&A with Anne
What is your favourite design feature?
The internal feature brickwork. We sourced a brick far cheaper and far nicer than we ever thought we would get. And we love the external canopy and the seater.

What would you change or do differently?
I would change the location of the thermostats to control the underfloor heating temperature. I think that decision was driven without us knowing that implications it would have. And maybe, in hindsight, we should have tried to get the landscaping done at the same time as the build.

What surprised you?
We spent so long fine tuning the initial design, when we were in the process of doing it we realised it was just a blueprint. Our architects were very patient with us, but we didn't need to spend as much time as we did at the start. What also crops up is the sheer number of decisions that still need to be made. At times it was decision overload even with an architect, a builder and spec designs.

What single piece of advice would you give a friend who's looking to embark on a project similar to yours?
Our architect was invaluable. We could not have done it without them. So, for anyone who doesn't want to be super involved in the process keep your architect engaged during the build stage. We are control freaks; we want to know what's being built. But at the same time, we want to be able to hand it over and then walk away.

Would you do it again?
No, we wouldn't, we have no plans to leave this house.
Anne & Niall's Tips
Take a breath. Don't jump when you get asked immediately to come on site because the builder makes everything sound urgent. That's not always the case.

Get the design right for the fundamentals. Spend on the things that can't be easily changed and make sure you get them right.

Do your research and make sure you get the grants you're entitled to because I think we missed out on some along the way.

Shop around. To save money when sourcing specific items look further afield than just in Ireland. There can be alternative ways to source the same thing.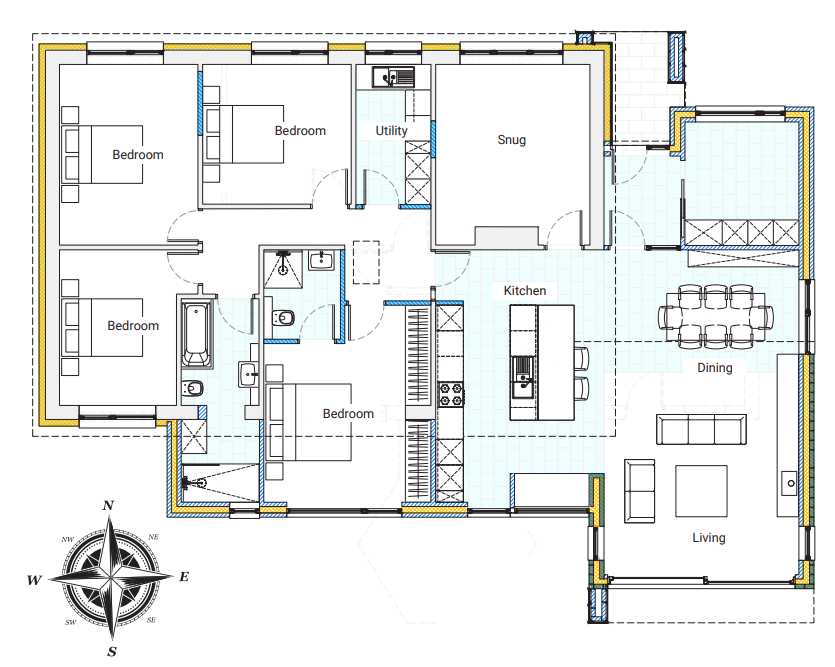 Spec
Floor: new section 1.25mm (max) floor finish, 2.85mm floor screed with perimeter insulation upstand, separation layer, 150mm PIR insulation board, 150mm concert slab, dampproof membrane/radon barrier, hardcore build up.

Walls: new sections cavity wall with 15mm skim and plaster, 100mm inner concrete block leaf (thermal block in sections), 150mm PIR cavity wall insulation, 100mm outer leaf block, 20mm sand cement render. Old walls 15mm skim and plaster on 215 concrete block leaf on 150mm external wall insulation on 10mm external insulation system render. Finished with 18mm larch timber cladding on 150mm external wall insulation on 100x50mm cross battens on 215mm concrete block leaf finished internally with 15mm skim and plaster. External canopy walls 100 or 215mm concrete block, 25mm timber battens, 18mm ply or larch timber cladding, 2mm zinc standing seam. Internal stud walls 15mm skim plaster, 75mm stud with acoustic insulation, 15mm skim plaster.

Roofs: New flat and pitched roofs proprietary uPVC standing seam finish on 18mm marine grade plywood, min 50mm ventilation void, 400mm mineral wool insulation to be wrapped and continuous with new external wall insulation, 215mm C16 timber joists, airtightness/vapour control barrier, 25mm service cavity, 15mm plasterboard and skim. Existing roof tiles on battens, felt, rafters, vented void, 400mm mineral insulation to be wrapped and continuous with new external wall insulation, airtightness/vapour control barrier, 2c25mm cross battens for service cavity, 15mm plasterboard and skim.

Windows: triple glazed with passive sills
Suppliers
Architect and project manager
ROJO Studio Architects, rojo-studio.com
Builder
Richie Reade, richiereade@gmail.com
Lighting
Willie Duggan, willieduggan.com
Windows
Rationel, rationel.ie
Insulation
Unilin Hyfloor for floors, CavityTherm for walls, unilininsulation.ie, Rockwool for roofs, rockwool.ie
Roof covering
Sika Trocal, irl.sika.com
Photography
Damien Kelly, damienkellyphotography.com