How much it costs to build a house in Ireland in 2023, according to the Selfbuild Cost Survey.
In this article we cover:
How much self-builders are paying to build their homes across Ireland, in NI and ROI
How much builders are quoting for new build one-off houses
What building methods self-builders are using
How self-builders are project managing their builds
How self-builders are budgeting for their build
Third party cost surveys for one-off new builds and extensions
Big ticket items when self-building
It's true that relying on average costs to figure out what a self-build will cost you will only lead to confusion and disappointment. But we still thought we'd share what other self-builders have been paying to build their dream homes, to give you an indication of how much it takes to build today.
The results include all fees and internal finishing costs but exclude site purchase costs, furniture and external finishes such as the driveway, paving, landscaping, etc.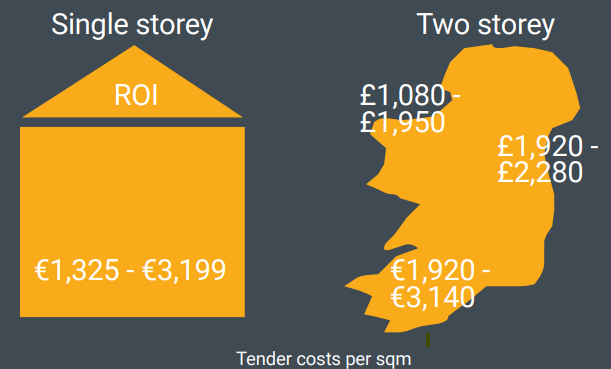 Tender survey
Selfbuild asked architectural designers what costs their tenders were coming in at, and to what specification.
The vast majority of projects were specified to a better than building regulations finish and used blockwork cavity wall construction as the build method.
Construction drawings were the basis for the tenders and only two thirds said a contract was put in place upon choosing the successful builder. The rest said the agreement was verbal.
On average, architectural designers went to tender to three builders. Overall, two storey, single storey and extensions all came in on average at roughly 2,000 per sqm, in euros/pounds. Kitchens on average cost around the 20k mark and were PC Sums. At the lower end of the scale, kitchen costs were 5k to 12k and at the higher end 30k to 40k.
Most builds were either single storey or two storey. Much less common were storey and a half (up to £3,500 in Belfast/North Down to a better than building regs spec down to around £1,200 per sqm in the rest of NI for a standard spec) and three storey (coming in on average around the €2,500/sqm mark in ROI).
Self-builder survey
On average, the self-builders surveyed said it took them one to two years to complete their project. We sent out this survey in 2021 and in 2023, with 85 per cent of those surveyed in both data sets either building to a specification better than the building regulations or to an even better specification.
In 2023, self-builders reported the noticeable increase in material and labour costs. Some reported how lucky they were to lock in a fixed price contract before the start of costs rising in 2021. One entry said that if they had started in 2023, their costs would have been 10 to 15 per cent more for materials. Another said their final bill with their contractor was 40 per cent higher than their original estimates.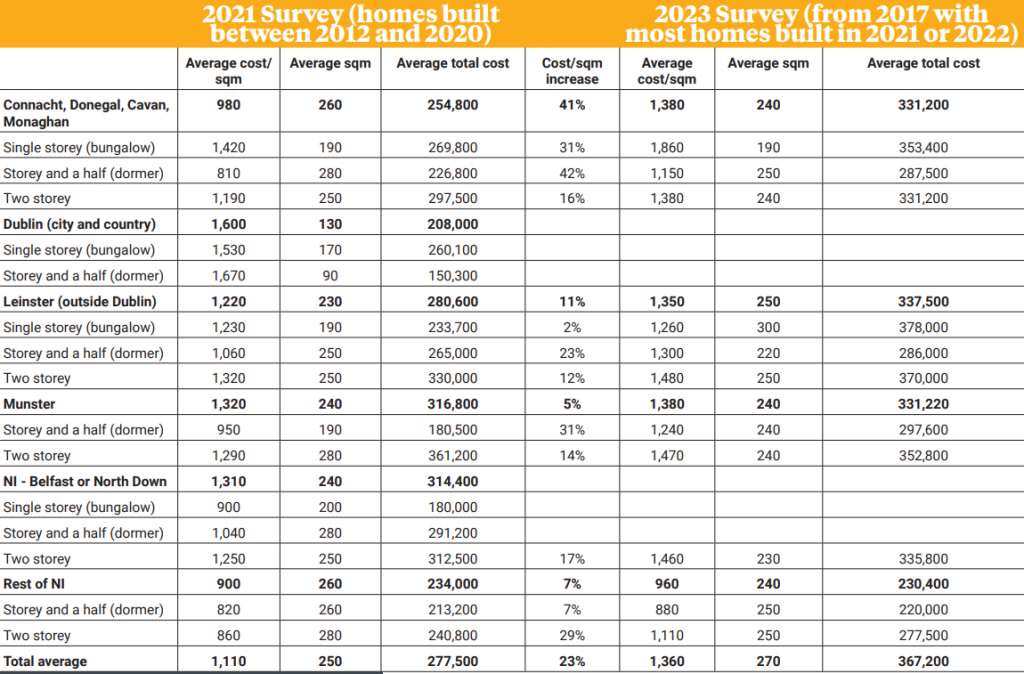 Third party surveys
The Society of Chartered Surveyors Ireland's house rebuilding survey dated September 2022, published for insurance purposes, estimates that it would cost from €2,842 per sqm in Dublin to €2,153 per sqm in the North West to rebuild a detached house (for a bungalow their figures are €2,445/sqm and €1,926/sqm respectively). A single attached garage has a price tag of around €20k and a double attached €35k.
A few years back, in 2019, the Royal Institute of Architects published a cost guide stating a single or two storey one-off house would cost €2,500 to €2,800 per sqm for a traditional build with a "reasonable level" of finishes and fittings. However, where the construction method is non-traditional and/or the level of finishes and/or fittings is high, the RIAI listed a cost in the order of €2,800 to €3,500 per sqm.
For an extension their cost estimate is from €1,900 to €3,400 per sqm. The range in itself outlines the difficulty in accurately budgeting based on an average cost.
Dooley Cummins Architects & Engineers published the figures they got back from the tenders they put out for their clients building a one-off detached house in the countryside (third quarter 2022 figures). They don't specify complexity of build or size of house but share an average €2,350/sqm figure including VAT for a contractor led build and for a turnkey finish (ready to move into).
However their figure does exclude site purchase costs, development levies (€2,000 to €20,000 depending on the floor area and county council), professional fees (5 to 15 per cent of the build cost) and inflation.
The website tradesmen. ie, meanwhile, did a survey in November 2022 asking builders how much it would cost excluding VAT to build a 150sqm house ready to furnish. Answers ranged from €1,500 to €2,500 per square meter for a builder's finish with an extension costed at up to €3,000 per sqm.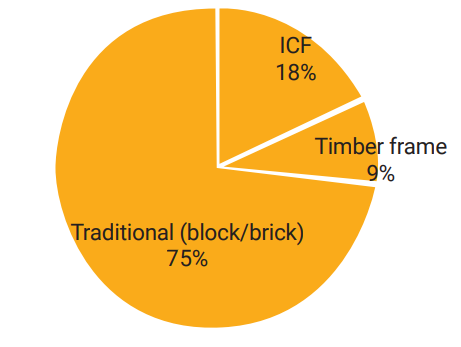 Build Method
Insulating Concrete Formwork (ICF) has overtaken timber frame since the 2021 survey. In both surveys, the vast majority of building work was done with blockwork.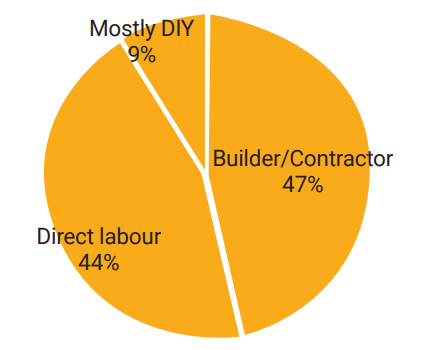 Project Management
In the 2021 survey the split was even more pronounced than in 2023 with direct labour and contractor taking about 35 per cent each.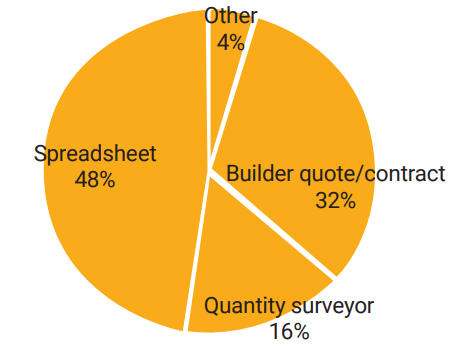 Budget Management
Very similar breakdown as in the 2021 survey, with comments showing quite a few went with multiple methods. Some said they started with a spreadsheet but ended up without any method to keep track of costs.
Then and now
Back when our grandparents built, many houses had a single main entrance door with a similar rear or side door. Windows were of a fairly standard size, manufactured in a locally sourced material. Inside, the only reason to have a staircase was to get from one floor to another. This generally resulted in hiding the staircase away from view, sandwiched between two walls.
Since then, the staircase has moved from that utilitarian position to the main entrance hallway, taking pride of place and also increasing cost. Architectural designs are now specifying an ever increasing amount of glazing which, combined with advances in technology, have resulted in windows and doors taking up a significant proportion of a self-build's overall build budget.
The other big ticket item is likely to be your heating and ventilation system. Here remember that while a well built (insulated, airtight) home should require very little heating, all homes need adequate ventilation