A list of grants available for self-builders and home improvers who are looking for financial help building their home or upgrading it in Ireland today.
In this article we cover:
List with links of what grants are available in Ireland today
Energy upgrade grants
Vacant property grant
What fiscal incentives exist
What utilities have to offer
Grants for traditional buildings
Adaptation grants
Oil buying clubs
Low income schemes
Republic of Ireland (ROI)
Sadly, there are very few grants available for new builds, apart from the EV charger grant and the Help to Buy which is a tax-back scheme. EV chargers are now mandatory on all new builds.
Note that until April 2024 self-builders are exempt from paying local authority charges and water connection fees.
1. Better Energy Homes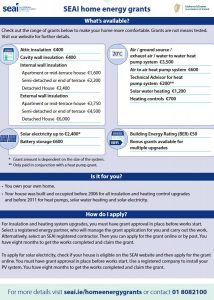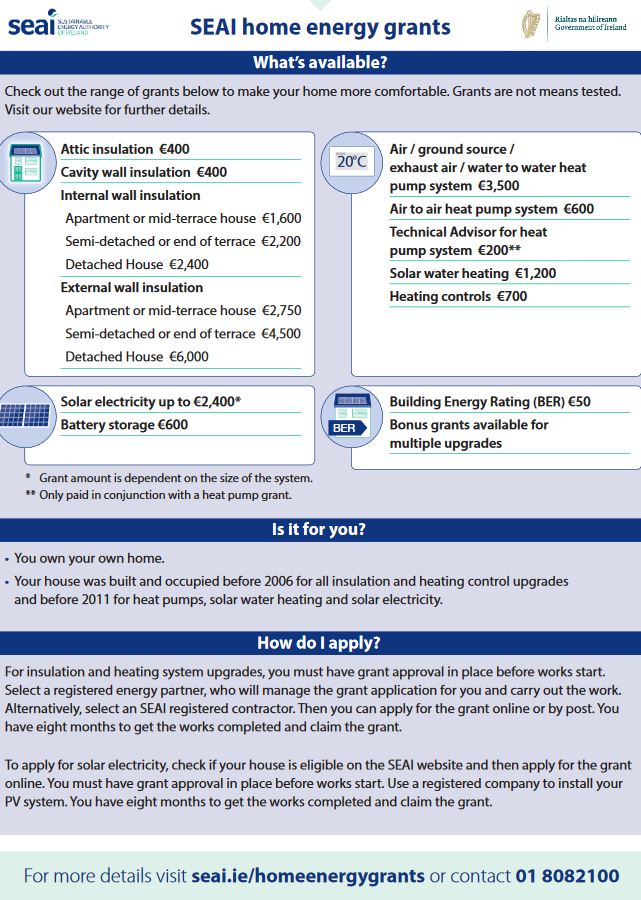 Grants for insulation, solar thermal panels, boiler upgrades and controls, for homes built before 2006. A contribution towards your Building Energy Rating in context of the work is also available. See SEAI website for more and check out how your local energy agency can help – the Tipperary Energy Agency for example operates the Superhomes scheme which can fund up to 50 per cent of your energy upgrade.
The SEAI also offers grants for homes built and occupied before 2011: a heat pump grant and a grant for PV panels (solar panels that generate electricity) including battery storage.
As of February 2022 the SEAI administers the grants for deep retrofits (windows and ventilation systems plus consultancy costs are partially covered by the grant) and shallow retrofits (individual grants for insulation upgrades, heating controls, solar systems and heat pumps only).
2. Fully Funded Energy Upgrades
Formerly known as the Warm Homes Scheme, these are free energy upgrades for families receiving government supports such as fuel allowance. See SEAI website for more.
3. Fiscal incentives
The Help to Buy scheme helps first-time-buyers put down a deposit to build their new home or to buy one. For a self-build you will need a solicitor to do the paperwork for you and it's a tax back scheme, so you need to have paid taxes the previous four years. See the Revenue website for more details.
The scheme is expected to come to an end on December 31, 2024.
4. Offers from utilities
Electric Ireland offers new customers subsidies towards installing a new heat pump, a new stove and carrying out insulation measures, among others. The subsidies are deducted from your energy bills. Energia also offers discounts as part of their Cosy Home scheme.
5. Traditional buildings grants
The Traditional Farm Buildings Grant goes towards the conservation and repair of traditional farm buildings and related structures for farmers in the Green Low-Carbon Agri-Environment Scheme (GLAS). Maximum grant amount is €25,000; up to 75 per cent of the cost can be financed subject to the maximum grant amount. For 2020 the closing date for receipt of applications is Tuesday 18th February at 5pm.
A thatching grant is available towards the cost of renovating thatched roofs of owner occupied houses. A grant of two thirds of the approved cost up to a maximum of €3,810 is available.
For heritage buildings in need of considerable repair there are two grants available but these can be hard to get: the Structures at Risk Fund, with funding between €15,000 and €30,000 available, and the Built Heritage Investment Scheme which funds up to half of the total project cost. Contact your local authority for more information. A tax relief may be available too (Section 482).
6. Adaptation grants
These are means tested, there's the Housing Adaptation Grant for People with a Disability with a maximum grant amount of €30,000, the Housing Aid for Older People with a maximum grant of €8,500 and the Mobility Aids Grant with a cap of €6,000. More on adaptation grants here.
Grants up to €4,000 are available to replace old lead piping for those earning up to €50,000.
Also available is a grants up to €4,000 to replace your septic tank after failing an inspection. This grant is under review to be extended to everyone deemed to be in high risk areas.
7. Feed in tariff for renewables
After years of waiting, you can get paid for the electricity you export under the Microgeneration Support Scheme (MSS) plus a tax break on what you earn form it.
8. Vacant property grants
You can get €50k for a vacant property or €70k for a derelict property to do it up – you can already own the property or be in the process of buying it. And it can be a renovate-to-rent project; you don't have to live in it. Find out how to apply here.
The Repair & Leasing scheme will give you a loan to repair a home you own that has not been lived in for at least a year – up to €40,000 (or €50,000 for what was previously a bedsit) – with a view of renting it out for social housing purposes. In February 2018 the minimum social housing lease term was reduced from 10 years to five years. The loan is paid back over the term of the rental agreement; also if you choose to act as landlord you can pocket more of the rent than if you were to get the local authority to act as landlord. More information here.
Broader supports are available for vacant properties here.
Northern Ireland (NI)
1. Boiler replacement scheme
Owner occupiers can get a grant of up to £1,000 to replace inefficient boilers (15+ years old) with energy-efficient condensing oil or gas boilers, switch from oil to gas, switch to a wood pellet boiler. You must earn less than £40,000 a year. See the NI Direct website for more.
2. Feed in tariff for renewables
The Northern Ireland Renewables Obligation Certificates (NIROCs) scheme was closed in April 2017 so there is no longer a financial incentive from the government to generate your own electricity from solar (photovoltaic – PV) or wind.
However you can still get paid for the energy you export to the grid with what's referred to as an export payment; you must have an NIE Networks import / export meter fitted to allow you to do this.
Great Britain has a different regime; there the Smart Export Guarantee (to be phased in January 2020) will replace the now defunct feed-in tariff system which was scrapped earlier this year. The Smart Export Guarantee is GB only so will not apply to NI.
3. Oil buying club
Group with your neighbours to get a better deal from oil suppliers to fill your tank. More information on the NI Oil Buying Network here.
4. Housing Executive grants
There are a number of grants available for houses in a lot of need of repair, but these tend to be very hard to get. Ulster Architectural Heritage has published an overview of the grants you could apply for.
For those with mobility or disability issues there's the Disabled Facilities Grant which could see all of the works recommended by an Occupational Therapist funded (up to £25,000); the Home Repairs Assistance Grant is harder to get and capped at £5,000 over a three year period.
5. Low income schemes
Bryson Energy in partnership with Belfast City Council runs a handyman service for the elderly. More here.
There are additional grants available through the Utility Regulator's Sustainable Energy Programme. Energy Plus by Fusion Heating is aimed at low income households with a broken or no heating system. Power NI has an Energy Saver Homes grant of up to £800 towards heating and insulation. The Home Comfort schemes from Firmus energy are aimed at low income households with no central heating.
Disclaimer: This list is not exhaustive, always consult with a qualified building professional. Schemes are subject to change.
Last update: May 2023
---
Try our new 'Selfbuild Cost Calculator'. Fill in details and instantly get a rough estimate for your project