The Sustainable Energy Authority of Ireland (SEAI) now offers grants of up to €3,800 for installing solar panels that generate electricity on your roof.
UPDATE 5th December 2019: The grant amounts are changing as of mid-December 2019. The article below was published in July 2018.
The grant for the installation of photovoltaic (PV) panels is in the order of €700 for every kWp up to maximum 4kWp. Any installation over 2kWp must install a battery for which a €1,000 grant is available.
Minister for Communications, Climate Action & Environment Denis Naughten announcing the launch said this means that a homeowner of a three bedroom house would only be out of pocket €1,800 with the help of a grant and would save about €220 a year on their electricity bills.
"The Government is committed to helping citizens reduce their energy use and making clean energy cheaper and affordable to use. The introduction of a grant for household solar PV and further increases to home energy grant amounts demonstrates this commitment," he added. 
Support is available to all owners of dwellings built and occupied before 2011 and is available from today, Tuesday 31st July 2018.
The grant is at a pilot phase, and will be subject to a review in six months' time to asses the cost of installation and to explore "further opportunities to broaden this scheme to other groups and other technologies." 
If you installed solar PV in your home earlier this year you will not be eligible for the grant, it must have been installed no earlier than the 31st  July 2018. The pilot scheme will run until 31st December 2020.
A domestic solar PV system consists of a number of solar panels mounted to your roof (or in your garden) and connected into the electrical loads within your building. The solar panels generate DC (direct current – like a battery) electricity, which is then converted in an inverter to AC (alternating current – like the electricity in your domestic socket). Solar PV systems are rated in kilowatts (kW). A 1kW solar PV system would require three or four solar panels on your roof.
Any excess electricity produced can be stored in a battery, or other storage solution like your hot water immersion tank. It can also be exported from your house into the electrical network on your street.
As previously reported by SelfBuild the grant does not include any provisions for selling excess electricity back to the grid. The cost of installing a battery is currently in the region of €6,000; more on the topic in our coverage of solar panels here.
The Department's FAQ on solar PV is available here.
The SEAI Payback Calculator shows the average amount of electricity generated per year is 816 kWh/kW/yr and that a 2kWp unit is large enough for a domestic dwelling, even one with a high demand for electricity.
Furthermore, systems that take up less than 12 sqm are generally exempt from planning permission and this equates to a 2 kWp unit.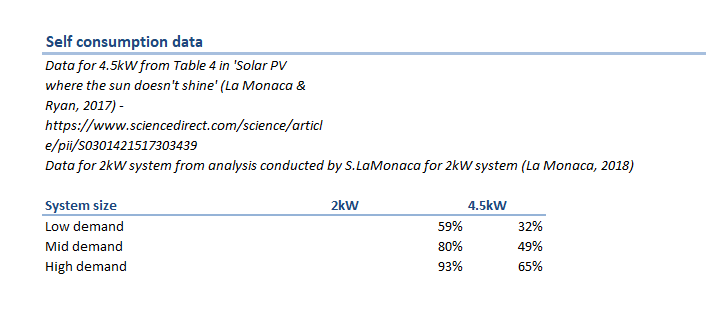 Costs are outlined as below: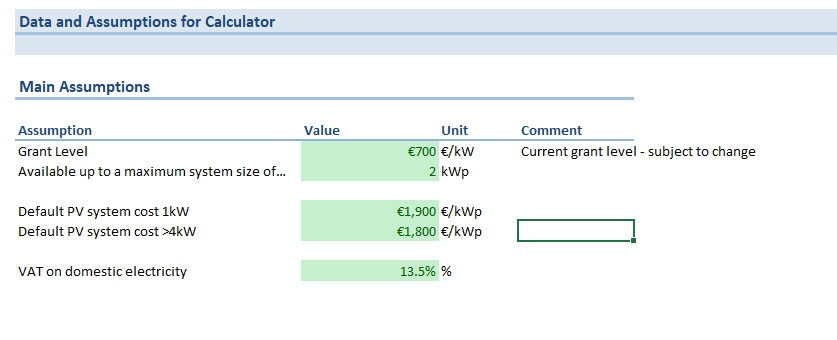 Home insulation grants
Minister Denis Naughten also announced he was increasing the grant amounts for attic insulation, cavity wall insulation and/or internal wall insulation.
Grants for attic insulation are increased from €300 to €400, for internal wall insulation from €1,800 to €2,200 for  semi-detached and end-of-terrace detached houses.
Once approved, homeowners have six months to get the works completed by a registered contractor and claim the grant and the house must have been built and occupied before 2006.
---
Brian O'Mahony of the Energy Efficiency Team at SEAI answers your questions:
Does Ireland get enough sun for solar panels to be efficient?
The short answer is yes. While Ireland does have its fair amount of rain, the solar PV systems generate electricity in daylight. That means they still function on overcast days. Solar panels will always perform their best in direct sunlight.  A well located 1.8kWp system (6 panel) could generate around 1,500kWh of electricity a year. That is about one-third of the typical annual electricity demand of an Irish home.
How much is a solar panel on average to install and what is the payback?
The cost of purchasing and installing solar panels has come down considerably over the last 10 years. The cost of a solar PV system depends on a range of factors including the hardware chosen, size of system, monitoring equipment and the structure and type of roof or site.
Broadly speaking, home PV systems cost about €4,000 for a 2kWp system installed (incl. VAT) but prices will vary depending on the factors mentioned above.
How much electricity will I use from solar panels versus what I use from my electricity provider?
The best systems for people are ones where most of the energy is used within your home, rather that spilling onto the grid or exported, as you get the best value for the electricity. So generally this means installing a system that will provide about one-third of your electricity needs. If you want to go beyond that you will need to install a storage system (essentially a battery) which will allow you use the solar electricity when the sun is not shining (i.e. at night).
Do I need planning permission for solar panels?
Solar PV systems installed in a domestic setting under 12 sq. m (about a 1.5kWp to 1.8kWp system) and representing less than 50% of the total roof area are exempt from planning. There are some specific requirements about planning, so it is best to contact your local authority.
Where do I find an installer?
SEAI has a list of installers here. These are installers who have completed a solar PV course and are a Registered Electric Contractor with Safe Electric Ireland.
Can I sell my electricity back to the grid?
There are not currently any energy suppliers who will pay you for the electricity you generate and export to the grid in Ireland at the moment. It is likely that EU directives will change this in the coming years. But I would point people back to the fact that it is more valuable to use the electricity within your home than get a payment for it, so self-consumption is the key.
My roof doesn't face south and I've heard this is the best direction for solar panels – does this matter?
South is best in the respect that it will generate the most electricity, but other orientations can also work. East facing panels will generate most of their energy before midday, but they still will work in the afternoon but will not generate to the same level. East-west facing panels may suit the use pattern over people's home, where they are home in mornings or evenings and out during day.
The panel orientation is one of the things your installer will discuss at the start and they will want to know your energy bills and also your typical use pattern so they can optimize the system design for you.
What about shading from trees and chimneys?
Shading can be a problem from trees or chimneys and so the panels should be installed to avoid any potential shading. It's also important to think about whether existing trees will grow and possibly block the panels in the future or if you are installing during the autumn/winter when there are no leaves present.
Your installer will be able advise you on the best way to deal with shading.
What maintenance is needed?
It generally consists of keeping panels clean but our weather with rain helps a lot. Installers generally offer maintenance services and many systems today have apps where you can monitor your systems performance with your mobile phone. In about 10 or so years you will need to replace the inverter.
How long does it take to install?
Ideally, it should not take any longer than a day to install after initial inspection by contractors.
How long do they last?
The whole system typically has a design life of over 20 years. There are no moving parts so typically the systems just work away.