Homeowners who need to upgrade their septic tank will no longer be means tested in 'high status water bodies' areas, delegates at the Irish Onsite Wastewater Association conference heard yesterday (13th December 2018).
The map indicates the areas where the grant will be extended in red, indicating priority areas for the local authorities' water cleanup initiatives.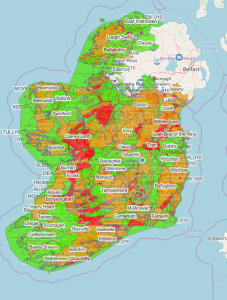 Source: catchments.ie/maps
Ruth Hennessy of the Local Authority Waters Programme told delegates the full details had yet to be finalised by the Department of Housing, Planning and Local Government but are expect to be rolled out early next year.
"The Department are yet to finalise the revisions to the septic tank grant scheme so we cannot be certain that they will be extended to everyone in high risk areas. Based on recent discussions this is likely but still uncertain," Hennessy said.
She added the grant would apply to all homeowners, regardless of income level, that are in a high risk area. You will no longer have to fail an inspection to be elgible for the grant in these specific areas.
The current grant system is means tested and does not apply to regular system maintenance such as desludging. The current grant levels cover 50 per cent (income level of €50-70k) to 80 per cent (income level of up to €50k) of the cost of repairing, upgrading or replacing a septic tank that failed a local authority inspection. The maximum grant currently availble is €4,000.
Hennessy told Selfbuild it was likely that the grant in these high risk areas would be at the €4,000 mark regardless of income level. The grant will continue to be for works to upgrade or replace the failing septic tank that is leading to water pollution. The grant will continue to not apply to desludging, for example.
Local authorities inspect septic tanks and every year roughly half of all septic tanks inspected fail. The latest figures presented by the Environmental Protection Agency at the conference confirmed this trend.
Since 2013 work has been ongoing to evaluate the water quality of Irish rivers, with 1,4000 out of roughly 5,000 deemed at risk. Of these 800 sections have been prioritised for cleanup in 190 priority areas.
The recently established Local Authorities Water Programme is in charge of further investigations and community engagement to reduce water pollution levels in priority areas.
In addition to agriculture, poorly functioning septic tanks have been found to be a main pressure on water quality. In 40 areas they were considered to be the only cause of water pollution.