Fostering a sense of fun was at the heart of this renovation, balanced by functionality
"It's not every day you get an opportunity to transform your house and in this instance, the internal layout warranted a complete overhaul. It often makes for a much more successful extension to reconfigure the entire building," explains architect Shane Cotter of Architectural Farm.
The brief was very specific as the homeowners were focused on their functional needs. "In a small family home storage is everything so much thought was given to that, by incorporating as many nooks and crannies as possible throughout."
[powerkit_collapsibles]
[powerkit_collapsible title="CREDITS" opened="true"]
Architectural Farm: architecturalfarm.com
Photography: Ste Murray, ste.ie
[/powerkit_collapsible]
[/powerkit_collapsibles]
The idea of the indoor/outdoor bench, for its part, was a playful take on the need to make the house feel bigger all the while catering to family life and its inherent connection to the outdoors.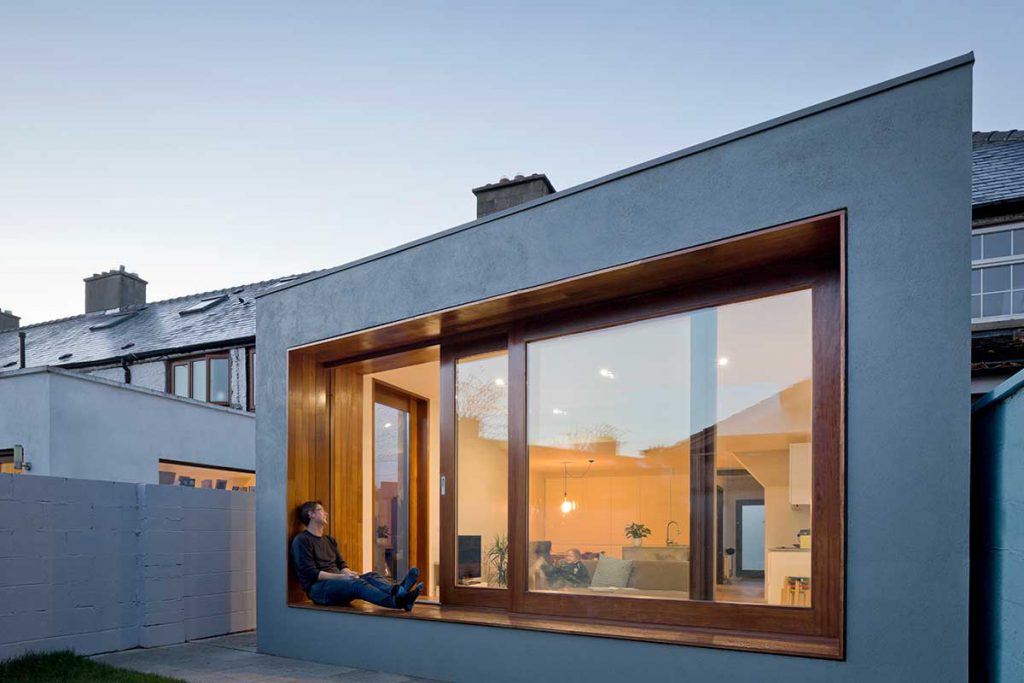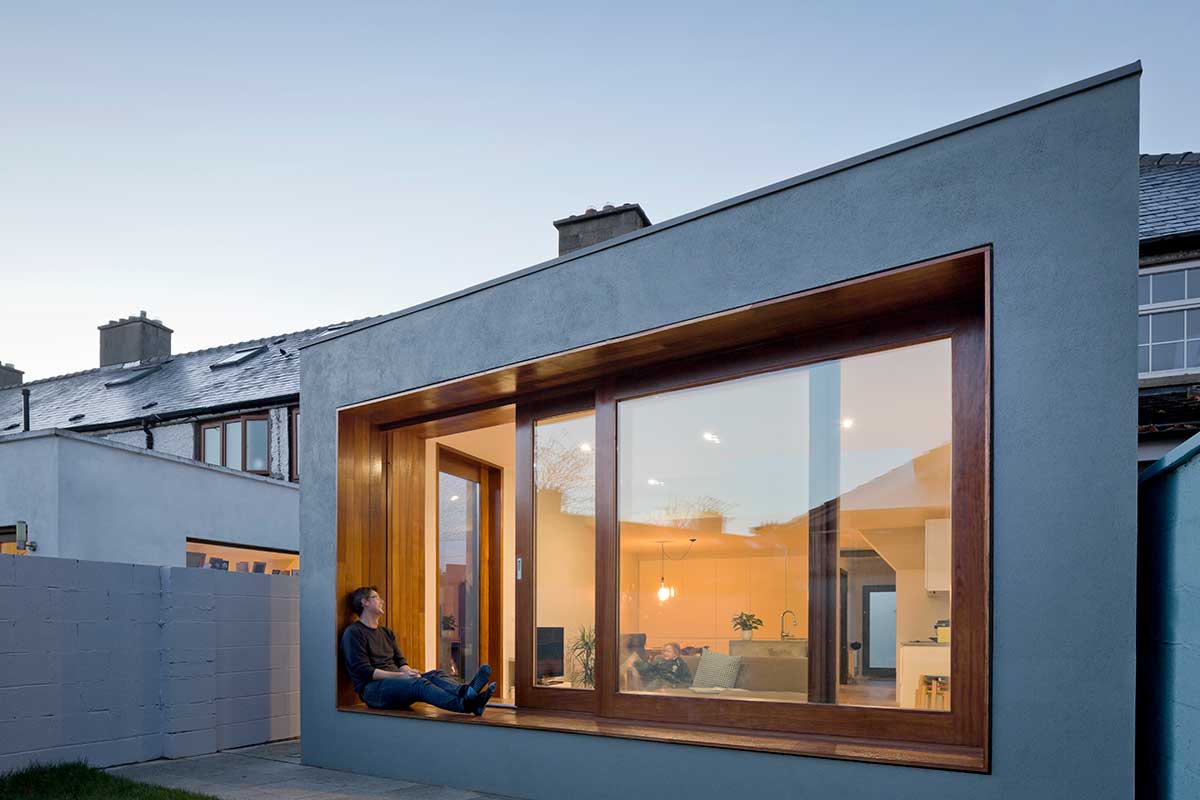 Shane explains:
"The tricky bit about the bench was getting the right size and the material that could function as a social and play space both inside and out. It had to be big enough to sit on and to allow the kids to climb and play without being too mean or too large. In this case it took a meter width, split in two by the glazing, and almost five meters in length to strike the right balance.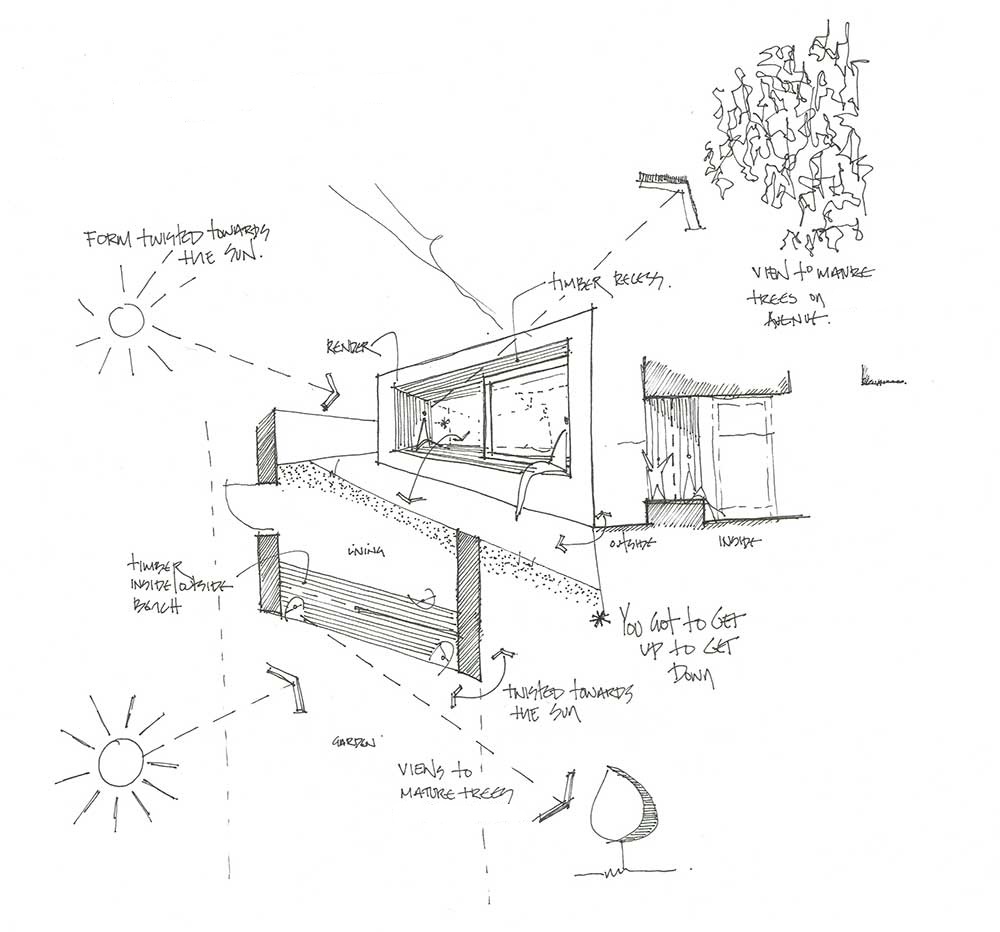 The material needed to be robust enough for the outdoors (and for the children) yet tactile and warm for the inside space. Hard wood timber is ideal for this purpose as it weathers with the building. In this case we chose a mahogany.
---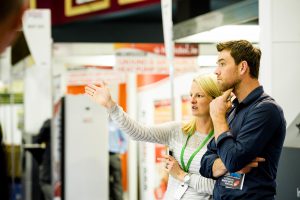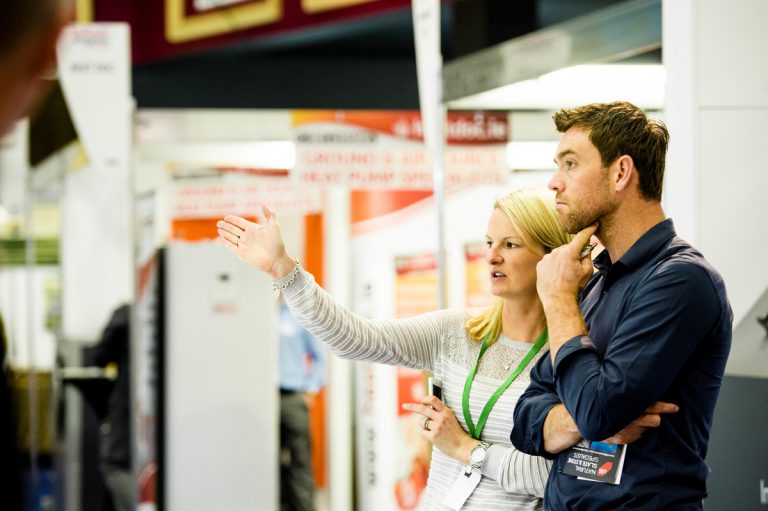 Selfbuild Live Belfast is the ultimate showcase for people who are building, extending, improving or simply decorating their home. Selfbuild Live Belfast, 22nd-24th February takes place in the Titanic Exhibition Centre, Belfast.

---
While the extension and the timber elements look relatively simple it takes a lot of effort in both detailing and building to get it right.
For instance setting out the lines of the timber cladding and detailing around the jambs of the sliding window, when the form of the extension is twisting, was tricky and is a credit to the builder's patience and skill.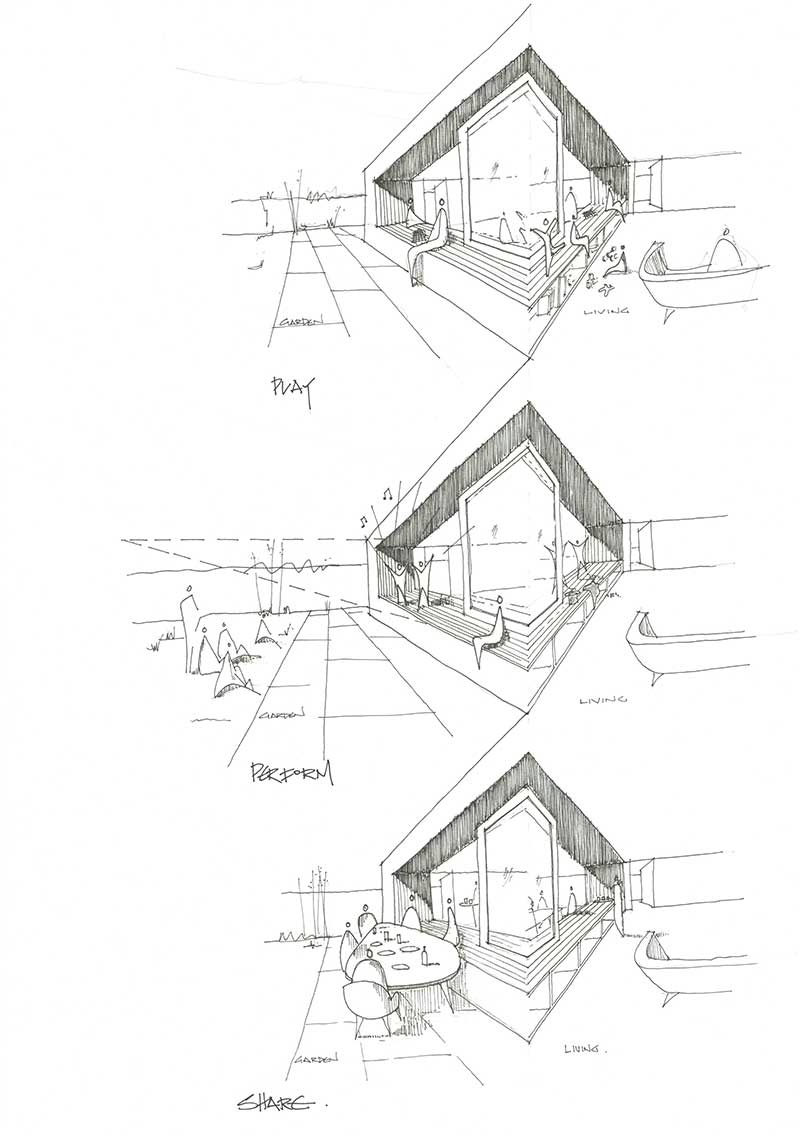 Other things that had to be considered were the external timber seat and weathering. To deal with horizontal rain and to reduce water ponding on the seat, in between the timber slats are joints that lead to a continuous drain below."
IN THE ARCHITECT'S CHAIR
Shane Cotter and Kathryn Wilson of Architectural Farm on injecting a healthy dose of fun into their projects.
Shane and Kathryn founded Architectural Farm during the recession, a challenging time which now, looking back, also yielded a great opportunity. "We both worked in private practice on large commercial and public projects before the downturn. With a strong belief that architects, given the opportunity, can do anything we thought we'd open our own practice, and give it a go," recounts Shane.
The decision in many ways made itself. "It was a natural progression, we had been working on private jobs on the side and before we knew it, we had enough work to build up a portfolio," says Kathryn. "The practice is a result of this evolution." The gamble paid off as the young couple is now well established in the architectural scene, with accolades from the Royal Institute of the Architects of Ireland (RIAI) and the Royal Hibernian Academy.
Evolving too during this time were their clients' profiles. "With hindsight I would say the conversations we are having with clients today are much more well informed than many that we had say seven or eight years ago, and they're much less susceptible to current trends or fashions," opines Shane.
"The specifics of their project and how they live their day-to-day are much more important. No one wants to design their extension or renovation around a kitchen that will be changed in five years – a kitchen island, for example, is an amenity that may or may not work, depending on the space and people."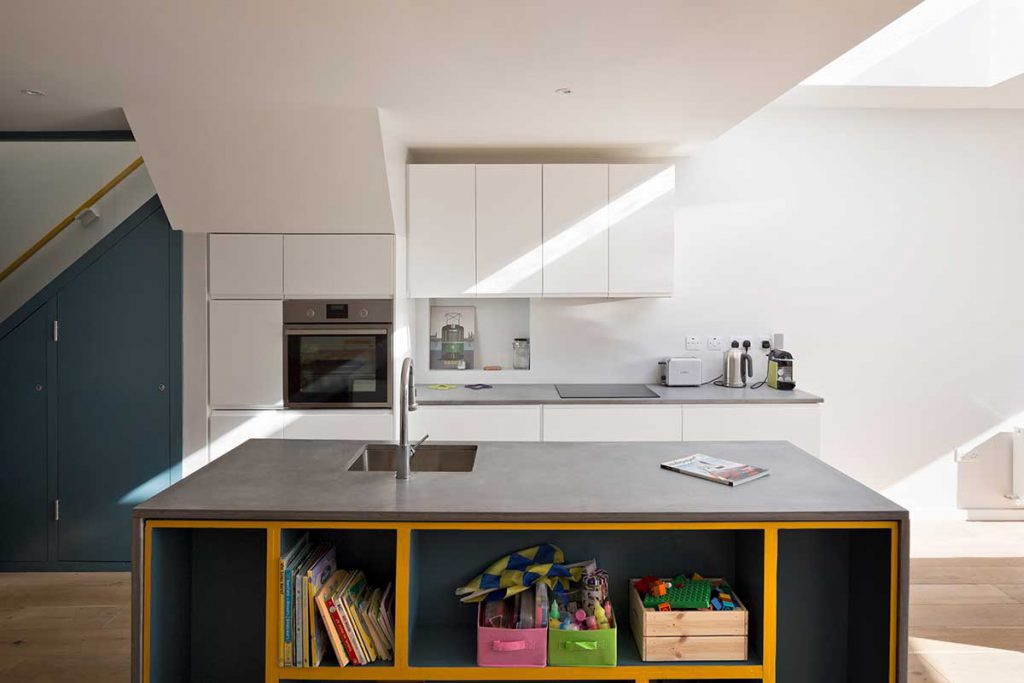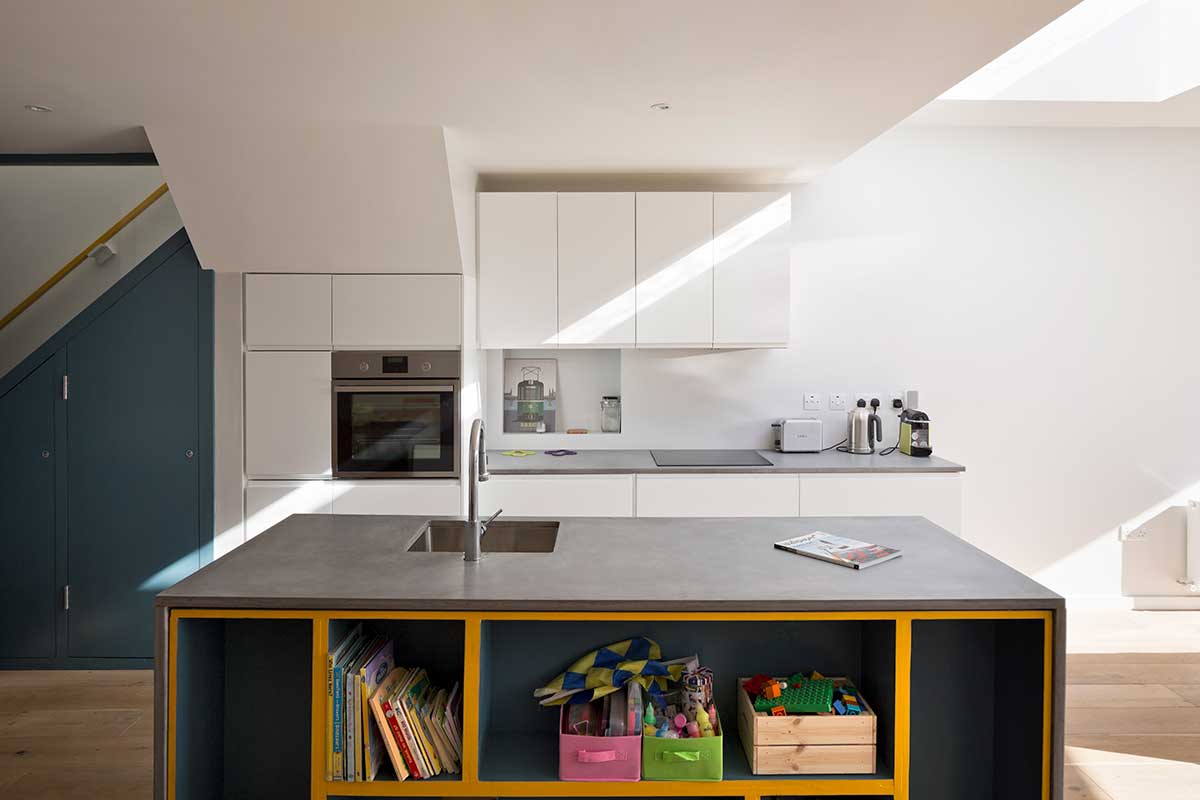 "It's a two-way street, the more the client brings to the table the more we can contribute," adds Kathryn. "Our role is to be informing the discussion and pushing it in a different direction. The more you test each other, the better – clients will test our own preconception as we do theirs." "The interesting thing about the process is once you start making these core decisions, around the way the clients live and the context of the build, everything else starts responding, there's a snowball effect."
"The default white box at the back of a house is no longer what we're asked to do," says Shane. "It's now all about inside, how do the clients want to live. You need to bring life and joy to a project. There's poetic potential in architecture." According to Shane, a new build is the perfect blank slate, as it can respond to its context much better than an extension, which he says will always be a compromise of sorts: "Renovations are more about putting the puzzle together," he adds.
[powerkit_collapsibles]
[powerkit_collapsible title="Q&A"]
What was your first professional commission and where was it built? I built a house for a friend of mine in east Cork in a 'contemporary vernacular' style as these houses tend to be described. The problem with working for friends or family is that you'll worry yourself to death. After that I did my cousin's house and in practice, my first professional domestic commission was for an extension in Dublin.
What inspires you? Travel is by far the best way to teach yourself architecture. Learning and figuring yourself out through a building is a great experience. At the moment we have been looking at punched out windows (protruding from the façade) and always find it interesting to see how others have designed and built their versions.
Where do you think domestic architecture is heading in the future? We already have some real heavy hitters here in Ireland with Grafton Architects, O'Donnell + Tuomey, dePaor, Heneghan Peng, and their work is informing much of the initial discussions on architecture with our clients. Also now that we have the RIAI Architecture Awards rewarding regions for the first time in 2017, I think we will be seeing more architects taking part in regional housing projects – architects bring so much to the table from orientation, site and setting, to building performance.
What has architecture as a career given you? A rich, broad view of the world. Every day I get to dabble in art, engineering, design, psychology and get fascinating glimpses into human nature. I think it's a career that makes you very rounded as an individual because you have to juggle all these aspects on a daily basis, you have to do the maths, you draw sketches, you deal with people one to one. There's never a dull moment.
[/powerkit_collapsible]
[/powerkit_collapsibles]
---