Planning permission can be especially hard to secure if you want to alter the front of your semi-detached house. The solution in this coastal Co Derry town was to get both sets of homeowners to apply at the same time.
The project started off when Heather and Ian Rankin decided to upgrade their holiday home. "We inherited the house from my aunt, to which nothing had been done for at least 40 years," explains Heather. "We always intended to keep it as a holiday home, but it did need a full renovation."
"Ian is a painter and has been working with a builder called Damien for years and knew he was excellent at his job so we didn't even look for anyone else. It was Damien who suggested we work with Michael as he's the architect he usually employs on his projects.
We hit it off straight away and the creative process was a really enjoyable one," adds Heather.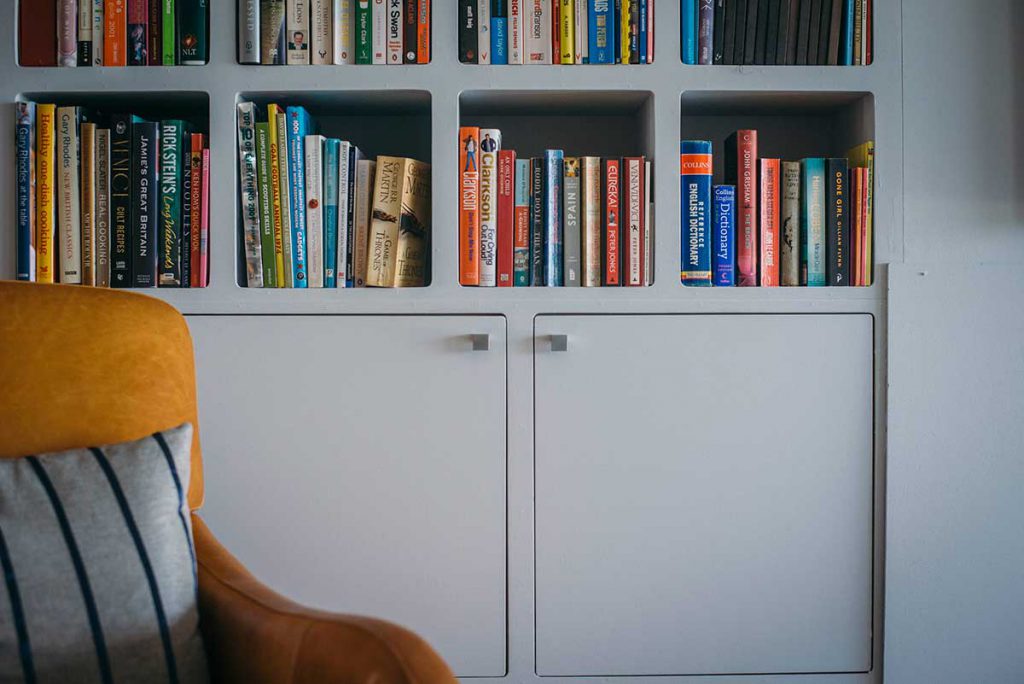 [powerkit_collapsibles]
[powerkit_collapsible title="SIZES&COST" opened="true"]
Heather and Ian plot size: 0.18 acres, house size before 110sqm/1,200sqft after 126 sqm/ 1,360sqft
Karen and Russell plot size: 0.24 acres, house size before 237 sqm/ 2,550sqft after 244 sqm/ 2,620sqft
[/powerkit_collapsible]
[powerkit_collapsible title="BUILD SPEC"]
Both houses renovated to the same building envelope specification.
Floor: 75mm screed above 100mm PIR insulation board above 150mm concrete ground bearing slab, U-value 0.19 W/sqmK
Roof: charcoal concrete tile over trusses supplied, 300mm mineral wool insulation at ceiling level, 12.5mm plasterboard skimmed, U-value 0.14 W/sqmK
Wall: smooth sand:cement render for the Yates, Siberian larch for the Rankins, 100mm dense concrete blocks, 50mm cavity, 50mm PIR Insulation, 100mm dense concrete blocks, skim plaster, U-value 0.28 W/sqmK
[/powerkit_collapsible]
[powerkit_collapsible title="SUPPLIERS"]
Architect: Michael Williams of Williams Creative Design, Portrush, mobile 07921194487, williamscreativedesign.com
Builder: Damian Moore of Kermore Construction, Dungiven, Co Derry, mobile 07753637928
Windows: Double glazed, argon filled, anthracite grey RAL 7016 with frameless glass to the front, U-Value of 1.4 W/sqmK supplied by Swish Windows, Cookstown, Co Tyrone, tel. 86766147, swishwindows.net
Insulation: Kingspan Kooltherm, kingspaninsulation.com
Trusses: Rafferty Roof Trusses, Coleraine, Co Derry, raffertyrooftrusses.co.uk
Rankins' fit-out: Kitchen from Limavady Kitchens in Co Derry with stone worktop from Lamont Fireplaces in Coleraine lamontfireplaces.com, flooring from Ronan Kealey Carpets in Limavady ronankealeycarpets.com, bathroom from Haldane Fisher bathline-bathrooms.com, tiles from Tiles Plus in Ballymoney Co Antrim tilesplus.net, furnishings from Flair Interiors
NI Ltd (all of downstairs) in Limavady, Right Price Carpets in Coleraine and Select Home Furnishings in Limavady. Stove from Otterbrook Stoves and Fireplaces in Limavady, electrics by Basil Knipe Electrics in Ballymoney basilknipe.com, painting and decoration by EJ Rankin & Son in Limavady.
Yates' fit-out: RightPrice Carpets in Coleraine rightprice.co.uk, and Patton Interiors in Coleraine pattons.co.uk, the rest was decoration with paint sourced from Little Greene littlegreene.ie
Photography: Emma Stewart, emmastewartphotography.com
[/powerkit_collapsible]
[/powerkit_collapsibles]
Central to the reconfiguration at the front of the house was a balcony. "The plan was to make the most of the views and be able to sit and look out – we initially thought of having the living area upstairs but at the time the children were aged four and one, and we wanted them to be able to get out to the garden easily."
"So what we did is put the balcony at the front for the views and in summer we use it a lot. We get sun at the at the back day and night." Things only started to get tricky when it came to securing planning permission. "It took us three goes," says Heather. "At first the balcony at the front was the main issue, then it was something else at the back."
"We eventually realised the planners want semi-detached houses to look uniform so changing one side on its own didn't work for them. Thankfully this is when Karen and Russell decided to do up their house which is what clinched it for us." Karen and Russell Yates own the second half of the semi-d. "We've been living in the house since 1991 with two children and had extended at the back in 1999," says Karen.
---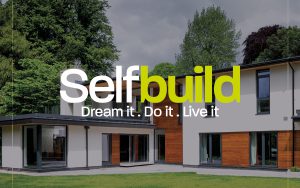 Selfbuild Live Belfast is the ultimate showcase for people who are building, extending, improving or simply decorating their home. Selfbuild Live Belfast, 22nd-24th February takes place in the Titanic Exhibition Centre, Belfast.

---
"We had modernised the inside but always wanted to do more with the front. We just thought we couldn't change it because of planning."
"When we saw Heather and Ian's initial plans we thought it was a great opportunity for us to update the look of our house too, we were keen to get rid of the flat roof at the front. We talked about it with them and they told us who their architect and builder were, and after meeting them, we all agreed to get them to do the two projects in parallel."
'The plan was to make the most of the views and be able to sit and look out…'
"We really liked the architect's work, his contemporary style and Ian knew the builder very well which means he came highly recommended," adds Russell. After Karen and Russell submitted their plans, planning permission was secured relatively quickly for both houses, even though the balcony was still a bone of contention, in April 2016.
The savings associated to renovating and extending the two homes at the same time were minimal as each project required its own set of plans, but it did make the process go very smoothly.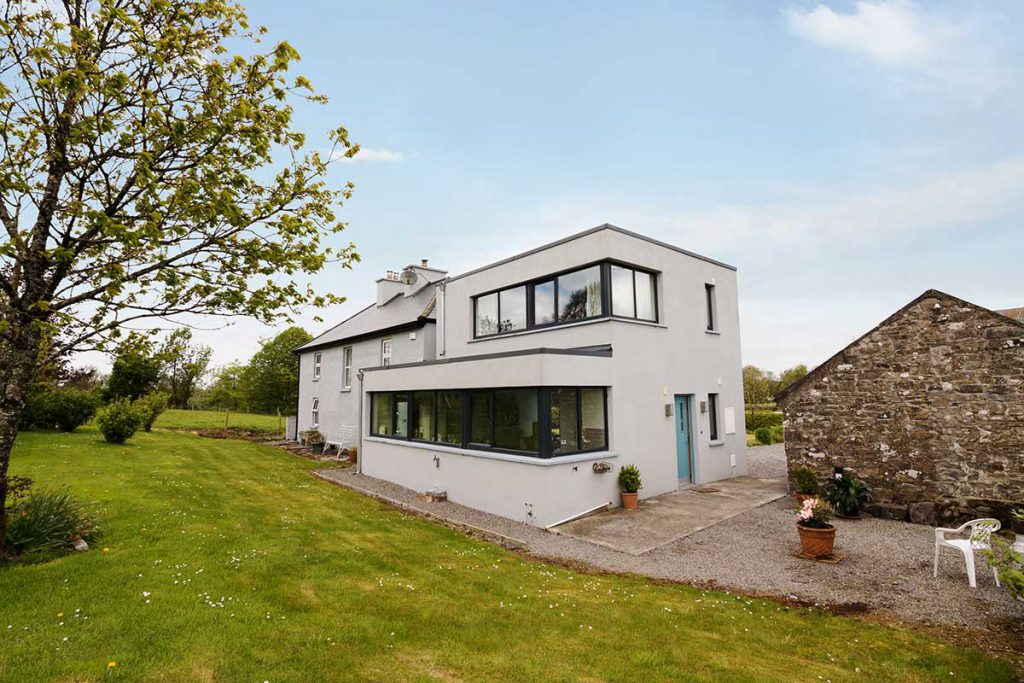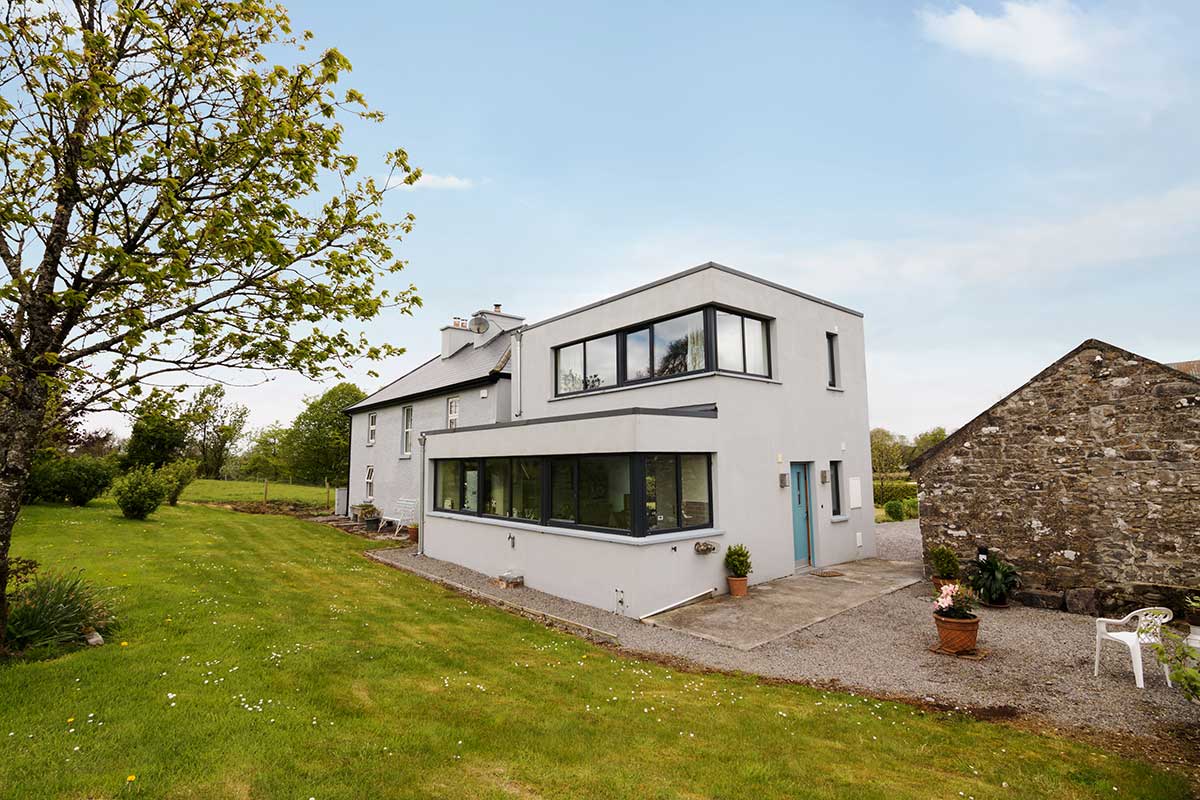 Yet for Karen and Russell, the timings in terms of planning permission meant moving quickly on their own design. "Michael worked with us to put together some brilliant plans in a very short space of time to ensure the planners would assess both applications at the same time," says Russell.
"For us it all started on a modest scale but it quickly came to the point where we thought we might as well take the opportunity to change things around," explains Karen. "Initially the plan was just to add a balcony at the front but as we were doing structural work anyway we replaced the front door with a larger door which gives us a much better looking entrance than before."
'Initially the plan was just to add a balcony at the front but it quickly turned into a full fledged renovation project…'
"This had the knock-on effect of requiring a large lintel and that in turn meant we were changing the porch and adding steps, so it made us think of how the rest of the house was going to link up. We also wanted a bit more space in our busy household of five, and were looking at some sort of accommodation in the garage."
"There was also the fact that we discovered the front of the house had no insulation so we upgraded that and insulated the roof space as well, and decided to make it airtight to increase the comfort level of the house and reduce energy bills."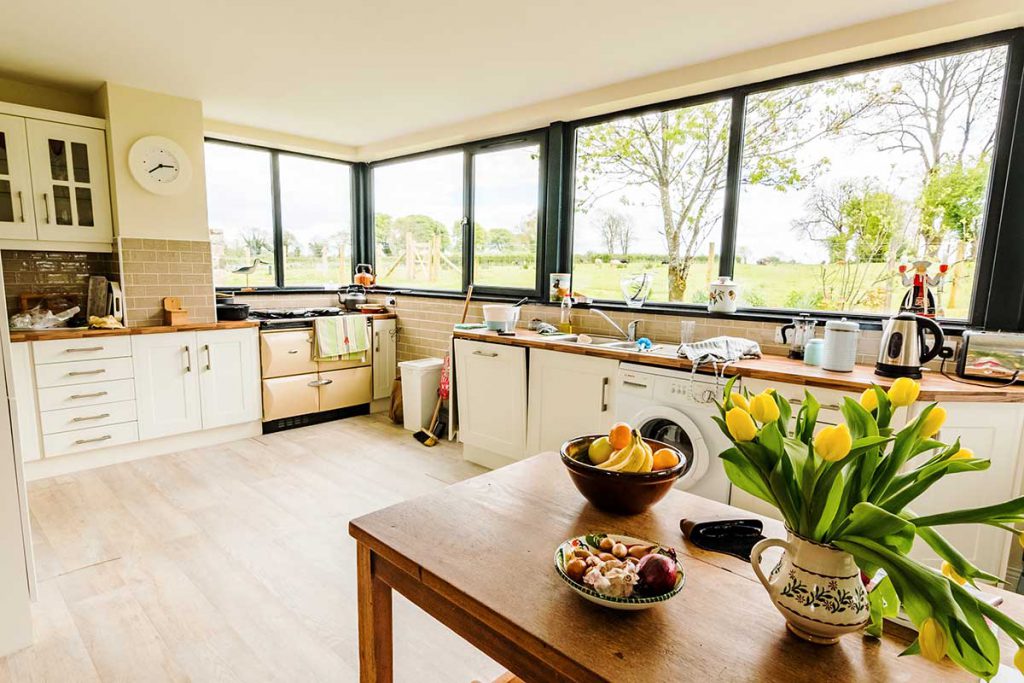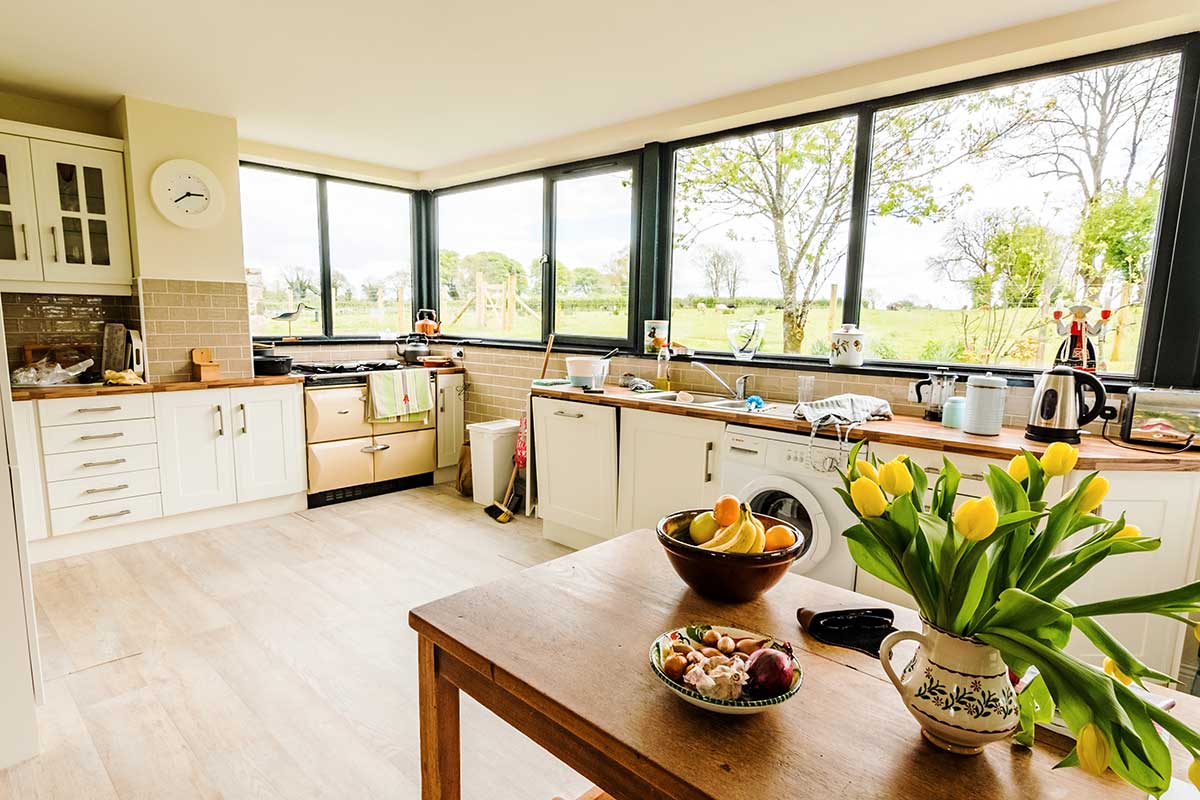 "As a result we introduced a mechanical ventilation system to keep the indoor air quality high; we kept our oil boiler for heat and hot water but we may look at replacing it with a renewable system when it starts showing signs of age."
'We really liked the architect's work, his contemporary style and Ian knew the builder very well which means he came highly recommended…'
"We went through our wish list by adding space to the master bedroom, and bringing in a lot more light and a seating area." "This is when we thought we might as well replace the windows too," says Russell. "They were over 20 years old and we wanted them to match the modern front we had chosen as well as get better quality units that would be much more energy efficient than the ones we had."
"When we looked at the reconfiguration we thought the sunroom would also benefit from floor to ceiling windows at the back. Strategically placed artificial lighting especially with LEDs, also really helped with the brightness levels in the house."
[powerkit_collapsibles]
[powerkit_collapsible title="TOP TIPS" opened="true"]
Renovation work tends to cost more than a new build. The house was originally pebbled dashed which we replaced with a smooth render and rounded side. We hadn't thought this would be a big expense but it was more than simply plastering a new wall, we had to prepare it first with a bonding layer for the new plaster to take to and got a specialist in to do.
Do your research. In our case the windows required quite a bit of investigation as we're in an exposed seaside location, we're on the coast with the weather beating, so it took us a while to get answers from the various suppliers. We originally wanted alu-clad but it turned out to be more expensive and not the right option for us – we chose grey uPVC with as narrow a profile the supplier was willing to build for us! In one instance they even wanted to break up one of the big panes of glass with a frame but we fought our case and came around to a solution. We got a lot of ideas through online mood boards and our architect and builder were able to source what we wanted – our choices were of course balanced by the budget.
Pick your builder based on a recommendation from someone you know. If the builder isn't right it will be a nightmare.
Be prepared to be involved. Even if you have a builder overseeing the trades, you'll need to be on site to clarify a lot of things otherwise the decisions will be made without you and are likely to be impossible to reverse unless you pay for it. I was there twice a week and more often towards the end to meet the fit-out suppliers, e.g. kitchen, bathroom, etc.
[/powerkit_collapsible]
[/powerkit_collapsibles]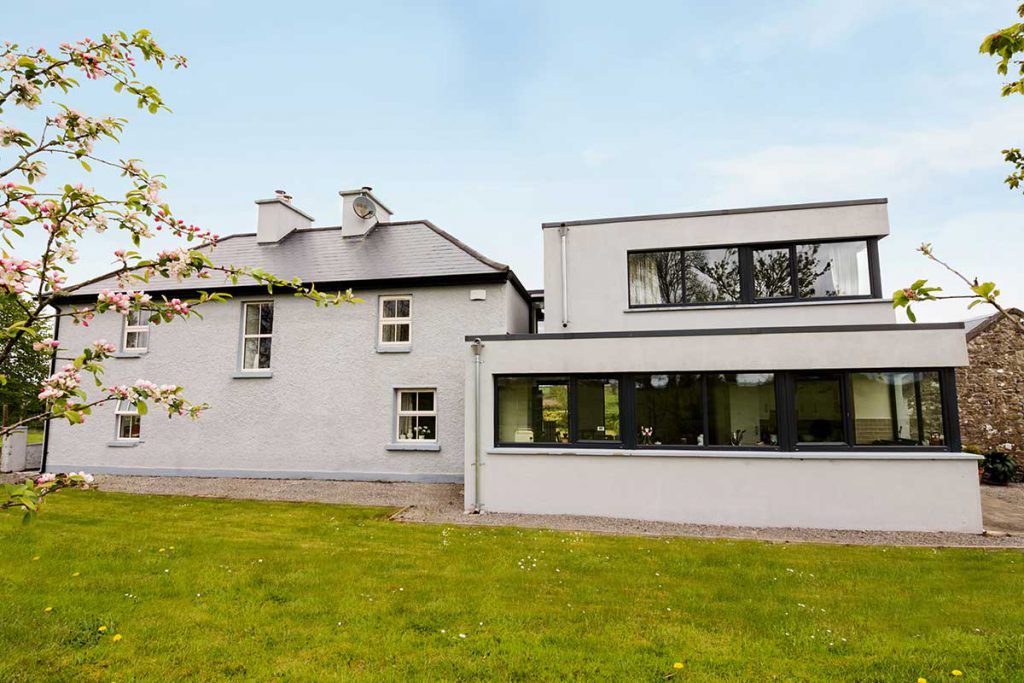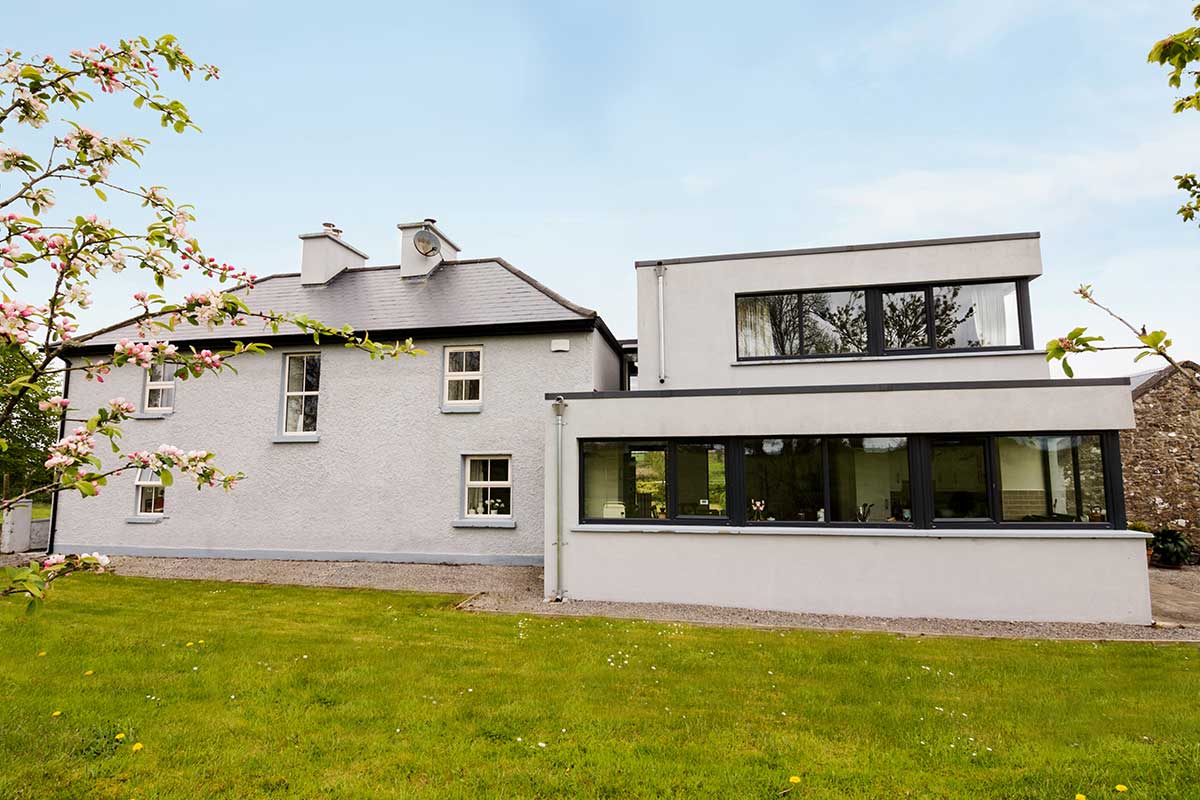 "Downstairs you can leave all the doors open for conviviality or have some privacy and keep them closed. We thought of going open plan but wanted to keep to the budget and that meant keeping the original walls," adds Karen.
"We stayed in the house while the works took place – as we had when we refurbished the previous time. We figured as long as we had access to a kitchen it would be alright but we really should've moved out as the changes were being made back to front, this meant looking at a lot of hardboard blocking out different parts of the house at different times."
'The savings associated to renovating and extending the two homes at the same time were minimal as each project required its own set of plans…'
"Fortunately we were building at a good time, we started in May and were finished in October but even at that I thought the house was cold and draughty," says Karen. "You do feel a bit vulnerable to the elements and the fact that you can't properly lock up the house isn't great either."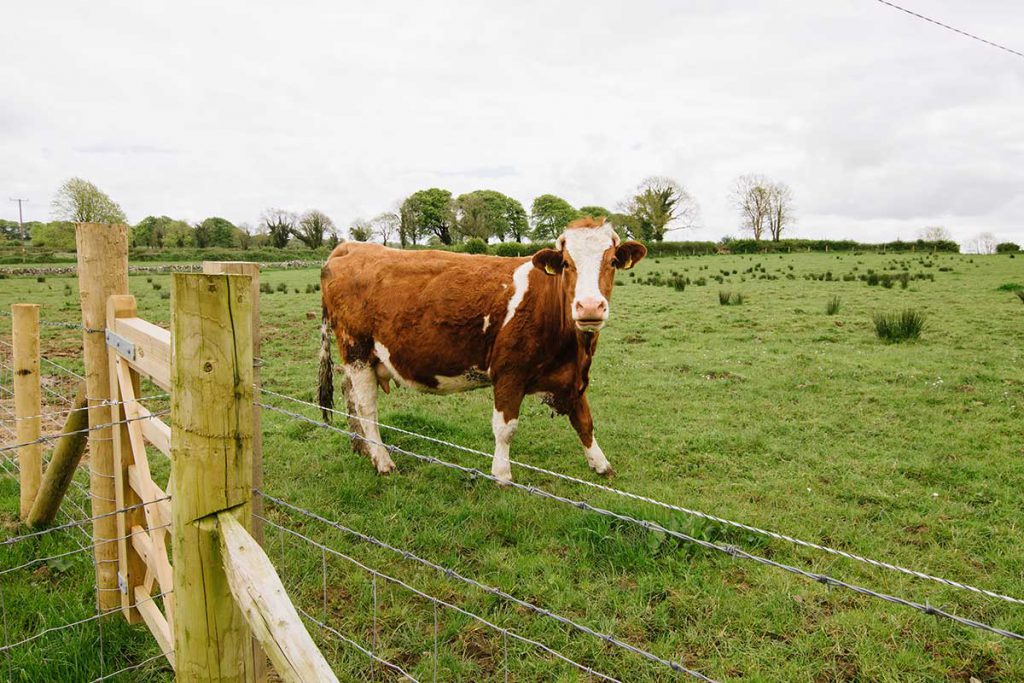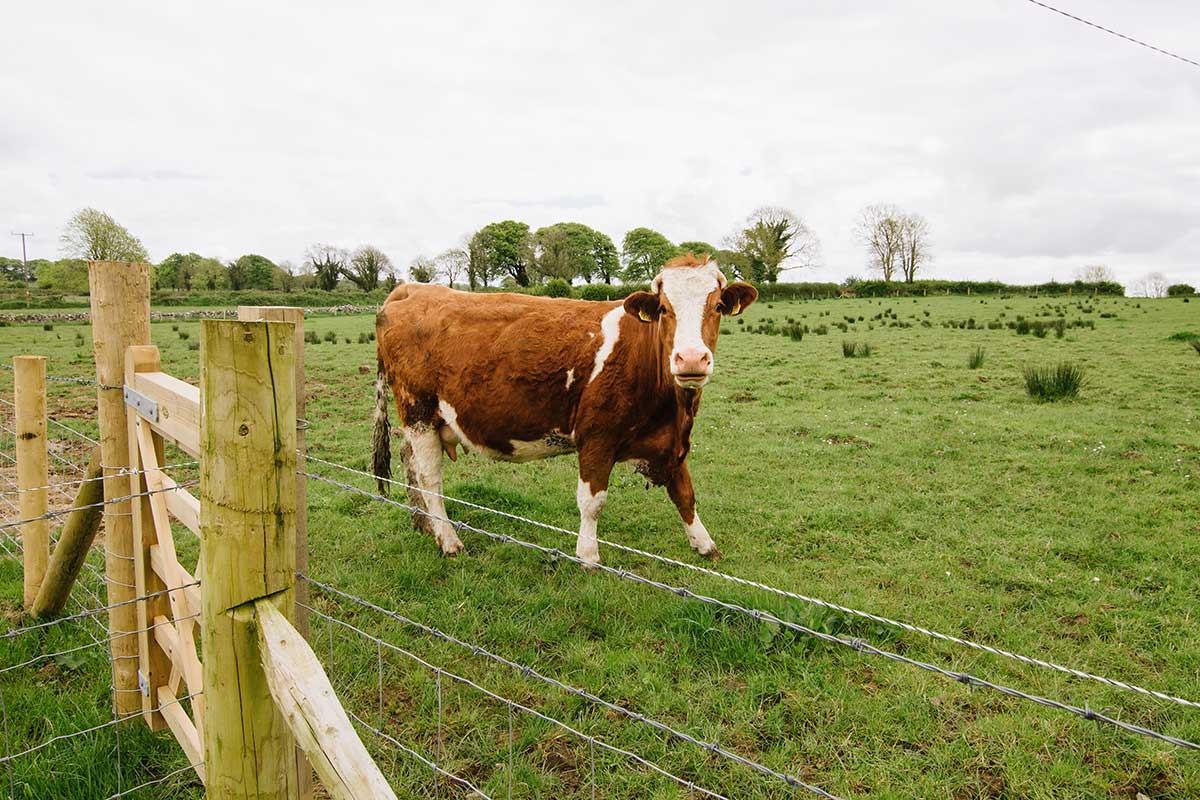 "There was a delay with the glass being delivered – we had to get the opening spaces fixed before they could measure up for the glass and then we had to wait for another six to eight weeks for delivery."
"So it was actually good to have the builders about all day as it kept the site secure, and it also made us appreciate how good the team we had actually was," she adds. For both couples the balconies have made a massive difference. "When we drive up to the house now we love the way it looks. Along with the patio, the balcony has added so much more useable space to the house," says Karen. "They shelter us from the rain and wind and are wonderful places to be in." Heather concurs: "We get the most wonderful views."
---