Sarah and Mark Ballantine took a hands-on approach to their ICF build.
In this article, Sarah and Mark share their experience building with Insulating Concrete Formwork (ICF) including:
Why they chose ICF and what other methods they considered
Type of ICF blocks and exterior wall finish they chose
Issues with securing insurance and how they were overcome
Details of day to day on site
DIY approach and how they helped put up the ICF blocks

Details of ground source heat pump system and PV panels
Plot size: 2/3 acre
House size: 2,500 sqft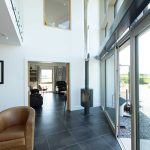 Why did you choose to build with ICF, what other methods did you consider?
Sarah: We briefly considered other building methods including Structural Insulated Panels and timber frame, but due to the performance and experiences we had heard from other ICF builds we were persuaded fairly early on to go with this method of construction.
Mark's parents had recently built an extension using ICF onto their timber frame family home and the performance in terms of heat retention and living comfort was hard to deny. Our ICF builder is Mark's uncle and Mark had worked with him one summer building ICF houses and other buildings, he understood the building method and he was very convinced by its advantages. Both in theory and more importantly in reality. We knew we wanted to put as much effort into the energy efficiency of the house as possible.
In terms of building there are no downsides, wall structures can go up pretty rapidly using ICF. Anyone with basic DIY can get to grips with the process and be involved if they want to be hands on. All of the normal options in terms of external and internal finishes are possible but may require a different method during the application.
Did you come across any planning or insurance issues?
Sarah: The planners had no issue with the build type, we had other issues such as access, visibility, and size of the house itself. We were building close to farmland but didn't want to share a lane as we have a small child and another on the way; their safety is paramount. We also knew we needed to have a separate lane for mortgage purposes as most people had assured us this would be an issue. As we live in NI our options for a self-build mortgage were limited. But we easily found a bank who were happy with ICF but they needed more paperwork and inspections than a standard build. It was still a relatively smooth process.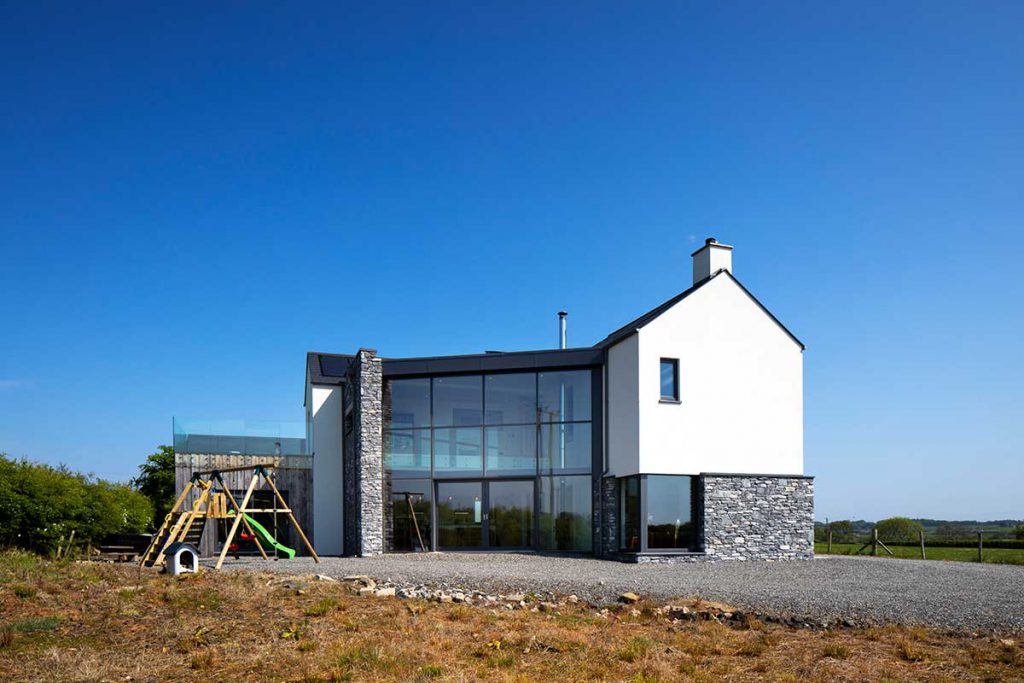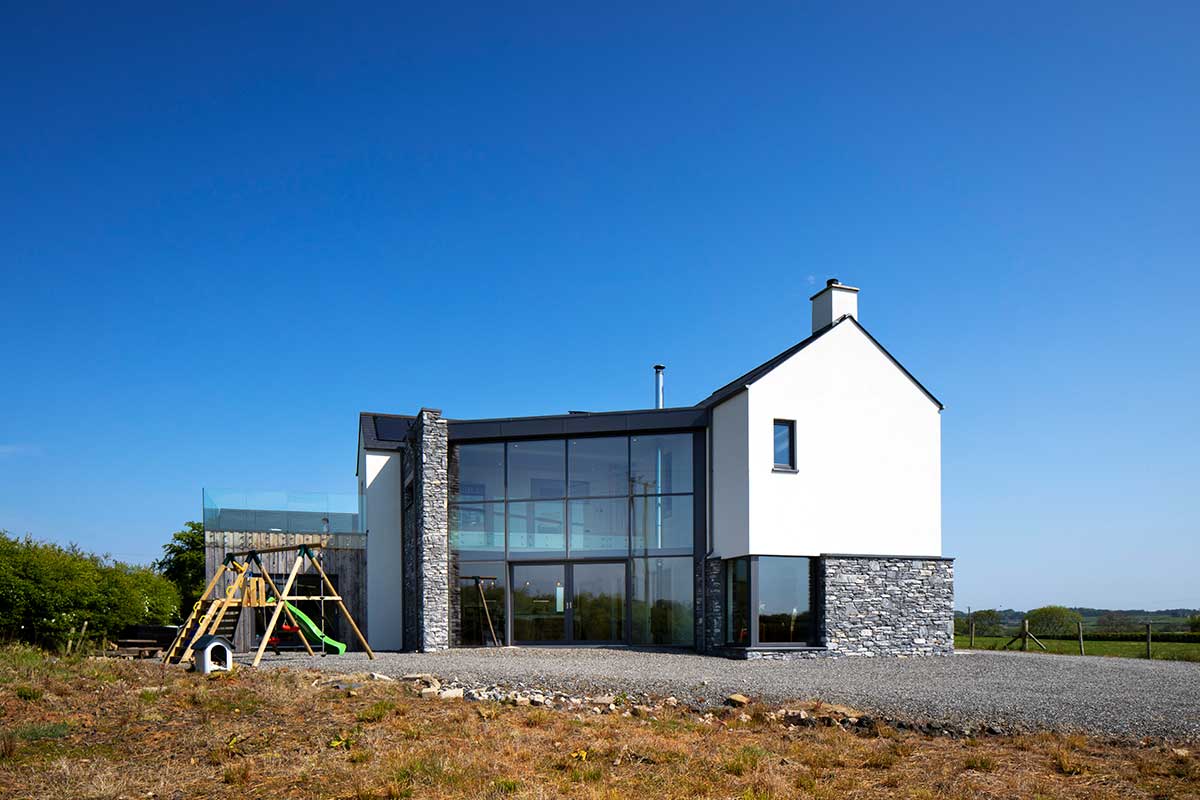 The main thing that made it difficult for us was the person who valued our house, he valued the house appropriately but as he had never seen ICF before he put it down as a concern which in turn meant the bank asked a lot more questions. All the questions were answered by our ICF supplier but we also had to get a letter from an insurance company to prove the house could and would be insured once it was built and that the policy would not be loaded as a result of the ICF walls.
I doubt everyone would be asked for this but we were. Our insurance is no more expensive than for a regular house. For the builder's insurance, you can get a document online from the Council of Mortgage Lenders that says they accept this form of non-traditional construction. Our ICF method has a BBA (Agrément) certificate and we also had proof that structural building insurance provider CRL or the National House Building Council accept ICF walls. We had normal building insurance when the house was being built and they understood and had dealt with ICF before, our house and contents insurance now has no issues at all.
How was the project managed and built?
Sarah: We co-managed it along with our builder, Mark's uncle who also supplied the ICF system. We had some local contacts and he had built up relationships in the trade from his own experience so we knew who to contact. Mark and I took full responsibility for decisions made and our builder gave us ideas and told us what to organise next. I was off on maternity during the build so was able to show people in and liaise with them, and most importantly do research. Throughout the build we had minor hiccups which seem to be common to many self-builds, mostly to do with delays and some issues with tradesmen. We lived next door during the build with my granny so I was on site when any issues arose, or to answer any queries and to make LOTS of phone calls!
You put up some of the ICF yourselves, was it difficult?
Mark: Two guys who do this for a living could put up the blocks in two the three days per storey, by going DIY it probably takes an extra day. I'd done some work with my uncle on ICF builds so I was familiar with the method, but it's quite straightforward. The important thing is to make sure everything is secured and the corners tied up because the pour is the trickiest bit – that's when the EPS blocks can move or burst if you haven't put them together properly.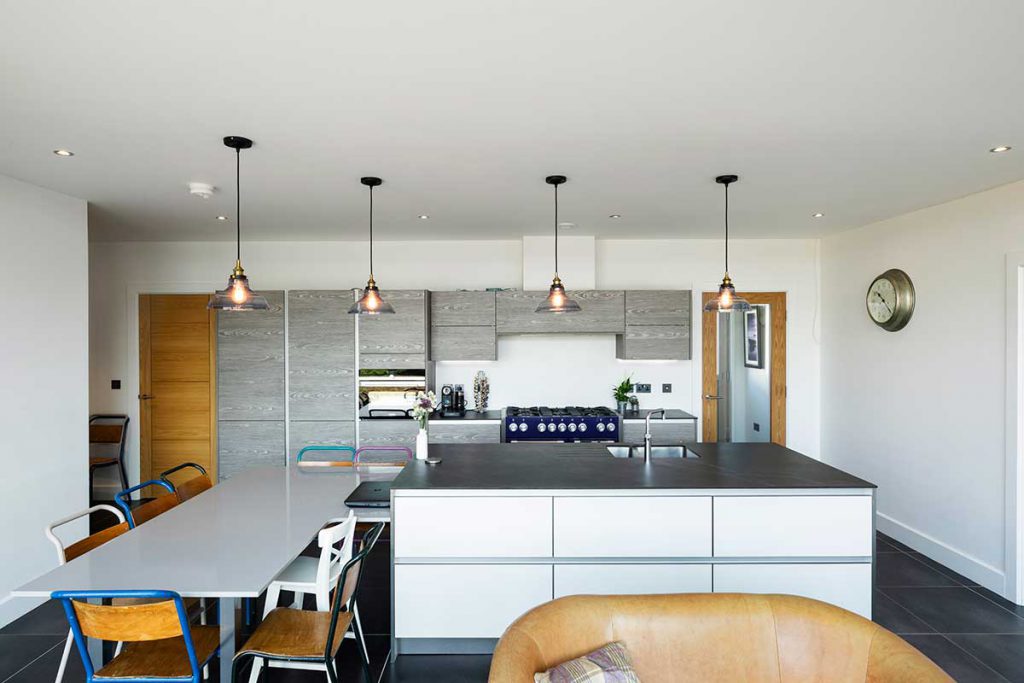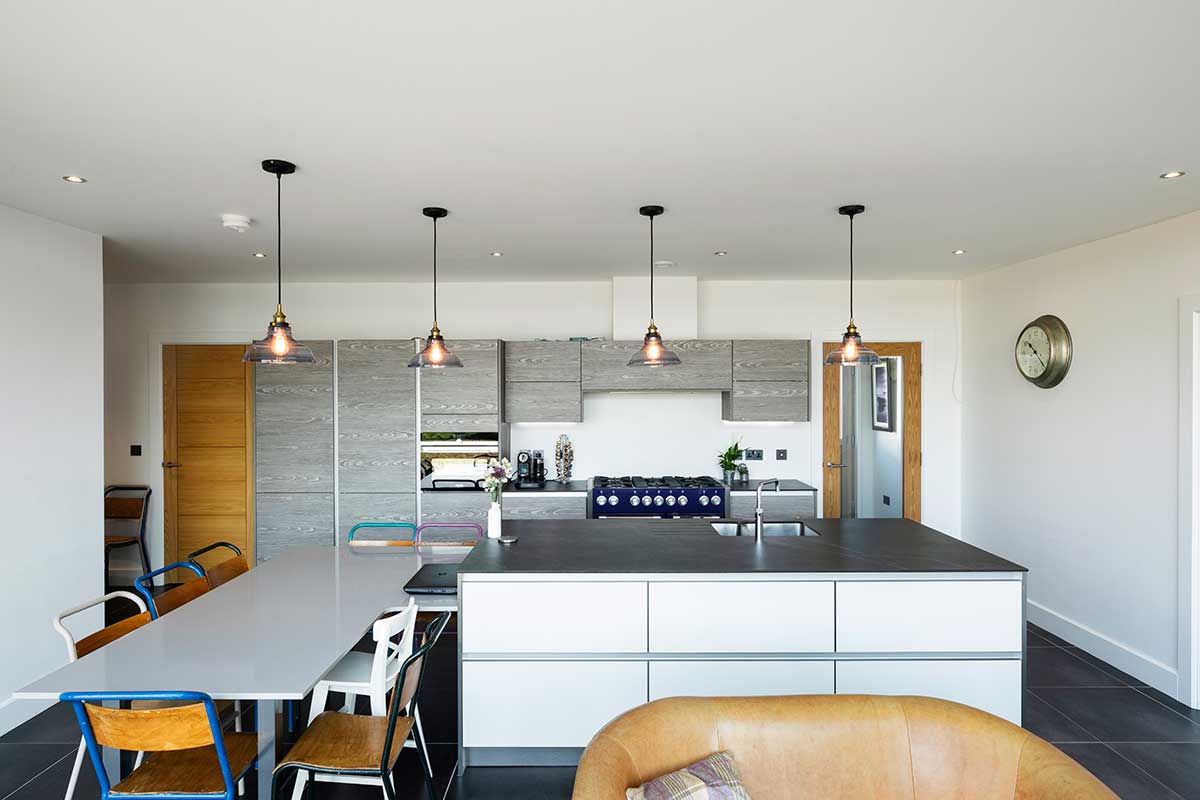 You can get away with a single pour if you're building a bungalow or a one and a half storey, the maximum height for a single pour with our system is a 6m gable with an experienced crew, but as our house was two storey we had two pours to allow the floors to go in.
There were two trained adults putting up the blocks with the help of my cousins aged 15 and 12. It was a fun experience and presented no danger to them, the most hazardous tool on site was a rubber mallet and a handsaw to cut the blocks to size. My uncle is the ICF supplier and he came on site the first day to make sure we all got the hang of it, and he was also there during the pour.
It took us two to three days to get to the first floor level. We did a first pour and then had to wait about two weeks, to build internal walls before the concrete slabs were placed. As this period coincided with the Christmas holidays we let it set for three to four weeks.
Then it took us another four days to put up the blocks for the second storey. We didn't have to wait as long for the second pour to set, about 10 days, as we put in rafters and a cut roof which is lighter in weight than the concrete floor.
We looked into an ICF roof but it was more expensive than going with the timber rafters. It's a good option for people who are thinking of going nearly zero energy but we didn't feel it justified the extra cost.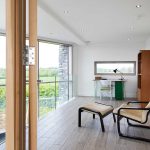 What type of blocks did you use and how did you finish the walls?
Mark: We chose the 64mm EPS blocks with a six inch (152mm) core for a total width of 11 inches or 280mm. For the finish we went for a mix of larch cladding, that was very simple to put on with the system because each of the blocks have ABS plastic furring strips every 8 inches/200mm to which we fixed on battens for the cladding. We also went with a limestone finish which was put up by a stone mason and we used a thin coat silicone render system supplied by our builder which has a mesh trowelled into the base coat that is applied directly to the ICF.
What did you do for heat and hot water?
Sarah: We are using a ground source heat pump. We missed the government incentive (Renewable Heat Incentive and grant for installation) but at this stage we had invested in installing the ground loop. From the first year of living in the house we have realised our heat pump is possibly unnecessary, for approximately nine months of the year we only use it for domestic hot water.
Much of this is due to the design of the house which maximises solar gain from the large area of south facing glazing. We had been advised that the redundancy of the heat pump could be a possibility but overall we do not regret it. I think both of us weren't brave enough to go fully passive and rely solely on wood burning stoves or electric radiators, but in hindsight when using ICF this is easily achievable.
We embedded solar photovoltaic panels in the roof, this saved money on slates and it runs the heating, when needed, and auxiliaries during the day.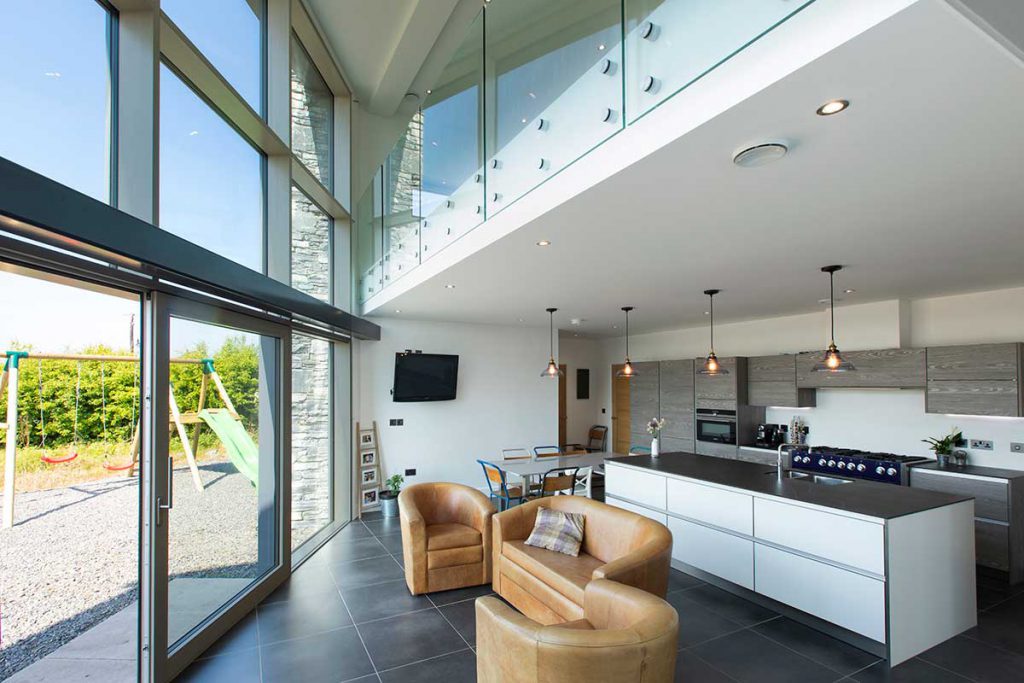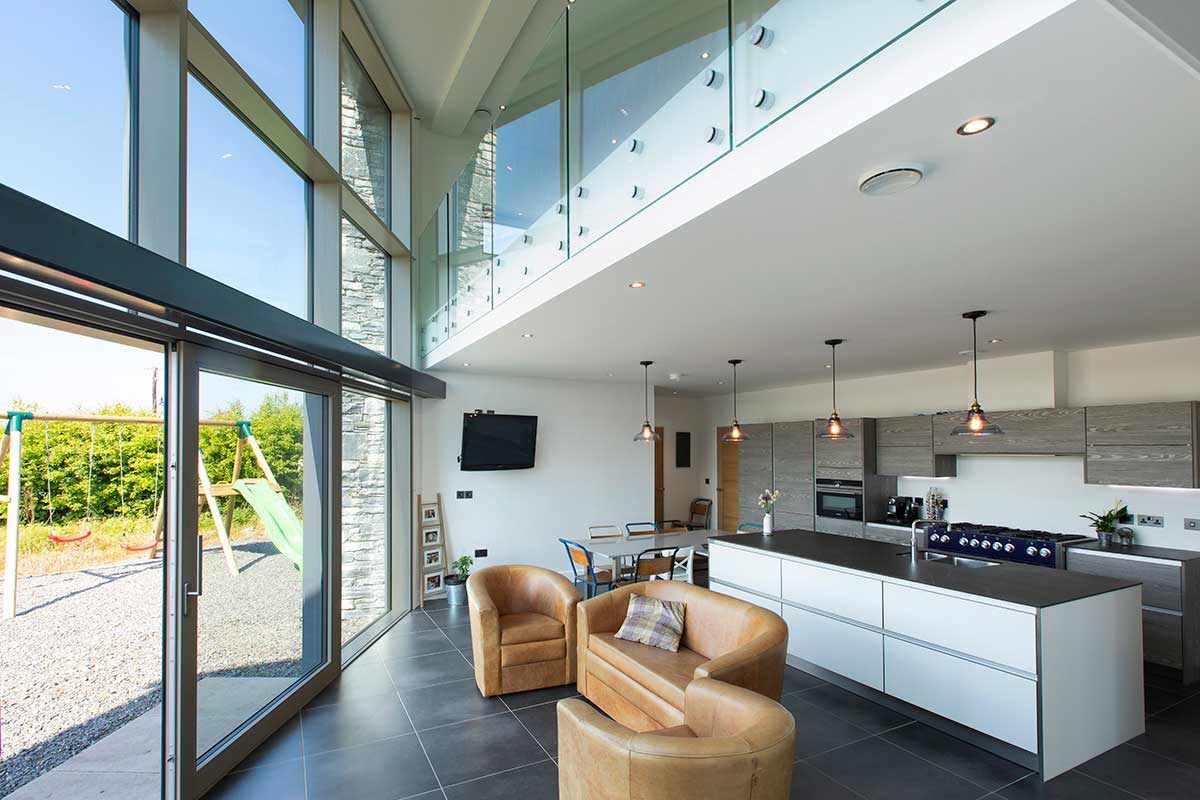 Sarah and Mark's tips
Planning: We planned for two years before we started digging, we knew we had to do the thinking before babies came along and there would be less flexibility in our schedule, but it was so helpful because we were certain of what we wanted by the time it came to making decisions. We researched everything, went to every Selfbuild Live event, every showroom, we asked lots of questions and aimed to get the best quality for the best value. We went on a weekend away to Dublin just before our little girl was born to meet with three window suppliers, and look for
prams!
Patience: Assume nothing will happen when you want it to, people will let you down, whether it is getting back with quotes or showing up on time. If you get frustrated the first time this happens, it will be a very long process. We made lots of frustrated phone calls during the build but overall we didn't let it influence our happiness or drive to see the project completed.

How is the house working out?
Sarah: We moved in November 2016 and so far so good, the energy bills have been low and the house has a warm constant heat. We used LED spot lights almost exclusively throughout the house, the nominal load from evening lighting is negligible. Our electrician was a friend whom we trusted to design the lighting correctly.
What would you change about your approach?
Sarah: We would follow our instinct more, if someone is a nuisance to deal with at quotation stage or bad mouths other companies they will probably be harder to deal with.
Mark: As we worked with companies in other countries, it would be advised to keep back a percentage of payment until you are happy with the product as it gives more leverage to get things fixed or amended.
What's your favourite room/feature?
Sarah: The inset stove is beautiful when lit and can be opened up to look like an open fire, while the mezzanine library is a wonderful place to sit and relax and look out the large window to the view.
Mark: I designed the stairs and I love them.
Would you do it again?
Sarah: No, we are exactly where we want to be. I am enjoying helping others with self-builds, doing research, etc. Maybe a retirement house in 30 years' time!
---
Suppliers
Architectural technologist: Ryan Hawthorne MCIAT of Home – Architecture, Parkgate, Co Antrim, mobile 07946379337, homearchitecture.co.uk
ICF and silicon render supplier: IntegraSpec from AS Ballantine Ltd, Strabane, Co Tyrone, tel. 028 7139 8276, asballantine.co.uk
Glass and balustrade, inside and out: Ronald McConnell of Mourne Craft, Kilkeel, Co Down, tel. 417 63664, mournecraft.com
Stairs, exterior details and structural beams fabrication: Jason of JMS engineering, Colerain, Co L'Derry, tel. 2954 0864, jmsmetaltec.com
Roof insulation: Spray foam from One Step Insulation, across NI, tel. 9332 1159, onestepinsulation.co.uk
Kitchen: Stormer designs, Belfast, tel. 90 315131, stormerdesigns.com
Solar PV: Green energy store, Belfast tel. 91 460883, Dublin tel. 01 234 3734, greenenergystore.co.uk
Bathrooms: Bathline (Bathrooms at Haldane Fisher) bathline-bathrooms.com
Photography: Paul Lindsay of Christopher Hill Photographic, scenicirelandgallery.com