This 1890s family farmhouse got a new lease of life when Elaine and Noel O'Connor decided to convert it into their holiday home.
My husband Noel inherited this farmhouse when his parents passed away in 2007 and 2008," says Elaine who is originally from Co Kilkenny. "Both Noel and I live and work in Dublin and looked to use the farmhouse as a holiday home and for longer occupation on retirement."
Their Dublin home is in many ways the opposite of this rural retreat. "It's an Edwardian house that doesn't capture light because the orientation isn't as good, with a darkish kitchen, but it's got great character. It's quite a different experience."
"We've been living there all our lives, for over 25 years, renovating it on an ongoing basis and it's been stressful at times partly because we live in it – with the farmhouse we were in no hurry which I'm sure helped the process."
Plot site: 5.2 acres
House before: 160 sqm
House after: 190 sqm
Total cost including fees, landscaping to date and septic tank: €175,000
New build masonry cavity blockwork with 150mm cavity and 100mm PIR insulation with 62mm insulated plasterboard internally, roof and floor similar insulation levels. Existing farmhouse drylined internally.
Architect: Mark Stephens Architects, Swinford, Co Mayo, mobile 085 1594048
Structural Engineer: Paul Cuddy, Ballaghaderreen, Co Roscommon, mobile 086 1227039
Builder: Gerry Flanagan Construction, Roscommon, mobile 0872548963
Electrician: Pat Rafferty, Castlerea, Co Roscommon, mobile 086 0815495
Ironwork: Willie Finneran, Roscommon, mobile 086 0740176
Plumber: Kieran O'Grady, mobile 087 2634451
Range: Stanley, waterfordstanley.com
Stonemason: Michael Carney Stoneworks, Co Roscommon, mobile 086 8090641
Windows: Grady Joinery, Co Mayo, tel. 094 9291000 Michael Creighton Windows, Roscommon, tel. 094 9620648
Builder's Merchant: Michael Cooney & Sons, Castlerea, Co Roscommon, tel. 094 9870007
Photography: Denise Kavanagh, Co Sligo, denisekimages.com
New and old
"We looked at a number of options; to either renovate the old house with a new roof or to explore a more radical intervention where we would get an architect to advise us. We kept an open mind of what could be done with it as we hadn't seen that many farmhouse conversions."
"It was already comfortable and well maintained but had come to a point where it needed to be updated for insulation and generally renovated. It had been extended over many decades but these alterations were done before modern building standards were in place. In addition, the roof needed replacing and chimneys were leaking," explains Elaine. "Noel's family and neighbours were delighted to see it being renovated, and eager to see how it turned out when it was done – it was a great experience for everyone," she adds.
"We're so happy to be getting good use out of the house as it was Noel's parents' home, it also shows what can be done with farmhouses, many of which are going derelict around the country."
---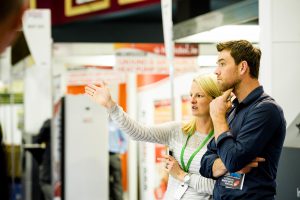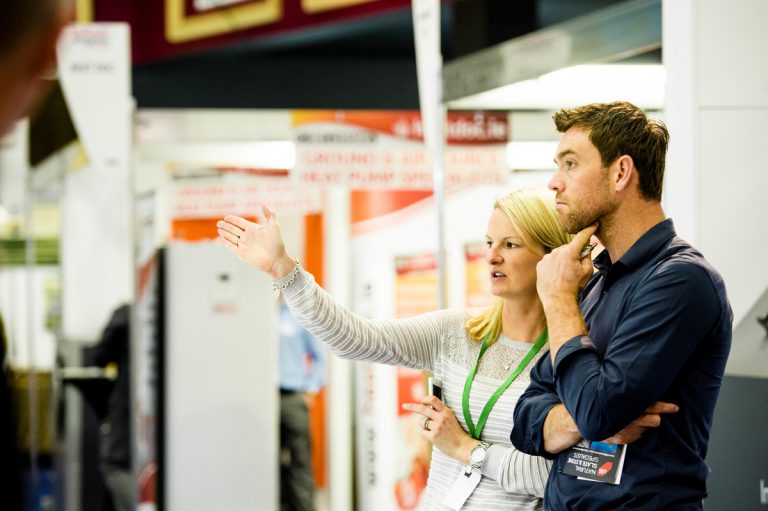 Selfbuild Live Dublin is the ultimate showcase for people who are building, extending, improving or simply decorating their home. Selfbuild Live Dublin, 13th-15th September takes place in the Citywest Convention Centre, Dublin.

---
And so they chose to go down the architectural route. "We were clear we wanted something a bit different, we might have been more conservative had it been our family home but as a holiday home we felt we could push the envelope," she confides.
"We had identified a few things that we wanted to achieve. These included a modern open plan kitchen dining area, lots of light, a good downstairs toilet and shower room. We also wanted a downstairs bedroom if possible. And for the old house to be renovated."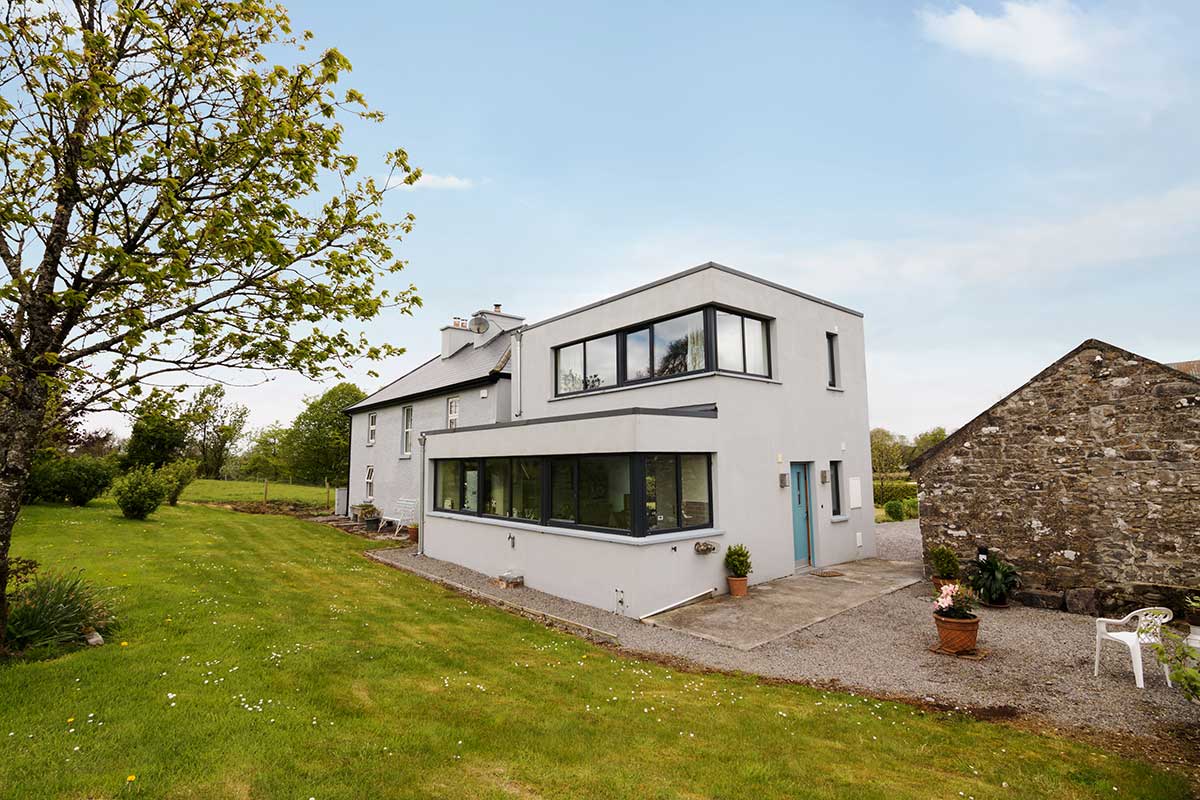 "We generally wanted a brighter and airier space, the windows were small which we wanted to change and the house was mostly north facing. The sun goes all around the house and this was never captured before, so that was another thing to add to the wish list," she says. "We had planned to meet a local architect based in Mayo close to the farmhouse in Roscommon. We had our eye on him for the Simon Open Door weekend but he was booked out, so we went ahead and made an appointment to meet after the event, which he was able to do at the weekend.
We were both working at the time so that was really helpful," relates Elaine. This was in 2011. "He too felt that the orientation of the farmhouse and its southerly location overlooking fields were not being optimised. In our own mind we thought the best course of action would be to remove one of the two extensions and replace it with a new one in the same style as the house."
"But Mark suggested that a modern extension which clearly distinguished the old from the new might be a better way to go. He also recommended that we open out onto the fields, with the front of house relatively private."
"We felt that we would be guided by him and that we would, all things being equal follow his recommendations," adds Noel. Mark went away and came back with a plan and a 3D model. "It was astonishing, we loved it. We trusted him and thought why not, let's go for it." "My brother's farmhouse in Kilkenny swayed it for us, he added a modern extension to his farmhouse and it greatly improved the feel of the entire place," says Elaine. "Our design went as far as it could in contemporary design keeping the old sheds at the side, which are part of the farmhouse scene."
Original form
In many ways this project quickly became an exercise in bringing the building back to its original form – the staircase originally had a window on the middle landing which had been converted into a doorway leading into an extension which accommodated two bedrooms and a large bathroom. By demolishing this extension the original window could be reinstated. "I now find myself standing on the landing staring out at the wonderful view framed by this window, I love it," says Elaine.
"The plan also called for the removal of the single storey extension that accommodated a kitchen and living area with a garage and toilet. The old 1980s wooden windows were in a poor state and were replaced with cream coloured uPVC. The existing house was insulated from the inside which meant removing many of the built-in presses."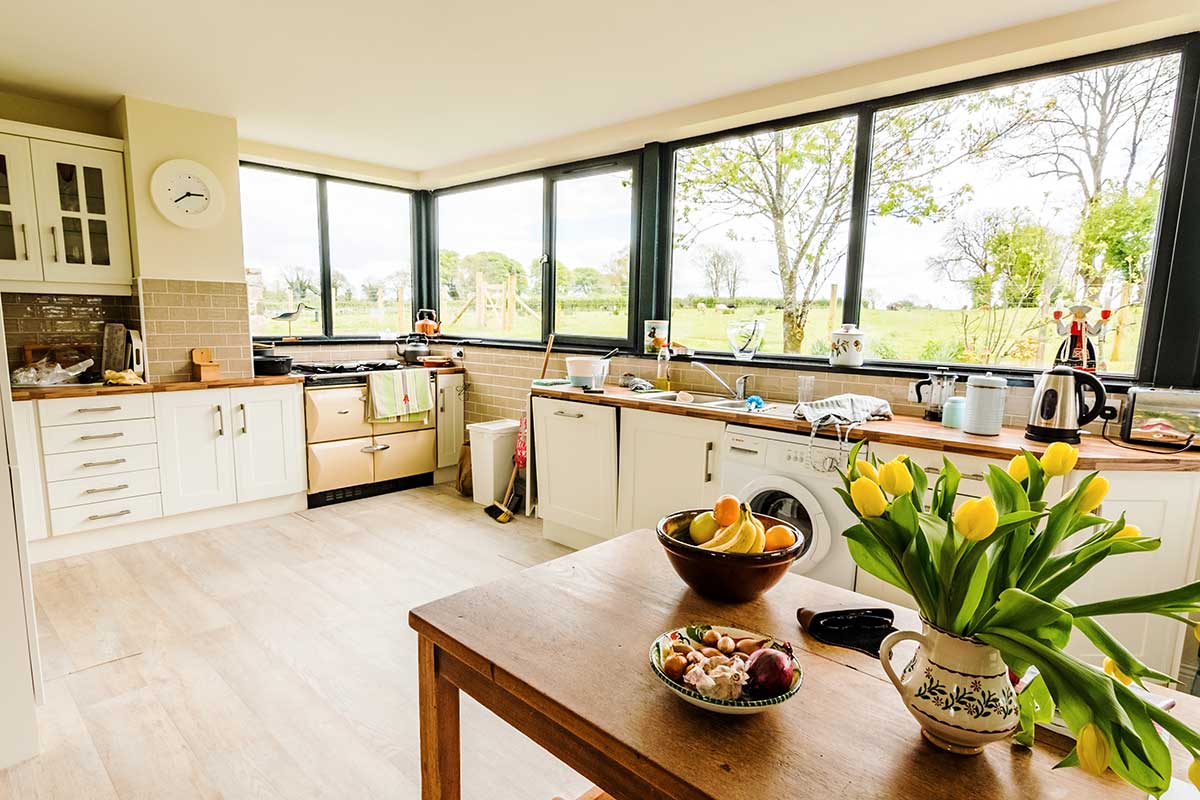 "Mark then added a new two storey extension that delivered a large new kitchen and dining area and a modern shower room where the old kitchen and garage used to be. Upstairs he created a large modern bedroom with a large bathroom right above the ground floor bathroom." With two extensions demolished and a new one added, the house went from four to three bedrooms, making the footprint more compact. "Even though we essentially lost a bedroom we have the option of transforming the parlour into one downstairs if we ever want to," explains Elaine.
"The new layout is much more practical, and very much revolves around the windows, you can look out any of them and you have a view. It connects you to the countryside." In terms of heating they opted for a traditional central heating system. "As we were living in Dublin we felt this was the easiest option, we went for a range with an oil burner and a balanced flue," adds Elaine.
"This was an expensive addition but it removed a need for a separate oil burner and as it was a balanced flue it did not require a chimney. It also replaced the solid fuel range that was in the old kitchen, all supplied by our builder's merchant." The open fire was converted to a wood burning stove and with the reconfiguration the hot press was taken out.
The couple find the house very warm and comfortable in winter and very pleasant to be in summer. "The dining area is the shaded part of the open plan which works well because the windows can throw a lot of light and heat in summer," says Noel.
Home Stretch
"When the planning application was submitted we thought that the extension might be seen as very modern and might not find favour with the planners but thankfully this was not the case and full planning was granted," recounts Noel. "Mark also included the removal of a hedge at the roadside and the inclusion of a new wall with tree planting in the application, this proved very useful as it allowed us to do this work without a further planning application."
What surprised you? How much good design could change the house! The kitchen is even bigger than I thought possible. I love making blackcurrant jam there in the summer.
What would you change? The water tank is not in the attic upstairs and the bathroom before was lower than it currently is so the pressure at the new bathroom tap isn't great. The electric shower works fine so we haven't done much about it yet. We knew that this would be an issue from the beginning, so we will add a pump before we move in full time.
What advice would you give someone renovating a farmhouse? It takes longer and more money than you probably imagine. We also underestimated the amount of work that was required.
What's your favourite feature? I love looking out the kitchen window at the fields, and having a garden back and front.
Would you do it again? Yes! We were very lucky to have Mark as our architect as well as a great team who made it possible.
Get an architect and listen to the advice and tease out issues that might be of concern. Don't be afraid to question and offer views. Upstairs we felt the connecting corridor could be wider and Mark agreed and now we have a much better space. In a bedroom that was dual aspect the corridor now cut off one of the windows and Mark came up with a roof light that makes a real difference.
Insulate both the existing building and the extension. The two are very energy efficient thanks to the specification and very comfortable to be in winter as well as summer. With the level of insulation put in to the old part and new extension, the house is very warm and uses much less oil that in the past.
Spend more time investigating lighting fittings. We didn't and regret it now.
Upcycle. We reused stuff we already had to decorate and furnish the house, such as tables, chairs, coat stands, etc. A coat of paint makes a big difference. The china tea sets used for the Station Mass are lovely to display. The Station Mass is still a tradition in Roscommon where Mass is celebrated in the house and all the neighbours come in for a cup of tea.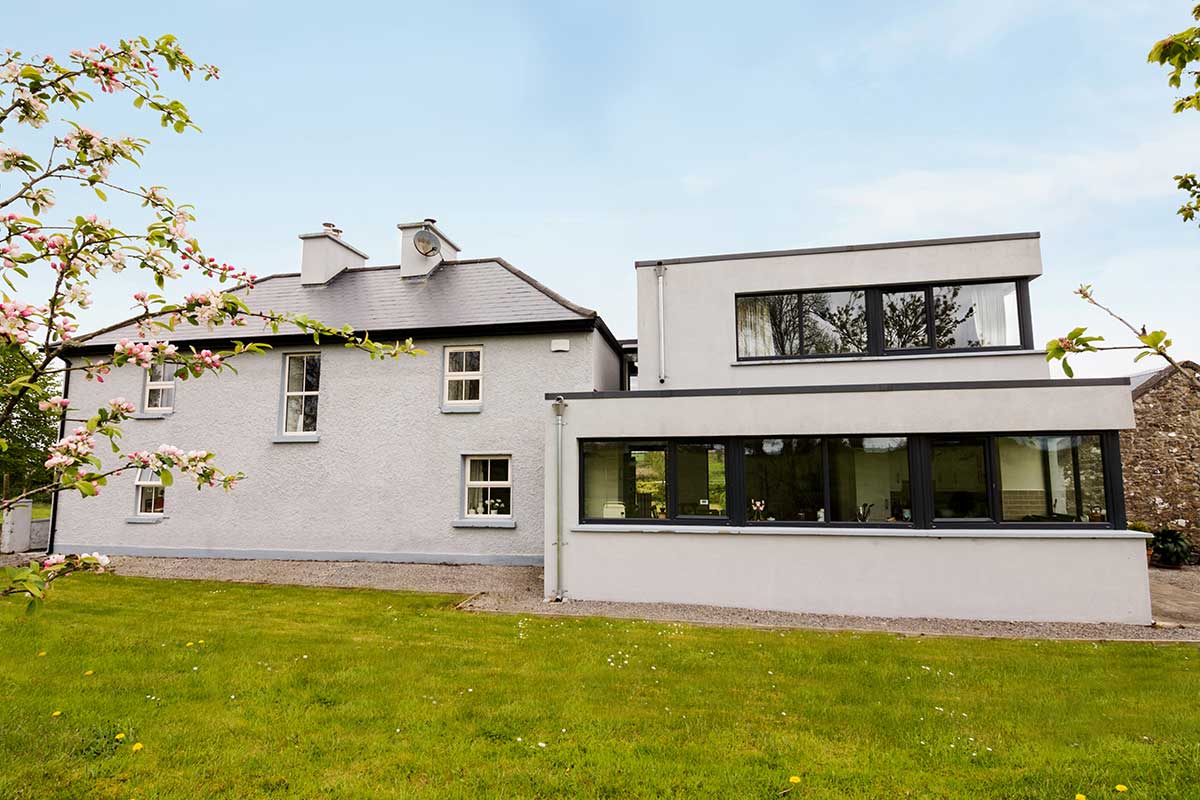 "We also applied for the removal of the septic tank to be upgraded with a packaged system. We didn't do this at the time but had to within the five-year timeframe the planning application was valid so we just added it last year at a cost of €7,000 to €8,000," he adds.
Planning was obtained in early 2012 which is when construction started; the build was completed in October of that year. "Construction was undertaken by local skilled builders managed by Michael Mulligan, a family friend who acted as the project manager for the renovation and the new build," says Noel.
"We couldn't have done it without him, unfortunately he has since retired. He had very good connections and would keep us updated and would visit us on site when needed." The couple set up an account, paid monthly, with the local builder's merchant for the provision and delivery of all the materials. The demolition of the extensions was undertaken by a family member with a digger.
"Through Mark an engineer was retained, this combination proved very useful as we lived in Dublin and professionals signed off on progress. We tried wherever possible to use local skilled craftsmen," adds Elaine.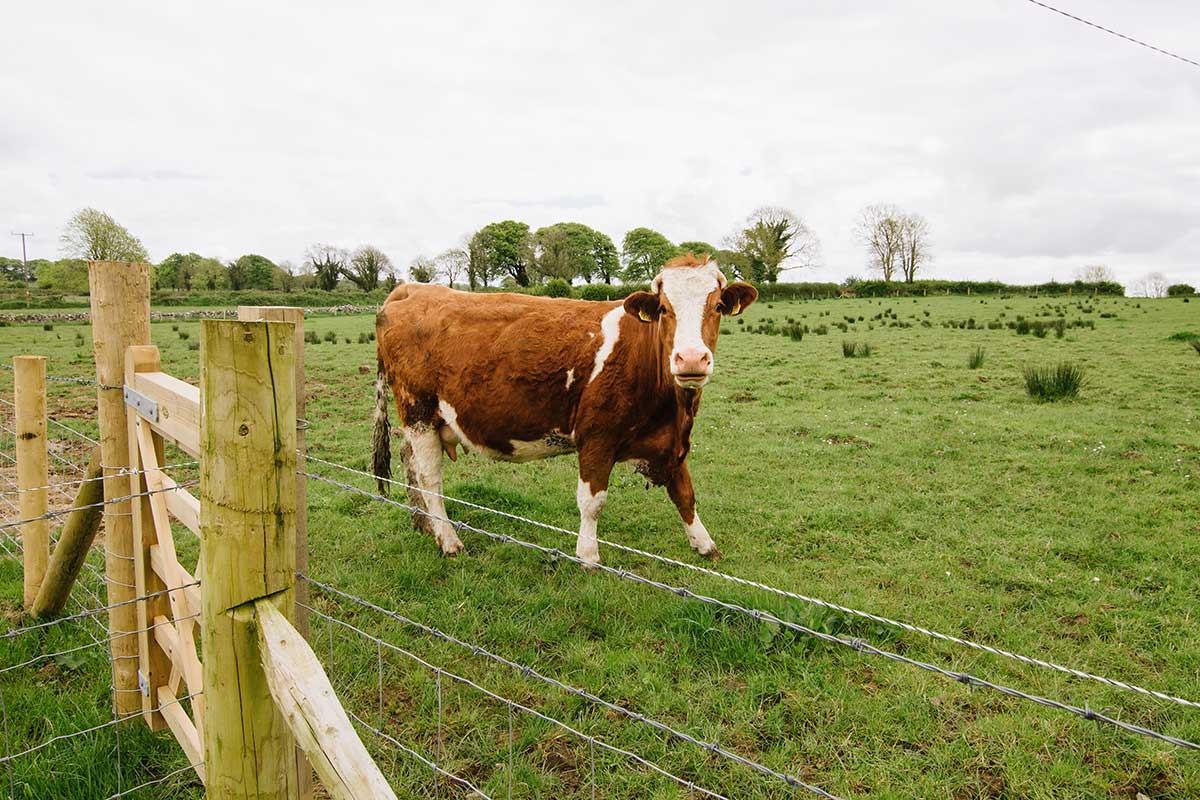 "The builder did however suggest that the new contemporary extension be attached to the house to save on costs, but Mark was adamant to have a gap between the old and new so we went with his advice as we agreed it was necessary. What we did take out was the glass finish for the bridge floor leading to the upstairs bedroom – for just a couple of feet it would have added about €6,000 which we felt was too expensive an addition."
The only problem that arose during construction was due to the need for steel reinforcement for an upstairs wall. "This was priced at several thousand euros but after discussions between Mark and the engineer it was agreed to change the specification to a concrete floor with a ring beam to support the wall. This was a much cheaper option and provided a much better fire
proof solution. Having the right professional advice for problems like this is crucial."
Elaine advises anyone embarking on a similar adventure to have fun with the design and enjoy decorating. "I like the notion of picking colours and above all, being involved in the design which gives you ownership of the project. I would love to see more farmhouses being renovated."
---