Mel McGerr of Co Roscommon chose Insulating Concrete Formwork (ICF), an insulation sandwich filled with poured concrete, for the peace of mind of a thermal-bridge-free build.
In this article we cover:
Reasons for choosing ICF
Detailing of the key elements
Mix of contractor and direct labour build to save costs
Details of external wall finish
Choice of heating and hot water system
Top tips to stay on budget
Full supplier list
Plot size: ¾ acre
House size: 2,500 sqft
BER: A3
---
Why did you choose ICF for your new build in Roscommon? What other methods did you consider?
We wanted a simple method, one that was robust and most critically dealt with thermal bridging. Insulating Concrete Formwork eradicated a lot of the uneasiness associated with air leakages at junctions. The insulation of the ICF wall is in direct contact with the floor and roof insulation, and is not bridged at any point by poor insulating materials such as rising blockwork, or blockwork which goes from outside to inside, e.g. at a ground floor sunroom/bay window etc.
We also used a course of thermal blocks for the internal walls to reduce thermal bridging in these locations. And as the wall is solid concrete as opposed to a porous block, it is inherently airtight. We still had to tape around windows and fit membranes to the ceilings but we weren't relying on plastering walls to further achieve the airtightness rating.
For the energy performance we were aiming to achieve, ICF with external wall insulation came in cheaper than blockwork. But then when you add the cost of plastering it's about the same. I would have liked to build the roof with ICF but this would have required the input of another supplier. We ended up with a cut roof which we insulated at the rafters, the house is fully airtight and the test came back at 1.1 air changes per hour. I did the Passive House course halfway through the build and was able to incorporate some of that detailing in my drawings, especially around the windows.
Did you come across any planning or insurance issues?
Planning permission has very little to do with the method of construction, in our case we had to deal with things like meeting local needs criteria, ridge heights, the form of the house and location. In terms of insurance and the mortgage, we didn't come across any problems in relation to building with ICF, we just ticked the box for a concrete house as opposed to a blockwork house. I've recently worked on two other ICF projects and neither of them have come across any hurdles of this type either.
How was the project managed and built?
Our budget was tight so we went for semidirect labour. We got a main contractor to undertake the groundworks, civils, foundations, internal blockwork and plastering. We employed subcontractors to undertake specific works and then we did as much as we could ourselves. A lot of the finishing off was done at weekends and holidays.
Did you lay the ICF blocks?
No. We may have considered it if the shape had been simple, and if we'd been brave enough! The design is quite complicated, there are a lot of angles and curves, and we didn't feel confident we'd be able to lay the blocks correctly. If I were a carpenter or in the trade I'd probably do it with my eyes closed but my work is mostly at the desk, I wasn't sure enough of my DIY skills to take this part of it on so I asked the ICF supplier to recommend a subcontractor. The tricky bit is working out how to lay the blocks and making sure they are plumb, straight and fixed correctly.
Because of the height of the house we had to do two pours and despite the good work there is a section, at the double height ceiling in the kitchen, where the concrete did leak through. We had to use metal and timber supports, and this is where the concrete pushed some blocks off square. But it was minor enough that it could be hidden behind the internal plasterwork.
What type of blocks did you use and how did you finish the walls?
We chose a 280mm wide EPS block with a 150mm cavity, and then applied 100mm EPS external wall insulation (EWI) which we did ourselves. We had to add the EWI to get the thermal performance we wanted in DEAP, the software to prove compliance with the building regulations. We felt that doing the EWI work ourselves would be easier than the ICF blocks because we had existing walls to guide us. We just had to attach the insulation to the plastic ribs which were spaced at 150mm centres.
The EWI supplier came out to give us a bit of training; at the beginning we were quite slow and some rework was required. But once we got the hang of it, towards the end, it went up quickly. We did it over the summer of 2013, evenings after work and at the weekends. It definitely took longer than a professional would have had.
What did you do for heat and hot water and how is the house working out?
We put in an air to water heat pump and a wood burning stove. The heat emitters are aluminium radiators instead of underfloor heating; as we both work during the day we were happy with this solution. It suits our lifestyle very well and we also made a saving as they cost significantly less. The house is always lovely and warm and our bills are extremely low.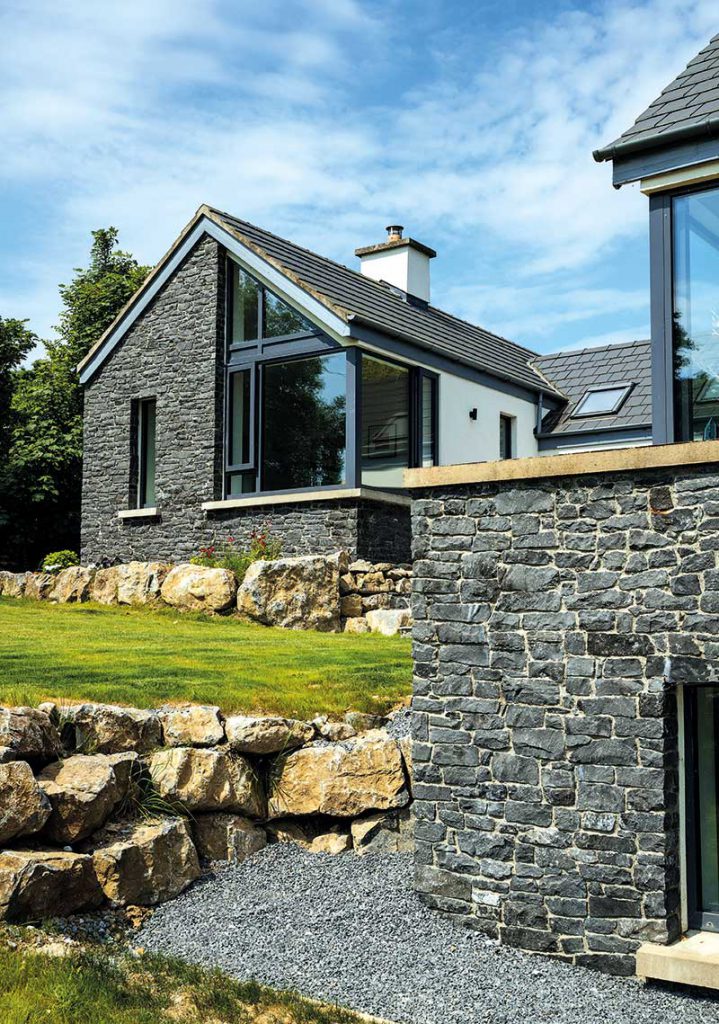 What's your favourite room/ feature?
We're in four years this Christmas and I still love the vaulted ceiling in the kitchen, I love looking out at the lake from there.
If you were to change one thing about the process what would it be?
As an architect I always wanted to build my own house and was lucky to get the chance but I can't help but think of some slight modifications to the house in my head – I'm 90 to 95 per cent happy with it. There are some details that I would like to change, like junctions in the internal plasterwork, things that drive me mad but no one else sees!
We built a basement to make the house less visible for planning purposes, and with hindsight I might try to find another solution as it was quite an expensive one. To add floor space we perhaps could have built a section of the house higher, instead of going down.
Would you do it again?
In ICF, yes, absolutely.
Research. I'd advise anyone considering this method to be comfortable with it, talk to people who've used it before. Everyone I spoke to at the time of building said they were happy with it and amazed at how easy it was to build.

On site adjustments. An interesting benefit of ICF is that once you have a section of wall built you can stand back and look at where the window openings are and adjust them slightly before they are braced – the window might be a bit too big or too small or might benefit from being moved slightly, within reason as you can't adjust too much due to planning permission (which was gained on the grounds of the submitted drawing details) and advice should be sought from the professional signing off on compliance with planning to ensure any minor tweaks are acceptable.

Internally similar conditions as for a timber frame house apply – to hang anything heavy up on an ICF wall you need to find the fixing in the wall, spaced at 150mm centres.

Additional costs. There were two for us – the proprietary silicone render you have to use on the ICF external walls is a specialised product that costs quite a bit more than a standard sand cement render, which I hadn't expected. That said, cladding can be very cost effective with ICF so depending on the finish you choose you may not incur any additional cost. The second costly exercise was due to last minute changes which meant we had to add a vent in the wall during the build, and this required a specialist contractor to core it out as the concrete had already been poured.
Architect: MMA Architects, Mel McGerr MRIAI MCIAT, Athlone, Co Westmeath, tel. 90 646 0006, mmaarchitects.ie
ICF and silicone render: Amvic, Naas, Co Kildare, tel. 045 889 276, amvicireland.com
Main Contractor: Buckley Construction & Engineering Ltd, Athlone, Co Westmeath, tel. 0906 485177
Landscaping: Kilduff Construction, Athlone, Co Westmeath, kilduff.ie
Heat pump and radiators: Panasonic Aquarea T-Cap Monobloc system from Heat Merchants, heatmerchants.ie
Demand Control Ventilation: Aereco, Little Island, Co Cork, tel. 021 429 6030, aereco.ie
Roof covering: Lagan Snowdon, lbsproducts.com
Photography: Dermot Byrne, Co Wicklow, tel. 01 282 9560, dermotbyrnephoto.ie
---