Extensions and renovations don't have to be expensive or complicated, as I learned on my project in Co Clare.
A few years ago, sick of renting I decided to buy a small property. My humble salary meant I had to look at the lower end of what was available on the market, and whilst out looking for another property I saw a beautiful derelict cottage on a hill. I asked an old lady on the road about it, and so the adventure began.
1. Finding the doer upper
When searching for a property, don't limit yourself to what's online or in estate agents' books. There are thousands of properties not on the market which, in the right circumstances, for the right person, may be for sale. They may also be a total bargain, especially if it's a straightforward cash sale. You just need to get out there and ask. I found ours by searching the phone book for the owner and in the end bought the house for €55,000 in 2016.
When I was looking for a place to buy my criteria were straightforward: I wanted a place with an intact roof and straight walls free of damp. Everything else I felt I could manage. In retrospect I needn't have cared so much about the roof. I now know I could have put a brand new well insulated (basic) one back on for €5,000. Don't draw unnecessary red lines.
2. Money
Financing your project through a personal loan/credit union loan can be a big advantage. Financing refurbs with banks on mortgage terms can lead you into a whole world of bureaucracy that stops you from just getting on with it.
Agree to prices with tradesmen for the job completed: not an unspecified price based on days on site. In my experience basic pricing for the west of Ireland includes the cost of materials and €100 to €200 a day for labour. The simpler the plan the simpler it will be to budget; for us the plan from day one was to renovate and add 60 sqm.
3. Time
In my situation having a supportive significant other, no kids and a flexible job really helped. I would think twice about embarking on this journey if I hadn't the time to dedicate to it. There is little about building that can't be learned, especially with the power of the internet and the expertise of people who know what they're doing.
4. Taking advice from others
That said, in terms of getting advice from builders/tradesmen, be careful who you listen to. This is a tricky one. Some will tell you run a mile and they will be dead wrong. Others will say run a mile and they everyone who said this project would cost well over one hundred thousand! It cost forty and is finished to a good standard.
Square, plumb and true. I learned the hard way to get these right and it was one of my most important lessons. I didn't come from a building/construction background where I'd imagine these principles are taught early and often. If you don't pay attention to these from the outset they can present real problems down the line. I built the structure for the timber frame extension with my brothers over a long weekend.
Looks wise someone else's work, however good, is unlikely to match your vision. For me that was the stonework on the outside, (which I painstakingly put up myself), the flagstone floors, the kitchen and the bathroom. If there is a bit of land around the house, get an idea of your plan as early as you can so as to make use of diggers/concrete trucks on site during the build.
Looking back, I am happy with my decision to plant a few hundred trees very early. This can be easily done over two or three afternoons and now three years on when I look out, I see a couple of small forests coming along.
5. Planning permission and plans
I believe that for extensions you can do your own planning permission application (just follow closely what the local authority asks for and have reasonable computer or tech drawing skills). Amateur planning permission for a new build would be a stretch too far in my opinion, not just because of all the calculations you have to submit. I would always ask an architect for input as they understand space and light very well. Maybe you have a friend who you could contract for a short consultation.
I was no good at sequencing and planning ahead; it would have made the project easier if I had been! A set of scaled drawings early on helps a lot, especially when working with others. Google Sketchup is a good programme, not too difficult to learn and free. It allows you to play around with your ideas in three dimensions.
At every step of the way pay attention to air, water and pest access to your structure. Water ingress especially: don't rely on sealing products or tapes. Instead, have physically overlapping materials that won't move or degrade over time. Gravity will take care of the rest.
6. Use technology and futureproof
Building technology is changing all the time and there are now many ways to go about putting up a structure. Many modern systems are designed with user friendly installation in mind and do not require huge technical knowledge. Investigate these as some could save you time and money. 
I futureproofed my extension but could have done better in the original structure: wiring and insulation would be the two standout concerns here. Think long and hard on how you will be heating your house in years to come. Hint: carbon tax.
7. Be sensible
In terms of aesthetics, I would be slow to delegate aspects of your project you have a strong creative vision for. But there is no need to be a martyr or a fool.
Offloading certain jobs to professionals could save you time, money and (for fear of being a little melodramatic) death. I built the timber frame but got a block layer to do the foundations and outer leaf. It only cost a few hundred and was done in a timeframe and to a standard I could not have matched. Electrics the same; remember that now legally in ROI a registered electrician must do all the wiring for you. Then again there is no point in paying skilled labour to do donkey work.
8. Stay local
If you have moved to a new locality investigate what is going on in the area. Many local suppliers/ quarries/ fabricators are not online. I found these places to be honest, dependable and great to do business with.
In terms of who does what job, once you find a hardworking honest tradesman they will often put you in touch with other hardworking honest tradesmen. I met one local family who were an absolute godsend. They were so embedded in the area and knew everyone and everything of relevance. If they couldn't help me themselves, they would put me on to someone who could. Using their name gave me a little bit of 'local' credibility. Find these people in your area.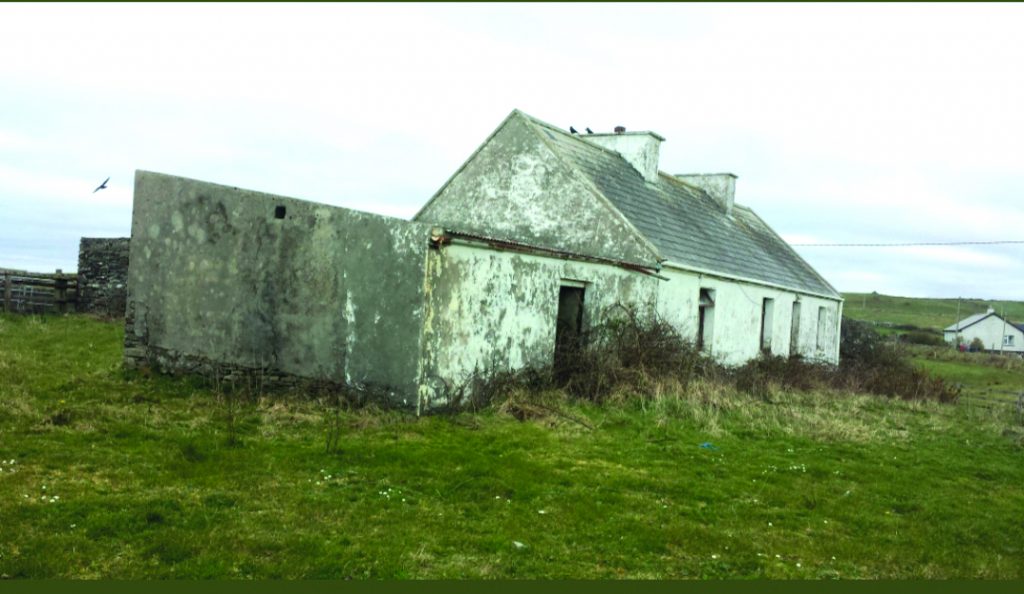 In terms of building suppliers even if your local place is a few euro dearer (and that was certainly not the case for me) having someone you can reach at the end of the phone for advice and ease of ordering and delivery is worth the difference. Still: shop around as your local may be able to match the lower price. Don't mind the grouchy men and women behind the counters. Deep down they are almost always lovely people.
9. Where to get discounts
Find builders' yards in your area which store materials taken out of demolitions and refurbs. You can find all sorts here; a full bathroom set would not be uncommon. There are also many entrepreneuring characters around the country who buy job lots of timber/ windows/insulation seconds. They are usually to be found online on merchant platforms. Amazing deals to be had. Secondhand shops and hand-me-downs which can be upcycled can save you a fortune.
None of the above to be confused with 'architectural salvage' yards who know very well the value of some old pine floor/ cast iron toilet cistern and will happily charge you accordingly.
10. Finally, be careful
Doing work you are unfamiliar with, often alone, can be really dangerous. I took chances I should not have and was lucky. I wouldn't do it again. Remember to use dust protective equipment to protect your lungs: dust masks but also gloves and other protective gear.
Good luck. It's a hell of a journey!