How do you get your house to change direction, get it to move so that it's angled towards the sun and views? Insert roller blades underneath? Glenna Woods and Gerry Warnock of Co Dublin found a way to design their way out of this structural problem.
Whilst building your house to face the road has some appeal, the need for privacy, the desire to avail of views and the sun's ability to warm up the house, coupled with an aversion to noise, have conspired to make this a less desirable alternative than it may have been in the past.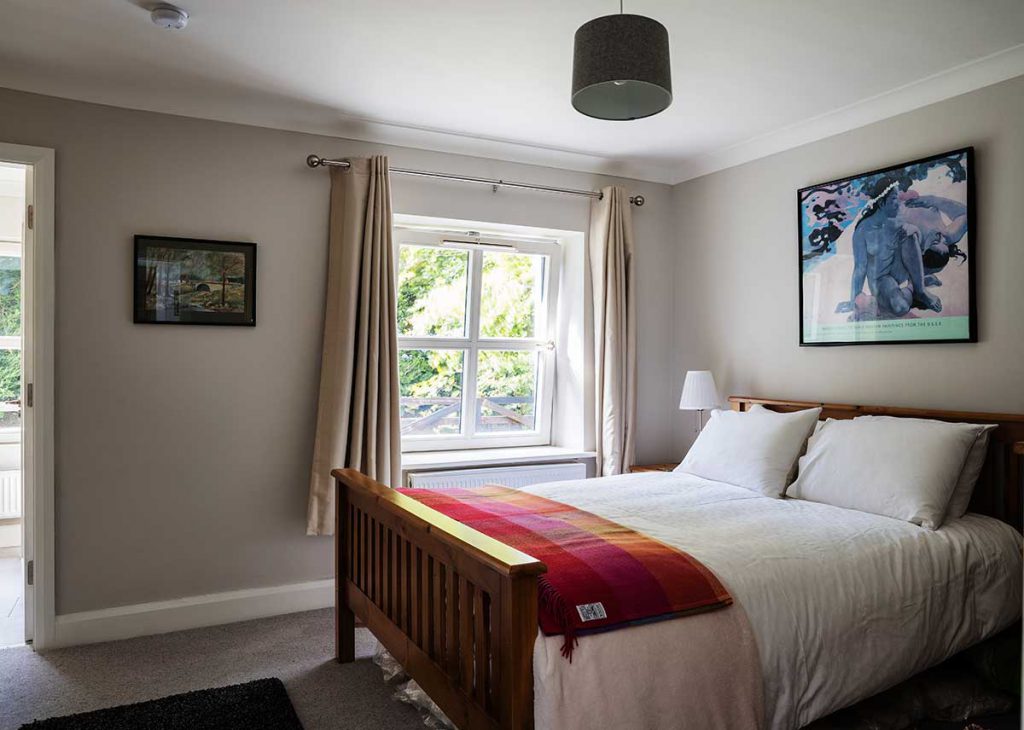 But when you're renovating there's little you can do about where your house is positioned. The only option is to change how that box is configured and make it feel like it's been relocated. And as Glenna bought their two-bedroom Land Commission cottage with a view to extend, the change in orientation had to take place alongside an extension and renovation.
[powerkit_collapsibles]
[powerkit_collapsible title="COSTS" opened="true"]
House before: 105 sqm
House after: 177 sqm
Site cost: €157,000
Build cost: €200,000
Design and planning fees, furniture, landscaping, fencing, security, finishes & kitchen: €100,000
Market value: (house only) €350,000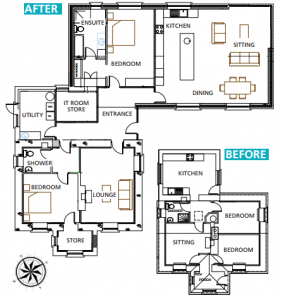 [/powerkit_collapsible]
[powerkit_collapsible title="BUILD SPEC"]
Walls: 100mm solid concrete block outer leaf with 18mm sand/cement render finish. 150mm cavity fully filled with EPS beads pumped in,100mm concrete block inner leaf with skim plaster finish on sand cement basecoat. U-value 0.2W/sqmK
Floor: 150mm in situ concrete slab on100mm PIR underfloor insulation on IAB certified radon barrier, joints lapped and sealed on 50mm sand blinding on 225mm well consolidated hardcore. U-value 0.16W/sqmK
Roof: Composite roof tiles to match existing on treated on 35 x 50mm battens on IAB approved breathable roof felt (500mm 5U bitumen felt strip to eaves) on structural graded SW joists, 100mm PIR insulation between joists fitted flush to underside of rafter with 50mm spacer battens above 50mm PIR insulation to underside of rafter. Sealed joints in boards with foil tape and airtightness tape to joints with walls. 35mm battened wiring cavity. Plasterboard and skim plaster finish to ceiling. U-value 0.16W/sqmK
Glazing: Composite alu-clad windows, double glazed, U-value of units 1.2W/sqmK, solar factor (G value) 0.38
[/powerkit_collapsible]
[powerkit_collapsible title="SUPPLIERS"]
Quantity Surveyor: Patrick Shanley, Duleek, Co Meath, tel. 041 982 3349, pshanley@eircom.net
Architect: Fergal McGirl MRIAI, Dublin, tel. 01 873 5441, fmgarchitects.ie
Builder: Rathcorbally Construction, mobile 086 8060893, rathcorballyconstruct@gmail.com
Wastewater system: O'Reilly Oakstown Ltd, Trim, Co Meath, tel. 046 943 1389, www.oreillyoakstown.com
Percolation testing engineer: Sean O'Connor of Enviropro Ltd., mobile 087 220 8633, enviropro@eircom.net
Security System: Aztec Security Systems, Dublin, tel. 01 409 9222, www.aztecsecurity.ie
Lighting consultant: National Lighting, Dublin, tel. 01 709 9070, www.nationallighting.ie
Kitchen design: Darren Moore of JDM Woodworks, Naul, Co Meath, mobile 086 353 3351, www.jdmwoodworks.ie
Kitchen fittings: Flanagan's Fittings, Dublin, tel. 01 844 8400, www.fff.ie
Kitchen lighting: IKEA, www.ikea.ie
Appliances: Powercity, www.powercity.ie
Extractor fan: Falmec sourced from Kitchen Showtime, Dublin, tel. 01 816 2101, www.sho.ie
External lighting: Illumination Swords, Dublin, tel. 01 890 3988, www.illumination.ie
Windows: Paul McDonald of Munster Joinery, EcoClad model, www.munsterjoinery.ie
Carpets: Gough's Carpets of Ardcath, Dublin, tel. 01 835 4113
Internal doors and fittings: Eddies Hardware, Drogheda, Co Louth, tel. 041 983 6292, www.heitonbuckley.ie
Bathroom: B&Q, www.diy.com
Floor tiles: Tubs and Tiles Sandyford, www.tubstiles.ie
Paint: Colourtrend, www.colourtrend.ie
Insulation: EPS beads in walls: EcoBead Platinum kingspanecobead.com; floor PIR: Xtratherm UF xtratherm.com; airtightness tape: Siga www.siga.ch
Roof tiles: Tegral Thrutone, www.tegral.com
Photography: Dermot Byrne Photography Brookhaven, Co. Wicklow tel: 01 282 9560 www.dermotbyrnephoto.ie
[/powerkit_collapsible]
[/powerkit_collapsibles]
"It took us three months to make up our minds on how we were going to turn the house around. The front door and porch were facing the road, to the south, but this set up didn't suit us. We wanted to extend at the back however we struggled to see how these new north-facing rooms would get any sun.
---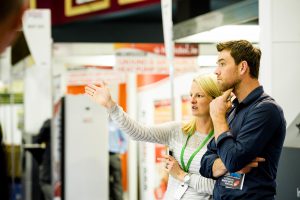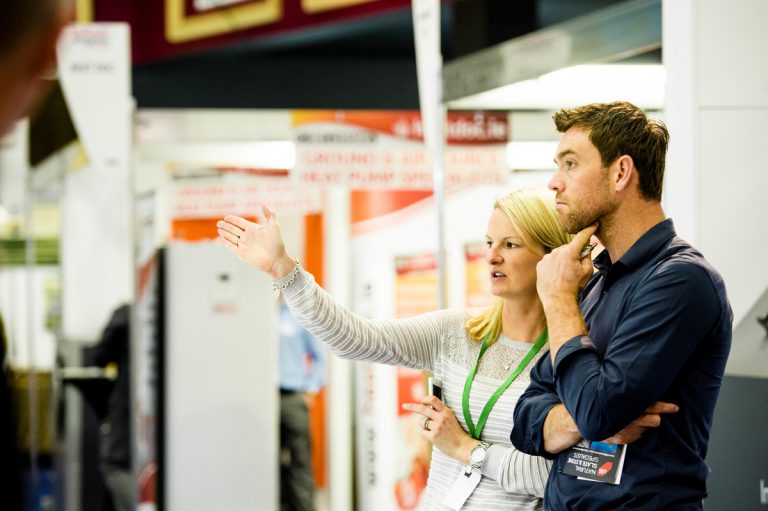 Selfbuild Live Cork is the ultimate showcase for people who are building, extending, improving or simply decorating their home. Selfbuild Live Cork, 10th-11th November takes place in the Green Glens Arena, Millstreet, Cork.

---
The solution was to use south facing rooflights in the hall and living/kitchen area." "At the very early stages we'd actually looked at a two-storey design but this requirement for southerly light, and the budget, dictated we go single storey."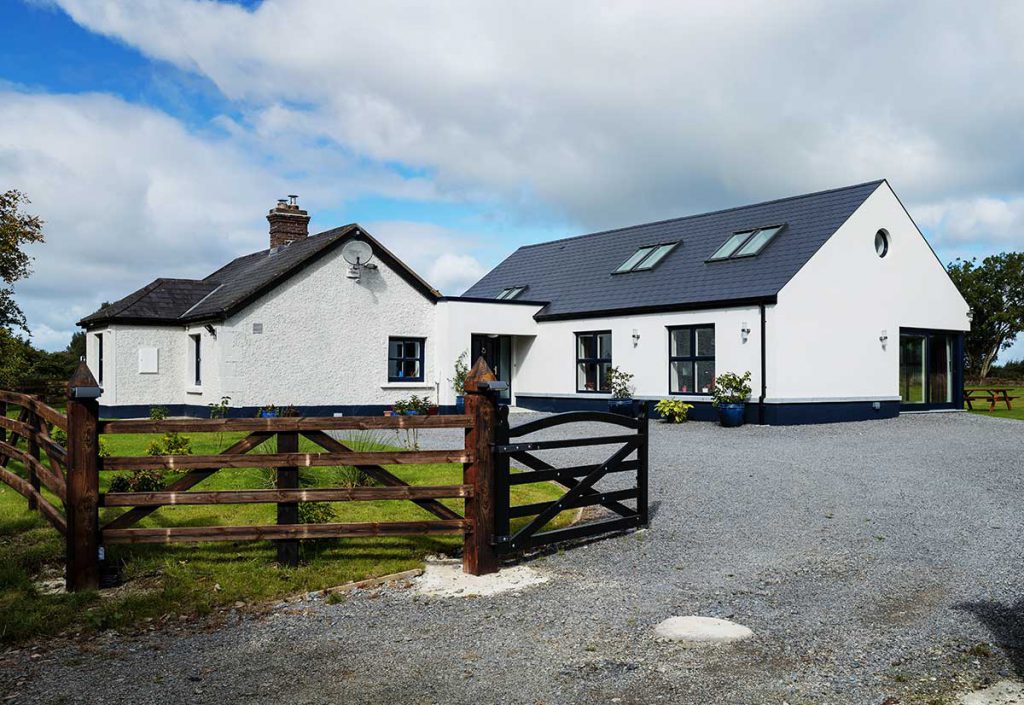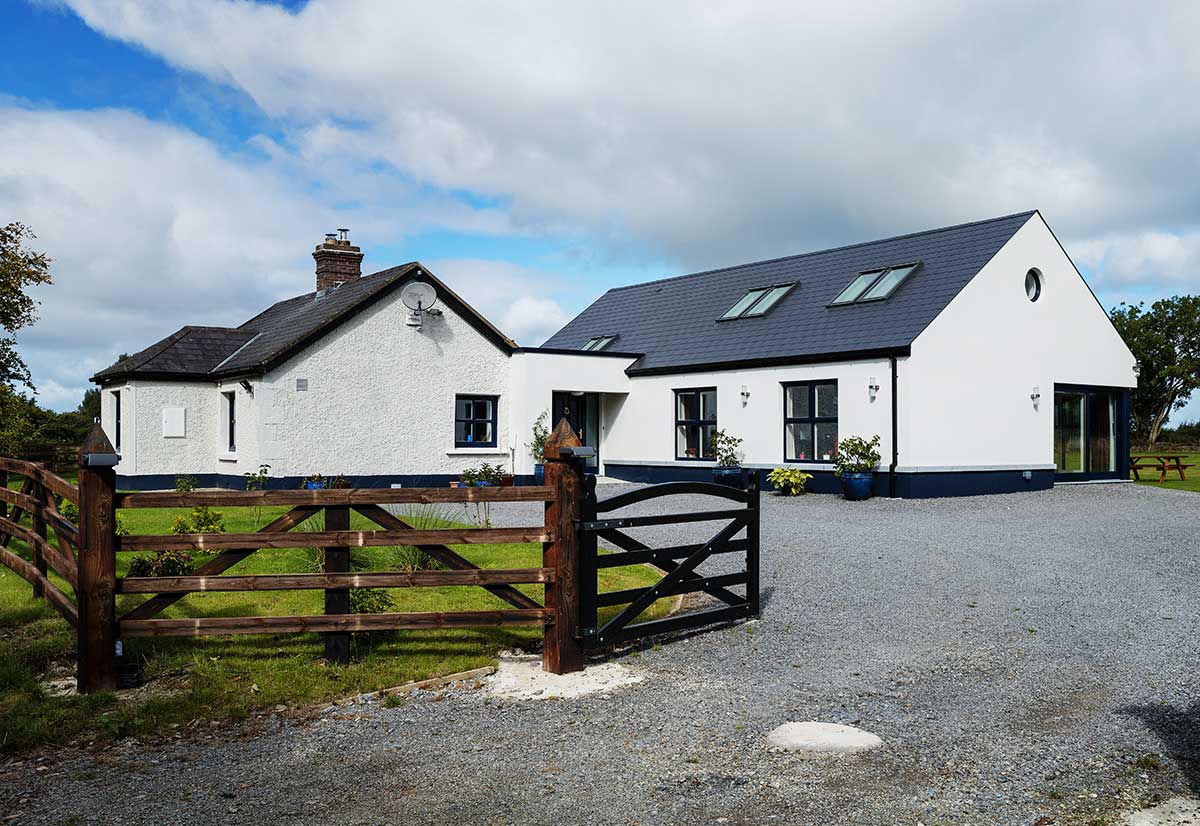 "We then converted the original front door into a window and used the location of the back door, roughly, as the place to put our new front entrance. We still needed a back door, of course, so we enlarged the original kitchen window opening for that purpose," adds Glenna. "Once we had the final plans, and before we appointed our builder, I met with a lighting consultant and that made a huge difference. He gave professional advice which took everything into consideration so there was no quandary where to place fittings."
'At the very early stages we'd actually looked at a two-storey design but this requirement for southerly light, and the budget, dictated we go single storey.'
Progression from recession
It was a relative of theirs, a quantity surveyor, who advised them throughout for the costs, and recommended their architect. "During the many months of house hunting I'd started compiling a scrapbook folder and coincidence had it that I had kept an article by this same architect, so I felt like I was on familiar ground."
Glenna and Gerry's requirements were quite specific and their inspiration varied. "We'd lived in many houses, and I've lived in different countries – Australia, and the USA from coast to coast. So we knew the amount of space we wanted and that we needed plenty of light. I especially wanted a big open plan kitchen-living-dining area with a vaulted ceiling."
"We also wanted a detached house because we love to listen to music and tend to crank up the volume. Even though the thought of building our own house was appealing, it proved as hard to find a site as it was a house." Glenna actually stumbled upon this cottage through sheer luck, on her way back from visiting another.
"There happened to be a For Sale sign which I drove up to, and I immediately saw the house had great potential." "A big selling point was that it was on an acre site, it was also only 200 metres from the nearest village and even though we're eight minutes by car from the motorway, we're in a very quiet spot, with pheasant and hares in the garden, cattle and vegetables in the surrounding fields, horses trotting up and down the road…"
The property had been on the market for six months and there were further delays after their bid was accepted. "I saw the house in August 2013, called the agent and put down a deposit straight away but the banks took forever to sort out the mortgage. It wasn't until Christmas that we got the keys."
Thankfully, the building process was much quicker, and, relying on her architect and quantity surveyor for the technical aspects, the tendering stage was painless.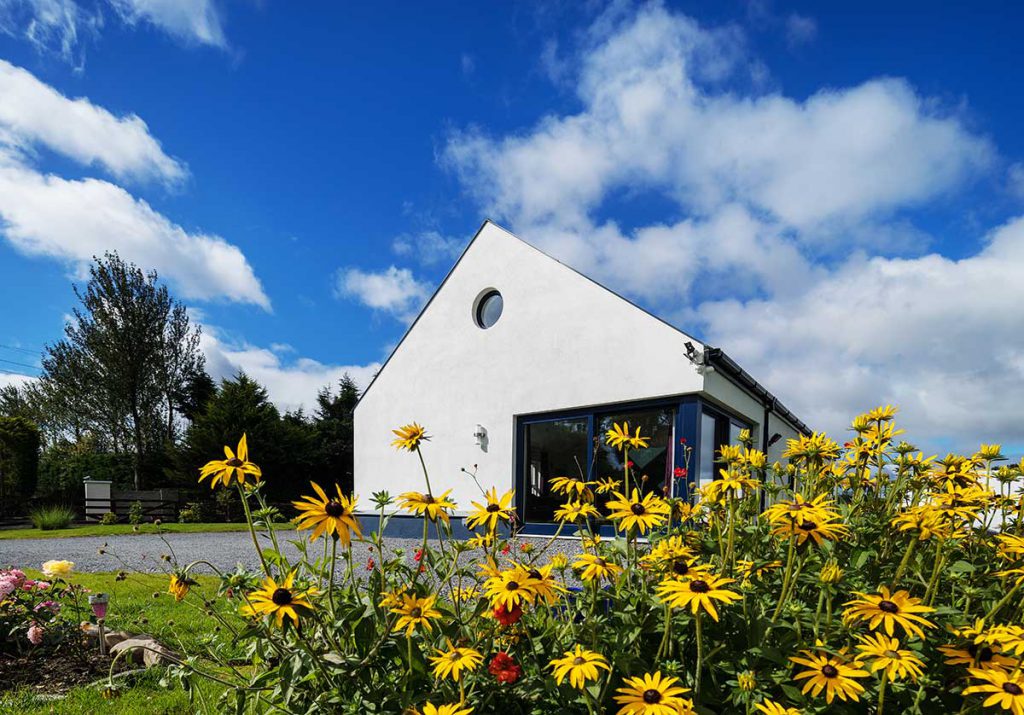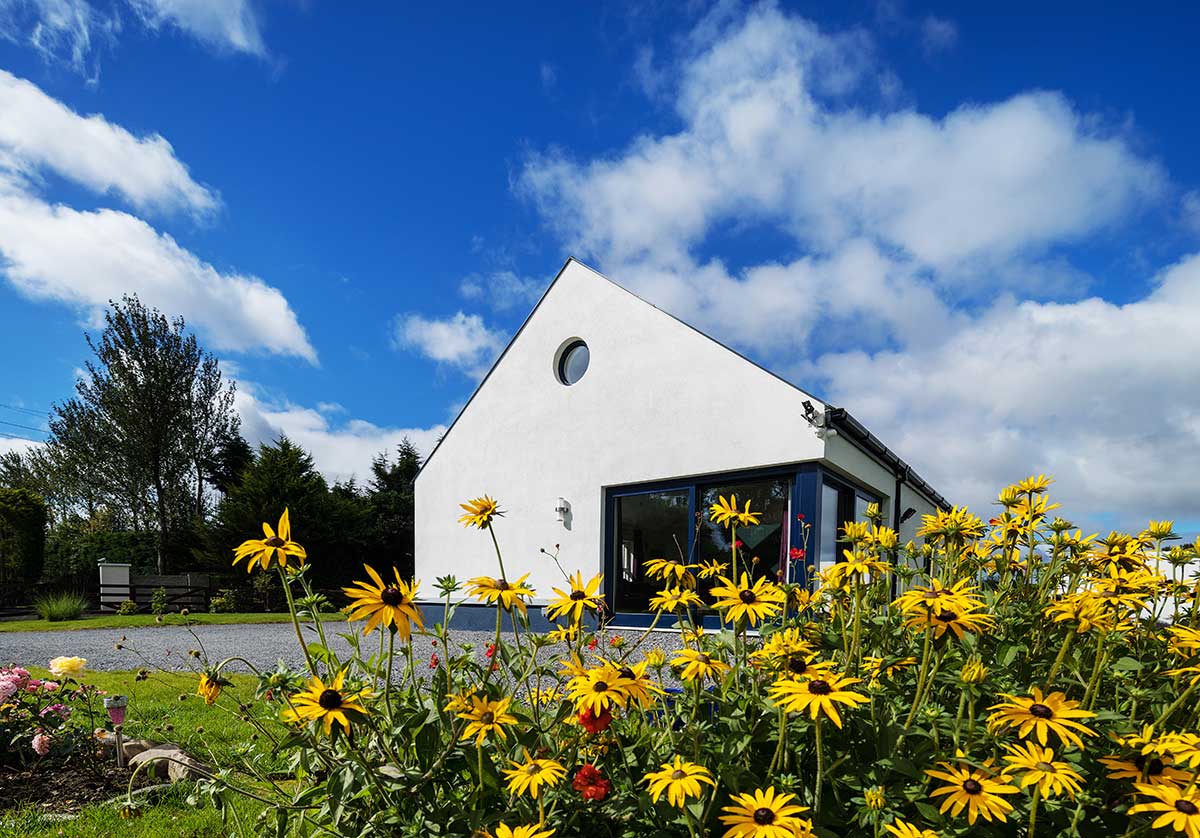 The builders were appointed and broke ground in May 2015. "The completion date was October 5 yet the builders finished in early September," enthuses Glenna. "After that we had some finishing touches to add ourselves. To reduce costs we'd decided to paint most of the interior, bar the new open plan area as the double height would have been tricky.
We took charge of ordering the carpets, and once they were fitted we moved in. The builders had put the tiles down which meant the bathrooms were finished." Glenna had expected the building phase to be much more stressful than it turned out to be. "We let ourselves be guided by our design team, and by the builder," she says.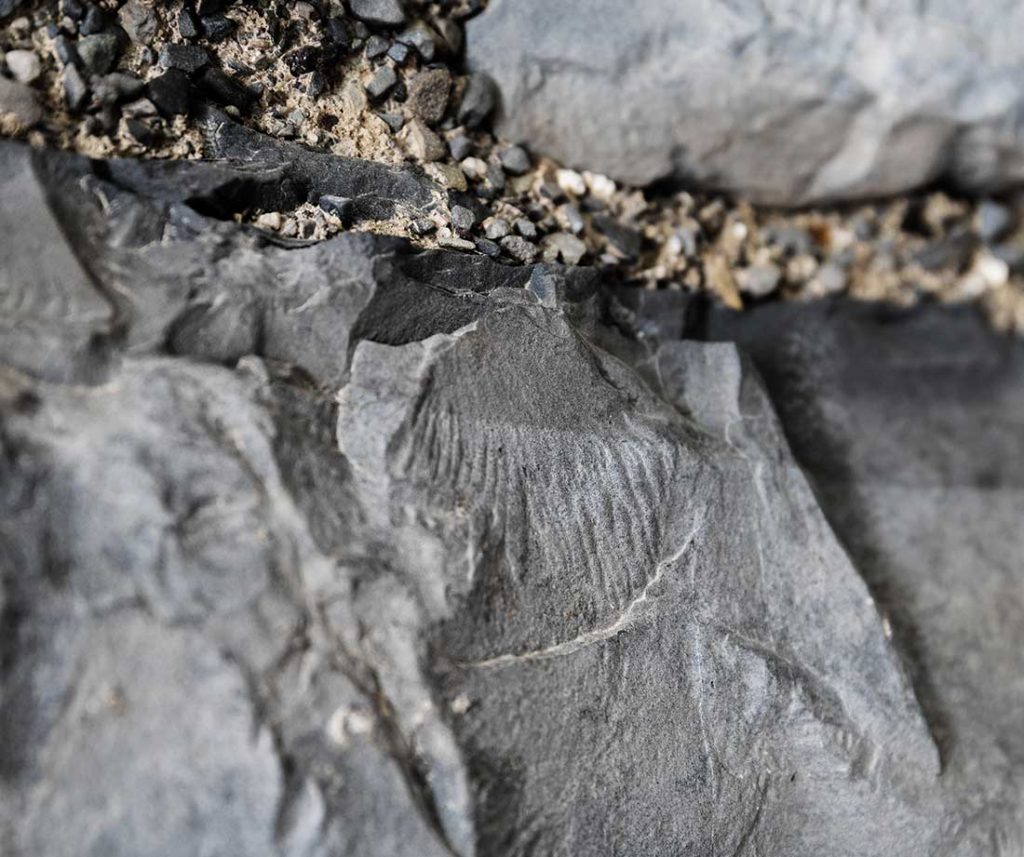 For such a reconfiguration, the demolition work was also relatively minor – only one wall had to be knocked down at the back. But it was during the stripping back indoors that they uncovered a gem.
"The previous owners had covered up all of the walls and behind them we found the original grey stone, which we kept as a feature in the hallway but couldn't keep exposed throughout as it doesn't weather well." "I love seeing the fossils in the stone, it keeps us in touch with the earth and nature, which was a great draw to this site in the first place."
'If I had realised what I know now, I would have done everything possible to put aside some money for a drainage system in the garden…'
Hindsight
Despite the garden appeal, Glenna says there isn't a worm in sight. "The ground is rock solid, I'm hoping that in time the soil will aerate so we can plant more." Despite the garden appeal, Glenna says there isn't a worm in sight. "The ground is rock solid, I'm hoping that in time the soil will aerate so we can plant more."

"It takes five to six years to establish trees, which we've started planting to protect us from the high winds; at the moment we only really have the neighbour's Leylandii across the road to provide some shelter." "We even looked at installing a wind turbine but the payback was 12 years. If we were younger, had a young family, we may have felt a greater need for more eco features; instead we kept the original boiler as it was able to cope with the extension."
[powerkit_collapsibles]
[powerkit_collapsible title="GERRYS-TOP-TIPS"]
Bathroom
Install a demister behind the bathroom mirror: every morning I'm thankful there is one.
Even if you have radiators in the bathroom, install underfloor heating – I wish I had done so in the cottage bathroom but we would have had to dig up the tiles. Thankfully we did install underfloor electric mats in the bathroom that's in the extension.
If you live in a hard water area get a water softener for the shower and appliances, and a reverse osmosis unit for drinking water.
Consider self-cleaning glass in rooflights – these are hard to get at without professional help.
Design
Consider a covered wall vent in a downstairs bedroom. Window trickle vents may not be enough on warm nights when the curtains are closed.
If installing a wall vent consider the direction from which the wind blows. Avoid putting it on a wall with prevailing winds to avoid nasty draughts.
Place double the amount of sockets where you plan to put your TV. As a matter of fact, put sockets everywhere, you can never have enough.
We plumbed an additional circuit onto our existing cylinder for hot water – it's a 'flow and return' piping system which prevents us having to let the tap run to reach temperature. Highly recommended!
If possible budget to insulate all parts of the house to the same specification.
[/powerkit_collapsible]
[powerkit_collapsible title="Q&A"]
What's your favourite room / favourite part of the house? The open plan kitchen and dining area, with views, is a great place to entertain and relax in. The kitchen designer/ manufacturer did a wonderful job; we have lots of storage and preparation space, the units are easy to wipe clean and can be repainted if we wish to change the colour in the future. But perhaps my favourite part, on a practical level, is our utility cupboard – we added a small radiator in it to help speed up the clothes drying process. It was a brilliant addition I now couldn't live without!
What surprised you? How delightful an experience it would be! I had a spreadsheet of what was going on, from the very beginning, even before we appointed our architect. I told myself I'd stick to one mantra: 'everything will pass' anticipating loads of stress, but it was actually a pleasure. I think the main thing is to trust your builder and designer, they're the professionals, and it's important to feel comfortable questioning what they're doing. The builder was in constant communication with us and was always available if we had a query. That was very reassuring. If we wanted to change something they thought couldn't be done, they'd explain their rationale. Another surprise was to realise what lovely views we had, and the fact that we owned an extra 20 feet of land! It's only when we started clearing the site and ditches that the vista unfolded. Shrubs and hedges being cleared meant we unearthed the wood panel that marked out the site boundary much further than we expected. Those were some added bonuses.
What advice would you give a budding self-builder? I never realised how much work was involved in choosing the finishes, there are so many different types of door handles to choose from! The variations are endless so my advice would be to go with your gut, and not worry, things end up falling into place. I was originally concerned of how one choice might affect another, whether I may create clashes. But when it was all done and signed off on, I just felt it was right. You have to trust your instinct. I would encourage people to just go for it.
Would you do it again? Yes, this experience was so enjoyable I wouldn't mind trying my hand at self-building a second time… and I would use the same team again. As they say, you probably need to build three houses before you get it right!
What would you change? I'd add some rooflights in the attic; our architect was on holidays when they were putting the roof up and instead of asking the builders to do it, I let it slide. They were progressing so fast with the build, at our next meeting the structure was already up.
[/powerkit_collapsible]
[/powerkit_collapsibles]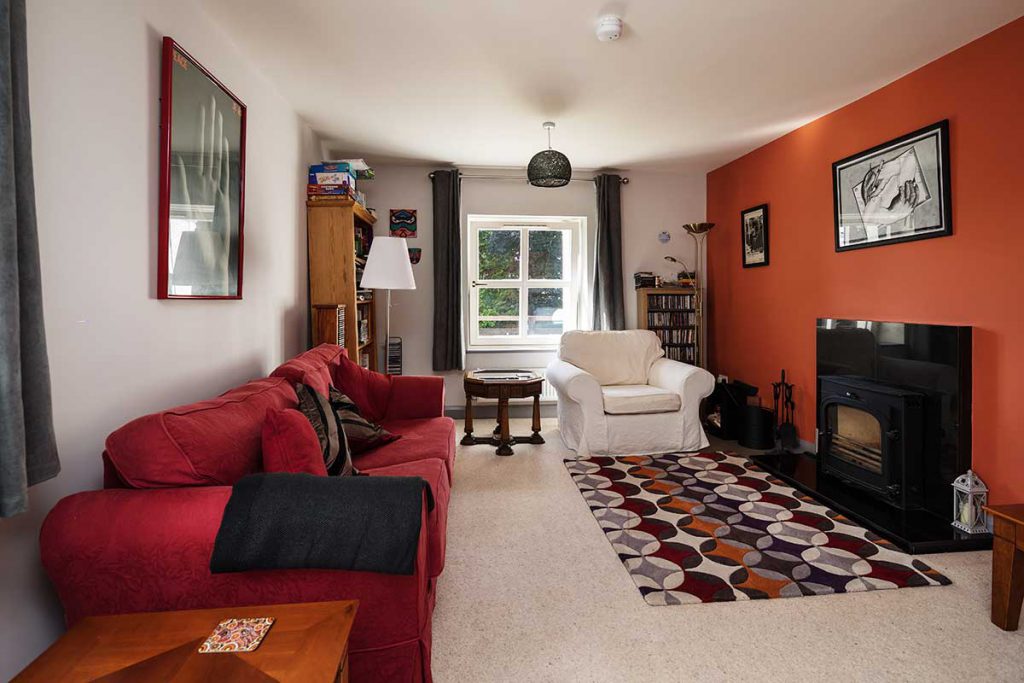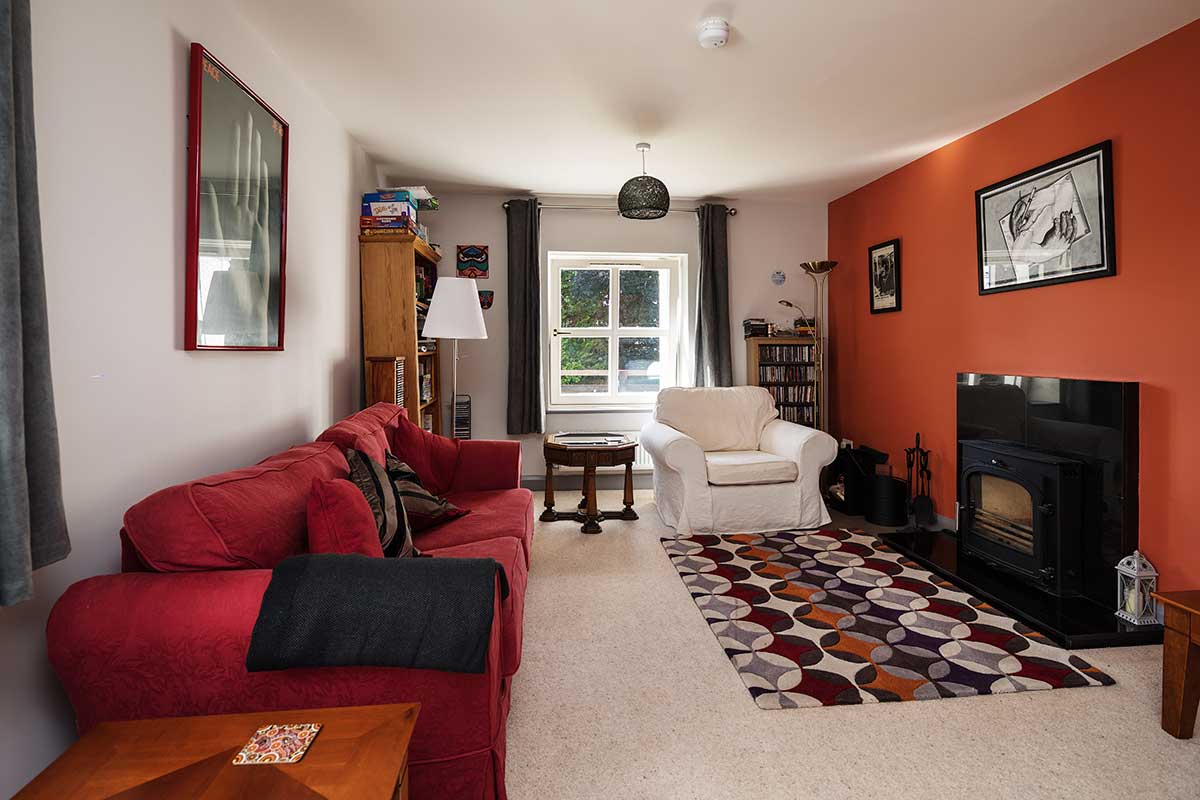 "But just about! The plumber said that adding even one extra radiator would have been too much," says Glenna wishing they had that extra capacity.
"It's a shame because I would have liked to have another heat source at the kitchen counter which is quartz; maybe it's because the material looks cold, or maybe it's because of the windows, but during cold spells I can feel it getting chilly around there."
"Even when sitting on the sofa my leg closest to the sliding doors will feel a bit cooler than the other. Thankfully in summer, overheating isn't an issue as the rooflights provide cross ventilation." Gerry wanted the sliding doors sized as big as possible, triple glazed at 12ftx12ft, and this worked out well as their views out onto the fields makes them feel very close to nature; on a clear day they can even see the Mourne mountains.
The finish is alu-clad and the windows are double glazed. "We were going to go with grey but decided on navy at the last minute; I'm so glad we did. It's a bit different and yet fits in nicely with the surroundings."
Old and new
Of course with an existing house, you have to work with what you have. The cottage had been dry lined by previous owners with composite insulation board battened off the old walls. "From opening up a wall vent cover, we could see that the inside face of the old wall was damp with condensation," says Glenna.
"Our architect recommended stripping the walls and re-lining them with an airtight/vapour open dry lining system but we didn't have the money to do it. So we just topped up the attic insulation, replaced the windows and insulated the existing timber floor with 150mm fibreglass laid in netting under the floorboards." The issue now is that the two properties are out of synch. "Whenever the heat isn't on, there is a very noticeable difference in temperature between the extension and the cottage," explains Glenna.
Compounding this effect is that their heating controls provide two zones, one for the bedrooms, the other for the living areas. "As one bedroom is in the cottage and the other in the newly built portion of the house, they don't reach temperature at the same time. When we have guests staying in the cottage bedroom, we crank up the thermostat and manually turn off the radiator in our bedroom. It's a small inconvenience but one we'll address when we upgrade the heating system."
In terms of design, Glenna says the flow of the house couldn't have worked out any better. "There's a really good feel to it, moving from room to room. There's space, privacy, and room for entertaining guests. It's all quite seamless." Another addition they may make is to add a back boiler to their stove to save on heating costs. "We installed an insert stove into our fireplace and considered a back boiler for that. We didn't like the idea of having all of the radiators on all the time to take the heat from the stove, but it's something that we may retrofit down the line."
On another practical note, Glenna says that she was keen to have a quiet extractor fan above her kitchen hob, one that would allow for chatting and cooking to take place at the same time. "I simply couldn't get one with the motor located on an external wall, so went with a 'silent' version, which on the low setting does what it says on the tin.
Thankfully the low setting is all we normally use as it deals very well with steam." Despite the few glitches, has the house delivered on her expectations of that first day? "We're very happy here, I think that's a sign we did things right!"