Decking is a cost-effective, speedy and fairly straightforward way of transforming your existing home. Simple decking projects and most low level backyard decks can be undertaken by a competent DIYer. Here are our Top 5 tips.
1. Find the perfect location
Most people attach their deck to the rear of their homes, slightly above ground level, but how about:
Using the area over a garage to create a first-floor sun deck, with suitable balusters for safety.
Nestling a deck into a hillside or mound in your garden.
Decking over a disused area of driveway.
Making an island of decking somewhere in a sunny or sheltered spot.
Using decking to make boardwalks, or even bridges.
Decking around a pond.
Using it as a practical surround for your swimming pool, though this will have to be kept very clean and possibly coated with a non-slip stain.
Wrapping a deck all the way round your home, to 'extend' your rooms.
Taking a decking pathway with steps and different levels down a hillside.
Decking into the wasted space in your side-return.
Creating a dramatic entrance to your house.
Using a flat rooftop to provide a private, breezy area with views.
Creating a system of pathways around and within your vegetable garden.
Setting off your summerhouse or children's sandpit elegantly.
The possibilities are endless.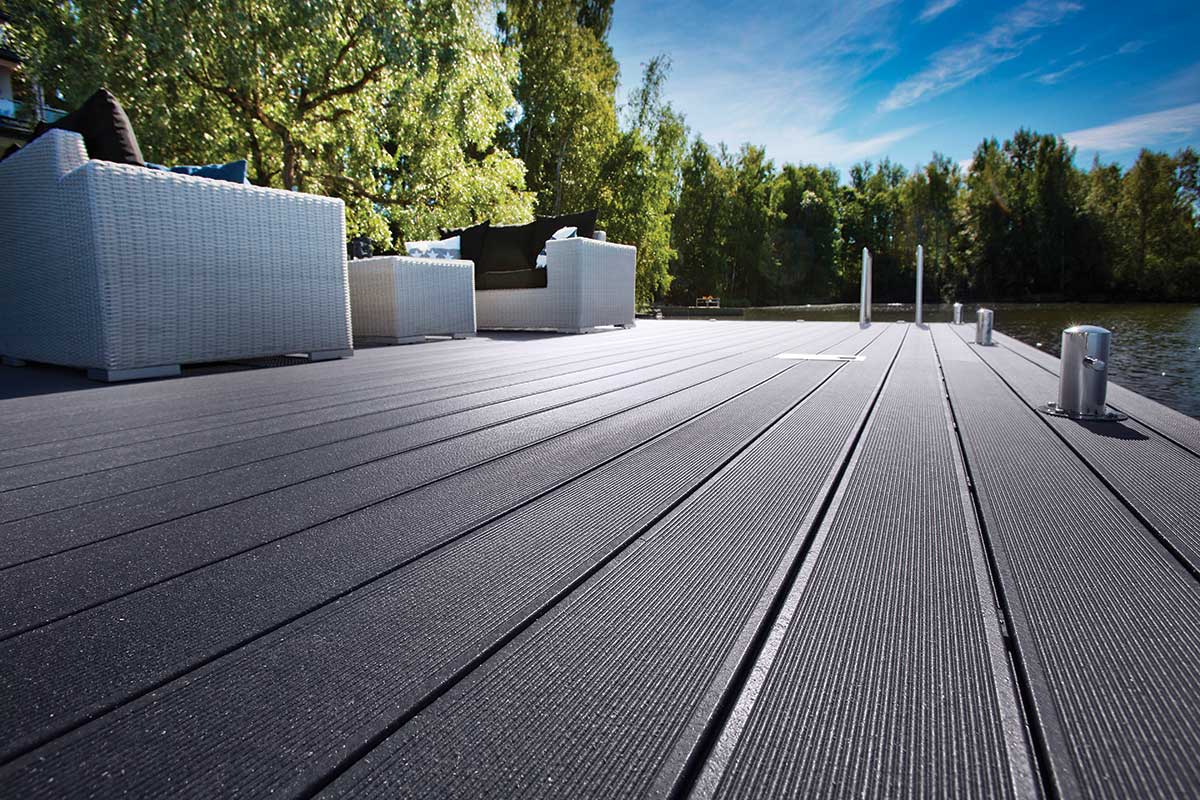 2. Consider a pattern
Because decking comes in narrow boards, there is plenty of scope for creating designs within the deck to add that wow factor. However these require a lot more thought and planning, particularly in relation to the direction and positioning of the supporting timber members, to ensure that the structure is load bearing and safe. Very large surfaces can look good with changes of pattern as they visually break up the area, and can also be embellished in the following ways:
Inset a pattern or inlay such as a compass, square, diamond or picture frame. This can be enhanced in a timber deck by using different coloured deck stains. Composite decks require a bit more work and inlays are achieved using one or two different coloured boards, contrasting against the dominant deck colour.
Create a chevron or herringbone design. This requires approximately 15 to 20 per cent more decking material, more joists and bridging, closer joist centres and a bit more care when setting out and building the sub-frame.
Define the handrail, perimeter or steps with a different colour to the main deck e.g. a dark brown deck with a sand border or a weathered oak deck with a cedar outside border can look stunning.
For a contemporary feel create geometric patterns using two colours in such a way that the dominant tint accounts for 75 per cent of the deck area.
TOP TIP:
Plan your deck in advance. Draw it all out to scale on squared paper then overlay your various patterns / designs to see how they'll look. There are software programmes available that can help you with this.
3. Add colour and life
Composite decking contains pigments and colour-fast UV inhibitors to prevent fading but the range of hues on offer is often quite limited (brown, grey, black). Natural timber decking is protected from premature decay using a chemical treatment process. Dyes present in the preservative are either green or brown and will disappear within a few years, which creates an opportunity to recoat.
'While softening the edge of a hard garden feature such as decking can greatly enhance its appeal, don't allow plants to creep too far over the edges of your boards '
There are many decking stains on the market, including non-slip versions. These colours are often referred to as 'paints' but strictly speaking, they are wood stains with additional wood protection properties and as such they need recoating every year to keep the deck looking smart. When thinking about what shade to choose, take a long, hard look at the palette used on your house, and try to imagine what'll work best to set it off. Most people opt for natural wood because they decide to play safe but there are several, surprisingly different-looking, natural wood stains around. Leading manufacturers offer more than a dozen different colours so choose a planting arrangement that will complement the colour of your timber. These go particularly well together:
Orange decking: blue flowers
Grey decking: pink or yellow flowers
Bottle-green decking: lime-coloured flowers
Red decking: green foliage
Yellow decking: violet/purple flowers
Purple decking: orange flowers
While softening the edge of a hard garden feature such as decking can greatly enhance its appeal, don't allow plants to creep too far over the edges of your boards or the permanent wetness will eventually rot the timber. It also makes cleaning and repainting that much more difficult. An attractive way of using plants is to have beds set into decked areas. This can be especially useful for people with reduced mobility as it means tending to plants, vegetables and flowers from a dry, firm, access. Raised beds make this even easier. Consider cladding the boxes that contain the soil with decking, attractively patterned so the whole thing looks like a solid, 'sculptural' piece in harmony with your decked flooring. Be sure to line the raised beds with a waterproof membrane so soil and water can't seep out. Natural wood will grey over time due to UV rays degrading the surface – this shouldn't affect the structural integrity of the timber but if you find it unsightly, a yearly maintenance regime of wood oil should help.
4. Budget wisely
A well designed and expertly installed decking will add considerable value to your home. However, getting your finances in order before you start is crucial. Deck size, design, height above ground level and the materials selected will have a significant bearing on the overall cost. Even your choice of stairs and steps (these can be premade) and railing material can have a big impact. Treated timber deck boards are typically around £2.50/ €3 per lin. meter, hollow composite decking boards are double the price and high grade solid composite decking cost even more.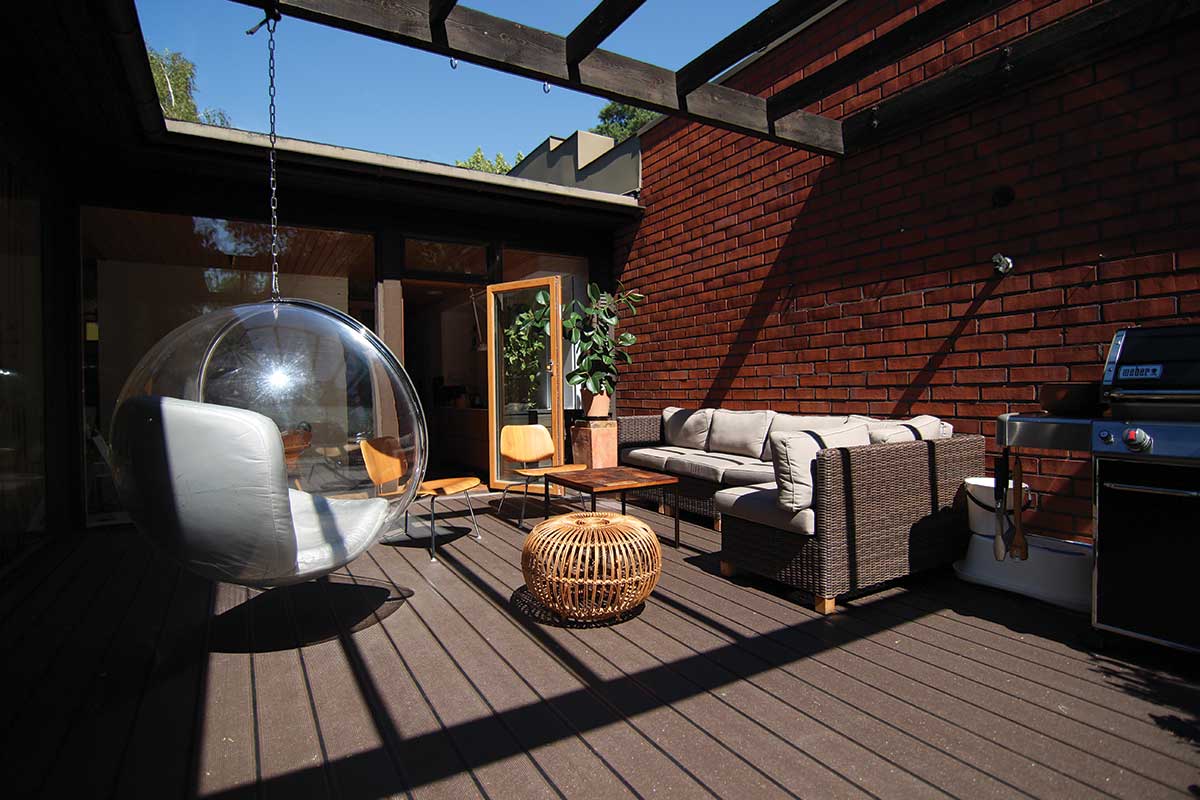 So, along with labour and sub-frame the actual cost can easily rise to several thousand euro or pounds for a 12 to 15 sqm installation. For a DIY project softwood decking boards will represent roughly 70 per cent of the outlay. The best way to calculate your costs is in square meters as the lengths will vary too. Remember to choose a long-lasting product (minimum 15 years), check for warranties and what maintenance regime is associated with your choice.
5. Consider planning permission…. and remember the regs!
You probably won't need planning permission as most decking and other 'platforms' are allowed as 'permitted development'. Permission is definitely not needed if your deck is at or close to ground level. If you're doing a new build, show all the proposed decking on the drawings so the planners can tell you what's required. Don't try to sneak it in later. If in any doubt, speak with the planners if:
Your deck is going to be more than 300mm off the ground – you may require planning permission and if so you'll need to abide to the building regulations which specifies balustrade height, spacing between the uprights in any balustrade system, how the stairs are constructed and much more.
It's close to the road/pavement.
It's the main means of access to the house.
It could impact on your neighbour's privacy.
It's at first floor level.
Any part of it (to the top of the balustrade) exceeds 3m in height.
You live in a flat or maisonette (a small apartment that is usually part of a larger building with two levels and that has its own entrance).
You intend to attach it to a listed building or you are in a national park or conservation area.
And don't forget the Building Regulations: the approach, access and circulation to dwellings must comply with Part M (ROI) / Technical Booklet R (NI) while steps, guarding and handrails should be built in accordance with Part K (ROI) / Technical Booklet H (NI).
---
ADDITIONAL INFORMATION
David Hanna
Bsc (Hons) of Deck 25
Deck25.com
Darren O'Gorman
Msc Cpm of UPM Decking
upmdecking.ie
John Keohane
of SAiGE Longlife Decking Ltd saigedecking.com For best practice guides refer to
Trada's Decking: A Builder's Guide trada.co.uk
, the Timber Decking Association
tdca.org.uk
, and the Wood Marketing Federation's guidance document on decking
wood.ie