When disaster strikes sometimes you have no option but to carry out that much dreamed about renovation project, as Denis and Sarah Murphy of Co Meath experienced with their quick turnaround renovation.
In this article we cover:
What disaster made them carry out the renovation
Insurance claim and the decision for a whole house upgrade
Working within a set timeframe
Design decisions for a unique home
Previous build expereinces
Choice of flat roof covering
Kitchen redesign tips
Battle to get the perfect glazing solution on the extension
Tips and advice to stay on budget and on schedule
Biggest splurges and how much they cost
Suppliers list, build cost and specification
Professional photographs
Overview
House size before: 248sqm
House size after: 280sqm
Build cost excluding garden: €150,000
When we came back from holidays in June we came home to find the hardwood flooring on the ground floor rippled and swollen. The pressurised water pump had leaked and flooded everything within a 20ft radius," recounts Denis.
"We always turn off the pump before going on a holiday but this time the seals had given way and a constant water flow made its way silently under the floorboards from the hot press into three rooms," adds Sarah.
"It was clear from the start we'd have to replace the floors which in turn meant taking out our beautiful German alder wood kitchen. The silver lining is that it was over 20 years old and in need of a facelift."
"Perhaps the most daunting part was that we had to make our first ever home insurance claim," continues Sarah. "Little did we imagine the €15,000 claim would spur a €150,000 spend but slowly it dawned on us that this was our opportunity to do something special with a cramped and cold north facing kitchen dining room and radically transform our main living space."
"We had less than a year to get our act together between topping up the mortgage, designing, obtaining planning permission and arranging the builder," adds Denis.
"The extent of the work we planned meant we would have to move out of the house so our only window of opportunity was the summer months when the kids had no school."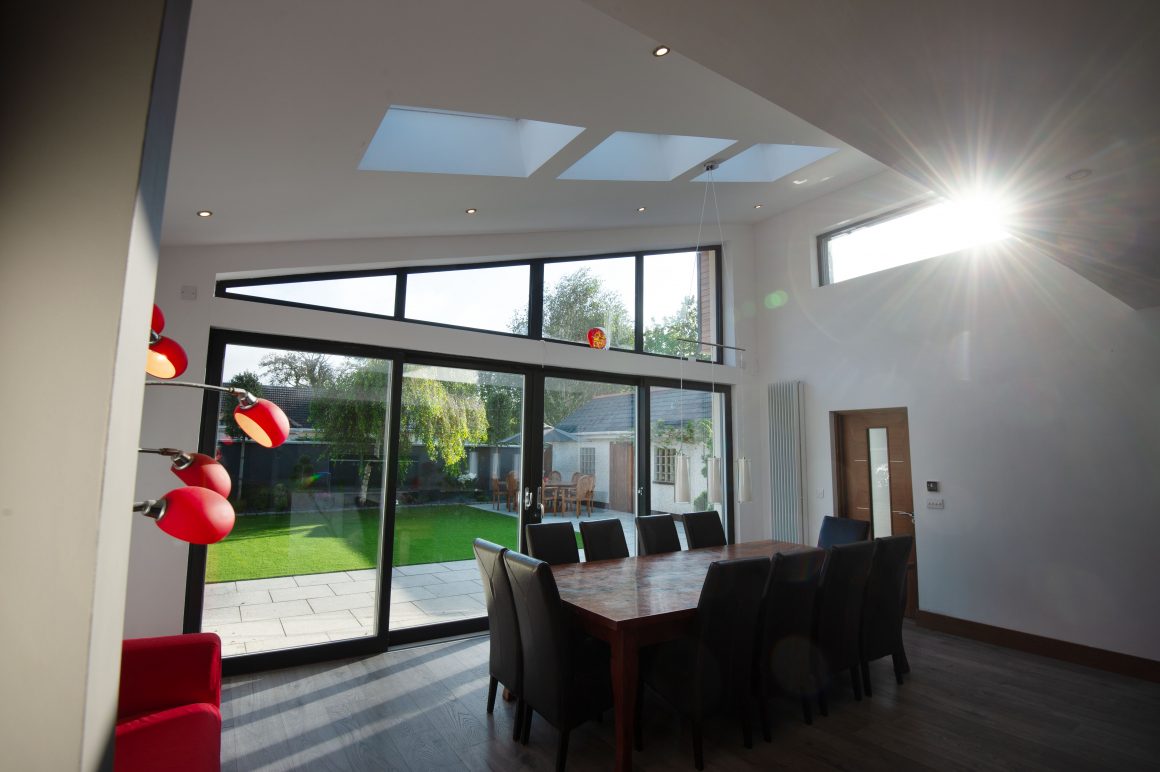 About 10 years ago the unusually shaped dormer bungalow already went through a major renovation with extension. "We found a draughtsman at the time to help us put plans together and secure planning permission," explains Denis.
"It involved us taking the roof off half of the house and converting the attic in the other half adding three new bedrooms in total. By sacrificing an old bedroom, we created a super master bedroom with walk in wardrobe and extended en suite."
"This was our first major hands-on project, achieved by direct labour for the main sections, like roof work, plumbing, plastering and electrical," says Sarah. "We undertook everything else ourselves, from demolition, breaking out new windows and doors, through to slabbing out, insulating and flooring."
"The build dragged on for about two years and while we were delighted with the result, we were not keen to repeat the process again. But time is a great healer and 10 years later, we were happy to take on this new project."
'Beautiful and not boring'
"The kitchen was a very cold room despite being the one we spent the most time in; it and the garden had remained untouched for about 20 years," says Denis. "As a photographer, light is everything so I spent much time pondering how we could bring sunlight into this dark and north facing space."
"We had lived in Australia for a short time 16 years previously where we fell in love with and brought back a gigantic 9ft x 4ft solid, one piece, redgum table.
It just took over the room. So the dream renovation was also driven by wanting better proportions for this table," says Sarah.
"For years this long dreamt-of project had been relegated to the back of our minds, with priority given to our school going age children, not to mention a steady stream of foster dogs."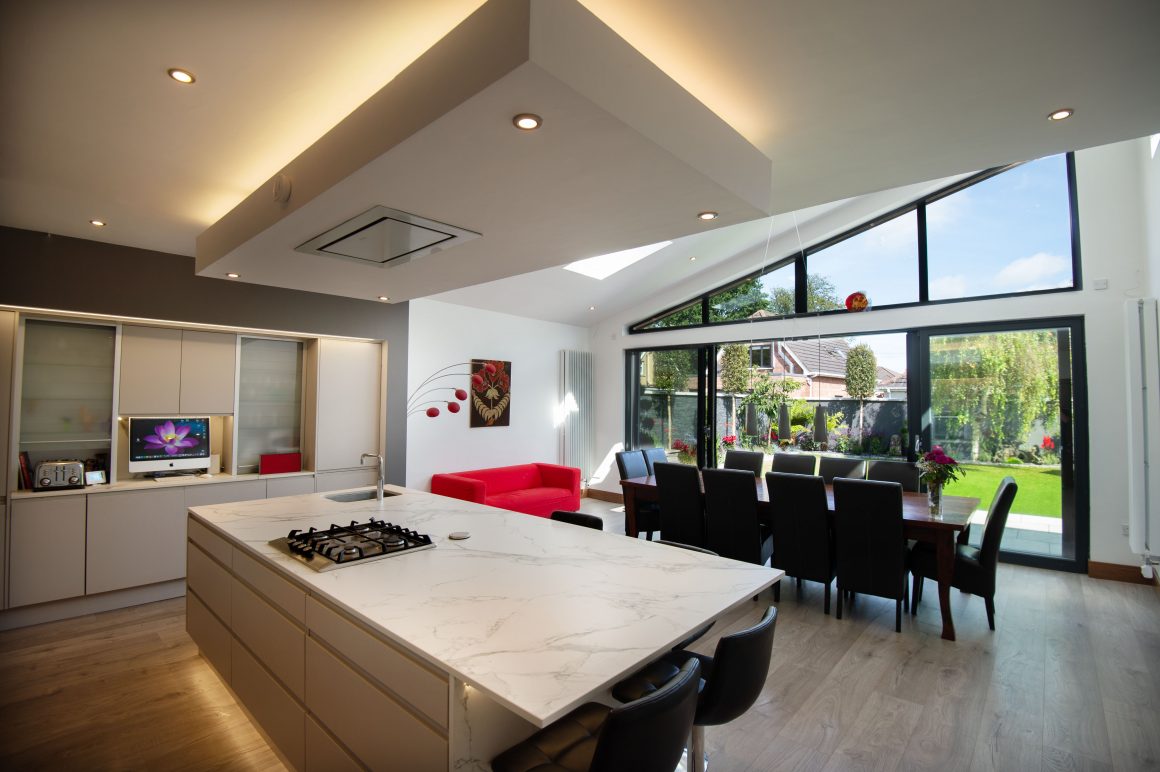 "To get this new project started, we originally contacted a design and build company that suggested a box shape at the back of the house, which left us a little underwhelmed and not really delivering anything special," adds Denis.
"We also approached a local builder to give us some advice. He has a very good reputation and after seeing a project he was working on at the time we asked him if he'd be interested in doing our job. He recommended an architect that he regularly used and that's the person we chose to help us with the design."
"The back of our house was quite ugly," confides Sarah. "A tall steep pitched dormer bungalow, peppered with rooflights, that we had added over the years in an effort to let in more light. We really wanted something beautiful, not boring, inside but also outside."
"With the aid of the architect's two dimensional CAD design we moved on quickly from a flat roof box design to that of an apex and then on to a triangle shape (a flat roof with a lean to) that would give us a tall gable wall on the eastern side. The architect also put together 3D videos of the plans which really helped us to visualise the design."
"We put in a letterbox window in the top of the eastern wall, at last allowing the early morning sunshine to flood the room, directly influenced by the Newgrange winter solstice," adds Denis. "The western facing roof has three large rooflights to allow the evening sun to illuminate the extension at the other end of the day."
"In terms of the roof covering and what to cover the wall with it was our architect's idea to go with a replica zinc finish which is made of a 5mm uPVC coating that is ribbed to make it look like the metal. At half the cost of zinc it really looks fantastic," says Sarah.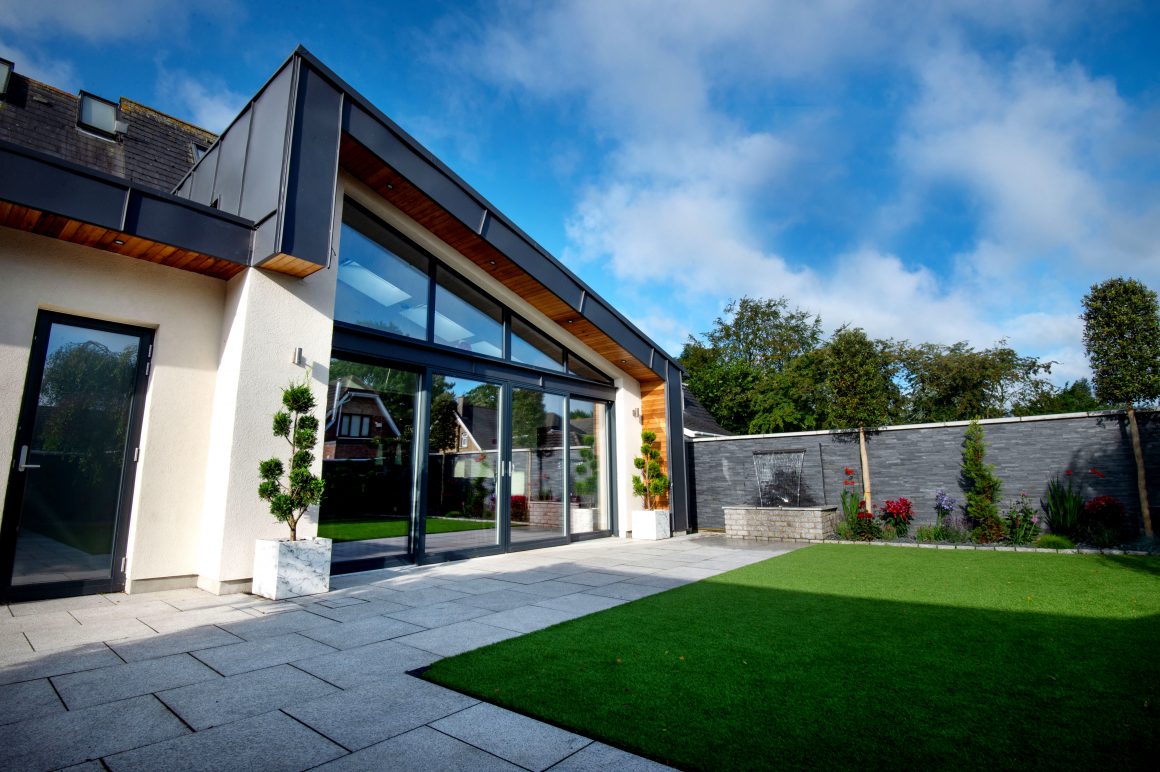 "To get them on board but also to get their advice, we showed our plans to all of our neighbours. We thought we wanted a stove on the western wall, but that would have added a large silver flue to our neighbours' eyeline so we were reluctant to do that."
"Instead we piped it for a gas fire as that requires a smaller flue," adds Denis. "During the build when we ran the connection our builder told us we would not need the stove. And he was right, we never installed it. We were completely amazed at how effective the new levels of insulation are and didn't realise the central heating would be more than enough."
"As for the design itself, indoors we totally flipped the room around, the kitchen used to be on the exterior wall facing out on to the garden," explains Sarah. "Now we have sliding doors that really bring the outdoors inside the house, it's all one space. During the summer they're open all the time."
"The kitchen of course was at the core of the design and we easily spent 20+ hours poring over what to do with that space. We redesigned it over and over again," says Denis. "The flow of the day to day usage of the room was very important to us."
"For example, the positioning of the sink at an end corner of the island kept the washing/ cleaning area in one space, while a glance over the right shoulder allows us to keep an eye on the news on the TV in the adjacent sitting room. And the cooking and preparation area along the inner long side of the island keeps guests out of harm's way while still being able to be sociable across the island at the same time."
"We also made sure the bar counter stools were positioned with ample knee room around one of the corners, which makes chatting to each other so much easier," adds Sarah. "Depending on the day, dinner can be at the island, at the big table, or in the sitting room in front of the TV. The couch in the dining area adds to the sociable atmosphere, it's soft and inviting."
"Another tip for entertaining, which we swear by, is to have two dishwashers because while you're unloading one you can fill the other," says Denis. "We accidentally ended up with this setup when we thought our old dishwasher had to be replaced and bought a new one. It had turned out to be just a clogged pipe. Since then, 20 years ago, we've kept the two and never looked back."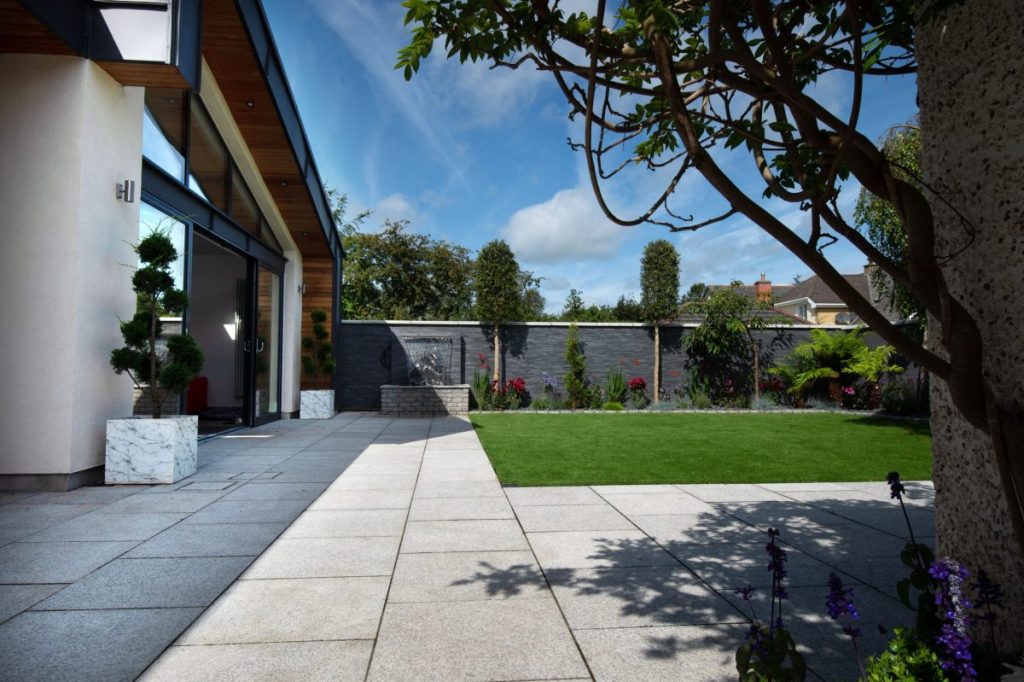 "Perhaps best of all is the white engineered countertop," says Sarah. "Amazingly it is really easy to keep clean, while being virtually bulletproof. The salesman's pitch had us hooked instantly: he tried to scratch it with a knife, he set it on fire, and then wrote on it with permanent marker.
Everything wiped off. It was a big expense at €5,000 and the sheet cracked four times when it was being cut. The supplier sent an expert over from Spain to advise on a specific cutting method in the end."
"Lastly the boiling filter tap was simply a must-have from the moment we first saw them on display, despite the eye watering price," she adds.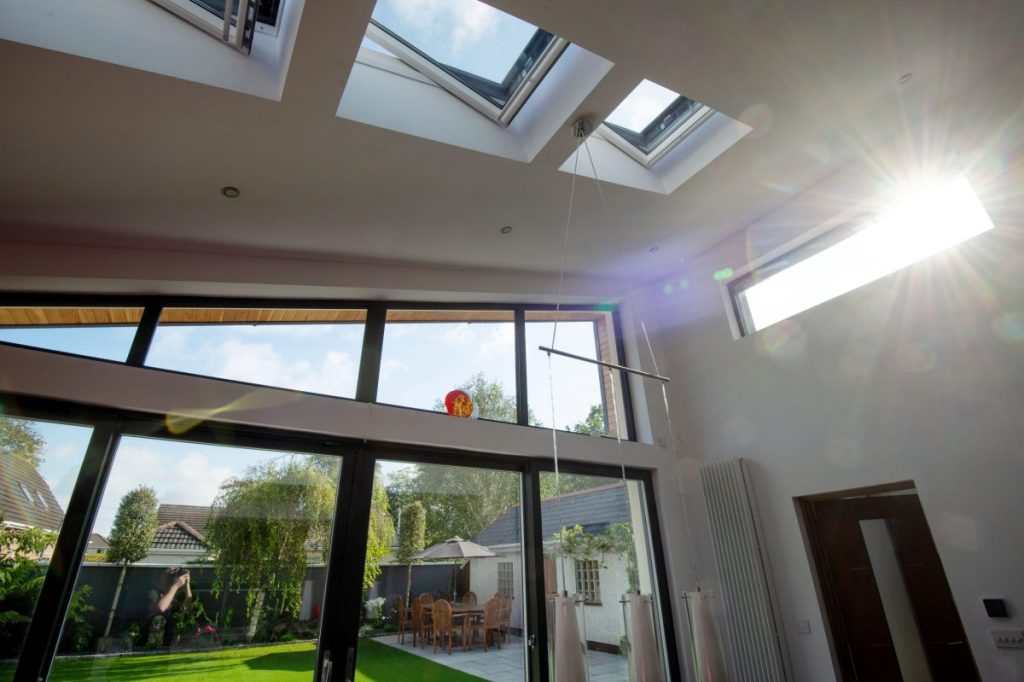 Time is of the essence
"In terms of the build, we had a rough guide price from the design-build outfit that had priced for the box extension. I also had a good understanding of the building process, and the builder we chose put a lot of effort into pricing the job. Our builder was great to deal with, a very clear
communicator of the issues as they arose and realistic about timelines. He was open to our rapid changes of mind and in the end delivered exactly as he said he would" recounts Denis.
"He gave us a detailed breakdown of costs based on the construction drawings our architect had put together. I got a quantity surveyor to check the figures and we went ahead with it."
Overall what racketed up costs was being on a tight deadline. "We didn't always have time to get multiple quotes which can mean getting caught out on price," says Sarah.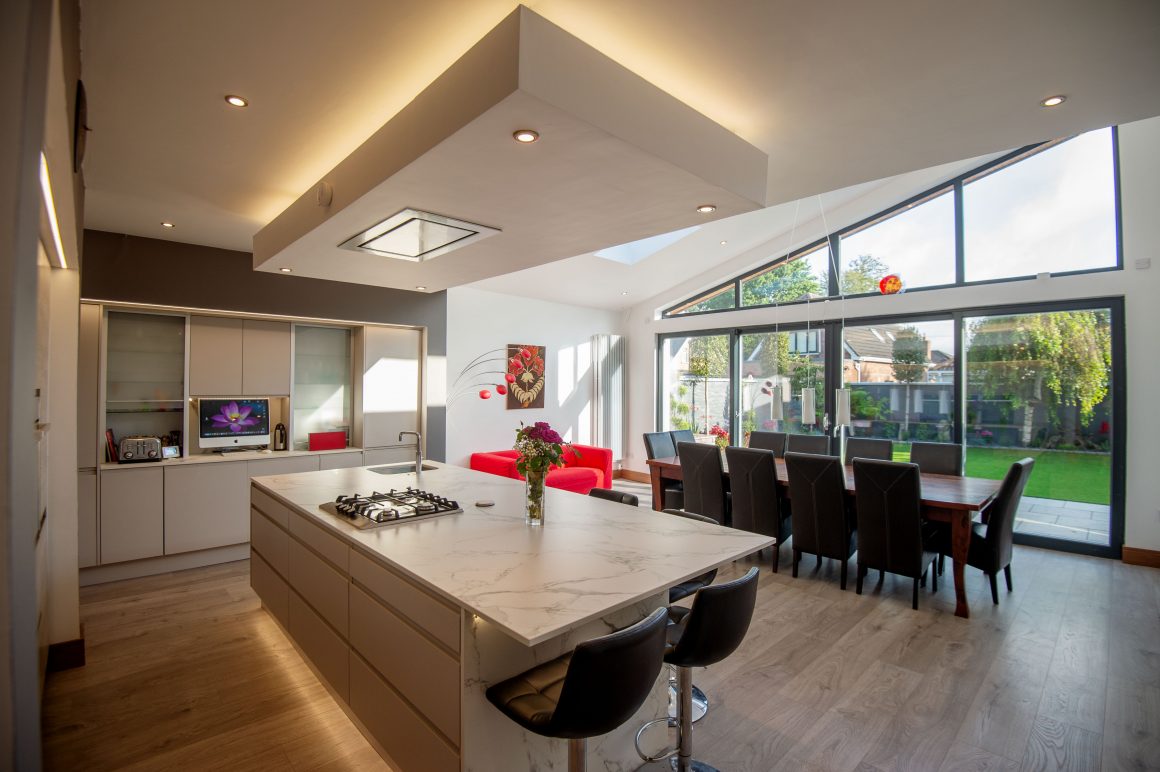 "We did our build rapidly because we had to have the house ready by September for the kids' return to school." "We had a window of opportunity and if we didn't do it then, we would have had to wait another year," adds Denis. "To keep costs as low as possible we minded a selection of friend's houses and pets over the 10-week build duration while they were away on holiday over the summer. We moved back into the house at the end of August with bare walls and no kitchen."
"In an ideal world we would have had all of the finishes planned out in advance," says Sarah. "But in reality it was quite rushed and we went with it. Our architect was pessimistic we'd be able to do it all within that time frame, and it was tight alright, because building in summer we had to
factor in builders' holidays which go on for two weeks in July."
The big ticket items were the windows and doors. "They were the biggest single expense at €16,000 which includes the fixed pane of glass above the sliding doors, the other smaller sliding door in the office, and two external doors," says Sarah.
"The research to find the right supplier was lengthy. It boiled down to two quality suppliers and in the end we had to choose how many bars within the expanse of glass that we'd be looking at. We could have had two doors with just one dividing bar in the middle but that would have cost us a thousand euros more."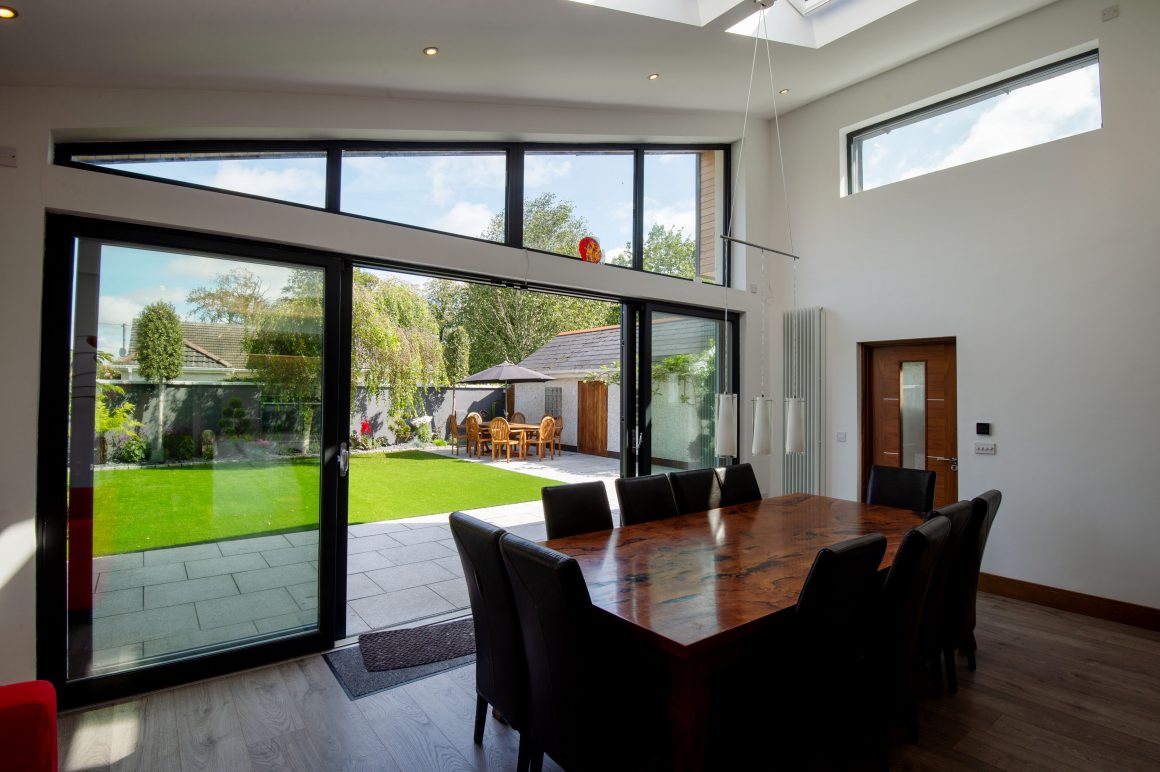 Any hiccups? "There are always a few," says Denis. "One issue we came across had to do with the fixed triangular pane of glass above the sliders. Our builder said we would have to order it once it was built to make sure it would fit the space; he said ordering off drawings wasn't good enough because tolerance levels are so low."
"We said fair enough and ordered the rest. We waited for the opening to be built to place the order on the triangle. At that stage the manufacturer priced it €800 more than originally quoted because of extra shipping costs."
"After having spent so much with them we were surprised by this, so decided we needed to look for other suppliers," adds Sarah. "At this stage our architect was telling us that by his calculations our very large north facing windows were dragging us down in terms of U-values and therefore
heat retention."
"To keep all of the glazing, including the triangle, he said we could bring down the overall house U-value calculation by replacing the 20 year old double glazed windows to the front of the house with triple glazing, which we ended up doing in uPVC."
"We got companies to price these and the triangle as well," she adds. "For the triangle we got a quote for aluminium only as opposed to timber clad in aluminium and it came in considerably cheaper than expected so that allowed us to go with granite window cills at the front replacing the concrete painted brown ones that were there. The new cills really lift the front of the house."
This inevitably led to delays and the family did have to live with the boarded up windows during the month of September. "The triple glazing is a delight and the doors are very well built," comments Denis. "During the heavy snow when we stood beside the glass we were surprised to find we couldn't feel the cold. Nothing radiated through; you do get what you pay for. Being on a flight path the triple glazing is also a godsend from the point of view of acoustics."
"Another worthwhile addition was the wifi controlled heating which allows us to zone the heating in the house. It was all done without the need for any work on the plumbing and it works brilliantly." As for that big Australian table, they can now walk around it no problem.
Q&A
What surprised you?
How often we completely changed our minds. We were originally against artificial grass but started to consider it as a low maintenance option. We looked at five or six types and didn't like any of them until we came across a local supplier, it has a lovely fleck going through it which mimics nature very well.

I think it looks better than the real stuff! No more mud and no more grass cutting. Maintenance is easy even though we take puppy guide dogs year after year and have a dog of our own. The poo can be lifted easily when going with the grain of the grass. It's also so easy to power wash. I've even been known to vacuum the lawn.

What's your favourite design element?
Denis: The laundry chute from the hot press upstairs to the utility downstairs… there is no guarantee the kids always use it though! Overall it's having our main living space transformed; now the garden is part of our everyday lives. We transformed the back yard from a swamp to a beautiful living space with mature trees. On a sunny morning it's a place for breakfast, in the evening perfect for BBQs.
Sarah: I drink a lot of tea and love the instant boiling tap but the 10ft long island is the main stand out feature for me.

Would you do it again?
Every time we undertake a renovation, we say never again. But this time we really won't need to for a long while. That said you are never really finished. The bathroom upstairs needs to be renovated, and now that we've experienced some settlement in the tiles they definitely need replacing. We also plan to add a link to our block built shed with a glass corridor as well as tackling the front garden.

What would you do differently?
When house was built 23 years ago and when we did our big renovation 10 years ago the regulations weren't so tight as they are now. We only have 50mm insulation in the roof and that's what bugs us the most. We also can't install airtight insulation now as that would mean taking off all the plasterboard.

So maybe one day integrated photovoltaic roof tiles will come within reach financially and we could replace the slates and insulate from above. We could have gone with solar thermal or photovoltaic panels on the front of the house, which is south facing and baked in sunshine, but we find the panels so ugly we never did it.

What single piece of advice would you give a budding renovator?
Decisions about what goes where have to be made well in advance. The more homework and research you do will return benefits to you in spades; you will save time and money because any changes made on site will be much more costly than if they had been made on paper. So Plan, Plan, and Plan some more. Changing things later is expensive and so is getting it wrong. Living in the house for years previously really helps as you tend to know exactly what you need and where you need it.

Check every detail and again, make sure you are very clear of what everyone expects of everyone else to cut out misunderstandings. And remember it always turns out to be more expensive than you think at the start.
Tips
Get the kitchen designed before you get your construction drawings done up. Just as is the case with a bathroom you need to know pretty much exactly where things will go, so as to get the first fix plumbing and electrics sorted which happens early on in the build.

Install a rainwater harvesting tank. We have a 1,000 litre one we use for the showers and toilets. The system filters and cleans the water.

Keep lines of communication open. Absolute clarity about who is doing exactly what and cutting out any assumptions will really help.

Get deals on white goods.
Our white goods supplier has a continuous supply of highend electrical goods like Neff and Bosch on sale with some small issues like a little dent or scratch so they are significantly reduced yet brand-new with manufacturer's warranty. Our integrated ridge had a large scrape on the side but you don't see this when it is installed. We saved hundreds of euros.
Building Spec
House size before: 248sqm / House size after: 280sqm
Build cost excluding garden: €150,000
Extension walls: 215mm solid concrete block wall with 140mm external wall insulation and silicone render finish, sand/ cement render and gypsum skim plaster finish internally. Perimeter insulation 100mm XPS EWI extended to top of foundation. U-value 0.2W/sqmK.
Extension floor: floor build up 150mm poured concrete slab on 100mm PIR on radon barrier joints lapped and sealed on 50mm sand blinding on 225mm well consolidated hardcore. U-value 0.2W/sqmK.
Extension roofs: 16deg flat roof, proprietary PVC finish incorporating decorative zinc effect extruded profiles at 450mm centres on 18mm OSB3 T&G sheets on 140mm PIR insulation on vapour control membrane with 150mm overlaps on plywood decking on roof structure; plasterboard and
skim plaster finish to ceiling. Pressed metal cladding to fascias with cedar sheeting to soffit/ underside of overhanging roofs. U-value 0.16W/sqmK
Existing walls: dry lining to existing walls at the back of the house was approached by removing existing plasterboard and applying 2x50mm layers of foil-faced PIR insulation with staggered joints fixed to the bare block wall through 35x50mm battens on the inside face. All joints sealed between insulation boards with aluminium foil tape and junctions between wall and floor with proprietary airtight tape to create a continuous vapour control layer (VCL), wiring contained in battened service cavity, finish with 12mm plasterboard skim coated, 27mm insulated lining to window and door reveals. This dry lining approach allows all services to
be located on the inside of the dry lining so that the insulation and VCL is not broken by services penetrations.
Windows: timber aluclad sliding door screens triple glazed U-value 0.8W/sqmK.
Suppliers
Architect: Fergal McGirl Architects, Dublin 1, tel. 01 873 5441, fmgarchitects.ie
Builder: Herd Construction, email patherdbuild@gmail.com, mobile 087 261 1746
Quantity surveyor: Neil McGroary Quantity Surveyor, mobile 086 3484495, hillcourtqs.com
Structural engineer: Michael Hetherton Architectural & Engineering Services Ltd, Oldcastle, Co Meath, tel. 049 854 29 11, mheng.ie
Mature trees and landscaping advice: Caragh Nurseries, Kildare, tel. 045 879 170, caraghnurseries.ie
Kitchen: Kitchen Elegance, Dublin 15, tel. 01 9036317, bespace.ie
Artificial Grass: Lansdowne by ArtificalGrass, Co Meath and Co Wicklow, tel. 01 801 8000, artificialgrass.ie
Alu clad sliders: Nordan, nordan.ie
uPVC windows: McMahon Nagle, Dublin, mcmnwindows.ie
Roof lights: Velux, velux.ie
Zinc lookalike roofing material: Renolit Alkorplan, renolit.com
WIFI heating controls: evohome by Honeywell, honeywellhome.com
Water feature: Rock World, rockworld.ie for system, and wall cladding from Bath and Shower Store Dunboyne
White goods: Baize Electric, Dublin 11, tel. 01 8307411, baize.ie
---
---