When Denis McNamara of Co Meath inherited his grandparents' farmhouse, he was living in London and had a stark choice to make.
In this article, Denis shares the story behind his Co Meath two storey new build including:
Cost savings through design changes
Why and how he chose to demolish the existing house and build new
Finding an architectural designer and planning application process for the new build
Reusing limestone from the demolition and other external finishes
Details of the window design, vaulted ceiling and open plan layout
Acoustic challenges with double height ceilings and how they were overcome
Choice of heating and ventilation systems
Project management route and making changes on site
Structural challenges during the build
Details of DIY landscaping
Full floor plans over two storeys
House size: 250sqm
Plot size: 1.2 acres
BER: A2
Heating and hot water: air source heat pump
Ventilation: natural
"The house was two storey with low ceilings, and we originally wanted to renovate it. We spent a year in 2015 trying to figure out how to make it work but the lack of height just wasn't practical," says Denis.
"There was an issue with the foundations too so after much deliberation we decided to go with a new build on the same footprint."
"We wanted a light and airy space to be in, open plan, and that wouldn't have been possible in the existing house. In terms of planning permission this was a replacement dwelling, as we rebuilt where the original house stood, so there were no issues."
"We were living in London at the time and needed a family home to move back to Ireland to," continues Denis. "When we were considering a renovation we had a local builder come by and have a look. It's through him that we found our architectural designer."
"We started planning our new build in 2016 and our inspiration came from the old stone haybarn next to the house. We wanted the new house to match in, to have a similar outline only narrower and longer with extensions to both sides."
"For general inspiration we studied the farmhouse style, by scouring the internet and driving around the area."
Design List
"Most of the limestone was sourced from the farmhouse demolition and we bought reclaimed stone to complement," says Denis. "We built a regular cavity wall and used the stone as a third layer to clad the new build."
"We plastered the house with a colour that would match the stone, it's slightly grey. We added a pigment to get the colour, and to avoid us having to paint it but now I think we may go with a white to bring out the granite sills."
"Something we had our hearts set on from the get-go was geothermal heating. A friend of ours had it installed in Co Dublin and it worked very well for him, along with underfloor heating upstairs and down."
"We also have a wood burner, but we don't use it that often because the house is so comfortable. Our chimney stack for the stove matches the exterior with the same stone finish."
"The heat pump regulates itself, it's a very smart system that hasn't caused us any trouble. We have the bedrooms set at a lower temperature but this can be adjusted with the buttons. The house is always warm and the energy bills are reasonable."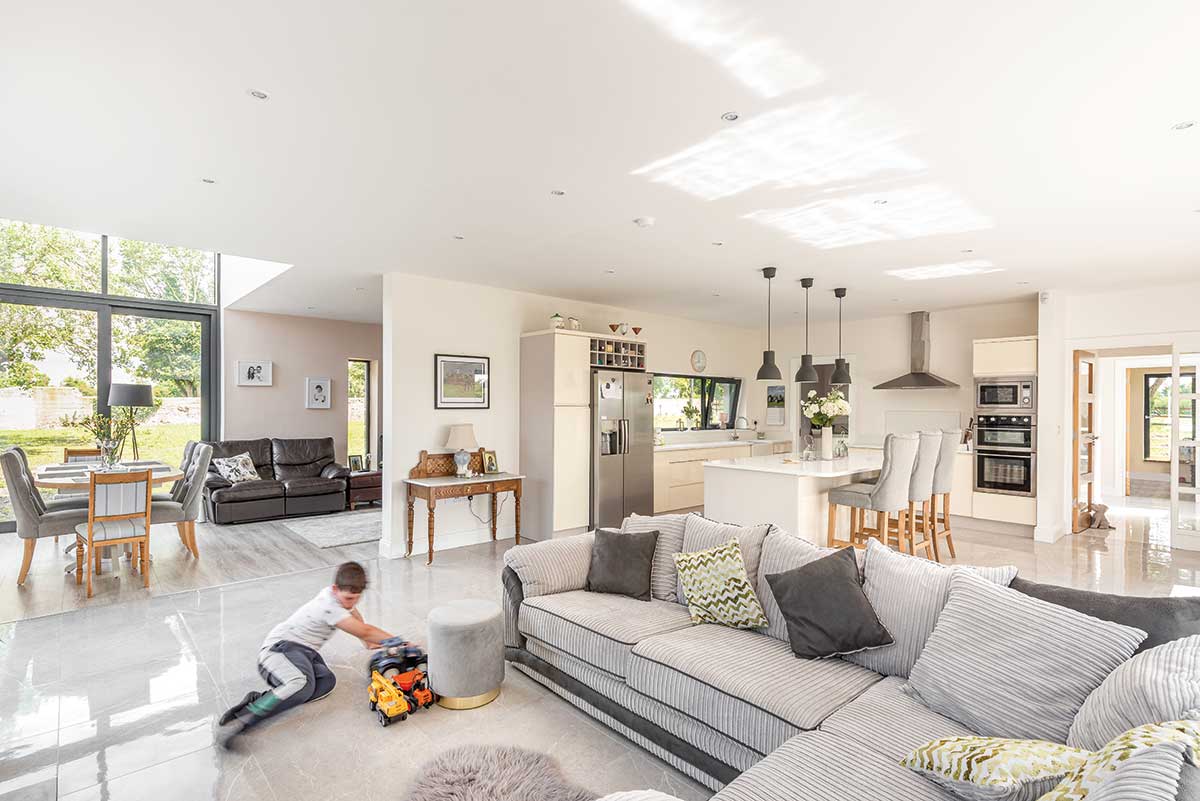 "We also wanted to plan for the years ahead and therefore installed a downstairs shower. Upstairs we have the main bathroom and an ensuite. There are four double bedrooms to have plenty of room for when we have people over. There's also a playroom."
"The windows and vaulted ceiling were at the heart of the design; we glazed two walls of that space to add to the drama and connect to the outdoors. To make sure we'd have the correct height inside we went up an additional block and this was still within planning permission in terms of ridge height. It also gave us an extra foot ceiling height above standard throughout the house."
'Most of the limestone was sourced from the farmhouse demolition…'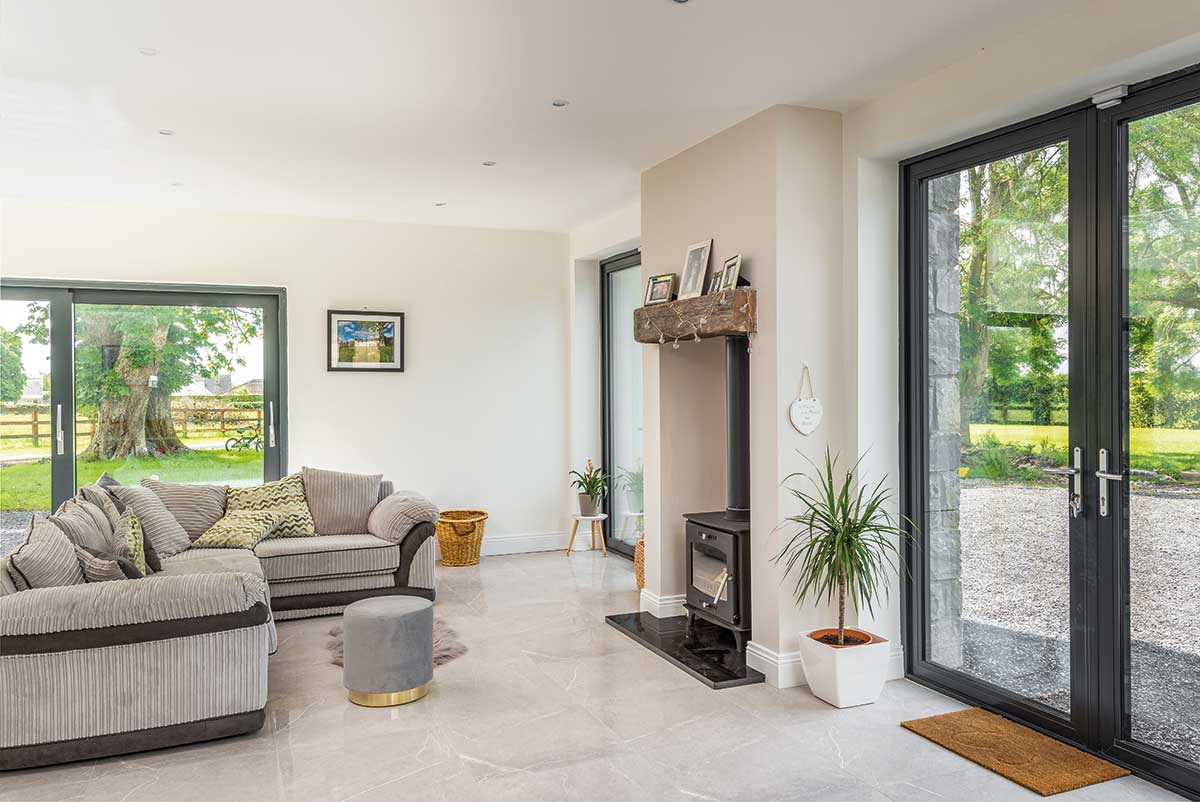 "The roof is vaulted in the main areas and structurally it tied in with a ridge metal section from one end to the other. There is no wood coming across, we also used steel at ridge level."
"The window suppliers were very helpful, we went with aluminium throughout, our designer was looking at timber but we preferred the look and low maintenance aspect of aluminium. They're very efficient nowadays and the tilt and turn system, whereby the windows open inwards, is great for upkeep. In the double height space we use a ladder to clean the windows."
"As for the ventilation we didn't go with mechanical ventilation with heat recovery, even though we did consider it on advice of our designer. Instead we used natural air vents, which we can close or open ourselves.
In the summer the slider and double doors are left open quite a lot and we have a Juliette balcony (no standing space) off our bedroom window upstairs."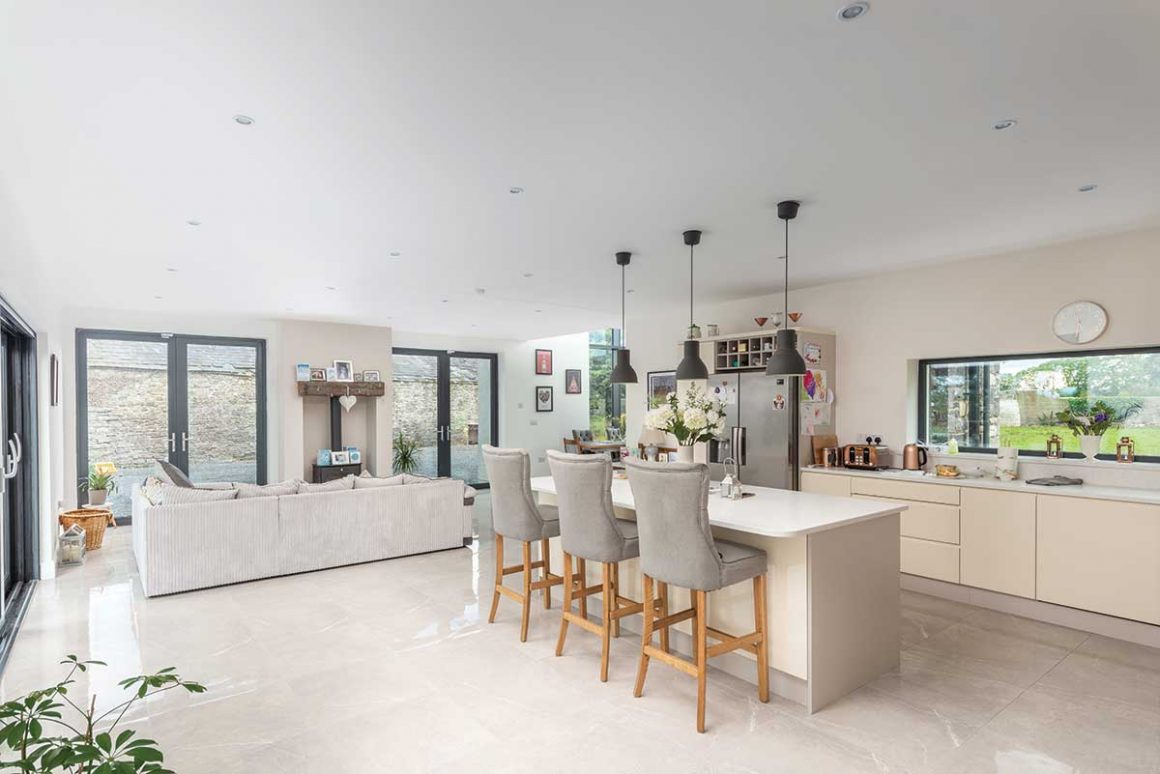 Meath calling
The specification went to local builders and Denis chose one that his designer hadn't worked with before but had been recommended by a friend. "At this stage we looked at how to reduce costs by tweaking the design."
"For example we had a section of glazing at the entrance that was meant to run from the wall up to the roof, past where the gutters were going to go. We just went with a rooflight and that saved quite a bit."
''We have lights in the trees lining the driveway and also invested in the entrance pillars. The old farm access was narrow so we widened the posts and added electric gates.''
"As we were living in London during the build we relied heavily on our builder, who kept notes for us, and on our designer to keep us in the loop. We went over as often as possible during the construction."
"On one occasion I met our designer in the dining area to see if it would be feasible to add an ensuite to one of the bedrooms – basically if there was sufficient room to add a wall. You need to be on site to be able to have these conversations."
The kitchen supplier was also local. "The biggest dilemma we had was whether or not to go with the granite worktops and we're very happy we took the decision to put them in. For maintenance we have tiles throughout the house downstairs and engineered wood flooring upstairs."
Construction began in January 2017 and took 10 months to complete. The lighting of choice indoors were spotlights; outdoors PIR sensor lights were also installed. "We have lights in the trees lining the driveway and also invested in the entrance pillars. The old farm access was
narrow so we widened the posts and added electric gates."
The landscaping was a DIY job with Denis seeding the lawn and doing the fencing and curbing. "There's a great sense of achievement at the end of it all, even though it's always a work in progress," he adds.
Co Meath two storey specification
Walls: 300mm cavity wall construction with medium density hollowblock, 100mm full-fill rigid cavity wall insulation, U-value 0.14 W/sqmK
Floor: Underfloor heating build-up using 150mm polyisocyanurate modified PUR foam boards to ground floor. First floor is precast concrete slab with underfloor heating screed, U-value 0.12 W/sqmK
Roof: Hybrid pitched roof construction, vented. 125mm polyisocyanurate foam board (textured aluminium-foil-facing on both sides) between rafters and 40mm of same board insulation below
rafters, U-value 0.14 W/sqmK
Windows: Thermally broken aluminium frames, double glazed, average U-value 1.3W/sqmK, sliding doors triple glazed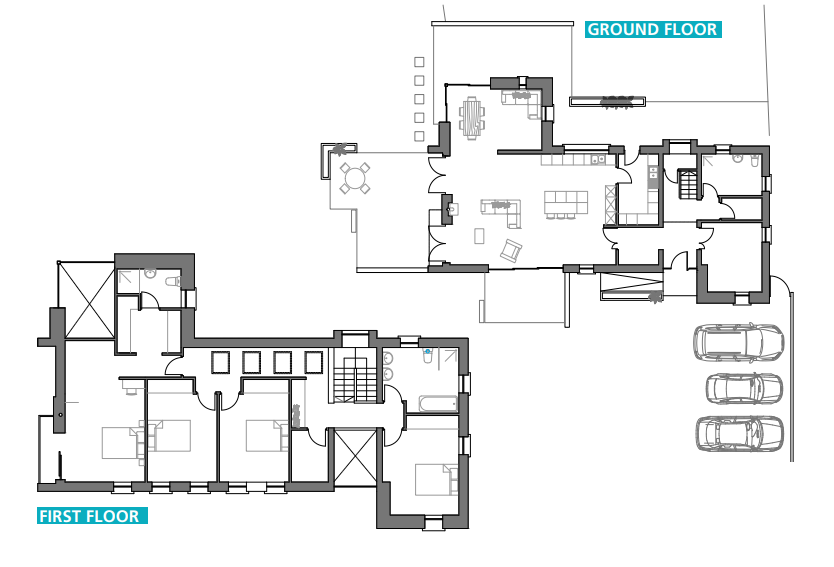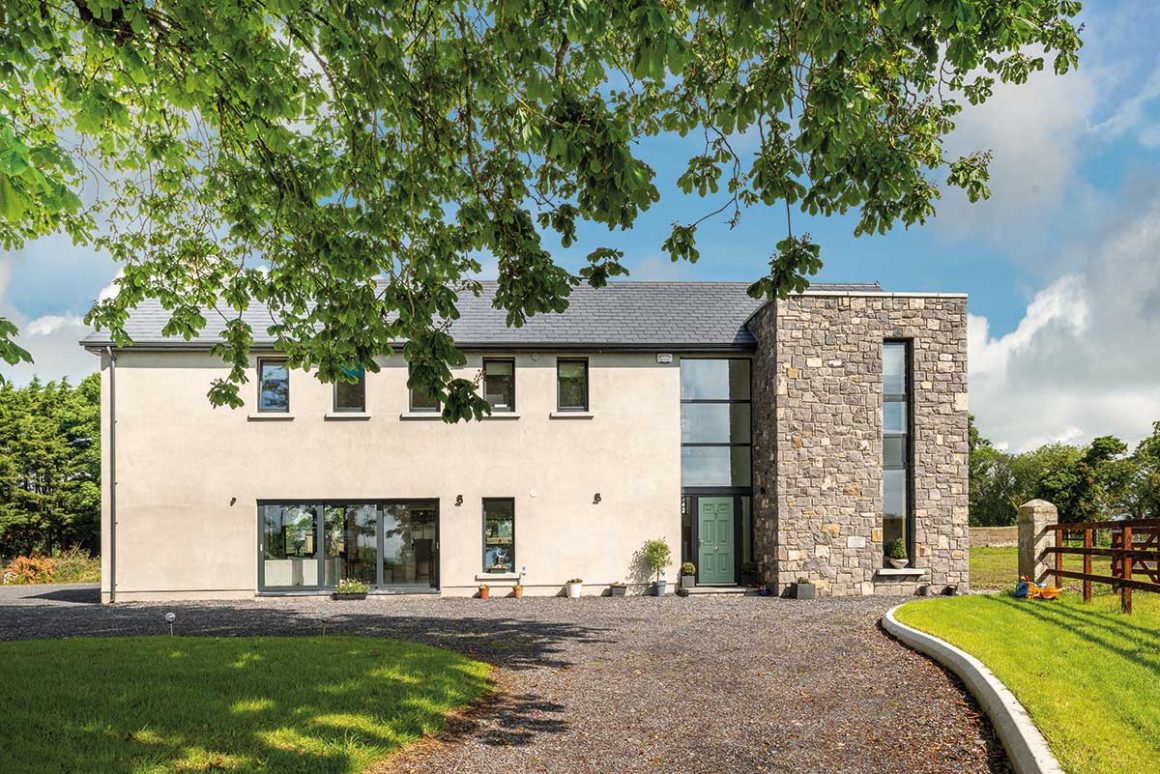 Co Meath two storey suppliers
Design: Joe Fallon Design, joefallon.com
Main contractor: O'Reilly Fitzsimons, oreillyfitzsimons.com
Kitchen: First Class Kitchens, Maynooth, firstclasskitchens.ie
Geothermal heat pump: Heat Pumps Ireland Ltd, heatpumpsireland.ie
Reclaimed stone: Manor, manorstone.ie
Windows: Wright Windows, wrightwindows.ie
Insulation: Walls Xtratherm CavityTherm, floor Xtratherm XT/HYF, roof Xtratherm XO/PR, xtratherm.com
Photography: Andzik Photography, andzikdublin.com
Q&A
Would you do it again?
I don't think so although we do have the hay barn we might renovate.
What's your favourite part of the house?
The double height dining area, you can see the stars shining through. It's a very relaxing space to be in.
What would you change?
Because of the height and the hard surfaces it can get a bit echoey upstairs but we will work on that with soft furnishings. I might add slider doors between the snug and kitchen area to make it more open plan.
Any surprises along the way?
I can't think of any major surprises but I am in the property business so perhaps that helped prepare me.
What's the main piece of advice you'd give a budding self-builder?
Make the most of it. It's an amazing opportunity to be able to choose exactly what finishes you want so view as many houses as possible–and check online. Have a look to see what you really like, have an idea what colours you want too.
---
---