Anthony Cash's Belfast renovation project was partly funded by a little known VAT rebate.

In this article we cover:
Full details of the VAT rebate
Build costs
Redesign of the entire property
Working with an architect
Builder contract
Day to day on site
Details of polished concrete floor
Details of black bricks externally
Full specification, timeline and supplier list
Before and after floor plans
Professional photographs
"The house we bought hadn't been lived in for a while, and at the back of my mind I knew there was some sort of VAT rebate we might be eligible for," says Anthony. "As it turns out, after two years of a house being empty, the VAT rate on a renovation is 5 per cent as compared to the normal 20 per cent. For us that meant being able to finish the project the way we really wanted to." VAT on a new build is zero rated.
"Before we knew we would be eligible for the rebate, we had no plans to get the old windows replaced," he adds. "They were dated but we could have lived with them from a thermal point of view."
"However with the entire house renovated, there is no doubt we would not have been happy with them. We also got to put a patio area outside, which we love, and rendered the walls. In other words, if we hadn't had the VAT rebate, we wouldn't have the home we have now."
The 5% VAT reno
Instead of paying the standard VAT rate of 20 per cent, if you hire a main contractor he should* be able to apply the reduced VAT rate of 5 per cent for the following type of work:
installing energy saving products and certain work for homeowners aged over 60
converting non-residential buildings, such as barns, into residential use
converting a building into a house or flats or from one residential use to another
renovating an empty house or flat (minimum two years empty)
home improvements to a domestic property on the Isle of Man
For full terms and conditions see HM VAT Notice 708 on gov.uk
More reconfiguration than extension
"We were actually looking for three or four years before we came across this property," adds Anthony. "The size of the site was a big selling point, which is massive for a city garden."
"I originally saw it and thought it was out of our reach financially. I couldn't get my head around how we could renovate it within our budget constraints. So we asked a builder to come along and advise us, and some things I thought would be budget busters were not that big a deal after all."
"For instance, I was concerned about having to rewire and replumb the house and about the layers of wallpaper on the ceiling that would have to be removed. The builder shrugged it off saying he would take the ceiling down and rebuild it, which would make it easier to feed the services."
"Because everything needed updating and the house hadn't been touched since it was built in the 1950s, there was no messing about. We were able to strip it back and start with a clean slate, which is actually the cheapest way of doing it."
"We were bidding on the house around the time of the Brexit referendum; as a result of the other bidder pulling out we paid substantially less than we were ready to. We were also very lucky that thanks to family support we were able to live in our old house during the renovation."
Then came the time to delve into the specifics. "Our architect Aisling had come highly recommended by a friend," relates Anthony. "We met her right after we bought the house and had a chat about our ideas on site."
"We wanted an open plan kitchen/dining and a secondary living area. I had an idea of how that would work, then the logistics of it actually working was Aisling's job. The sketches she came back with were exactly what we were looking for, so it was a really easy decision for us to hire her."
"We got the keys of the house end of August 2016 and worked on the plans through to January, back and forth. We took away the flat roof garage and old porch, extended over it and rebuilt the garage which was in a state of disrepair."
"Aisling basically created a wrap-around extension that opens the house up towards the sun. A new bathroom and master suite with dressing room were also added upstairs; the entire space was reconfigured."
"Rather than extend the living/dining space we flipped it around and moved the utility. The door into the house from the garage was moved into the porch so we could use the wall for that new utility room."
"It is now technically a four bedroom house but we turned one of them into a walk-in wardrobe. It will be easy to turn it back into a bedroom if we need to, as we have a pocket door to it from the bedroom and a separate entrance from the hallway."
"The old porch at the front probably wasn't part of the original house, added on over the years. But once the planners had accepted it as part of the house, we were ok in that we were just building onto it, and replacing the garage. Slate-coloured Staffordshire-blue brick complements yet contrasts the original red brick."
"The new garage is plumbed for an ensuite and it is insulated to the same standard as the rest of the house, so it can be converted as an independent living area in the future. We currently use it for storage as we can't park the car in it. We could have applied to widen the garage, but that would have meant losing access to one side of the house and we didn't want that."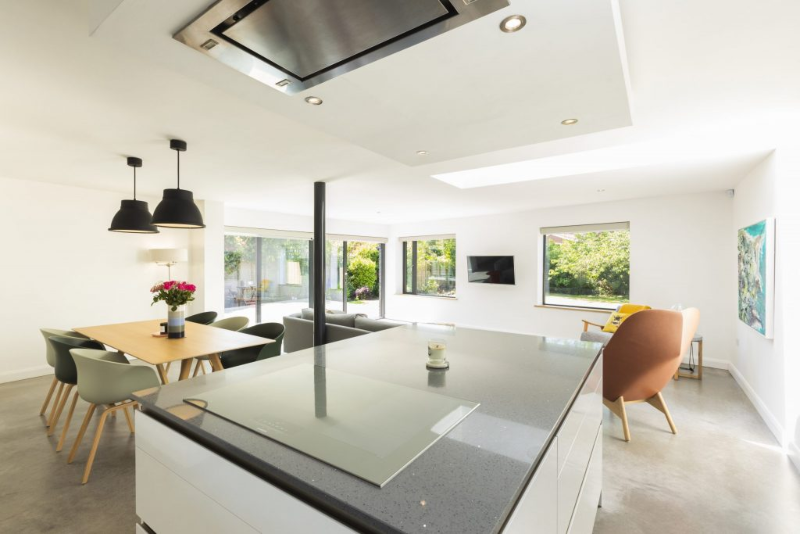 The budget and VAT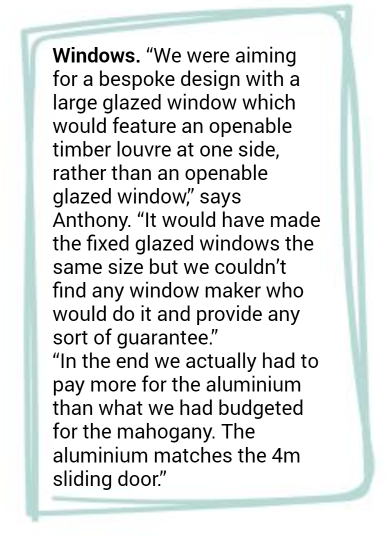 "The irony is, we didn't need to go through planning so quickly. We certainly didn't expect the decision for full permission to come back within seven weeks, which was a record for Aisling."
"We were in no big rush because of the VAT rebate; the property had to be vacant for two years before we could start, which happened in June 2017. In the interim we worked on the internals and the finer details, and putting together the tender documents."
"It can be very hard to prove the house has been empty for two years; there are empty home officers in England for unused properties but not in NI. What we ended up doing is getting a letter from the previous owner's nursing home stating when she moved in."
"We then approached the neighbours who were also happy to provide us letters stating that nobody had lived in the house since the previous owner had moved out. The accountant of the builder we ended up working with was happy with these documents as proof."
"And so in June we went to tender; we sent the specifications and construction drawings to three builders and two got back to us with a price. One was quite a lot more expensive, about 30 to 40 thousand, and with a longer timeline, about twice as long. It was a big builder and they probably didn't want the job."
"The builder we went with was the one who'd come with us house hunting and he'd worked with Aisling before. I really liked him from the beginning and was inclined to give him the job regardless," adds Anthony.
"We didn't consider direct labour, or hiring tradesmen directly, because we didn't have the time or experience and also because of the VAT rebate which only applies if you have a main contractor. Our financial advisor also said it was best to have the one builder certify the entire renovation for when we would remortgage the house."
"But even our chosen builder's tender challenged what we initially thought the renovation would cost. It was significantly more to rewire than it would have been a year before, so we had to make the specification fit the budget."
"The skylight in the living room was reduced from 5m to 3m, which reduced the cost considerably. And we were going to have a double sided wood burner in the open plan area to break up the room; removing this from the design provided another large saving."
"We are now glad we don't have the stove, we were going to put in shelves but we prefer it all open. For the live flame effect on a cold winter's day we put in a stove in our second living room's existing fireplace."
"And as it turns out having a stove in that room would have required extra ventilation to meet building control requirements which might have caused some problem because when it came to the kitchen island extractor, the direction of the beams meant we couldn't feed it to the outside, so we have to circulate the air internally."
Top Tips
Prioritise your spending. There will be changes, and you will need to cut back on certain aspects. But spend as much as you can afford so as to have no regrets. We accepted the cost of certain things, just to make sure there would be no corners cut.
Hire a project manager. Get your architectural designer to manage your project. We weren't stressed at all and feel quite spoiled for it.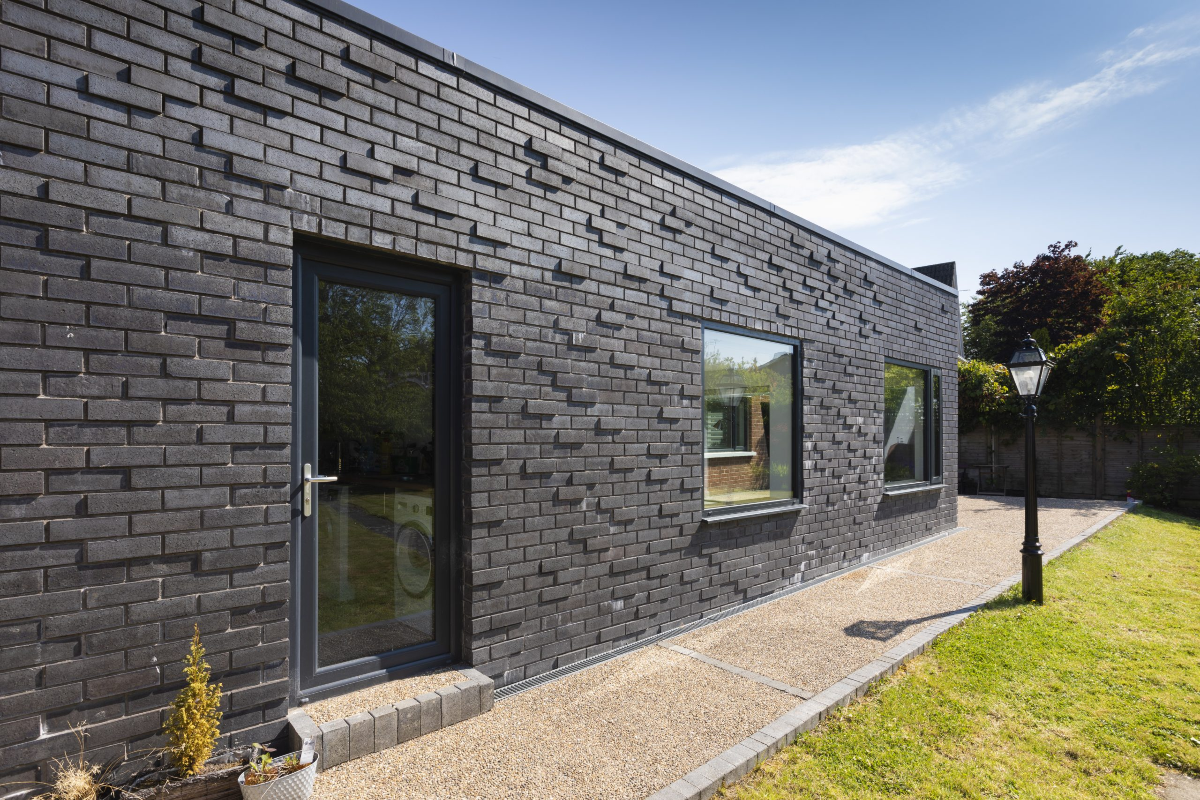 Written in concrete
"One thing I wanted from the start was a concrete floor and we specified what company we wanted for the pour; the builder dealt with them directly for pricing. That research was done before the tender stage."
"In fact neither of the tenders that came back to us had a breakdown of cost, we only received one price for everything that had been specified. We agreed to that and then any additional items we had to get during the build, the builder would find for us and these would be itemised. Aisling drew up a contract, which clearly stated when payments were due and for what work."
"So our builder basically sourced everything and paid for it all from his account, this helped with VAT and I found that it simplified the process for us. For example we sourced the kitchen but the company worked with the builder once we'd chosen everything."
"And it was during the build that we found the make and model we wanted for the wood burner, and our builder got a really good price through a contact of his so we did save in some instances. For the electric gates we found pictures online of what we wanted in cast iron and he had someone make them at a reasonable price."
"For the construction phase we asked Aisling to manage the project, which is the best decision we made," continues Anthony. "Anyone who tries to do it themselves is mad! There were regular site visits, at least every couple of weeks, with both the builder and Aisling. I remember one particular visit when we could see all the way up to the roof from downstairs. The house was all stripped back to the brick. It was impressive."
"We paid the builder as we went along, based on the contract, and as we didn't have to work around him (we weren't living in the house) I think that probably helped our working relationship. Aisling did site visits with us and gave us certificates for each stage and that is when we would pay. Sometimes payments got delayed when things were not done but overall it went smoothly."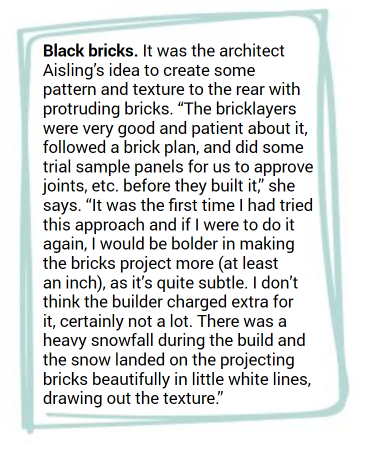 "We were on site to discuss the finest details, Ailsing would then produce the architect's instructions to the builder," continues Anthony.
"There was another design change during the construction. It turned out that because we wanted a wall hung wc there wasn't enough room for it and the basin side by side. You need to build a false wall for the bracket, to get the wc up which had the knock-on effect of having to move the basin." A central design feature is of course the polished concrete for the ground floor. "When we went around to suppliers they couldn't get their head around us not wanting a marbled finish," says Anthony.
"The company we went with, the salesperson lifted a sample of raw concrete and asked if that's what we wanted and we said yes. He said he'd done a new build like that, with concrete all downstairs, and we were able to go see it."
"We loved it and specified the concrete mix for the same outcome; the only issue we had was that the company that polished the concrete missed some corners when power floating although I think I might be the only one who notices."
"Overall the house exceeded our expectations in more way than one and we're really grateful to get to live here."
What single piece of advice would you give a budding renovator? The choice of people you will be working with is by far the most important decision to make. You have to get on with them as you are going to be spending so much time in their company.
What would you change? It took a year and a half from start to finish, and snags were resolved over a period of a year. What I hadn't realised was that the final payment wasn't for another year, which amounted to 5 per cent of the build cost. If I had realised that, I would have put underfloor heating in the bathrooms, it would have been a few hundred pounds for the electric mats but I didn't think I had it at the time. Apart from that, maybe more spotlights in the bathroom.
What surprised you? In terms of the finishes, I hadn't realised how much plastering cracks; we got the house painted white throughout as a base colour by a professional and I'm glad we did to get it finished properly.
Would you do it again? We probably would, but this really is our forever home. The location is where we want to be and the house is one we love and feel connected to.
What is your favourite room or feature? I love the 6mx7m concrete floor downstairs.
How did the concrete floors compare to another type of floor covering? We would have spent the same on good quality tiles (supply and installation) as we did on the concrete pour and polish. Perhaps the biggest surprise with the concrete floor was that it was really dark at first. It took four or five weeks before it started to lighten up to the colour we wanted. Concrete floors require breaks, or metal dividers, to prevent the finish from cracking. In our case because we have a support beam/pole in the open plan, the floor has reinforced metal all around its base. That meant we only needed one break, at the pantry door. We've only had a tiny crack in the utility but our builder did say our concrete floor is the best he's ever seen for cracks.
Spec

Walls: 100mm dense concrete block, 110mm cavity filled with blown graphite coated EPS beads installed strictly in accordance with manufacturer's instructions by approved contractor, 102mm blue slate bricks, U-value 0.27W/sqmK
Floor: 100mm 35N poured screed with A-193 mesh and underfloor heating, powerfloated as finished floor, 500 gauge vapour barrier, 100mm phenolic board insulation, 150mm thick ground bearing concrete slab, 1200 gauge continuous DPM radon barrier, blinding min. 225mm thick well-compacted hardcore sub-base, U-value: 0.15W/sqmK
Flat roof: Proprietary system consisting of fully adhered single-ply membrane, Breather membrane, 150mm phenolic board insulation, 19mm exterior grade plywood deck, on softwood firrings to achieve 1:40 fall, 195x50mm timber joists at 400mm centres, 12.5mm plasterboard, U value: 0.13W/sqmK
Windows: Aluminium framed doubleglazed, U-value 1.4W/sqmK. Rooflight 1.1W/sqmK.
Suppliers
Architect Aisling Shannon Rusk of Studioidir.com
Builder Warner Johnson, wjbuilding.co.uk
Bathrooms Plumbing & Trade Supplies, ptsireland.co.uk
Windows Carrolls Glass, carrollsglass.co.uk
Patio and concrete for floors RTU, patio in Exposa finish, rtu.co.uk
Kitchen Robinsons, robinsoninteriors.com
Light finishes and furniture Maven, Belfast, wearemaven.co.uk
Lights and furniture Muuto, muuto.com
Other furniture Hay, hay.dk
New boiler Worcester Bosch system boiler and Maxipod hot water cylinder, worcester-bosch.ie
Blue slate bricks Ibstock 2232: Staffordshire Blue Slate imperial brick, ibstockbrick.co.uk
Insulation Kingspan Insulation, cavity wall Ecobead Platinum, floor Kooltherm K3, roof Thermaroof TR27 LPC/FM, kingspaninsulation.com
Flat roof Trocal, sika-trocal.com
Roof light Glazing Vision, glazingvision.co.uk
Photographer Paul Lindsay, paullindsayphoto.co.uk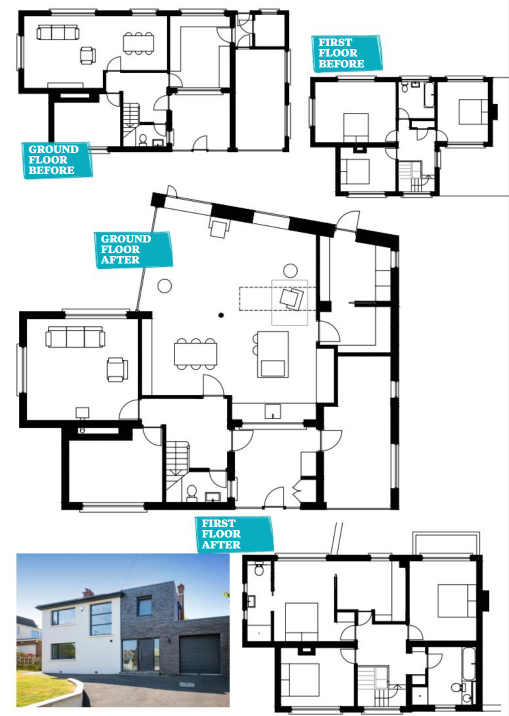 Renovation cost: £160,000 including kitchen at £20,000
House value: in excess of £525,000
House size before: 160sqm
House size after: 212sqm
Bedrooms: 4
Plot size: ¼ acre
Heating system: natural gas condensing boiler, stove for living room space heating
Build method: blockwork (cavity walls)