David and Alex Dobbs' self-build journey was all about creating a quality, bespoke new build home that suited their lifestyle…and maxed out on the incredible sea views.
In this article, we cover:
Reasons to self-build
Budget tips: how they saved on their build
Securing planning permission in Wicklow
What they wanted from the house and how they organised the plans around it
Window choice and how much they cost
Tender process and choosing a builder
Insulation strategy: pros and cons of different methods, cost considerations
Changing builders mid build
Vaulted ceiling design and dealing with the acoustics
Interior design tips
Supplier list and specification
Floor plans and professional photographs
"We were both very keen that we wanted to self-build instead of buying an existing property," says David.
"It was our belief that we would end up living in a better built house; one that was purposely designed for our lifestyle and finished to a higher standard. We built on my parents' family farm, on the ridge of a hill with commanding views up and down the coast and across the Irish Sea towards Wales, which we can see a clear day. Hence the name of the house: The Ridge."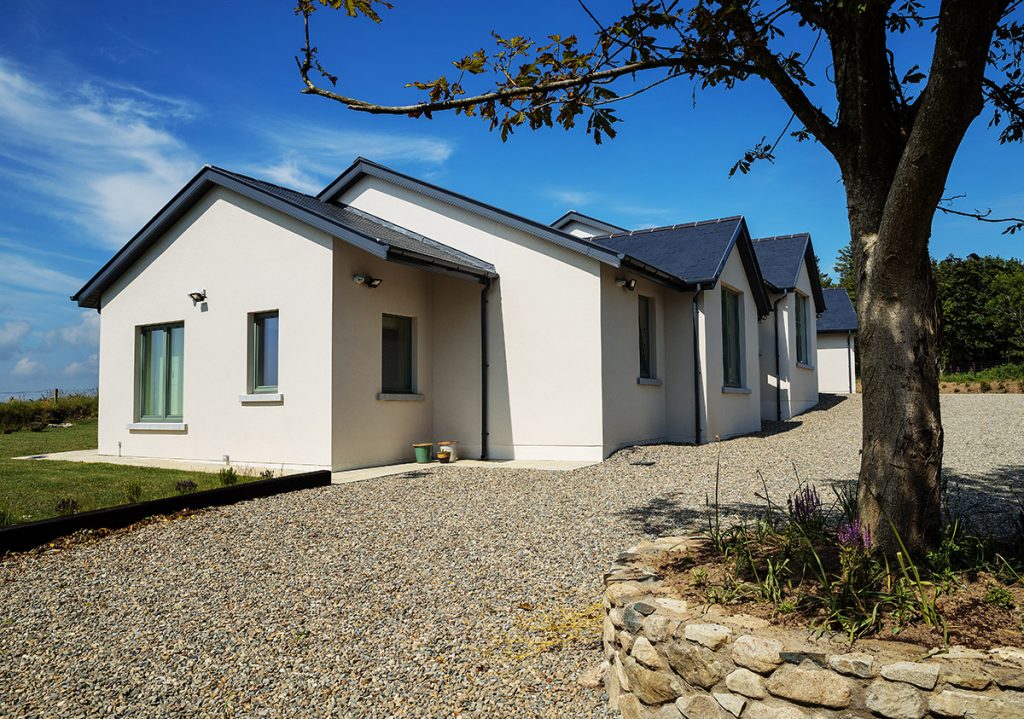 "We knew that it would be difficult to secure planning permission for a new house, and as it happens, there was an existing, vacant cottage on the site owned by people who lived in a property on a different part of the family farm. So we arranged a bit of a land swap," adds Alex. "We bought the vacant cottage and gave the owners extra land to extend their garden."
"Without the existing property, we probably wouldn't have got permission," says David. "Fortunately for us the planners allowed us to keep the original three bed cottage and build a new house beside it."
"At the time, we were living in my grandmother's house, in Greystones. She lived to be a grand age of 100, but when she did pass away, her home had to be sold. The timing in relation to the grant of probate was perfect, as we moved directly from Greystones to our new house."
A change of plan
"We are a large family, with four children and two dogs. Regardless of the layout, we wanted a house that was over 3,000 square feet to accommodate everyone as they grew, prioritising the living spaces," says David.
"Our first application was for a dormer bungalow, but when we received a Further Information request from the planning authority, we realised that would not pass."
"One of the things they asked for was to lower the height of the house. Wicklow County Council gave us the opportunity to adjust our plans – they said they would have a preference for a single storey dwelling."
"The planners also said we should follow the contours of the land. The redesign was completely different to our original plan. Now the house was single storey and stepping down on three levels."
"This did add to the cost, mostly because the upper storey windows made the roof more complicated and therefore more expensive. The redesign also meant it took us at least an extra three to four months to get planning approval."
"The orientation of the house was another significant design consideration as we wanted to take in both the views and as much light as possible. Fortunately for us, south also corresponds to our sea views."
"Our home is essentially made up of two buildings, linked by a zinc-roofed glass box, which is our entrance hall," says Alex. "At the front door, you see straight through to the opposite window and out to the views beyond. But, the price you pay for having far sweeping views like ours is that it can be incredibly windswept up here. That is a serious challenge."
"From an energy efficiency point of view, we could have installed double glazing on the south elevation but we needed a home that would protect us from the elements. So we installed triple glazed aluclad windows throughout, designed to withstand Norwegian wind. This was our most significant single expense, coming in at €45,000."
"Externally, we chose Spanish natural slate; it was a lot more expensive than concrete or engineered slates, but it looks so good. For the same reason, we chose a zinc roofing material from the Rhine area of Germany, which is where Alex was brought up. The zinc has a greenish tinge to complement our green windows."
Building phase
"Our builder managed the construction, but we had other people overseeing it, such as the architect and engineer," says Alex. "We went to tender with five different builders and got three quotes back, choosing our builder based on recommendations and cost."
"The house is built using traditional methods, i.e. blockwork and a pitched, cut timber roof. The cavity is fully filled with 150mm of insulation, which was my preference," adds David.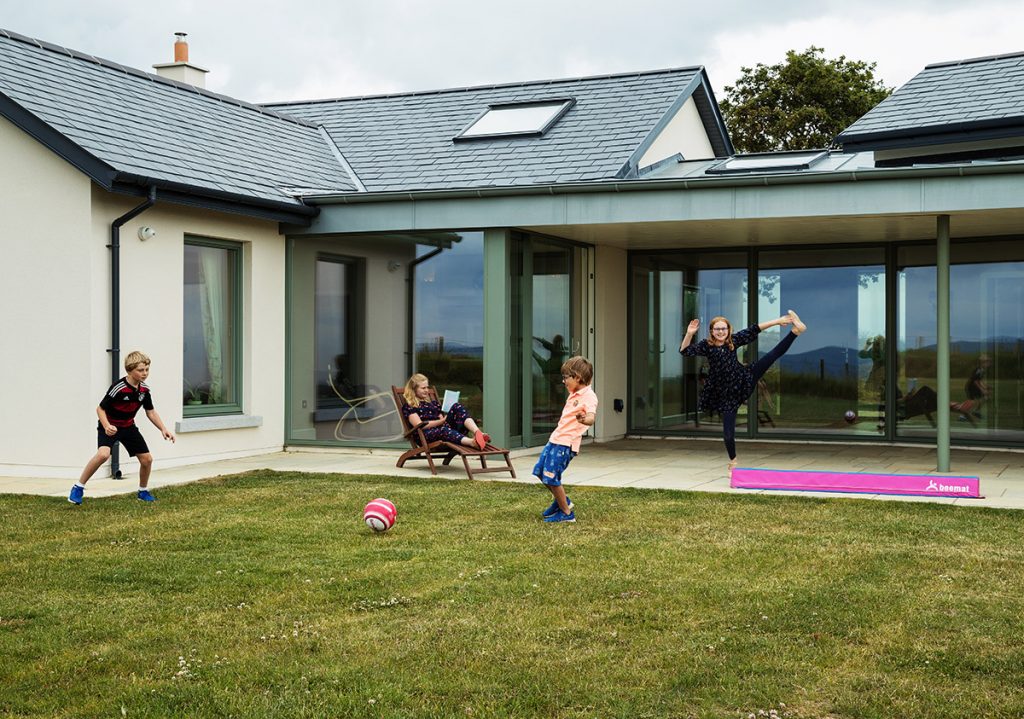 "This was to avoid having to insulate externally or internally. If we had had a 200mm cavity then the wall ties would have been more expensive and with 150mm, we were well within our energy efficiency target in terms of U-values."
"In the attic, we used spray foam insulation, which I would recommend. It is straightforward to install with no need to cut boards and it offers excellent airtightness."
"But not everything went to plan during the building phase," says Alex. "We dug into a main electricity cable to start with, which cost €5,000 to move and two months' delay due to storm Ophelia happening at the same time. ESB Networks were so busy due to the storm, we had to literally beg them to come out."
As the build progressed, issues also started cropping up on site. "A combination of a frosty night, heavy rain and no frost protection on the blockwork walls, meant the mortar was washed away and we had to knock down and rebuild some of them."
"Our relationship with this contractor continued to sour as we didn't think he was building the house to the standard we had specified. For instance the lead valleys were lower grade than they should have been and had to be replaced, which had the knock-on effect of reslating the entire roof."
"This was an incredibly stressful time and the builders eventually walked off site. We were going to hire the tradesmen directly (direct labour) but managed to find another contractor who finished the job to the required standard, and we were really grateful to have found him."
What it takes to self-build
"All in all you've just got to be really tough when you are self-building. The alternative is to compromise too much on quality," reflects David, who drew on his experience as a real estate agent to tackle the build. "I have visited many properties built to a substandard level. That was something I wanted to avoid at all costs."
He also says you have to do a lot of research to come up with the solutions that are right for you. "Architects might not have cost at the top of their agenda, and many builders won't have a concept for the latest technology. A builder might recommend a type of insulation that they're familiar with, but it might not be the right choice for your house."
"The construction industry is changing rapidly in terms of the number of new regulations that are coming in, for example, and in the choice of insulation – there are so many options."
The success of this project was in large part due to the fact that it was a team effort. "Alex and I made the decision at the start that I would concentrate my attention on the structure of the building, and she would orchestrate the interiors."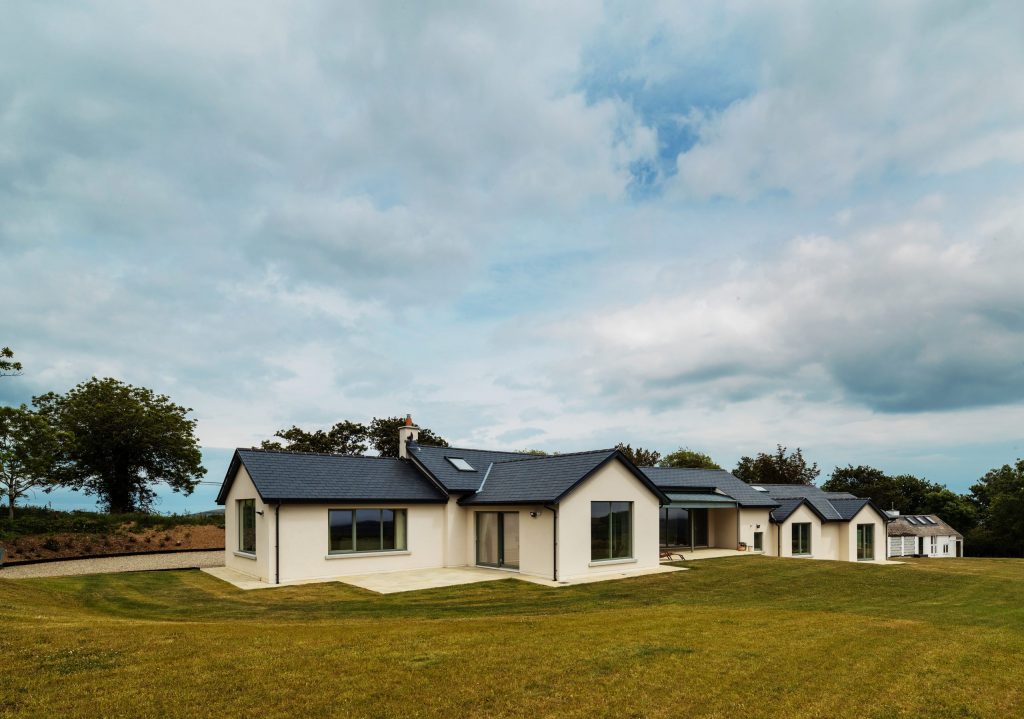 A signature design feature is the vaulted ceilings throughout. "We love how they lend the sense of extra space and light," says David. "Although this did create a challenge as I am particularly susceptible to noise."
"We took advice from a sound engineer who installed fibre plates to dampen the pitch and echo. They come in a wide range of colours so we were able to match our wall colour – you can't paint over them."
"And in the end it was the double height that also allowed us to install a mezzanine in one of the boys' bedrooms. The floor of the room is the play area and they sleep in the mezzanine."
The blood, sweat and tears have paid off, in spades. "There's no doubt we spend most of our time in the kitchen, living and dining area, which is how we designed our house to function – and to take in the views," says David. "From the kitchen sink, you look outwards. In fact, everything in the house is oriented to look out at those views. We got exactly what we wanted."
Tips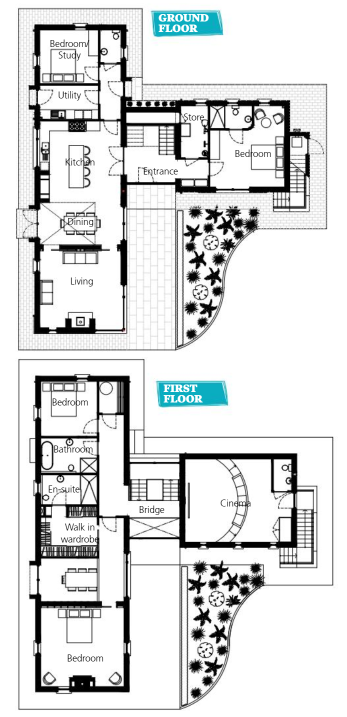 Consider shopping abroad for fixtures and fittings. You can save money and get better quality and choice. We flew over to Germany and sourced all our bathroom sanitaryware for about the same cost as a budget range in Ireland. For €100 the manufacturer shipped it all over to us on one pallet, within the same timeframe as if it had come from a Dublin supplier. We did the same with the timber flooring.

Don't overspend where you don't need to. Go for a cheaper kitchen rather than leave out the landscaping. Go for a cheaper slate so you can afford to have the house painted properly by a professional.

Don't rush to make it homely. Pick the furniture over a period of time. It's easy to put furniture in, much harder to take it out; people are natural hoarders.

Keep away from colour trends. My experience of the property market tells me it's a good idea to avoid the 'in trend' colours, unless you really love them. Colours or styles that become very popular tend to eventually fall out of favour (remember when everyone wanted Shaker-style kitchens?). Just choose what you like, not what's on trend, that way your choices will stand the test of time.

Set aside a contingency… Many of our internal walls are load bearing and they are all built in blockwork. One of these was built with the blocks on edge but ended up higher than structurally allowed in the building regulations. To solve that problem, we had to reinforce it with steel, which led to an additional cost we weren't too happy about.

…and keep a bit of money for the end. You won't get the satisfaction of finishing the job if you don't have any money left. Don't let yourself run out of money – remember you need to close the project.

What surprised you most about your self-build journey? The biggest surprise to me was the lack of clarity we got from some of the professionals when we had to choose between different materials, systems, etc.

What single piece of advice would you give budding self-builders? As soon as you make the decision to self-build go to the greatest lengths to appoint the correct builder, architectural designer and engineer. If you do these things right, you will have a much better chance of success.

What are your favourite features? The glass section in the middle of the house that links the two parts. I love sitting here looking out to sea. It opens onto a patio that is a slight drop in level from the house and is covered by the zinc roof. I think it's an interesting design.

Would you do it all again? If I knew what was at stake at the start I still would, but I'd do things differently. If you don't get what you expect for the money you spend it's extremely stressful.

What would you change? The build process was particularly stressful because we made a few poor decisions, so this is probably where we would put more scrutiny into the process if we did it all again. We have since renovated a small cottage, and it was a totally relaxed and satisfying experience as we didn't get upset when things didn't go to plan, or when other issues came up. We have learned to take it in our stride. So maybe I have to say that the biggest thing we would do differently now is to simply not sweat the small stuff too much.
New build in Wicklow specification
Walls: masonry, cavity walls, 150mm full fill rigid PIR board, U-value 0.16W/sqmK.
Floor: screed on underfloor heating pipes and 150mm PIR insulation, concrete subfloor, U-value 0.11W/sqmK. Note from energy assessor: The minimum recommended with underfloor heating is 120mm PIR board; for the sake of an extra €3 to €5 per sqm we went with 150mm. The U-value exceeds the 2011 (and the current) Part L requirement of 0.15 for floors with underfloor heating.
Roof: pitched timber roof insulated with spray foam insulation, U-value 0.13W/sqmK.
Windows: triple glazed alu clad, U-value 0.81 W/sqmK, solar transmittance 0.37
Suppliers
Windows: Nordan, nordan.ie
Heat pump: Nibe, unipipe.ie
Sanitaryware: Villeroy & Boch, villeroyboch-group.com
Builder: Tom and Ciaran McCabe, Rathfarnham, Dublin
Energy consultant: Oliver Walsh, Navitus Energy Consultants, Dublin 15, navitus.ie
Kitchen: Eden Design, edendesign.ie
Insulation: Xtratherm full fill CavityFirm, xtratherm.ie
Roofer: Jack Goucher Roofing, Rathdrum, Co Wicklow
MVHR: Vent Axia, vent-axia.com
Sound absorbing panels: Big Bear Sound, bigbearsound.com
Wooden floors: Holzboden, holzboden-direkt.de
Zinc roof: Rheinzink, rheinzink.ie
Main roof covering: Sierra Spanish natural slate, lbsproducts.com
Render: Monocouche by Weber, uk.weber
Photographer: Dermot Byrne, dermotbyrnephoto.ie