If, like many others in the area, you think this house is owned by a famous boxer – think again.
It's funny because we still have people asking us if we bought the house from a celebrity; he just happened to be looking at the same time we were," chides Mairead. "All it takes is a 'no comment' at the builder's merchant to get the rumour mill going. To this day people think he's the rightful owner." "It's the kind of property we passed on our way to work every day but never dreamt of owning. It's quite prominent on the landscape and well known in the area, it was more of a landmark than anything else. It looked too big and expensive for us."
If, like many others in the area, you think this house is owned by a famous boxer – think again.
It's funny because we still have people asking us if we bought the house from a celebrity; he just happened to be looking at the same time we were," chides Mairead. "All it takes is a 'no comment' at the builder's merchant to get the rumour mill going. To this day people think he's the rightful owner." "It's the kind of property we passed on our way to work every day but never dreamt of owning. It's quite prominent on the landscape and well known in the area, it was more of a landmark than anything else. It looked too big and expensive for us."
Despite loving the home they were living in, its location wasn't right and space had become tight with their twin boys growing up. "Our architect drew plans to greatly extend our existing house, but we would have had to pump a lot of money for little return in house value." Tim and Mairead Andrew were on the hunt for quite a while. "We were looking at sites but the ones we found in the right area had too much land. The upkeep of 40 acres would have been too much so we would have had to rent some of it out," says Tim.
Ground and first floors as existing
Roof: 400mm rock wool to existing roof space
Walls to original house: 62.5mm insulated plasterboard to existing solid walls
Walls to rear return and glazed link: cavity wall with pump filled EPS beads
Walls to barn: 150mm rock wool insulated timber frame to inner face of existing stone wall
Windows to house: double glazed uPVC sliding sash
Windows to glazed link and barn: double glazed aluminium
"Our architect advised us during the house hunting stage," adds Mairead. "We looked at everything that was on offer, we even toyed with the idea of buying a brand new house our architect had just finished. We went as far as getting plans drawn up for a house on a site we thought we were going to buy but that fell through after a year."
In need of TLC
It was in 2015 that they took their leap of faith. "When we went to visit the house, it had been on the market for some years and left abandoned for two," recalls Mairead. "I was put off by the dead birds and the fact that there are no views of the sea but Mairead saw the potential," adds Tim. "Our architect, as well as a builder, both said they could see no major reason why we shouldn't buy the house."
"Even though it's bigger than what we needed it's 15 minutes from Belfast, near the children's school and work. It's also only got five acres which seemed more manageable." "The kitchen had been stunning but had been removed. We saw from a photograph it had a high-end range cooker," says Mairead. "We found some old photos in the roof space," adds Tim. "The house  was originally a farm, a single storey stone building with a later single red brick extension on top, which probably dates from the 1800s. A neighbour says the site was used as a hospital during the battle of Saintfield in 1798."
"The extension/return on the old house was built in 1996, they also rewired then. The original barn was converted and joined to the main house in 2002. It was quite dark in places and was used as an entertainment area with a hot tub, gym and bar. The walls of the barn were a metre thick in places."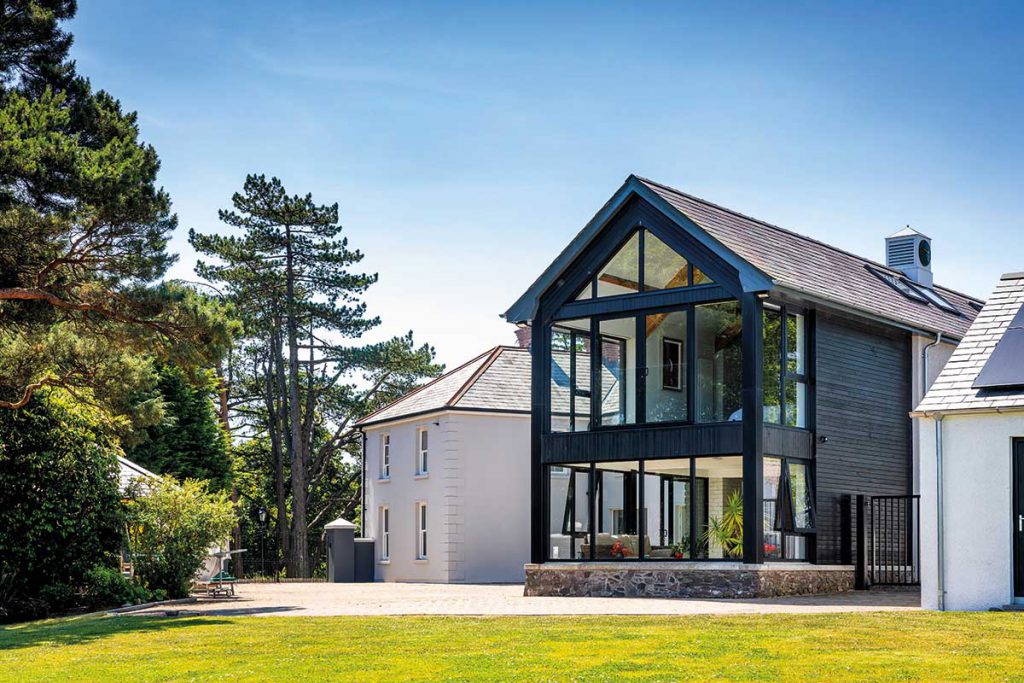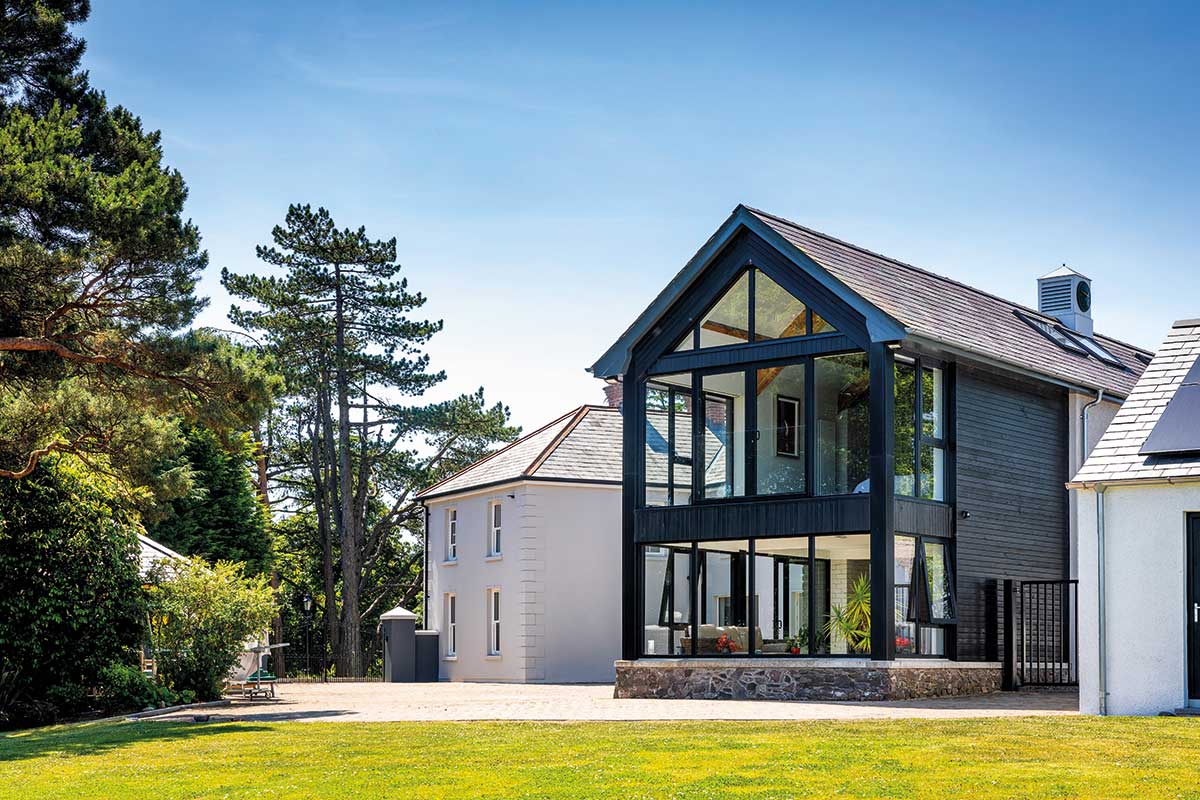 "This was a brilliant site even though we could see it was going to be a lot of work," continues Mairead. "We were a bit green, and quite naïve going into it. The estate agent told us he'd known the house in its previous condition and said if we spent £100,000 we'd make it look fabulous. We thought £200,000 was a more realistic figure but it ended up at double that amount."
"The reason we spent so much is we tried to keep as many of the features as possible and chose the finishes we really liked," explains Tim. "There was damage to the cornicing on the old part, and there was quite a bit of repair work to do on the upper storey which had been added on after the original house was built. We also improved the insulation in the walls upstairs because it was single skin (one layer of blocks)."
"It was a choice to do all the cornices, bring back the sash windows. We could have cut down and done less – we have two patio doors and a lot of windows – but we would have been kicking ourselves if we hadn't invested in the house the way we did," comments Mairead.
Year in the planning
"We took our time planning the renovation. We gutted the house, put in new windows, took floors out, rewired, replumbed and got rid of the porch one of the previous owners had added. We added a double height entrance in the barn conversion which had a low ceiling in places."
"The previous owners had tried to match the windows on the barn to those on the original house and that didn't really work so we went for contrast.
---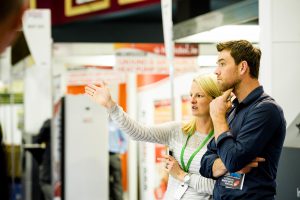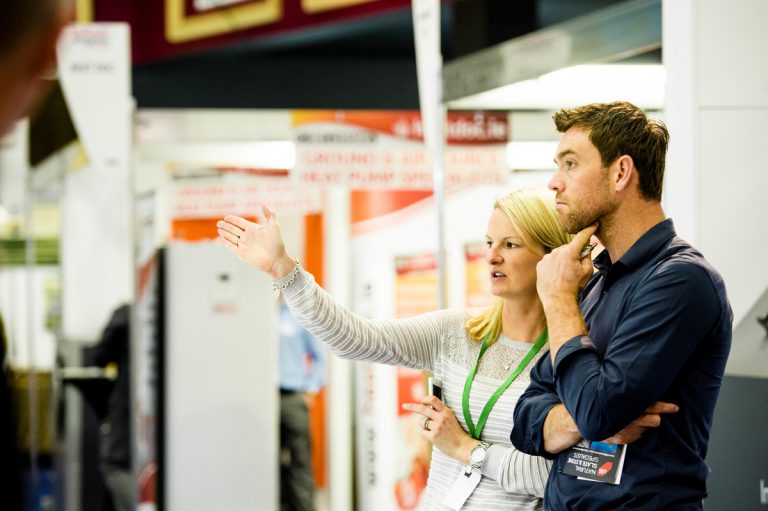 Selfbuild Live Dublin is the ultimate showcase for people who are building, extending, improving or simply decorating their home. Selfbuild Live Dublin, 13th-15th September takes place in the Citywest Convention Centre, Dublin.

---
The new part is black to make it look like the extension that it is," explains Mairead. They kept the staircase but increased the height on the spindles which were very low, some of the steps were also repaired. "We also put in a new oak staircase in the barn because we realised we could do with another set of stairs as we added a gallery area in the new entrance. We use it for social gatherings."
"The previous owners had old school type radiators in the barn, which we upcycled into the original part of the house," recounts Mairead. "We put in panelling in the lounge in the old part of the house; the previous owners had tiles in the entrance hall but we chose to replace these with parquet wood flooring. We liked the lighter tones so went with oak instead of a darker wood."
"The design was detailed, down to the arrangement of doorways. When you stand in one spot you can see through the width and length of the house," she adds. "The playroom was designed so it could be converted into an annexe for mum, as it has an ensuite."
"Originally, every bedroom had an ensuite plus a family bathroom. Yet the children's bathroom had no natural light and the layout didn't really work. As there was only a stud wall dividing this and another ensuite we merged through the bathrooms for a Jack and Jill (one bathroom two doors) so now we have a larger room with natural light." The heating and hot water system also took some time to finalise.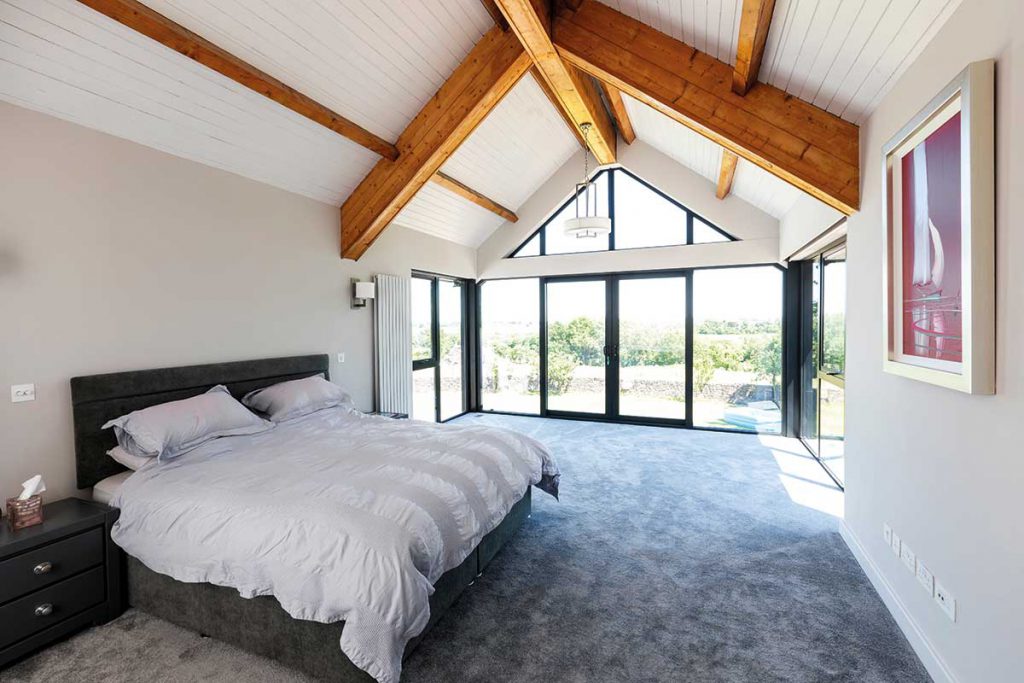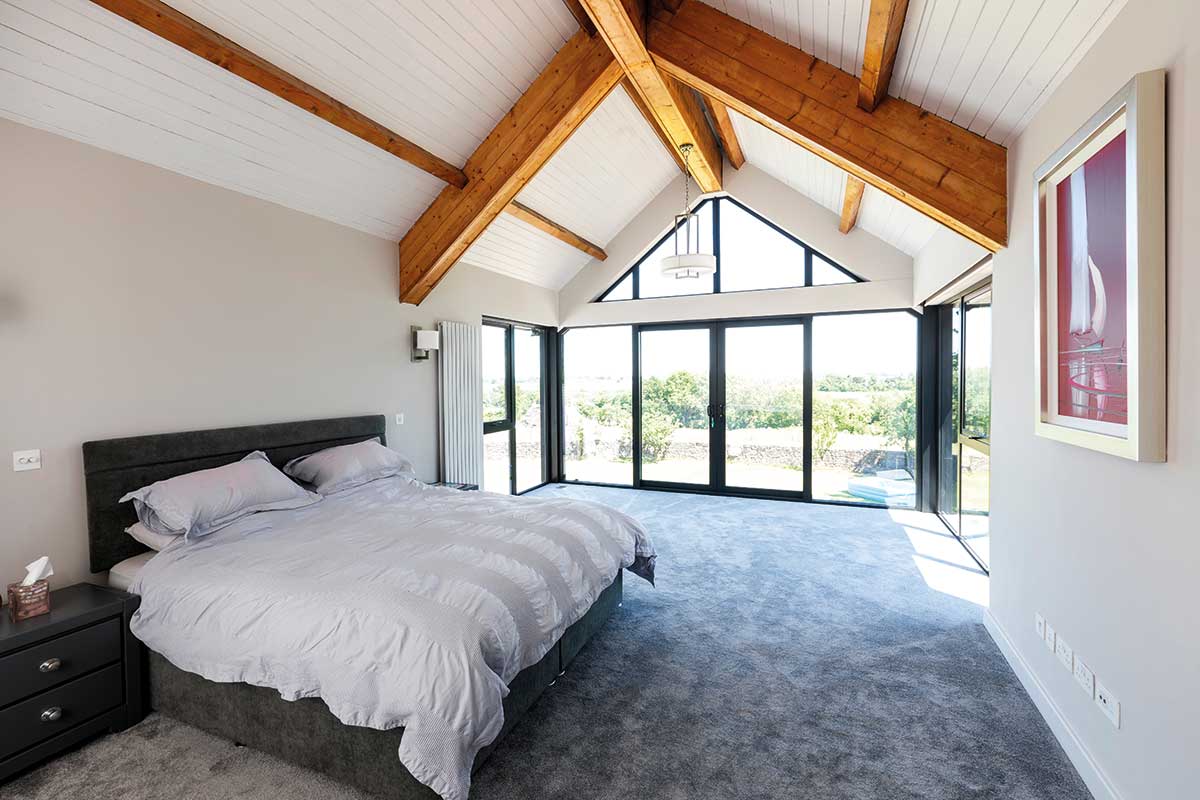 "We had to replumb the house and it had two oil boilers that didn't work," says Mairead. "We chose a biomass boiler – it's very large as is the hot water tank but we have the space for it and the silo. The most amount of work is emptying the ash pan, every three weeks in winter and every two months in summer."
"We get pellets delivered three or four times a year, using under two tonnes per month. The fire in the kitchen/living area is electric and even though it emits a bit of heat it's purely decorative," she adds. "One hot water tank was enough with a circulation pump; in general the heating is very good and we chose tall radiators which are a great addition because they don't take up much space. We couldn't put any radiators under the floor to ceiling windows.
We have tall radiators in the kitchen, living and master bedroom too." They also installed photovoltaic panels to generate electricity. "I was sceptical about solar panels but we had the opportunity to put them in work and they worked so we did it in our home too," says Tim. "We availed of the government incentives of the time and thought it would help with our hybrid car."
Relationships
"Although we didn't need planning permission because we weren't extending or changing use we applied for it anyway to ensure everything was in order. Of course, we had to go through Building Control, and after a year of planning we went to tender. We sent the plans out to six builders and five quoted."
"The architect and quantity surveyor put forward names as did we, then went with the best price. The builder was local and had worked with the architect before," adds Tim. "It's a challenge working with builders, simply because house building and renovating is stressful for everyone," says Mairead. "I devoted a year to the build, I was there most days, which was good because you get asked lots of questions so it was better to be there to answer them rather than assumptions be made. It was also great to get to know the guys, we got on well."
What would you do differently? If we were to do it again I'd put concrete slabs for the upstairs floor, it seemed really expensive at the time and we felt that the noise wouldn't last long because the children would be growing up quickly. I'd also go with a bigger utility room, at the moment if the clothes horse is out I can't open the tumble dryer.
What's your favourite part of the design/ house? I love the glass staircase but it can be hard to keep clean with the three year old. The five and seven year olds don't touch it so we only have a few more years of daily cleaning!
Would you do it again? I probably would but not for another decade or so.
What main piece of advice would you give a budding self-builder? Get a really good architectural designer to guide you, we would have been lost without Glyn.
What surprised you? The cost of the electricity pole!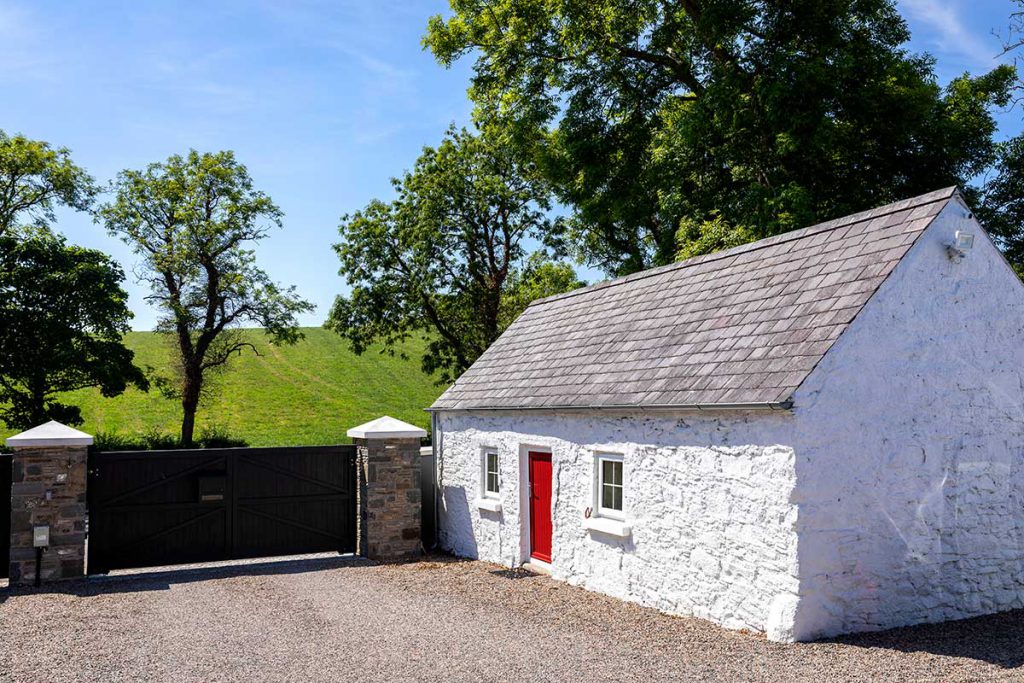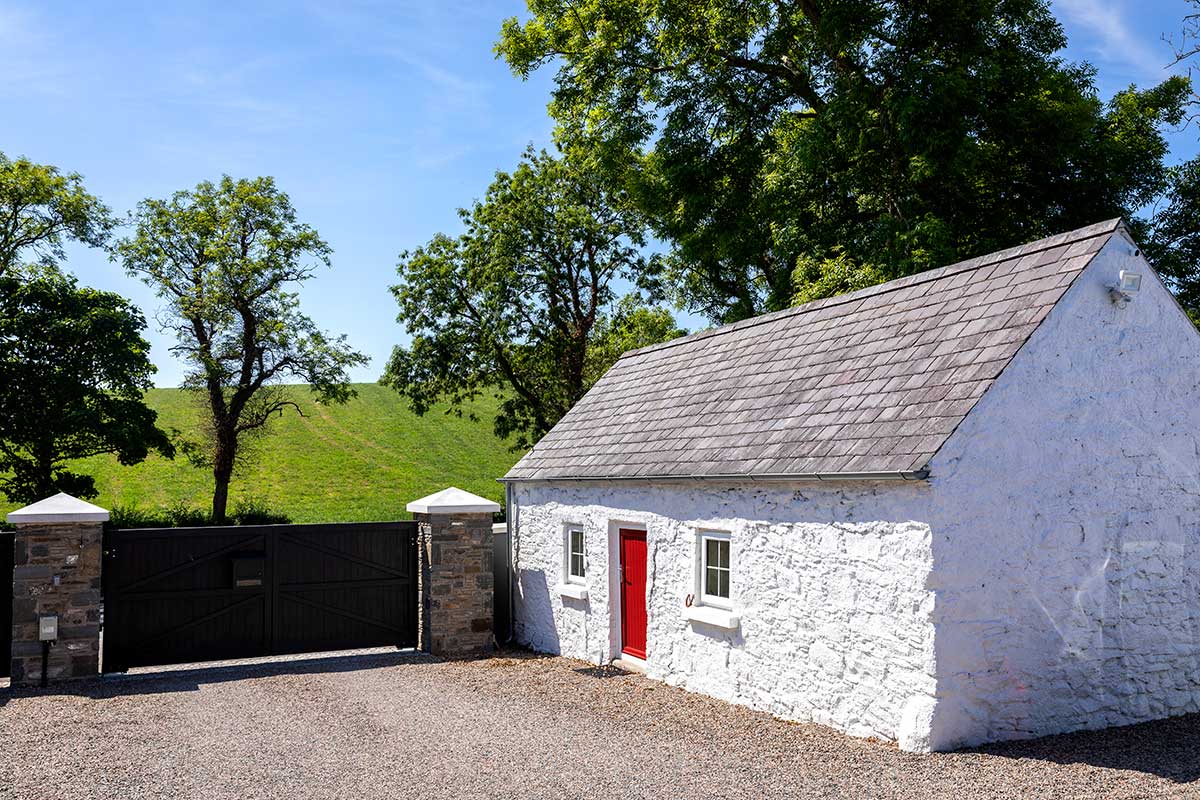 "It was such a big project and we didn't know what we might find. We relied heavily on John our architect who oversaw a lot, he'd get calls every day from the builder. His fees were definitely a worthwhile investment," adds Mairead. "We actually ended up having quite a bit of fun with John. For instance when it came to the wet dash on the barn, John wanted clean straight lines but due to the nature of the walls that was going to be difficult. The barn stone was wonky and the plasterers said the finish was going to look wonky, but nobody had the nerve to say it to John so I fought my corner for the wet dash."
"I agreed with John the whole time, I figured he was the expert," says Tim. "But he'd give in when he thought about it and that point about it not looking right was taken on board. He was flexible enough to change his mind. In other instances he professionally fought his corner and usually won."
Advice also came from the builder. "The major problem with the house was discovered quickly," says Mairead. "Even though the extension part had been reroofed along with new guttering and soffits, on the main roof the original nails holding down the slates were rusty and tiles were sliding off, the builder said we were better off to reroof now otherwise we'd be replacing tiles every year."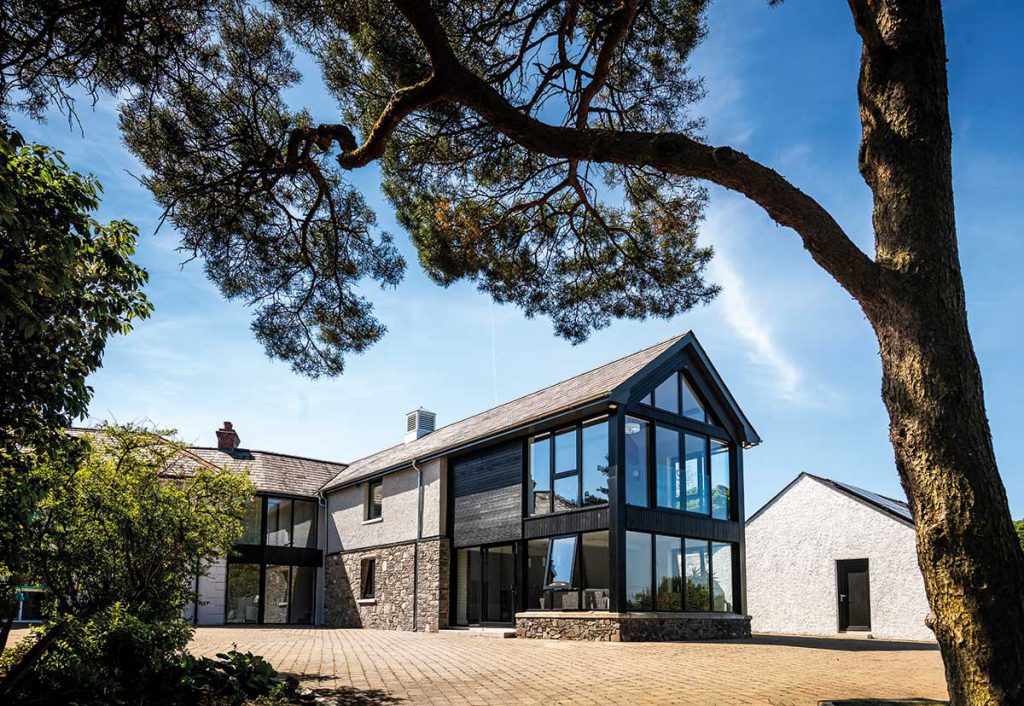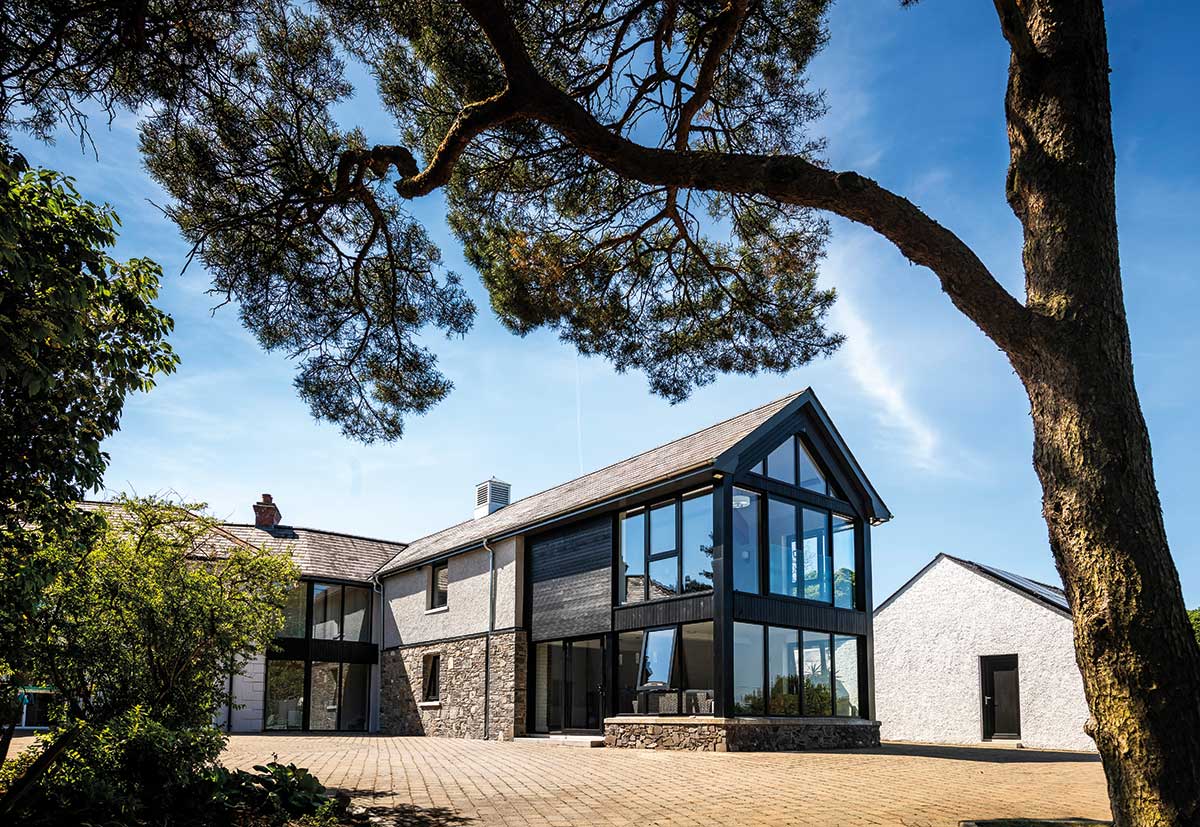 "We also found a bit of damp and woodworm which we got sprayed, it was a good time to find it all as we stripped everything back." The build took a year and they moved in May 2017. "It was unthinkable that we'd get this far and we're delighted with the end product."
Embedded
As the house sits on a prominent site, it's got the mature trees to go with it. "It's triangular and no good as farmland because it's too wet. We actually found an old well and the general advice at the time was that it would be cheapest to block it up, but we wanted to make a feature of it," recounts Mairead.
"We're delighted we did because we're now pumping water from it for the garden. With the hose ban this past summer, we were the only ones with green grass in the area. As for the trees we have a fruit orchard and also planted 14 varieties of local species. We put in 1,000 of them, we did that when we bought the house three years ago to let them mature."
"I find that too many people don't pay attention to boundary walls or to the entrance and laneways, it's really important to budget for landscaping – hedges take time to grow," adds Mairead. The site is sectioned off with a zone at the back that's safe for the children without any traffic, which means the cars are also protected from bikes and stray balls hitting them. There's no doubt all the planning paid off, as proven by the fact that the few oversights were easily dealt with. "We forgot the outside taps but those were actually easy to add, sockets would have been nice but it's not insurmountable to add them later on." A knock-out build altogether.
---