Although simple paint will continue to be a favourite wall treatment, there are now many exciting alternatives that needn't break the bank.
An inexpensive way to start thinking about wall finishes is to see what you can do using your existing structural materials. Some are potentially great wall finishes in their own right.
CONCRETE
With very careful and creative shuttering and some experience in constructing finished concrete interior walls it's possible to make exciting surfaces that don't need any further work or expense. Of course, getting such a concrete wall as it should be right from the start costs more than putting up some simple blockwork. It also needs protecting during the construction process. Discuss this option with your designer early on as it throws up all kinds of junction issues and finishing detailing that will need careful thought before you start the build.
If you like this kind of industrial look, concrete can be a wall finish that, once sealed, looks stunning for years and is robust. As a masonry surface it can also store heat in the walls and slowly release it throughout the day (referred to as a thermal store).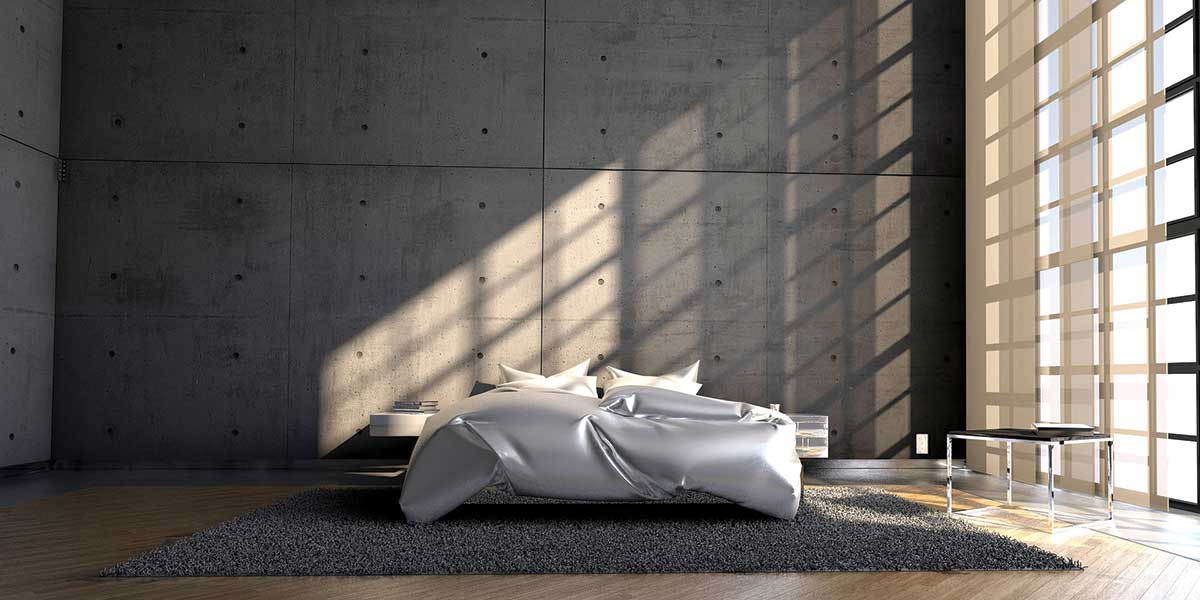 EXPOSED BRICKWORK
A really good option, especially for the odd feature wall, that can give an instant 'olde-worlde', or farmhouse, look. There are literally hundreds of bricks you could use. Bricks 'slips' that are a fraction of the thickness and weight and simple to install (a bit like tiling).
On completion, use a suitable sealant so the brick dust doesn't rub off on people's clothing. Be prepared to vacuum the surface every few months with a soft brush head as brick and stone finishes seem to be dust magnets.
EXPOSED STONE
An expensive solution that calls for careful pre-planning because unless you use stone slips you'll need to allow for the thickness of the stonework in all your calculations.
As with brick there are endless possibilities, but make sure the surface is sealed and with any surface that's not flat be prepared for some maintenance (dusting). Great for a feature or fireplace wall.
SAND AND CEMENT
A very popular finish in Ireland that is inexpensive yet effective. Often called 'plaster', even though it isn't gypsum plaster, it takes paint well. A major downside is that it is very hard (unlike plaster), so when hanging anything on it every hole must be drilled and plugged.
PLASTER
If the trowelled finish on your walls is good enough (perhaps after some additional rubbing down) you can leave gypsum or lime plaster as a finish in its own right. There are numerous possible coatings, from transparent sealers to normal paints (see below). A more expensive variant of this is polished plaster, from highly-polished Venetian plaster to various textured finishes. Some of them resemble polished marble or travertine.
You can then choose your colours, even if these 'natural' materials don't actually occur in nature.
MICROCEMENT
A step up from using the wall surface as-built is microcement. This is an expensive but stunning finish suitable for contemporary designs. It can be applied very thin (3-4mm) so doesn't change floor-screed heights or alter the heights of fixtures.
It can be applied almost anywhere around the house but is popular for bathrooms, wetrooms, kitchen floors, kitchen worktops and feature walls. It is very hard, flexible, waterproof, has a good grip on almost any surface, and is very thin. Because it's so thin it's vital to prepare the underlying surface very carefully indeed. This can add to the already high cost. All kinds of colours and textures make it a very interesting product for those who can afford it.
PAINT
Almost everybody who plasters their walls ends up painting them. Self-builders traditionally paint everything themselves as it's a relatively simple job that doesn't call for professional skills. This saves money. Today, though, things are changing. People demand better finishes and professionals are not as expensive as they once were.
They are also usually proficient at using spray guns which can cut down the time and improve the quality of the work. When decorating a whole new build, spraying is worth considering. Today's multi-surface formulae allow you to paint on metal, wood, plaster and masonry. If in any doubt, always seek professional advice as paint is expensive and it's all too easy to make costly mistakes.
A recent development is graphene paint. Graphene is a specialised form of carbon that when added to paints makes them very hard and improves coverage. More expensive than standard paints from your local DIY shed, these are great for specialist projects, kitchens and food preparation areas, and for corrosive or demanding weather situations.
WALLPAPER
Wallpaper creates an instant finish that is usually straightforward to achieve directly onto a plastered surface. Online decorating tools enable you to see how things will look in advance and can even help you calculate the number of rolls you'll require. When buying, be sure all your rolls are from the same batch or there could be tricky colour problems at joins. Cheap wallpaper is often thinner and much harder to hang.
Go for the best quality you can afford. There are all kinds of different surfaces that suit different domestic situations. Take advice if in any doubt. If the wall surface isn't that great to start with, use a strong lining paper. Be sure not to place the final paper over the same exact areas or the two joins could line up and look bad.
TIMBER PANELLING
Almost any timber can be used for panelling but it's sensible to take advice from your supplier. Panelling should be able to withstand moisture in the atmosphere (for example, a steamy kitchen) which usually means gluing it onto marine or similar plywood. The beauty of timber is its natural look and the way it can be coloured to suit your décor. If you use softwood panelling, this can be painted in the normal way. Be sure to cover the back of such timber with at least two coats of paint. This prevents moisture ingress and thus warping. Solid timber can warp easily in centrally-heated homes.
Fixing most timber panelling involves first battening the wall, then fitting the strips or panels to the battens. This means timber panelling is pretty expensive but for a feature wall the cost can often be justified. Matching your doors to your timber panels is a luxury but looks great.
TILING
The choice of tiles, be they porcelain or ceramic, is truly dazzling. In general, porcelain tiles are best suited to heavytraffic floors. This said, they can also be used on walls. When choosing, be careful to ask whether a particular tile is suitable for use on floors and walls, if that's your intention. Try to avoid using floor tiles on walls unless you have a strong wall onto which to apply them. This usually means masonry or a backer board to support their considerable weight. When planning your proposed tiling, be bold. Take a chance to show your creativity. Take a tile or two to the location and see how they look in situ before committing yourself. Remember: light colours make a room look larger.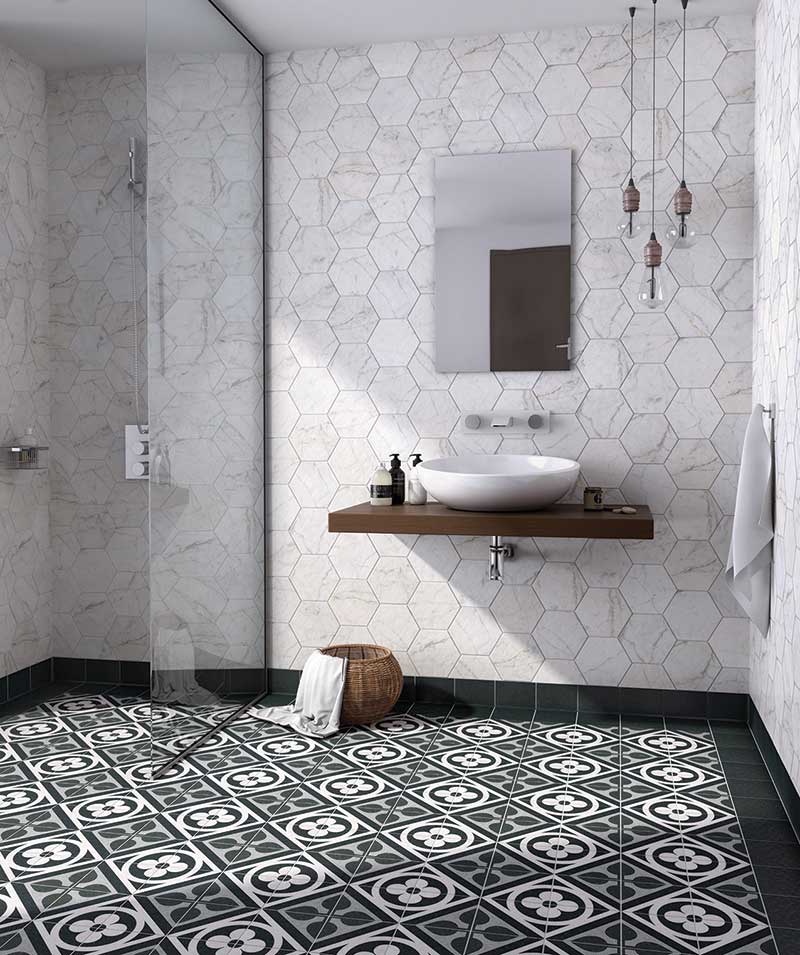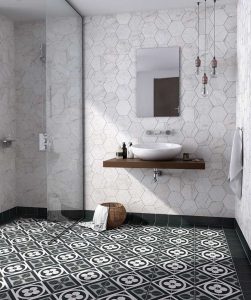 Plan ahead when buying. Be sure to get at least 10 per cent more than you need. This allows for cuts and breakages and also allows you to keep a few tiles for the future should you need to replace any. Although many people still think of grout as having to be white, get creative here too. Many grout colours are available and careful colour choices can make all the difference between a good enough job and a brilliant one.
If your wall area involves lots of tile cuts, use a smaller tile, or even a mosaic. As with everything in building materials today, there's little excuse for charging ahead and buying the wrong thing. Listen to suppliers and to the tiler you intend to employ before committing yourself to an unwise expense. Many a tiler finds himself wishing their client had consulted him before buying something unsuitable. Tilers are also worth listening to as they've seen so many situations (including some that work well and others that fail dismally) and can give useful advice about what would best suit your particular job.
OTHER ATTRACTIVE OPTIONS
For the more adventurous the possibilities are almost limitless.
Glass can look fantastic, for example as splashbacks in kitchens and bathrooms.
Sheets or panels of thin stone or porcelain are effective and practical in wet areas.
All kinds of metals can be used as panels. Corten steel and endless variations of aluminium are just two examples.
Fabrics, too, can look luxurious. Batten the wall first then stretch the fabric over the area.
How about preparing the wall then getting an artist to make a one-off mural or even some bespoke graffiti? If you have the skill you might want to create your own collage of photos or your own artwork for a feature wall. This can work especially well in children's rooms.
Words: Andrew Stanway