There are some things you can plan for, like choosing finishes in advance, but others are unpredictable. Such as having to fork out £15,000 to get an electricity connection in a built-up area for a new build in Co Armagh.
In this article, Lisa and Nathan Langtry discuss their new build project in Co Armagh, including:
Design process and planning application with an architectural designer
Working with a quantity surveyor and the tender process
Delays due to stonework
Challenges due to stonework including concrete lintels
Internal insulation strategy
Decision against wood burner
Oil boiler set up with underfloor heating
Details of the three sided gas fire in the open plan area
Reason for the need to pay for a new electricity pole
Electrics including LEDs
Overview
House: ground floor 180 sqm, first floor 50 sqm
Garage: 90sqm on two floors
Plot: ½ acre
Total cost: £330,000
Floors: 100mm sand/cement screed on 150mm PIR insulation, U-value 0.11 W/sqmK.
Walls: stone walls (barn) 225mm natural stone cladding,100mm blockwork, 150mm cavity (with 100mm PIR), 100mm blockwork, U-value 0.19 W/sqmK. Blockwork walls (modern part) painted sand/cement render, 100mm blockwork, 150mm cavity (with 100mm PIR), 100mm blockwork, U-value 0.19 W/sqmK.
Roof: warm roof construction, natural slate, 80mm PIR over rafters, 120mm PIR between rafters, U-value 0.18 W/sqmK.
Flat roof: proprietary membrane, 125mm PIR on plywood deck, U-value 0.13 W/sqmK.
Windows: Double glazed uPVC
In every way that matters Lisa and Nathan Langtry's new build project in Co Armagh is a prime example of how to tackle a new build project. They had a clear vision of what they wanted and enlisted the expertise of others to produce a family home suited to their exact needs.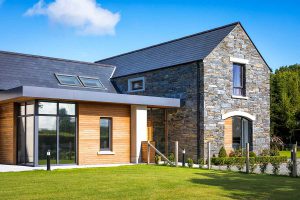 Family configuration
"We originally lived in a townhouse with a family of five and we were cramped, we knew it was time to move on," explains Lisa. "We got some land from my dad and went from there."
"Architectural designer Glyn is a friend of ours and we spoke to him about building new, he showed us a few options. We consulted plans and magazines and came to the conclusion that we really wanted to build a barn type dwelling with a modern extension."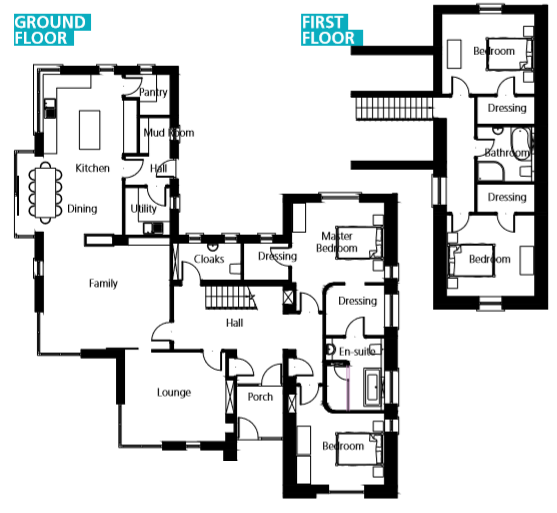 "We just liked that design and Glyn really impressed us with his ability to turn it into a reality. He brought us to see a similar house and we just knew it was right."
"In terms of the wish list we wanted first and foremost a playroom. And four bedrooms. I also wanted an open plan kitchen, living and dining area with lots of light."
"A big hallway was also high on my wish list, I wanted to come into an airy and bright and spacious environment," adds Lisa. The sleeping quarters are in the barn and the living quarters in the extension.
"There were no hiccups with planning, Glyn took care of everything for us and the planners were happy with the design; Glyn's knowledge of the planning rules I'm sure helped secure permission."
'We just liked the idea of building with stone and Glyn really impressed us with his ability to turn it into a reality….'
"Glyn advised us to hire a quantity surveyor for the tendering process so we could compare quotes and know what to expect cost wise. We put the job out to five builders and we ended up going with the one priced in the middle based on Glyn having gone out to see houses he'd built before; the quantity surveyor was also familiar with his work and said it was good."
'They had a clear vision of what they wanted and enlisted the expertise of others to produce a family home suited to their exact needs…'
"The builder did everything – we just went to pick out the windows, the kitchen and bathroom including tiles and he then sorted out delivery and payment with those companies directly."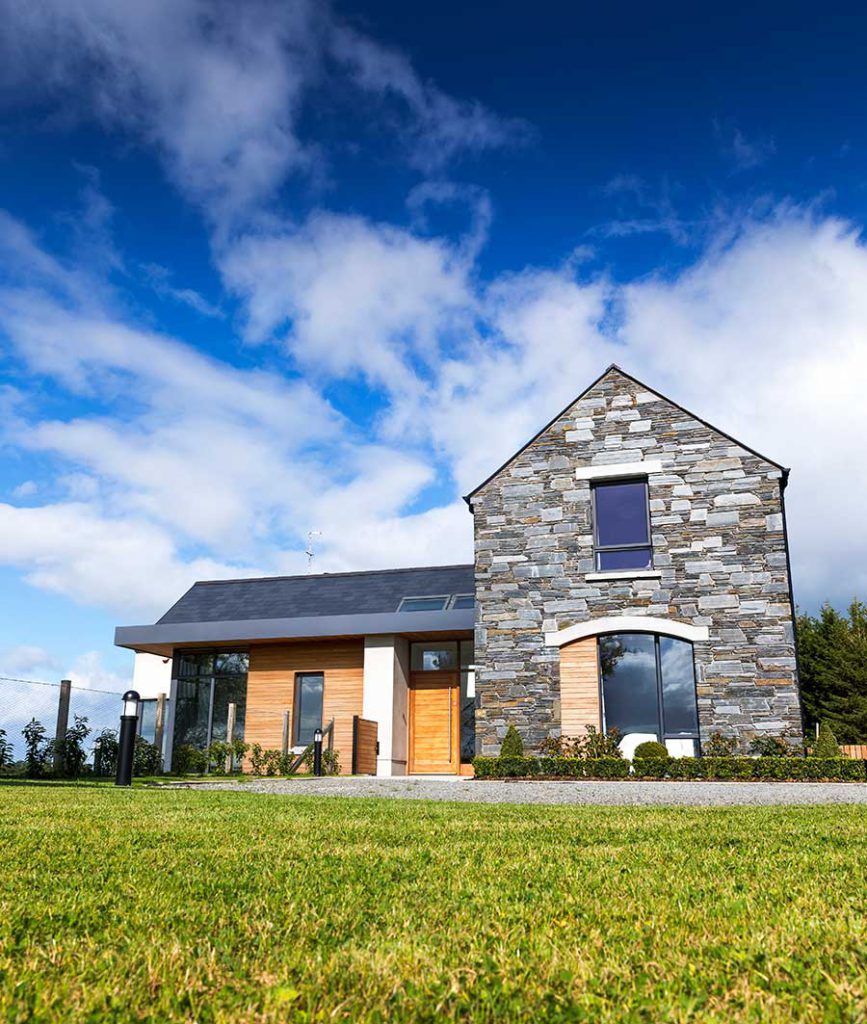 Building with stone
So far so good, until they hit *ahem* a stone wall. "It took us a year to get to this point of starting to build and all of that planning really did pay off. But we did come up against some delays which had to do with building with stone, so the construction phase dragged out a bit longer than expected. In total the build took 10 months."
The barn walls are built of thick stone insulated from the inside. "We picked a stone slate with an orange tint for contrast, Nathan and Glyn went to the quarry to pick it out and went to look at houses with similar stone."
"It took four months to build with four stonemasons working around the clock. That was the longest part of the build."
"We also decided to detail the stone to run coming in from the outside into the hall, we wanted it to connect visually from the outside, to carry it on. So that required some planning too."
"Building with stone also meant we needed large cement heads for the window openings, we have an arched window and that lintel took the longest time to arrive. But once it was onsite the building went up very quickly."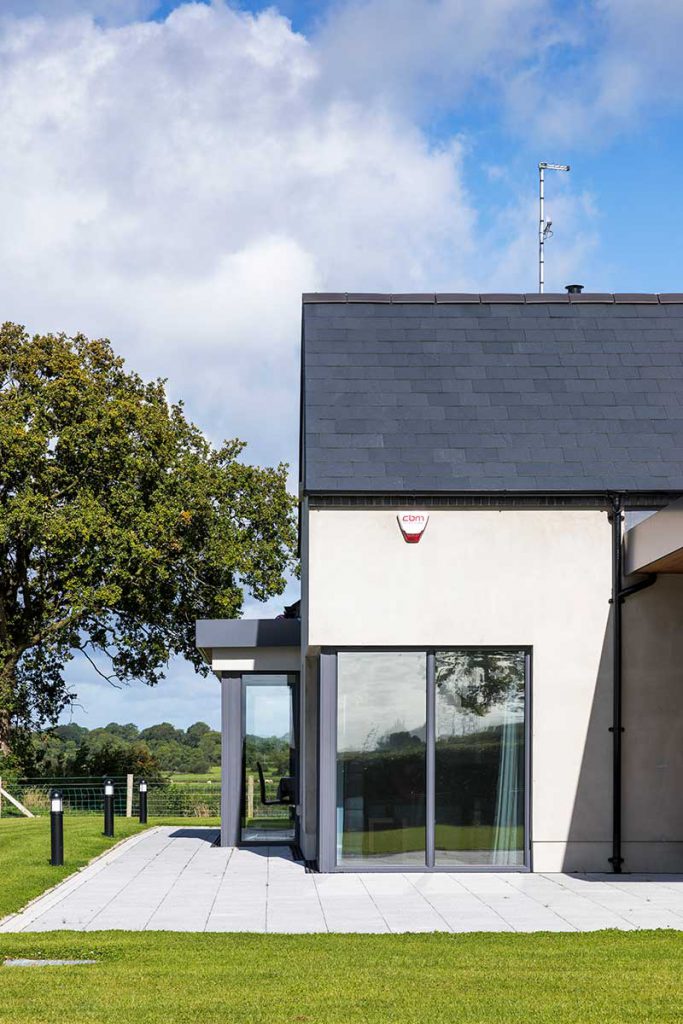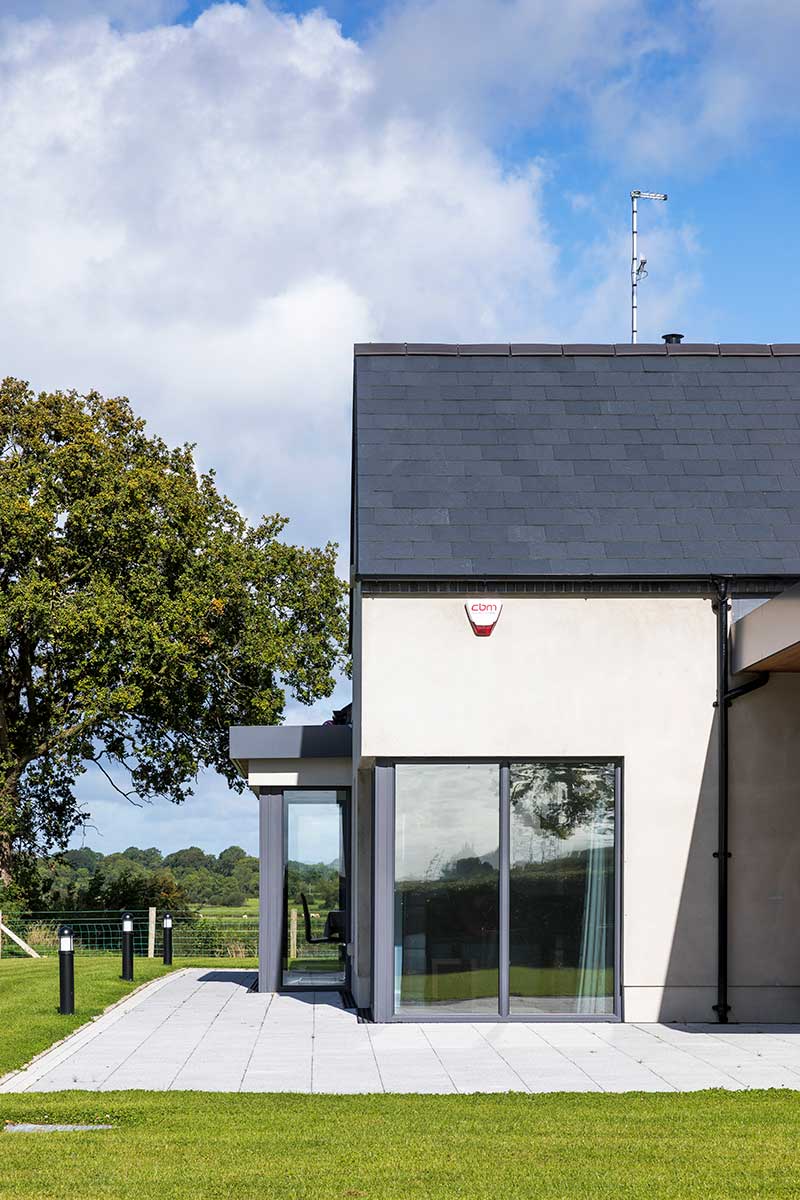 Energy
"We also thought of bringing in the services early on so we arranged for the telephone and broadband line to coincide with digging the trenches for the electricity connection. But getting electricity to the house was more complicated than we had anticipated," explains Lisa.
"We didn't realise we'd have to spend £15,000 considering we were on the main road with houses all around. The issue was that we couldn't get hooked up to the existing electricity pole as it was operating at full capacity. We had to add a brand new electricity pole at our expense." After the initial shock, and their contingency shot, Lisa and Nathan got on with the build.
"For our heating system we went with oil fired central heating, underfloor heating downstairs, radiators upstairs, and towel rails in the bathroom. We looked at a wood burner because we're surrounded by a forest and knew we'd always have wood but we were advised against it with underfloor heating due to the low temperature required."
"The gas fire acts as a room divider in the open plan area; it's three sided and conveys that sense of homeliness with the live flame." The boiler is high efficiency and the pipework to the house was pipe in pipe (pre insulated). "We also went with heating and hot water controls with individual room stats in every room, both upstairs and down."
For illumination, they prioritised natural light with the glazing. "We're so happy we invested in the rooflights in the hall and the floor to ceiling windows. Then for task lighting we have LED spotlights in the kitchen, and for low lighting we have pendant lights," adds Lisa. "There's actually LED everywhere in the house, it's a great way to get light in winter, it's bright and cheap to run."
As for the finishes, they're all modern and sleek; the kitchen grey colour theme with white granite worktop complement the barn style of the stone house. An all rounder.
Top tips
Mechanised ventilation system; in this day and age of airtight homes it's a vital investment.

Wetroom in the ensuite for the kids. I find it's a great feature, I can shower the kids without getting soaked, and for the older ones they can shower independently but I'm there if needs be.

Walk-in wardrobe in the children's bedrooms. It removes the need for a chest of drawers that the children will grow out of.

Privacy film on the windows facing the road, we added this feature whereby we can see out but can't see in, it works very well.

What would you do differently?
If we were to do it again I'd put concrete slabs for the upstairs floor, it seemed really expensive at the time and we felt that the noise wouldn't last long because the children would be growing up quickly. I'd also go with a bigger utility room, at the moment if the clothes horse is out I can't open the tumble dryer.

What's your favourite part of the design/ house?
I love the glass staircase but it can be hard to keep clean with the three year old. The five and seven year olds don't touch it so we only have a few more years of daily cleaning.

Would you do it again?
I probably would but not for another decade or so.

What main piece of advice would you give a budding self-builder?
Get a really good architectural designer to guide you, we would have been lost without Glyn.

What surprised you?
The cost of the electricity pole!
Suppliers
Architectural designer: Glyn Owen of The Designworks Studio, Portadown, Co Armagh, tel. 38852724, thedesignworksstudio.com
Builder: WR Jenkins Ltd, tel. 375 38338
Windows: McMullan O Donnell, mcmullanodonnell.com
Three sided stove: Portadown fireplaces, portadownfireplaces.co.uk
Kitchen: Raymond Dougan at Brookwood of Markethill, brookwoodkitchens.co.uk
Bathrooms: Bassetts Portadown, bassettsonline.com
Heating and hot water: Grant Vortex module 120/155. Pipework from boiler to house Uponor Ecoflex thermo twin 40/175. Cylinder Albion Ultrasteel solar cylinder 400 litre Part number MST400. Controls for heating and hot water Heatmiser Neo System.
Mechanical ventilation with heat recovery: Silavent HRX, silavent.co.uk
Insulation: Xtratherm xt/uf floor board, Xtratherm thin r wallboard xt/cw and Xtratherm fr/mg, xtratherm.com
Roofing membrane: Trocal, sika-trocal.com
Photography: Paul Lindsay of Christopher Hill Photographic, scenicireland.com