When Dan Runyon of emigrated two decades ago, he knew it wasn't forever and he knew that when he did return it would be to self-build an angular house.
Dan chats about his self-build project including:
Inspiration from abroad and how he tackled researching for the project
Details of the angular roof design and how he got around planning restrictions with a traditional frontage
Balcony design at the back and how he had to cross brace the free standing gables front to back
Choice of heating and hot water, why he decided against solar
How he built his home to get low energy bills with full dteails on insulation
Issues with overheating and how he tackled them
Dealing with drop in temperature in winter: the big freeze
Issues with windows warping and how he tackled it
Overview
House size: 2,600 sqft
Plot size: ¾ of an acre
Build cost: €250,000
BER: B1 (85 kWh/sqm/yr)
Airtightness: 1.64 ACH @50Pa
Heating and hot water: air source heat pump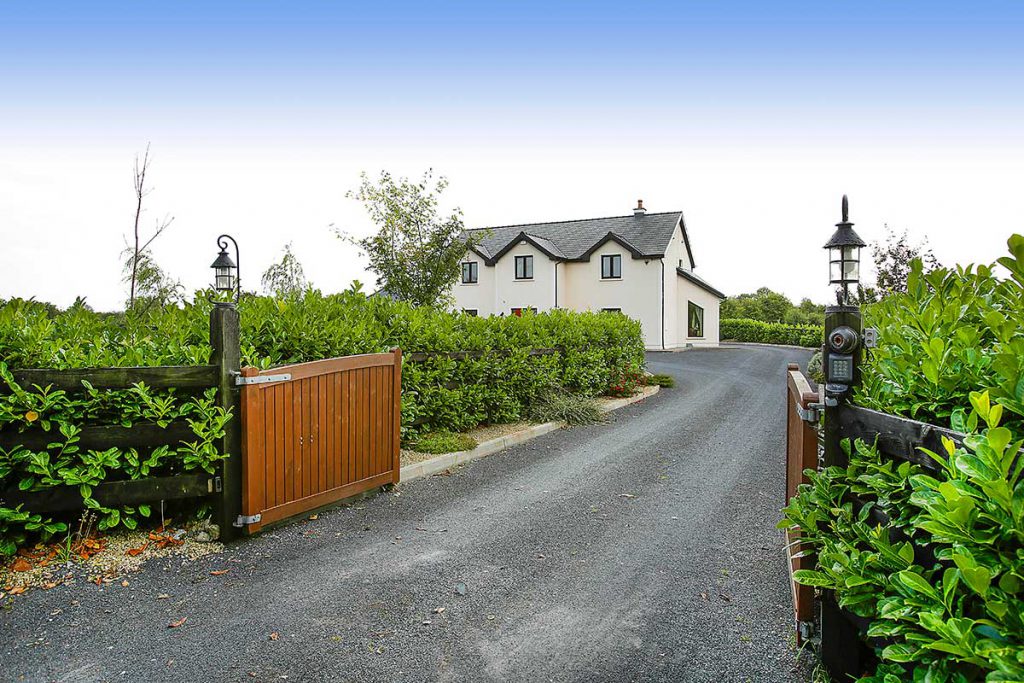 Spending those years abroad gave Dan time to think about the design, inside and out of his self-build. And as he knew where he was going to build – his dad offered him land – he could factor in the views and orientation to maximise heat and light from the sun.
Construction: 8 inch (200mm) cavity block wall filled with EPS beads; certified breathable spray foam insulation on 7 inch (175mm) rafters with 2 inch (50mm) insulated plasterboard above, floor 6 inch (150mm) PIR board. U-values of walls and floor no more than 0.2 W/sqmK, walls 0.27 W/sqmK.
Glazing: external windows and doors triple glazed, argon filled, black uPVC. Upper level internal glazing made of laminated glass.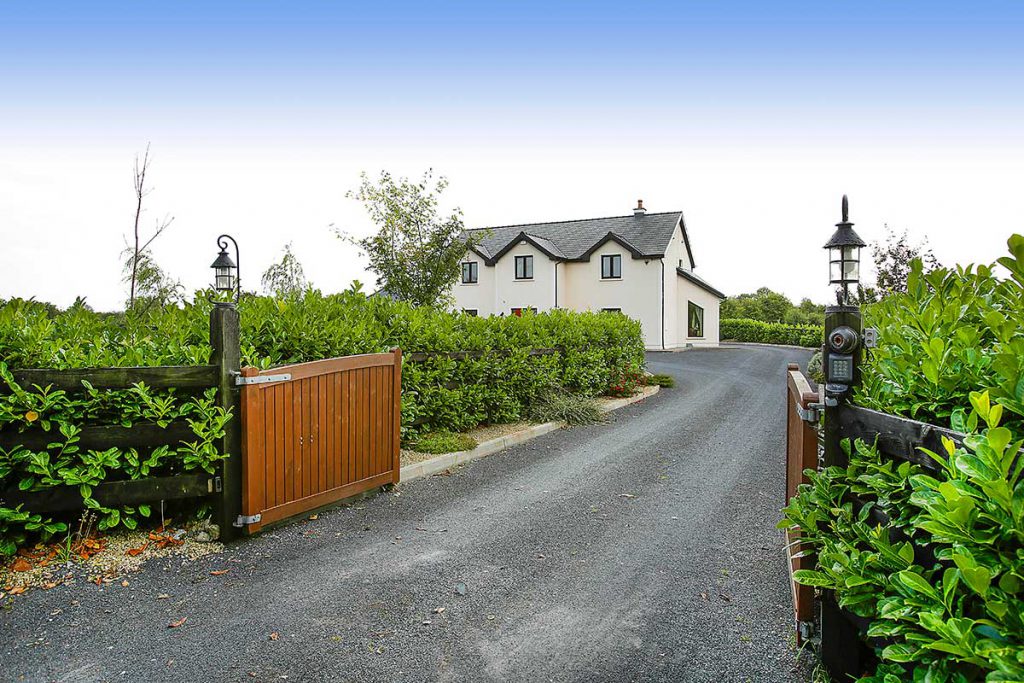 "I wanted to build something unique and that I really liked; I got inspiration from the United States where I lived for a while and from the surrounding Irish countryside too," he says. "The site is set in a relaxing, nice and quiet, landscape."
Research, research, research
When Dan eventually made the journey back home in 2007, he spent another couple of years gathering ideas, information and getting estimates. "I spent more time on the computer than on site," he points out. 
"I looked up what building methods and materials to use, got quotes in, and contacted other self-builders to learn from their mistakes. For instance I chose to insulate the walls within the cavity instead of going for insulated plasterboard as it can be difficult to hang frames on it." 
After some deliberation he chose an air source heat pump for space heating. "For hot water I'd looked into solar but at the time it would have cost €5,000. It just wasn't economic as I already had the heat pump which was saving me quite a bit of energy already."
Dan therefore decided to get a heat pump that could do both heating and hot water. "My electricity bill is roughly €1,100 a year for two adults, and that includes all of our energy needs. There is no other bill." That's less than €100 a month for cooking, heating, hot water, lights and other electrics.
Four years in, Dan admits he hasn't stopped playing around with the heat pump controls to find the perfect settings. Because it takes time for underfloor heating to bring a room up to temperature, the heat pump measures how cold it is outdoors, on a five hour sliding window, to know when the heat will need to be turned on, and this can be adjusted.
"The upper floor is concrete and has underfloor heating, as does downstairs, and it can get too warm up there, even though we have thermostats in every room," explains Dan. A southerly orientation can lead to overheating. "So I've learned to tinker with the settings to have the heat come on downstairs to a lesser temperature, and to get the heat pump to kick in later than the standard settings allow." He can also open the windows if it gets too warm.
Energy efficiency was indeed high on the agenda from the beginning so Dan decided to double the standard 4 inch (100mm) cavity wall width and full-fill with EPS beads. This however meant he found it hard to source wall ties! He went on to make the house as airtight as possible and as a result, he had to source a purpose built ventilation system to ensure good air quality. He chose a heat recovery system, which preheats the cold outdoor air with extracted warm air (by transference).
"Research takes the most time and energy, but it's really necessary if you're going to take charge of the build." And take charge he did. Armed with his finalised plans he met with the planners early in 2010 with the aim of starting the build in the summer of that year.
Obstacle course
Dan's original design envisioned angles on all sides, including at the front, and this is what the planners objected to. Rural design guidelines often favour the street-facing view to blend in with the surrounding landscape and roughly match the style of nearby houses.
"I got a local architect to help me redesign the front, which actually turned out to be a blessing in disguise," recounts Dan. "The initial plan of the house was 3,600 sqft and by squaring off the front, we reduced it to 2,600 sqft. That was a good thing, I really wouldn't want the house to be any bigger."
The architect came up with the roof design but the changes required the further input of a structural engineer. "We would have had to get a steel schedule drawn up anyway but now that we had angles at the back and none at the front, we basically ended up with no wall plate. The gables were free standing so we had to span the house with steel for cross bracing."
The revised plans were granted planning permission and Dan got started mid-2010 as planned. What he didn't foresee was that winter being one of the coldest on record. 
"We had to suspend work for a couple of weeks during the 'Big Freeze'. It was so cold we couldn't reasonably keep going," he says. "Work on the roof couldn't take place because it was just too dangerous and while we did start with the external plastering, protecting it with a sheet of plastic at night to prevent frost, we realised it made more sense to wait it out and start again when the temperatures came back up."
Centrepiece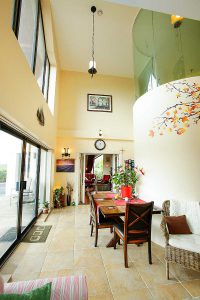 The back of the house, with balcony and angular shape, faces the south facing views. Inside, a double height dining area takes you to the kitchen to the right, the living room to the left and the entrance hall with stairwell access straight ahead. "When I was building the house no one could understand why I chose to have a double height ceiling, I was told I could add a bedroom and was wasting space. But I just love how open it feels upstairs, looking out through the glass to the fields outside is so peaceful. It brings it all together."
Dan went down the direct labour route and did the groundworks himself. "When you hire someone you hear of someone else through them and that's how it evolved. Recommendations from previous tradesmen. Ironically most of the people who have worked on my house have since emigrated – my house was probably the last job they did!" Back to the design, it's clear that the centrepiece of the house is literally and figuratively the staircase with its curved shape, providing views from upstairs and a design feature downstairs.
"My only regret is to have chosen patio doors that are straight," confides Dan. "I would have much preferred a curved shape for that south facing glazing but the difference in cost at the time was too high. I do know that I will eventually replace them, but not just yet!" In fact the windows have had issues with warping, which Dan believes has to do with his choice of colour. "Black absorbs heat and as we're south facing, there's a lot of it, especially in the summer."
The fascias and soffits are also black uPVC and these too have suffered from the sun. "It's fine on the short sections, but the longer 6 or 7 foot (2m) lengths have started to warp. We'll eventually replace the whole lot with a lighter colour."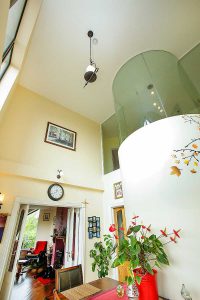 No room to improve
This being his home for life, Dan also made sure it could cater for all of his modern day connectivity needs. "I didn't want any cables showing in the living room so we've put the audio-visual 'hub' in the plant room; the satellite box is there along with a hard disc to record movies and the modem to connect to the television via wi-fi."
He also has speakers in every room, that way he can listen to the radio or to music at the touch of his phone. "Having had the time to think about the project over a couple of years made me realise what I really wanted from the house, and I found that this was one important element." For many, building your first house leads to another, but the connection Dan has to the land and the time he put into this project means he has no intention to have another go.
"They say you have to do it twice to get it right but I won't be!," he says. "I'm really happy with the finished product and wouldn't even contemplate moving anywhere else."
He also points out that it's an unusual design in that you can't build an extension. "To be honest, I always had that in mind, I didn't want it to be changed. The house is plenty big with four bedrooms upstairs, even if we do decide to have children," he adds. "Although it may not be so quiet anymore if we do."
Suppliers