How Denise and Fiachra Sinnott of Co Cork transformed their tired old 1980s chalet bungalow into a 21st century family home, carrying out the reno in just three weeks.
In this article we cover:
House hunting for a straightforward renovation project
How they funded the renovation
Window choices
Living on site during the three weeks of building work
Details of scope of works
Build costs and what they were quoted
Deciding on how to insulate
Kitchen design
Interior design ethos and DIY elements
Flooring choices
Project management and budgeting tips
Suppliers, specification and floor plans
Professional photographs
House size before: 190sqm plus attached garage 90sqm
House size after: 250sqm plus attached garage 30sqm
Bedrooms: 4
Plot size: 1 acre
Purchase cost: €295k
Home improvement cost: €130k
House value: €480k to €600k
Heating system: oil fired boiler
Ventilation: natural
"Fiachra moved into my house in Bandon when we first got married, but we always wanted to take on a project that we had chosen and bought together," says Denise. "We spent years looking because where we were living was lovely – it needed to be the right project to entice us away."
"We gave ourselves a property search radius of two miles from the town. We were looking in the countryside, as we had three kids and wanted them to have more freedom. However, the house we bought is four miles out of town, which raised a red flag to me when I first saw it listed. But when we viewed it, I just knew it was the one. Plus, it was going to be an easy reno, because the existing design of the house was so good. All it needed was a general refurb."
The architecturally designed house was built in 1980 by the owner occupier. "For its time, the best of everything had gone into it," says Fiachra. There was a solid oak kitchen, corner windows and state of the art features. But it was tired and old. The windows were broken and when you flushed the toilet upstairs it would leak through the ceiling."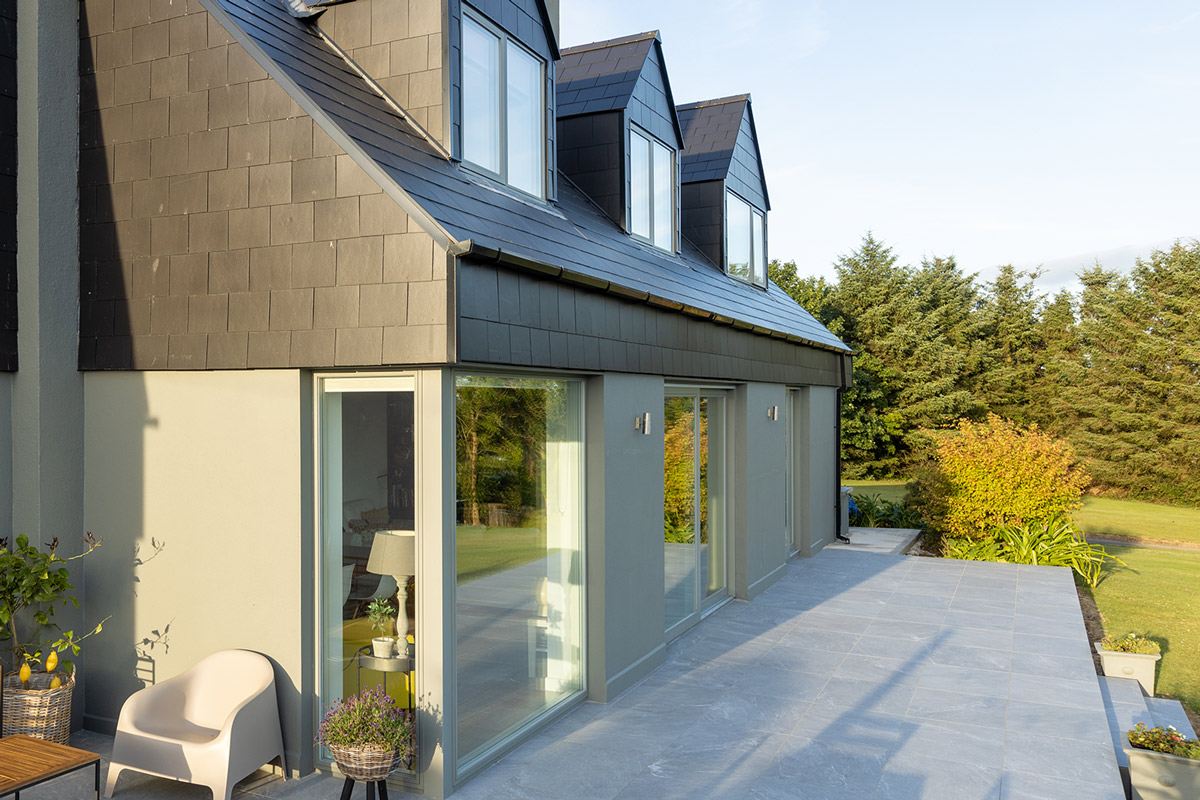 "When we bought it, the banks weren't as friendly as they used to be," says Denise. "I had hoped to renovate it before we moved in, but we couldn't get a loan. So we ended up moving in and renovating in stages. Saving and renovating, saving and renovating."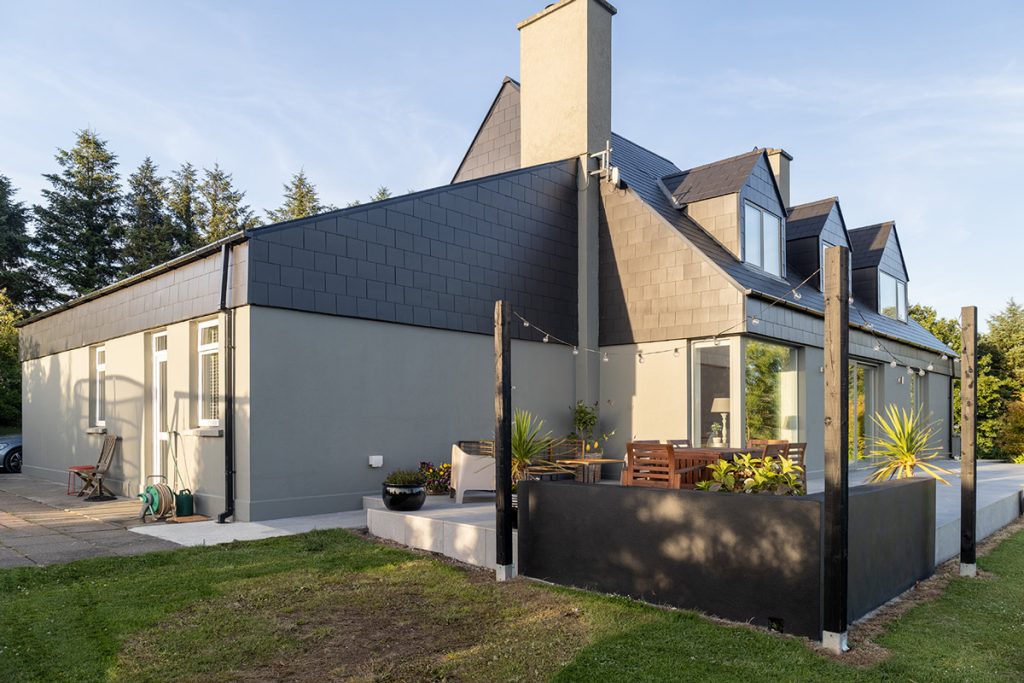 "The plan was to live in it for a couple of months just to make sure we were making the right decisions and the right changes to the house," she adds. "There wasn't a lot that needed done to it, from a structural point of view. We knew it needed a new roof and things like that, but the design and the layout were really good. And we didn't need to extend it either so that was a bonus."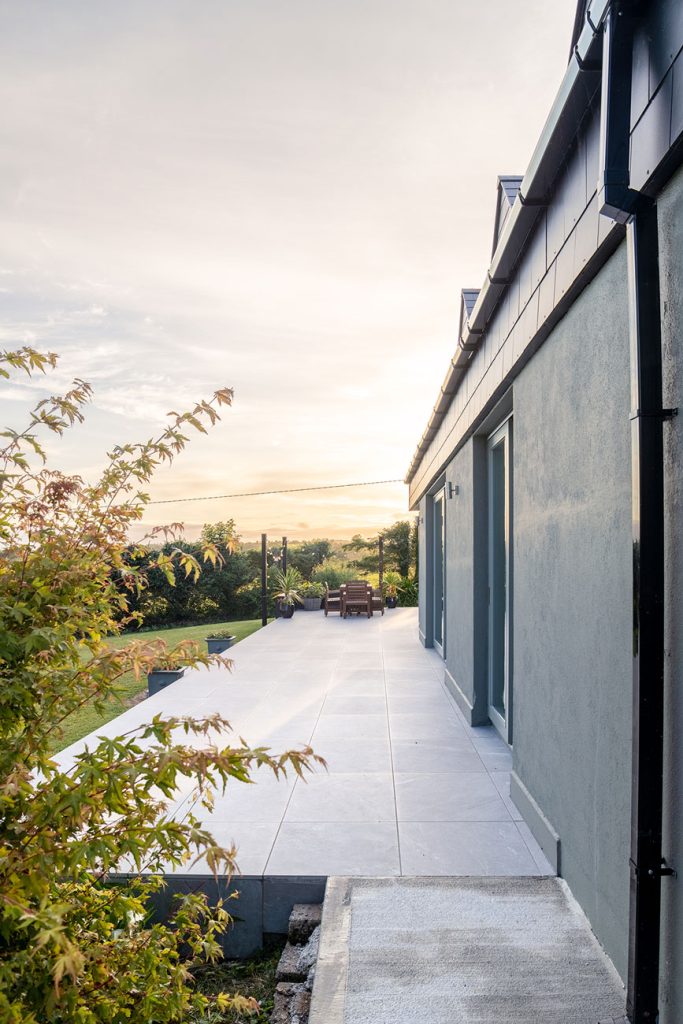 "The only structural changes were to the windows, which we enlarged, and the removal of one internal wall to create an open plan kitchen, dining and living area. We moved the kitchen from the original dining room to the old utility room which was a much better use of space."
Living on site
The Sinnotts employed a builder to carry out this scope of works, which was completed in three weeks. "We lived in the house while all the building work was going on," says Denise. "That was very tough going. We had three small children including a baby who was crawling. One week we had no electricity or running water. It was a hard three weeks but we got through it."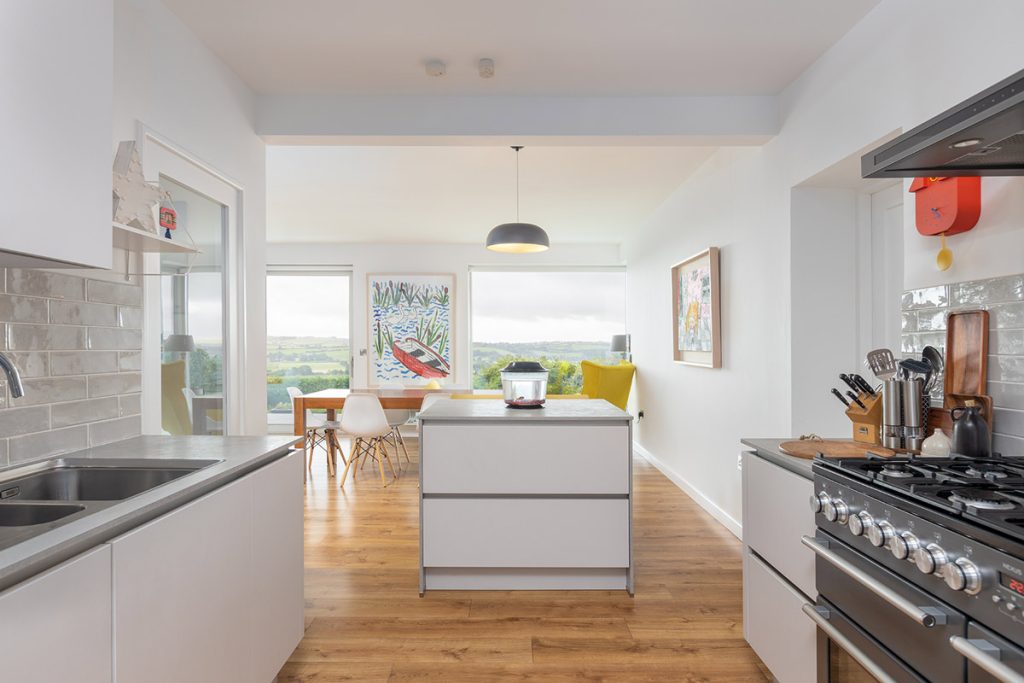 "The original living space was much smaller than what we have now, with the detached garage quite big in comparison. So we converted most of the garage into a pantry/laundry space off the new kitchen. This significantly extended the overall living space."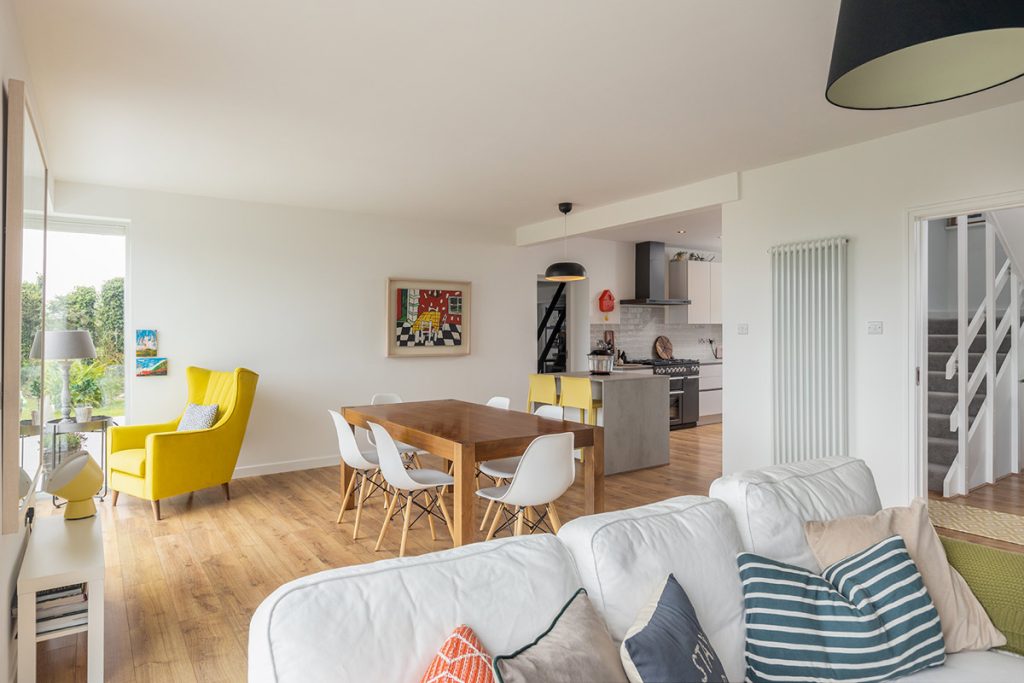 "We didn't have the money to replace the roof right away but then Storm Ophelia came along causing carnage. We were forced to do something, so we went to the bank with our begging bowls and eventually arranged funds to pay for a new roof."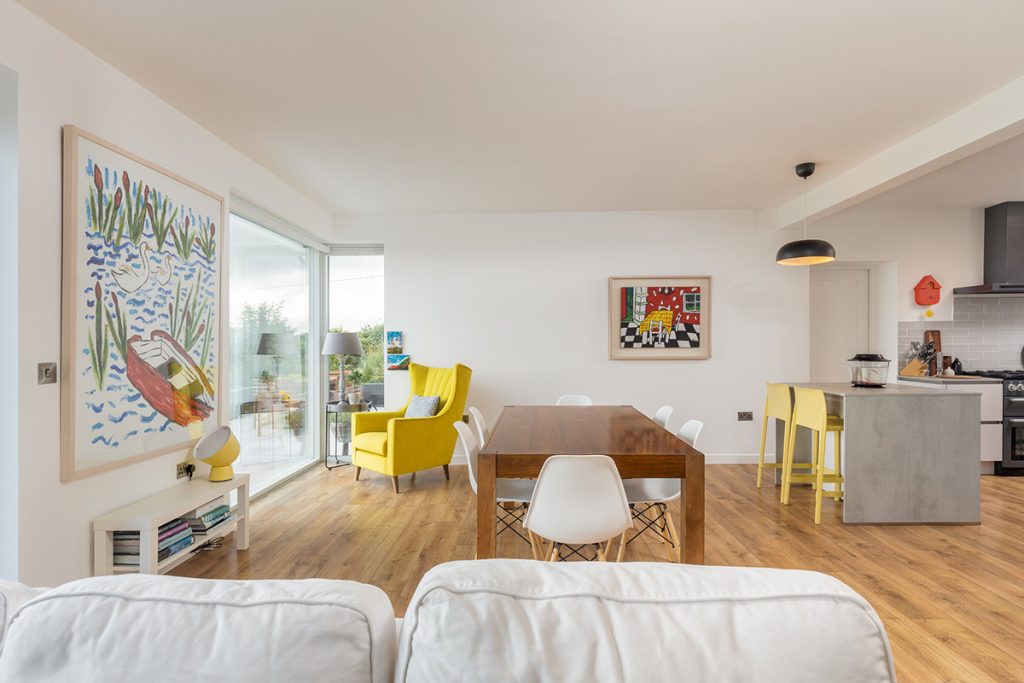 "The beams were okay, but all the batons and slates had to be replaced. We struggled to get a roofer at the time because the house is very unusually shaped. In essence, we have three roofs. The main house has two roofs because there's a hip in the middle and then the garage has another roof. A lot of local builders came and said the job was too big, that it would take them away from other work for too long. The quotes we got from them were coming in at around €50k."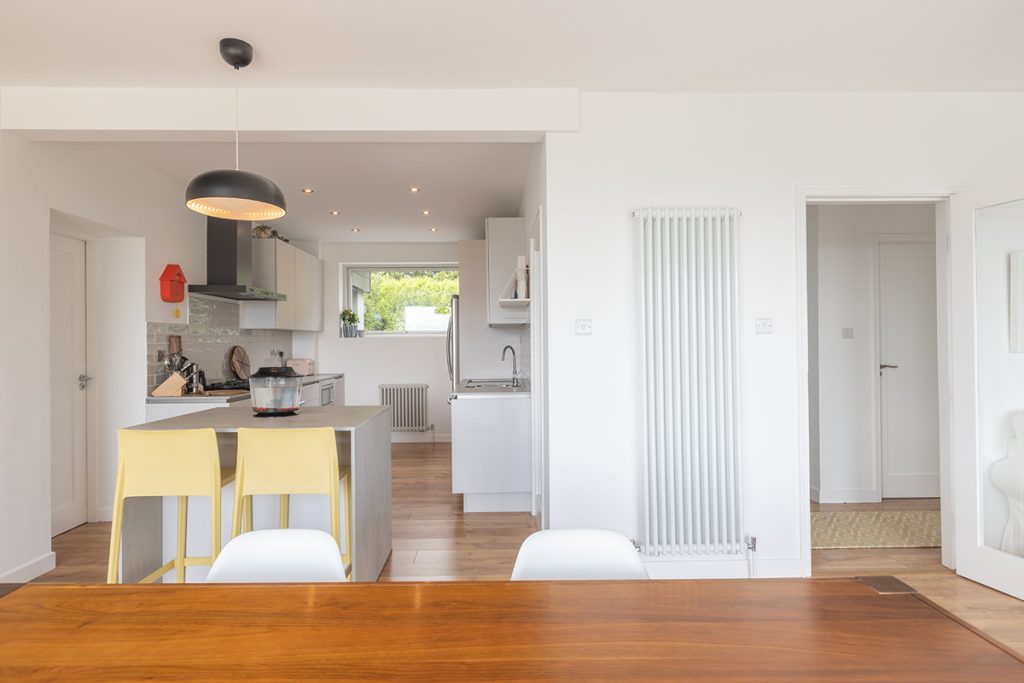 "In the end, following a personal recommendation, we got a professional roofing company from Cork. I didn't think there was any point approaching a builder from the city to do a job in West Cork, but they came in well under, with a quote of €25k. They had their own scaffolding which, as I had just discovered, can add thousands to the cost when it's rented on a weekly basis. Their team of six roofers took six weeks to complete the job. It's amazing how the new roof makes it look like a brand new house."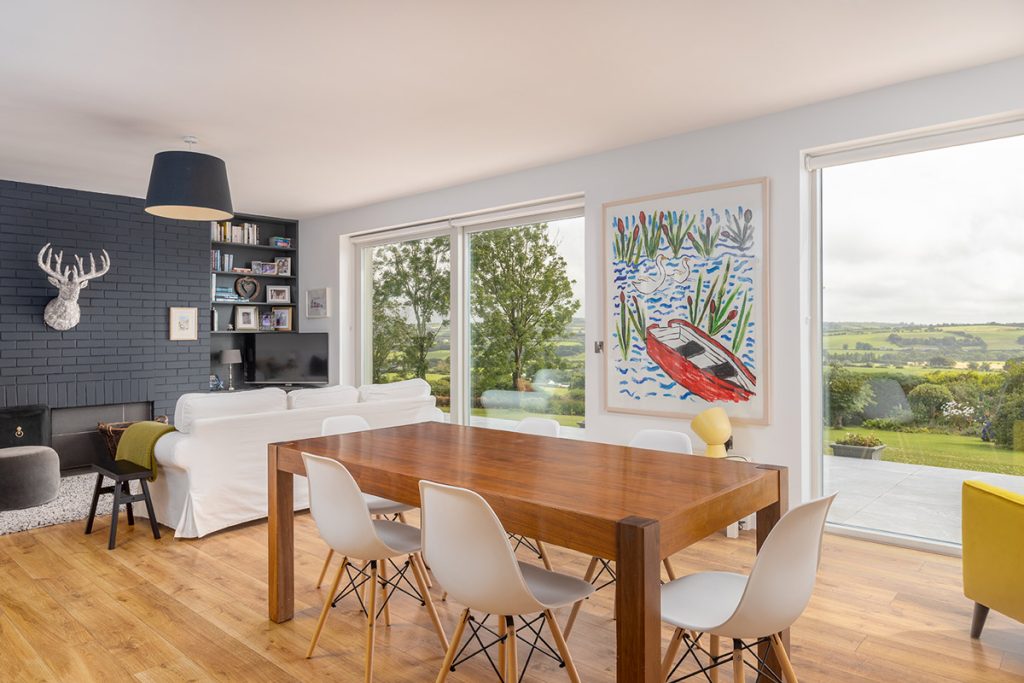 "We even had passers by stop and exclaim they hadn't noticed this new house before, even though it's been around since 1980," says Fiachra.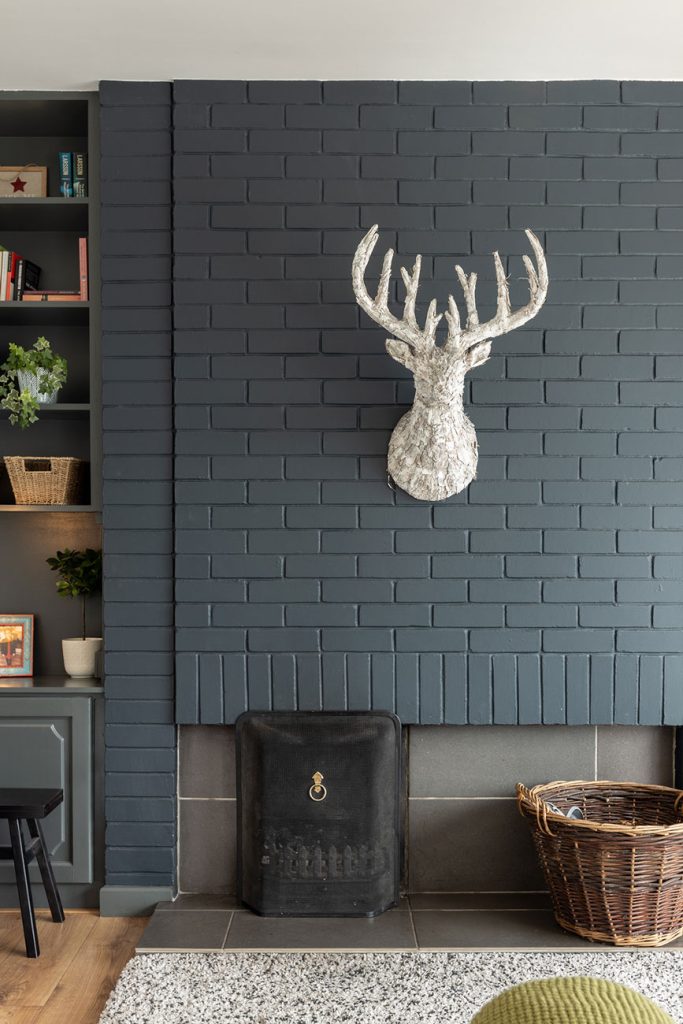 Taking charge
Once the initial structural work was completed by the builder, Fiachra took on the responsibility of renovating the rest of the house. "If we'd had to pay somebody privately to do it all, we wouldn't be anywhere near finished right now," says Denise.
A chemical engineer by trade, Fiachra learnt his house renovating skills on the job, although he pays tribute to the years helping his dad out with DIY tasks for his general knowledge and 'handyman' abilities.
Denise interjects, "Fiachra is very modest, the work he has done on this house has been exceptional."
They decided not to insulate. "We initially considered pumping the cavity block walls. The price wasn't extortionate, just €1,000, but we thought we'd do it later, if we needed to. As it turns out, we've never felt the need. The house, with all the solar gain, is very warm and cosy.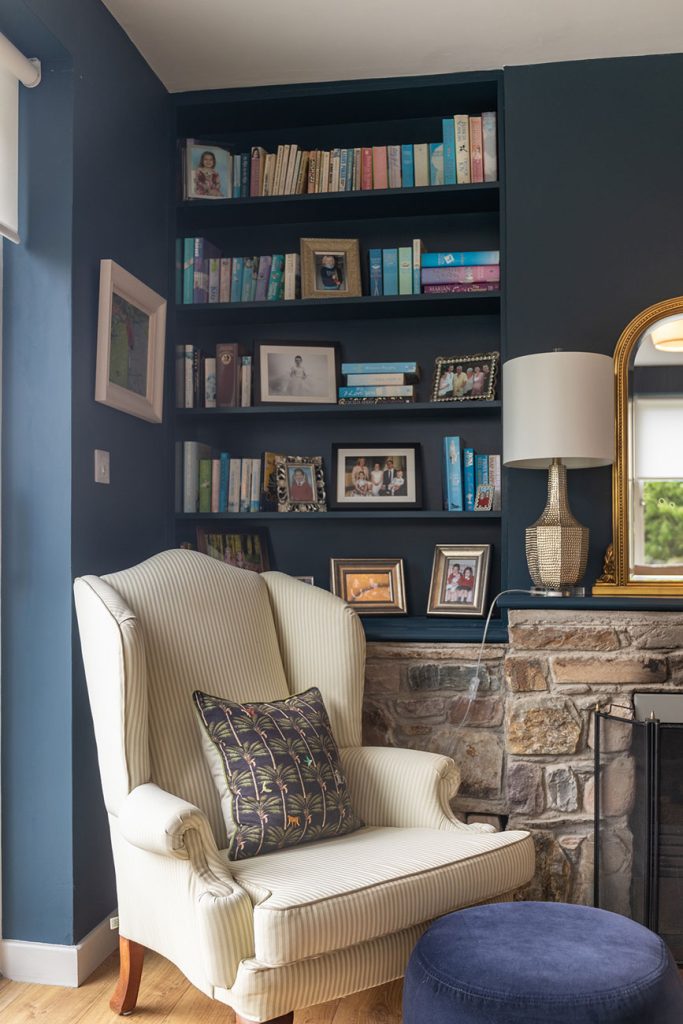 "The biggest and toughest decision we had to make was with the windows. We originally wanted high spec windows, but the builder was suggesting another cheaper manufacturer. We ended up being very unsure, not knowing what to do. We knew what we really wanted, but the cost, and the opinions of other people, were making us wobble."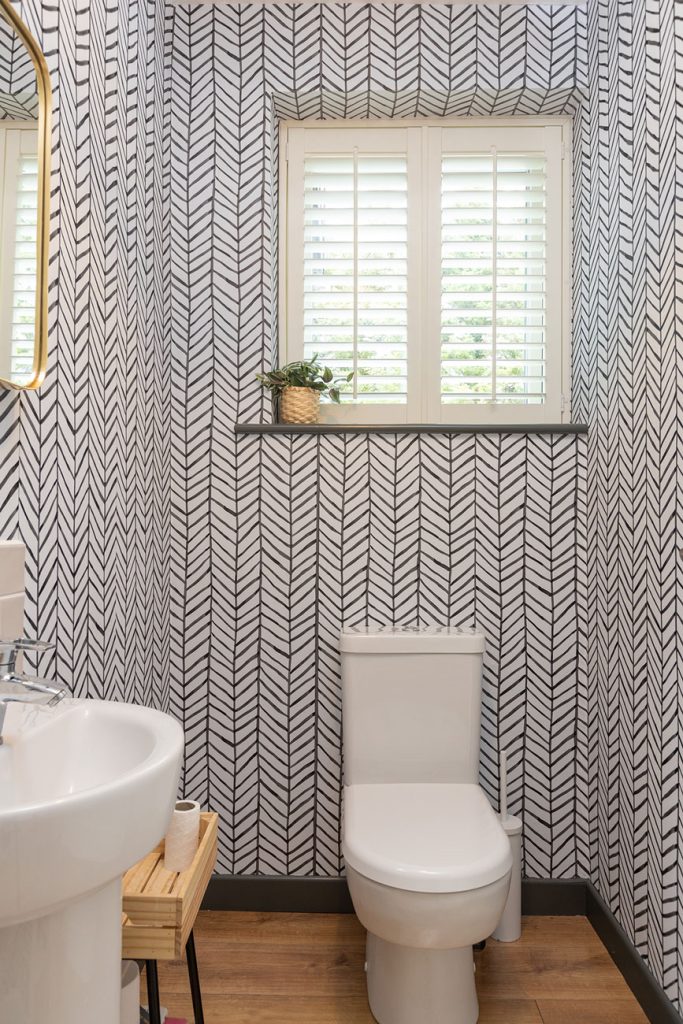 "But we ended up deciding to pull back the budget on other items to cover the extra cost of our number one window choice. We don't regret it; they really make the house."
A love for interiors
"I've always had a serious love for interiors," says Denise. "When I was younger, other girls would dress up their barbie dolls. I would be rearranging the furniture in the doll's house instead."
"Our previous home was styled very traditionally, in a Georgian period style," says Denise. "In the new house I wanted a contemporary modern look. So we have lots of white walls with injections of colour coming from our hanging art and accessories, which really pop out."
"There were formica shelves built into the alcoves when we first moved in," says Fiachra. "Most people would have removed them, but Denise painted them and they're completely transformed." Denise adds: "We thought we'd replace them with something else later, when the money was there, but they won't be coming out now. We love them."
The bathrooms were fully refurbished, with Fiachra tackling the majority of the tiling work. "I really struggled finding a bathroom unit that was affordable yet big enough," says Denise. "Eventually, I asked our kitchen installer if his company did bathroom units, which they don't, but he offered to custom build two fabulous units. I sourced the sinks separately."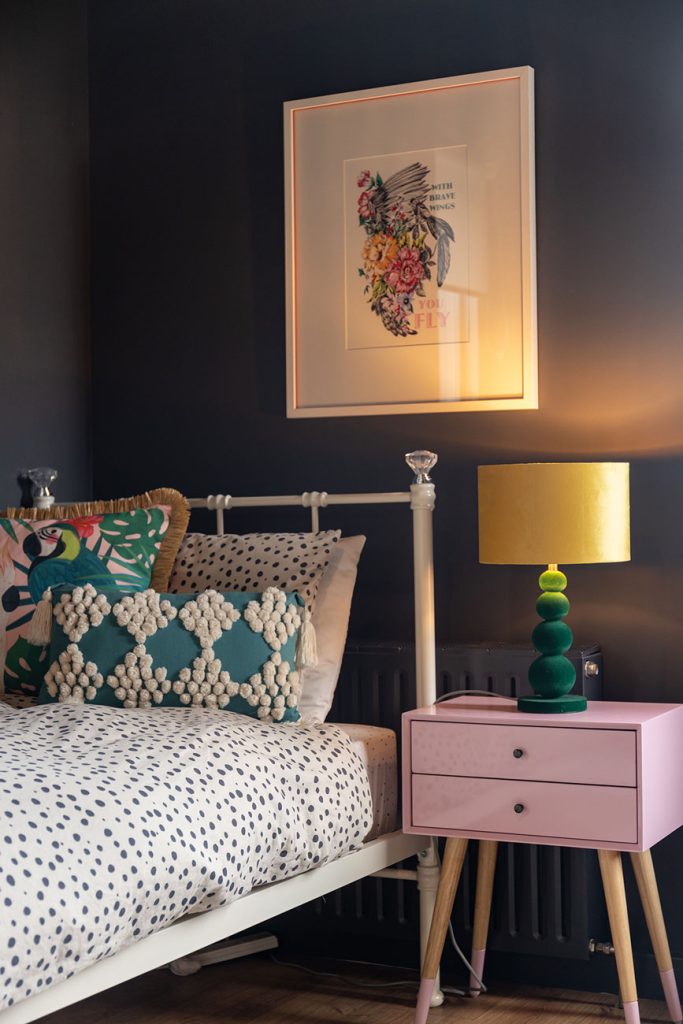 The modern theme continues in the kitchen which is handle less and has a concrete effect worktop. "The original kitchen was in our main dining area and our current kitchen was used as the utility room. But we felt it was a very poor use of the space; there was no room for a table and chairs. So we completely rejigged the area, with the old kitchen becoming the dining room. We knocked through into the utility room to make the new kitchen and converted the garage for additional storage, which is just off the new kitchen."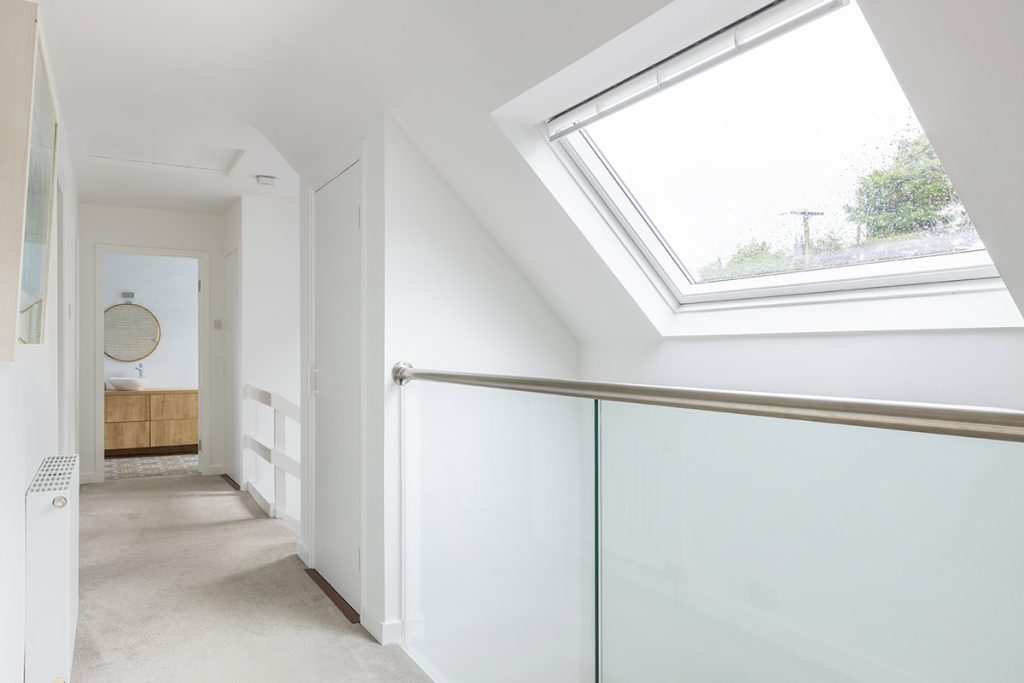 Denise carried out a lot of research into flooring options. "At the start, I wanted hardwood parquet but that would have cost €50k. Needless to say, it went out the window. In the end, we went with an oak laminate with an abrasion coefficient (AC) of 5, and 14mm thick, which was the highest grade we could get. It means it can withstand moisture, heat and heavy traffic. I am very pleased with it, and it hasn't dated. Then upstairs, the bedrooms have a grey laminate, AC5 as well, 12mm thick."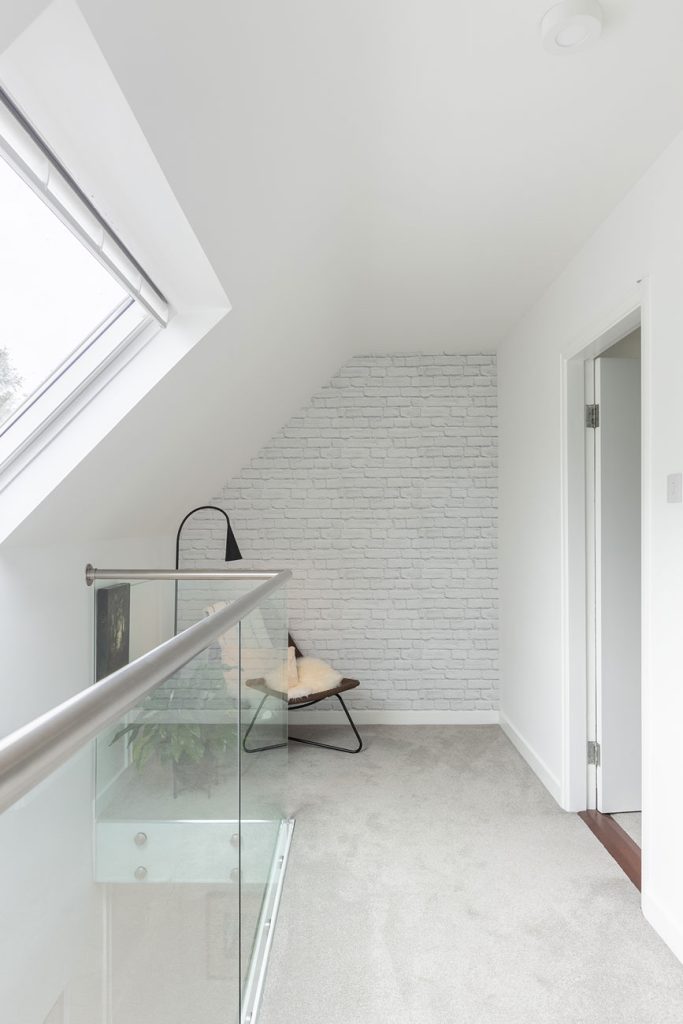 Into the light
"When we moved in, the house was surrounded by 40ft trees. There was no view and it became very dark inside once the sun went behind them – it was like being in the middle of a forest. We had the tress gradually topped off, which revealed spectacular views."
Despite Storm Ophelia forcing their hands on the roof replacement, the Sinnotts are happy with how their renovation project went. "There were no major hiccups, beyond the roof," says Denise.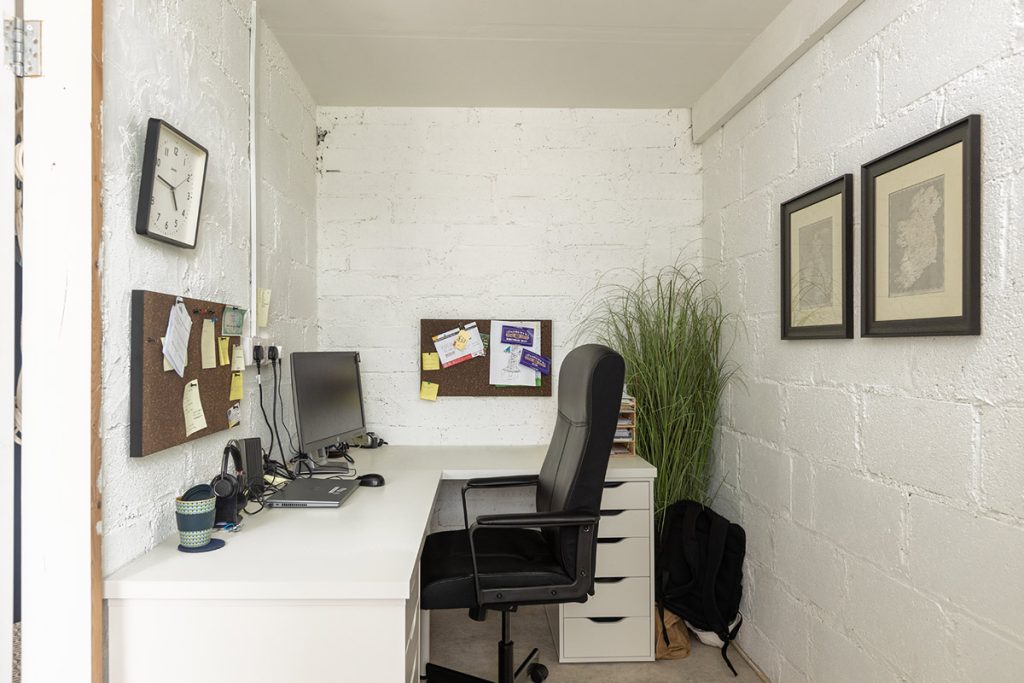 The house's name, Dunfern, reflects the couple's shared determination and combined strengths that have made it into a fabulous 'first' home. Denise explains: "Fiachra comes from Ferns, County Wexford and I come from Dunmanway County Cork. Dunfern is a play on those two names. A combination of where we came from and where we are now with our joint venture."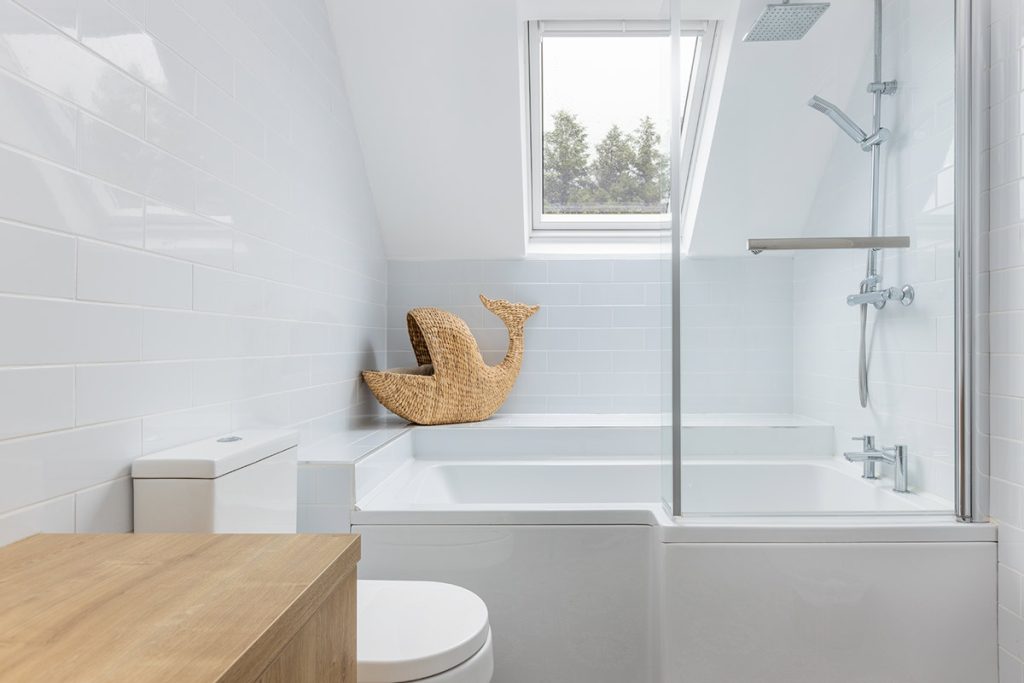 "It's been a long process, but we are overjoyed with the modern finished home we have created. Maybe we will be tempted to take on another project in the future, but we are happy where we are right now. If we lived here another 30 years, we would have no regrets."
Read up on Denise's and Fiachra's project on their Instagram account @dunfern_design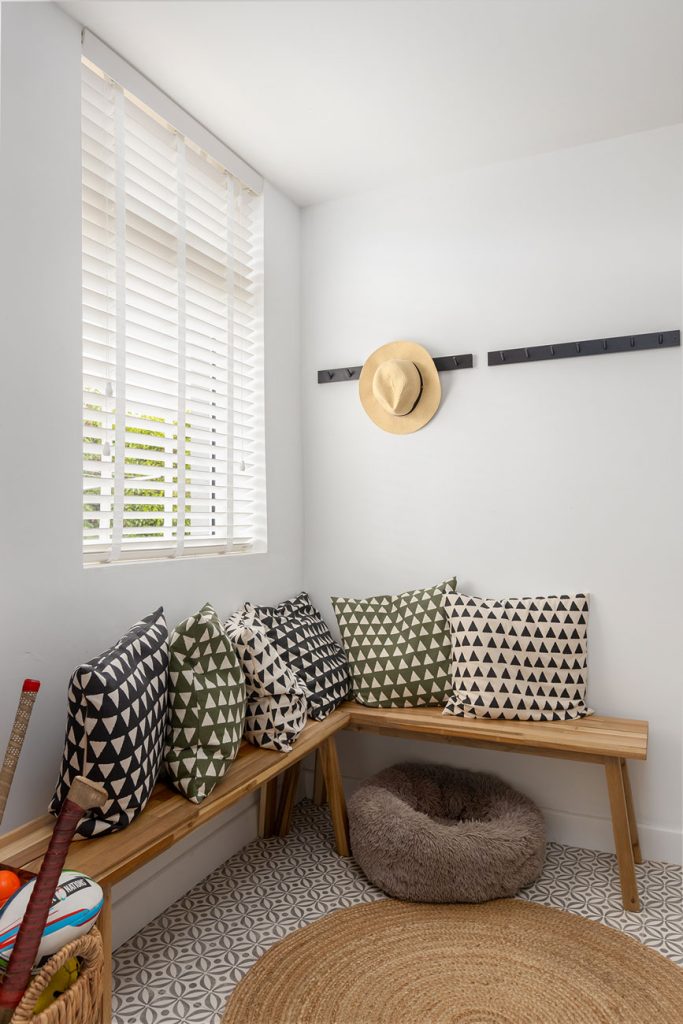 Q&A with Denise and Fiachra
What is your favourite design feature?
The house was just so cleverly designed to have all that living space on the south facing side. Even in the middle of winter the aspect is so warm and sunny, there are days we don't need to have the heating on.

Biggest splurge?
At €25k our triple glazed aluclad windows. Worth every penny.

What would you change or do differently?
A lot of our decisions were made for financial reasons. If we had received the money from the bank at the start, we would have replaced the roof right away. I would have gone for the hardwood parquet floor not the laminate. But we had a limited budget at the time and we can live with those decisions.
We might consider installing a stove in the future. We love our open fire, but a stove would be more economical given the current energy climate.

What surprised you?
The cost! I think we were very naive when we took on the house. I remember showing the original property ad to a builder friend at a dinner party. At that time Fiachra and I thought €50k would renovate the house. He looked at the photos and property details and said a good €70-80k would do it. I remember thinking, he's crazy – yet here we are having spent €130k.

What single piece of advice would you give a friend who's looking to embark on a project similar to yours?
Make a decision and stick to it. Don't keep second guessing yourself. We drove ourselves crazy about the windows – will we, won't we. But we knew what we wanted and we should have made it work right from the start instead of getting confused by listening to others.

Would you do it again?
Yes, we would definitely take on another renovation or new build project in the future, but our current plan is to rear our family and create some good memories here and then maybe think about self-building down the line.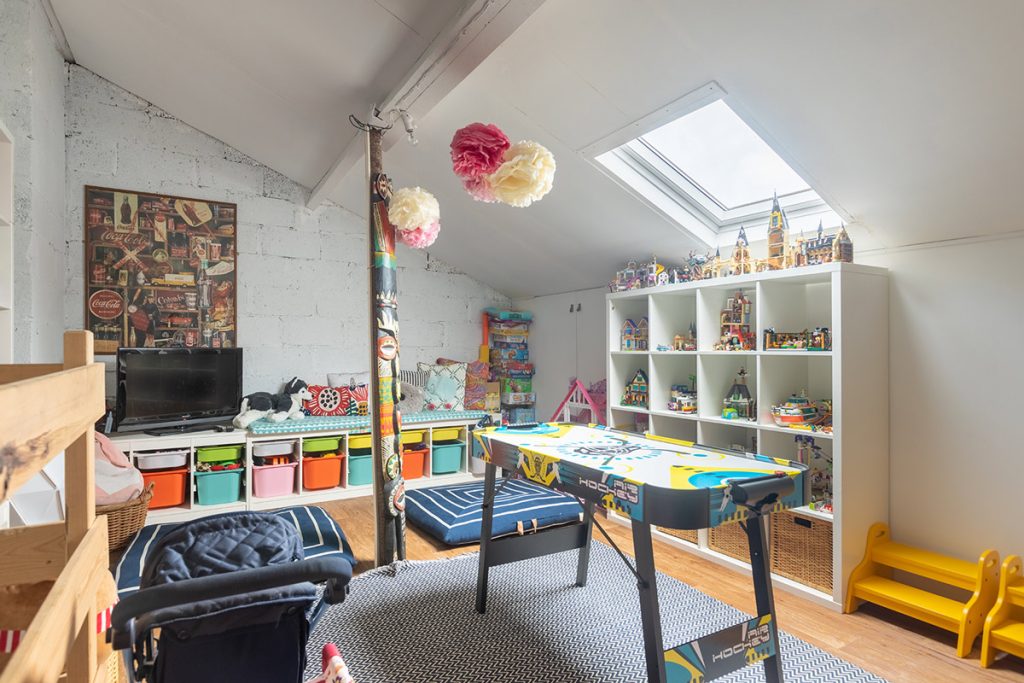 Denise and Fiachra's tips
Listen to your gut. I remember the builder was really annoyed that we went with a different window manufacturer to the one he suggested. But we don't regret it for an instant. The builder was never seen again, but here we are happy looking at our choice years later still.
Be resourceful. I bought most of our bathroom suites on the internet, unseen. Although it was a risk, I couldn't afford to buy in the mainstream shops. There were one or two mistakes, but to be fair, they worked out mostly in our favour.
Rely on friends who are in the same situation as you. I shared a lot of tips with friends who were building or renovating at the same time. We all helped each other out.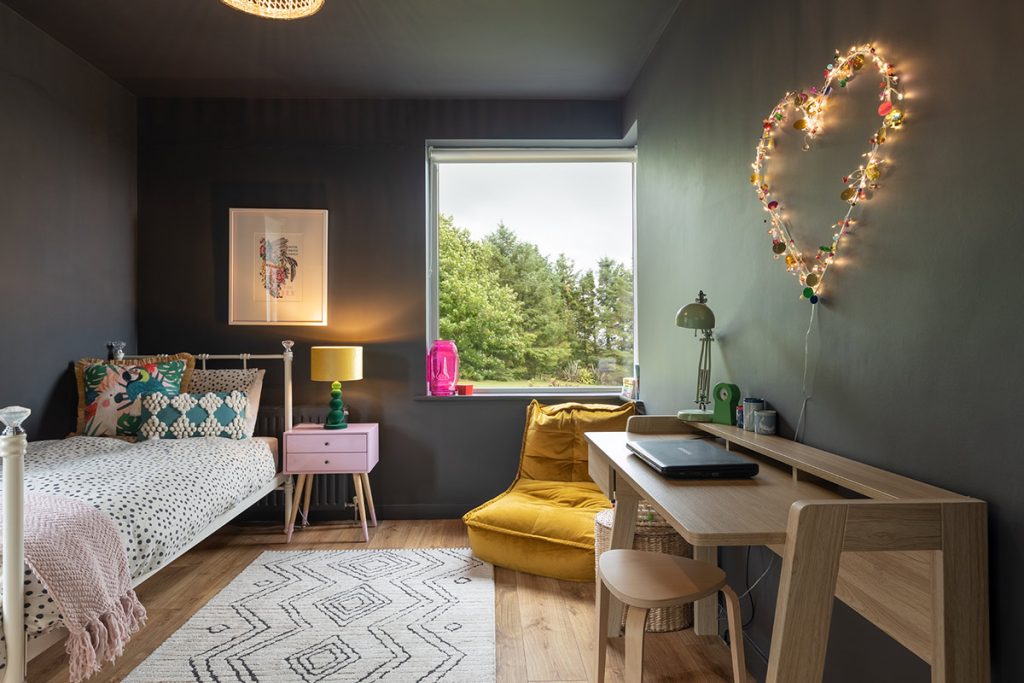 Suppliers
Contract builders
Hurley & White, Dunmanway
Windows
Rationel, rationel.ie
Roofing contractor
Willy McCarthy, Cork City
Patio
Aiden Walsh Civils & Landscaping, Bandon
Kitchen and bathroom units
Classic Kitchens,
classickitchenscork.com
Bathroom tiles
Delforno Tiles & Timber, delforno.ie
Laminate timber flooring
Right Price Tiles Ballincollig, rightpricetiles.ie
Carpets
John McCarthy Furniture, johnmccarthyfurniture.ie
Balcony glass for landing/mezzanine
Cork Glass Centre, Cork City
Kitchen appliances
DID Electrical Bandon, did.ie
Rangemaster cooker
MD O'Shea & Sons Ballincollig, mdoshea.ie
Franke boiling water tap
Screwfix.ie
Interior styling
Denise Sinnott @dunferndesign on Instagram
Photography
Greengraf Photography, greengrafphotography.com