Why aren't we building our homes with natural materials? Which eco products are worth the investment in Ireland today? Eco architect Tom Woolley finds out.
In this article we cover:
What is eco building
The difference between mainstream and eco building
Barriers to eco building in Ireland
How to cut costs when eco building
Which eco products are worth the investment
Most people want to live in a healthy, thermally efficient house. But when they start researching how to build such a house, they often find the array of options available confusing.
Many assume that the place to start is to spend a lot of money on expensive technology such as solar panels, heat pumps and heat recovery systems. While these should not be ruled out, it is important to start with the fabric of the building.
If a house is well insulated, you can save a lot of money on heating. And this is far more effective than fancy alternative technology. This applies to building a new house or renovating an existing one.
Mainstream vs eco building in Ireland today
Architects, builders and even official bodies will say that it is better to use standard synthetic plastic materials to insulate your house. They will say that you should stick to tried and tested solutions, that natural materials are too expensive and not reliable.
I would argue that using petrochemical synthetic materials such as polyurethane, polyisocyanurate, expanded polystyrene, or spray foam, into buildings is introducing an unnecessary amount of hazardous chemicals into your building and your life.
Synthetic materials perform very well when it comes to insulating buildings. But sealing houses up with airtight membranes where occupants can breathe in chemicals, flame retardants and fungicides, is not the approach I would adopt.
It is not unusual to find that indoor air pollutants are well over the safe levels set by the World Health Organisation and other bodies. There is also a massive problem with mould growth, even in new  houses, as the fabric of these buildings cannot breathe and require careful detailing and installation to manage moisture and condensation.
Natural alternatives
We are now able to build and renovate houses with natural materials that do not contain toxic chemicals. These include timber, wood fibre, hemp fibre, hempcrete, sheep's wool, and many more. These materials are widely available and there are plenty of examples of their successful use.
In many cases natural products are more effective than synthetic ones and easy to apply. They are vapour permeable (breathable), thus less prone to mould and damp, ensure good indoor air quality and create an attractive natural feel to the house.
Despite the many benefits of these natural ecological materials, many people remain nervous about using them, preferring to stick with concrete and flammable petrochemical materials.
A large part of it has to do with cost. Some excellent imported natural materials can be more expensive than they should be, as they are made in other European countries. When I work with hempcrete, for instance, we get hemp from Yorkshire and a lime binder from Northern Ireland or Shropshire. Some hempcrete materials are imported from France and Belgium.
But even at that, it is possible to keep the cost of building or renovating with ecological materials close to the cost of conventional products. Although self-builds always cost that bit more.
The hempcrete cottage that we built in County Down 12 years ago has been a useful test bed. The house needs very little energy to keep warm and we have tested it for airtightness and cold bridging.
Over the past year, it has been monitored by University of Ulster and so we have data showing how relative humidity stayed the same all year round whatever the weather conditions or occupancy.
People who stay in the house, as it is let as a holiday cottage, comment on the beneficial air quality and some have even gone on to build their own hempcrete houses. So if you want to build or renovate with natural healthy materials, don't be put off. It's your house, your health, and your choice.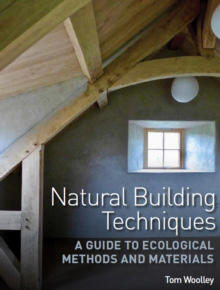 Co Down architect, builder and educator Dr Tom Woolley's latest book has everything you would expect from an advocate of hempcrete (lime hemp mix) who's on numerous boards and committees that aim to enhance environmental standards in construction.

Natural Building Techniques is all about showing that natural building methods are not only a possible way to construct our homes, but the right way to tackle a self-build project.

He goes through the various methods and tackles how to certify them – a major stumbling block self-builders face when they want to build with materials like cob or DIY stick timber frame filled with sustainable insulation like straw.
Drawing on three decades of experience, the book is full of examples of how it's done and how you too can do it.

Natural Building Techniques: A Guide to Ecological Methods and Materials by Tom Woolley, Crowood Press, ISBN 0719840473, crowood.com, 160 pages, £20