This Japandi kitchen mixed with a mid-century modern design is monochrome and bold. The team at Daniel George Kitchens explains how they achieved the client's vision.
The kitchen design for this Co Tyrone home extension project is based of the door and style of the Milan Kitchen by Daniel George Kitchens. Here's how the design evolved and what the homeowners, who happen to be owners of Sheraton Interiors in Central London, have to say about their experience.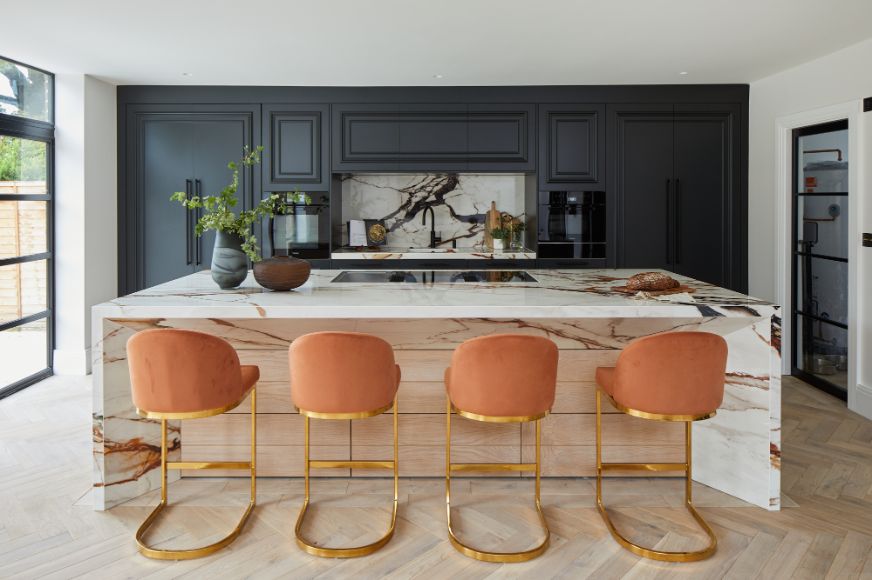 Q&A with the Japandi kitchen designer
Did the client give you a specific design brief and give you a clear idea of what they wanted?
From the outset, the couple knew they wanted the main wall to host tall cabinetry along with a sink rebated between tall units. The star of the show would be a multifunctional central island which would feature a cooking station as well as a casual seating area.
Their brief was clear, as they imagined something bold and exciting. A mid century modern modern space incorporating Japandi elements – a mix of Japanese and Scandinavian styles. They also loved the idea of a monochromatic colour scheme which we believe we have achieved excellently.
Were there any specific changes to be done?
The house was their first home, a semi-detached property which needed a lot of work but was full of potential. Initially the pace was 4x3m for the kitchen, a small U-shaped layout; it was very dark and cramped with dated appliances. So they were more than happy to extend the house, making the room more open plan.
The island was the star in this kitchen and having looked at CAD visuals and samples of materials this led to redesigning the island for a third time to achieve exactly what the client wanted. This led from a brass finish with handles and changed it to a horizontal tongue-and-groove style stained oak finish in a handless form.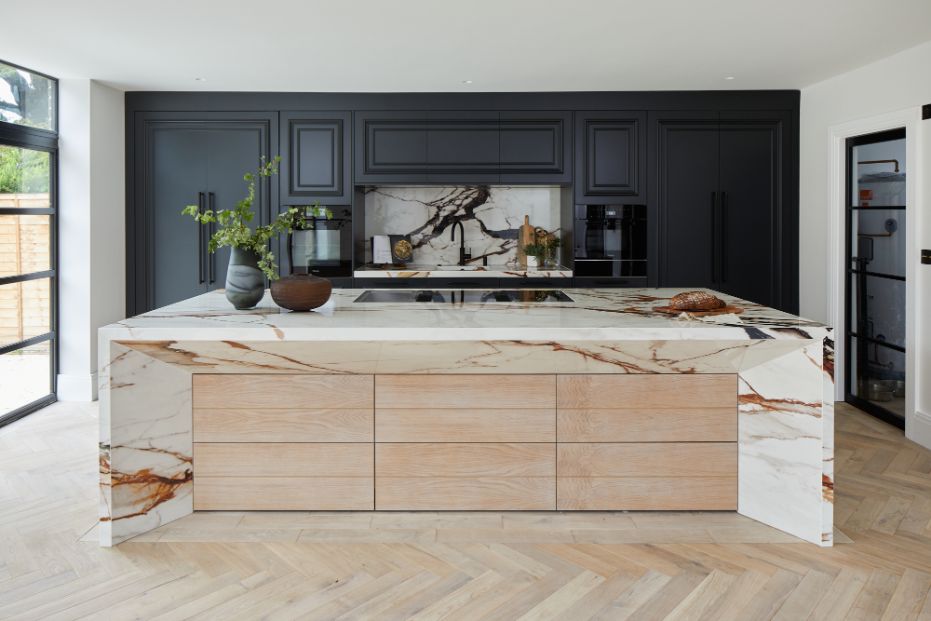 What appliances did they choose?
The client choose Miele compact steam oven with built in sous vide, which they can control from an app using a smart phone.
Underneath this we recommended to place a built in warming drawer.
To the opposite side of the sink, they chose the Miele M-Touch series conventional oven with steam functions.
The hob they opted for a Bora classic 2.0 featuring two induction hobs, one hotplate and two extractors. This is flushed finished into the worktop to give a seamless design – its also ducted out under the floor, through an outdoor wall.
Liebherr fully integrated fridge and a Liebherra fully integrated freezer with ice maker.
Quooker Flex Top tap with boiling water
Sink from The 1810 company seamlessly integrated into the worktop.
Insinkerator waste disposal.
Intergraded bin below sink.
In the pantry they choose a Miele M-Touch coffee centre, offering freshly ground bean-to-cup coffee.
What are the unique elements/design features of the kitchen?
The cabinetry design is unique in itself, no one else offers this style of door. We came up with this unique concept – a slab-style painted beaded door that includes the base and wall units – We call this the 'Milan' kitchen, designed following inspiration at a Milan trade show.
No one else offers this style so it's unique to Daniel Geogre Kitchens. This was the first kitchen we made using this door style, and have since added it to our showroom display.
Did you have input on the flooring or lighting? If yes, can you give details of the products used in the kitchen design?
We added LED lighting around the sink area to create a calming effect, which also highlights the sink location as a feature. Again it's very unique.
Details of worktop and cabinetry:
Cabinetry – Milan Kitchen by Daniel George Kitchens in 'Little Greene lamp black'
Worktop – Xtone Paonazzo Biondo marble-effect sintered stone from Porcelanosa.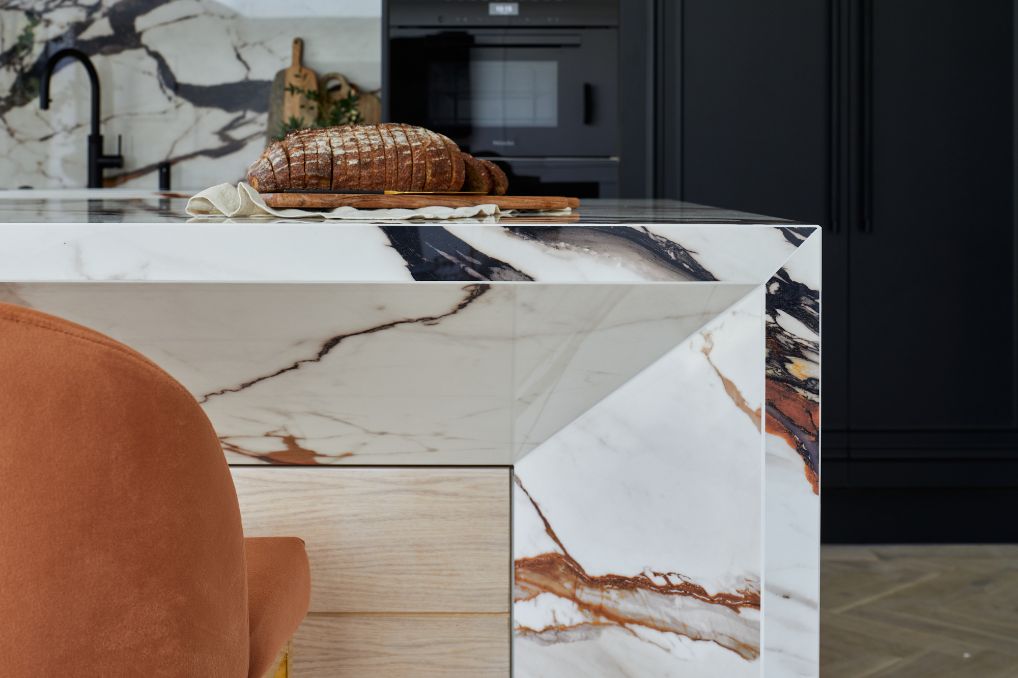 What was the biggest challenge in designing the kitchen?
The island was the biggest challenge due to the complicated nature of the design, and size. Installation, template and fabrication all had challenges but this was to be a one-of-a-kind design and so we expertly resolved any issues thanks to our stone mason.
How long did the whole process take from the initial consultation to the completion of the kitchen?
The initial consultation was during renovations, once the design was almost at completion. The installation took 12 weeks from design sign-off to fitting, mainly due to design changes and getting the island installation right.
Lastly, is there any detail that you would particularly like to highlight?
For those of you with a keen eye, you'll notice that on the island there on a plinth hence we've oversized the drawers to go right to the floor leaving a 10mm gap just to allow them to open and close. It's very different in terms of size and shape, with six drawers on both sides so optimal storage. An adjoining utility houses the laundry appliances and an extra sink. Cabinetry also from Daniel George, from the Lincoln Kitchen.
Q&A with the client who refurbished their home with a Japandi kitchen
About us
We are a family of four and my wife and I both come from an interior background, we have been renting for six years and bought our first home, a mid-centry semi-detached three bedroom. It needed a lot of work, but we knew it had a lot of potential.
We spent around a year and a half doing renovations, during this time we met with Daniel George, after meeting at an exhibition show and we were happy to meet someone who already worked with designers. This gave us confidence in the level of service and expertise to expect. Our plan was an open plan kitchen as part of a double-storey rear extension, to replace a small and dated U shape kitchen.
About the project
I had an idea of what I wanted for the kitchen from the outset but needed help to forge these ideas together. My wife liked the idea of a glamorous contrast and I love the feel of a Japandi style room bringing in more Scandinavian and natural styles.
So finding something that would match both our styles wasn't going to be easy. In addition to this, our brief was to create a kitchen that would be innovative in terms of design – something no one else had thought of or no one else would have. It also had to represent how far we have come in our journey together.
The island is a central unit with a unique marble worktop, storage and flush-fitted hob. We also wanted to seat here so the design team were able to design us an overhang, fitting island chairs.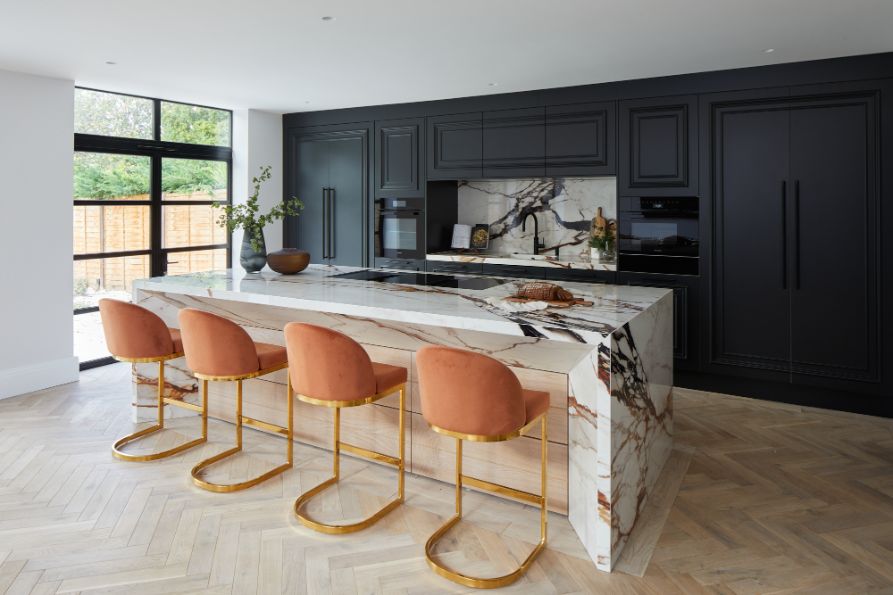 Why did you choose your appliances?
I love innovation and I am kind of a techy guy, it's amazing how far appliances have come and truly believe how they can make our busy lifestyles much easier. My favourite appliances to date is the Bora cooker, we haven't used it to its full potential as yet but what we have used it's incredible.
We are coffee drinkers so the Meile Machine is another game changer, freshly ground bean coffee every morning at the touch of a button. It's definitely one of my most favourite must haves.
The sink design is certainly something to talk about when we have friend friends and family over, we included a Insinkerator waste disposal unit which is honestly a game changer for us. Pair that up with a Quooker flex tap in black and it's a real difference, it makes washing up easier and I do the washing up at home so it's made a huge difference to me. The boiling water tap is more energy efficient than a kettle and the disposal units help with the problem of wasted food.
I also really like the Liebherr fridge, which has a plumbed ice-maker so we never have to remember to refill.
How did you find the process?
I have a background in design so I knew what I wanted would not be easy to find, especially as my wife and I had different ideas. Having met with DG, they were happy to work with us, and especially in the CAD Drawing stage to get the final design correct as this took a lot of back and forth. I explained what I wanted and they came back straight away with a unique idea for cabinetry and we worked together to get the island just right.
Did you achieve what you wanted for your kitchen?
In the end, I feel extremely proud of my kitchen. I truly love how it represents me as a person but most importantly, me and my family love using this space and it's made a real change in the way we live, feel and use the kitchen on a day-to-day basis.
Overall I think we definitely achieved the look that we wanted to go for from both myself and my wife's point of view. I do honestly, you know, stand back and look at it and kind of think Wow, is this my kitchen.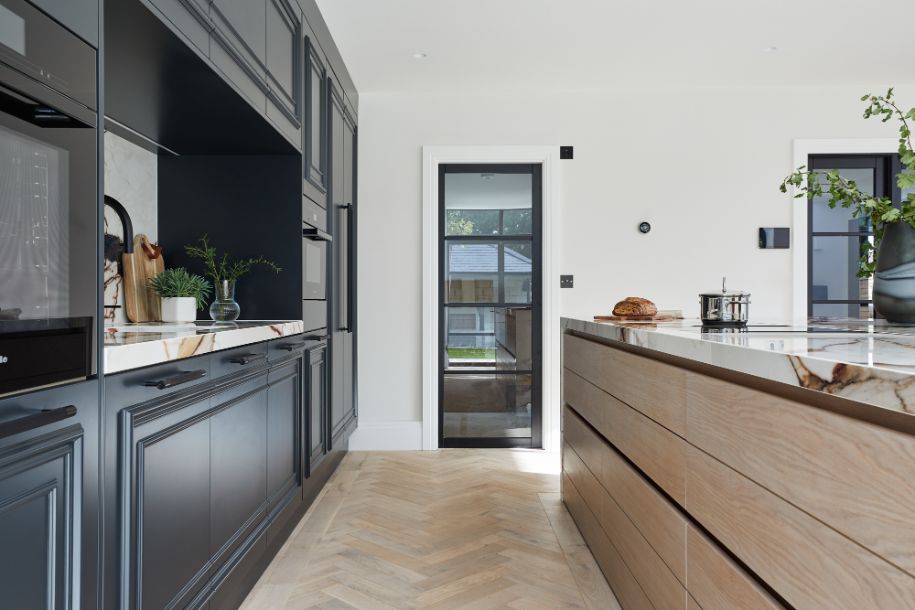 Visit Daniel George Kitchens or book a design consultation at danielgeorgekitchens.com
45 Ruskey Rd, Coagh Cookstown, Co. Tyrone, BT80 0AH