When John and Sinead Cullen decided to buy a 100 year old house, they embarked on an Art Deco renovation journey that took over their lives.
John and I had been living in London for a few years when John's mum got ill," says Sinead. "We made the quick decision to come back home so we looked for properties whilst still in London. Belfast was our preferred choice, as it still had the hustle and bustle of city life and our new jobs would be based there."
"We found our charming home on a property website; there was only one photo of the exterior but I knew it was the one we wanted."
"Even though it needed a lot of work, the house was structurally sound, and we decided to bid on it after seeing the site survey. We did get to buy it for quite a bit less than the average asking price for the street, because it hadn't been lived in for quite some time and was neglected. It's a gamble that paid off as we doubled the house value in two years."
"John flew home a few days later, we made an offer, it was accepted, and the story began," adds Sinead.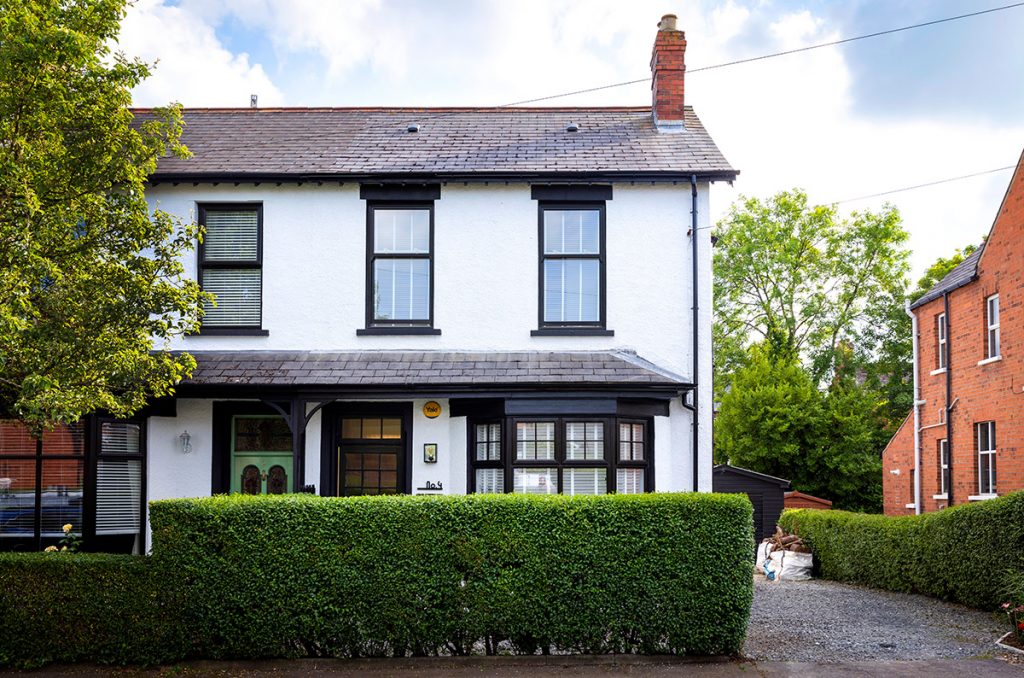 OVERVIEW
Bedrooms: 3 / House size before: 1,600 sqft
House size after: 1,850 sqft / House price: £150k
Renovation cost including furniture: £70k
Mortgage valuation: £310k
Heating and hot water: boiler (natural gas)
Ventilation: natural
"When we got the keys, I was so delighted to see it had original features such as deep cornicing, sash windows and high ceilings. The tree lined street and the central location seemed perfect for us. I love interior programmes and remembered what George Clarke said: find the street you want to live on and buy the most run down house on it, and that's exactly what we did!"
"It had been built in 1917 and there had only been two previous owners, and no redecoration for a long time. It's an Art Deco house, with a fabulous front door, although one of the previous owners added Victorian style stained glass."
"Sadly, John's mum passed away the year we moved back," says Sinead. "At that stage we hadn't started with the renovation, and we lived at home with John's Dad for a year."
"We properly started in 2019. The building project was such a welcome distraction; John and I threw ourselves into it."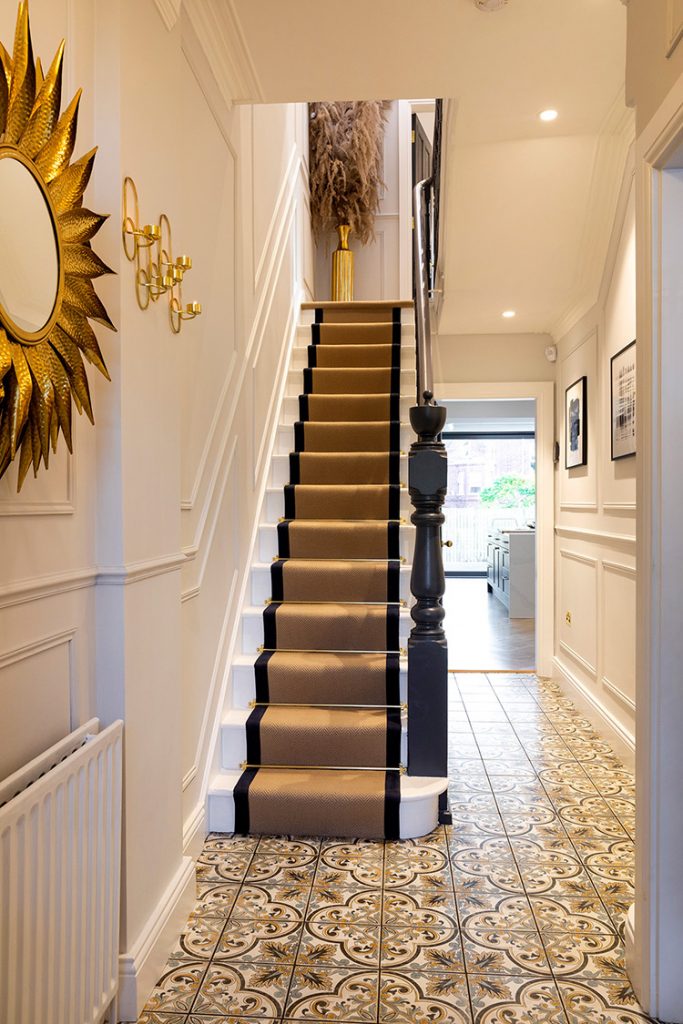 The plan
"The first thing John did was survey the whole house and plot the existing structure onto drawings. He then did the drawings for a new extension and full remodel of the interior. We submitted the plans to Belfast City Council and were delighted when the plans got passed eight weeks later."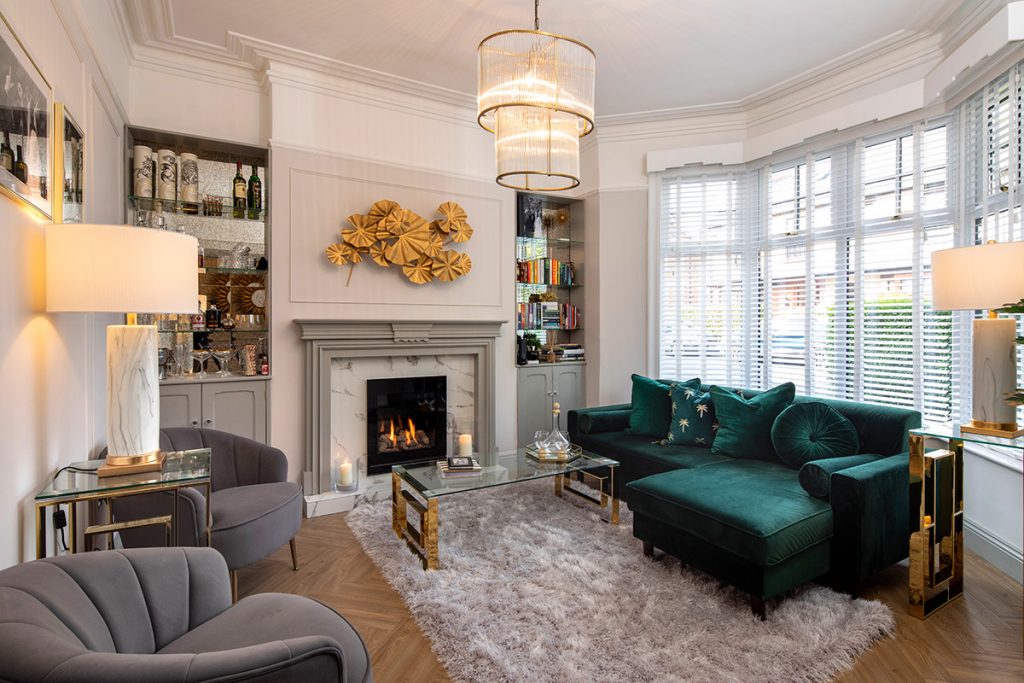 "After getting planning permission we had to have some calculations done by a structural engineer, for the removal of supporting walls etc. The house had been extended to the side for a kitchen, there was an outside toilet too which was dilapidated, and a boiler house."
"By demolishing the extension and outdoor shed and toilet, we had room to extend the kitchen. This also involved knocking through part of the dining room wall to make a walk through. I decided on this because we needed as much light in the space as possible. Structurally the most we had to do was add a steel beam between the old part and the new kitchen."
"We added 250sqft in the form of a new kitchen/utility, and a new ensuite for the largest bedroom upstairs. We also reconfigured an avocado bathroom with cast iron bath; that was a big project and not just because the wall below was buckling!"
"We kept the layout upstairs; the only change we made was to remove the old boiler to make space in the new bathroom. A good few of our neighbours replaced oil with natural gas, and so did we. We installed a smart thermostat, which we can control from our phones. Our intruder alarm is also linked to our mobile phones."
"We also had to redecorate every single room, which meant stripping them down (carpets, wallpaper) and making good. The house had lath and plaster walls and ceilings everywhere. Thankfully the walls were fine, so we didn't have to do anything to them for insulation, but they were covered in four or five layers of wallpaper and removing them turned out to be a big job with plenty of steam burns trying to use a rented wallpaper stripper!"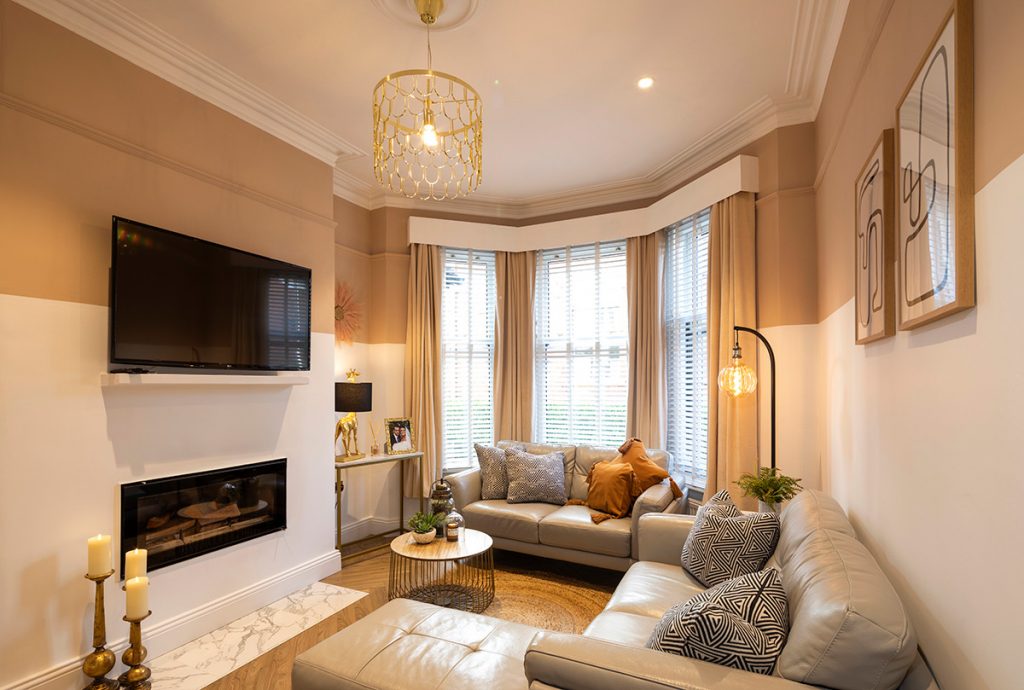 "Replacing the sash windows was the biggest cost," says Sinead. "Also, we hadn't got plastering in the original budget, but we did have the financing in place to insulate the walls in the ensuite bathroom and put in soundproof plasterboard, as we are living in a semi-detached property."
"To have a set of drawings to work from, John drew up the plans on AutoCAD and had the structural engineer provide the specification of the beam. It took us about six weeks to devise our plans, which were then submitted to building control. It was a relief getting sign off."
"At this stage, we were guided by Sarah Meany's motto of using every corner of the house, and so we added an under stairs wc. It's very small but quirky, and I love it. It's the perfect space to go bold."
"Another television show that inspired us was Your Home Made Perfect, with architect Robert Jamison who tends to do all fixed seating. We took the tip of placing furniture on our plans to make sure the rooms would function well with what we wanted to put in them."
Kitchen
"We fully insulated the kitchen, and that was still a work in progress when we moved in. We needed to save as much as we could, and wanted to be at the house to work at it as much as possible; it also helps with site security."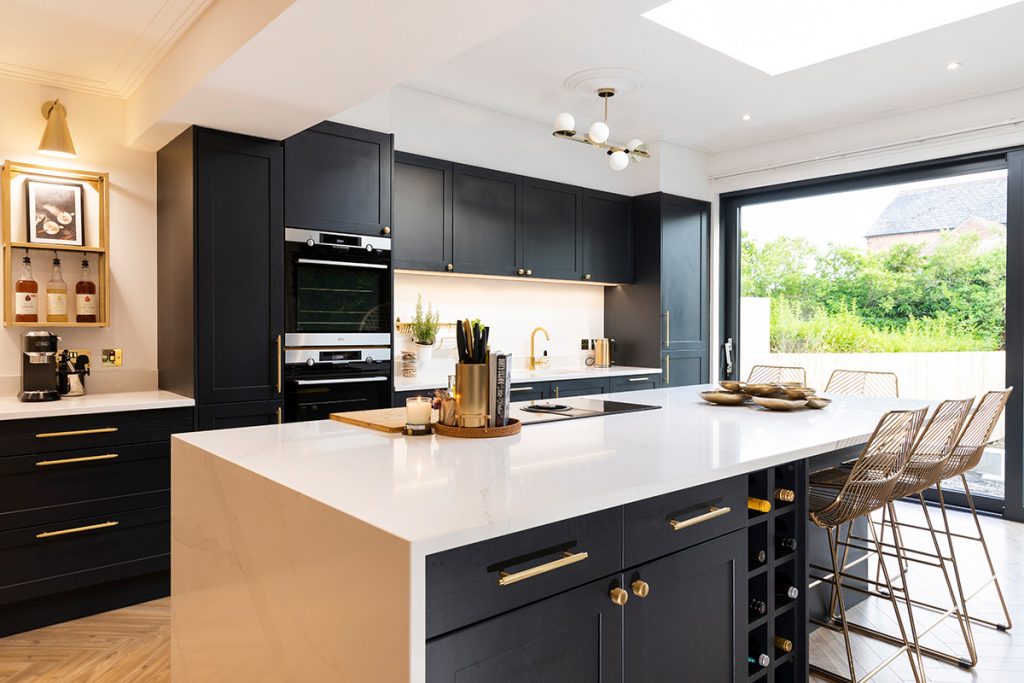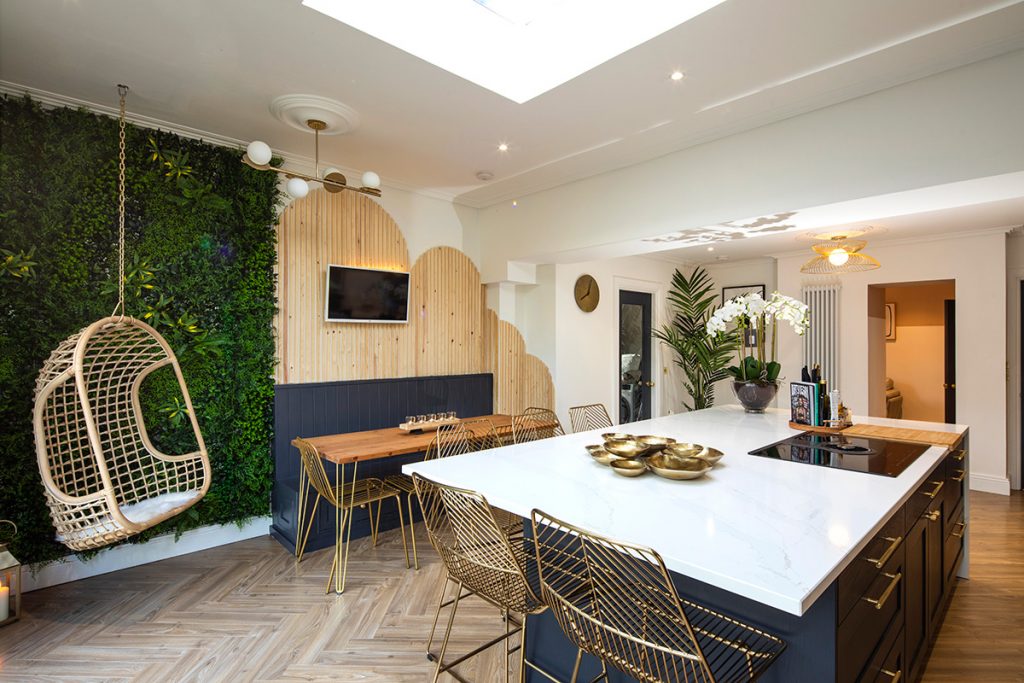 "We ended up saving 12k by shopping around for the right kitchen supplier. We had all of our ideas for the design and colours, so were clear as to what we wanted and didn't really need design services. As a result, we found a really good company quoting half the price because we brought them the detailed drawings, and their timescale was good too."
"The big investment in the extension was actually the new double glazed aluminium slider. At the time we were thinking, the bigger the window the better. But we might not have them so big next time as they need to be dressed. We decided on graphite colour vertical blinds which are very striking and practical."
"We loved the idea of a booth. However, with the island, it was a bit tight. So we decided we would put in fixed seating, but with regular table and chairs. We loved the idea of an artificial living wall to take outside inside, and complement our patio area. We purchased it quite soon after renovating and now every bar/restaurant has it as well. We don't mind as we love it!"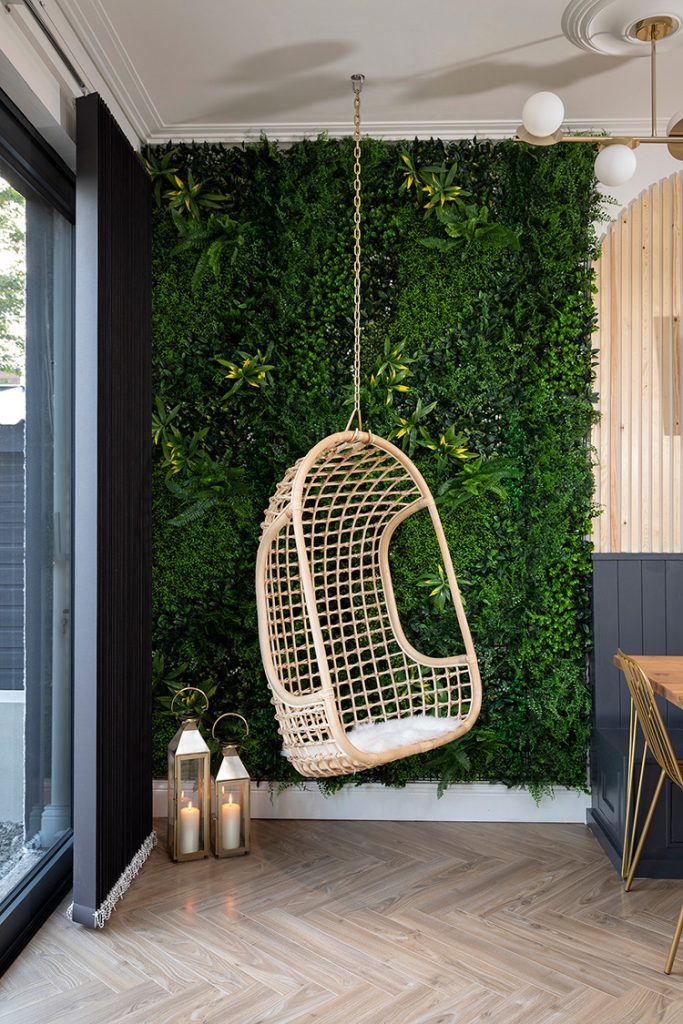 "The timber slatting behind the seating with TV above also gives a café modern feel. John cut the slats with an arched finish to give us a Deco feel. It really has been a learning curve; my aim was to inject our personality but keep to the spirit of the home's past."
DIY
"The project was non-stop for two years. We gave it every spare moment we had," says Sinead. "We're still at it but we're almost there! We are just missing our utility, which we plan to get done in the same style as the kitchen when funds allow."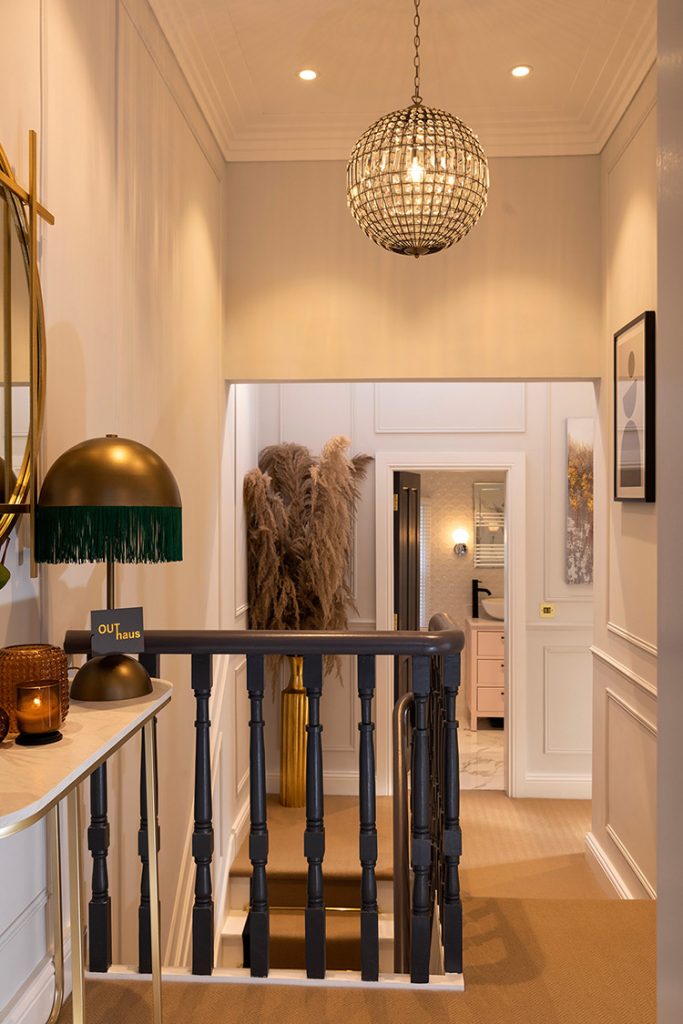 "Originally, we toyed with the idea of hiring a number of sub-contractors and managing the build ourselves. We got quotes in from the roofer, plasterer, and the prices were crazy. We were wondering where they were getting them from. So we made the decision to do as much of the work ourselves as we possibly could, rolled up our sleeves and got stuck in."
"The biggest revelation for me personally was how willing I was to learn and dedicate myself to a new skill. I work in the retail beauty industry so spending my spare time in dusty clothes with no makeup on was liberating! I pushed myself to the limits and had to admit defeat on some things."
"I spent a lot of time on the woodwork, for instance. It was never an option but to keep the original window surrounds and Deco staircase spindles and they took a couple of months of restoration. We filled them with wood filler, then sanded down, with a DIY rotary sander. We had to do that to each and every one of them about 10 times."
"John has just been incredible; I admire him so much for what he has done. He has worked in construction over 12 years now, but nothing was ever off limits. If he didn't know how to do something he would look it up and would not stop until it was mastered, which was the case for the roof work."
"Thankfully the property didn't suffer from damp, which was a big bonus for such an old house with six fireplaces. But the roof had been leaking."
"After being let down by various roofing companies, John stripped out the roof himself and put in new 100mm high density rockwool. We now have the option of a fourth bedroom with a loft conversion; at the moment we just put down temporary flooring."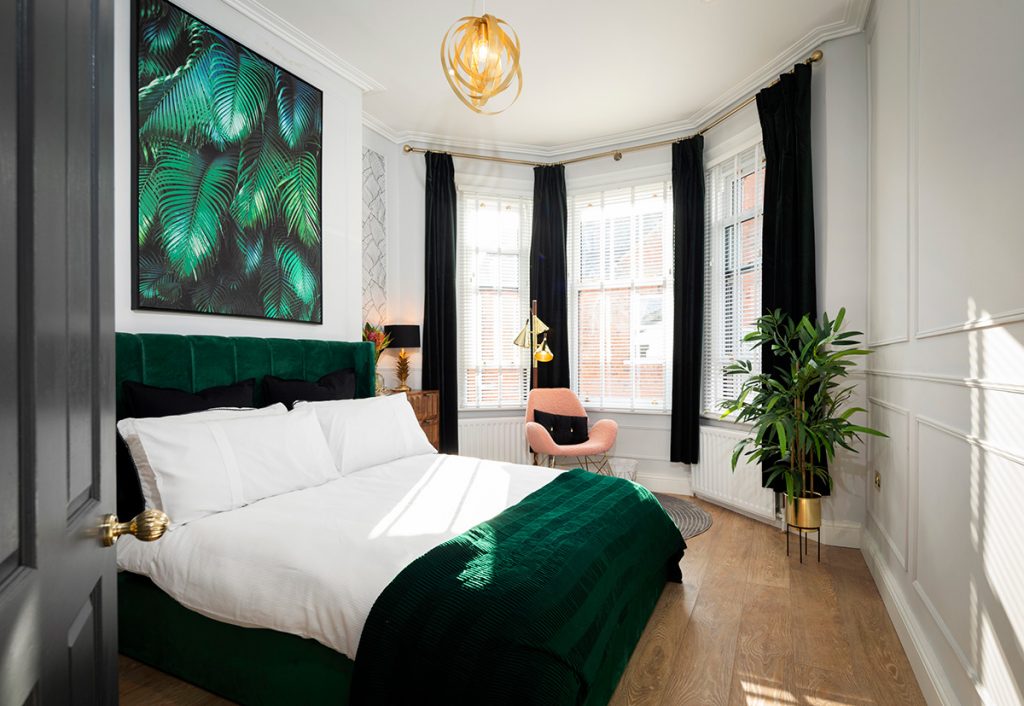 "In the main house, once we got rid of the carpets, the timber floors were ok but there were two steps between the old and the new sections of the house, which we levelled off and rescreeded."
"That took a couple of weekends, as we had to lift the floorboards to rejoist the existing living room. We insulated the floors and added a membrane. There was a small cubby and we took that wall down to be able to walk through from the kitchen to the living room, and so we could put in a new wood floor throughout."
"There weren't any really nice radiators, but we kept most of them. The ones we replaced were old and in bad condition, the rest were reconditioned. The house is a lot warmer now; we also have a gas fire in the front room."
"We did also splurge on a very good quality wood burner, which added a couple thousand to the budget. John installed this himself and then we got it inspected and signed off by the supplier; this saved us at least 2k."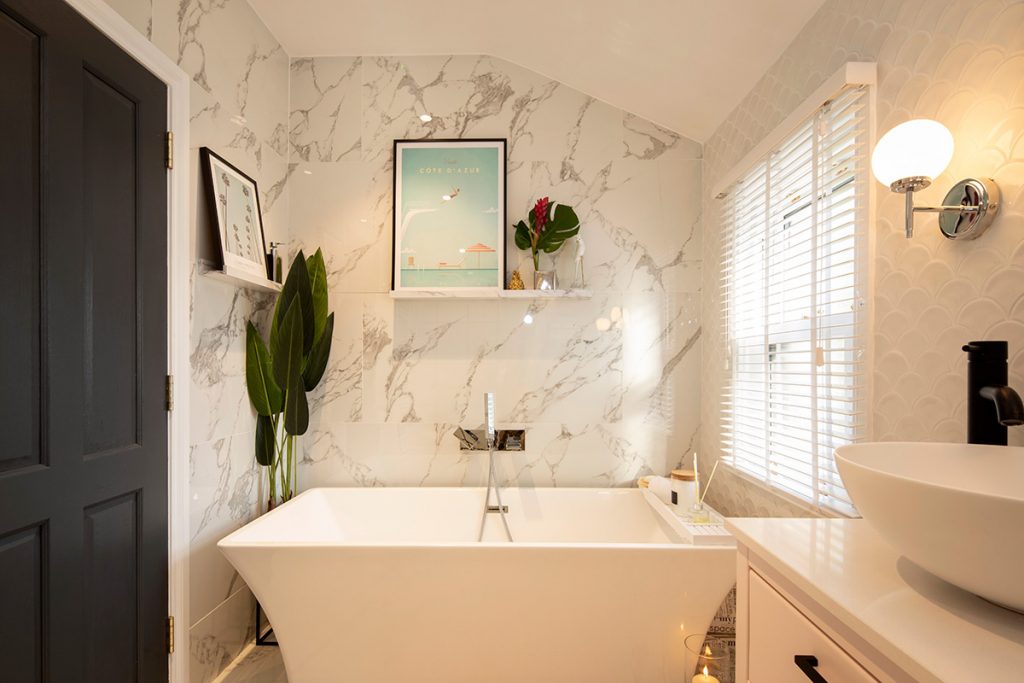 Garden dreams
"We also have lots of ideas for the garden. The first thing we did actually, was deal with the two large fruit trees. They had never been cut back and removed all the light. We got in a tree surgeon, who told us one of the trees was rotted in the middle. We didn't want it to fall on extension so got it removed. And there's quite of bit of extra space as a result."
"But there's plenty more to do; my plan is for a tropical retreat with BBQ area and bamboo screening, mini palm trees – think Beverly Hills pool bar vibe!"
---
John and Sinead's tips
Don't impulse buy. I had bought a leather couch before we replastered the walls, and then realised we might have preferred fixed seating in the living room. Planning where everything will go is harder than it sounds when it's your first home. And price match every item; shopping online saved us so much money by comparing.
Save up for the right purchase. If you want something expensive, even if it's just a mirror, wait until you can afford the one you really want instead of buying a cheaper version. We eventually had to replace gold plate switches we had bought for what seemed like a great bargain at the time.
Ask yourself, will I want this in five years? Trends are for cushions and lamps. The style of the house itself will show off your personality. Get an electrician who is sympathetic to your style, as they can help source the right fittings.
Get your finances in order before you take on a project. If you can get a loan, do it, as it can be time consuming to work on credit card transfer balances. It can be hard to keep an eye on these things when working full time, as unnecessary interest rates accrue.
Don't move in without a kitchen. We are easy going, but microwave food doesn't taste great after eating meals out of it for a year. When we moved in, we did have a working bathroom though, and the guest bedroom ready, so it could have been worse!
Don't be afraid of hard work, and get involved in every detail. You will learn as you go, and the details are what will make the difference to you once you move in. Make lists and have regular project meetings to make sure communication is clear with all the contractors you use.
---
Q&A with Sinead
What's your favourite room/design feature?
It's hard to pick, it changes every day. The kitchen, our bedroom, but I still love the period features the most, especially the cornicing. Our home is a nod to the period it was built in, but modern touches such as our induction hob with built-in extractor bring it into the 21st Century.
Would you do it again?
Yes but next time it will be a project to resell; the next step is to build our own new build forever home. And if we were doing a renovation, we wouldn't be taking on as much work as we did this time. We would definitely hire skips instead of the countless trips to the landfill which took up most of our time at the start – funny to look back on it now 🙂
What would you change?
There was an issue with the island measurements, which didn't take into account the marble that was to go on top. That led to some delays we might have avoided had we checked the measurements.
What surprised you?
We originally thought the walls and ceilings would only need a bit of paint, but as it turned out we had to get them replastered, which blew our contingency. Wallpaper hides so many sins…
---
Suppliers
Windows  
Eurosash Windows from Warden Wilson Windows, 07775533165 
Kitchen  
Make Kitchens, makekitchens.com  
Worktop 
Mid Ulster Granite, 
midulstergranite.com  
Plumber 
Chris Walker, 07843845734  
Fixed seating 
Corran Joinery, Info@corranwoodwork or Corranwoodwork.com 
Appliances 
Dalzells of Markethill including Gazco stove and Gas Fire, dalzells.com 
Home accessories and furnishings 
Outhaus and Outhaus Seasons NI, Portadown, outhausni.com 
Photography
Paul Lindsay, paullindsayphoto.co.uk

ROI calling NI prefix with 048, mobile prefix with 0044 and drop the first zero


Follow Sinead and John's journey on Instagram @lifeoverthehedge