How Claire and Robert Watts turned this well-located but cold Dublin home into a functional and  cosy nest for their family.
In this article we cover:
Renovating a 1940s home in Dublin
How the internal layout changed
Where and how they extended
Window design and shape for privacy
Kitchen design process
Homeowner tips to tackle a renovation project on a budget
Timeframe and how the project was managed
Choice of heating and ventilation systems
Before and after floorplans
Specification, supplier list, professional photographs
Overview
Site size: 830 sqm
House size before: 200 sqm
House size after: 250 sqm
New walls and upgraded existing walls U-value 0.12W/sqmK, roof U-value 0.16W/sqmK, ground floor U-value 0.15W/sqmK
"Built in the 1940s after WWII the materials used were minimal, mostly thin concrete blocks, bricks and wood. There was hardly any insulation left as well as dated electric systems," says Claire. "My husband grew up in this house and from the beginning his parents were happy with us making big changes and start with a clean slate because they knew it needed an upgrade."
"We knew about its faults and qualities. It is a place that we loved and we wanted the best for it."
Redesign
"It was a complete renovation, essentially a rebuild and extension. The entire interior and most of the outer walls were done from scratch. Only one room downstairs and the front wall of the house remained," continues Claire.
"We built over the old kitchen where we added two bedrooms, and extended at the side in the passageway. We decided to keep with the style of the road but modernise the interior and refresh the exterior. The footprint is very similar to the original so there were no planning issues."
"We wanted to keep the roof but found the rafters were too damaged and had to build it from scratch too."
"The house has a good size garden, the solid sheds were demolished to increase its footprint. Our design for it was minimal but we got some help with it to make sure it would look nice, adding some lighting features to highlight trees and bushes. We wanted a simple feel to the garden to keep it in harmony with the house and the large bay windows."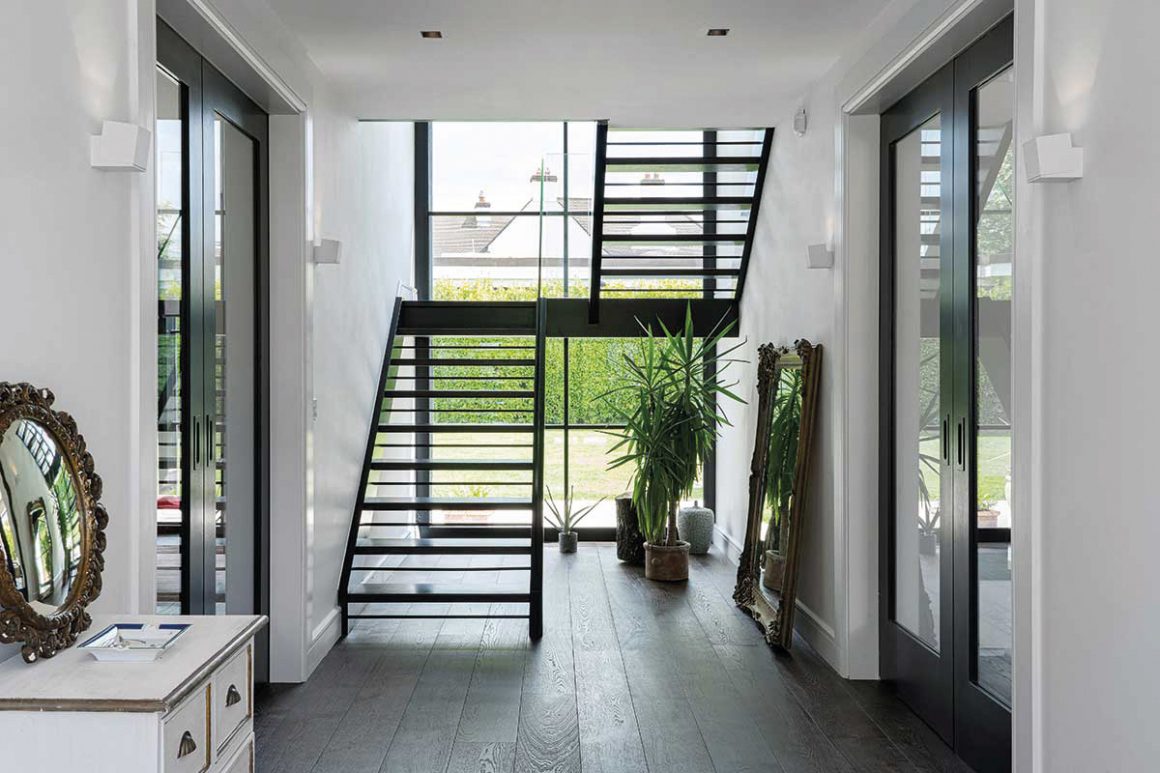 "The most important thing for me inside was for it to look modern but comfortable while delivering all the features of a practical family home. I didn't want the house to be ostentatious, the only exception is the marble countertop because I really had my heart set on it."
"We chose the finishes with the help of an interior designer, feedback from the architectural designer and what we wanted for the house."
"The choice of heating system was of course also very important; we wanted something environmentally friendly and efficient," adds Claire. "Our architectural designer Mark recommended an air source heat pump with heating controls; the temperature indoors regulates itself depending on the external temperature. It provides a constant temperature throughout the house and doesn't need to be manually controlled."
"The house had natural gas before this and had very high bills; we witnessed a big drop thanks to the insulation levels and the heat pump. We have underfloor heating on the ground floor and all windows are triple glazed."
The kitchen supplier, for his part, was very helpful and was happy to discuss the drawings Claire and Robert brought from Mark. "We originally wanted a bulkhead going forward into the room which I had seen in a magazine, but Mark felt our space was too small for that to work, so we pushed it back to avoid shrinking the room," says Claire.
"We created hidden doors to the utility room, which I had noticed in the kitchen designer's showroom, and it is both practical and aesthetic." "One of the changes had to do with moving the island – it was slightly centred in the room and I wanted the living space to be the main focus of the open plan area. I wanted that room to look like a sitting room rather than a kitchen. We moved it back slightly and we still have 1m10 to circulate between the island and the counter at the back, which is plenty."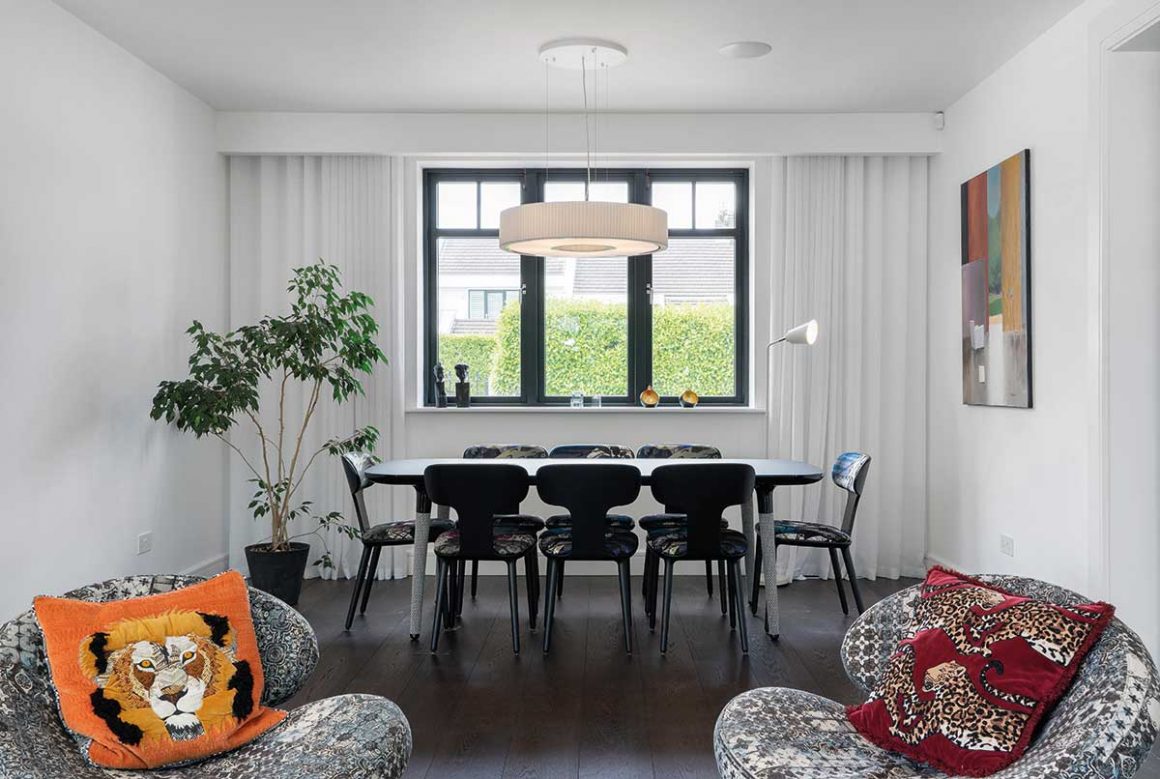 The big build
"The builder we chose was already working on our road for one of the neighbours. He recommended Mark, the architectural designer, and priced the build based on the construction drawings that Mark supplied."
"They had collaborated on other projects in the past and we were given the opportunity to visit one of them. They clearly worked well together and we liked what they had done. We were both confident that we had made the right choice."
"As for the budget, it was tight when we self-built in 2017. If we were to do it today we'd be struggling to get it all done within our financial limits. Overall it took 10 months instead of the eight originally planned; the delays were due to changes in the supply of wood flooring. We had difficulties getting the wood we had chosen and had to look for another supplier."
"All of our choices were kept in budget except for the floorboards because it is the biggest feature of the house and it was important that this should be right."
"The other reason for the delay was the windows: we had very specific requirements and sourcing the right supplier proved to be more difficult than we thought. Glass is imported in Ireland and delays are common. It just took a while to figure out."
"During the build I called in regularly and was able to give my opinion, which meant showing up once or twice a week, especially towards the end. Overall it was the builder who managed the project, along with my husband who looked after the suppliers."
"We had patient and efficient builders who let us make changes and provided solutions as we went along as we were both very involved in the progress of the house."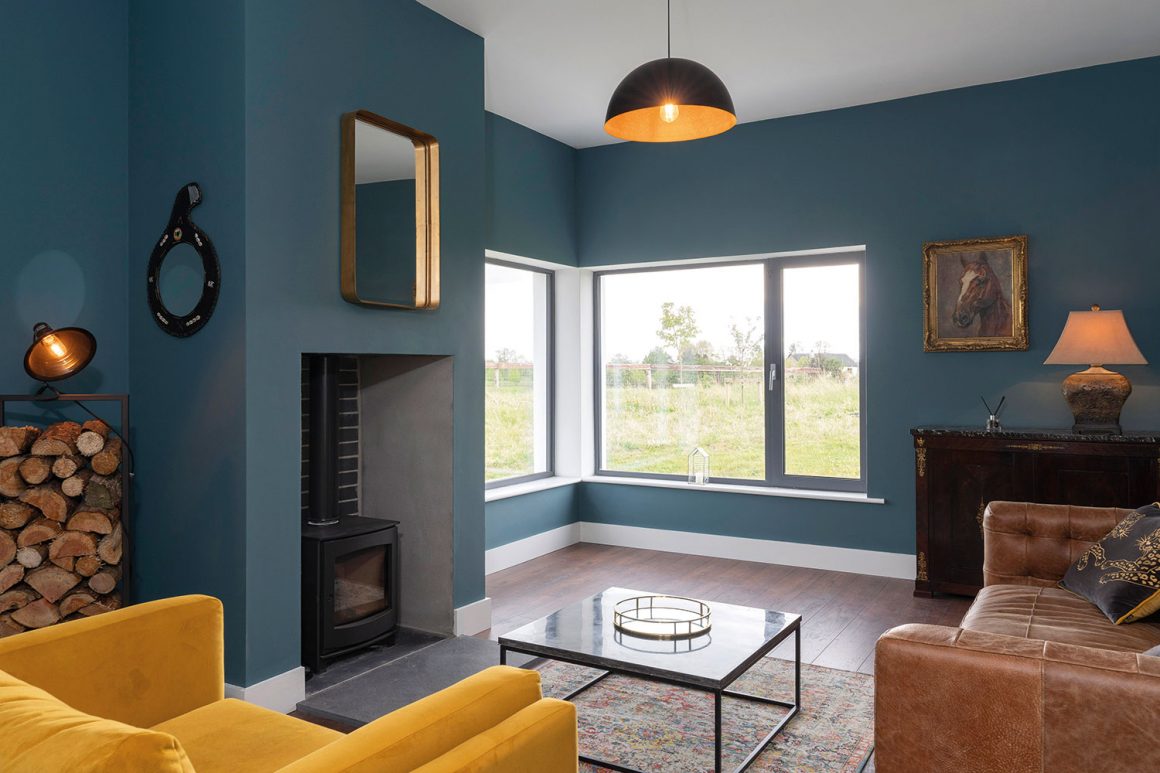 "But if there was one thing that I could change now, it would be the attic. We did not think about it until late in the build because we had planned to keep the original roof. Eventually we had to rebuild the roof as it turned out to be in very poor condition, but we missed the opportunity to make the area an additional living space, had we increased its ceiling height by a foot which would probably have been within planning permission conditions. The space is now a great playroom but the ceiling is too low to make it a real living space."
"We are very happy here," concludes Claire. "We kept most of our big furniture, but bit by bit we are replacing it. We got rid of our dining room table and got a new couch. We put the old couch in the other room but we're progressively adapting to the new space and plan for more changes."
"What's made the most difference to us is the location of the house. It is better than where we had lived before and the schools are much closer. That was probably the biggest change for us."
Q&A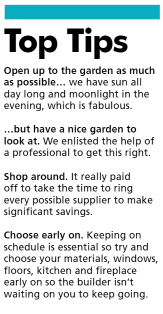 What's your favourite part of the house?
The kitchen, the bedroom, bathroom. The little staircase from the bedroom to the attic. It's hard to choose

Were there any surprises?
How much I enjoyed the process; when you have a good team behind you, there's very little you can't do with a bit of imagination.

What would you change?
We internally insulated the one room we kept from the original house but it shrunk a lot as a result. We should have insulated it externally, it would have been worth the extra cost. If you don't know what the room was like, you wouldn't notice but I don't think it's as nice as it used to be.

Would you do it again?
I'm now helping in a new build for my parents. They decided to sell their place and found a site in Dublin where they are building from scratch. It is actually nicer to work for someone else because it is difficult to make decisions on what you will be living with for years to come. It is a lot of pressure when it's your house and a decision you won't be able to reverse. There are so many things that I saw while searching for my house, I found that aspect of our self-build the most difficult. Now by advising my parents I get to put forward all the options we could have chosen and I don't have to make the final decision. Best of both worlds.

What single piece of advice would you give a renovator?
I am really happy with what I have chosen and I had the right advice, but there is not just one way to make a house and many options could have been just as nice. My advice would be try not to feel restricted to one way of thinking because many others will work just as well. Get professional help, it opens up opportunities. It is a stressful time but try to enjoy it.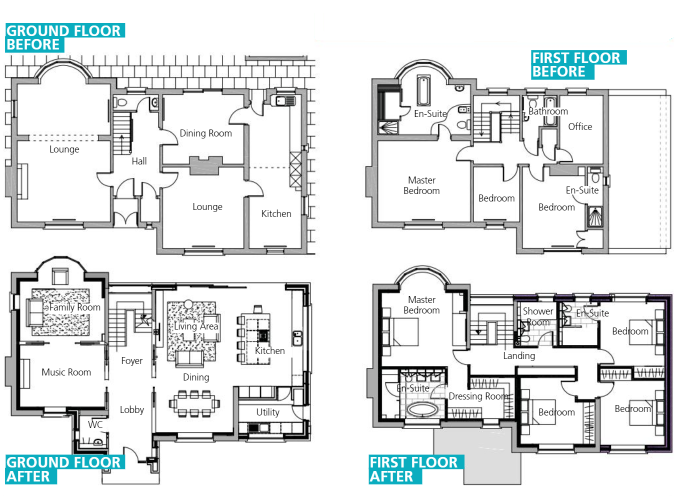 Suppliers
Chartered architectural technologist: Mark Davies from ARC Design, arcdesign.ie
Builder: Anthony and Dermot Fox, pafoxconstruction.ie
Interior designer: Garry Cohn, cohndesign.com
Light fittings: Lightvault, lightvault.ie
Alarm & CCTV: Eirtec Security, eirtec.ie
Bathrooms: Ideal Bathrooms, idealbathrooms.ie
Fire: Buckley Fireplaces, buckleyfireplaces.ie
Floor: Hardwood Floor Company, thehardwoodfloorcompany.ie
Garden: Exhibition Landscapes, exhibitionlandscapes.ie
Heating and plumbing: Ecoscene Plumbing, ecoscene.ie
Joinery: Watte Woodwork, wattewoodwork.ie
Kitchen: The Design Yard, thedesignyard.com
Windows: DK Windows, dkwindows.ie
Photography: Gareth Byrne Photography, garethbyrne.com