This developer built home gave Leigh-Ann Jackson and family all the perks of a tailored self-build without the self-builder's pain.
In this article we cover:
How Leigh-Ann came across the developer who built her home
Tweaking the design to suit her family's needs, including playroom
Resubmitting for planning approval
What to design before you start building
Day to day on site
Systems choices
Interior design tips, including colour tones and flooring choices
Lighting design
Kitchen design
Window choices
Details of road facing garden design
Solar panel installation
Suppliers list, timeline
Build cost
Professional photographs
Overview
House size: 250 sqm
Bedrooms: 4
Plot size: 1/3 acre
Site and fixed build cost: £328k
Heat and hot water: oil fired boiler
Ventilation: natural
Build method: blockwork
EPC: B
"At the start of 2019, we were living in Newtownabbey and looking to buy a new build home in or around Greenisland, as my husband and I both work in Belfast," says Leigh-Ann. "But I had a niggling feeling that I should keep looking online to see what was available further afield. That's when I saw a new build house out in the countryside with a great view. We went to see it, really liked it and bid on it, but missed out to other buyers. We were really disappointed. It felt like a missed opportunity."
"However, the builder of that house, a private developer, got in touch with us to say he would be building on another site shortly, and do we want to come and take a look at it? We did and fell in love with the fabulous views of Slemish Mountain behind and the valley in front. He only builds a couple of properties a year to an incredibly high spec – which we had witnessed at the previous new build. So although it was an unconventional approach for us, we agreed to go ahead with this, as yet, unbuilt new build."
The fixed price agreement stipulated that the developer would manage the build while the Jacksons had the freedom to pick everything – right down to the plug sockets. "We essentially had all the perks of a self-build, but without any of the hassle of managing a contractor or direct labour or project managing, which was incredible," says Leigh-Ann.
"We got access to the plans, which had already been granted permission, and made some changes with the builder's architect to make it work better for our family lifestyle. We added a sunroom extension, moved some internal walls around and added structured fireplaces and a more traditional chimney breast. We also included pocket doors for the children's playroom and this needed structural enhancement to the supporting wall. To futureproof the house, we changed the roof trusses to allow us to convert the attic into a second floor, should we need extra space when the children get older. These were all add-ons to the original plans and came at an additional cost, adding £8k to the final bill."
The revised layout was resubmitted to the planning office and they received secondary planning permission eight weeks later.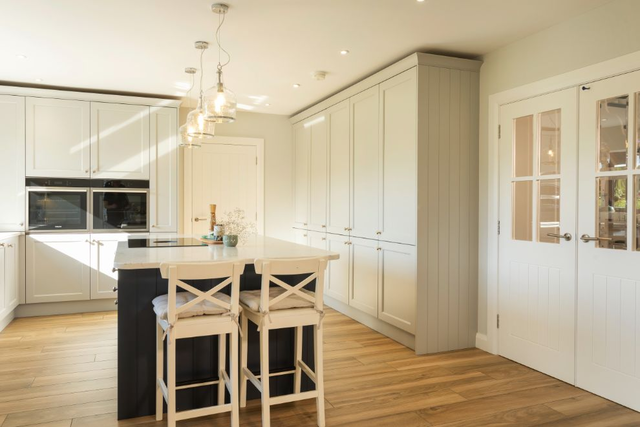 Building time
"We visited the site each week and felt really involved in the build process, which was lovely," says Leigh-Ann. "It feels very much like our home that we built, but without the potential trauma of a three-year build that's gone astray."
The construction process was efficient and issue free. "Our property was the builder's only project that year, so he was very focused," Leigh-Ann says. "He has an amazing network of trade specialists to call on and despite building quickly, he builds to a very high quality standard with custom joinery and high spec kitchen and bathrooms. There were no cracks or poor finishes and the only delay was waiting on
the build to dry out over the summer."
"We had the choice at the beginning to go for a timber frame or block build and we opted for block, because it felt right for us. We were put off by potential problems we'd heard about sound insulation and also the practicalities of hanging things on the walls. We like knowing we can hang a heavy mirror without worrying about finding the studs to hang it onto."
An oil fired boiler heats the water and provides space heating downstairs through underfloor heating, upstairs through radiators.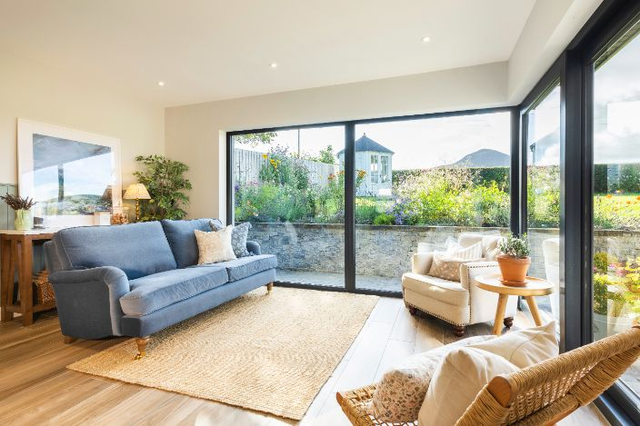 Interiors
Leigh-Ann has a love for interior design and revelled in this part of the build process. "I used ideas from online mood boards and magazines to inform my decisions," she says. "I wanted to create a modern style with traditional elements but without making it look like I was trying to recreate a period home in a new build."
"So we opted for natural materials in warm tones throughout and used panelling, cornicing and herringbone flooring to provide some classic charm."
"The kitchen units are a traditional shaker style but we've kept the look fresh and natural with a modern marble worktop and wooden floors. My husband was a chef and he influenced the choice of integrated appliances. He wanted to have uncluttered kitchen counters so all our appliances are hidden away."
"We did away with the need to have a ceiling extractor fan by installing an induction hob with the extractor built in. We opted for an instant hot water tap to avoid having a kettle on the countertop."
The kitchen, dining and sunroom are open plan. A playroom sits off this open area with clever pocket doors asked for by Leigh-Ann at the secondary planning stage. "The sliding doors have been amazing," she says. "Whenever our two children have friends over, the kids can all play in the playroom with the doors open while the adults can sit and have coffee in the sunroom and still keep an eye on them. And then when we're ready to sit down to eat and relax in the evening, we can close the doors and hide away all the toys and carnage."
Floor to ceiling windows in the main open plan living space make the most of the spectacular views of Slemish mountain. "That was the whole reason we fell in love with this area," says Leigh-Ann.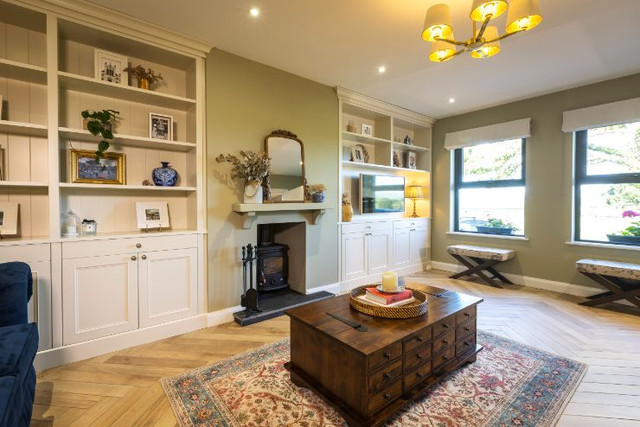 Downstairs is floored exclusively in tiles. "We felt it was the most efficient choice to accommodate the underfloor heating," adds Leigh-Ann. "Our main living room and hallway is floored in a herringbone wood effect tile, while the playroom and open plan area is tiled in wooden plank effect." "I chose a blue and white Moroccan style tile for the utility and downstairs bathroom as I wanted something a bit more interesting in these smaller spaces that wouldn't be on show all the time. Our upstairs bathrooms
again have wood effect tiles, but we have wool carpet on our stairs and bedrooms – all in neutral tones for a warm cosy effect."
"For the lighting, we specified a mixture of spotlights and pendants. All the upstairs bedrooms are pendants except for our walk in wardrobe, which has spots as do the bathrooms. We have a mixture of spotlights and feature lighting in the living spaces, so we have the option to increase the brightness in the daytime or dim it in the evening to make it feel like a warm and relaxing space."
"The large floor to ceiling windows at the back of the house and the kitchen let in a lot of natural light. Even in the north facing playroom and living room, the large windows bring in plenty of brightness."
The lockdown garden
The Jacksons were well settled into their new home by the time the global pandemic shut down Ireland in March 2020. "I've always liked gardening," says Leigh-Ann, "but during the first summer of lockdown I developed a serious passion for it."
"I planted a deep country garden style border along the retaining wall at the rear of the house and planted the raised plant beds at the front. I have filled these with shade loving evergreens which have now grown up to window height. When you look out the front window you get the country views in the distance, and then the close-up greenery from the plant bed creates a lovely connection to the spectacular landscape surrounding us."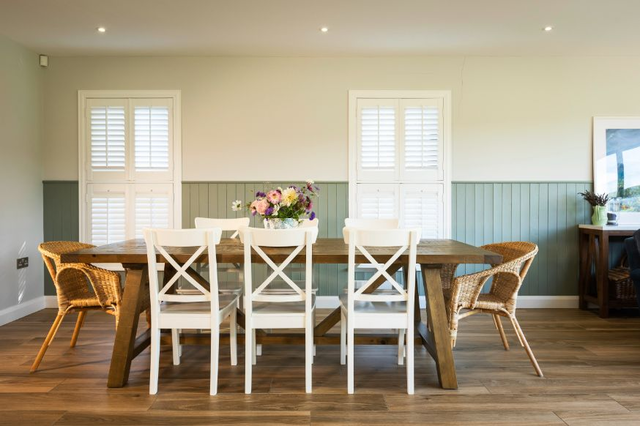 "When we moved in, the site was really overgrown with hawthorn and oak trees which were trimmed down to quite a low level to allow us to open up the view to Slemish. But we wanted to revive the hedges so my husband spent weeks weaving in branches to allow it to grow properly."
"Most of our plot is actually at the front of the house, but it's too steep and not really usable as a garden. So in the first year we sowed it as a wildflower meadow, which was beautiful. However, in the second year it didn't come back. I didn't realise it needed digging up every year to get going again, so it's turned into a bit of an urban wasteland."
What's next?
"We are installing solar panels to the roof of our garage. It's a large, south facing roof with no obstructing trees, so we should capture enough solar energy to power the house. We're also going to invest in a good battery system so when we eventually upgrade to electric cars, we'll have a renewable charging point."
"We know we were lucky to build when we did," adds Leigh-Ann. "Being able to move in just before lockdown meant we had lots of time to work on the house and garden and also get to know the area as a family. We were so fortunate to be able to get out for walks and have time to explore. That was amazing. I just love it here and the community as well. It's been a very happy move for all the family."
She says she enjoyed the whole build process: "As a project manager who loves interiors, it felt like it was my time to shine. I was at ease with making speedy decisions, to always be thinking ahead to the next part of the build. To get ready for another round of decisions."
"The build ran smoothly, all the trades turned up on time. I think the only issue we had was trying to get everything we wanted within our budget allocation, but that's the same for everyone. Perhaps I'm remembering it all through rose tinted glasses but, really, nothing caused us any stress at all."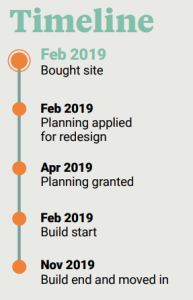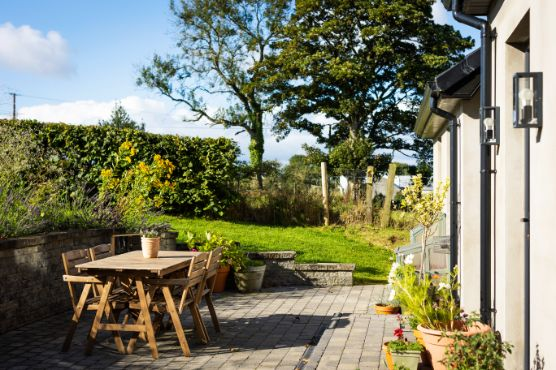 Q&A
What is your favourite design feature?
The staircase. Originally, I wanted a mahogany tread and handrail. Before I realised how expensive mahogany is. Instead, we worked with the joiner to find a solution by using ash and staining it with an ebony black and then a mahogany stain. It made the perfect wood tone. We loved discovering ways to get that high end look for less.

What's your favourite room?
My favourite room is definitely the kitchen / sunroom because it's so open and bright. When you enter it from the hallway you can see right through to the garden and when you walk into the kitchen, you look up and see Slemish rising above. It's beautiful, the landscape changes with the weather, the seasons and time of day.

What would you change or do differently?
Nothing, really – the house works really well for us. But, if we were starting completely from scratch and money wasn't an issue, I would build the house a little wider to accommodate a larger utility room. It would be great to have extra space to include a walk in pantry, laundry space and a bootroom.

What surprised you?
At first, we both totally freaked out when we saw the foundations. We thought there's no way this is what we paid for and agreed on in terms of sizing, because it looked so tiny. Then we were surprised just how fast the blocks went up. In just two weeks the shell of the house was up. And then we were surprised how long it took for the house to dry out before we could implement the interior fit out.

What single piece of advice would you give a self-builder?
We have family members and friends who are in the process of starting direct labour new builds themselves and we are advising them to think a stage ahead of where the build is at. So when it's time for decisions to be made and the contractor and a team of trades are waiting on your word, you've already visualised it, planned it and budgeted for it – and no time is wasted. That way, you don't have to compromise on what you ultimately want by making a rushed decision
Tips
Go to your kitchen supplier before you build your foundations because it could affect your architectural plans in terms of where you might want the window or where you might want to move the doorway to accommodate the kitchen cabinetry and appliances.

Use mood boards or create a folder on social media to save imagery of things that you like. Avoid sticking with trends; just include things that you are drawn to. By adding enough images, you will start to notice a pattern. You've just found your style.

Don't get overwhelmed by the choice of styles or the latest and greatest trends, especially with your kitchen and bathrooms. These are big purchases which will be with you for a long time, so try and think okay, will I still love this down the line? Choose something you love, because it's your home at the end of the day. Don't just copy what the latest magazines are
showcasing.

Be patient with your garden. Just give it a go, because by and large it will work out. Mother Nature just takes care of it.
Suppliers
Tiles
Tuscany Tiles, Ballymena, tuscanytiles.co.uk
Carpets
Inspirational Furnishings, Belfast, inspirationalfurnishings.co.uk
Staircase design and understairs storage
JP Joinery, Antrim, jpbespoke.co.uk
Living room joinery
Precision Works Joinery
Panelling and office joinery
Meadow View Joinery & Home Improvements
Kitchen and utility room
Ballycastle Homecare, ballycastlehomecare.co.uk
Photography
Paul Lindsay, paullindsayphoto.co.uk
Catch up on Leigh-Ann's project on Instagram @theslievehome