NI was the worst performing region in the UK for workmanship on new builds while in ROI contractors that work with the energy grants continue to underperform, prompting the Sustainable Energy Authority of Ireland (SEAI) to provide further training and supports.
In this article we cover:
Quality issues around new builds in NI and what's being done about it
List of the most likely things to be done wrong on NI building sites
UK's New Homes Ombudsman
Quality issues around energy upgrades in ROI and what the SEAI is doing about it
Statistics showing how many of the inspected contractors showed good, medium and bad workmanship in ROI
Efforts to grow the pool of contractors on the grants register
Progress towards the target of 500,000 retrofits in ROI by 2030
Links to reports
Month by month and county by county data of ROI grants uptake
NI builders were found in breach of good practice on NI building sites for everything from not removing mortar from cavity walls to inadequate prevention of vermin entry, while less than half of contractors inspected by the Sustainability Energy Authority of Ireland (SEAI) were performing to high standards in 2021, leading the SEAI to ramp up training and supports.
Poor workmanship on NI new builds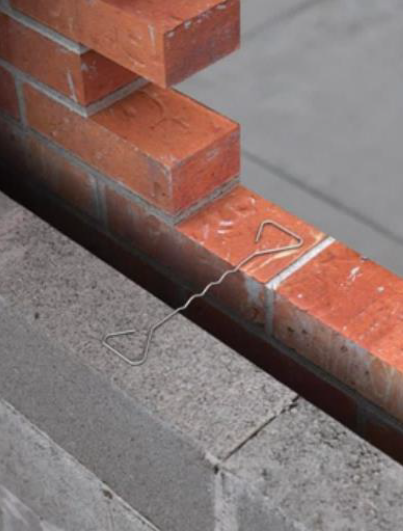 Not removing mortar from cavity walls and from wall ties was the most common problem reported on NI new builds, as inspected by warranty provider NHBC.
NHBC inspections show NI was the only region in the UK to do worse in 2022 than in 2021 (see table below). Self-builders who hire an NHBC registered builder can get an NHBC Buildmark warranty policy.
According to the inspection statistics presented at the Building for Tomorrow event organised by the NHBC in March 2023, next on the list of reportable items (RIs) were preparing the bottom prior to concreting strip and trench fill foundations, inadequate strutting between joists on upper floors, joints not fully filled on external masonry walls and unsatisfactory finishings or workmanship on internal trims.
Next on the list of RIs were: inadequate bracing or binders provided to trussed rafters on pitched roofs, inadequate security provision on windows and doors, as well as inadequate prevention of vermin entry to internal soil and waste systems.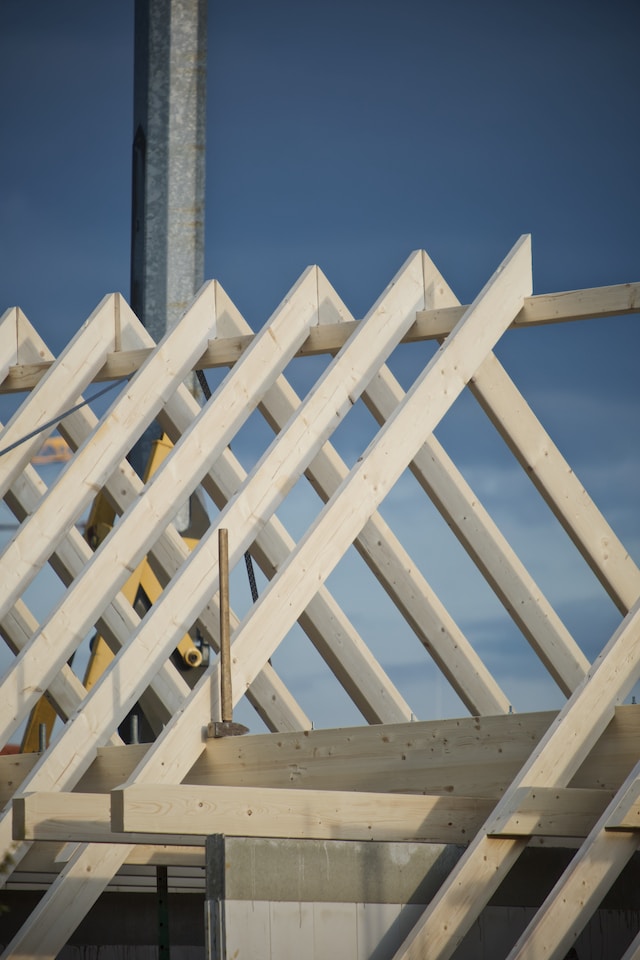 "Construction Quality Reviews in NI indicates quality control could be improved in some areas," an NHBC spokesperson told Selfbuild. "NHBC is continually working with the industry to improve construction quality, including NVQs, apprenticeships, webinars, and training courses in collaboration with CITB. We also offer an extensive range of construction quality services to all, such as construction quality reviews, bespoke workshops, construction quality forums, and research and development of a new quality assurance project."
The UK government introduced a New Homes Ombudsman to deal with poor workmanship and protect homeowners in October 2022. "While it's too soon to assess its impact on the industry, we're very supportive of its work and look forward to its development," said the NHBC spokesperson.
"This service will provide a new route of redress for homeowners and ensure that all builders take ownership of resolving consumer issues, leading to continued improvements in the quality of new-build homes. It reinforces what we should all be trying to do – build right first time, which has so many commercial and reputational benefits, aside from what it achieves for homeowners."

Poor workmanship on ROI energy upgrades
The SEAI administers the home energy upgrade grants for ROI. To be eligible for a grant, homeowners must choose from the roughly 1,500-strong contractor list published on the SEAI website. The number of contractors on the list fluctuates depending on the number of drop offs, new contractors registering or reregistering, and deregistrations (contractors struck off the register).
Since 2017, the SEAI has been carrying out inspections to check the work of these contractors on site. Performance statistics show that the majority of contractors still aren't in the Good Performance/Low Risk category.
Since the inspections began, the incidence of poor workmanship seems to have eased, as below, but there are still more contractors in the moderate and high risk categories than in low risk.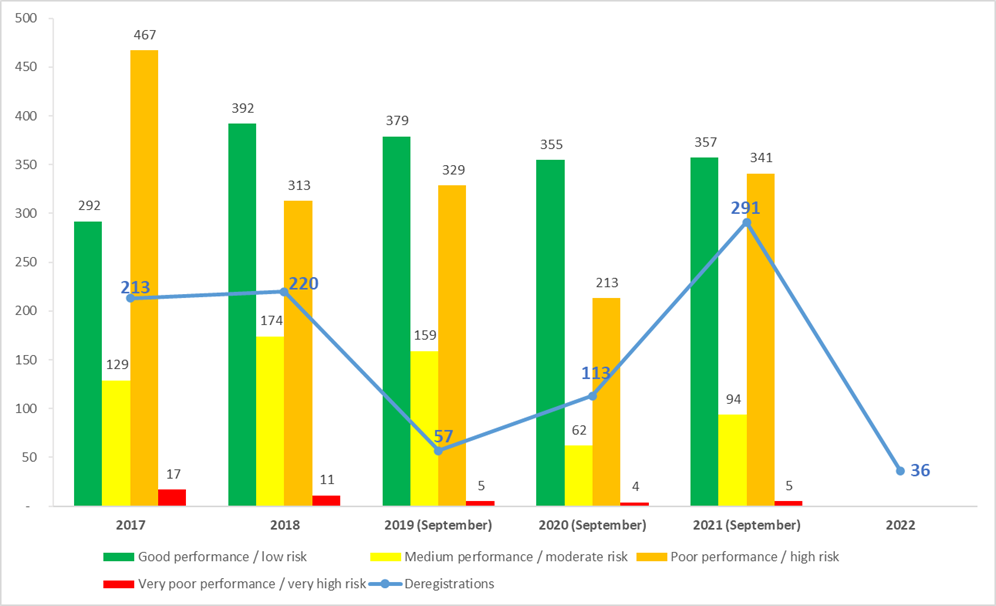 To tackle the seeming lack of progress, and to ensure there is a strong pool of talent there to deliver the National Residential Retrofit Plan published in February 2022, the SEAI changed tacks. Instead of just evaluating how well contractors were doing, the focus is now on actively helping them upskill.
It's a "new mechanism for managing contractor quality based on a model of support, partnership and collaboration", a spokesperson for the SEAI told Selfbuild. The SEAI started working with contractors to improve quality and workmanship since the first quarter of 2022.
There is now a mandatory online induction / onboarding training for all contractors who are either registering with the SEAI for the first time or are returning after a period of absence from the programme.
We are choosing to work more with contractors, encouraging them to improve their performance, rather than simply deregistering them and hoping they improve if they wish to return – SEAI
The SEAI offered free training and online supports on quality management systems to all registered contractors in late 2022. Other quality interventions include technical bulletins, targeted quality audits and ongoing performance monitoring.
"Feedback on these initiatives has been excellent and the intention is to continue supporting those contractors committed to delivering high quality retrofit work into the future," said the spokesperson stressing there is now "an increased focus on collaborating with contractors towards quality improvement".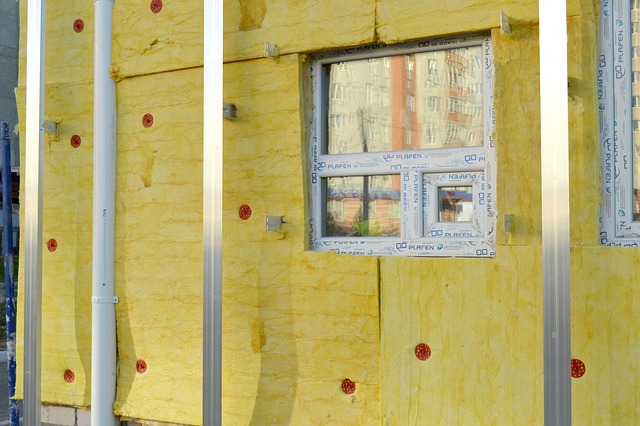 "The primary objective is to ensure that competent and willing contractors continue operating within the scheme, to the highest standards possible," said the spokesperson. "In this phase, we are not using inspection findings to build red / orange / green profiles."
"Instead we are using inspection findings to identify non-compliances with individual contractors, or perhaps patterns across multiple contractors, and using those insights to inform training, mentoring and advice interventions. In certain instances, they may also prompt higher levels of inspections."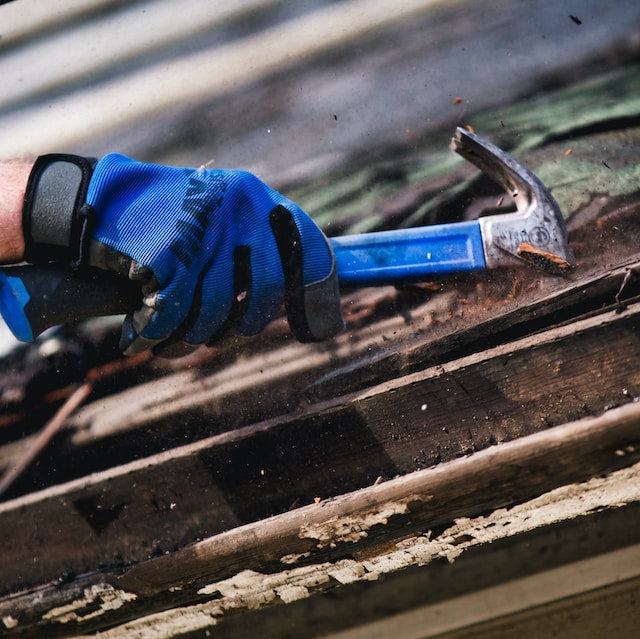 "Alongside the above approach, SEAI still has an important responsibility to protect homeowner and taxpayer investment. So, contractors who are in serious breach of programme rules due to non-compliance with the administrative and / or technical requirements of the programme may be removed from the register."
Deregistrations were low in 2022, which the SEAI says is due to the new approach: "Direct comparisons [of deregistration statistics] are not necessarily valid, simply because we are choosing to work more with contractors, encouraging them to improve their performance, rather than simply deregistering them and hoping they improve if they wish to return."
When things do go wrong, seeking redress for poor workmanship is difficult to do in ROI.
Target of 500,000 retrofits by 2030
At the current deregistration rates, the SEAI contractor register wouldn't manage to grow. In March 2023 there were roughly 1,400 contractors on the register.
In 2022, 437 additional contractors registered to the scheme, of which 244 were first time registrations.
In 2021, 291 contractors were struck off the register. At that rate, the deregistration numbers would negate much of the recruiting effort.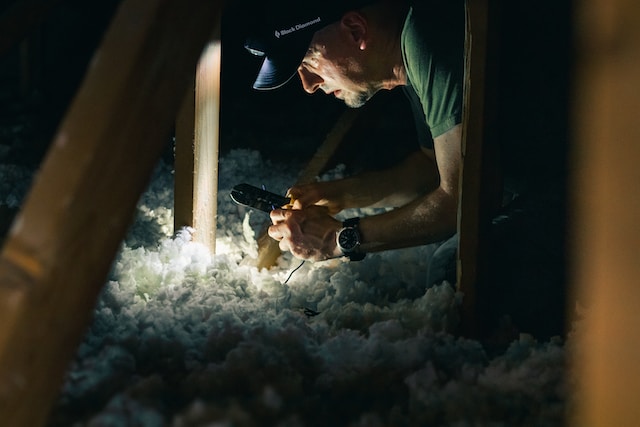 "Currently the biggest risk to achieving the 2025 and 2030 targets is having a sufficient pool of appropriately skilled workers to support contractors in scaling up the delivery of home energy upgrades," reads the SEAI's National Retrofit Plan Quarterly Progress Report (Full Year 2022). "Construction sector inflation and material supply chain constraints are still significant risks to delivery and likely to remain so in the medium term."
The National Retrofit Plan wants to see energy upgrades in 500,000 homes to a Building Energy Rating of B2 / cost optimal and the installation of 400,000 heat pumps in existing homes to replace older, less efficient heating systems by the end of 2030.
"Thus far we have achieved 84,768 home upgrades and of this 18,527 were to a B2 level. The next two years will be critical in achieving our targets and putting in place the groundwork for achieving the 2030 targets," states the SEAI progress report.
Further reading
The NHBC presentation can be found below:
SEAI statistics on the uptake of energy grants: