As with all building elements, you must satisfy the requirements in the Building Regulations which includes making sure the product is NSAI Agrément (ROI) or BBA/LABC certified (NI).
Then specify as much as you can afford to get the best possible U-value, above and beyond the current statutory requirements. Consult Technical Guidance Documents Part L and Part F of the ROI Building Regulations housing.gov.ie and Technical Booklet F1 and K of the NI Building Regulations buildingcontrol-ni.com for guidance on the conservation of energy and associated ventilation requirements. The U-value takes into account the thermal conductivity of all the component parts (wall, insulation, plaster etc.) and thickness of each to give you a measure of how well the building element reduces the exchange of heat between two areas. The lower the overall value the better the build-up is at keeping the heat in. Insulation is what most reduces this number. Unfortunately it is not a simple matter of increasing insulation thickness and getting the same increase in performance, this is only true up to a point and this is where you will start weighing in the cost of adding more insulation. There is an optimum thickness for each type of construction based upon not just the performance of the material, but also the space available in the wall, roof or floor. These calculations are done in DEAP (ROI) and SAP (NI), which will help you compare your options.
MINERAL WOOL
Made from molten glass, (glass wool), or stone (stone wool), spun into fibres, which account for up to 98 per cent of the product. Glass wool insulation can contain a large proportion of recycled glass, stone wool is usually volcanic rock. Rock wool generally has superior acoustic qualities. Thermal conductivity of 0.031 to 0.044W/mK.
POLY FAMILY
Polystyrene
, made from mineral oil, comes in two forms,
Expanded polystyrene (EPS) and Extruded polystyrene (XPS). EPS
is made with trapped air in beads, and has a thermal conductivity in the same range as sheep and mineral wool, 0.038W/mK with some modified types achieving 0.030W/mK. The incorporation of minute particles of graphite throughout the polystyrene gives a performance that is 15 to 20 per cent higher.
XPS
is formed by forcing the polystyrene through a die which closes the cells and is thus denser than EPS; thermal conductivity of 0.029 to 0.038W/mK.
'The lower the overall U-value the better the build-up is at keeping the heat in. Insulation is what most reduces this number.'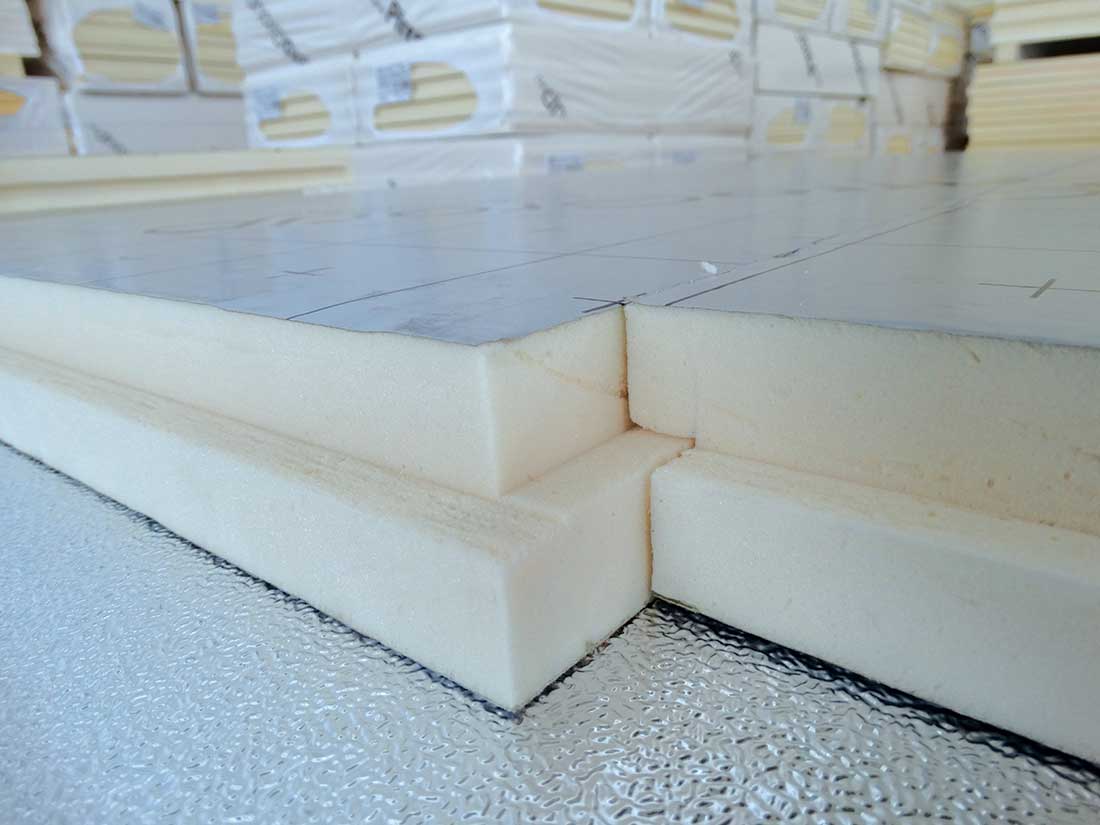 Polyurethane (PUR)
and
polyisocyanurate (PIR)
, are either sprayed on or come in boards, and are often made with a blowing agent (usually pentane). They have a similar range of thermal conductivity, 0.022 to 0.028W/mK. PUR and PIR come closed or open cell; the latter is resistant to moisture and vapour while the former is breathable.
PHENOLIC FAMILY
Phenolic (PF)
insulants are normally produced in rigid board form. They are amongst the most thermally efficient insulation products readily available, with a thermal conductivity of 0.021 to 0.024W/mK due to their fine cell structure.
REFLECTIVE INSULATION
Reflective insulation is a sandwich with outer layers of foil separated by insulation while
multi-foil insulation
contains a number of layers of both. Most certified products require that it be used in conjunction with other insulation types such as PIR.
INSULATION FROM RENEWABLES
One of the earliest to be widely used – and still is – was the bark of the cork tree. Insulating plasters may include mixes of cork and clay. More common these days is sheep's wool with a thermal conductivity of 0.038W/mK.
Recycled newspaper, cellulose or wood fibre is grey in colour, like the sheep wool it is treated with inorganic salts, (usually boron), to provide resistance to fire, rot and pests. It is applied as loose fill for most applications bar floors and the cavity of a cavity wall because of its ability to absorb moisture. Cellulose and wood fibre boards are also available. Thermal conductivity from 0.035 to 0.040W/mK.
Cotton fibre is the new kid on the block made from recycled industrial denim and cotton sheets and in general is very similar to sheep wool.
Calcium silicate boards (sand and lime) are now popular for period properties that require an internal breathable insulation with a high diffusion rate. The boards can be directly applied to the walls. Thermal conductivity around 0.059 W/mK.
Hemp is an alternative very similar to sheep wool when in roll form; it can also come in the form of semi-rigid insulation boards (0.04 W/mK). In construction hemp can be mixed with lime ('hempcrete' with typical thermal conductivity of 0.07 to 0.09 W/mK) to make walls and plaster. Also available in pre-cast blocks.
SITE PRACTICE
Insulation that is not correctly installed, with gaps in-between, will never perform to its best. Boards for instance should be held in place by stainless steel wall ties, usually covered by a plastic disc, against the inside of the inner leaf, when batts or boards are being used in a partial cavity wall. The ties should be kept clean of mortar as this could cause moisture to travel from the outside in. If the insulation is blown in post construction, it should be evenly dispersed throughout the wall cavity with no gaps. Ventilation is just as important as insulation and where a vapour barrier or vapour check is used, this should always be to the warm side of the insulation to prevent condensation. [agg_tabs theme="dark"] [agg_tab title="SIPs & ICF"]
Pre-insulated houses
Structural Insulated Panels are formed like a sandwich of two boards, usually OSB (Oriented Strand Board) or plywood with a 'filling' of insulation, normally EPS, XPS or PUR. All the openings for windows, doors and services can be cut in the factory and the panels delivered to site with the frame of the house erected in a matter of days. Using a similar idea, only inside out in a sense, is Insulating Concrete Formwork. A shuttering of expanded polystyrene is erected and concrete poured into the 'mould'. The double layer of polystyrene results in low U values ranging between 0.31W/sqmK (EPS) and 0.26W/sqmK (XPS). [/agg_tab] [/agg_tabs]