Tiffany Brien's major renovation project was inspired by her day job as an estate agent.
In this article we cover:
House hunting tips for a doer upper
Decision to strip the structure back to a shell
Collating ideas to inform the redesign process
How the project was managed
Kitchen design process from scratch
Energy upgrades
Cost comparison to a new build
Regualtory approvals
Tips to renovate a house to add value to it
Before & After floor plans
Specification and supplier list
House size: 1,980 sqft
Walls: 12.5mm plasterboard dry lined on vapour control layer on 50mm PIR board insulation on 25mm MF batten system as cavity on existing masonry wall. Existing walls made good and finished with one coat primer and two coats of paint. Minimum U-value of 0.30 W/sqmK
Floors: 75mm screed on polythene vapour control layer on 125mm PIR on 150mm C/25N concrete slab on 1200 gauge polythene damp proof membrane/radon barrier on 50mm blinding on 300mm well compacted hardcore, maximum 150mm layers. Floor dpm to be overlapped and bonded to perimeter wall dpc. Minimum U-value 0.25 W/sqmK
Roof: Minimum 300mm mineral wool insulation to provide minimum U-value of 0.20 W/sqmK
New windows: uPVC wood grain effect, double glazed
How did you find the house?
It took time and patience. I was looking for a three-bed semi that wouldn't take too much work, in Holywood at a certain price point. To help me decide I brought my dad on second viewings.
As most people know there are only three things to look for in a property: location, location, location. And this house is 100m from the beach, within walking distance to shops, social clubs and close to work and my parents' house. It ticked all the boxes apart from the amount of work it needed.
How did the redesign come about?
The original plan was to renovate on a modern scale but when the builder started stripping back the walls and ceilings, when we were halfway into it he advised we go the full hog. If you're going to do it you might as well do it right, so we stripped the structure back to a shell, including knocking down internal walls and replacing all the roof joists. We reconfigured the entire space.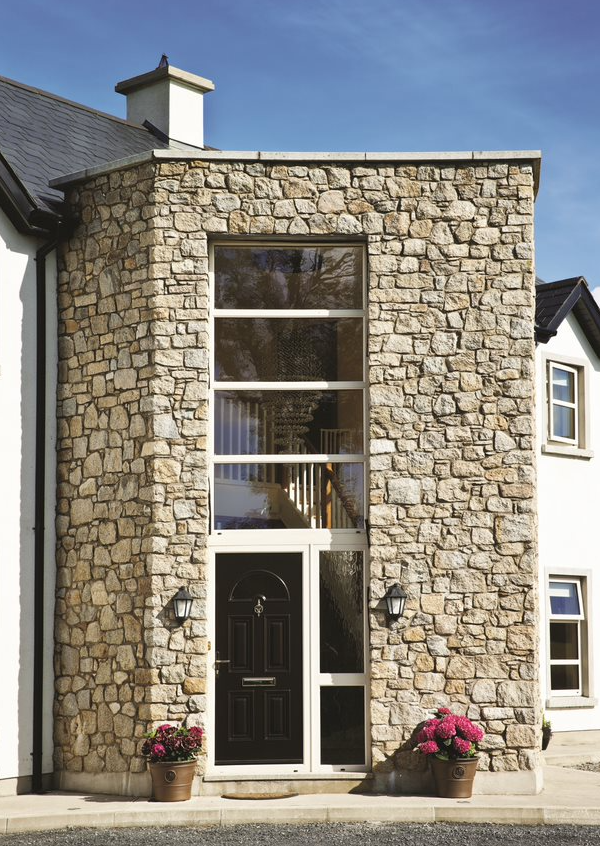 I brought on Des, an architect who is an old friend of the family who usually works on very large new builds. I also knew our main contractor, Martin, through work, and Sara my interior designer was my babysitter when I was a kid and we have become friends over the years.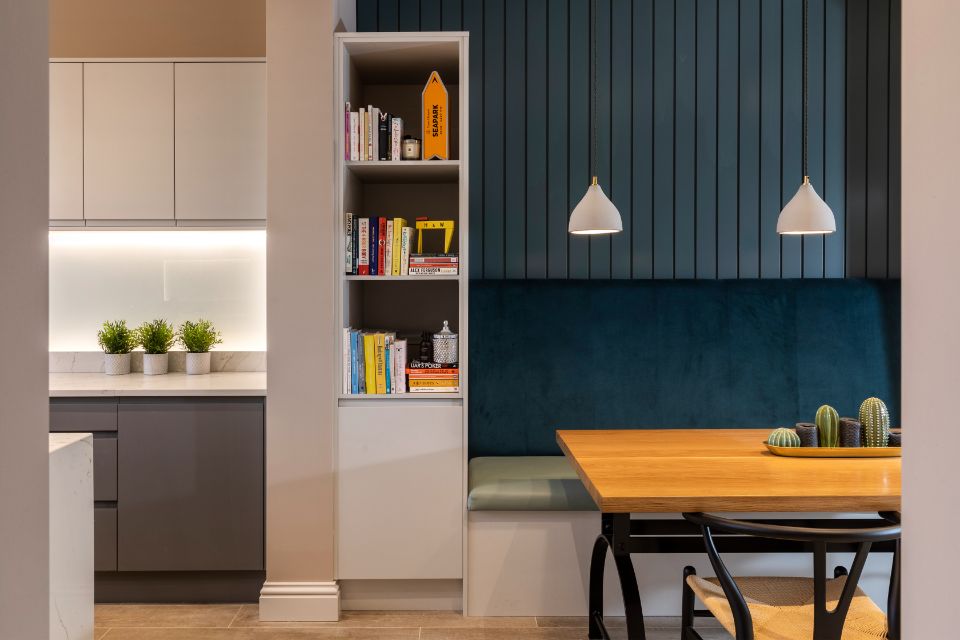 How was the project managed?
Because I'm so busy with work, in terms of the day-to-day I had a project manager for the early structural stages and another for the finishes. I was living at home at the time so would come every evening after work with my mum or dad to keep an eye on progress.
Our quantity surveyor kept tabs on the purse which ensured we stayed within budget, and Martin was in constant contact with me through a messaging app. Because I trusted him and the team I followed their advice as to how to proceed, for things like choosing where the doorway would go in one of the rooms.
Having that kind of entourage is hard to beat but it is what makes a project succeed. The renovation only took six months which is incredible considering the extent of the work we undertook. Our builder was amazing, the house was neat and tidy every evening.
Where did you get your inspiration from?
I work in my dad's practice as an estate agent and I would take notes of things I liked in houses I was showing, from storage solutions to finished. The in-built booth seating is an example, it's a fabulous space saver if you don't have much room in your dining area.
There there are knick-knacky things like hiding your sockets; the electric toothbrush is hidden in a drawer for example. Same with the kitchen, I have the appliances and sockets hidden from view as workspaces can get cluttered very quickly with electronics.
I eat, sleep, and breathe my job so anywhere I go I get ideas. For example, the hidden door feature was inspired by a bar in Belfast. I tried to incorporate as many of these clever ideas into the final design.
I also went online to make mood boards and inspo pages and worked closeluy with my interior designer. I would pick out an item or a colour and Sara would take it from there. A lot of the thought went into every aspect, from fabrics to furnitrure placement and choosing the colour fo the fron door and render.
What energy upgrades did you do?
We pumped the walls with EPS beads and insulated the house to the hilt. We have a gas boiler with underfloor heating downstairs and radiators upstairs. The house is roasting and if you leave the gas stove on for an hour you're in a sauna.
What the key design features?
We reconfigured the floor plan, putting the kitchen at the front of the house – there used to be a massive kitchen at the back but for the way I live, there was no point in dedicating that much space to cooking.
I spend most of my day in the living room; the low ceiling and cosy sofa is all I ask for. That and lighting the gas fire, at the touch of a button, to kick back and relax after a long day's work. The paneling is very embracing and the secret door is a treat to use.
I also really like the London townhouse feel having the kitchen at the bay windows gives; it feels a bit like Notting Hill. The mirror backsplash works really well and in general the house is really easy to maintain.
There are no pets or children around so a quick tidy is enough to keep it spotless. I can be obsessive about tidiness so that was an important aspect. I have someone come fortnightly to do a deep clean and that's more than enough.
Did it end up costing as much as a new build?
Definitely, plus the VAT because it's not a new build! But the character of the property we have and its location are hard to beat. Everything in the house is brand new, even the staircase is a replica of the Georgian original that was there.
The advice I would give anyone renovating a property like this is to consider investing in the end product. consider what is cost effective versus the best. I knew this project wasn't going to be the cheapest, but doing it at the right time with the right components is money well spent. I think otherwise later down the line you can trip up and fall with finishes wearing badly for example.
What other tips would you give a budding renovator?
Communication is absolutely everything – I'd consult with both Sara and Martin on almost every aspect and at every stage of the build. Do your research to find people who can advise you. From day one I had a brilliant team behind me. In my dad whose experience is second to none and my mum who's been through her fair share of renovating older properties. They also built their own home not too long ago.
Also, as soon as your start thinking about taking on a project, set up an online inspo page, consult social media for projects, and take notes of what you like. The sooner you start the better. The more detail you have the more you will have to put into the house. All of the small design features you like will add up to a home that you love and one that should be eay to use and maintain.
Did the project require any regulatory approvals?
We didn't have to apply for planning permission because we worked entirely within the existing shell. but we did have to apply to Building Control, mostly for knocking downt he wall between the front two rooms, and to make sure the insulation was isntalled to the specification. It went very smoothly.
What surprised you?
That I was at the centre of the decision making – I had to pinch myself that this was my house and my own project. I'm used to building projects being underway, I lived through my parents' self-build for instance but at the periphery. Making the decisions was actually really fun. I trusted the people behind me to give me the right advice and that took a lot of the stress out of the process.
Would you do it again
I love this house, it's super cool and I am going to enjoy it for as long as I can, but not that I'm turning 30 this year I realise that it is only big enough to maybe have one child here, you would grow out of it after that.
I would love to do another project and build a house from scratch but the hardest part is finding land to do this in the right location. I would be hard pushed to find a better location than where I am that is within my budget, but I'll try make it happen.
Tiffany's next project is available here
Suppliers for major renovation Holywood
Architect
Des Ewing Architects, desewing.com
Builder
Martin Brannigan, alskeacontracts.com
Insulation
Xtratherm for walls and floor, xtratherm.ie
Interior designer
Thompson Clarke Interiors, thompsonclarke.com
Kitchen
Laura Dallat Interiors, lauradallatinteriors.com
Sofa
The Sofa Maker, drumbristonthesofamaker.com
Tiles
David Scott Tiles, davidscotttiles.com
Joinery
Precision Joinery Works, precisionjoineryworks.com
Bathroom
KE Plumbing Supplies, keplumbing.co.uk
Gas burner
Kildress Plumbing, kildressplumbing.com
Photography
Christopher Hill Photographic, scenicireland.com