How Tiffany and Matthew Rea built their on trend house, a sleek new build finished with charred timber, in just four and a half months.
In this article, Tiffany covers:
Planning their new build and wedding at the same time
Change from refurbishment to replacement dwelling
House design constraints and planning process
Inspiration for the design and finishes
Details of building method, heat and hot water system and ventilation
Build process with schedule
Favourite features including how the LED lighting system works
Tips to keep on schedule and on budget
Biggest splurge revealed
Details of garden plans for the future
Timeline and supplier list
Overview
Plot size: 0.1 acre 
House size: 2,300 sqft  
Bedrooms: 3  
Heating and hot water: gas boiler 
Ventilation: centralised mechanical with heat recovery 
Build method: cavity wall (blockwork) 
EPC (SAP): B (85) 
---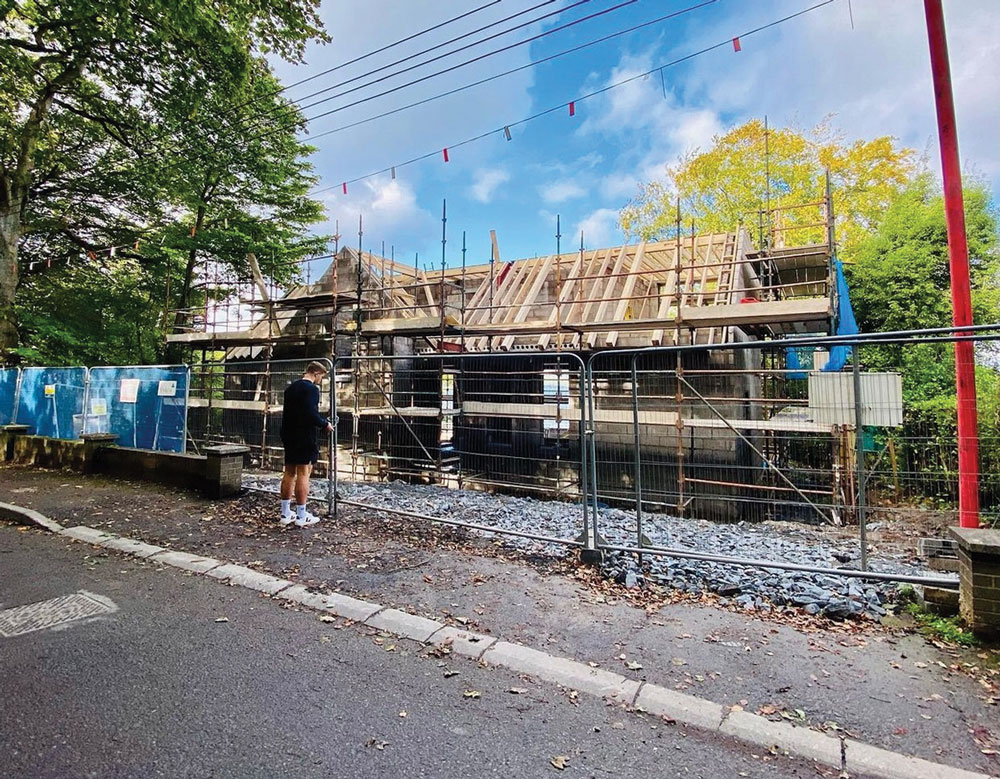 How did the sleek new build project get started?
Matthew and I bought this plot together and got engaged just before we got planning permission. We got married as we were about to break ground, so 2021 was a year of wedding planning on top of managing the build. It was a manic but amazing year!
The location of the house itself was the number one draw. I grew up in this area and the plot is very close to my parent's house which was also a bonus. It's so close to the sea and we can walk into Holywood at the weekends for breakfast. It is just such a quiet and peaceful place to live.
Initially we bought the house on this plot to refurbish and we had put an application in with the planners to do this and add another storey to get another two bedrooms in. Then after a few months of talking, our plans got bigger and bigger and eventually the refurbishment plans soon changed to replacement dwelling plans.
We didn't make the new house any larger than the footprint that was already there as we felt any larger would take over the plot because it isn't huge and we still wanted a good garden and driveway. We were able to get a second storey in and also raised the ceiling heights. We didn't change the look when you see the before and after but just made it a bit funkier. We do feel the houses built in the 60s and 70s really do lend themselves to this kind of overhaul even if you were refurbing.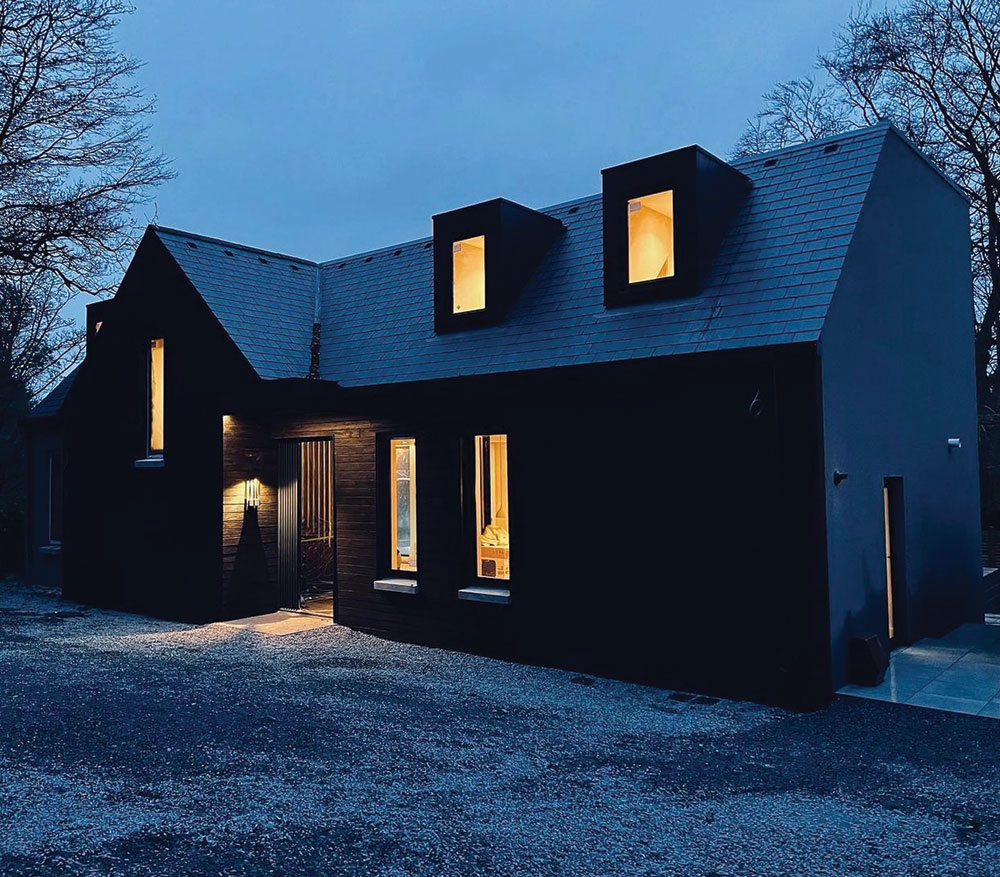 What was the inspiration?
We wanted to build something that was really different. It did take a bit of bravery as sometimes it is easy to just do what you know. Like everyone, we follow loads of house build pages on social media and use online mood boards for inspiration, and we really took a fancy to the Japandi style, the mix of Japanese and Scandinavian.
But basically we knew we wanted to have a black house. With shou sugi ban or charred timber cladding on the outside, and inside black metal framed glazed doors. How it was all placed we weren't sure but we knew we wanted to see all these things in the house somehow so went with it.
There were times when we thought is this actually going to work or is it going to look really naff! But we stuck to our guns and we are thrilled with the final outcome.
We couldn't have done it without the advice and guidance of our architect Des and of our builder, mind you, as they totally got the vision and we all worked together. I got the same team as the one I had used for my previous home. It was a townhouse renovation and I knew from day one that I would use the same team. Every detail was thought out, down to having two reception rooms.
How did the planning process go?
Luckily we didn't face many challenges with the planners, we had no protected trees on our site. That's a big thing around where we are as it is so mature and rightly so the planners want to make sure the area remains as leafy and beautiful as possible.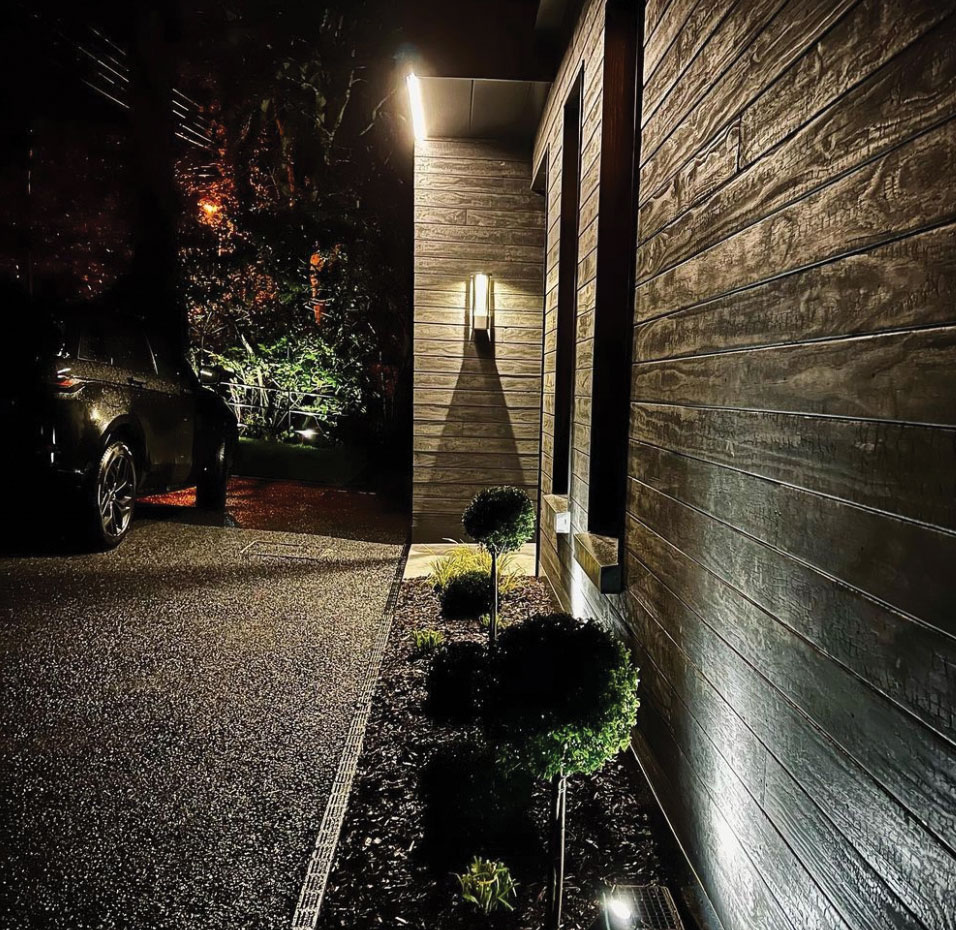 What building method did you choose?
When choosing the materials to build our house we were very much led by Des and our builder. We knew what look we wanted to achieve which I suppose led us to choices such as the aluminium framed windows, the scorched wood timber cladding, the render colour, etc.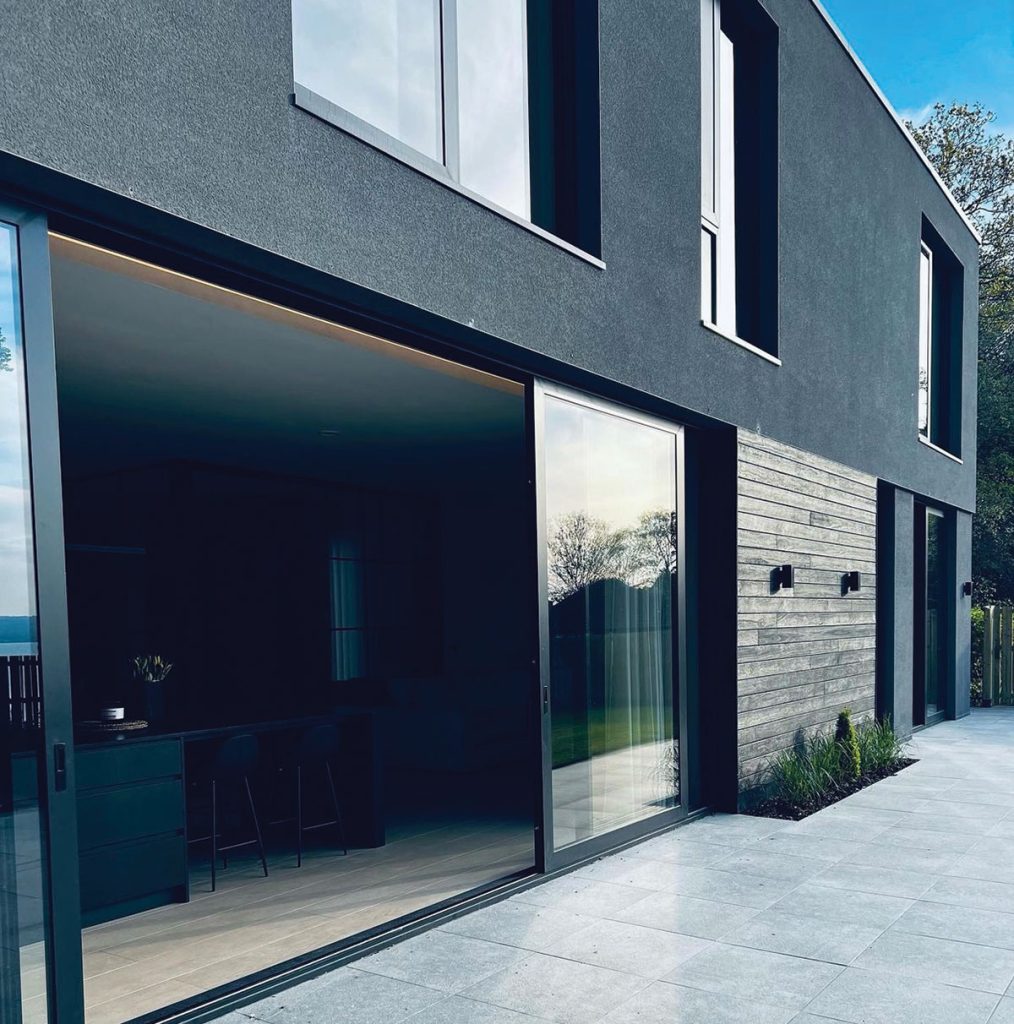 How about heating and hot water?
In terms of the systems in the house we were always quite set on what we were going to do. We chose a gas boiler with underfloor heating on the ground and first floors.
Solid floors on the first floor we find are always quite a nice thing to have, it feels more solid, it is better for noise, you don't have to worry about radiators dictating furniture and everywhere is a lovely temperature.
Our builder delivered an incredibly good house which is very efficient and warm. What we have found since living in the house for six months is that it is very temperate throughout. We have got out first utility bills in, which is always exciting time, and they are impressively low.
---
Timeline
Aug 2020 – Bought house

Oct 2020 – Applied for planning

Mar 2021 – Planning approved

Apr 2021 – Demolition

Aug 2021 – Build start

Dec 2021– Move in
---
What did you do for ventilation?
We chose a mechanical heat recovery system, which is a total must if building or renovating. We learnt a lot about it when we went to install it but basically now new houses are so well insulated and airtight you need a system installed to move air around the house, bring fresh air in and stale air out.
This stops a build-up of condensation which can cause damp and mould. It is also is great for people with allergies as the air is constantly refreshed in the house.
What was the build process like?
Very shortly after we got approval we had the guys lined up to demolish the house so we were ready to go (also didn't have to pay rates any longer!). After that, we were so lucky that we sailed through and everything went to plan.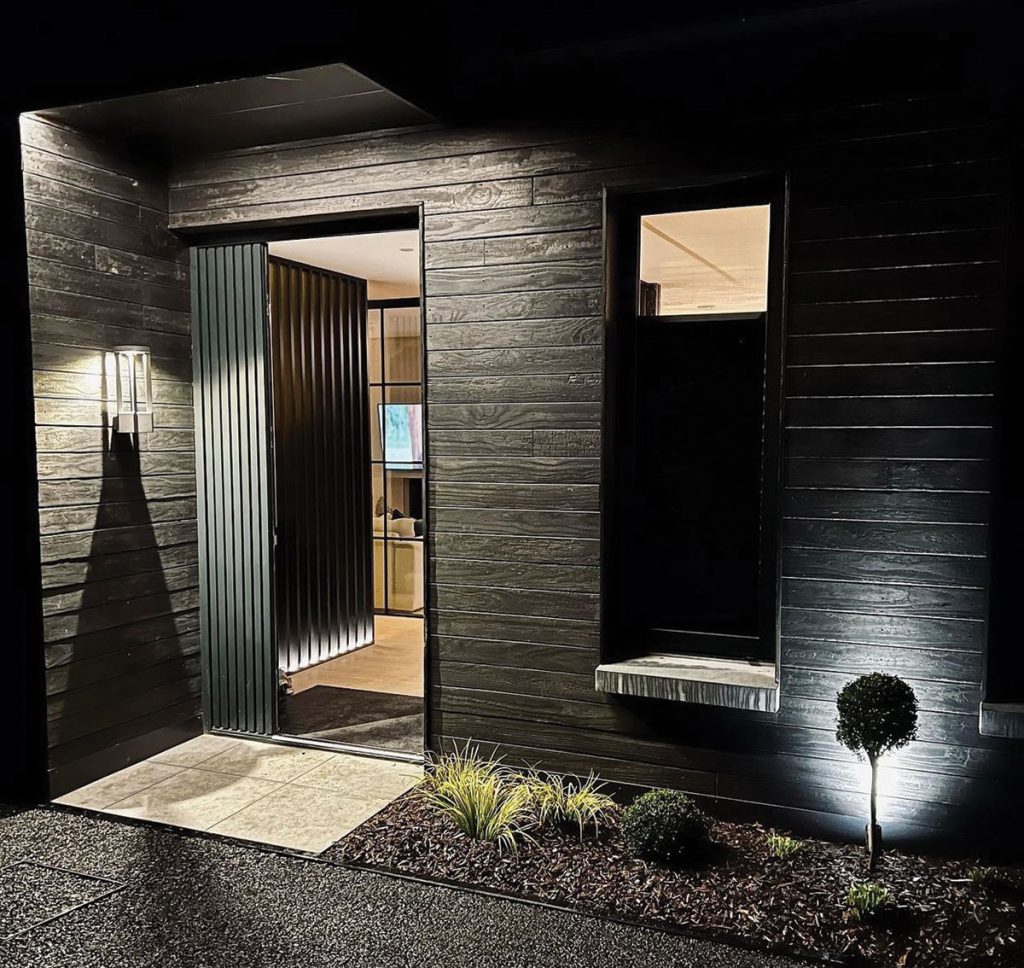 I know most builds face challenges somewhere along the line. The reason ours went so smoothly is genuinely down to the team we had around us. We knew what we were building, we had amazing drawings from Des that we stuck to. Given our builders were so unbelievably organised and efficient they ended up building the house from start to finish in four and a half months, which is nothing short of incredible.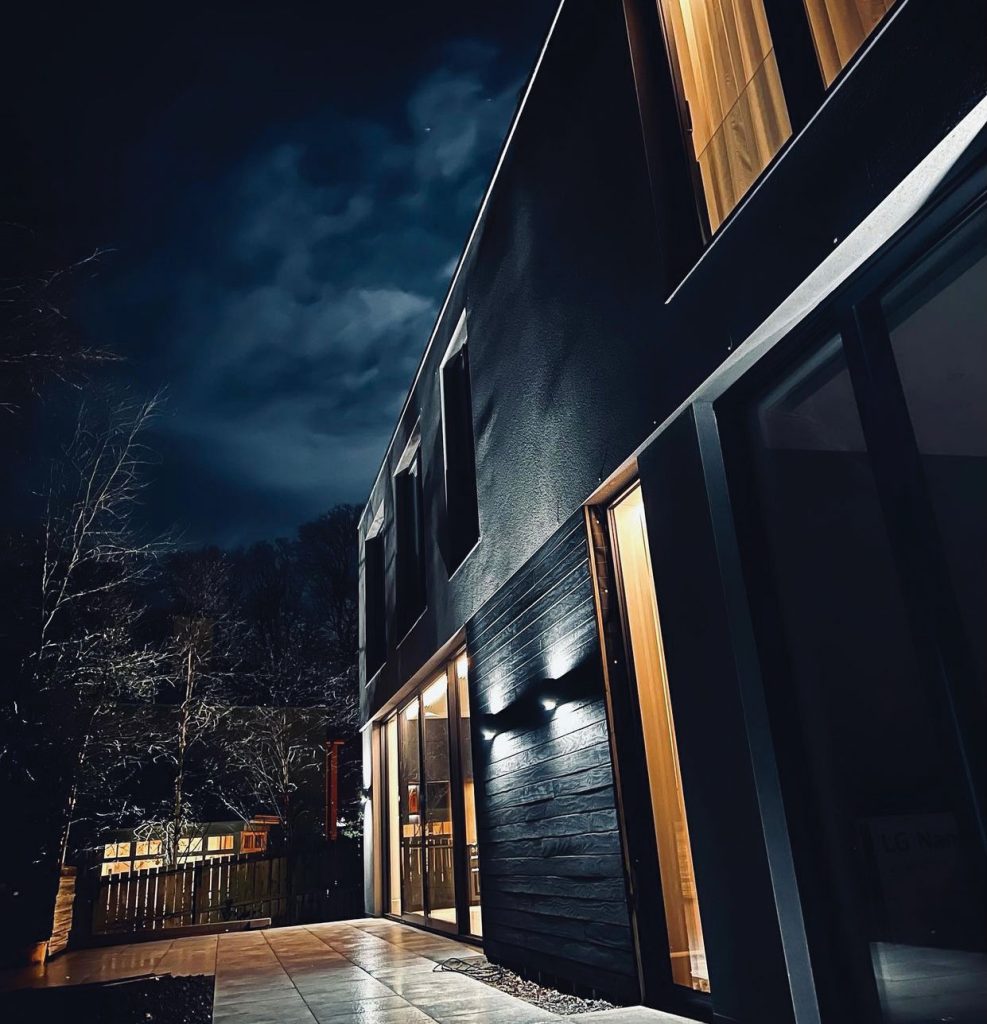 What is your favourite feature?
Definitely the lighting system. Initially we felt this was maybe an unnecessary spend but now we can say it is the best money we spent.
We have lots of different types of lighting in the house – LED strip, wall lights, recessed lighting, pendant lights which are all dimmable, so imagine turning each one of them on at the right level for a different vibe.
Well fret no more, we have four settings and can do this from our phone. It is a superb system and definitely recommend looking at if building a new house.
Overall, the house has been a dream. Everything works seamlessly… We wouldn't change a thing.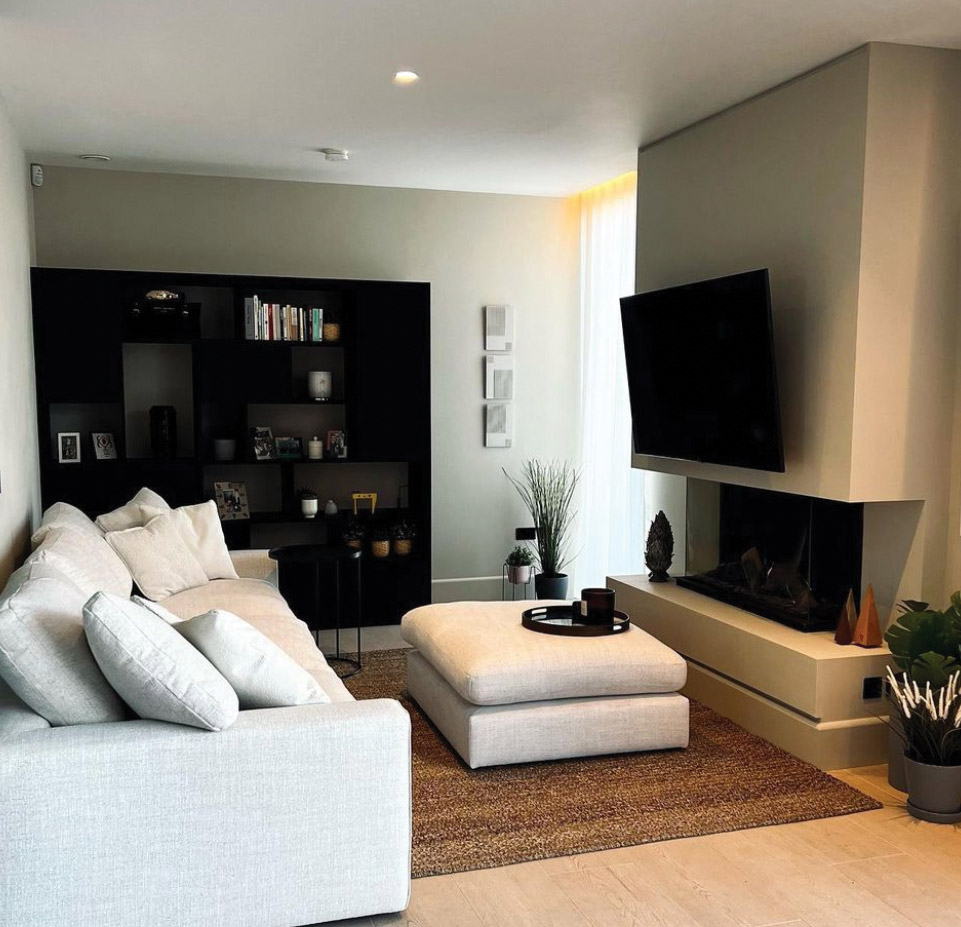 What is your main piece of advice for novice self-builders?
One piece of advice we would give to people is shop about. We spent every weekend in the run up to starting throughout the project going around different suppliers to see what they had to offer and what their prices were.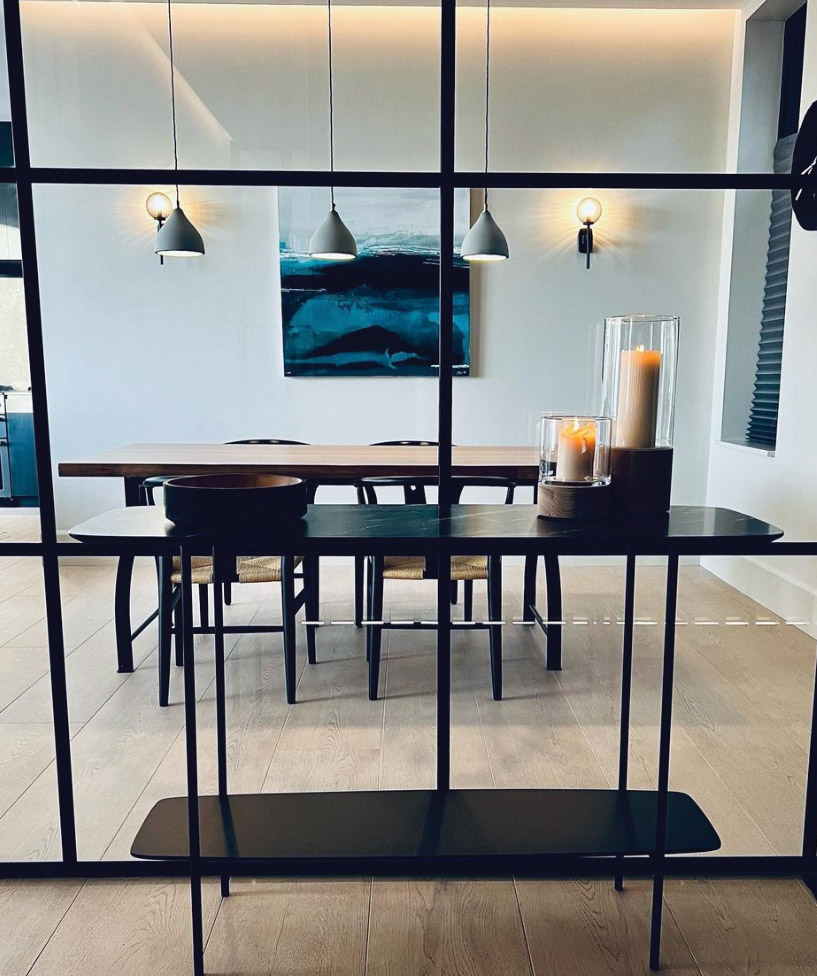 It was amazing the difference in prices between suppliers and we feel doing this homework most definitely saved us money as we made some smart decisions. We cut costs in some areas we didn't feel it was necessary to splurge then did splurge in areas we felt would make the house.
What was your biggest splurge?
Definitely some of the finishes internally such as the kitchen and tiling. These are like the cherry on top of the cake and is a wow thing when someone comes into the house so we feel doing this right is important. It makes the house.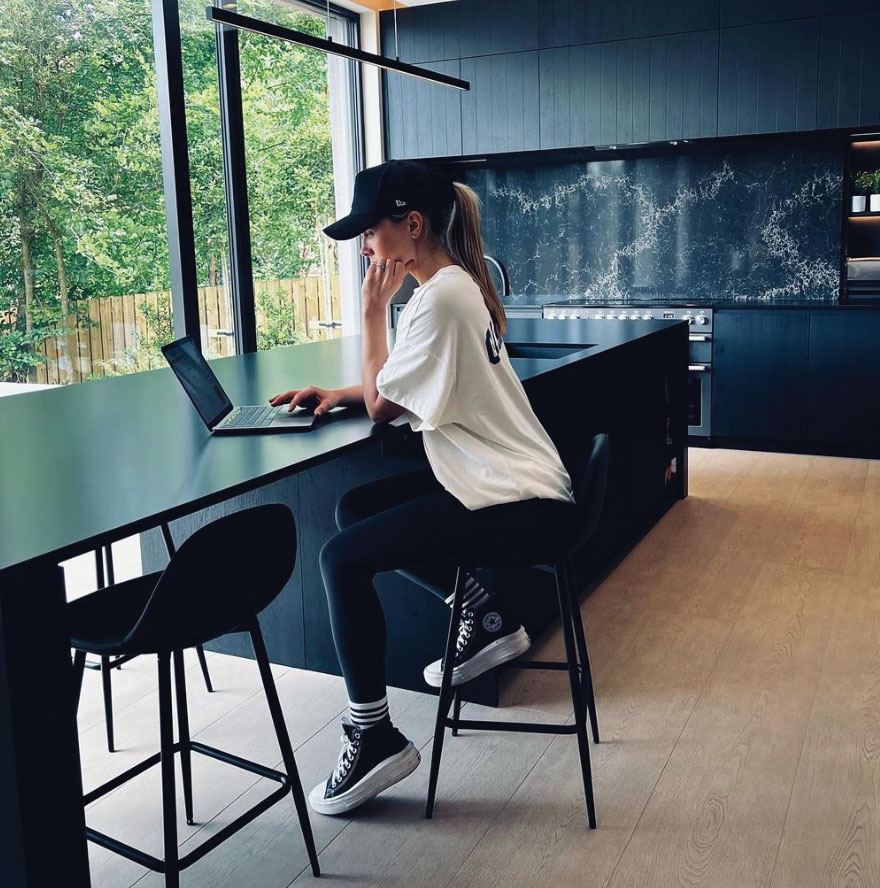 We spent where we wanted to. I suppose as an estate agent it is so hard to value my own home because I know the numbers that went into it. So let's just say it will be worth whatever someone is willing to pay for it when we go to sell.
How did you tackle the garden?
The landscaping was a do it as you go along job. We left our builders to their own devices here as they definitely knew best.
We had a budget for shrubs and trees, and genuinely we came home from work one day and down to the site, and all of a sudden there was grass, shrubs, hedges and trees. We went for a structured feel with the planting which meant it was quite striking against the black.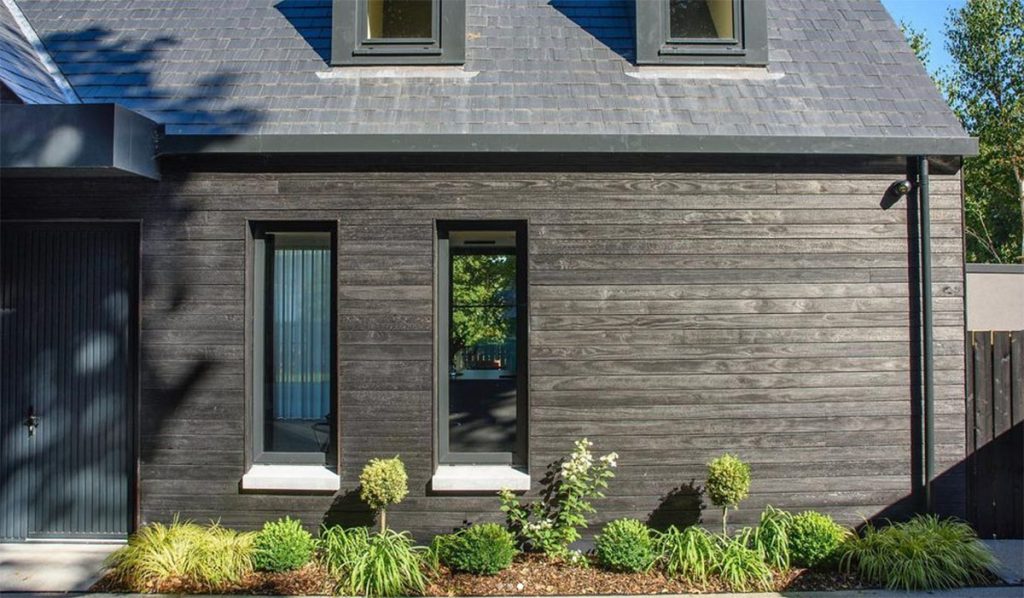 Landscaping is an expensive part of any project but if we didn't just do it then it would have been one of those things which never gets done and it really finishes off a house.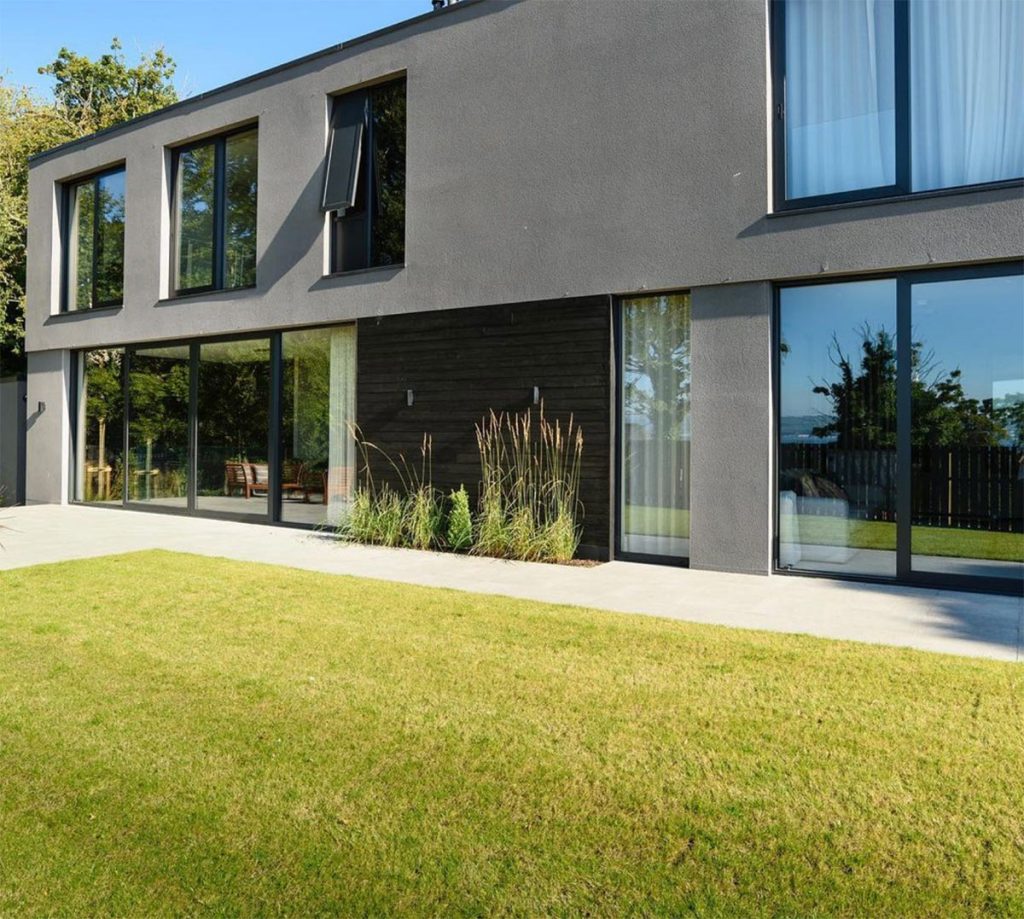 The site is 0.1 acre – definitely as much as we would afford where we are, but we are more than happy with the size. I don't think we are ready for any more garden. We potted some plants on the patio and are just about keeping them alive. We will get there.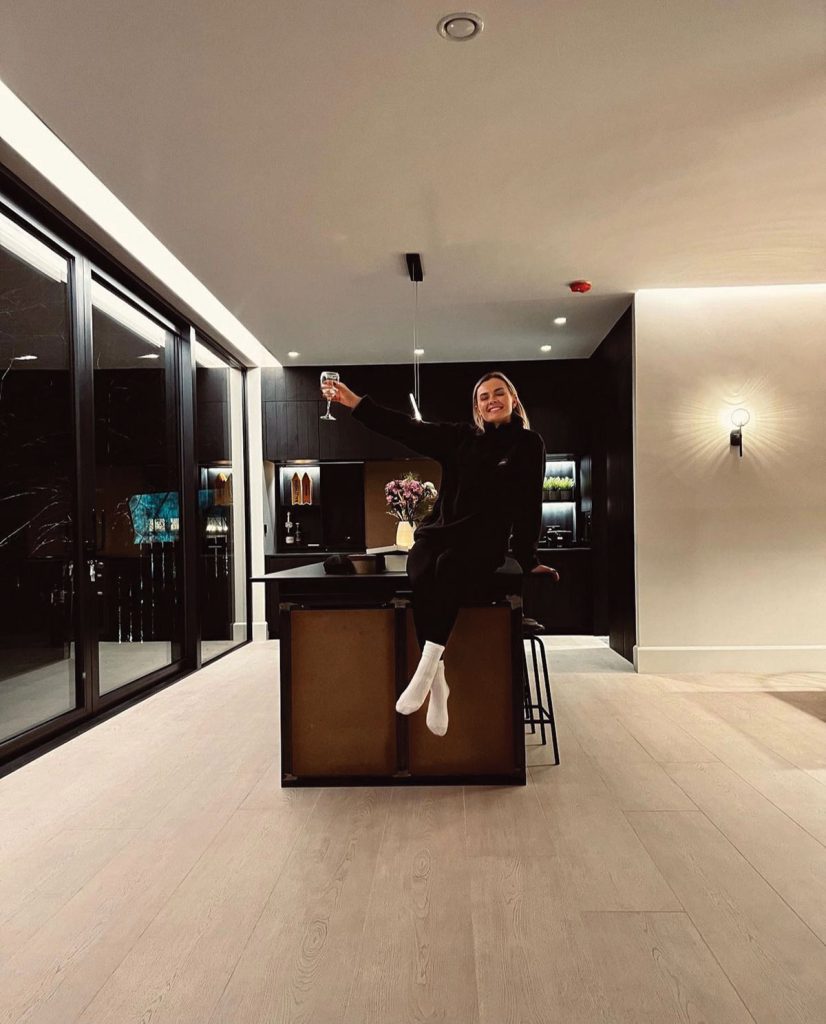 Follow Tiffany and Matthew's project on Instagram @thereaproject and on thereaproject.co.uk