This Co Wicklow steel frame new build came about from a gift of land nestled in the forest.
In this article we cover:
Coming up with a design that blended in
Why it took nine months to get planning permission
Building to the passive house standard without certification
Choice of steel frame as the building method
Interior design choices
Renewable technology: pros and cons
Working to a tight schedule
Challenges finding the products they wanted and how they got around it
Top tips and advice to stay on track and on budget
Floor plans, specification and supplier list
Professional photographs
Overview
House size: 180sqm
(main house) plus 45sqm (studio)
Bedrooms: 3
Plot size: 1/3 acre
Build cost: €500k
House value: €850k
BER: A2
Heat and hot water: Air to water
heat pump
Ventilation: Mechanical heat recovery
Build method: Light gauge steel frame
Lisa and I had been living and working in Amsterdam for a number of years, when we began seriously thinking about starting a family," says David. "Lisa's parents, Paul and Mellen, had previously very generously offered us a piece of their garden to build on, back home in Co Wicklow. We weren't ready to leave at that point, but when they strategically reoffered it later, we jumped at the chance. It is so hard to get onto the property ladder in Ireland at the moment; we recognised this was a real step forward for us."
"It is a beautiful piece of land, surrounded by forestry. Once we started to actually consider building our home there, our imaginations started firing at what we could do. We didn't want to build anything ostentatious or opulent. We were driven to create something that was really efficient to live in, with no wasted space and lots of light. So space efficiency and light capture were the two themes that we made all our design decisions around."
Perseverance
"Because we didn't want a traditional style home, when we went to get planning permission we ran into all kinds of problems," says David. "The council wanted us to build a dormer bungalow, because that's the style of property that exists in the area. There was a lot of fighting to try and get what we wanted, and some of the compromises we had to make did affect our design decisions. For example, the height of our house is exactly the same as the dormer bungalow at the other end of the garden – to the centimetre."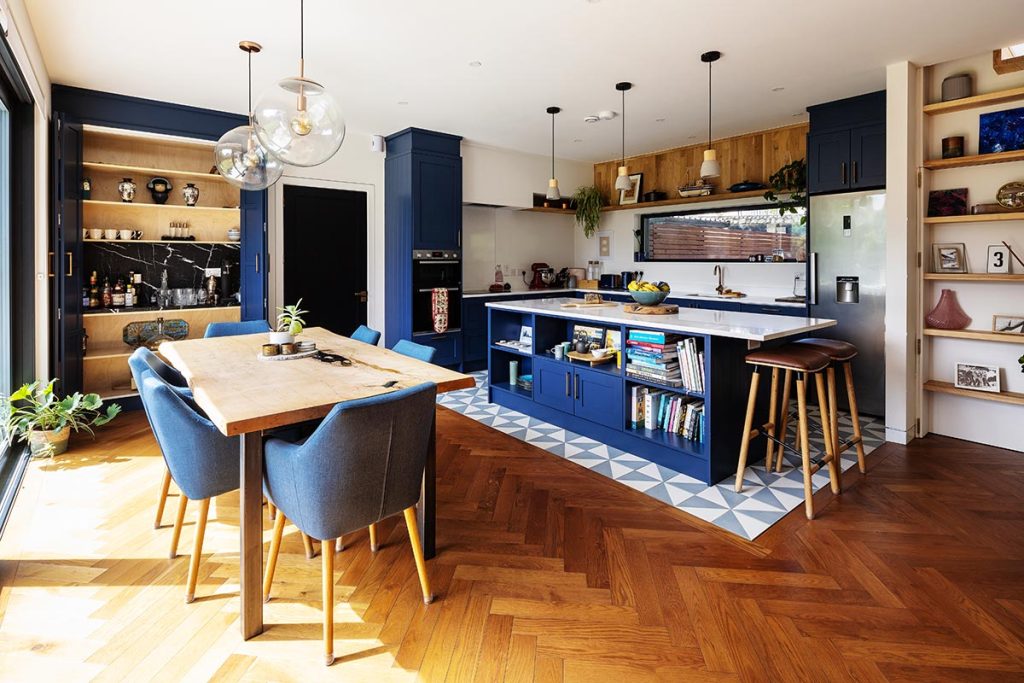 "It took us nine months to get planning over the line. It was frustrating, because the house style that what was 'in keeping' with the area came from a very different era. So, there was a lot of back and forth, and compromises made. We originally wanted to timber clad the building so it would sink into the forestry landscape, but they refused this. So that was one of the reasons we chose a dark render on the outside; to try and blend it into the background."
"A local architectural designer provided the fundamental design and helped us navigate the planning quagmire. When it was time to build, we hired an architectural designer/builder team to project manage the construction. We chose them because they had a novel way of building using light gauge steel frame rather than timber frame. They originally pitched to us that they would build the wall panels off site and it would all go up pretty quickly. Although the panels ended up being assembled on site, the structure did go up quite quickly, probably over a period of six to eight weeks. That was the quickest part of the build by far."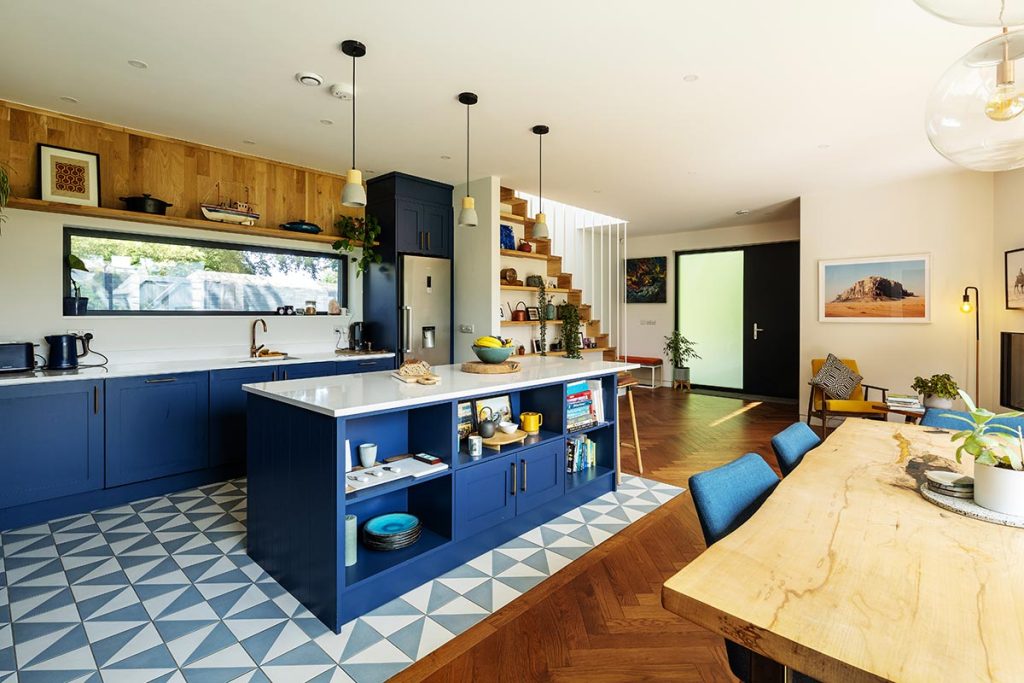 Overall, the project was a long and drawn out affair. "We were grateful that we could live with Lisa's parents during the build, because we encountered every Grand Designs scenario you could think of – where no one is realistic about timelines and everything gets very stressful."
"Perseverance was the overall theme of this build, right from the start, but we got there in the end. Ultimately it was thanks to the head contractor and his team, and the follow through of the secondary architectural designer and project manager, that we finished the build."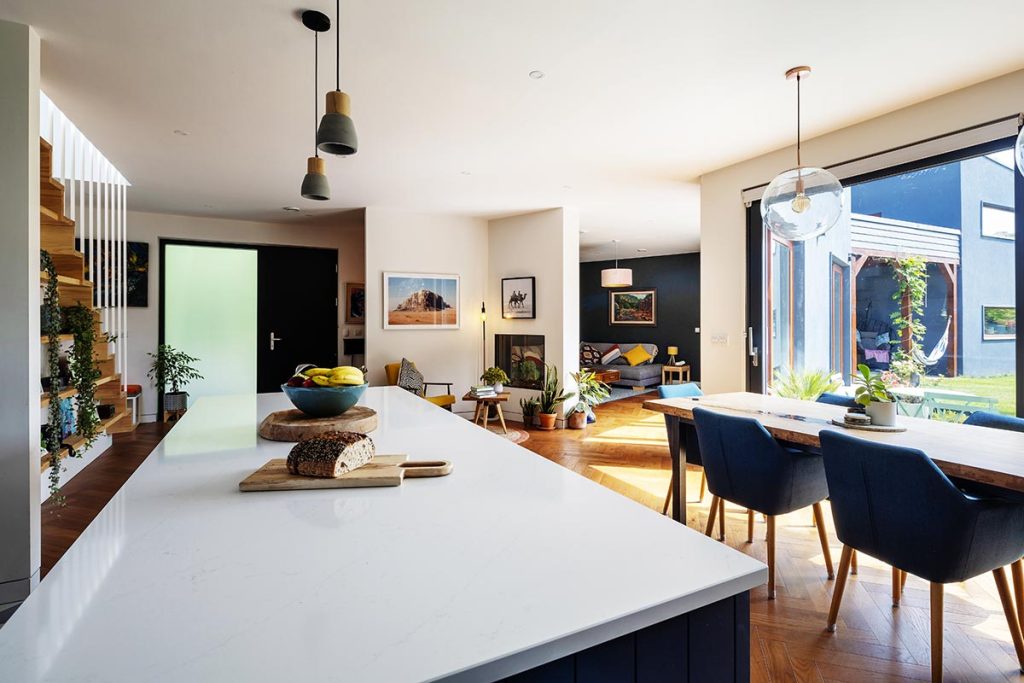 Beauty and efficiency
"We built to a passive house standard," says David. "There is a light gauge steel frame with a couple of steel beams for overhangs and we have large triple glazed windows and skylights above the shower and the hallway, a fibreglass membrane roof, air to water heat pump, under floor heating upstairs and downstairs and mechanical heat recovery ventilation. The house is very efficient."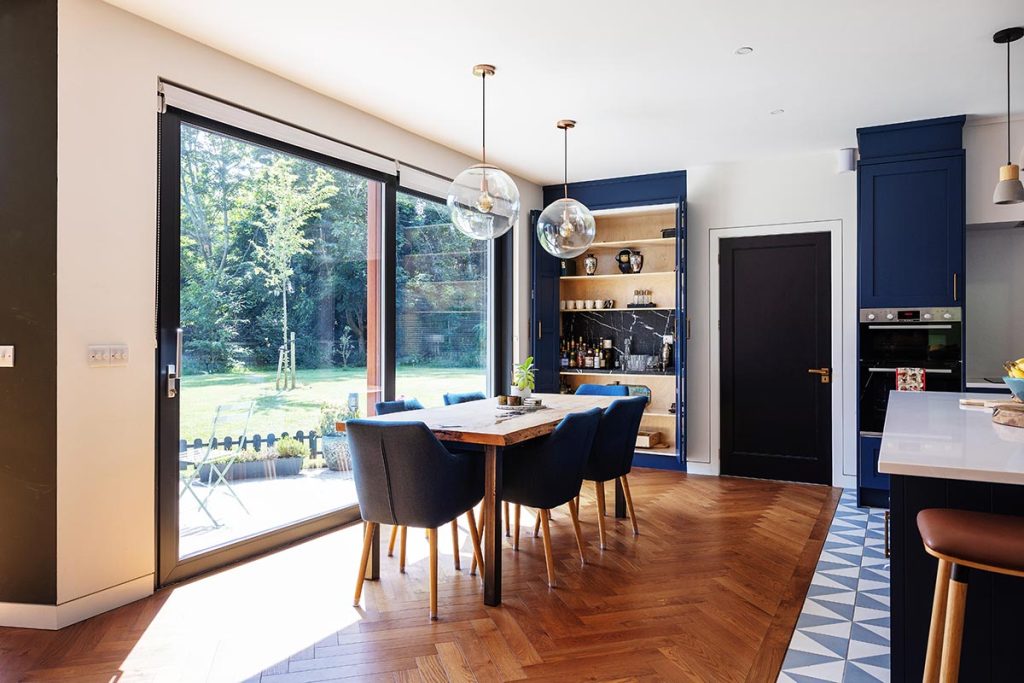 "We don't have an entrance hallway, as it's not an efficient use of space. When you enter through the front door there's a small coat hanging area. To the right, there's a staircase made of ash that incorporates a bookshelf and an understairs pantry located behind a hidden door. It's a real custom piece of work made by my friends; a metal fabricator and a wood fabricator. They crafted it together, based off a design that myself and Lisa had sketched out. It's a real centrepiece; the first thing you see when you walk in."
"From that point, you walk into a large open plan space. The kitchen is at the top right, dining area in front of you and then to the left – slightly hidden by a short dividing wall that houses a double-sided gas fireplace – is the living room. Beyond that, there is a small study. A utility/plant room and toilet leads off from the kitchen."
"Upstairs we have three bedrooms. We could have fitted in four but we wanted the bedrooms to be a generous size. Our master bedroom is the largest, with an ensuite and walk in wardrobe. The other two bedrooms share the family bathroom."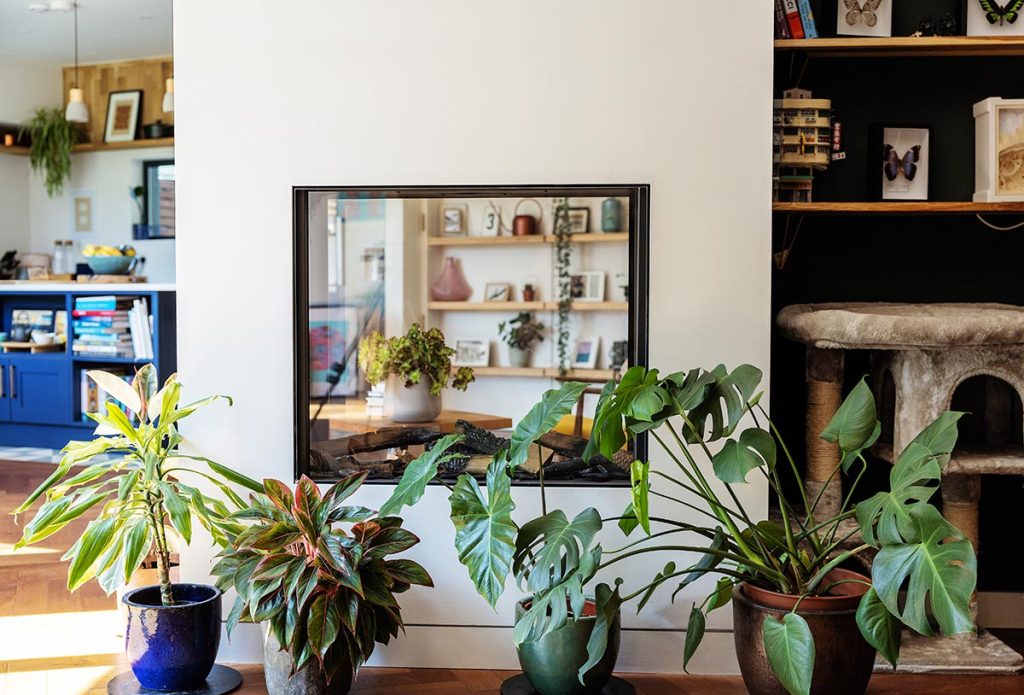 "We knew what we wanted the interior to look like. In the evening rooms we have darker walls – dark green in the living room and terracotta with white highlights in the master bedroom. We wanted a sumptuous, cosy vibe for these rooms. In the kitchen we have brighter walls and light composite countertops contrasted with dark blue units."
"I make furniture for a living, so I took the opportunity to deck the place out with as much stuff as I could possible make, like the big Wicklow beech dining table."
"There are a lot of strong colours throughout the house. We chose pink for one of the bathrooms while the other one is dark green with black metal accessories. We went with a very modern style but accessorised with handmade and older pieces in natural textures which gives it a bit of soul."
"Our ethos with the interiors was that nothing should be assumed. Obviously, builders want to put chrome handles on everything and they want to do normal skirting boards and so on. But nothing in this house is standard. All the skirting boards are recessed into the wall with a shadow gap around them. Every door handle has been carefully considered by us."
"Yes, this caused a massive headache when sourcing everything, but every decision was a decision rather than an assumption. Especially seeing how we sourced absolutely everything, even down to the style of the skirting board. We wanted the detail to be accurate."
"The living area downstairs is floored with hardwood parquet with some of the leftover parquet used to clad part of the kitchen wall, which helps tie it all together. The kitchen, utility and toilet floors are tiled."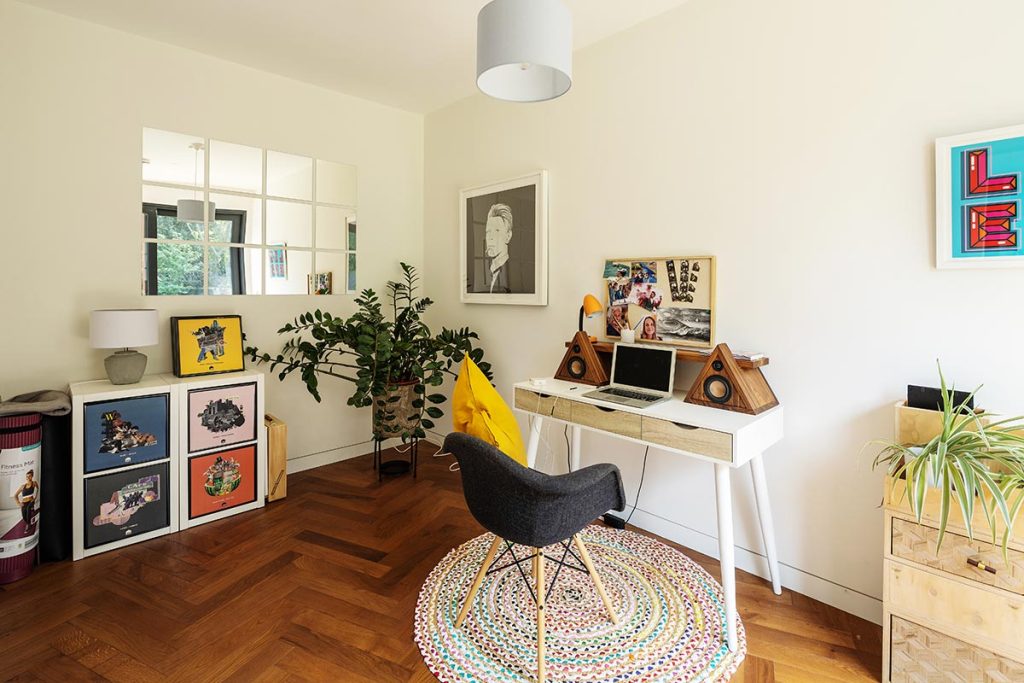 Upstairs we chose an engineered timber floor. The floorboards are a bit gnarly, with black filled resin bits that give it some character. Thanks to the underfloor heating we can walk around with bare feet with that warm timber feeling underfoot.
Future proofing
"We made the decision to invest in renewable technology to make it as efficient as possible so we wouldn't have to stretch ourselves financially to pay for the running costs," says David. "We installed eight solar panels to generate electricity on the roof of the studio along with the air to water heat pump and mechanical heat recovery system."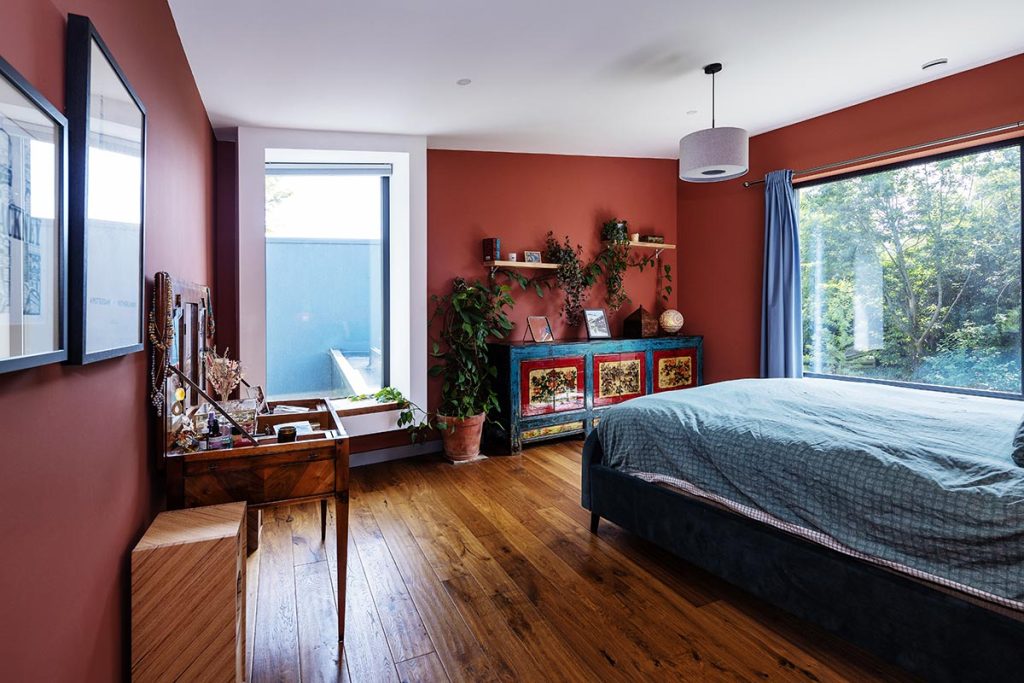 "We know we are going to be living here for a long time, and we are reaping the benefits of long term savings by having made an investment at the start."
"This house is our future, and so we decided to plan and invest in it for any eventualities we might face down the line. For example, my studio is fully insulated, with a bathroom upstairs and an office that could be turned into a bedroom or living room, so this could be used as an independent one bed apartment if needed."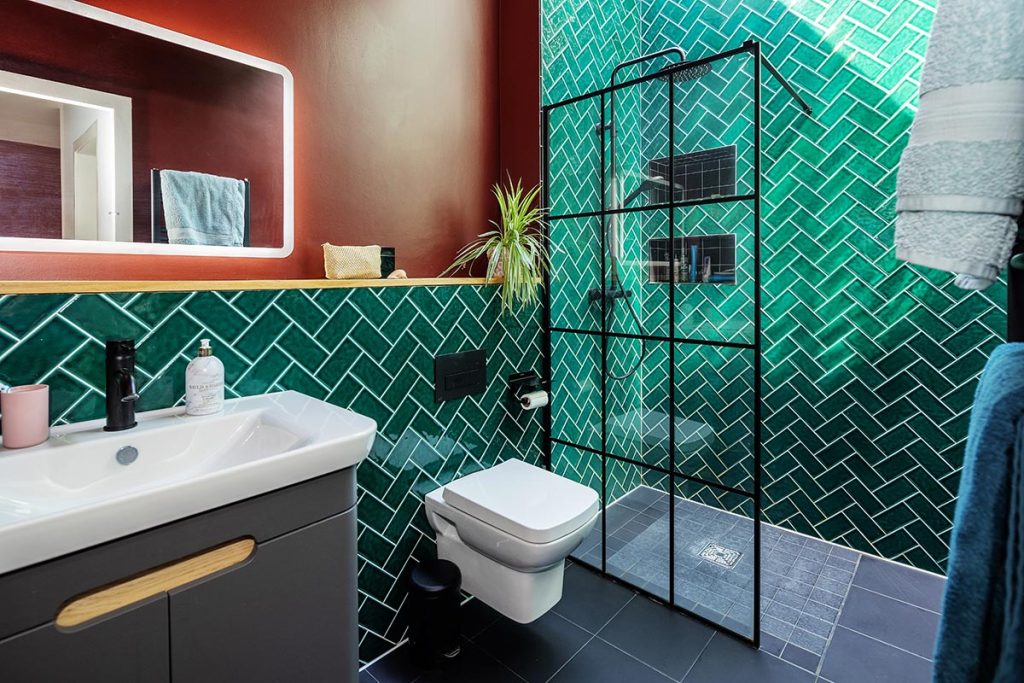 "The main challenge of the build was the timeframe; the schedule exploded. It was an expectations versus reality situation. It wasn't until I took ownership of the build as project manager that the build took on any real momentum. I should have got stuck in with my sleeves rolled up earlier, but I thought I wouldn't need to do that. It turns out I did."
"Sourcing good quality fit out items was another challenge. I had to source things from the UK, to buy most of the fundamental things like door handles, sinks, showers and so on. Luckily, we finished before Brexit came into force. I don't know how we could have done that in today's trading environment."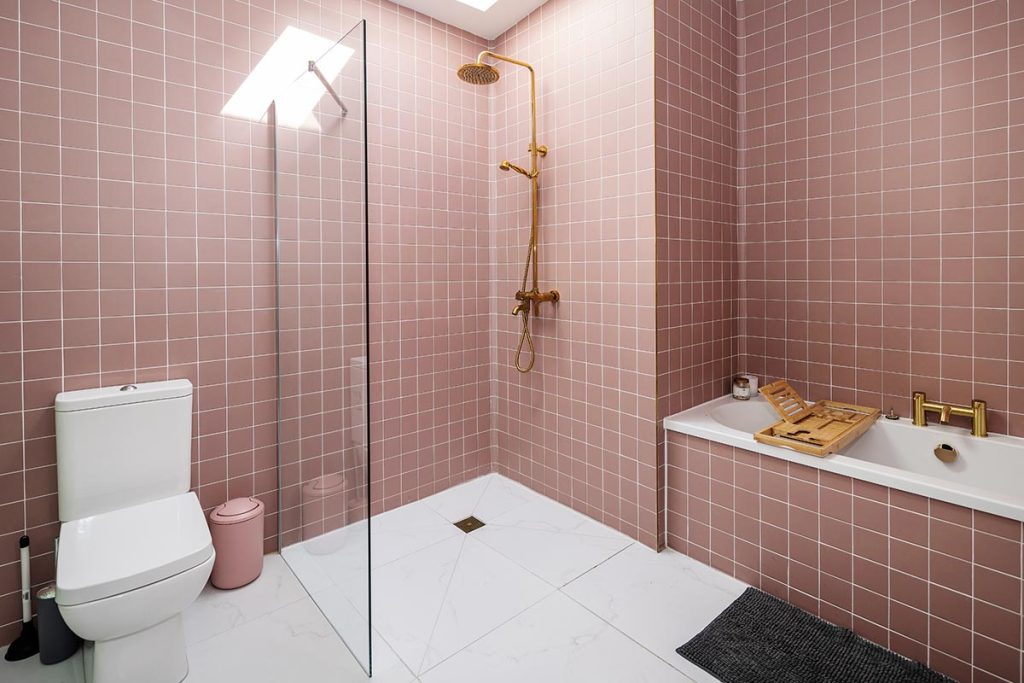 Natural connections
"We have lots of really mature forestry around us. This borrowed landscaping is the backdrop to our garden, which is quite an unstructured, natural style. We don't have beds, we've let nature take over a bit more. I put a pond in for local wildlife and we've planted fruit trees," says David.
"Lisa's parents' back garden looks onto our back garden, so we didn't want to overly formalise the boundary. We erected a post and rail fence and planted a copper beach hedge to create a soft border. We have a gate in between the gardens so we keep that connection between us."
"Lisa's parents have been amazing throughout the process. Without their involvement, it wouldn't have happened. They were involved at a granular level, and they kept us going."
"Now that it's finished, I think they absolutely love it. There was a point during the build where they probably weren't too sure how this big, grey, dirty cement box was going to turn out like. But overall, now that it's finished, I think they really like the style of it."
"We put a lot of thought into making this house work for us, and we haven't been disappointed. However, there was a sense of an anticlimax when we first moved in, which surprised us. I was expecting to feel happier, get more of an explosion of emotion. It was all very subdued."
"I suppose it was a two year build, and right up to the big day we had a huge snag list which dampened the sense of excitement. What we didn't realise was the longer we lived in it, the better it became. The payoff is a long game – there's no instant gratification. Every day it just keeps getting nicer. It's a mad, slow reward."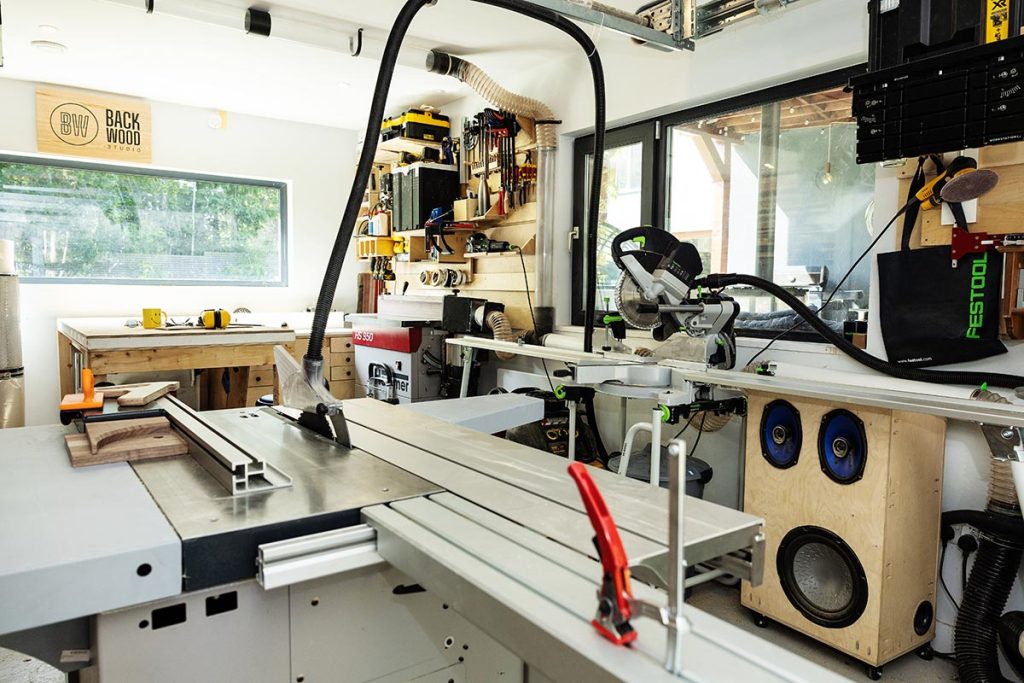 Q&A with David
What is your favourite room? Biggest splurge?
My favourite room, weirdly enough, is our ensuite bathroom. I just love the drama of the bottle green tile and the contrasting white grout. The glass roof above the shower makes it feel like you're showering under warm rain. The room has a calm, boutique hotel vibe.
We had a few splurges like the double sided glass fireplace in the living room. We don't need it for heat – the house is passive – but during the winter we light it every night at its lowest setting. The custom made stairs was another big spend, but it's a real centrepiece and the first thing you see when you walk in the door, so we don't have any regrets. Plus, we were supporting our friends' business.
What would you change?
I could have made my life a bit easier by compromising on a couple of things, like the skirting boards. Everyone is trying to get you to compromise, because it makes the whole process easier. But we didn't really do that, which caused problems from the builder's point of view, and also with the budget. But now that I'm living in it, I'm really happy I didn't let go.
What surprised you?
Another thing that surprised me was how much I enjoyed learning about the process, and how fascinating the craft of it all is. There are a million baby steps towards getting a house finished, and I quite enjoyed watching them all unfold. That suits my temperament. I like understanding how things are made and how they work.
What single piece of
advice would you give a
self-builder?
My top piece of advice is to get more involved. Don't sit back and assume that other people are doing things to the degree that you would want them done or to the timeframe that they have said they'll be done by. You need to be across everything to make sure that things are arriving on site in the right sequence. Know who's delivering them.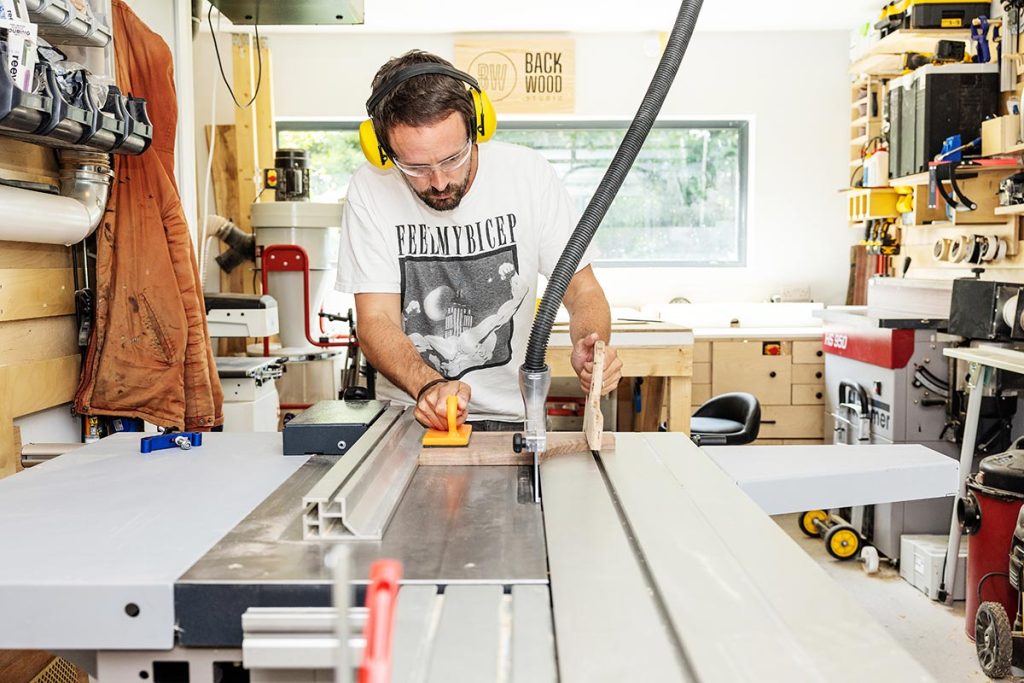 David and Lisa's tips
Be determined but also be willing to compromise when you hit planning issues. Keep going and don't give up, it will work out in the end.
Furnish the house. A lot of people have this habit of waiting until the house is built before starting to fit it out with furniture. The problem is, you end up under pressure trying to buy all your furniture in one shop. Instead, invest in nice bits of furniture before you even start building. Look out for things when you're on your travels. Because you're going to end up spending the same amount, or more, for something more functional and less emotionally attached to you.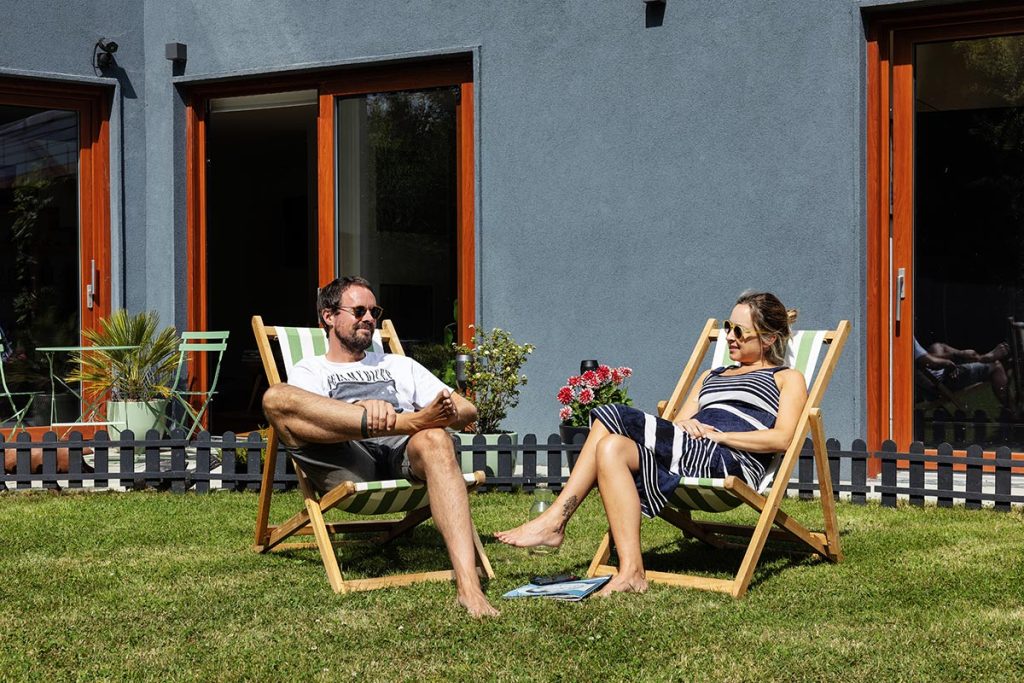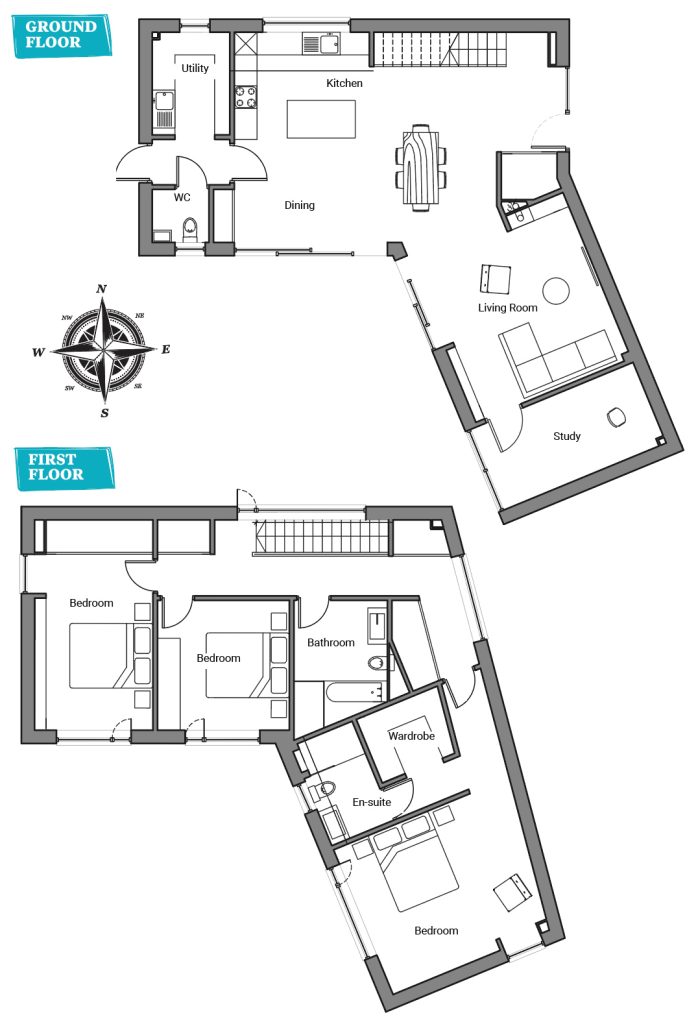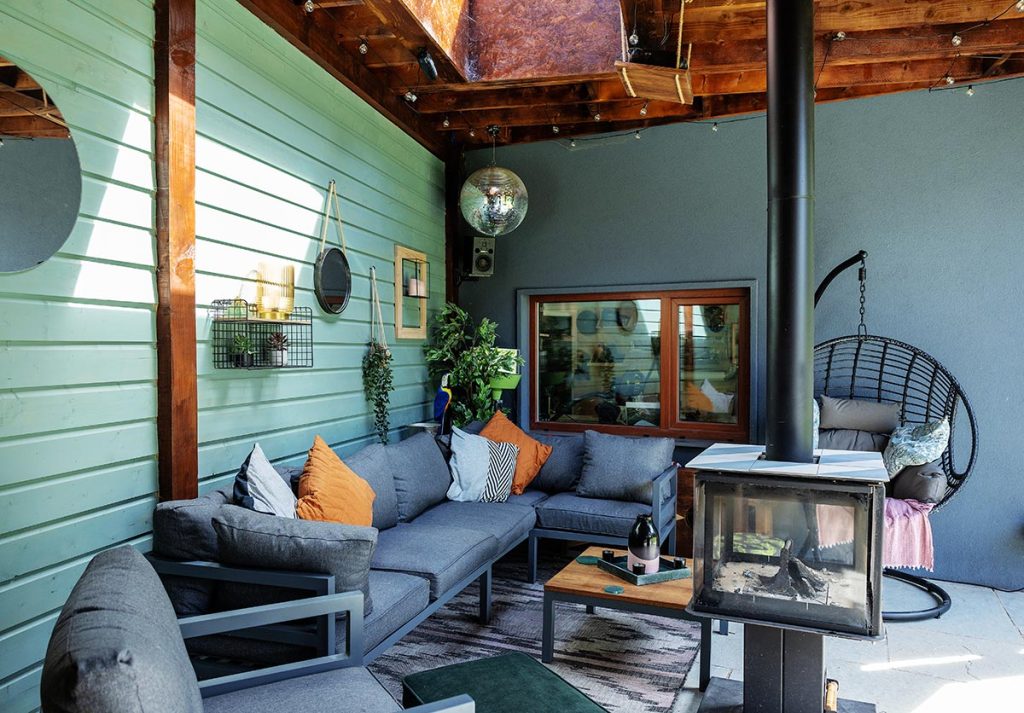 Suppliers
Builder
Terrakon
Architectural designer for planning permission
BBA Architecture
Secondary architectural designer and
project management
Ciaran Kelly
Head contractor
Piotr Porebski
Stairs
Borien Studio & RT Metalcraft
Wardrobes
Patrick Maher Design
Wooden Floors
Green Oak Floors
Tiles
Tilestyle
Internal Furniture
Backwood Studio
External Render
Eco Warmer Homes
Electrical
MCD Electrical
Internal Skimming
CMC Plastering
Landscaping
MDR Landscaping
Solar
LVP Renewables
Photography
Dermot Byrne Photography , dermotbyrnephoto.ie
Spec
Walls: 100mm EPS on cement board on 150mm spray foam insulation between steel joists, U-value
0.18W/sqmK
Floor: 100mm PIR insulation on 200mm EPS graphite board, U-value 0.13W/sqmK
Roof: Fibreglass membrane flat roof with 100mm EPS board above deck and 150mm spray foam insulation between steel joists, U-value 0.17W/sqmK
Windows: uPVC triple glazed, argon filled. Dark on the inside but rosewood effect on outer finish, overall U-value 0.890W/sqmK