How Linda and Edward Mulkern built their 220sqm home on Achill Island to retire to, replacing a concrete bunker house that had been their holiday digs for years.
In this article we cover:
How the couple came to buy a property on Achill
Plans to demolish and rebuild and coming up with a cost effective new build design
Hiring their architectural designer as project manager
Tips to save money while building
Working with local trades
Heating choices for power cuts
Solar panel setup (PV)
Windows and artificial lighting design
Staircase design including continuous ash handrail
Top tips to other self-builders for a successful build
Floor plans, timeline and specification
Suppliers list and build costs
Professional photographs
Overview
House size: 223sqm
Plot size: 1 acre
Bedrooms: 4
Site cost: €55k
Build cost: €380k
Heating: Air source heat pump
Ventilation: Mechanical centralised heat recovery
Build method: Blockwork
BER: A2
A chill Island, with its soaring sea cliffs, Blue Flag beaches and raw natural beauty, was brought to Hollywood's attention this year thanks to the Oscar nominated film The Banshees of Inisherin. But, for Linda and Edward, the island first cast its spell on them 15 years ago, during family holidays to Ireland.
"When my parents-in-law moved back to Galway from the UK in 2003 we began spending our family holidays visiting them," says Linda. "Achill Island is a day trip away from their home and offered good surfing beaches to take our children to, so it became a place we loved to visit." As time went on, the Mulkerns started staying in holiday homes on the island.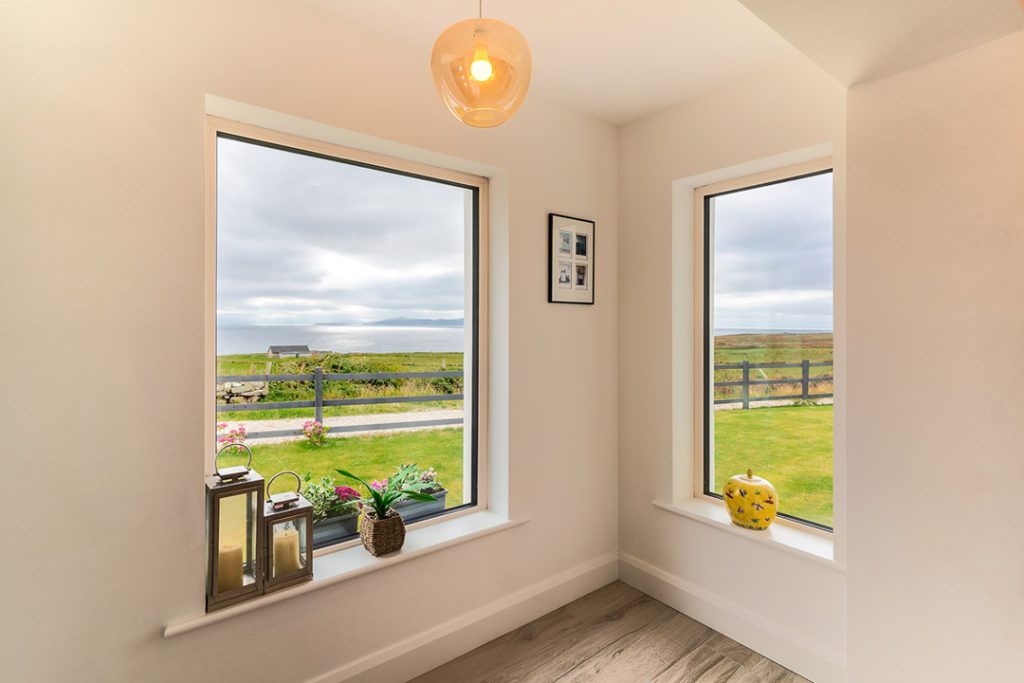 "Some were great; some were damp and horrible and that's when we decided to start looking for a property to buy," says Linda. But with a tiny budget, they had very low expectations. "Our dream was just to find somewhere that we could have a standpipe and pitch a tent for a holiday."
In 2011, they first set eyes on what was to become their island home. "It was more like a concrete bunker really," says Linda. "It sat next to the ruins of the original, traditional cottage and had amazing views of Clew Bay and Clare Island – you can see the coastline where they built the pub which featured in the Banshees of Inisherin – but we decided that it was too much of a project for us and we dismissed it."
Instead, an offer was made on another property, but this fell through. Dejected, they tried to forget about Achill, but a year later found themselves drawn back to the island. "We realised how much we still loved the place, so we contacted the auctioneer to enquire about the concrete bunker house," she says. "We were told that it was back on the market following an earlier sale falling through and we decided to just go for it."
Humble beginnings
"By that stage, our pot of money had become even smaller as we'd had to pay for renovations on our home in England. So, with little money to spend on improving the Achill house we bought it with the view that we would never actually go inside the building, instead we'd just use it as somewhere to pitch our tent."
"Then my brother-in-law convinced us to at least put in some windows and running water. He is a 'can do' sort of person while Edward and I are very cautious and don't do 'crazy' things like that. And so, one snowy day in January 2013, Edward and my brother-in-law set out for Achill with some double glazed units strapped to the roof of my husband's car."
"They installed the windows, cleared out the junk, swept the chimney and put in a sink and toilet, and we ended up camping inside – it was more like a concrete tent than a home. We set up a solar panel with a 12V battery, giving us power. We spent all our holidays there for three years. I think the locals thought we were mad, but we absolutely loved it."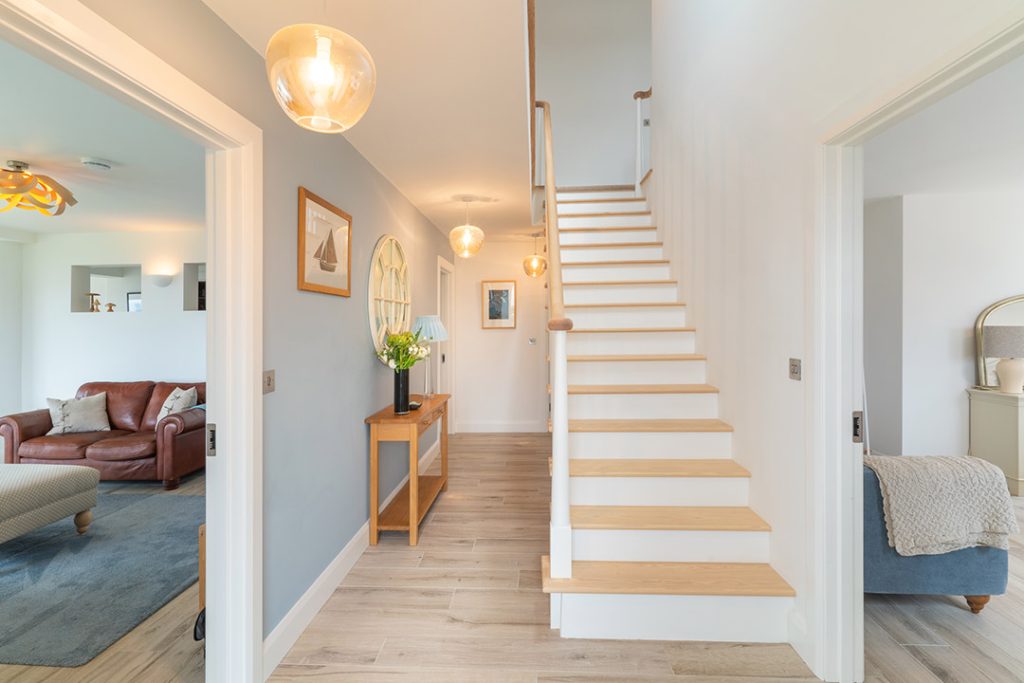 However, with the windows sealed, heating on and appliances running, the house started getting mouldy inside. Linda adds, "The flat roof always leaked as did the wall facing the Atlantic. The storms would just drive the rain through it. We contacted architectural designer Aiden Masterson to see if we could do anything to make it more habitable. His verdict was to knock it down and rebuild."
By this stage, the Mulkerns' ambitions had changed. "We had sold our house in the UK and relocated to Dublin for Edward's work. We knew that we wanted the house in Achill to be our main base as opposed to just a holiday home, so we asked Aidan to design a replacement building."
They gave him a wish list of features to include in the design, explains Linda. "We've got amazing views, so being able to maximise them was a huge deal. Also, we wanted the exterior to fit in with the surroundings and it had to withstand the elements because they are quite monumental. When it's stormy, it's really stormy.
"We had a pantry in our first home, which I loved, so I was adamant that our new house would have one, along with a utility/boot room. We didn't want the kitchen to be cluttered up with food storage and appliances."
With the design agreed with Aiden, he submitted the design to the planning office which approved them within six weeks. "The design was quite modest and in keeping with the existing cottages around us and we were replacing an eyesore with something that would improve the look of the area, so I think it was looked on favourably by the planners."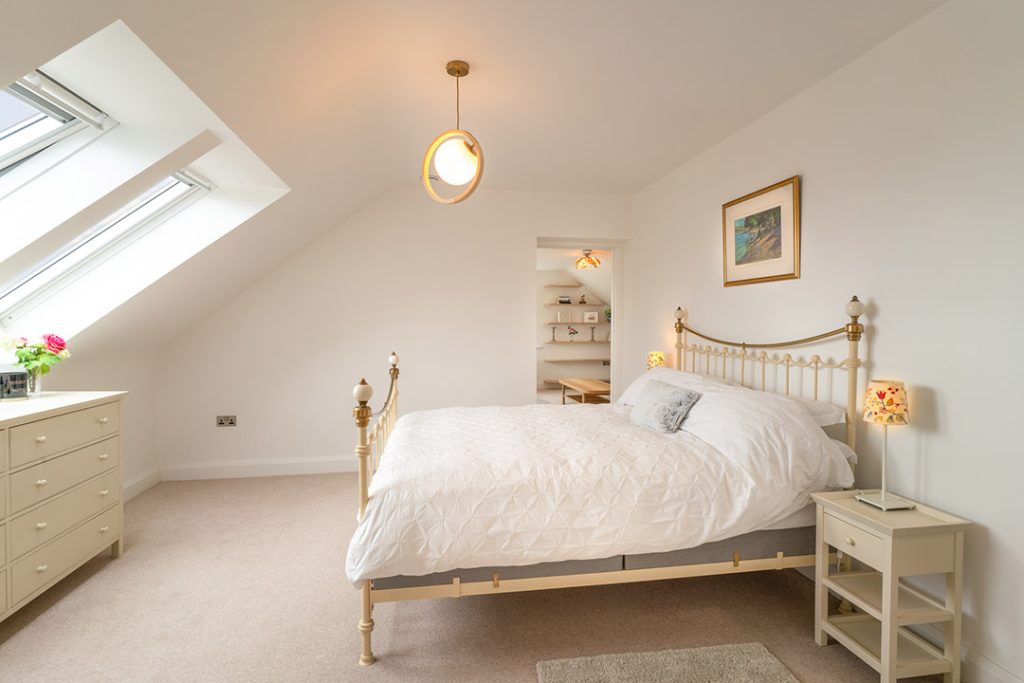 Less haste
Despite the quick planning process, there was a two year gap before the build started. "We needed time to get a mortgage organised and finances sorted," says Linda, "and we needed to do our homework to make final decisions on building methods, heating, ventilation systems and so on."
The Mulkerns invited Aiden to project manage the build. "He led us through the entire thing, sourcing the builder and tradespeople and keeping the build on track. We could not have done this without him."
The kitchen, boot room and pantry were all designed by the kitchen designer. "We kept the same, simple style in all three rooms, with slight variations in colours. I like a clean and simple look."
By extension, the interior decoration is simple and tasteful. "I tried to keep things very plain," says Linda. "We have two coloured walls in the entire house, everything else is painted white."
A stove provides a cosy focal point for cooler evenings. "Also, we do have power cuts here, so the stove keeps us warm if the heat pump loses power." For practical and aesthetic reasons, they chose ceramic wood effect tiles. "We have a dog, and I didn't want wooden floors in case they got scratched."
The kitchen is filled with light from the corner window and four others, each taking in the views from different aspects. "In the daytime, we don't need to put lights on, even in the winter. It's so bright." Two unglazed window openings borrow light from the sitting room to illuminate the rear lobby which houses the utility and pantry room. "That was one of the design things I insisted on. I didn't want anywhere to be in any way dark or gloomy," she says.
"The kitchen is filled with light from the corner window and four others, each taking in the views from different aspects."
Another of Linda's key design interventions was the staircase. "We were advised at the beginning to have a concrete staircase, so our builders could get up safely during the build and to provide access for the heating people to get to the upstairs plant room.
"I didn't want a modern wooden staircase to box in the concrete staircase, instead I wanted to emulate the staircase from our old house which had a continuous sweeping handrail. I wanted to celebrate how concretey it was, so the stairs have been plastered and painted white, with ash treads and really simple, tapered round spindles up to a continuously flowing ash handrail."
"I did struggle, initially, for anybody to understand what I wanted; thankfully, our joiner, Eoin who lives on the island, got what I meant. We managed to source the ash and he put it all together using good old fashioned craftsmanship. He took my dream and made it happen."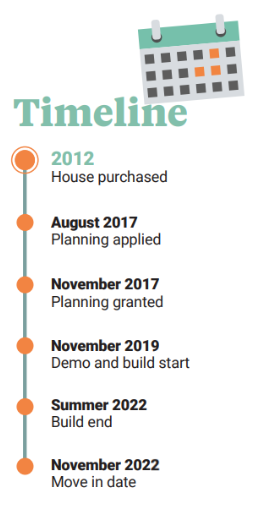 It takes a village
"From the outset, we asked our project manager if we could use local craftspeople, and tradespeople. We wanted to keep it as local as possible, to use the talent that's here. This really worked in our favour during the lockdowns as our workforce was already here. It worked for everybody really."
"We also have a brilliant hardware store and builders' merchant on the island, and everyone there was fantastic." The biggest challenge – shared by all self-builders at that time – was caused by the pandemic. "Sadly, a critical member of our team was very ill during Covid, so we made the decision to slow the build and wait for him to get better. We were more than happy to do that."
But they also got a different kind of shock during the build. "I panicked when the family bathroom walls went up," admits Linda. When the interior walls start to go up on a new build, it's often the case that some rooms appear smaller than expected.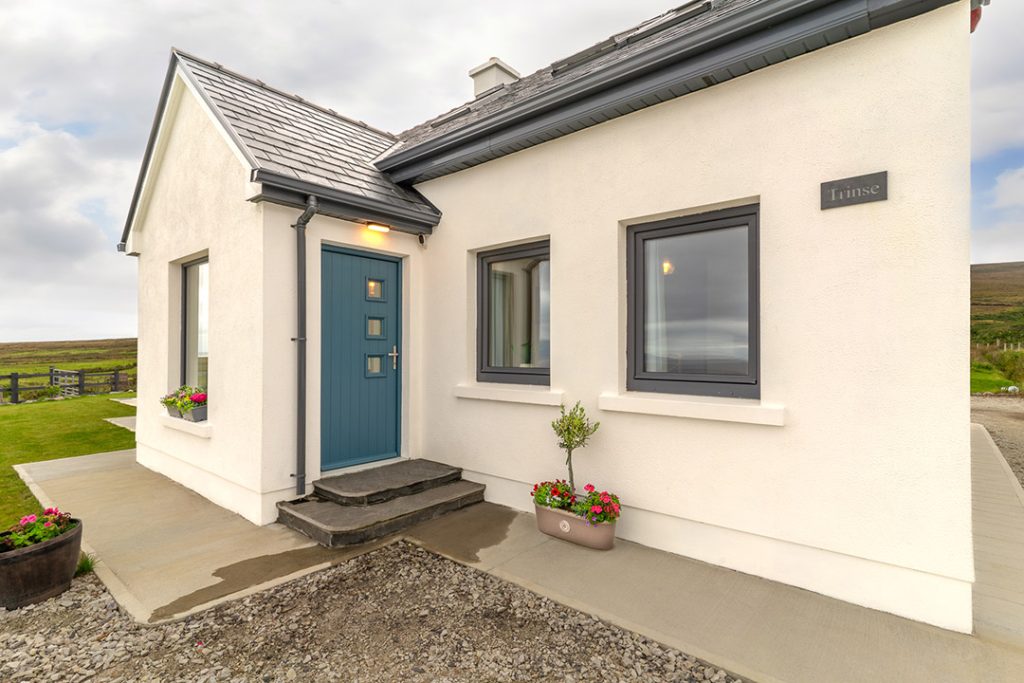 "It felt like it was going to be tiny, so I ordered a huge mirror to cover one of the walls to help the room appear bigger. As it turns out, I'd overreacted. The finished, fitted out bathroom is a perfectly decent size – and is now filled with light bouncing off the mirror."
Outside, they added a fence around the garden, levelled the ground and seeded the grass. "We don't want to spend money on landscaping until we can be there all the time to properly look after it. But we are trialling plants to see which ones can survive the wild conditions here."
So, has the house lived up to their expectations? "Yes, and more," says Linda. "We moved on a lot from our initial standpipe dream. But even from the design point of view, it's far exceeded what we thought could be possible by two people who have never done anything like this before."
"We've had many comments from locals saying that the house looks like it's always been here, which is what we really wanted. They've been happy to see that it's been local people, mostly, who have worked on the house. The plasterer lives in the village and the painter and the decorator is in the village. It's all been very local."
Q&A with Linda
What is your favourite design feature?
My favourite thing is just how comfortable the whole house is. It's easy to keep clean and tidy. It's just very easy to live in.

Biggest splurge?
Hands down, the staircase.

What would you change or do differently?
Nothing at all. Edward's homework really paid off. He wanted to take the time to research what build methods and systems would work best for us, and then stick to those decisions. And we pretty much did that.

What surprised you?
I was just amazed by the skills of our tradespeople and the pride they take in their work. I found that really fascinating. I've met so many amazing people.

What single piece of advice would you give a friend who's looking to embark on a project similar to yours?
Remember that your dreams are your dreams. The people working on your project will have their own stories going on in their own lives, and you can't expect them to know what you want or need without communicating effectively with them. You can't expect people to do things for you at the drop of a hat. Treat everyone with the utmost respect.

Would you do it again?
I would do it again, if I could have the same team of people with me, the same project manager and all the same tradespeople. Fortunately, we don't need to do it again, but it was a great if sometimes stressful experience. It was hard work, particularly the financial side of things. We had a mortgage which was hugely stressful, because the bank wasn't as understanding about Covid as they might have been. We had to submit a written reason for why we had bigger gaps between stages than would normally be expected, and so there wasn't much leeway during the pandemic. That was really scary, but I would still do it again. In a heartbeat.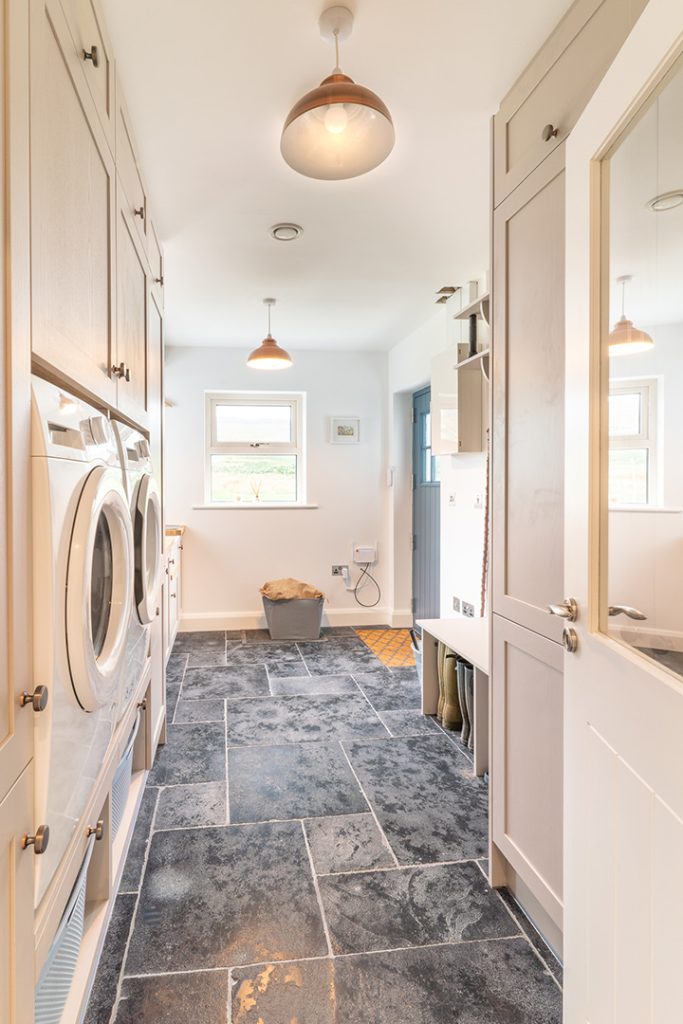 Linda's tips
Think of storage. We bought an old freight container to house materials on site, which was a godsend. It meant we could buy a lot of materials in advance and have them on site ready to be used. The container can be sold on when you've finished.

Hire a project manager. If you're not actually going to be able to be on site, pretty much all the time, I would recommend hiring someone you trust to manage the project. You can't get just anyone. You have to completely trust them. Because you're dealing with all your worldly goods, hopes and aspirations. Without Aiden, we would still have a building site!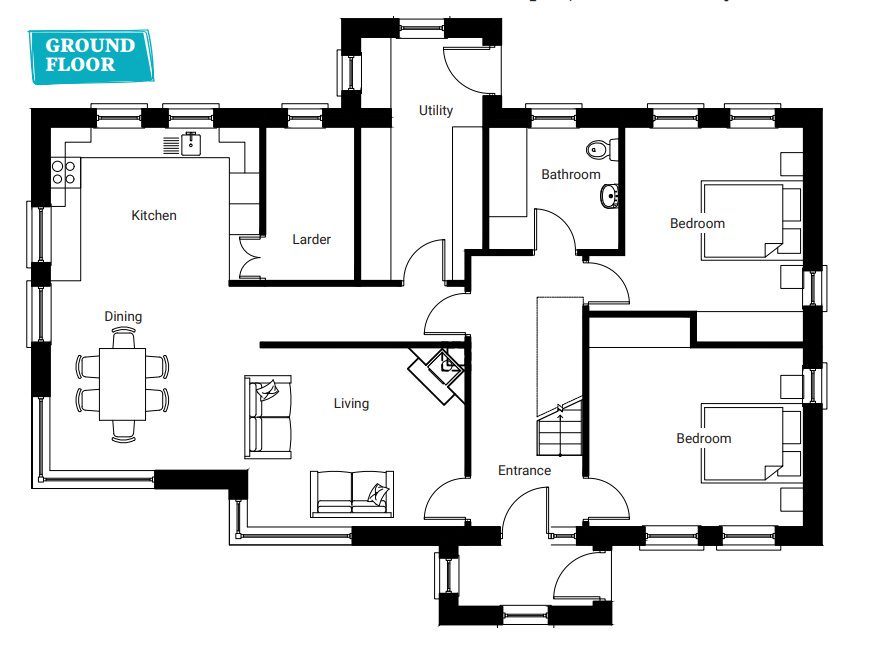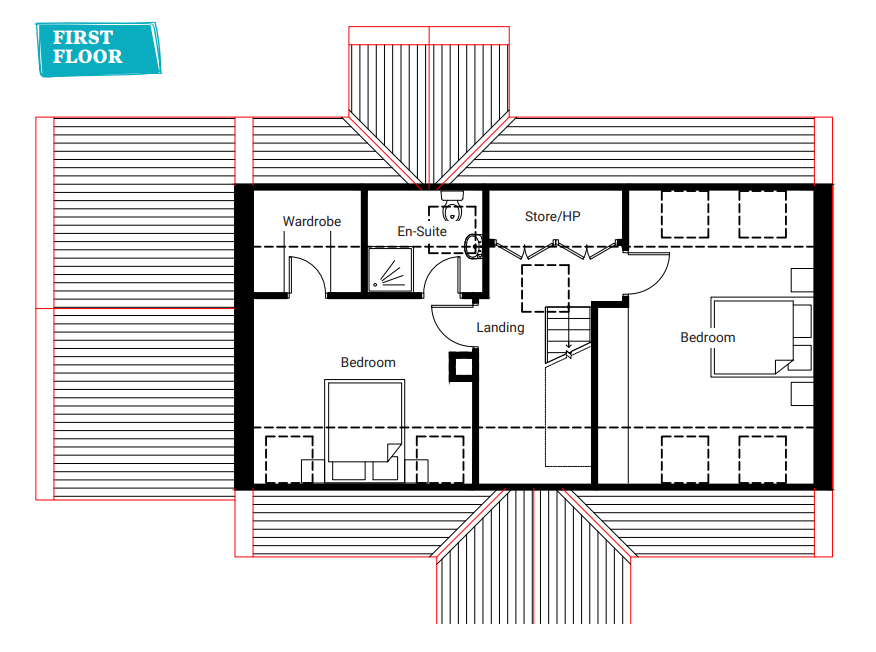 Spec
Insulation: 110 mm polyurethane (PUR) rigid board in cavity.
Floors: 140 mm polyurethane board.
Roof: polyurethane between rafters 150 mm, and 70 mm insulated PIR slabs on roof
slopes. All crawl spaces sealed with spray foam.
Windows: RAL 7005 grey, passive frame uPVC triple glazing with argon coating. Special structural glazing for coastal areas/ low e argon filled glazing.
Suppliers
Architectural design and Consulting Engineer
Aiden Masterson Design Ltd, Castlebar, Co Mayo

Kitchen, pantry, utility/boot room
Diskins Kitchens, Milltown, Tuam, Co Galway, diskinkitchen.com

Sanitaryware
Soaks Bathrooms, Belfast, soaksbathrooms.com

Windows and external doors
Passive house windows and Ultra Tech doors by Munster Joinery

Stairs, joinery and much more
Eoin Gallagher, Keel, Achill Island, mobile 085 230 3554

Balustrade and Mirror
LG Glass and Glazing, lgglass.ie

Building materials
Patrick Sweeney and Sons, tel. 098 45211

Photography
John Mee, johnmeephotography.com

NI calling ROI drop the first 0 and prefix with 00353