TDs and local councillors in ROI are pushing to change planning rules, to support the uptake of log homes.
In this article we cover:
What is a log home
How much you can save building a log home, cost estimate
What the Independent TDs suggest
Whether log homes could become fast tracked
Plans to introduce a grant for those looking to build a home on their own land
The case against log homes
Cork County Council's plans to change their county development plan
Independent TDs want to see log homes given planning permission, in a bid to build more durable, energy efficient and cost effective homes in rural Ireland. In most rural areas in ROI, they are difficult to get planning permission for.
Rural Independents Group TDs are also calling for a new €20,000 grant-aid package for anyone who wants to build a permanent home on their lands, as the government drags its feet publishing the update to the Sustainable Rural Housing Guidelines.
Log homes are a type of timber frame house, often prebuilt and assembled on site. As the name indicates the logs can be left in the round, which provide thermal mass. There are variations, e.g. logs cut in half or into planks. And most often in Ireland, log homes refer to timber clad structures designed to fit tidily in your garden as a home office or annexe.
Planning permission must be sought for a new building that will be lived in, and the aesthetic of log homes can be difficult to get planning permission for.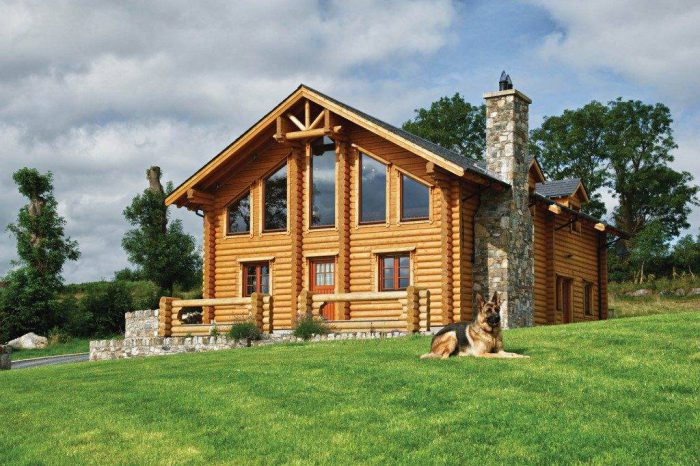 Log homes can be more cost effective to build than bespoke homes because they tend to be smaller in size, are built offsite and follow standardised plans. However, a bespoke (not off the shelf plans) log home won't necessarily cost less than a house built with another building method, if the specification is the same.
Also, all new builds must comply to planning regulations, building control regulations and health and safety regulations. Building regulations introduced in 2019 require new builds to be very energy efficient so a log home, as any home, needs to live up to that specification.
Log cabins for sale as a shed may not necessarily comply to building regulations.
According to TD Mattie McGrath rural housing regulations are "overly zealous", stating the coalition government has taken "an especially aggressive and unhelpful anti-rural stance on one-off housing".
"Irish planning laws are outdated and almost impossible to navigate when it comes to obtaining planning permission for log cabins, with individuals who have invested their own money or taken out loans to build a home for themselves facing insurmountable obstacles," said Independent TD Richard O'Donoghue, whose Planning and Rural Housing Motion was passed in the Dáil in May.
O'Donoghue went on to say that log cabins offer a range of benefits for housing, including: durability, energy efficiency, and a rustic aesthetic. They can be built quickly and efficiently, making them a cost effective option for both builders and homeowners.
"To fully take advantage of the benefits offered by log cabins, planning restrictions must be eased to make log cabin construction more accessible and affordable for those interested in this type of housing," he added.
Any changes to planning policy will have to be included in the sustainable rural housing guidelines and approved by government.
The case against log homes
TD Aodhán Ó Ríordáin said at the Dáil debate that any relaxations of planning regulations could have unintended consequences. "When it comes to the suggestion regarding log cabins, while we cannot let perfection be the enemy of what could be a potential solution, we cannot let that be the long-term solution," he said.
"In my experience, once you begin to change, lessen or lighten regulation around something, there will always be a cowboy somewhere who will try to abuse that. It may be the case that in quite a number of circumstances a log cabin-type structure could be used to facilitate a family member to move out of the larger home, maybe to move in with someone they are in a relationship with and start a family, as a first step."
"That is laudable and is worth investigating and supporting, if it can be done. We just know, however, a percentage of people will look at that as potential rental income and, before we know it, these log cabins, which we all thought were a good idea for giving people that first step to move outside the family home, will turn out to be used just for rental. Can we be sure about the standard of these cabins?"
"Do we want to be here in five, six or seven years' time in a situation where we did not have proper oversight as to their construction and they turn out to be firetraps? These are the conversations I and other Deputies have all the time because of the failure of oversight, regulation and proper planning laws."
The last rural housing guidelines were issued in 2005 and are under revision. "The lack of a rural housing policy document means that local authorities have no universal roadmap for rural housing policy within their operational planning remits," said O'Donoghue.
"While the Government has proceeded to publish draft sustainable and compact settlement planning guidelines aimed at forcing more urban living, it has failed, despite promises, to publish a similar policy for rural communities."
He added: "The Government is inactive in terms of rural housing policy, which has resulted in young people being forced off the land of their forebears due to unreasonable policy decisions, restrictions in granting planning permission for rural homes, and preventing farmers' sons and daughters from living on the land and in their communities of origin."
Cork County Council's push for log homes
Meanwhile, log cabins could become more common thanks to a possible relaxing of planning rules in Co Cork, reports the Irish Examiner.
Cork County councillors are banding together to update the County Development Plan's Rural Design Guide to allow log homes to be built not just at the outskirts of forested areas, as is currently the case.
Log homes can cost as little as €60-€80k to build, according to the newspaper.