Self-build mortgages can be hard to get if you plan to build a holiday home but for Helen and Daniel Smyth the lure of the sea proved too strong to resist.
In this article, we cover:
How to go about building the dream holiday home, starting with finding a site
Decision to renovate or knock down to build new
Finding an architect and design process
Tender process, how they chose their builder and troubleshooting on site
Planning permission issues including hitch with percolation test
Different versions of the minimalist design layout
Types of tiles and paint to cater to mud loving dogs and children
Learning from mistakes in previous homes
Futureproofing and accessibility for older age
Unforeseen cost overruns and why hiring an architect saved them money
Details of key design features: sunroom and double height ceilings
Willow bed design with costs
Reinforced concrete raft foundation design with costs
Choice of cavity wall construction with EPS beads
Details of choice of PV system including cost
Choice of uPVC windows, gas boiler, stove and underfloor heating plus how they perform
Full floor plans
Overview
Site Cost: €105,000 – Build Cost: €425,000
Floor Area: 2,600 sqft – Plot Size: 5 acres
U-values to Part L 2011 standards; cavity walls 150mm filled with EPS beads, PIR insulation for pitched and flat roofs, floor insulation 110mm + 30mm PIR, 30mm perimeter insulation.

"Eight years ago we bought a holiday home in Wexford," says Daniel. "It was an old farmhouse, that had originally stood on about 50 acres of pasture land. The previous owner had retired from farming and sold off most of the land leaving the house, yard, outbuildings and five acres. It was perfect for us, as it fit into our longer term aspiration to move down to Wexford and set up a small holding."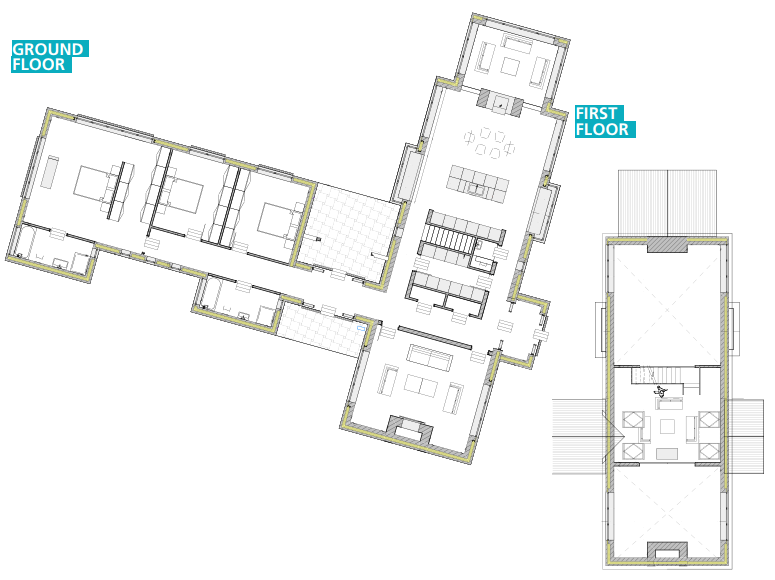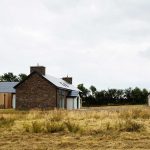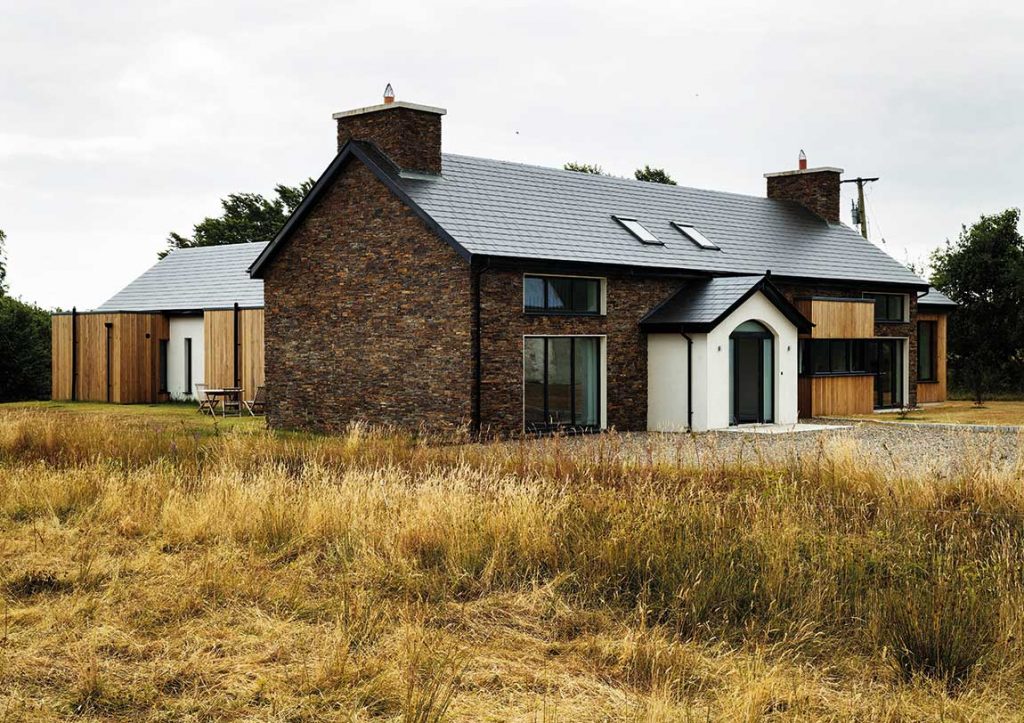 "We love Connemara but it's just too far away to use regularly for short breaks," adds Helen. "We wanted a home relatively close to a town with good shops and facilities and our site is only 6km from the centre of Wexford town. Despite that, it has a very rural feel, located 500m from the nearest public road and surrounded by the farmland with which the original house was associated."
"We both love being close to the sea and Wexford is ideal for fishing, kayaking and beach days in the summer. Several of our siblings on both sides of the family have second homes nearby so the children have lots of opportunity to entertain themselves."
Inspiration
"The house that was on the site was probably about 100 years old, with thick mud and rubble walls and very small windows, originally thatched it had been extended over the years and a second floor added," says Daniel.
"It was a functional building, offering protection from the elements, but it did not take advantage of its wonderful location at all as well as being damp and barely insulated at all."
Holidaying in the house over the years, it became clear to Daniel and Helen that a renovation would be too difficult and that they would be better off starting from scratch. "We've had maybe 10 previous houses and apartments, mostly period properties in the UK, and in three of these did major refurbishments and extensions so we had a good idea of how the building process works, but we'd never done a complete new build before, so it was exciting," says Helen.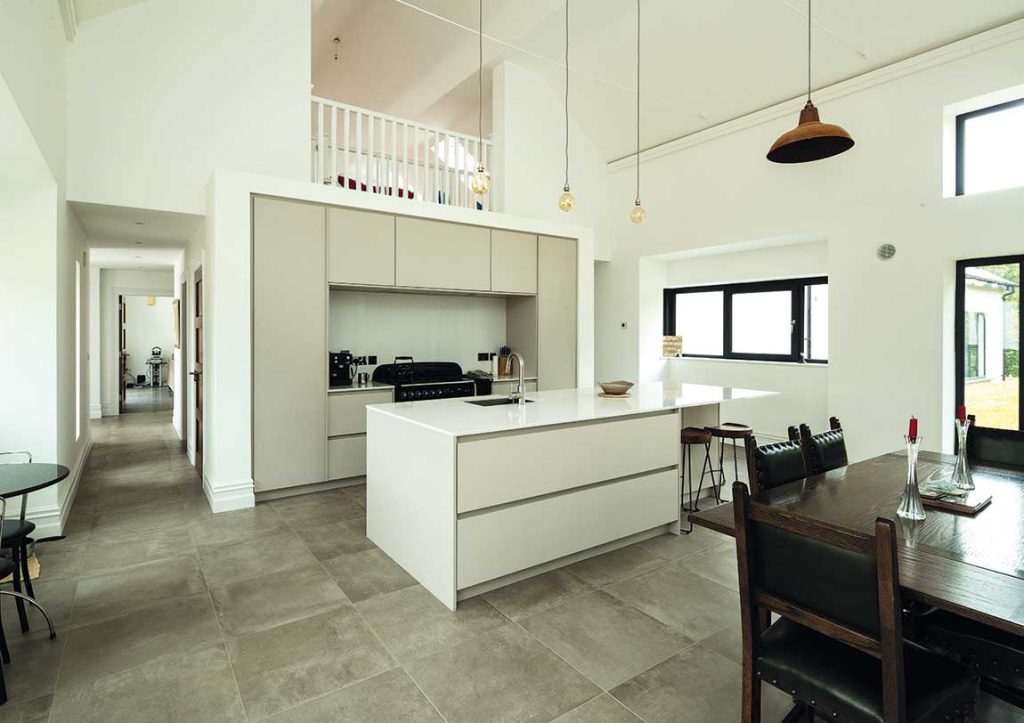 "We wanted to balance having a house that would cater for just the family and feel homely while also being able to entertain larger numbers including the many family dogs (seven at the last count). While we wanted an open layout we also wanted to ensure we wouldn't feel lost in a cavernous space when it was just us in the house."
"As we were thinking about getting started, we attended the Selfbuild Live exhibitions for inspiration and advice and it was at the second of these that we first talked to Fergus our architect."
"That's what kicked off the design process, Fergus came to site and he agreed there was nothing of merit worth saving," adds Daniel. "His style is very modern, he had spent a lot of time in Germany and took some ideas from there, particularly in the integration of outside and inside spaces. We looked at his portfolio, it showcased lots of glass and plenty of space. We were hooked."
"We're both big fans of some of the property programmes on TV, so perhaps we were influenced in our decision to undertake a build ourselves by that," says Helen.
"Judging by these shows it seemed that with a new build something always goes wrong that should have been foreseeable, so we spent a lot of time getting the design right in the first place."
Top of the list was the location. "We wanted to enjoy the views, the sense of space and stillness while in the house. Fergus' initial design with its double height and a single space for most activities really appealed to us."
"While we mostly share the same tastes, Daniel's emphasis is on style: minimalist and perfection. For me this can sometimes be unpractical and feel a little sterile and unwelcoming," Helen adds.
"Over the years Daniel and I have worked out what suited both of us. Hideaways, nooks and crannies; these were all important in the design. There were four iterations of the plans; the original one was very grand. We backed down on some of the design features in that version and thought about what we really needed in the house and where we wanted everything. It took about two months of to-and-fro, during which Fergus helped a lot, bringing both our requirements to the fore so that both of us loved the final design and neither felt compromised."
"The main living area is double height and basically a rectangular block with a standalone cube in the middle, on top of which is a mezzanine playroom for the kids," says Daniel. The circulation space in the kitchen/dining area is a fantastic space for people to chat and mingle; but because we didn't want it feeling huge and impersonal, we have smaller cosy areas too."
"We also thought a lot about the lighting plan so that we could use it to create different atmospheres in different parts of the space."
Family home
For it to function as a family home, basic practicalities had to be factored in. "For this house, particularly considering its rural location and the fact that we have two mud loving dogs, the emphasis was very much on durability and practicality. We have a utility room for the wellies and a convenient outside area to hose everything down after a day at the beach," says Helen.
"In terms of upkeep all of the main circulation areas are floored in large-format ceramic tiles which are easy to clean and don't scratch. Similarly, we selected Swiss laminate flooring for the main living areas and bedrooms which is of commercial grade durability and again is not liable to wear and tear, water damage, and so forth."
"We also used only washable paint, kitchen surfaces are totally heat and stain proof. All of this makes it a lot less stressful when we have a large gathering at the house with kids and dogs tearing about."
"In the past we've made choices of, for example, flooring or worktops which, while they may have been stylish, were not terribly practical," says Daniel. "For instance, in one property we had beautiful cherry wood worktops fitted, but they were a nightmare to maintain so we went with stone this time for an easy life."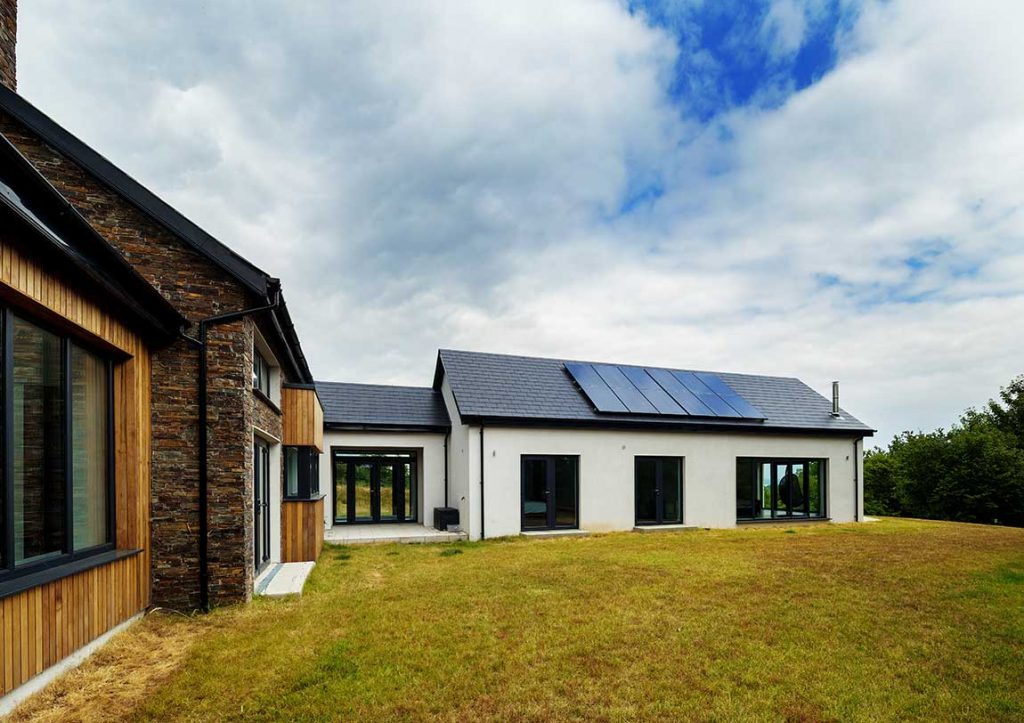 "We also put considerable thought into how we would live in the house as we got on in years, so we specified walk in shower areas, wheelchair access, a mostly single level design, minimum door openings and so on. I think Fergus was surprised at how involved we got with this aspect."
"On our wish list were three wood burning stoves, we have one in the sitting room, a double sided one in the kitchen/ dining area, and one in the bedroom – which is wonderfully cosy in the winter. As for the external finishes we chose a stone clad finish for the main part of the house which matches as closely as possible the colour of the local stone from which the old outbuildings are constructed."
"This is paired with some cedar clad elements which we are going to try to keep in their as-new colour rather than letting them silver with age."
The sunroom was an unexpected delight. "Even though we weren't keen on having this originally, Fergus persuaded us it would be nice to take advantage both of the views down the length of garden and to follow the path of the sun which ensures the sunroom receives marvellous light from first thing in the morning until late evening," says Helen.
"This is where a good architect earns their money. It was actually a pleasant surprise the first time we saw it glazed. We use it all the time; after dinner we go straight to it to relax in."
Unforeseen cost overruns
"While I don't believe it would have been possible to get permission to build where we did if it had been a greenfield site, the fact that there was an existing farmhouse already there meant that neither we nor Fergus anticipated that there would be any significant issues with the planning office in Wexford," says Helen.
"We were demolishing an old house and some of the associated outbuildings with a total floor area equal to the new build, and on roughly the same footprint, so in that respect it should have been a straightforward process to get planning permission."
"We were therefore extremely surprised when our first application was rejected at the recommendation of the Environmental officer."
"His objection centred around the fact that the percolation tests we'd had done as part of the application process were unsatisfactory due to the heavy clay soil in the area and, despite the fact that there had been a septic tank in use with the old house for many decades, there was no part of our land deemed suitable for installing a new packaged system."
"It seems that environmental controls in Wexford have been dramatically tightened up in recent years having previously been somewhat less strict."
"We didn't have the option to connect to the mains but a zero-discharge willow bed located in a field near the site allayed his concerns. We engaged the help of a specialist to design it; this involved excavating a large hole in one of our fields, approximately 40m by 5m, lining it, installing drainage pipework and filling it with specific grades of sand and soil."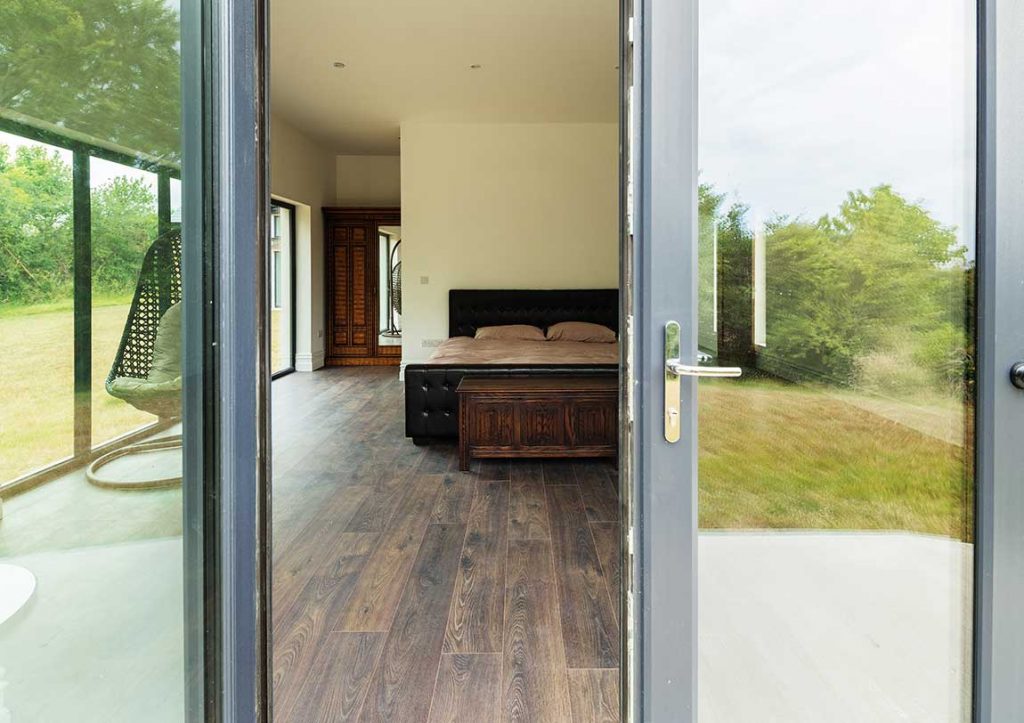 "Finally several hundred willow cuttings were planted which will disperse our wastewater through the process of evapotranspiration. It took six months and added €15,000 to the project. Thankfully the council contribution was minimal so that offset the cost somewhat," adds Daniel.
"Then, after spending a year through planning, we started digging the foundations and realised the site used to have water running underneath and the soil – a patchwork of clay, silt and sand – wasn't loadbearing," says Helen. "This meant the strip foundations we'd originally budgeted for wouldn't work. The entire project came to a halt for a couple of months while we considered our options with a geotechnical specialist and our structural engineer.
They recommended either drilling pilings to support the foundations, or building the house on a raft foundation to spread the load over the underlying soil."
"The quotes for a piled foundation came in extremely high so our only option was a reinforced concrete raft foundation built on top of several meters of carefully constructed substrate using specific grades of infill material," says Daniel.
"This all took three to four months to do and added just over €50,000 to our build cost but we had to bite the bullet or abandon the whole project. We couldn't change the location of the house from a planning point of view."
"Then there was the water connection; the old house had a well located in the stockyard. Despite all efforts to filter and purify it there was no getting around the level of iron in the water which had, over the years, stained everything in the old house it came into contact with on a regular basis," says Helen.
"A call to the council one day revealed that a connection to the mains water system was possible, but we would have to run a pipe about 450m from the site to the nearest water main.
Our neighbour was very accommodating in allowing us to dig across some of his farmland and so we avoided the misery of living in a lovely new house with funny-coloured and undrinkable water. This all added about €3,000 to the project cost, but it's definitely been worth it."
'As we were thinking about getting started, we attended the Selfbuild Live exhibitions for inspiration and advice…'

Helen Smyth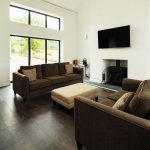 Onwards and forwards
"We had investigated the option of timber frame, as it's a quicker method to build with but in the end we went with concrete block walls; it was a personal choice in that we preferred the feeling of solidity and durability. We pumped the cavity with EPS beads to maximise insulation" says Daniel.
"In the early stages of the design we entertained fantasies about using natural Welsh slate for the roof, but unfortunately this idea had to be dropped in favour of engineered on the basis of cost. We had a lot of roof to cover and the investment in slate would have meant compromises in other areas."
"Because we're based in Dublin, and both of us work there, we couldn't take a very hands on approach to the project," says Helen. "After having put together the construction drawings and dealt with the tendering phase, Fergus acted as project manager hiring all the professionals we needed on our behalf."
"Fergus sent the tender out to seven or eight builders and, given the degree of detail in the tender pack, we were surprised at the quotes that came back, the highest being more than double the price of the lowest."
"Fergus advised us regarding the reputation of each of the builders who responded. The contractor we finally chose, Justin, had worked on several projects with Fergus before, and we thought this was important in terms of effective communication and teamwork."
"In early conversations with Justin we felt very comfortable. We also, by way of reference checks, had Justin show us around two previous houses he had built in the area and were greatly impressed by the quality of his work. His price was competitive too, so we'd found our main contractor."
"Once construction got underway there were only very small tweaks to do with moving a wall to make the master bedroom bigger and the walk-in wardrobe smaller. There were other changes initiated by the structural engineer, such as additional steel reinforcements to the roof, and strengthening some gable walls about which we had no choice," says Daniel.
"At one point we discussed lowering the ceiling height to reduce cost, but it would've ruined the ambiance and I just know it's something we'd have kicked ourselves about ever after, so we stuck to the original design."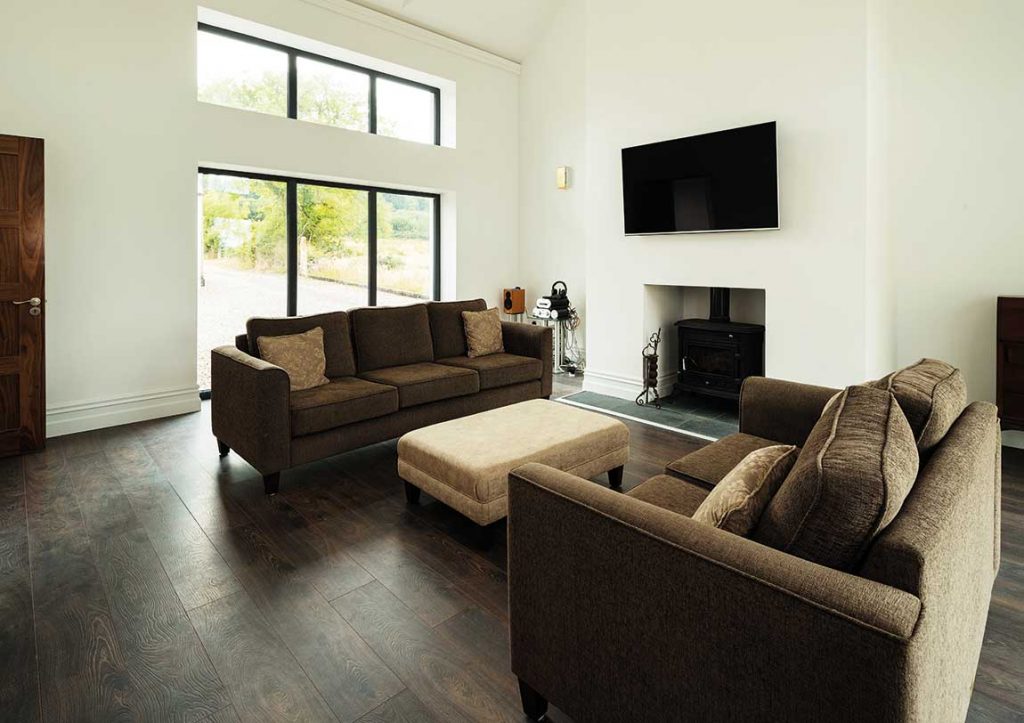 "In the end having a main contractor take responsibility for the build, working to a fixed price, with the architect overseeing the project and ensuring that everything was done to the agreed specification before stage payments were released worked very well for us," adds Helen.
"Once the building was out of the ground and the build proper was underway, we got weekly progress photographs and were only consulted on a few detailed questions."
"As I say, we have seen any number of TV programmes where the heroic but slightly over-optimistic self-builder takes on too much and ends up in trouble. The approach we took probably cost a bit more, but it really did take so much of the stress and hassle out of the build process."
"A year after completion we carried out the final snagging and there was really nothing out of the ordinary, just some minor cracks in the plaster as it dried requiring some filling and painting. We've been in for two years now and can't wait to move into the house permanently."
Energy considerations
"In order to meet our target U-values for the building we opted for triple glazed uPVC units. We've always avoided uPVC windows in the past as they've traditionally been fairly heavy looking and ugly compared to aluminium frames," says Helen.
"That said, uPVC has come a long way since the early days and the frames we settled for are in a nice charcoal grey with woodgrain patterning and matching slim profile sills."
"If I'm pushed, I'd have to say that I would have preferred aluclad windows but, given the amount of glazing the build required, the marginal improvement in appearance really couldn't be cost justified."
"We get excellent solar gain because of the orientation of the house. With all the glass facing the sun, it heats up all day long in bright weather. In the summer it never gets oppressively hot; leaving the doors open provides plenty of ventilation on the hottest days."
To meet the building regulations Helen and Daniel chose a gas combi boiler, fed off an LPG tank installed in the old stockyard, with a photovoltaic (PV) array instead of a heat pump. "Because of the renewables requirement of the current building regulations, we have a 7kW PV panel system installed – unfortunately using local wood in the stoves doesn't count as a renewable," says Daniel.
"At the moment this simply feeds the electricity mains supply. Our electricity bill is €30 in standing charges per quarter and a little on top for our net usage after deducting the contribution from the photovoltaics but the panels cost €6,000."
"We're at the house every other weekend and to date we've had the tank filled once in two years and it's currently half full," says Daniel. There's also underfloor heating throughout to free up wall space. "The only niggle I would have with it is that it's designed to run more or less constantly at a fairly low temperature and in cold weather it has to be running for a day or so to really start raising the temperature of the house.
"Fortunately the three wood burning stoves can get things warmed up in a hurry if we pop down to the house for a weekend midwinter," says Helen.
Suppliers
Architect: Fergus Flanagan Architects, Wexford Town and Dublin 2 fergusflanaganarchitects.ie
Main contractor: Justin Keane Construction, Glynn, Co Wexford
Kitchen: Michael Farrell Kitchens, Wexford, michaelfarrell.ie
Windows & Doors: K&K Windows, Gorey, Co Wexford, kkwindows.ie
Willow bed: Feidhlim Harty from FH Wetland Systems, wetlandsystems.ie
Stairs and Balustrades: Clonmines Joinery, Wellingtonbridge, Co Wexford, clonminesjoinery.ie
LPG: Calor Gas, calorgas.ie
Stone cladding: Z-Stone by LBS, lbsproducts.com
Photography: Dermot Byrne, dermotbyrnephoto.ie
---
Try our new 'Selfbuild Cost Calculator'. Fill in details and instantly get a rough estimate for your project