Rebuild costs feel the squeeze in 2023 due to a rise in labour costs and material prices in both NI and ROI.
In this article we cover:
Rebuild costs in Ireland (NI and ROI) in 2023
How insurance rebuild costs differ to new build costs
Rebuild costs in ROI have increased by an average of 12 per cent, says the Society of Chartered Surveyors Ireland (SCSI), which revised its rebuild cost calculator for house insurance purposes in October 2023.
The lobby group for chartered surveyors estimates a four bedroom 199sqm detached house in an estate (no figures available for one-off houses) would cost from €2,399/sqm to rebuild in the Northwest and up to €3,213/sqm in Dublin including VAT, plus the cost of the garage – €21,500 single attached garage to €38,500 for a double attached garage.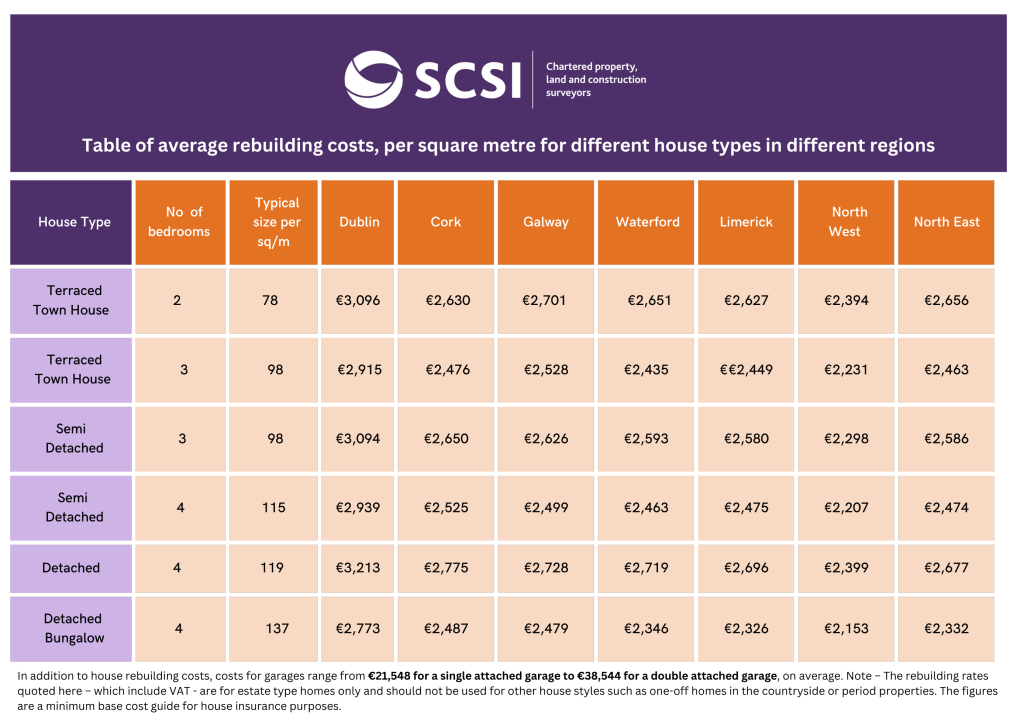 SCSI Chartered Quantity Surveyor Kevin Brady says the continuing increase in rebuild costs is a direct result of the shortage of construction labour across the sector combined with high levels of demand for builders. In 2022 rebuild costs rose by over 20 per cent.
He explains, "Overall, the construction market is extremely busy, and this means it can be difficult to source labour or subcontractors for any type of build, particularly electrical, plumbing and heating. Material prices have started to stabilise for certain materials, however concrete products are still experiencing price increases as are insulation products, windows and plumbing products and these are some of the key material cost drivers."
Note that the SCSI figures are a minimum base cost guide for your house insurance and assume standard quality specifications with normal foundations.
The figures however do allow for concrete paths, driveway, fencing and regrassing, as well as demolition costs, professional fees including a professional to prepare working drawings and specifications and administer the building contract, a chartered quantity surveyor to invite and examine tenders, process payments, and agree on final account, an engineer to advise on structural issues plus fees associated with the certification of the house under the Building Control (Amendment) Regulations 2014. VAT is included at 13.5 per cent on building costs and 23 per cent on professional fees.
Costs in NI
While in the UK, the latest data available from the Building Cost Information Service (BCIS) House Rebuilding Cost Index indicates that costs have risen by 4.7 per cent nationwide. Previously owned by the Royal Institution of Chartered Surveyors (RICS) the independent body, BCIS calculates the cost index for the Association of British Insurers (ABI).
The BCIS online rebuild cost calculator estimates a four-bedroom 199sqm detached house (without a garage) would cost £1,316 to rebuild in Derry and up to £1,432/sqm in Belfast.
Insurance premiums are linked to how much it would cost to rebuild, meaning an increase in building costs leads to higher insurance costs. If your home gets damaged and you need to call on the insurance, and you've underinsured your property, you would have to foot the bill for the shortfall.