If you're going to be building with timber frame, you'll have to decide whether you build your walls with an open or closed panel system.
In this article we cover:
How timber frame walls are built
How to finish external timber frame walls
What closed panels are
What open panels are
Pros and cons of each
Design considerations and standard dimensions
Internal walls in a timber frame house
When designing the timber frame structure, it is really useful to consider which dimensions to use for the structural grid or layout in order to minimise cutting processes and waste. Since most board products such as sheathing, lining and flooring are supplied in sheets 2400mm long and 1200mm or 600mm wide, the most obvious structural grid dimensions are 400mm or 600mm.
Next, consider the type of structure. The most common method of designing and constructing a domestic timber frame building which you should encounter is the platform frame system, in which each storey is erected so that the previous floor becomes the platform for the next. The ground floor is usually of solid concrete, upon which the ground floor storey is constructed.
An open panel platform system describes a sheathed timber frame of studs, plates and lintels; covered with a breather membrane and complete with openings for windows and doors. Internal linings, insulation, vapour control layer (VCL), services and claddings are all added on site.
A closed panel system is a development of the open panel, in that the wall panels are delivered complete with insulation, VCL and internal linings. The windows and doors can be prefitted and service ducts, cables and pipes can also be included.
Floor and roof panels known as cassettes can also be prefabricated in the factory, in both open and closed panel construction.
The advantages and disadvantages of each option can be summarised as follows: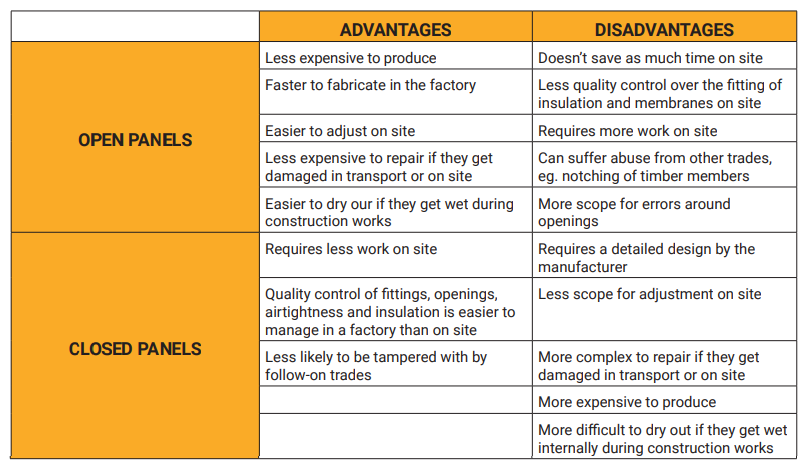 The volumetric system of producing factory prefabricated frames involves manufacturing frames, boxes or pods which can form one or more rooms. They require the use of a crane for positioning on site and the system is best suited to repetitive units such as those used in care homes, student accommodation, hostels or hotels. They are normally supplied with at least the insulation, internal linings and service ducts but can also be supplied with services, windows, doors and cladding already fitted.
Structural Insulated Panels (SIPs) are produced using a rigid foam insulation core to which a layer of OSB or plywood or similar is bonded on each side. They tend to be lighter than normal timber frame panels and partly because there is less solid timber bridging between the outer layers, U-values can be kept low throughout the product. Apart from the ground floor, SIPs can form the entire thermal envelope of a dwelling and just require the addition of external weather resistant cladding which can be anything from traditional bricks, blocks and slates, to contemporary composite wall panels and metal roof cladding.
The walls and floors are erected using the platform frame configuration with the window and door openings being cut out during the manufacturing process. They can also be supplied with integrated services or service ducts or voids. They are sensitive to moisture so good attention to detail is needed during the building and finishing processes. Given their apparent advantages however, there still appears to be some lack of confidence in the product, from builders, consumers and some insurers.
External walls
For most people, one of the most important decisions to make will be the choice of construction method for the external walls. The internal leaf of an external cavity wall is the one which usually supports most of the loading on and within the building, and this is the part of the wall that we naturally think of when considering timber frame external wall design. So what should a modern timber frame external wall consist of? The essential elements, from inside to outside, are:
The internal lining, usually plasterboard, which can be finished with a gypsum plaster skim if you so wish. The lining can be plywood where for example, kitchen cupboards are to be fixed to the walls. It can also be a composite fire-resistant sheeting material where fire safety is of prime importance.
A services void, usually a 35mm cavity for routing concealed cables and small diameter pipes; or 50mm if waste pipes are to be included. Larger widths or diameters of ducts or pipes are best housed separately.
An inner layer of rigid board type insulation, along with the VCL on the 'warm' side of the insulation. This layer of insulation is intended to reduce heat loss through the solid timber parts of the frame. Check with the insulation manufacturers technical details, as some recommend that this layer of insulation is fixed outside the sheathing next to the cavity. The VCL prevents interstitial condensation within the wall structure and helps to minimise air leakage through the building envelope.
The structural timber frame, with its voids filled with flexible insulation batts or slabs (but not insulation quilt). Most manufacturers now make this frame 140mm deep to incorporate the required depth of insulation fill, sometimes increasing it up to 170 or 225mm deep for even better performance. Beyond that depth, the frame is usually split into an inner and outer stud frame, or the studs can be made using 'I' joists, so called because they look like a capital letter 'I' at the ends, being formed of a run of small-section solid timber glued along the top and bottom of a plywood 'web'. These joists offer a much smaller solid-to-void ratio which offers an improved thermal performance compared to solid timber members.
An external facing on the timber frame, of a vapour permeable membrane (VPM) or 'breather membrane' over the layer of timber sheathing, usually oriented strand board (OSB) or plywood. The VPM provides weather protection during construction works and afterwards provides a barrier against moisture penetrating the frame from the wall cavity while allowing the wall to breathe, i.e. it allows water vapour to escape from the inside out. The sheathing adds strength and rigidity to the wall panel.
The air cavity, usually 50mm in width and drained at the bottom.
The external wall leaf, usually brickwork or blockwork; although it can also be for example, timber, metal or composite cladding on a subframe or battens and counterbattens. The two wall leafs, internal and external, are typically tied together using wall ties and the face of the external leaf should be ventilated to provide an airflow through the air cavity. Ultimately, it is the job of the external leaf to withstand the long-term effects of weather.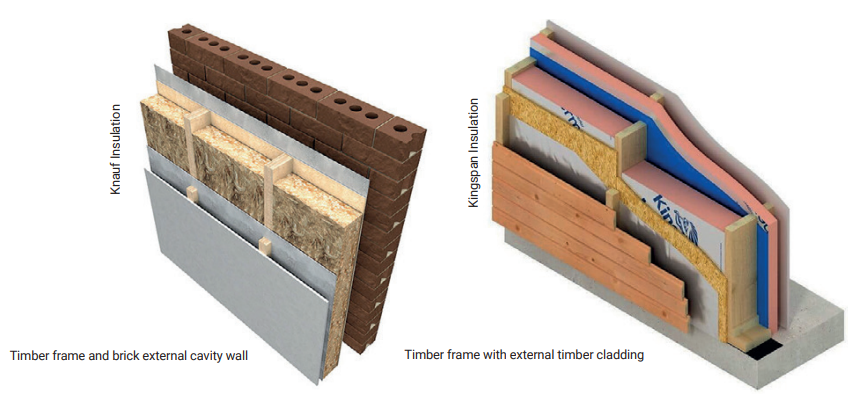 Expansion or contraction joints need to be used where differential movement would cause problems. Junctions between walls, roofs, foundations and glazing all need to be properly detailed. Joints in all membranes should be as few as possible and properly sealed, with special care taken around penetrations for services.
Proper attention must also be paid to the provision of fires stops in cavities at each storey floor level. The fire stops prevent cavities which are constructed of combustible materials, from acting as flues for the passage of flames or smoke in the event of a fire. Likewise, any ducts or pipes which pass through upper floors need to be properly fire-stopped and any party wall between semi-detached or terraced properties needs to be fire-stopped at the roof.
An external wall as described above, with inner lining, services void, inner insulation, timber wall panel, air cavity and external brickwork; would typically have an overall thickness of 400- 450mm.
Internal walls
In a timber frame dwelling, the internal walls are commonly referred to as partitions or stud partitions. Partitions which are not required to carry roofs or floors can be simply lined with plasterboard.
These plasterboarded partitions can also be designed to resist racking loads but it is more common to use sheathing for all load bearing partitions in a similar way to the external wall panels. Either type will generally use 90 x 38mm CLS framing and may be acoustically insulated, depending on their location.