Material prices are putting pressure on insurance costs while estimates show self-builds can still cost £150k in NI.
In this article we cover:
Average build costs in Ireland (NI and ROI)
Insurance costs and material price increases
Breakdown of cost components
Rebuild costs increased by 21 per cent over the past year, says the Society of Chartered Surveyors Ireland (SCSI), which revised its rebuild cost calculator for house insurance purposes in September.
The lobby group for chartered surveyors estimates a four bedroom 199sqm detached house in an estate (no figures available for one-off houses) would cost from €2,152/sqm to rebuild in the Northwest up to €2,842/sqm in Dublin including VAT, plus the cost of the garage: €19,500 single attached garage to €35,200 for a double attached garage.
"Although pricing pressures on certain materials such as timber, plasterboard and insulation have eased slightly, rising fuel and energy costs are continuing to affect the supply chain," said Kevin Brady, SCSI Chair of the Quantity Surveyors Professional Group.
"This is a direct result of the war in Ukraine and is leading to a sustained increase in the price of energy intensive materials such as concrete, aggregates (infill material), steel and paint. Coupled with these material price increases, ongoing labour shortages show no sign of abating and are also pushing up rebuild costs."
Insurance premiums are linked to how much it would cost to rebuild, meaning an increase in building costs leads to higher insurance costs. If your home gets damaged and you need to call on the insurance, and you've underinsured your property, you would have to foot the bill for the shortfall.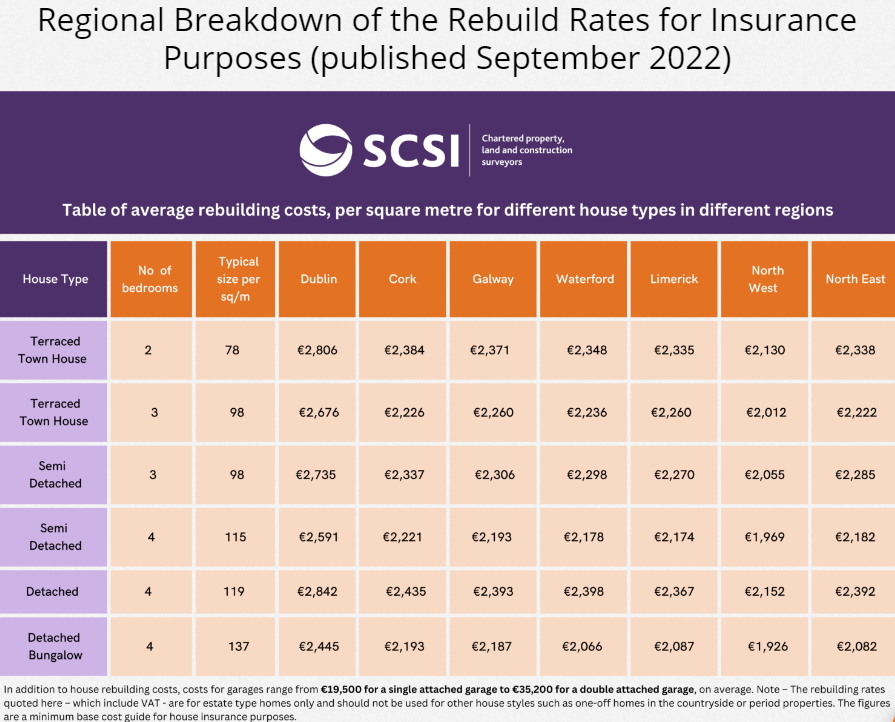 Self-builds cost £150k, says UK newspaper
UK build costs range £1,800 to £3,000 per square meter, according to The Sun newspaper.
You can build a 150sqm house for £150k in the UK, The Sun newspaper states, if you go two storey with a simple design, block construction, an attached garage and simple heating system.
The analysis breaks down the different elements, from professional and planning fees to build costs. It says you should put aside an extra 15 per cent of the build cost to pay for your advisors (architect, engineer and other professionals), and set aside an additional 10 per cent contingency.
Also not included are planning, legal, insurance and any demolition fees. They say planning applications can run in the thousands if the application isn't straightforward, while they estimate site surveys and reports from structural engineers cost £500 each.
Self-build insurance is pegged at about 1 per cent of the build cost. Site clearance including demolition can run into the thousands, the paper says. Stamp duty (see p9) is payable, and if you're not a first time buyer you'll have to add 3 per cent to it.
As for the build costs, they break it down between the structural elements which take up 30 per cent, unless you go timber frame which they say can take 50 per cent, and foundations and flooring making up the remaining 70 per cent.
The roof and kitchen are lumped together and costed at between £5k and £6k each. An ensuite has a price tag of £1.5k to £6k. Electrics they peg at between £3k to £5k, adding that a DIY approach can save up to 40 per cent of the build costs.
Claiming back VAT on your new build will save you money of course, and the fact that stamp duty is paid on the value of the land and not on the house also saves. They argue mortgage costs tend to be higher with some two year fixed and variable rate deals now soaring at 5 per cent.