Large energy efficient homes consume less per sqm but their overall energy use is higher than smaller, older and less energy efficient homes.
In this article we cover:
How house sizes negate energy efficiency boost
Irish Green Building Council recommendations to a zero carbon Ireland
Figures from the Central Statistics Office show that, of the detached houses in ROI that got their Building Energy Rating (BER) done in 2021, the mean A and B rated detached home was 230sqm while F and G rated detached home was 89sqm.
Meanwhile, the mean electricity consumption in 2021 for an A or B rated home was 42kWh/sqm and 67kWh/sqm for an F and G rated home.
And per square meter, F and G rated homes consumed 60 per cent more electricity than A and B rated homes in 2021. But the reverse is true of the total energy bill. When you multiply the mean area of detached houses, A and B rated homes consumer 60 per cent more than F and G rated homes.
"CSO figures currently show little correlation between a Building Energy Rating (BER) and gas/ electricity usage which is more influenced by home size and type," reads the Irish Green Building Council Building a Zero Carbon Ireland report.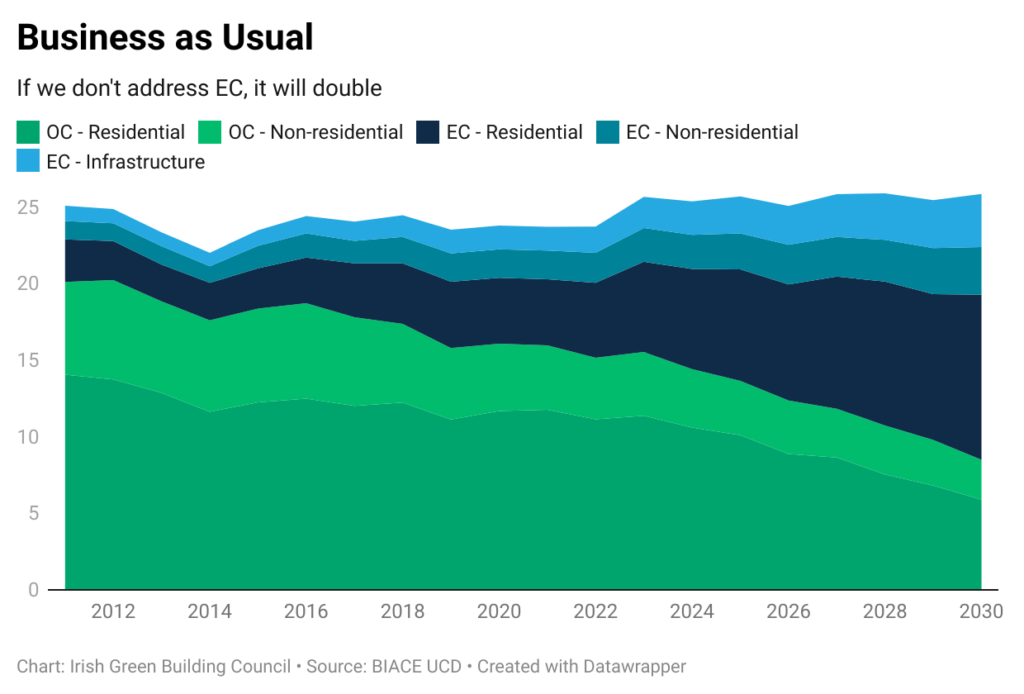 CSO statistician Dympna Corry said: "Looking at the data, A and B rated dwellings consumed more electricity than F and G rated dwellings. In 2021, A and B rated dwellings used a mean electricity consumption of 5,945 kWh compared with 5,709 kWh for C rated dwellings, 5,633 kWh for D rated dwellings, 5,336 kWh for E rated dwellings, and 4,378 kWh for F and G rated dwellings."
"F and G energy-rated dwellings had the lowest mean electricity consumption figure in 2021 indicating that factors other than energy ratings – such as disposable income, whether the house was adequately heated, and use of secondary heating fuels – may have had an impact."
Least energy efficient of all were the detached homes, which used 8,039 kWh of electricity in 2021 or 70 per cent more than the corresponding mean electricity consumption for a mid-terrace house.