New homes are unaffordable, say analysts, as supply constraints hit rural areas. But one-off housing in both NI and ROI remains strong.
In this article we cover:
By how much house prices are expected to increase
Which regions are the least afforable
One-off housing statistics
Supply constraints in rural areas
Links to reports
Analysts predict a tight housing market for 2023, especially in rural areas, as house prices are expected to continue to rise into 2023. On the supply side, there is a fall in construction activity but there is hope material costs will continue to soften to help reverse the trend.
Self-build statistics
Commencements in both NI and ROI were down for one-off houses in 2022 as compared to 2021, but January 2023 figures indicate the trend could be reversing.
In NI, 3,373 detached homes were added to the housing stock between April 2021 and April 2022. But starts in NI and the Island of Man were down 13 per cent in 2022, as measured by the number of new home registrations for the NHBC ten-year warranty. NI was the only region in all of the UK to witness a decrease in activity.
In ROI, 4,695 commencement notices were filed in 2022 for one-off houses as compared to 5,301 the year before. That represents an 11 per cent drop in activity, slightly less of a drop than the residential sector as a whole.
In January 2023, figures were up as compared to the previous year with a 17 per cent jump in activity from 194 to 224 commencements for one-off houses filed throughout ROI. The increase for the residential sector as a whole was 13 per cent.
New homes are unaffordable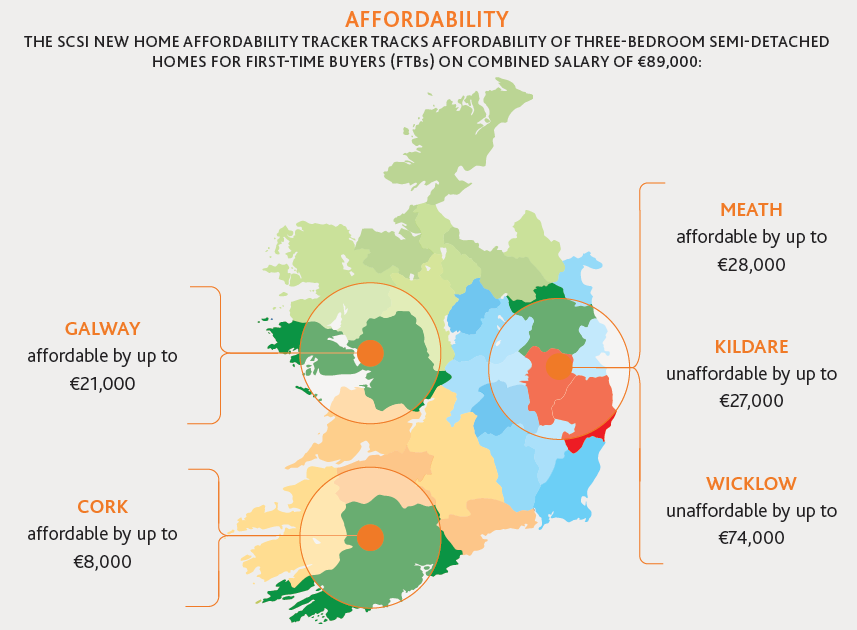 The average residential transaction in Q3 2022 was €370k, or 7.7 times the average ROI income of €48k, according to the Q4 2022 MyHome report by Davy. According to Conall MacCoille the income to house price ratio is similar in the UK – the difference is that in the UK house prices are falling because of high mortgage interest rates which are trending above 6 per cent.
However in NI the latest statistics show that the average house price, at £233k for July-September 2022, increased nearly 18 per cent as compared to the same period in 2021.
MacCoille said there could be "a degree of froth" in the Irish housing market but he added that the labour market remains strong, which means demand for housing remains. This, despite the effects of the war in Ukraine, inflation, and European Central Bank rate hikes which will increase the cost of taking out a mortgage.
It's hard to know whether supports will continue to prop up the housing sector. These include the new mortgage rules that make it easier to borrow money, the extension to the Help to Buy scheme and the introduction of the First Home share equity scheme, which is expected to be extended to self-builders (although not in the near future).
Meanwhile, the Society of Chartered Surveyors of Ireland's Residential Property Review 2023 reported as slowing down of residential property transactions in the second half of 2022. The reasons ranged from economic uncertainty to interest rate hikes.
The SCSI also gave a snapshot of unaffordability throughout ROI, with Kildare and Wicklow considered the least affordable areas. The metric looks at the gap (if any) between the total purchase limit available to average-income-earning couples, and average new house sales values.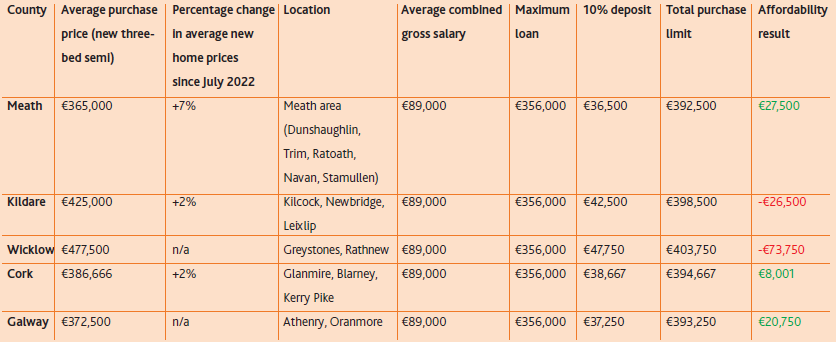 House price predictions: 2 to 4 per cent increase for 2023
The Q4 2022 MyHome report by Davy predicts house prices to increase 4 per cent in 2023 in ROI. The report notes that first time buyers, under the First Home scheme and local authority schemes, could push up house prices further by fuelling demand.
The Society of Chartered Surveyors, meanwhile, asked its members to forecast by how much national residential values would rise and the answer was just 2 per cent in 2023 with 1 per cent of that expected in the first quarter.
"The imbalance between supply and demand remains the foremost obstacle facing the housing market," said Marian Finnegan, Managing Director of Sherry FitzGerald in a statement dated February 2023. "Such limited supply will inevitably put further upward pressure on prices in the months ahead."
She added that stock is particularly tight at lower price categories with homes costing less than €200k the scarcest.
Rural areas hit by supply constraints
Finnegan added that all four provinces have seen significant depletions in the volume of stock available for sale since the start of 2020, with supply decreasing 37 per cent in Connacht, 36 per cent in both Ulster and Munster and 12 per cent in Leinster.
She highlighted that rural Ireland has been most significantly impacted by falling supply. Roscommon and Kerry showed the largest decreases over the same period at 50 and 45 per cent respectively. Tipperary and Carlow recorded decreases of 42 per cent each.
"Such a shortage of stock will only be resolved by a notable increase in construction activity. At this juncture we need to be targeting over 52,000 new homes each year, double our current output levels," she added.