The most commonly asked question nowadays is 'how much does it cost to build a house?' The answer to that of course is, 'for what exactly?'
Anyone considering a self-build or renovation/extension project will want to be able to refer to a reasonably accurate price per square meter (sqm) or square foot (sqft). This gives you something to work to in principle and generally provides a starting point. But the reality is, on a home building project it's impossible to do. You might as well pluck a figure out of the sky. Cookie cutter houses could arguably be priced relatively easily but in our experience Irish self-builders have very different tastes and budgets, and commission unique designs, which leads to a large variation in price. Self-builders and home improvers also tend to go for higher quality finishes and specifications, which can quickly add quite a bit to that sqm or sqft figure…
So where do you start?
A flavour of things to come
The cost of a self-build, extension or renovation will vary wildly not only because of your choice of products/finishes and services/expertise but due to location too. While many items such as timber should cost roughly the same throughout Ireland, there can be as much as 10 per cent to 20 per cent in the difference. This will seem like very little when you compare the price per item but as soon as you multiply that by the quantity required on your build, the difference will add up. And that's just for one simple element!
Labour is clearly another deciding factor and in total, you can end up spending nearly 50 per cent more in one area as compared to another! This figure comes from the Society of Chartered Surveyors Ireland (ROI) which publishes a house rebuilding cost guide for insurance purposes; their 2013 edition shows house building prices (detached bungalow) ranging from €108 per sqft in the Northwest area to €159 per sqft in the Dublin area. To give you more examples, we decided to put together the costs we've come across in our case studies over the past couple of years. And the point we're making about cost variations couldn't be clearer! In the same county (Cork) and with the same type of project we witnessed two polar opposites whereby an extension project commanded €229 per sqft while a complete refurbishment project came in at €31 per sqft (both figures include build and fit-out costs). Many projects came in around the 700 per sqm / 65 per sqft range but this figure is so vague it makes little difference if we price it in euros or pounds! Per square metre, over a thousand euros/pounds were easily spent in many new homes we've featured in the magazine but a lot also came in at half that.
Pre-building costs
Before you even begin to build there are costs to cover and these will need to be budgeted for. Here's a synopsis of where it all goes: The Site It's easy to spend a third or more of your entire budget on the site, including attendant legal and registration fees. Fees will be due to your lender, accountant, designer/architect, structural engineer, and local authority (Planning, Building Control, road opening license, etc.). Fixed costs include structural warranties, site insurance and possibly personal cover for loss of earnings, removal and storage of furniture, buying new items, selling your existing home, renting while you build. Infrastructure charges include connection to mains water, electricity, sewerage. Borrowing costs in the form of interest repayments (buying the site and bridging for rent and/or the build until you can move in). Reports If the land might be contaminated you will have to get soil samples analysed, a structural survey may be advisable before you buy, a topological or tree survey may be required if the planners ask for one… the list goes on, all the way to archaeological surveys. For things like this a contingency is vital.
---
Try our new 'Selfbuild Cost Calculator'. Fill in details and instantly get a rough estimate for your project
What you need before you get it priced
The bottom line is, it's impossible to get an idea of the build cost until you have construction drawings with exact specifications, including lighting schedule, heating system, ventilation, etc. Spending money on advisors and dedicating your time to the project at the beginning will pay off in the long run. In reality, few people will have everything chosen at this stage, and it's true that the price of your skirting boards won't have a huge impact on the overall budget. However if you leave too many items in the 'to be determined' column you can't expect to get an accurate figure. To get around this, PC (prime cost) sums are often used, it's a price allocated to items in the 'to be determined' column, which often consists of things like the kitchen. This estimate can be given to you by your architect or quantity surveyor or may even be priced by your builder but make sure they're clear about the quality of finish you have in mind. PC sums are not always accurate and you will have to pay for the difference. You must also be clear about what you really need and what would be nice to have. The 'wish list' should be priced separately and only looked at when everything else has come on, or under, budget. To get the drawings priced, you could get professional help in the form of a Chartered Quantity Surveyor, or estimate how much each of the items will cost yourself, but this will be very time consuming. You could also ask builders to give you a quote on the basis of your plans (direct approach or via tender); they're likely to give you a price that includes both labour and materials although you could ask them to separate the two.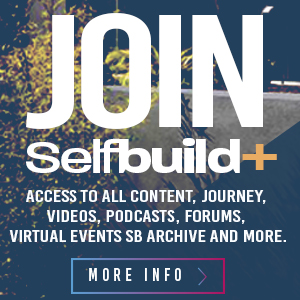 The estimate will either be given with a 'trade breakdown' (each trade, e.g. plumber, listed and tasks detailed) or an 'elemental breakdown' (every part of the building is itemised, e.g.
foundations
, walls, etc.).
Build cost variables
Design: Cheapest to construct is a building that is a simple square or rectangle on plan, external walls without internal angles (Ls or Ts), few breaks in the roof, concrete roof tiles and simple brickwork facings to external walls. Internally, some cost savers include straight stairs and minimum circulation areas, no conservatory.
How the build is managed: There are three major ways to manage the build. The first consists of getting a main contractor to do it and you can expect him to make a profit of 15 per cent to 25 per cent. The second route is to hire a project manager, the fee is usually 10 per cent, but there are many different levels of service on offer, ranging from appointing a builder and sub-contractors, and pricing, through to a turn- key finish requiring a permanent presence on site. The cheapest route upfront is to manage it yourself, potentially saving 25 per cent of the build cost but very few people can afford to take a long time off work and deal with the stress. A well managed build will save you a lot of money; the project manager will make sure everything goes smoothly, which is a tall ordering considering the number of things that can go wrong.
Site conditions: Your foundations could cost a lot more than anticipated or you may require an elaborate drainage scheme; this will all depend on what lies beneath, which you won't know until you start digging. A level site with easy access to services (water, drainage, electricity, roadway, gas, telephone, cable) will also cost less to get connected. Access during construction must also be factored in – building additional routes and/or hiring specialist equipment may be required if the site is hard to get to.
'Preliminaries': These costs are specific to the design, the site and the builder, so it's a combination of all of the above. Two-storey houses require more scaffolding than one-storey, rural sites may require wc and site offices, and some builders may have higher overheads than others, a cost they will pass on to you.
Sourcing: Take the time to do your research, bargains can be found for things like sanitary ware and kitchens. Consider off the shelf windows and doors, simple lighting and avoid expensive finishes. Shop around and haggle, it's a buyer's market!
Contingency: Without one you could run into serious trouble, although it may be advisable not to let your contractor know that you have budgeted for such possibilities. On a new build 10% to 15% of the build cost is usually set aside for unforeseens; on a renovation project you should consider doubling that, especially if you're doing up an old house.
Even though we couldn't give you an exact means of estimating how much your build will cost, the advice we can share is how to prevent your dream project from costing more than it needs to. What we found is that the budget tends to go bust at the fit-out stage; furnishings, bathroom fixtures and curtains are some examples of where it can spiral out of control. In Co Antrim we featured two extension projects, one of them cost £250 per sqft to build and fit out while the other came in at just £31 per sqft for build cost only! There are differences in design to consider but fit-out costs do have a tremendous impact. Also, don't forget to factor in the landscaping, including garden/driveway, and a garage if you plan on having one – the SCSI estimates it costs in the order of €13,730 for a single attached garage to €24,646 for double attached. Astrid Madsen & Andrew Stanway
An interesting tidbit of information is that, in the case studies we analysed, whole house refurbishment projects cost just as much per sqm/sqft as building new. It actually cost a bit more in NI and a bit less in ROI.
Passive house examples: cost breakdown
In this day and age anyone building or extending knows that a high level of insulation and airtightness have become practically mandatory. So we thought we'd break down the costs of two very low energy projects to show you just how much price variation there can be!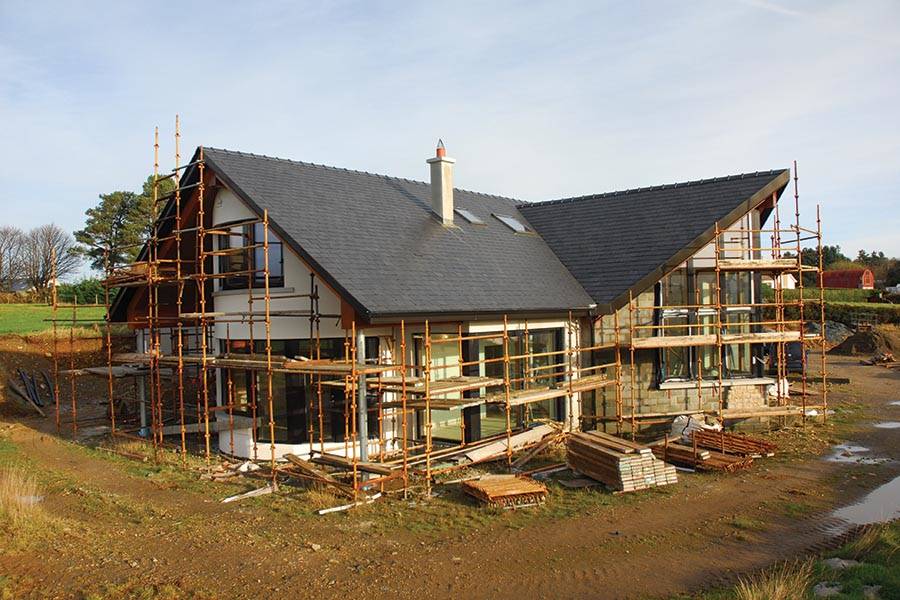 In ROI, we bring you a detached two storey designed to PassivHaus standards with a high spec finish, costing approximately €1,700 per sqm (£132 per sqft). Supplied by architectural practice MosArt, The Phoenix Centre, Block 6, Broomhall Business Park, Wicklow, County Wicklow, tel. 0404 25777, www.mosart.ie.
BUILD SPEC
House size: 301 sqm / 3,240 sqft External walls: U-value 0.15 W/sqmK; blockwork cavity wall filled with EPS beads, plastered inside and out, total width 50.5cm. Floor: U-value 0.119W/sqmK; build up of 100mm concrete subfloor, 300mm phenolic foam insulation, 100mm cement screed. Roof: U-value 0.112 W/sqmK; build up of natural slates, batten & counter- batten, breathable membrane, 100mm fibreboard, 250mm cellulose insulation between rafters, airtightness membrane, 50mm mineral wool, gypsum & cellulose plasterboard 12mm. Windows: Triple glazed, argon filled, timber alu-clad, total U-value (frame and glazing): 0.8 W/sqmK, G-value: 0.55 Solar panels (hot water): Hot water demand: 5,930 kWh/year for six person occupancy; solar will supply 46% of this demand. Type installed: Vacuum tube collectors, 8 in total, collector area 6 sqm. Heat recovery ventilation (hrv): 91.3% efficient with average air change rate of 0.29 l/hr for total volume 750m3 (2.5m ceiling height x 301 sqm house).
BUILD COST
Professional Fees €10,000 Earthworks €25,000 Foundations and rising walls €25,000 Structural floor slab €10,000 Blockwork and superstructure €30,000 Roof construction and roof covering €45,000 Airtightness €8,000 Windows & doors €50,000 Fascia & soffit (uPVC) €12,500 First fix electrics €10,000 Insulation to floor and walls €15,000 Insulation to roof (cellulose) €5,000 External insulation to walls €11,000 Floor screed €8,500 Plastering (internal & external) €32,000 Stone cladding €10,000 Second fix electrics €15,000 Plumbing & HRV €41,000 Carpentry works to internal and external beams €12,000 Wood flooring and tiling €25,000 Kitchen and utility fit-out €27,500 Sanitaryware for bathrooms €10,000 Stairs and handrail €20,000 Painting and decorating €12,500 Rainwater goods €5,000 Utility services €5,000 Civil works/external drainage (septic tank) €20,000 Landscaping €10,000 Total €510,000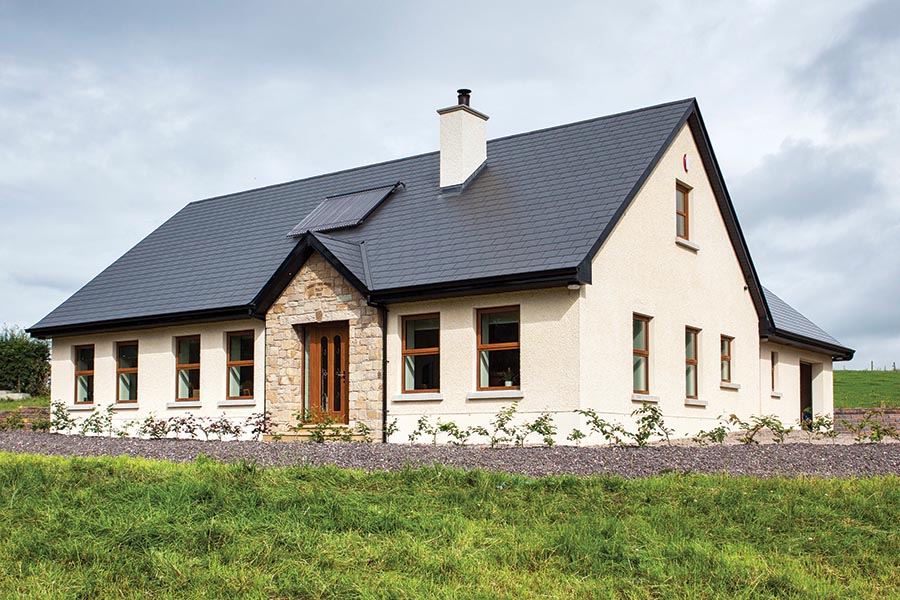 In NI, here's a one storey detached bungalow, certified PassivHaus, built to a standard spec finish, costing approximately £67 per sqft (€870 per sqm). Supplied by builders Moffitt & Robinson, 40 Blacksessiagh Road, Omagh, County Tyrone, BT78 1SU, tel. 82243656 Mobile 07803 189303, www.moffittandrobinson.co.uk
BUILD SPEC
House size: 186 sqm / 2,002 sqft External walls: U-value 0.125W/sqmK; timber frame construction, insulated with 340mm of fibreglass insulation with airtightness membrane, OSB sheeting, plasterboard finish inside, brick and cement render on the outside. Floor: U-value 0.13W/sqmK; build up of 25mm polystyrene, 150mm polyurethane, 75mm concrete floor, 4mm acoustic underlay, 10mm laminated floor. Roof: U-value 0.067 W/sqmK; insulated with 600mm of fibreglass with airtightness membrane and plasterboard finish. Windows: Triple glazed, argon filled, uPVC, total U-value (frame and glazing): 0.8W/sqmK, G-value: 0.55 Solar panels (hot water): Vacuum tube collectors, 30 in total, collector area 3.24 sqm Heat recovery ventilation (hrv): 90% efficient
BUILD COST
Professional fees £1,120 Foundations, rising walls and structural floor slab £9,046 Blockwork and superstructure £12,691 Roof construction & covering £21,250 Airtightness £3,080 Windows & doors £6,860 Fascia & soffit (uPVC) & rainwater goods £1,200 First fix electrics £2,500 PV panels £12,800 Solar panels (hot water) £2,400 Insulation to floor, walls and roof £9,800 Floor screed £1,800 Plastering (internal and external) £5,906 Stone cladding £941 Second fix electrics £2,600 Plumbing & HRV £6,100 Wood flooring and tiling and vinyl £4,166 Kitchen and utility fit out £4,600 Sanitaryware for bathrooms £2,774 Painting and decorating £1,605 Civil works/external drainage (septic tank) £5,385 Landscaping £8,500 Roller Doors £1,120 Stove £3,300 Internal Joinery work £4,381
Total £135,925