Insulating concrete formwork (ICF) is now a popular way to build Irish homes; here are the pros and cons.
In this article we cover:
What is ICF and how it's competing with standard blockwork
Why it makes sense to build with ICF in Ireland today
What the drawbacks are, including environmental considerations
What you need to consider when choosing the building method that's right for you
---
In the ever changing world of modern methods of construction, Insulating Concrete Formwork is up there with the best of them, says Daithí McGourty. 
Over the years working on large commercial and residential projects of all sizes, I've come across most methods of construction.
I've worked on traditional masonry builds, timber frame, structural insulated panels (SIPs), precast insulated twin walls panels, steel frame construction with composite panels, and light gauge steel (LGS) systems that incorporate POD bathroom and kitchens. PODs are most common on large scale domestic and commercial projects as they're factory made and come fully plumbed and kitted out, craned on site to directly plug into the electrics and drains.
I can honestly say I now rank Insulating Concrete Formwork (ICF) up there with the best of them as it ticks all the boxes: speedy to build, thermally superior, cost effective, provides structural integrity, can be finished with several different cladding systems.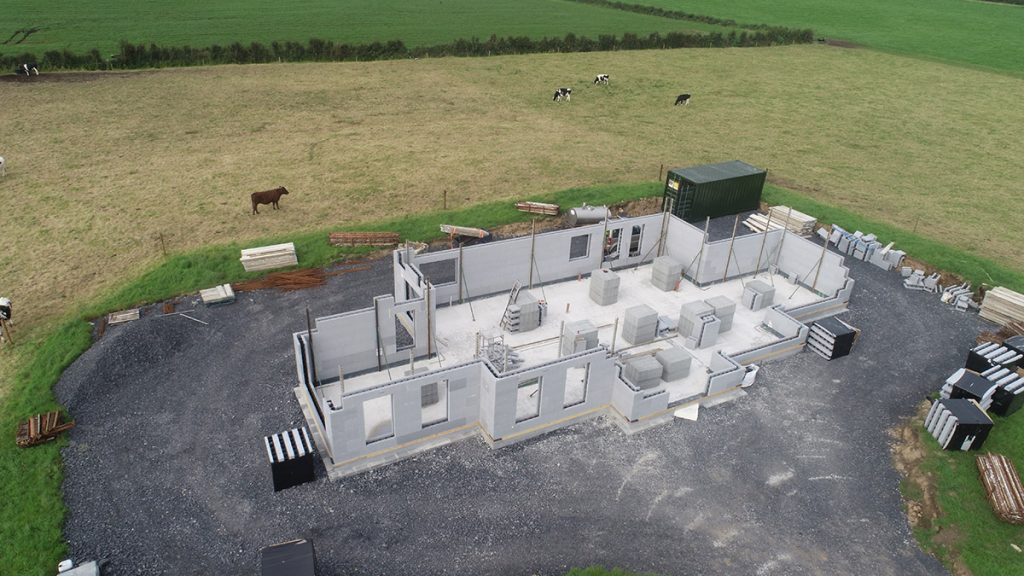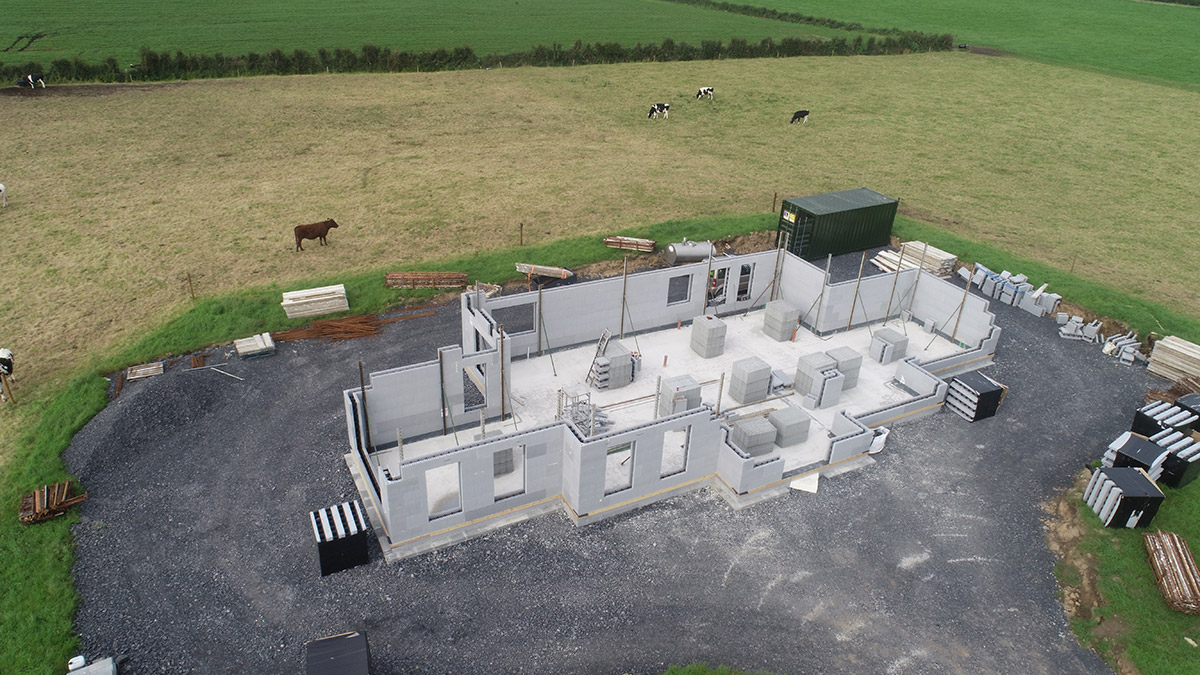 So what is ICF? It's a lego like system – lightweight, hollow Expanded Polystyrene or EPS insulation blocks (think styrofoam) are stacked to make the walls. The blocks are reinforced with steel and concrete is poured into them to make a solid wall.
The beauty of ICF is that you're guaranteed a high quality build at the end of it – if the blocks aren't laid correctly, you'll know it at the pour. You'll get a blow out – as in the blocks will come apart when you pour in the concrete. With a masonry build, you might think that on paper you're getting a high insulation value thanks to the boards you've put into the cavity – but if the workmanship isn't there, you won't actually get the benefit of all the insulation you put in.
It's perhaps not surprising then that self-builders have come to embrace ICF as a building method of choice.
The only downside, perhaps, is the amount of concrete you need to build an ICF house. Large scale developers seem to think its green credentials are not very palatable given the amount of energy and raw materials it takes to get your ICF blocks to the site.
But the energy and water it takes to make concrete, and the environmental impact of producing the EPS blocks alongside issues around biodegradability, should be weighed up against the near passive standard you will achieve. I would argue that an ICF building's credentials over its entire lifecycle is hard to beat.
At the end of the day, it's up to you to decide what building method ticks the boxes that matter to you. This guide very simply aims to give you the information you need to tackle an ICF self-build, be it a new build or extension project, focusing on practical tips to prepare you for what's to happen on site. I wish you every success as you venture forth on your self-build journey, whichever method you wish to pursue.