The work involved in completing the internal joinery of a building includes works to internal doors, screens, window boards, skirtings, architraves, panelling, inbuilt units and the likes; in this article we take a look at what affects how much they're going to cost you.
For many, the internal joinery section of their build encompasses the true heart of their dream design. It is the furniture that every person who enters the property sees, it is the frame that completes each and every wall, it is the warmth of the window and door and it is very often the warmth and dimension to what would otherwise be straight lines of coloured planes.
Door setup and finishes
Internal doors in domestic properties come in very many materials, shapes, sizes, colours and textures. In the main the cost of a door will include the frame, the architrave and the ironmongery which fixes the parts together.

It's important to first understand that irrespective of the finish, the manner in which a door is supplied will impact on the labour cost of fitting. In general doors will come in one of two ways: pre-hung on a prefabricated frame ready to be directly installed into an opening, or more common on self-builds it will be supplied unassembled and the on site installation will include routing for hinges, locks and cutting and forming the frame to the required size.
The cost of a door can vary greatly depending on a number of factors but €150/£130 is a common starting point for doors assembled by a joiner on site, working up from that point depending on selections.
Should a solid door be selected, this will most likely be made in a bespoke fashion by a joiner and the costs will rise to in excess of €650/£600 for a door and frame.
Sliding doors will be about as expensive as unassembled doors due to the need to install guide rails and other specialist fixings. Then it's pro rata for double and multiple doors.
The finish of a door will generally be at its cheapest for a primed or standard white door and it will increase for prefinished oak, walnut or similar. As the majority of doors now available in the marketplace are engineered doors, the door finish is a veneer on a timber frame with a filled core.
Ironmongery includes the hinges, handles, locks, door closers, door stops and similar items necessary to complete a door. Like many other aspects of finishes, it is a difficult task to choose among what is a wide range of options, from stainless steel to chrome to brass to black to different locking mechanisms. The cost of ironmongery can vary from less than €50/£40 per door to well in excess of €100/£90 per door depending on the brand and finish.
A fire door will generally cost more than a standard door of similar size but in many instances it is now possible to get primed white fire doors at entry level prices (see box on next page).
Standard door sizes
In ROI the standard height of a door is generally either 1981mm (78") or 2032mm (80"). To increase above these heights will result in off standard doors, and costs will rise accordingly.
For 1981mm doors, the standard offthe-shelf door widths that are available are 24" (610mm), 26" (660mm), 28" (711mm) and 30" (762mm). For 2032mm high doors standard widths are 32" (813mm) and 34" (864mm).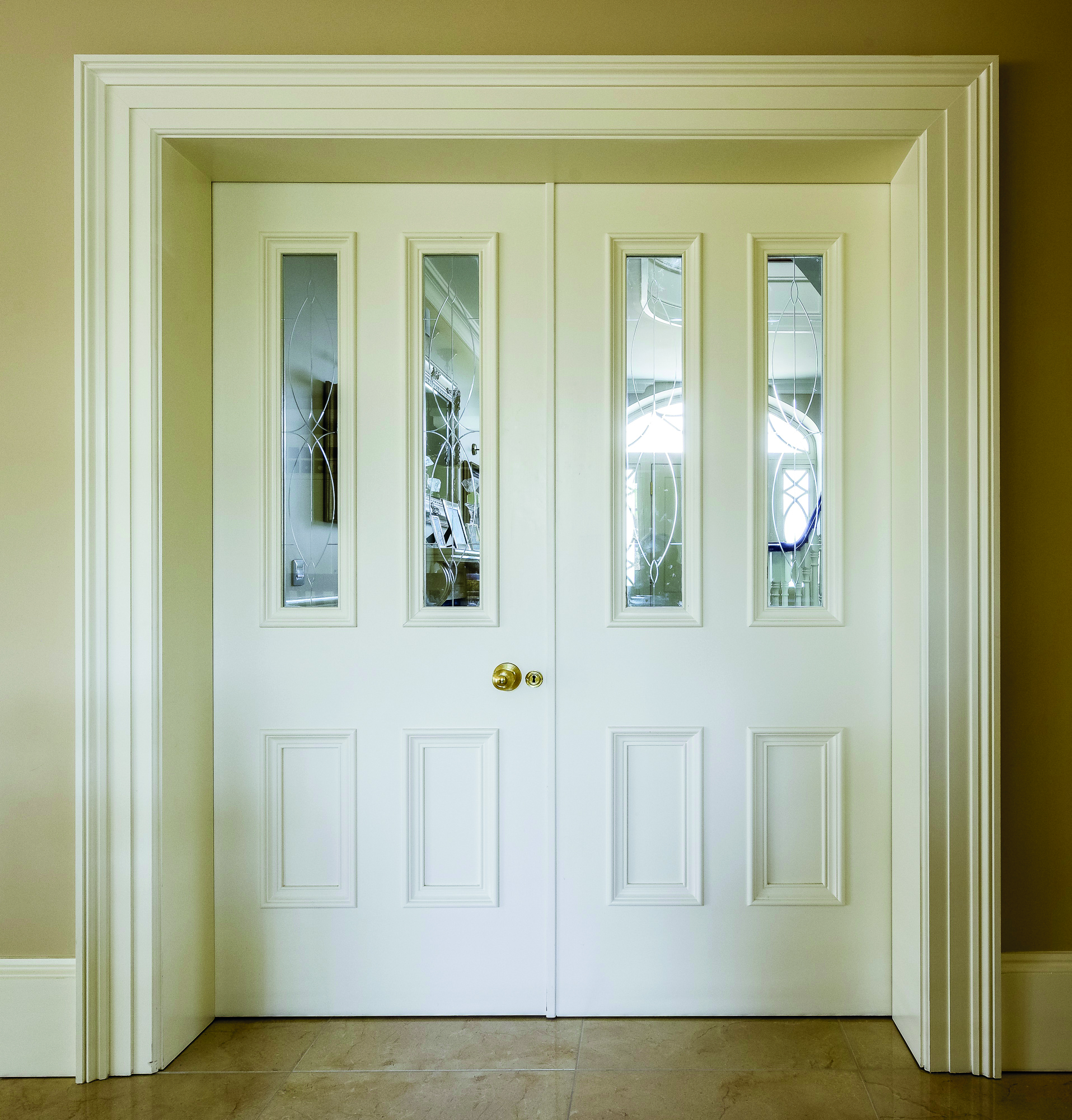 In NI door sizes are slightly different at 78'' by 33''or 1981mm x 838mm and 78'' by 27'' or 1981mm x 686mm being the standard.
Also the standard ROI thickness of door is 44mm and in NI, 40mm so doors may seem a bit cheaper in NI but if the door frame is for 44mm they won't fit properly. Imperial sizes are specialist products both in NI and ROI.
Architraves, frames, liners and skirting boards
The most traditional method of frame and architrave selection used to be to select a standard pine material (red deal being stronger than white deal) which was subsequently painted in white or similar colour.
This was the standard approach as it was able to complement any finish, but nowadays pine is less used because of the work and cost associated to sealing knots (to prevent knots showing through the paint) and the extra coats of paint required. Primed MDF is now the preferred option as it avoids these issues.
It is now also just as common to have frames and architraves matching the material selection of the door itself. An oak door is commonly dressed with an oak frame and architrave and in many instances this will also match the skirtings and staircases. The cost of pine skirting boards can run at less than €1/90p per m whereas oak or similar will cost in excess of €6/£5 per m depending on moulding, size and shape, with MDF costing somewhere in between.
Similar to architraves and frames, liners can be either painted or made of a material to match the door. A liner is required to complete a wall where the frame does not fully fit the width of the wall. Frames are generally available in widths from 115mm to 150mm.
It is therefore necessary to install a liner to complete a frame that is installed into a wall that is wider than these sizes. An internal structural wall for example, made up of 215mm blockwork will generally be finished with a liner at each door opening. This is an item that can often be missed in budgeting for a project.
Skirting boards are the most common finish at the junction between a wall and a floor. Similar but generally wider than architraves, they come in a variety of materials and finishes. The moulding design on the skirting will also impact on the cost as this will indicate the level of routing and production on the timber.
As outlined for frames and architraves above, it's not uncommon to have pine or MDF skirting boards painted in white or other colour. It's also not uncommon to have skirting boards that match the door, frame and architrave. These products are most likely veneered finishes but it is also possible to purchase solid material like oak, ash and mahogany. Similar to architraves, skirtings can run from less than €1 or 90p per m for pine or MDF to over €10 or £9 per m for solid timber skirtings.
Panelling
Often the go-to feature for many interior designers, wall panelling is one type of joinery that brings a wall to life.
The most common method of panelling is going a third high, generally about 900mm up from the floor. It often consists of MDF panelling with routed designs and inlay panels. Full moulded MDF panelling can run to in excess of €200/£180 per m depending on design and detail.
To reduce this cost, you can use the wall as your base to decrease the quantity of timberwork required.
Instead of being formed from MDF sheets, this method uses beading installed directly onto the wall. Then the mouldings, and skirting board are all painted in the same colour to give the effect that the whole wall is panelled. Plant on panelling runs closer to €100/£90 per m.
Picture framing panelling where walls are broken up into sections replicating picture frames, also use plant on beading. The cost of this type of panelling will very much depend on the amount you get done but will run at up to €20/£18 per m of bead depending again on the bead type, size and mould.
Other options of panelling include full wall cladding with solid timbers, hardwoods (cedars, irokos etc), V sheeting, shiplap and others. All of these are generally expensive with costs running in excess of €50/£40 per sqm and well into the hundreds for some materials.
Inbuilt units
Wardrobes, TV Units, side boards, dressers, understair storage units and the likes, are some of the many types of inbuilt units regularly forming part of the joinery package for a project. The costs of these will vary depending on material, finish, amount of or existence of glazing and the functionality of the unit itself. Often made from similar carcases to kitchen units it's common to see them made from chipboard, MDF and solid timber. Costs will increase as you move up this scale.
On items like wardrobes, the selection of door types (solid or glass), the addition of drawers, the inclusion of mirrors, and the variety of accessories from shoe holders to tie racks and the likes will all work to detail the end cost of the unit. In budgeting terms it is not unusual to have wardrobes costs averaging at around €1,000/£900 per m of wardrobe.
TV units will often be manufactured from MDF and will regularly include glazed shelving and cabinets. In addition, these units will contain elements of lighting and cable management systems. Costs for this work, being bespoke, will depend on the above variables in addition to its size and finish. You can expect to pay into the thousands for these units completed.
Screens and other joinery
Similar to doors, screens can come in a variety of materials, sizes and finishes. Screens are generally designed in domestic settings to allow light to flow into rooms and they will generally take the place of what otherwise would be a wall. It is not uncommon to have a screen attached to the side of or above a hallway door for example. 
Increasingly, large screen type windows are replacing walls to allow light to flow through a building whilst maintaining room separation. Screens can be hardwood or softwood, and they come with a range of fire rated and non rated glazing. The cost of a screen will very much depend on its function and finish but will likely cost in excess of €550-600/£550 per sqm.
Window boards, window framing (similar to liners and architraves), window shutters, radiator cabinets and other smaller items are all joinery elements that may find their way into your build. Like all of the joinery items outlined above, the costs are very much down to material selection and finish and these items should be properly budgeted from the outset.