Do you want to add a new opening to your house? New back door, access to the utility, a room with a view – whatever the reason we look at what you need to consider and whether you can do it yourself.
We as architects are often asked about knocking through an internal or external wall. Is it feasible, are the walls load bearing, how much will it cost? Whether to connect an existing room to an extension, opening up two rooms into one or making a new opening in an external wall to bring more light and aspect into a room, there are many things to consider before starting.
It is possible to knock through most walls; the first step therefore shouldn't be about whether it is. As with all good design you should think the project through – in this case consider if you have chosen the right location to knock through. What impact will this opening have on existing and future layouts of furniture within both rooms, what door type is most appropriate e.g. standard or glazed door, sliding door, pocket or concertina door, and are the two spaces that you are knocking through really best suited to each other in use, e.g. bedroom located off a kitchen, bathroom located off a living space, etc.
Staying on the topic of internal openings, the work is often carried out to remedy a layout that currently does not suit the homeowner's way of life. The typical scenario of opening up an existing living space to an underused dining room should provide guidance as this can often lead to losing points of ingress, e.g. closing off the existing access from the hallway to retain wall space. 
Apart from the potential inconvenience know that if you create an 'inner room', that is, one that is accessed through another and not directly connected to the hallway (unless a utility room or bathroom), and you have added doors within the internal opening, then you will most likely have to provide a fire escape window or door from that inner room to the outside, to satisfy current building regulations in NI and ROI.
Also make sure you do not place the opening too close to the corner of the room. Apart from structural issues, you will not be able to install full width architraves and skirting boards to all sides of the doorway, and nothing looks worse!
With an external opening, the common scenario is that it is desired because the house relates poorly to the outside or that existing windows are too small and do not make the most of their aspect. Before you widen the openings or make new ones, consider a few points: you may gain a view but will that mean you lose wall space for furniture? What will you see from the window or door and at what height should it be set? 
For example, if it is a new window within a lounge you will want to be able to look out of it while seated. If it is a panoramic or feature window, think about how you are going to break it up as this has a significant bearing on the cost, i.e. one large pane of glass, positioning and height of opening windows, impact of crossbars, (mullions and transoms) on your view.
Planning Permission and Building Control
Unless you live in a listed building, you do not require planning permission to create new doorways or windows internally. Similarly, small or singular external openings often do not either if they are to the rear or side of the property, but as every house is different and has differing relationships to boundaries, proximity to neighbours etc., the best advice is to contact your local planning department and query it with them directly. Larger openings or openings to the front elevation should always be discussed with an architect or your local planning department.
In NI you always require building control approval to create new window and door openings. Depending on their size, the department may request a structural calculation or certification for the lintel or steel beam over. This generally is only if beyond a standard 1-2m opening. A way around this is to use an approved off-the-shelf lintel from a supplier who can provide you with a calculation for building control. Always confirm the support you are using with building control in advance of carrying out any work.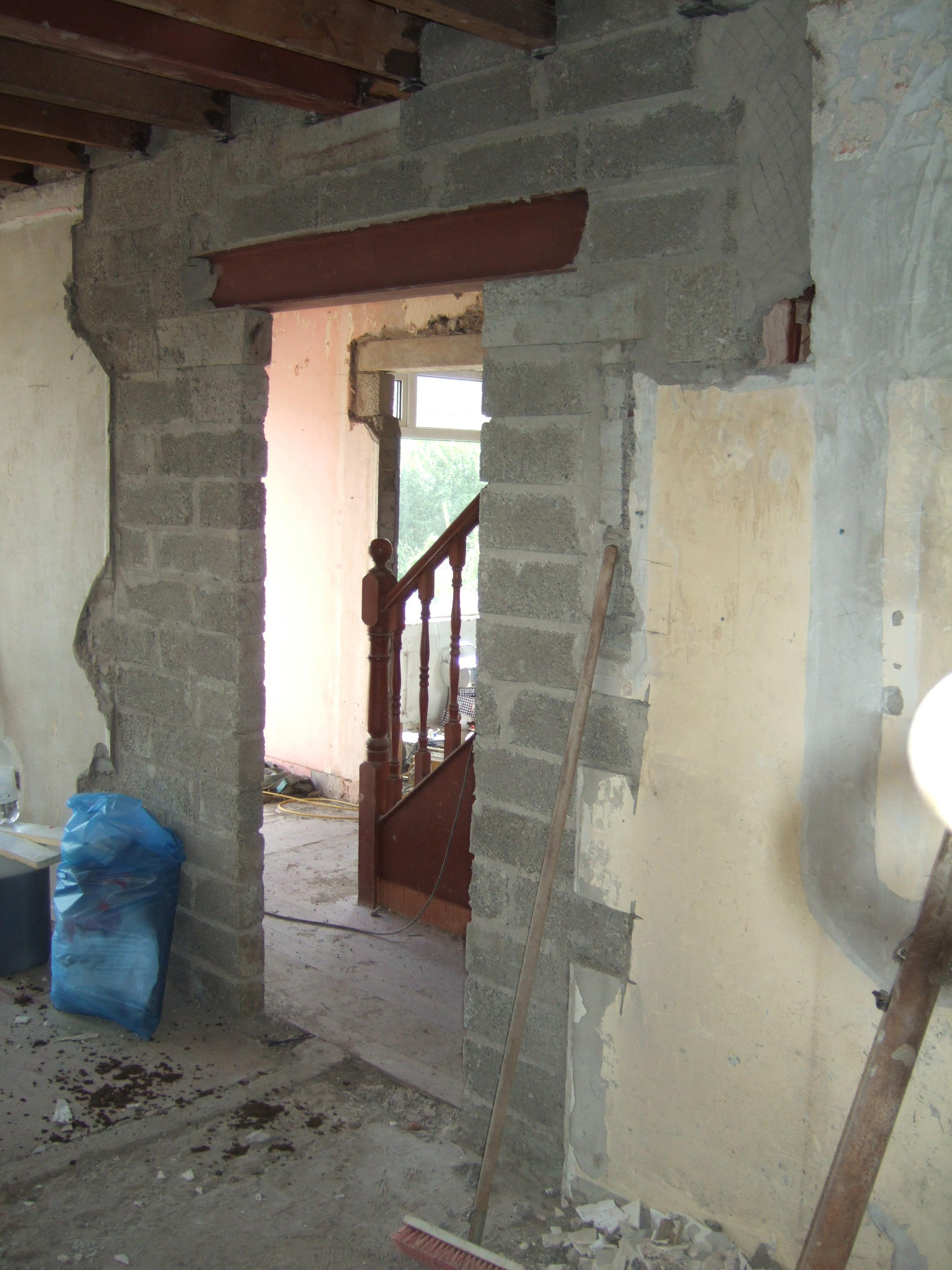 In ROI you do not currently require building control approval to create a new internal opening within a dwelling. For an external opening it will be if a planning application is involved and this entails notifying the local authority with a commencement notice (without documentation). However the onus is always on the home owner and builder to conform to current building control standards.
If the opening is larger than 2m, then it is always recommended to involve a structural engineer regardless of location. A design professional, or in the case of NI, building control, will also consider what knock-on effects might result from your actions, e.g. the fire escape may have been compromised by inadvertently blocking it up.
Knock-knock
With the aid of steel and concrete lintels, most walls can be opened up without much issue. A lintel is a load bearing support that spans the width of the opening to support the weight above. On standard single and double door openings, this is typically achieved using a pre-stressed concrete lintel, which is relatively inexpensive, but make sure there are at least three courses of blockwork over it as this gives the concrete lintels added strength.
Once you exceed the standard widths for concrete lintels e.g. typically over 2.5-2.8m, then you will require a steel lintel over the opening to span the greater distance, e.g. a proprietary insulated lintel or standard sized steel beam from your local steelwork supplier. Steelwork lintels are typically more expensive and require 100mm reinforced concrete load bearing pads, 250mm minimum under the steel beams.
The big question for both windows and doors is how to tell what is and isn't load bearing. You may think that if the wall is timber studwork it's non load-bearing, but that's not true! In many older properties, some of the internal studwork walls could be carrying load either from floor joists above or from the roof. New build timber frame homes can also have load bearing internal and external timber framed walls.
A good rule of thumb is to follow the wall from the ground up to see where it goes and what lies above it. Follow it into the floor space and see if it lines up with walls above that might take support from it below. Also look in the roof space and see if it stops at the ceiling joist level or whether it carries on up to support heavy roof timbers or rafters. Also have a look at the floor covering, if it's timber the joists are going the opposite way. If in any doubt, seek professional guidance from an architect, structural engineer or contractor.
Electrics and plumbing
It is vitally important that you cut off the electricity and you should also check on the location of the mains stop cock before starting work on a wall. A scanner is a useful piece of equipment to detect copper pipework and electrics, even water filled plastic heating pipes can now be found with the correct meter. If you have any obvious wires, plugs or plumbing within the wall in question, always consult an electrician or plumber to have these isolated before work commences.
Another problem encountered on site, especially in semidetached houses, is that there almost always seems to be a radiator in the way of the proposed new opening! In that case a new location has to be provided for it at an extra cost.
Finishes
Tempting though it may be to get stuck in with a sledge hammer, think about the smaller details first. Are you going to re-plaster the whole wall or are you confident in your or your contractor's abilities to patch in the disturbed plasterwork.
If you are opening up an external wall, there will be disturbance to, for example, stonework, plaster, timber cladding, etc. Don't forget either about skirting boards, the floor finish that exists and how easy it will be to extend it into the opening afterwards.
I can't stress this enough; the difficult part is putting back the finishes. This apparently relatively simple job often requires the expertise of several skilled trades, namely a joiner, a plasterer and finally a painter / decorator.
In my experience I would suggest that with careful planning and a clear understanding of the different components, dimensions of doors and door liners and a good level of skill in regard to working with wood, then everything with the exception of plastering could be tackled by the self-builder.
Finally and most importantly, ensure you have set up dust sheets and protection for the floor (plywood sheets, etc.) before you start. A little time and thought spent in preparation and sealing off the affected room prior to knocking through, can save you a lot of time clearing up afterwards.
DI-why
If the wall is studwork and you are satisfied it is non-load bearing, cutting through it to create a new opening is well within the realm of an experienced DIY enthusiast. Masonry walls on the other hand require the use of heavy duty masonry saws that are not for the faint hearted. Only attempt this if you have prior experience and are confident in their use. If not, another option is to drill 10mm holes at intervals of about 50mm with a vacuum attachment to cut down on the dust. In all cases always wear dust and ear protection or you will regret it afterwards!
Generally all masonry walls should be regarded as load bearing and therefore must be suitably propped above the future opening. If you are asking "What is a prop?", then get a contractor in; it should only be attempted by someone experienced in this type of work.
Most work on external openings will involve supporting two independent skins, and dealing with insulation within the cavities and external finishes. This is best done by a contractor and only really falls into the realms of DIY if you were retaining the width of an existing window but dropping its height. In other words, only if you're retaining the supporting structural lintels over the window but removing the wall below it, which would be non-load bearing.
Heat leaks
A thermal bridge, also referred to as a cold bridge, is typically found where different surfaces and components within a building meet, for example, junctions between floors and walls, windows and doors and the surrounding window heads, jambs and cills. The PassivHaus Institut defines a thermal bridge as a localised area of the building envelope where the heat flow is different (usually increased) in comparison with adjacent areas (if there is a difference in temperature between inside and outside).
Careful thought and detailing is required to minimise, or preferably, eliminate the potential for a thermal or cold bridge occurring as these can often lead to cold spots, reduce the energy efficiency of the room and ultimately result in condensation and mould growth.
It is therefore vitally important that the current standards for insulation, damp proof coursing and air tightness are followed. While you can download typical details from the large suppliers of insulation, unless you understand it and the process involved in achieving it, then it is usually better to leave this to the professionals. Returning to the topic of lintels, to prevent thermal bridging at this juncture consider a prefabricated insulated galvanised steel lintel.
Air tightness is also critical. All junctions should be secured down to the seal between plasterwork and window cills and surrounds. If air can move freely around and between surfaces and voids, then heat transfer is increased and energy is lost. Good workmanship, supported by a wide variety of specialist airtight tapes for window surrounds and sealants for all minor junctions, for example cill boards abutting window frames, is key.
What door or window system should I choose?
The choice of windows and doors is endless! There is a system for everybody's budget and style. For doors the selection is from a single door, double or patio doors, bi-fold doors (ability to open up a whole wall to the garden or terrace) or sliding doors. Internally there are pocket doors which can slide into the thickness of a standard stud wall. Windows depend upon whether the system is a casement window, tilt and turn or sliding sash. You can get specialised bi-fold and sliding window systems, but these tend to be more expensive.

Patio/French doors remain our door of choice throughout Ireland, and again with careful detailing, that is 180 degree hinges added to enable the doors to open right back, can achieve a similar effect to sliding and bifold for less cost. In all cases make sure you choose a low threshold to avoid trip hazards.
In terms of finishes uPVC is very cost effective and offers a wide range of colours and styles. Timber tends to be initially slightly more expensive (painted or stained; I'd recommend staining internally and painting externally as this option tends to require the least maintenance), followed by midrange all-aluminium systems. Some of these and composite timber and aluminium (alu-clad) tend to occupy the more expensive end of the market.
Two relative new comers on the scene in Ireland, and ones to watch out for in the future are the high end uPVC-aluminium composite systems, which offer a new look in internal foil finishes, and the very stable and robust chemically modified woods, which are much less prone to movement when subjected to heat, moisture or water. The wooden sections of the windows frames are jointed together at 350mm intervals to further prevent them from warping and twisting. These are either stained or painted as with regular wood.
For front and back doors, the same options exist but you could also opt for a foam or timber filled composite, or at the high end, engineered timber and aluminium doors. Timber, uPVC and aluminium doors will all move when heated and cooled.
A key consideration with doors is their colour if they are south or west facing. The darker the door, the more it will heat up and therefore the greater potential for movement. This has implications for paint finishes in particular which can flake and crack over time so consider using a natural oil based stain or a paint finish that minimises these effects.
Indoors, your choice will depend on if the room is 'public' or private and that will determine whether it should be glazed or solid, for example, a living room can have a glazed door. If you want a good level of sound resistance choose a fire door as these will always be at least 44mm thick and will generally have better sound resistance than most of the 35mm thick doors available. These are usually composite doors made from a chipboard core with a wood or painted veneer over and will typically be around a third more expensive than a regular door. However if you are only buying one or two doors, this may only equate to around £40 – 50/u55 – 70 or £55 – 70/ u75 – 100 extra per door, which is not significant when taken against the rest of the building work involved.
Glazing, draught sealing and ironmongery
Within 10 years triple glazing (more energy efficient and sound absorbent than double) will become the standard for all new houses but at present you can expect to pay around 5-10 per cent more than a standard window system or 10-15 per cent more for larger more specialised windows and doors. In terms of cost bear in mind the larger panes of glass are heavy and may require special lifting equipment.
If you want minimal sight lines or frames to your doors and windows, you will probably have to compromise slightly on energy efficiency. If cost is not critical there are products that give both to a high level, however, a general rule of thumb is that highly energy efficient triple glazed windows and doors tend to be chunkier than double glazed. With careful measuring it's possible to reduce the appearance of the frame size from the outside by hiding it behind the window reveal but watch out for opening sections that may get caught on the plaster. 
Also pay careful attention to the specification of the window and door furniture. There are few options at the budget level, but as you move higher up the price bracket the choice widens. By the coast, think yachts and highly polished 316 (marine grade) stainless steel and anodised aluminium which have very good corrosion resistance; don't forget to pay attention to the quality of the internal latches, hinges and fixings too.
Draught sealing is also very important, retrofitting is always a second best option. Consider the quality of the systems you are shown and query whether there are one or more draught seals to the system to reduce wind movement within the frame, which ultimately improves energy efficiency. Also a means by which any rainwater that has penetrated can run off to the outside.
Four to six point locking systems or dead bolts come as standard with most doors nowadays. Since insurers have started insisting on locks to windows, now most companies provide this option at the lower and higher end of the market. Sliding folding doors usually come with shot bolts at the head and cill of the door to make them arguably as secure as the other door systems.