Kitchen worktops, splashbacks, taps and sinks will be used all the time, so take the time to choose ones that are hardwearing and visually pleasing.

In this article, we cover:
What worktop materials are available in Ireland today with costs for each type
Determining the right worktop dimensions
Choosing the right splashback and how to specify it
Cutting in splashback and worktop surfaces
Choosing the right sink type and combination, standard dimensions
Sink at the window or not?
Tap styles and types, including filter options
Floor and wall covering choices in the kitchen that are hardwearing
As with any part of the home, good design is everything. And your kitchen is no exception. Here we hone in on what makes a kitchen hardwearing.
Worktop materials
The worktop or countertop is the main worksurface of your kitchen and its selection will need to take account of many factors including cost, scratch and stain resistance, heat resistance, durability and ease of cleaning.
Most common are laminate, manmade composites, solid wood, stone (marble, granite), concrete, metal and glass.
The laminate finishes are at the lower cost end and are a plastic finished layer bonded to manmade board which mimics the appearance of hundreds of different finishes, from weathered wood to veined marble. Laminate worktops are generally available for less than €100/£80 per m for a standard 600mm wide 40mm thick worktop. They generally come standard in about 3m lengths.
Natural stone (granite and marble) is one of the most popular choices for its durability and for being associated with luxurious kitchen designs. They are however expensive, and depend greatly on stone choice, colour, thickness and slab size. Always go and view your slab as each one varies, and you might get more of a particular fleck than you were expecting.
For top quality products manmade composites are often comparable in price to natural stone. Composite materials offer seamless styling and stain resistance but may be prone to scratching so always check the quality. Quartz, which usually refers to a crushed stone bound with plastic resin, will generally be available above €300/£280 per m for a 600mm wide length but prices vary greatly depending on quality and colour.
Solid wood worktops have been around for generations and with the increases in costs of timber, have also become more expensive. Depending on the chosen material, solid timber worktops are available in oak, 600mm widths at 40mm thickness for €120/£100 per m and up, with iroko or walnut at prices in excess of €180/£160 per m. They require twice yearly oiling. Note that beech is said to have natural anti bacterial properties.
In recent times glass has arrived as a contemporary option. Clean and versatile but expensive and needs regular cleaning. Concrete is hardwearing, although may be prone to staining when in contact with acids, and is also at the higher end of the cost scale.
For those looking for an industrial feel in their kitchen, stainless steel is a good option as it is the go to material for most commercial kitchens, being hygienic and easy to clean. It is also perhaps the most eco friendly option. Even though steel is notoriously energy intensive to make, it is unique in that it can be recycled over and over again without losing its properties; it also does not involve quarrying or present the possibility of high VOCs.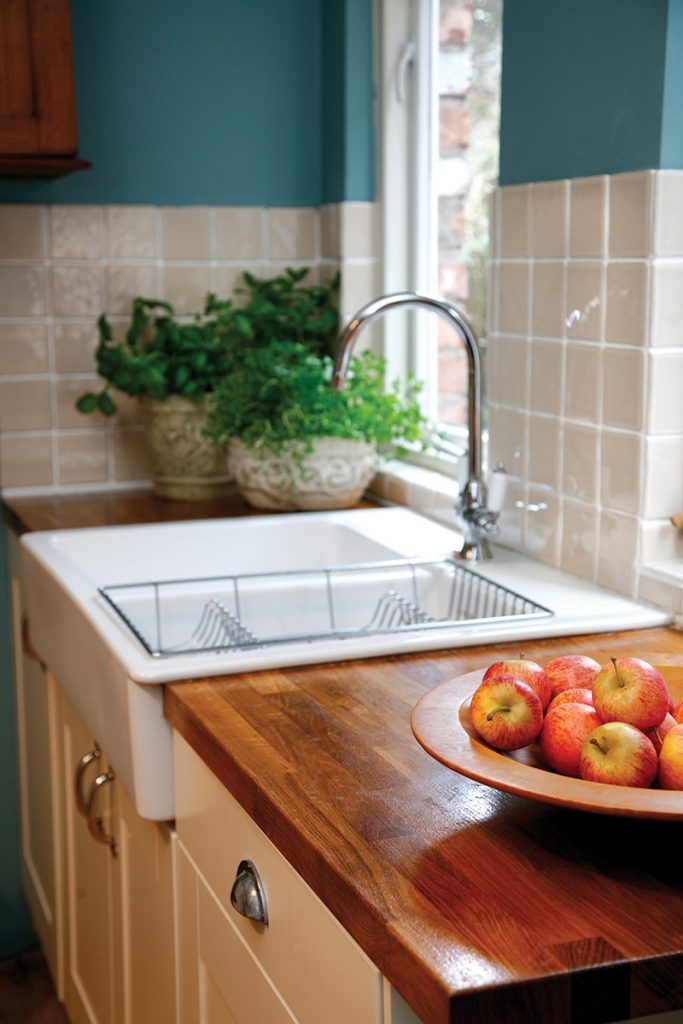 Worktop dimensions
A major consideration is how much of a run of straight worktop you need, for baking, food prep, stacking plates, etc. Three runs of 1m to 1.2m is a good rule of thumb for daily cooks if you can afford the space. At a minimum allow 300mm, with fixed worktop space or a pull out shelf, on either side of the hob and to one side of the oven and fridge/freezer to be able to put things down.
The key is to keep worktops plentiful and not allow gadgets and everyday appliances encroach upon such precious workspace. Microwave ovens and coffee makers can be built into the presses but these models tend to cost more.
A useful solution, which also applies to electric kettles, toasters and food processors, is to house them into a countertop roll up/roll down tambour unit (along with some of the foodstuffs that go with them), or a larder (pull out or behind a cupboard door), so you can quickly and conveniently close them off when not in use.
Other basic tips include not crowding the sink in a corner, it should be 460mm away from any return in the work surface, and the standard distance between worktop and cupboards is 400mm.
Splashbacks
Splashbacks consist of the area between the top of the kitchen countertop and the underside of the high level kitchen wall units. These can be limited to the area behind the cooker (usually 600mm in height, minimum 450mm) or extend along the entire cupboard length (usually 100mm in height).
Historically, the kitchen splashback was painted or tiled. In more recent times, worktop surfaces, stone upstands and glass have taken centre stage in this area. Both materials add significantly to the end cost particularly when additional costs of cutting around power points are required.
Hardwearing worktops and splashbacks: what to check for
Check the standard dimensions of the type of worktop/splashback you are looking for – you may need to have two sections which would involve jointing. Where possible, and where the surface will be repeatedly exposed to water, heat or staining, try to get a straight run of the material.
Cutting can be specialist work, e.g. for the sink, tap, power points, etc. This needs to be factored into the total cost, as does installation which may need to be done by the supplier. Regular maintenance as per the installer's instructions is important as some surfaces will otherwise stain or weather. Ideally, check how it weathers by visiting a real home. Some surfaces cannot withstand a hot pan or oven dish, so check this too. And, even though you should always use a cutting board, check if you can cut directly on the worktop surface.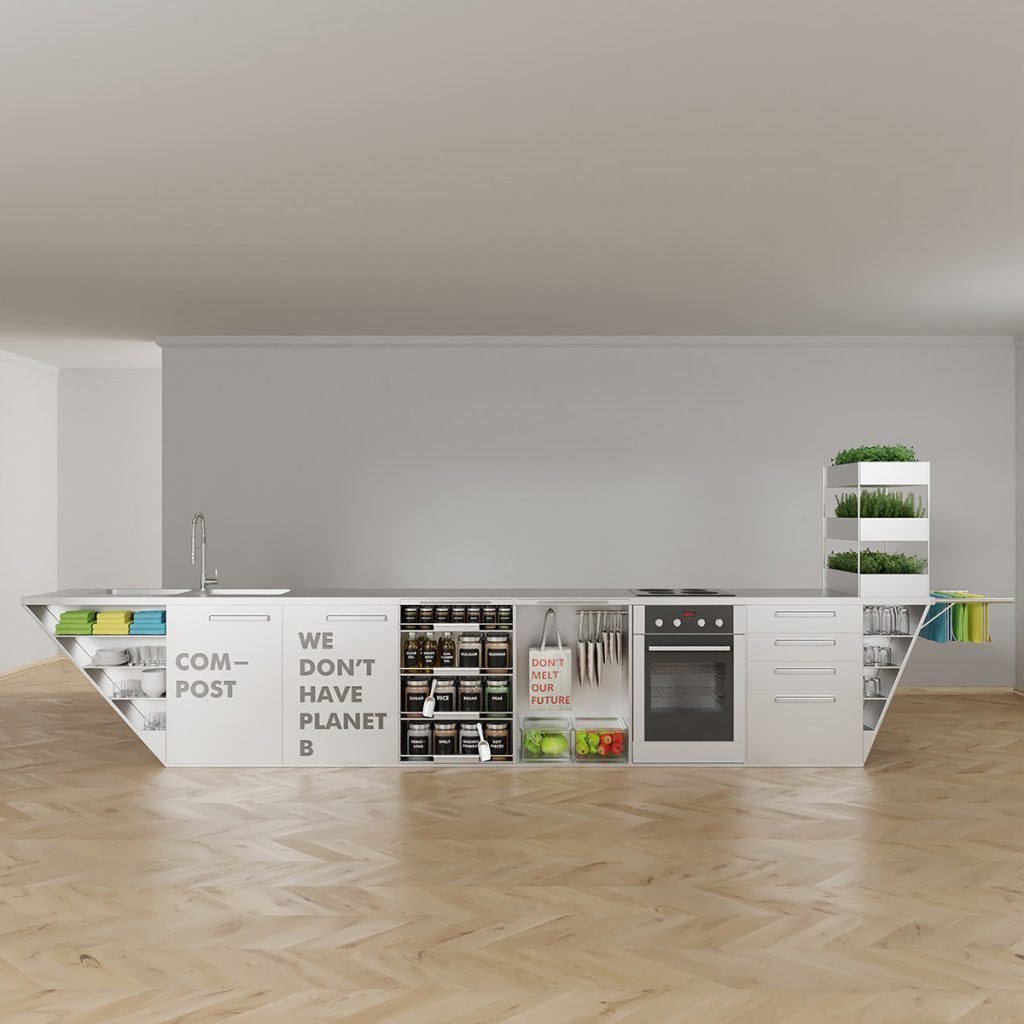 Sinks
Approximately 75 per cent of our time in the kitchen is spent around the sink: washing vegetables, filling pots, straining pasta, washing up, filling the kettle. If you're a daily cook, consider at least a bowl and a half – this allows you have two sinks on the go for different tasks.
Sink sizes will vary according to your configuration but standard dimensions allow for approximately 450mm width to comfortably fit into a standard 600mm carcase. Think about style, size and type of sink that fit your requirements and budget. How many draining boards? Would you prefer a traditional Belfast sink if you are going for a granite worktop?
The three popular sink finishes in ascending order of cost are stainless steel, ceramic and composite. Square corners can be difficult to clean and Belfast sinks tend to be deeper than normal and so harder on your back.
Stainless steel can be cleaned with everything from scouring powder to steel pads, as can ceramic although these are subject to chipping. Composite have the wow factor but you need to take care sharp cutlery doesn't do damage. Bear in mind too that composite sinks are not suited to extensive use of cleaning products.
If placed at the window, consider how the sink will bounce off light. Mechanical food disposal units fitted under the sink with debris posted in down a drain mean you can remove immediately strong smelling items such as fish skin. You must run the cold water tap at the same time and the motor is quite loud, remember to reverse the blades to ensure even wear. Accessories include chopping boards that sit over sinks, providing extra space, and baskets to collect vegetable peels.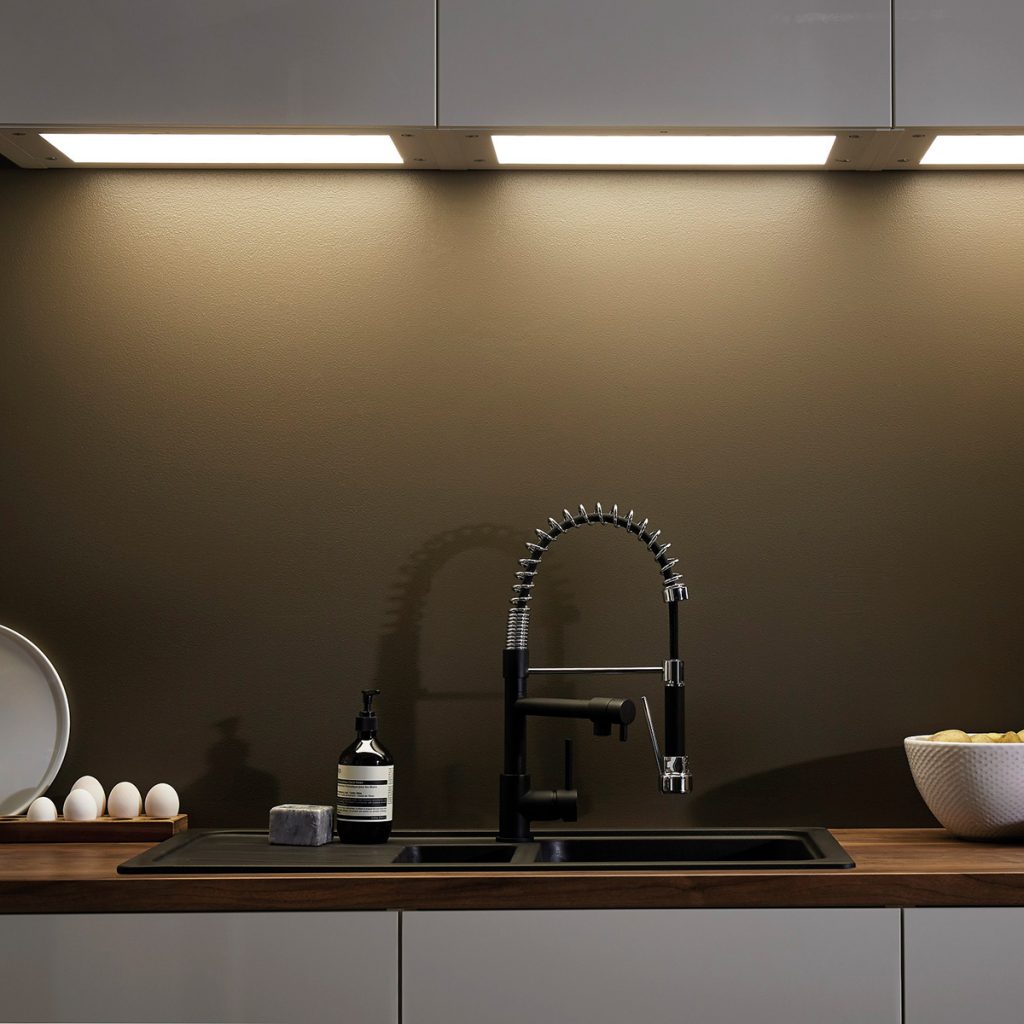 Under or over mounted
If you opt for manmade surfaces or concrete, the sink could be moulded into your worktop with a tap hole drilled behind it. But in most cases, you will have to either buy an undermounted sink or one that sits on the worktop, often referred to as an inset sink.
Laminate worktops require an inset sink as the core is susceptible to moisture. You or your joiner can cut the sink opening out with a jigsaw as per the sink dimensions, install the tap and add the sink on top. There is usually a tap hole in the sink structure.
Undermounted sinks sit under the worktop and are usually better suited to impervious finishes such as manmade composite materials or natural stone. The tap is usually then drilled into the worktop or wall mounted. Undermount sinks are usually more expensive, e.g. the Belfast sink, and harder to install than inset ones.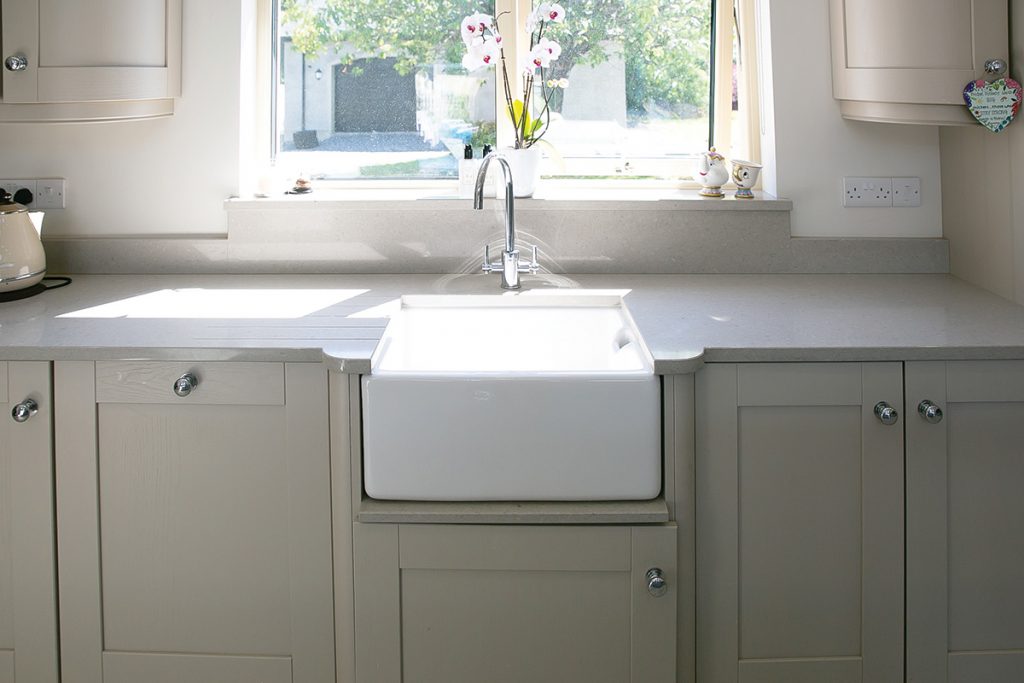 Taps
Taps are made of metal, most commonly stainless steel or chrome steel, then possibly brass. You will see reference to the metal being brushed or polished, this is how the metal is finished and the look will be matt versus gloss respectively. Other metals include nickel, pewter and copper. Colours can be applied on top of these.
There are two basic mechanisms to turn on taps: the simple turn type or the push type which tends to be more hygienic. Taking it a step further is the smart tap with some touch free models; more smart features include measuring and temperature indicating LED lights, among others. The tap head can either be fixed or flexible. Pull down, retractable and/or flexible hose extensions are most common nowadays as they are handy to rinse out the sink and clean vegetables.
Water filters to remove limescale and/or other impurities can be added (if you don't have one for the house already) while integrated soap dispensers will unclutter the otherwise pristine look of your work surface. The introduction of the boiling tap to the market in recent years has added a significant cost with the majority of systems retailing at over 1k.
You can choose between a separate boiling water tap with accompanying mixer, or one through which you can get all three (hot, cold or boiling). A child safety system is available and the tap sits on the worktop, with a tank underneath. These can now make sparkling water too, at an extra cost. While these eliminate the need for kettles, running costs tend to be similar.
Last but not least, at a time when we are all more conscious of our domestic water consumption, fitting taps with aerators is a practical move as they provide more pressure and use less water.
---
Floors and walls
Flooring is an important decision, not just for practicality but for aesthetic reasons as it sets the tone of the space. Ceramic and porcelain tiles remain the traditional floor finish but laminate flooring is fast becoming a popular alternative.
Other options include linoleum, cork and cushioned varieties of these. Also polished concrete, engineered wood, vinyl and stone. For a professional finish, the floor covering must go on before the kitchen is installed to avoid having to cut around the base of the units.
As well as selecting a material that ties in with the overall look of your kitchen and suits your budget, consider durability and ease of cleaning. Polished ceramic tiles can be very slippery when wet but they are excellent for reflecting light. Full bodied porcelain are very durable but are hard to walk on; both of these are not forgiving if you drop plates or glass, unlike cork and linoleum which are great to walk on but the former does require maintenance. Wood floors look wonderful but are not waterproof.
Floor finishes aren't usually included in the kitchen cost, and neither are wall finishes apart from the splashback if you have it in the same material as the worktop. Tiled worktops have somewhat gone out of fashion, but can be a cost effective alternative for a country look. You can also get a more modern feel with classic subway tiles or mosaic tiles. These can complement virtually any type of worktop finish.