Whether you call it thrifting, upcycling, repurposing or simply buying second-hand, finding and restoring pre-loved furniture and accessories has never been more popular – and Dublin's Katrina Carroll is a veritable expert in all of it.
With more than 28,000 people following her design adventures on Instagram, Katrina has cast her magic on numerous projects, including her own home. Indeed, she has lovingly transformed her city dwelling into a stylish haven which combines the old with the new and nearly new, putting her own unique stamp onto vintage pieces.
"I always say to people that you don't have to spend a fortune to have a nice house," she says. "You can have a lovely house on a budget. Initially, I always try to reclaim stuff and repurpose and give things a new lease of life, before buying new."
Wow factor for downstairs WC
Having gutted her entire house after purchasing, Katrina decorated it room by room, beginning with a small space with a big personality in what is the downstairs loo.
"We only have a small toilet downstairs but I always say that those little rooms are a great opportunity to really go wild and show your personality," she says. "My uncle is a painter and decorator so he painted the whole house for me and then I gradually put my own stamp on things."
A keen supporter of local businesses, all of the paint used in Katrina's home design project comes from family-run company, The Paint Hub, in Carlow. "I can ring them up and tell them what shades I want and then they deliver them," she says.
Dressed in a vintage style, the downstairs loo wallpaper has a decadent wine label print and decorates the top half of the walls. The lower sections comprise navy panelling and feature a variety of vintage posters, while a similar style of picture hangs elsewhere on one of the walls. Meanwhile, intricate gold stencilling – all done by Katrina – adorns the ceiling, so the room mixes a range of styles to create a quirky look.
"I knew I wanted to go a bit 'out there' with this room," she says. "I love the vintage style and I don't follow trends – I just get what I like. I love this room."
The downstairs loo also features a variety of large vintage mirrors on one wall, with a decadent light adding extra drama and glamour to the space.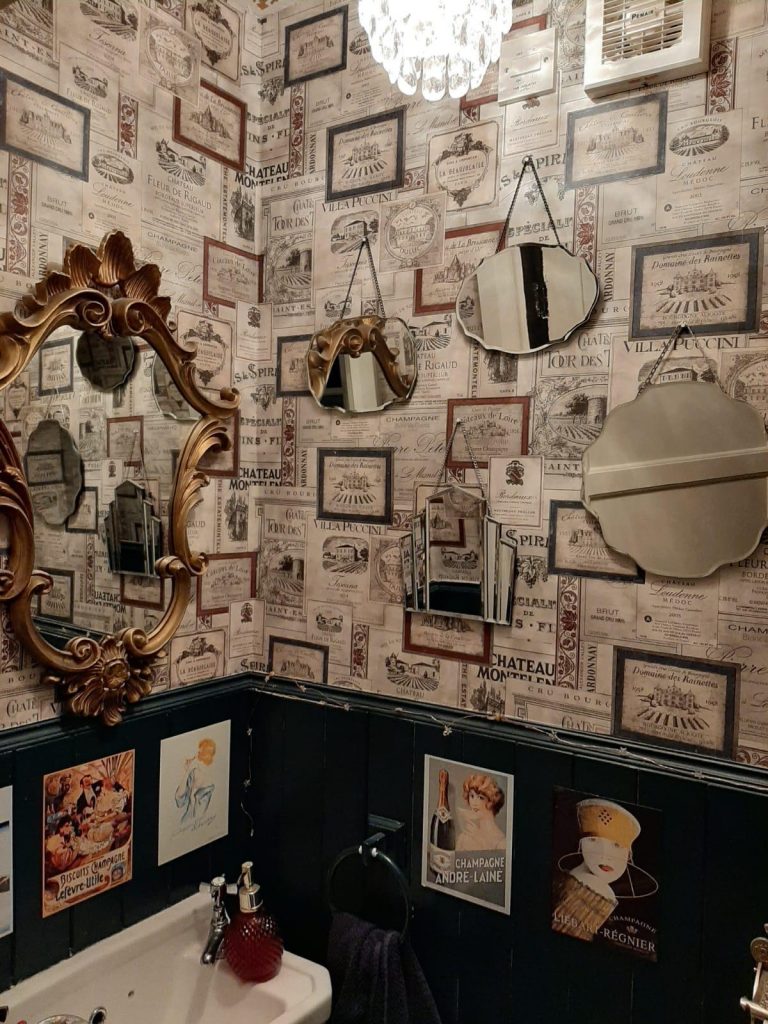 Art Deco living space
Moving into the living room, for this, Katrina was keen to showcase an Art Deco style, as well as making the space cosy. Blues and golds feature throughout the room, with a paler forget-me-not shade on the walls contrasting with a darker navy 'leather-look' wallpaper in leopard print on a feature wall located behind the TV cabinet.
Katrina sourced this solid wood cabinet on eBay while living in London and, like various items in her house, it has a story attached to it. Indeed, its previous owner shipped it over from San Francisco to London before it went on to Dublin with Katrina, so it's journeyed around the world quite a bit. Now painted in grey, Katrina also upcycled it by adding new handles to the drawers.
To the left of the TV cabinet Katrina has decorated the next wall with a series of mostly gold vintage-style picture frames which she made herself. Inside are a variety of old black and white photographs showing generations within her family. Underneath, sits a yellow-gold side table with an assortment of tapered candles in similarly vintage candleholders on top.
"That wall of frames was one of the first things I did," she says. "I really love it. I also always display candles – I found these ones in charity shops and the table online."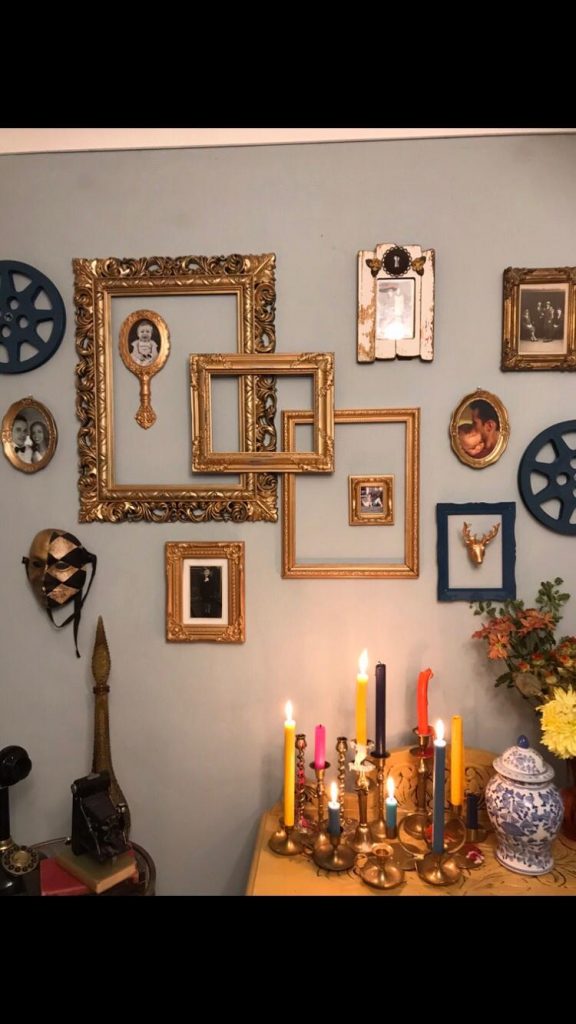 The next wall along also features a display, this time of framed quotes and other vintage wall accessories, including plates belonging to her grandfather. "There's lyrics of songs we love – sentimental things," says Katrina. "I wanted this wall to be of memories and things that mean something to us."
A gold drinks trolley underneath – snapped up for €20 at a Dublin flea market – adds classic style to the room. Meanwhile, in front of this is one of the few brand new elements in the house – a blue sofa from DFS – juxtaposed with more upcycled furniture in the form of a rather special coffee table. It sits in the middle of the room, with an added flourish in the greenery growing at its centre.
"I made this wooden table with crates and added a brown varnish to give it that old-skool look," says Katrina. "Anybody can do this sort of thing, if you just have a bit of patience. Nobody taught me how to do it."
Also accessorising the room are items including two old suitcases, a vintage telephone and a butter churn – again all found at flea markets – which add more quirky character and style to the space. Nature is further woven into the overall look in a chair and footstool upholstered in a matching plant print fabric.
The laminate floor has a rustic appearance and runs throughout the living room and nearby play room, while the living room light – with brass fixtures and eight white globes – was gifted from UK brand, Iconic Lights.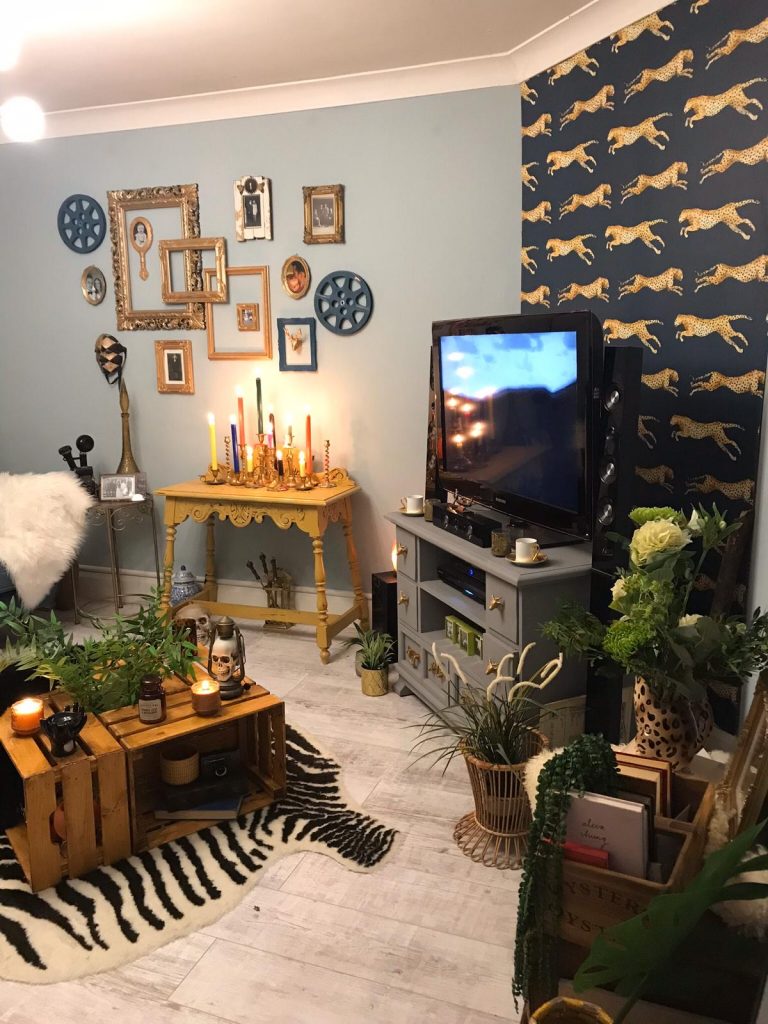 Cottage-style kitchen
Mixing a variety of different styles throughout her home's interior, Katrina has opted for a cosy cottage look for the kitchen, which features a range of farmhouse-style accessories.
"I always wanted a cottage-style kitchen and a Smeg fridge," she says. "I ended up with a Smeg fridge, toaster and kettle! I also always wanted a stable door, so my kitchen door now opens halfway across at the top."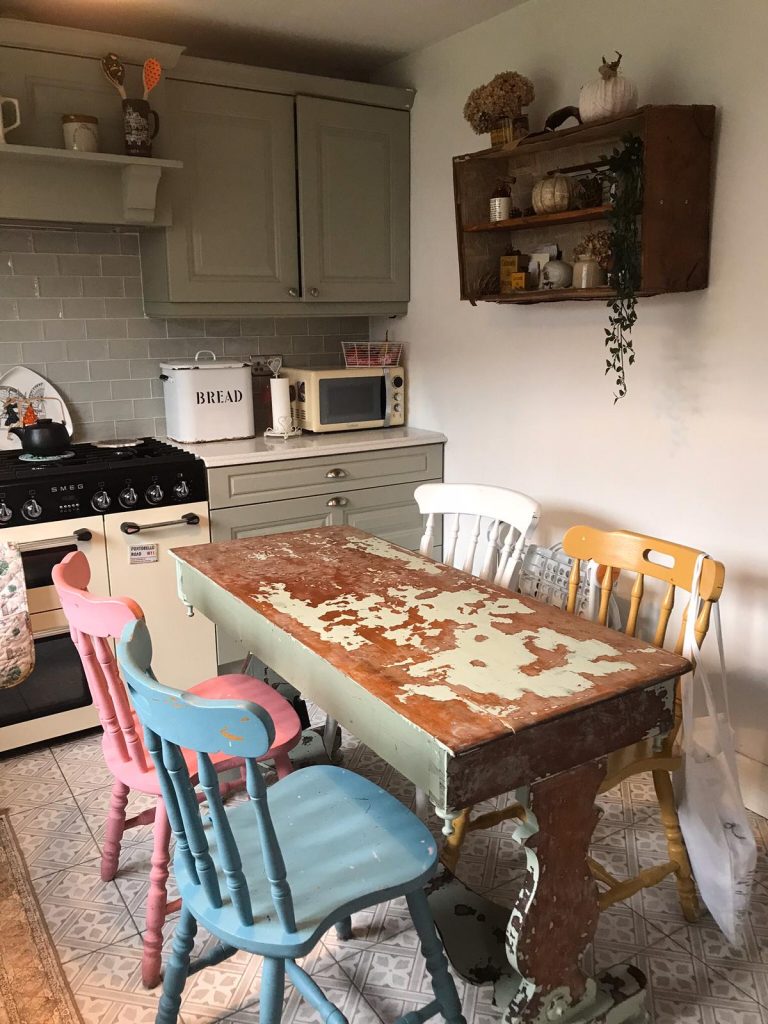 With a keen eye for sourcing pre-loved items in various locations, Katrina's kitchen table is another flea market find which she's sanded down to instil a farmhouse vibe in the room. With some of the old paint still intact, it gives the table an authentic, distressed look, in keeping with her overall theme.
"I also turned an old suitcase into a shelf and put that on the wall," she says. "I have an old coffee maker and I found an old radio from the 1940s too. The bread bin is from eBay and was found in an abandoned farmhouse in the English countryside. It was lovely because the seller told me the story when I was buying it. Even though the kitchen itself is new, I filled it with old farmhouse things."
Some of the newer elements in the kitchen include Laura Ashley floor tiles, along with the striking chandelier-style light, which was gifted from Stillorgan Décor in Dublin. The walls, meanwhile, are painted in a sage green shade, while the kitchen cabinetry complements this in similar tones.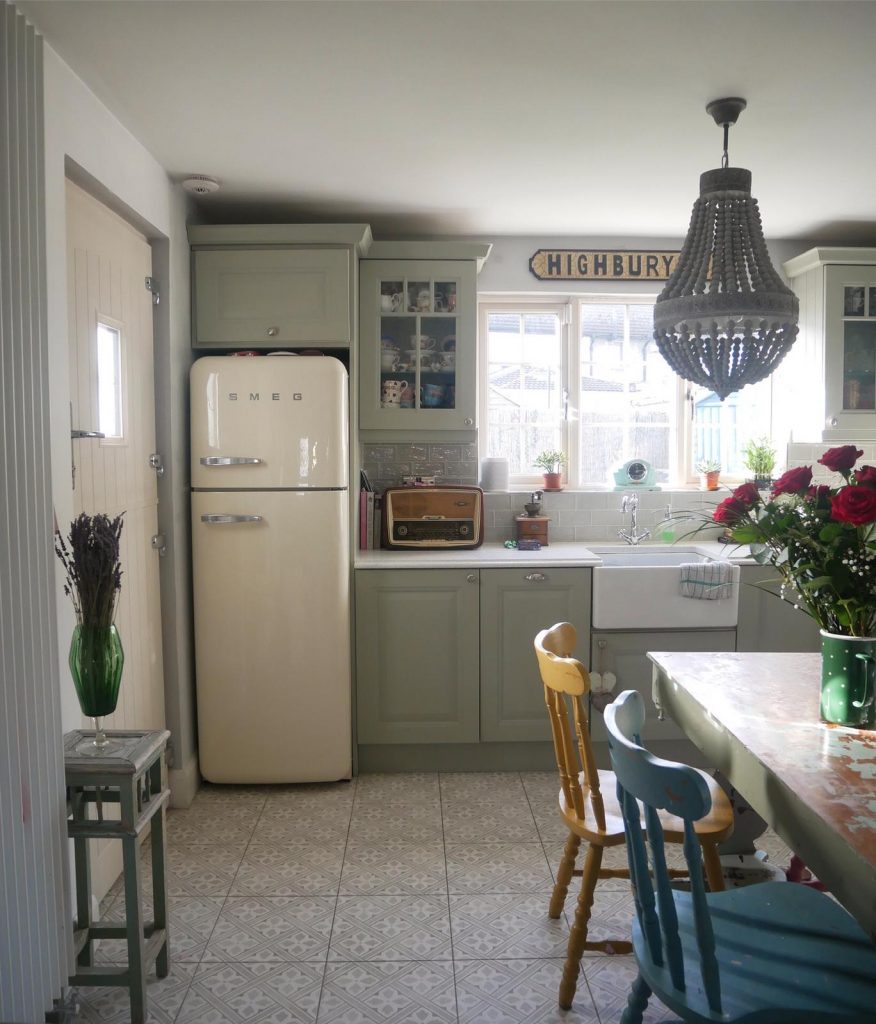 Colourful kids' playroom
The other downstairs room is the children's playroom, which Katrina wanted to have a fun and colourful look. She's achieved this by painting it in pink and yellow tones, carrying the colours over onto two second-hand lockers sourced from Advert.ie.
"The two lockers were originally yellow and peach," she says. "I treated them for rust and then primed and painted them and now they're like new. Lockers seems to be 'in' at the moment but I only paid about €40 for the pair."
Katrina's free-drawing decorates the walls, including hand-painted giant pencils and geometric shapes. She also made a blackboard and whiteboard for her girls and converted the fireplace into a den-like space, complete with homemade curtains which were formerly tablecloths.
"My little girls love it," she says. "There's also an original Singer Sewing Table beside the lockers which I found for €50 in a flea market. It still works, though I can't sew!"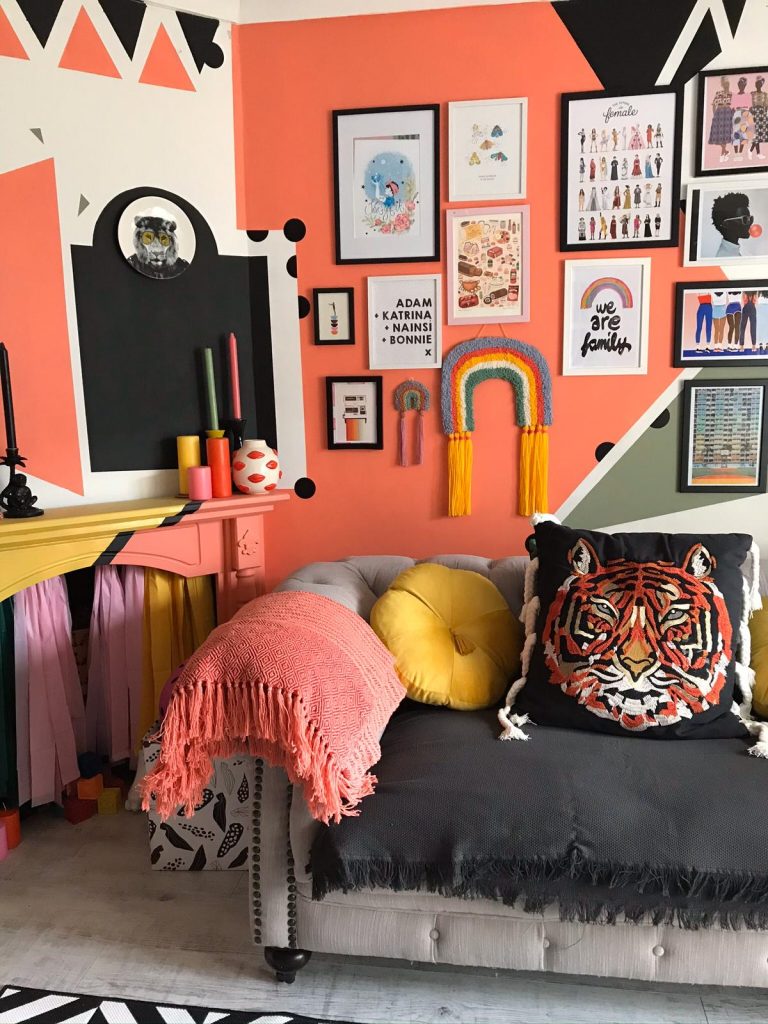 Artistic Art Deco-style master bedroom
Upstairs, are three bedrooms – including the master – along with a family bathroom. Again, Katrina's own bedroom has that Art Deco look she favours and, while she's still adding some finishing touches to it, the décor is now more or less complete.
"We bought the bed new from EZ Living Furniture when we moved in," she says. "I always advise people that if you're going to invest in furniture, invest in a good bed. I've painted it from white to gold and I got a new light fitting too, in the Art Deco style."
The golden headboard extends onto the wall in paint form, as Katrina has put her own design onto this statement wall in pink and gold, with a forest green background. The bedside tables are also in gold and pink, with one repurposed and now filled with Katrina's dress jewellery and accessories. Artificial gold-leaf plants further tie the colour palette together, while Art Deco-style golden side lights adorn the wall on either side of the headboard, with pink and green scatter cushions upon the bed.
"I bought a dresser for the bedroom on Advert.ie as well," says Katrina, "and I found an Art Deco wardrobe in a charity shop last week for €20. I also have a burlap rug which I'm going to repurpose by painting an Art Deco design onto it."
Relaxing vibes for family bathroom
In the family bathroom there are more dusky pink tones, with the previously white roll-top bath repainted to add colour and warmth to the space. Complete with silver clawed feet, it's a statement piece of furniture which complements the vintage look toilet with its high cistern and chain pull, achieving that old-skool vibe Katrina was keen to have.
"It was really white and clinical in the bathroom when we moved in," she says. "I painted the bath pink and then I decided to wallpaper one of the walls, which has really brought the bathroom to life. I then painted the door black, which just finished it all off."
Adding a touch of opulence, the Crane Floral 'Coral' wallpaper from Divine Savages depicts Grey Crowned Cranes and palm trees against a soft coral backdrop, adding warmth and elegance to the room. It covers the top half of the wall nearest the door, while the lower half of the wall is tiled in white, as per the rest of the bathroom, with tiling in a vintage-style pattern from Showhouse Tiles on the floor.
Rainbow bright bedroom
The first of the girls' bedrooms is a cheerful space literally filled with all the colours of the rainbow, as Rainbow Spot wallpaper from the Eleanor Bowmer range features on two facing walls. A larger rainbow, painted by Katrina, dominates a wall with a pale pink background opposite the cot, the pink tones also featuring on the wall opposite, which has a painted orange border.
The cot itself is new, although a wardrobe was sourced from a charity shop and a dresser from Advert.ie, both upcycled to suit the room.
"I wanted to make the room fun and colourful and dreamy," says Katrina.
The door has been painted a vibrant sunshine yellow – as has the radiator and wardrobe – while Katrina has also fitted a child-sized coat-rail to one wall and a shelf for trinkets above. A fun leopard print rug adorns the floor, while that sunshine yellow continues above the bed in the form of a fairy-tale canopy and lights. (NB For practical reasons in a small child's bedroom the canopy has since been removed.) The result is a fabulously fun-filled room that Katrina's little girl loves.
Eighties-style boudoir
For her second daughter, Katrina indulged her own Eighties obsession by recreating the decade with a variety of pre-loved accessories and handmade items. Again, there are dusky pink tones throughout this room, which is another colourful space, thought more muted than the rainbow room.
On the walls, Katrina has hand-painted a series of geometric shapes, while the bedroom door also features a triangle of pink, painted over one corner of the white, with the patterns continuing on the bedside tables.
"I got some old VCRs from charity shops and stuck photos on them and hung them up on the walls," she says. "I always wanted a room like Saved by the Bell, so this is it! I found an old phone from the 80s too and painted that. My daughter loves it. Every kid wanted a phone in their room growing up, didn't they? It's a really fun bedroom.
"I painted all the shapes on the walls myself, freehand, and the dresser is second-hand furniture as well."
Accessories including an Eighties-style radio, a Rubiks cube tissue holder and an ice cream cone-shaped fluorescent table light add the final finishing touches to a room which resonates tranquillity. All in all, it's the perfect space for a good night's sleep.
Award-winning interior designer
Having received widespread recognition for her interior design work, Katrina is a former winner at the House & Home Awards as well as a Finalist in the UK Interior Awards and a Home of the Year Contestant. Keen to encourage others to upcycle, she's subsequently partnering with Habitat for Humanity in 2020, asking people to think about sustainability and to join her in raising their voice for safe shelter.
"I love that upcycling gives all of us the opportunity to create something special at low-cost," she says. "We don't need to be limited by budget – only by our imagination.
https://www.instagram.com/vintageirishkat/