Find out what the most common kitchen materials are, how much they cost, how durable they are and how to take care of them.

In this article we cover:
Most common materials used in the kitchen with cost comparison
Durability and other things to check for, pros and cons
How to take care of them
Materials for doors
Worktop materials
Natural materials
Engineered materials
Industrial materials
How to add colour
The most common materials you will find in your journey to kitchen nirvana include wood, MDF, lacquer, wood veneer, laminate, granite, stone, concrete, marble and glass. These are only the tip of the iceberg but understanding the nature of these basic materials, including their cost implications, will give you a good start in making the right choices for your dream kitchen.
Materials for kitchen doors
What type of door would you like on your kitchen units? This is often the first question people are asked and many do not expect quite how many there are to choose from.
Some doors are made from solid timber, while others are made from laminated or veneered Medium Density Fibreboard (MDF). MDF comes up quite frequently in discussions about fitted furniture because most carcases (the inside or frame of your kitchen units) are made from chipboard or MDF. MDF is basically made from wood fibres combined with resins and reformed into panels using high temperature and pressure.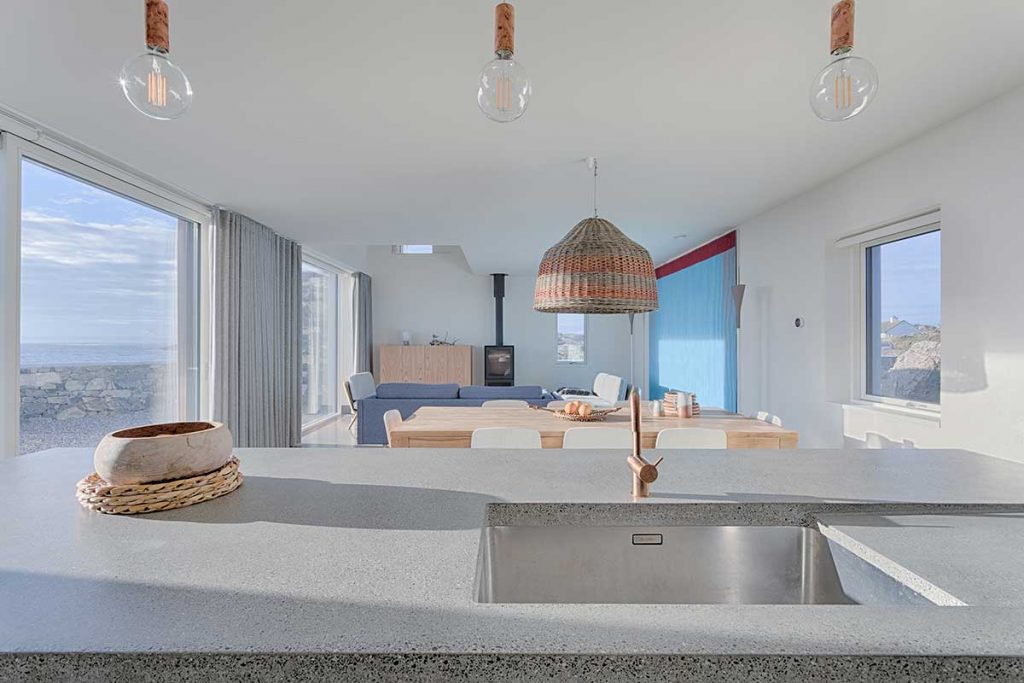 The result is a dense, durable board that is a popular material in the furniture industry. MDF can be 'wrapped' in an attractive outer material to make kitchen doors; it's necessary to wrap the MDF because it's not moisture resistant.
Depending on what the doors are wrapped with, they can be more cost effective than doors made with solid wood. Some doors can be wrapped with manmade materials such as laminates, vinyl and melamine and there may be a wide array of colours and patterns to choose from.
These can be of matt or high gloss finishes. Lacquered high gloss offers a more expensive but luxurious alternative to laminate high gloss, and if you are considering either of these do ask your supplier for more information on cost and to see samples of both to compare.
Then there are wood veneers. These are basically a thin slice of wood applied to a tough backing board, such as MDF. Although veneers may often be a cheaper alternative to solid wood, they are not to be scoffed at. For centuries, veneers have been used by furniture craftspeople to selectively show off the beautiful grain of timber.
Their use is very notable in fine antique furniture. Choosing a veneered wood door can offer the best of both worlds: the look of natural timber in your kitchen with often less of the price tag of solid wood. While choosing a manmade material usually keeps costs down, the opposite is true of highly crafted or premium material doors, for example solid timber.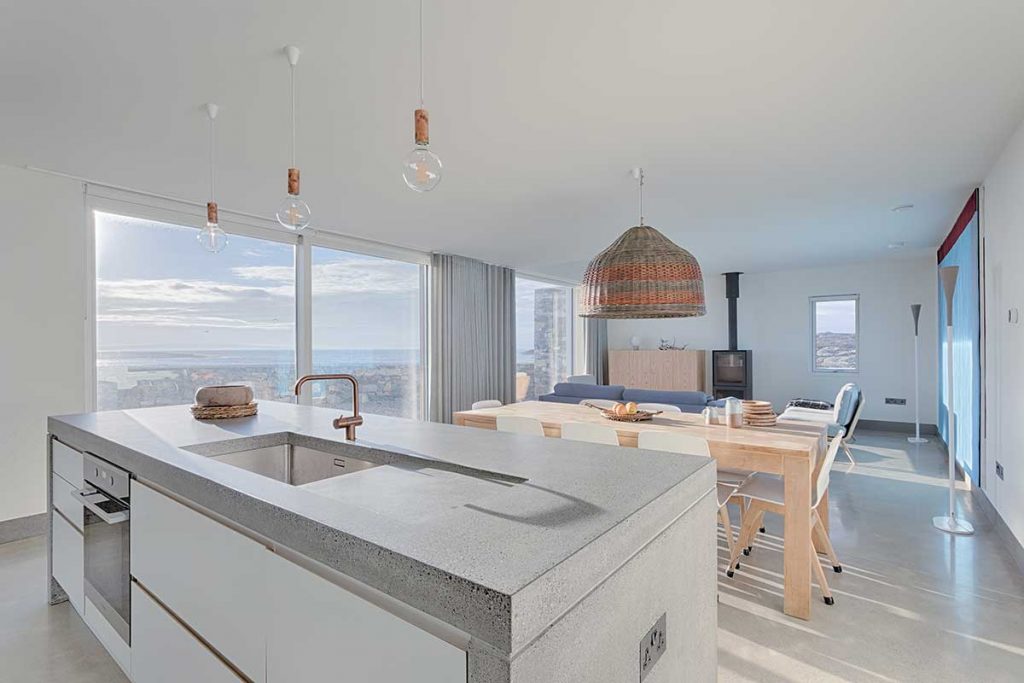 You can choose from a vast range of these: what's your fancy? Would you like the fiery grain of solid ash or the rustic knottiness of pine? The refined grain of oak, or the blonde simplicity of maple?
A rich cherry, or mellow birch? These can be left as close to natural as possible or stained, painted or patinaed. Some solid doors may require extra care, so it's always best to check with your supplier about maintenance and upkeep.
Worktops: so much to consider
There is so much to choose from out there in terms of kitchen worktops (countertops) but generally you have two types to choose from: manmade and natural. It is always worth checking whether your kitchen manufacturer outsources the supply of these to specialists, and to check how long a time, if any, these will delay the fitting of the finished kitchen.
Natural Materials
Let's talk about granite first, as it's undoubtedly a popular choice for new kitchens. Granite is an extremely hard and durable polished stone. It is heat resistant and unlikely to scratch or chip, so in terms of durability it is superior to laminated worktops. It also tends to be costly as it's so labour intensive. Some granite can be sourced here in Ireland, while others may be imported from as far afield as India and China.
As it's a natural material you need to be aware that many naturally occurring grains and veins can make the granite you choose from that small sample in the kitchen showroom quite different to the large piece that eventually arrives at your door. Choosing a granite worktop can also add to the fitting time of your kitchen.
Although some people consider it to be unyielding and a little cold, polished granite is undoubtedly a material of unrivalled beauty. As it is made up of interlocking mineral crystals, the most common being quartz, it has a luxurious depth and often sparkle throughout.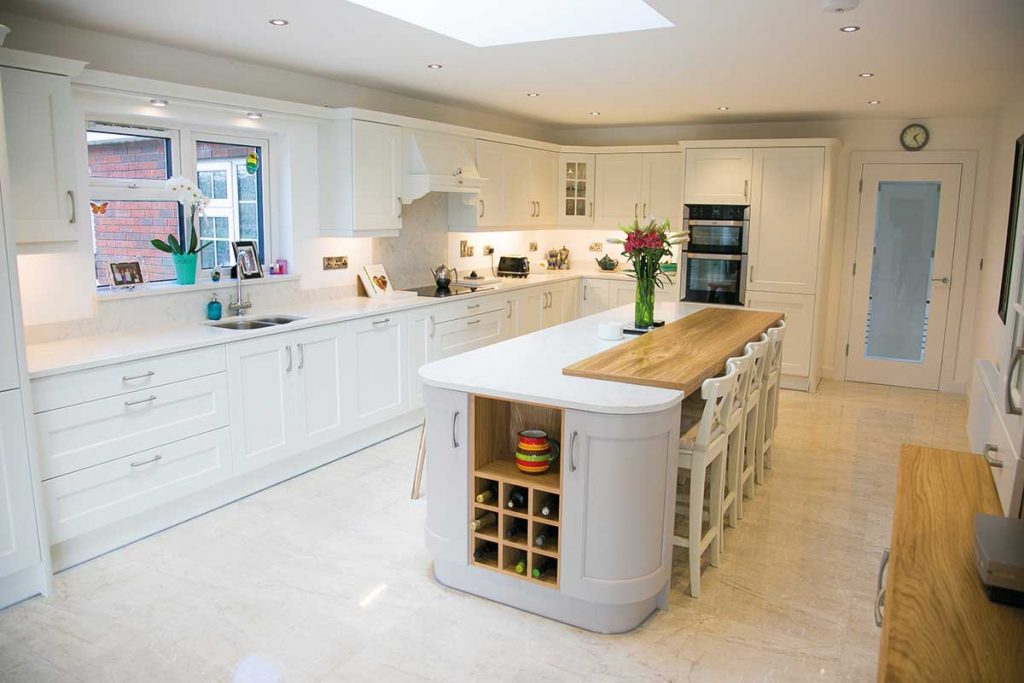 And there are massive advantages to granite too; you can have an undermounted sink, hob, splashbacks all made from granite. Splashbacks can be applied on a full wall (to replace wall tiles) or quarter of the way up.
Marble is undoubtedly a material of breath-taking loveliness and luxury, with many colour-hues to choose from including whites, greys and pinks. But it is tellingly not used as often as granite for domestic kitchens. Softer and more porous, it does not withstand stains and general wear and tear as well as granite.
In addition, marble can prove to be more expensive than granite.
A solid wood worktop gives a beautiful natural look to a kitchen and choices can include iroko, oak, and beech. However, when used with solid wood doors it may not provide much of a visual contrast and works best with painted kitchens.
It should be noted that wood worktops will naturally darken over time and will require periodic maintenance such as regular oiling.
Engineered
Laminate worktops are a cost effective option and come in a wide variety of colours. Many of these are composite board encased with melamine, and customers can choose between matt or high gloss finishes.
They come in large sheets which are cut to size easily by your kitchen fitter on site. As there is not as much work involved with these, they are much less expensive than granite or composites. Although extremely hardwearing, these won't withstand a sharp knife, or a scalding hot pan set down on them so be prepared to always use a chopping board or worktop saver.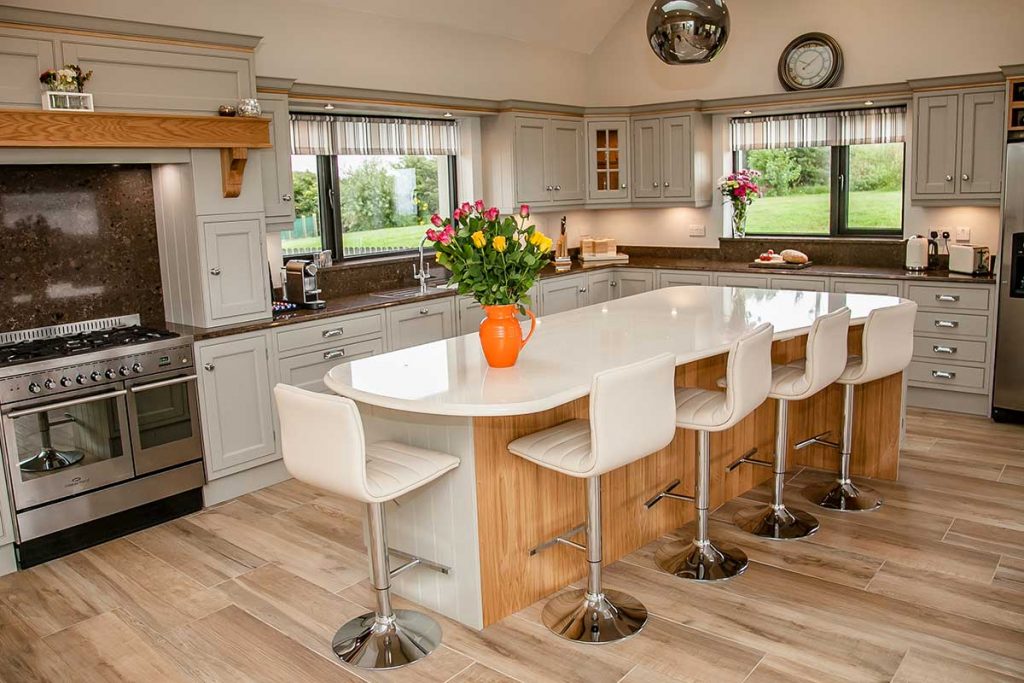 Solid surfaces are seamless, nonporous, hygienic, and tactile to the touch. They are generally stain and scratch resistant. Because of their heat resistance and seamless nature, composites can be extended from worktops to form sinks, hobs, backsplashes on walls, island panels and so on.
It is a smooth material which is very easy to keep clean. There are lots of brand names of manmade composite materials for worktops but the most famous was developed in the 1960s.
By the late twentieth century it had become a game changer as an innovative worktop material for domestic kitchens (and in other applications such as commercial environments). In terms of cost, work surfaces made from composite materials tend to be on par with granite or a little cheaper.
Generally speaking, engineered stone is natural stone mixed with colouring and resins to create a non-porous hardwearing surface. It is often called Quartz, however there are many different specific brand names to choose from. It has the glossy look of granite with a more uniform pattern that represents a safer option in that potential sweeping veins are eliminated.
Although some would argue that because of this, it does not look as natural as the real thing, they do come in a near infinite array of colours.
Industrial
Concrete is an increasingly popular choice for those who want something a little different. Common options available include polished concrete tops in a classic concrete shade with mild exposed aggregate, while others can seek a "rawer" more industrial look.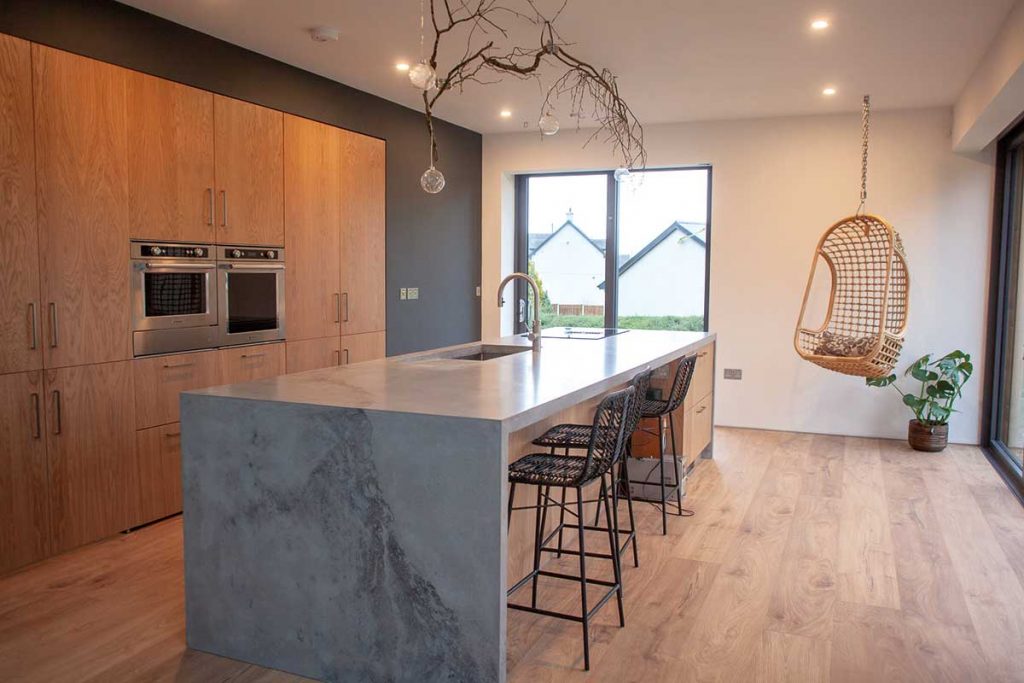 Most polished concrete countertops can be made off site and delivered once the kitchen carcase is in place – the exception is with requested "wet cast" worktops which are cast on site.
Again, choosing a concrete worktop may add to the time it takes to complete the fitting of your kitchen and if in doubt ask the supplier. In terms of maintenance, polished concrete should be treated like most other counter tops and chopping boards should be used.
Stainless steel is a great choice when seeking to create an industrial, edgy feel in a domestic kitchen for worktops, splashbacks, sinks, electrical appliances, extractor fans and plinths. It has long been the material of choice for commercial kitchens due to its hygienic nature and durability.
Obviously, it is resistant to water, heat, liquid and most stains. However, it will scratch, but many prefer this as it adds to its character. It will also show up fingerprints. In a domestic kitchen these factors may grate over time, as will the fact that steel can create a chilly, noisy feel in a room.
Glass worktops are available in a near unending range of colours and can be easily matched with the overall décor of your kitchen. While glass worktops are smooth and hygienic, they do require extra care as they can scratch.
However, glass splashbacks really are worth considering. These can match in with glass worktops or be combined with a different worktop to offer a stunning alternative to wall tiles. If you are planning a glass splashback in your kitchen it's best to plan ahead in terms of wall sockets to ensure it looks as harmonious as possible.
Costs
The cost of your kitchen will very much depend on the door choice, overall size and number of units, so it's always best to get a price by bringing the measurements of your room (or an architectural plan) to your kitchen designer / supplier.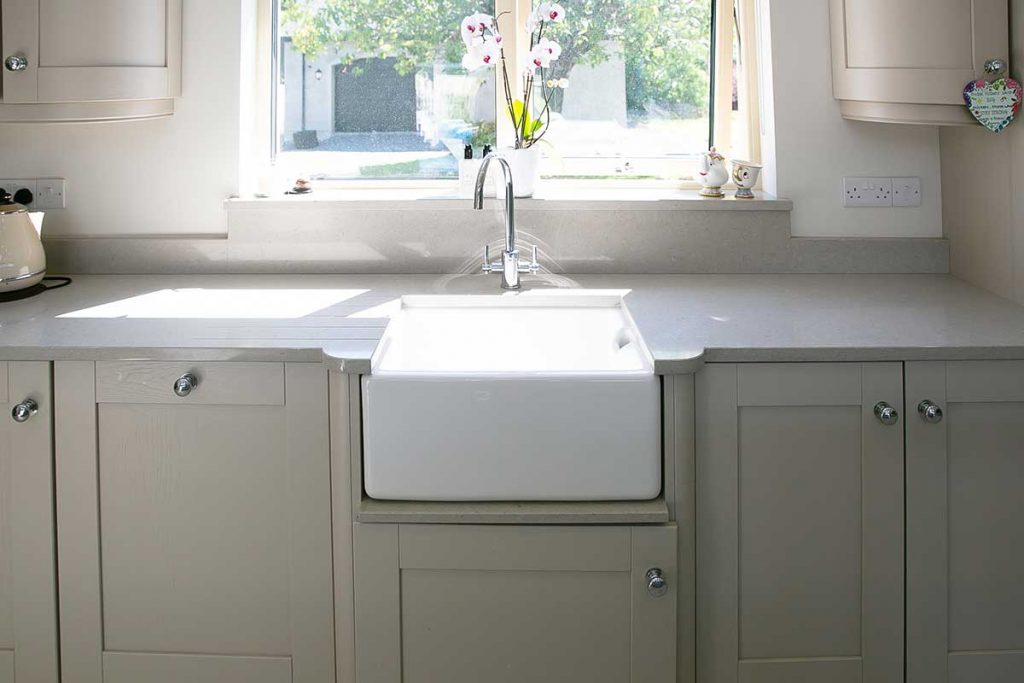 Materials can increase in price when there is more labour, or production processes involved. Laminated or veneered MDF can be the most cost-effective solutions for kitchen doors. Solid wood and painted doors can be more expensive, as can highly lacquered finished doors.
Laminated worktops are the least costly while solid wood worktops can be anything from €800/£700 upwards. Granite, glass, concrete and composite worktops are typically priced for labour as opposed to per square metre. You can expect granite worktops to cost anything from €2,000/£1,800 upward, depending on the type of stone chosen. Concrete and composite worktops will usually fetch a similar price but costs can vary widely.
Adding Colour
Only after consideration of the functional elements of storage, appliances and materials can we think about the creative stuff such as colour. This is the fun part of choosing a kitchen and can reflect your personal interior design preferences.
One word of advice here is that, as kitchens are expensive, you want to get longevity from yours in terms of style, so try to avoid microtrends and choose a classic design that won't date quickly. Painted kitchens are on-trend at the moment and choosing one means you could always repaint in a few years.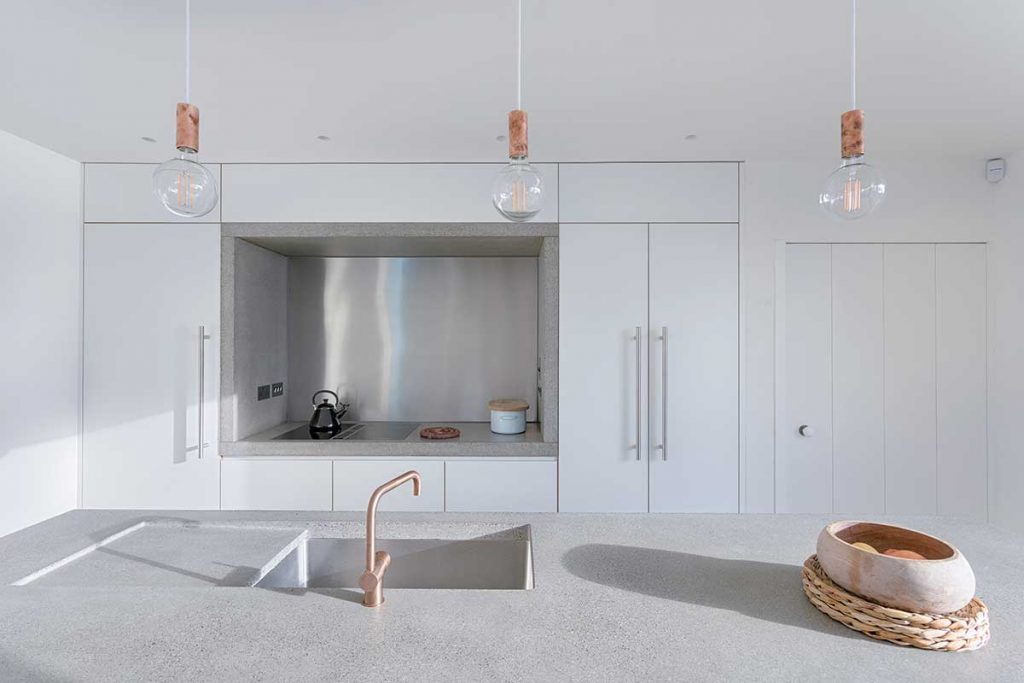 Otherwise, keep the kitchen units themselves fairly neutral and add fashionable flourishes using materials that are inexpensive to change such as wall paint and accessories. Whatever you decide, have fun planning and designing the future 'heart' of your home.
Tip: Always check with your supplier – costs, lead times and materials may vary. Some suppliers may not be able to offer items in this article while some can offer alternatives. Most of all, don't be afraid to ask them as many questions as you need to about the design, project management and materials to ensure that the purchase of your fitted kitchen is as stress free as possible.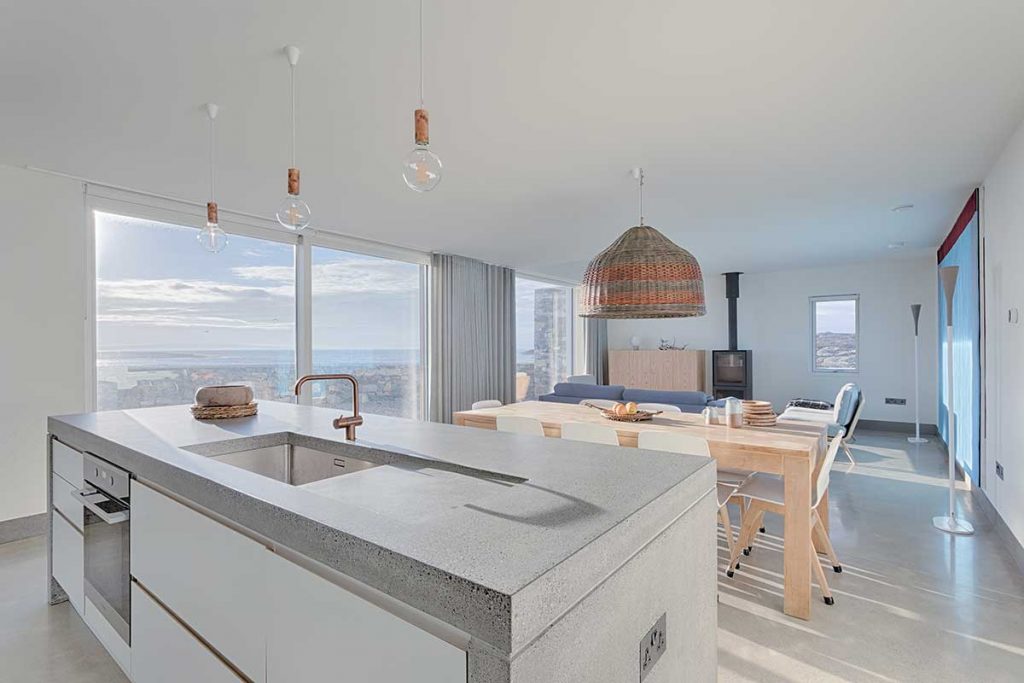 Pictures to accompany this article
Acknowledge as follows:
McMonagle Marble and Granite, mcmonagles.ie
Concrete Fair, concretefair.ie
Roscoe Holt, photographer
---
---
Try our new 'Selfbuild Cost Calculator'. Fill in details and instantly get a rough estimate for your project